End of Lockdown Canberra Campout
Namadgi Nights
Last weekend saw the end of stay-at-home covid restrictions in the ACT and a few of us from the regular Canberra gravel crew, took the opportunity to head off to the bush for a night under the stars. There were creek crossings, delicious champagne gravel, huts and plenty of laughs… and I almost didn't go!
The fun!
There had been musings of a celebratory overnighter, as we came out of lockdown, for a few weeks. I didn't pay too much attention to any plans as I'm someone who can't really make any decisions until all the variables are certain. Or the situation is imminent. As a result, I tend to be a very 'last minute' person. I've a good self awareness of this so I tend to make sure my kit is organised and stored in a way that I can grab and go without much thought required. This weekend was also my first opportunity to try out my bikepackng strategy and setup on my (relatively) new Soma Wolverine that was delivered just as we entered lockdown in the ACT… I'll save the thoughts on my rig for another post though.
On Saturday morning, knowing there was a space in a car for me if I wanted it, I knew the FOMO would get the better of me and made the call to join the gang. I grabbed my gear from the cupboard and loaded up the bike. Mattie picked me up and we headed off to meet Marty, Steph, Kieran and Laura at the car park at the start of the Old Boboyan Road. There was some talk of riding from town, though Kieran was the only person who took this seriously and, after we all passed him in the cars on the way out, he eventually accepted a lift for the last portion of the way. This meant we all got to start the ride on the dirt, together.
Our ride was a simple 30km daunder out to our camp ground and, with no need or desire to hurry, we took things pretty easily. Gravel roads out here often cross rivers and creeks (pay attention to those on your maps) and if there's been any recent rain (there had) then you're likely to be going through, rather than over them. Some are rideable, but some you'll be wading through. It all adds to the fun though. I would, however, recommend packing a spare pair of socks or two, so you don't spend your whole weekend with cold damp feet.
There was varying experience in our group, with Laura on her first bikepacking overnighter. She came equipped with a very capable steel Kona gravel bike, with a fresh set of matchy matchy custom bags from local maker, YeahNah Threadworks, and a few bits and pieces of borrowed kit. Any first overnight adventure can be daunting but I'd say this was a great situation to try things out. The combination of a short-ish route, with no surprises and a few experienced riders for company should make for success, with multiple backup options should things go awry. The great thing about Namadgi is how many options there are. If you want some proper out-there adventure vibes that are easily accessible, you could easily park up and ride just a few km to a suitable hut for your camp spot. Better to come home eager for more, than feel like you over committed.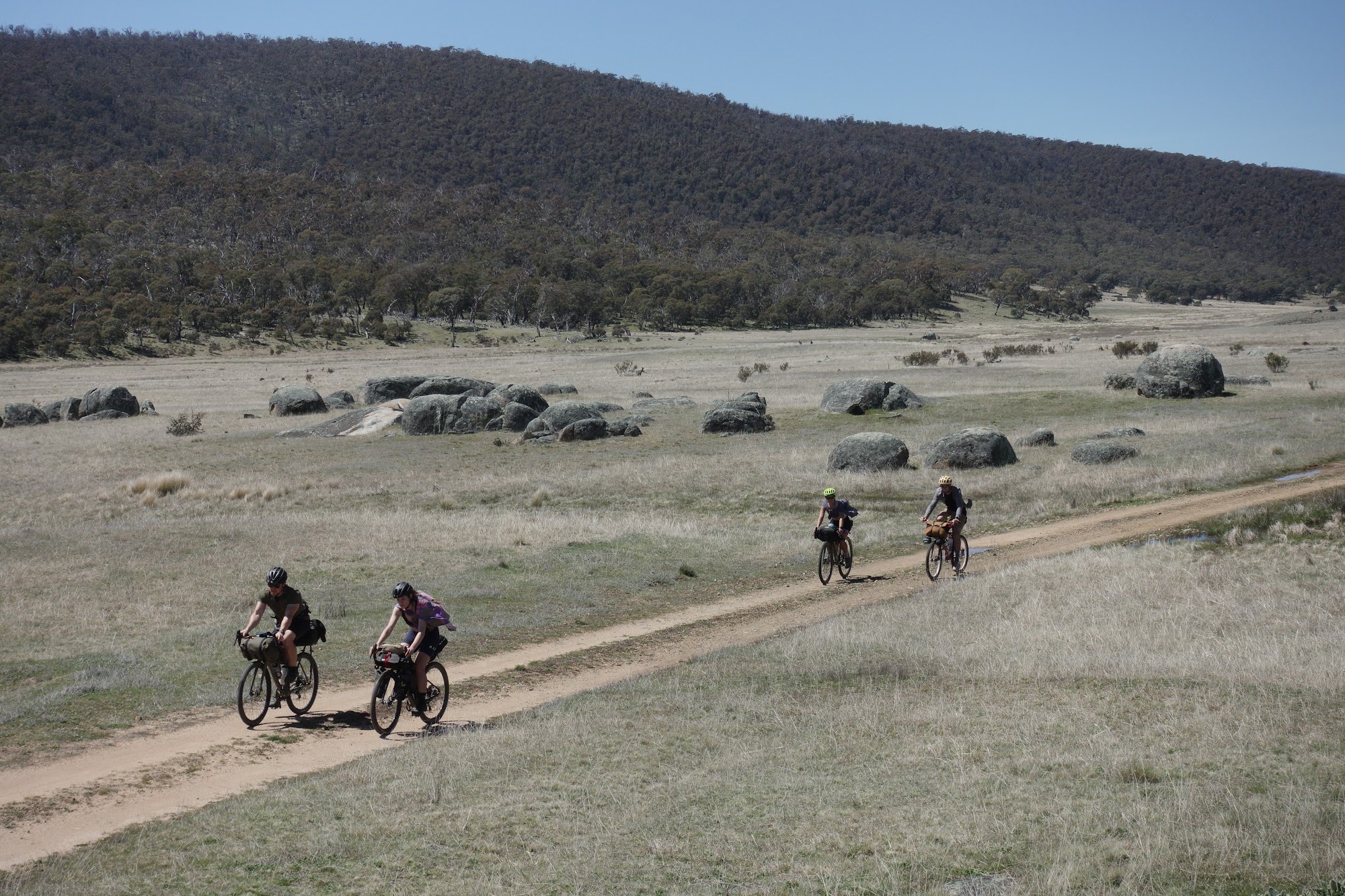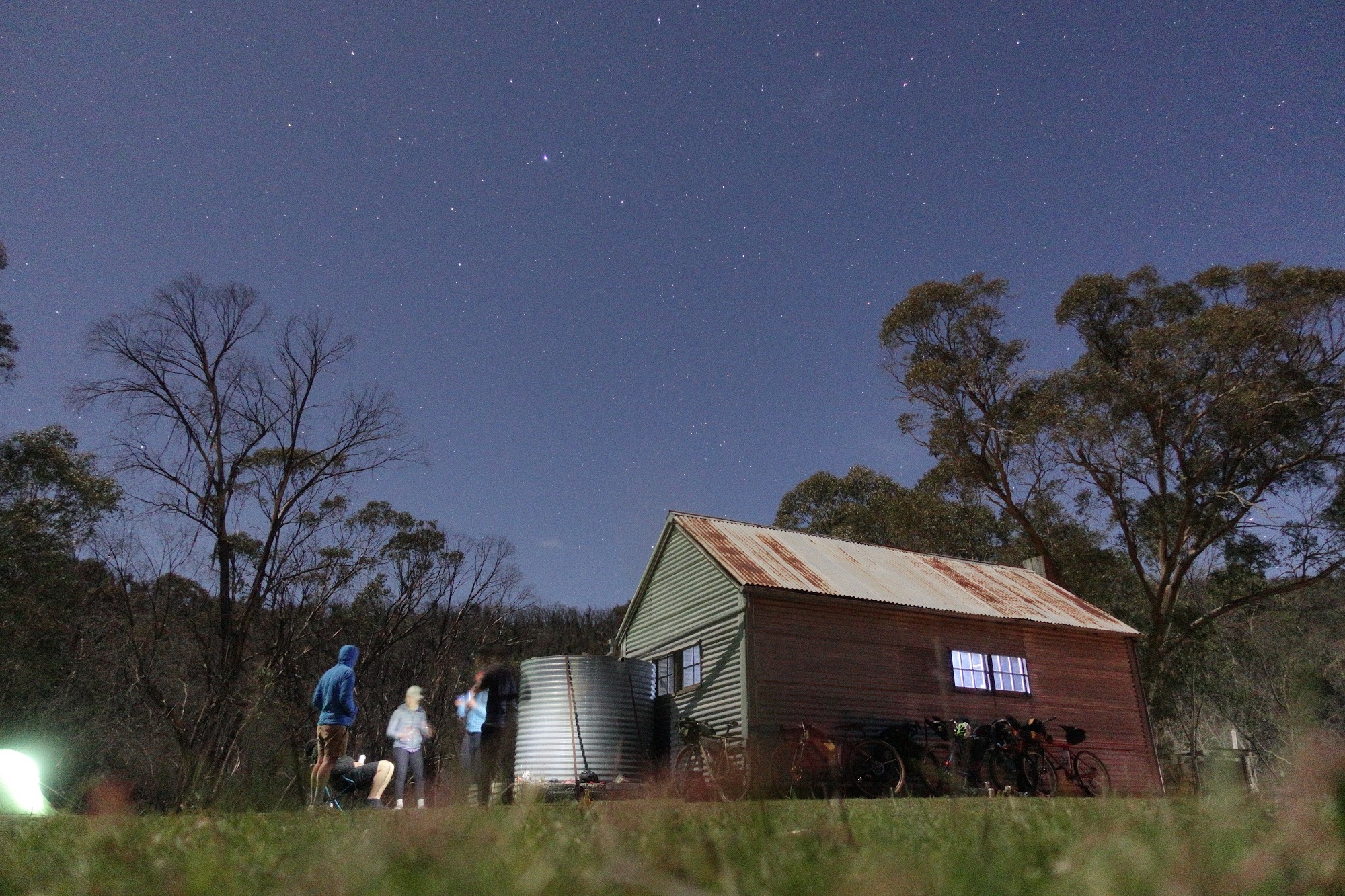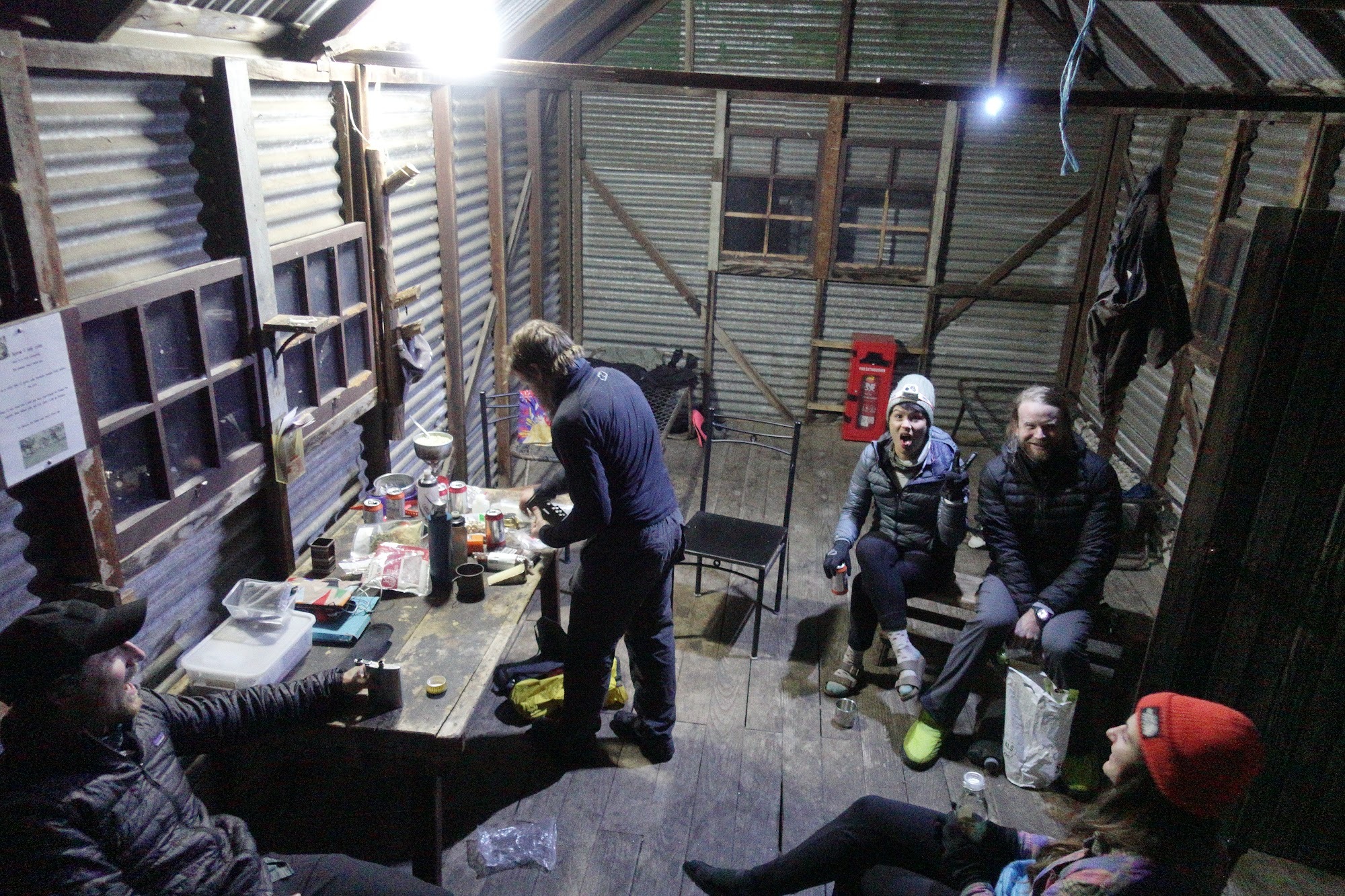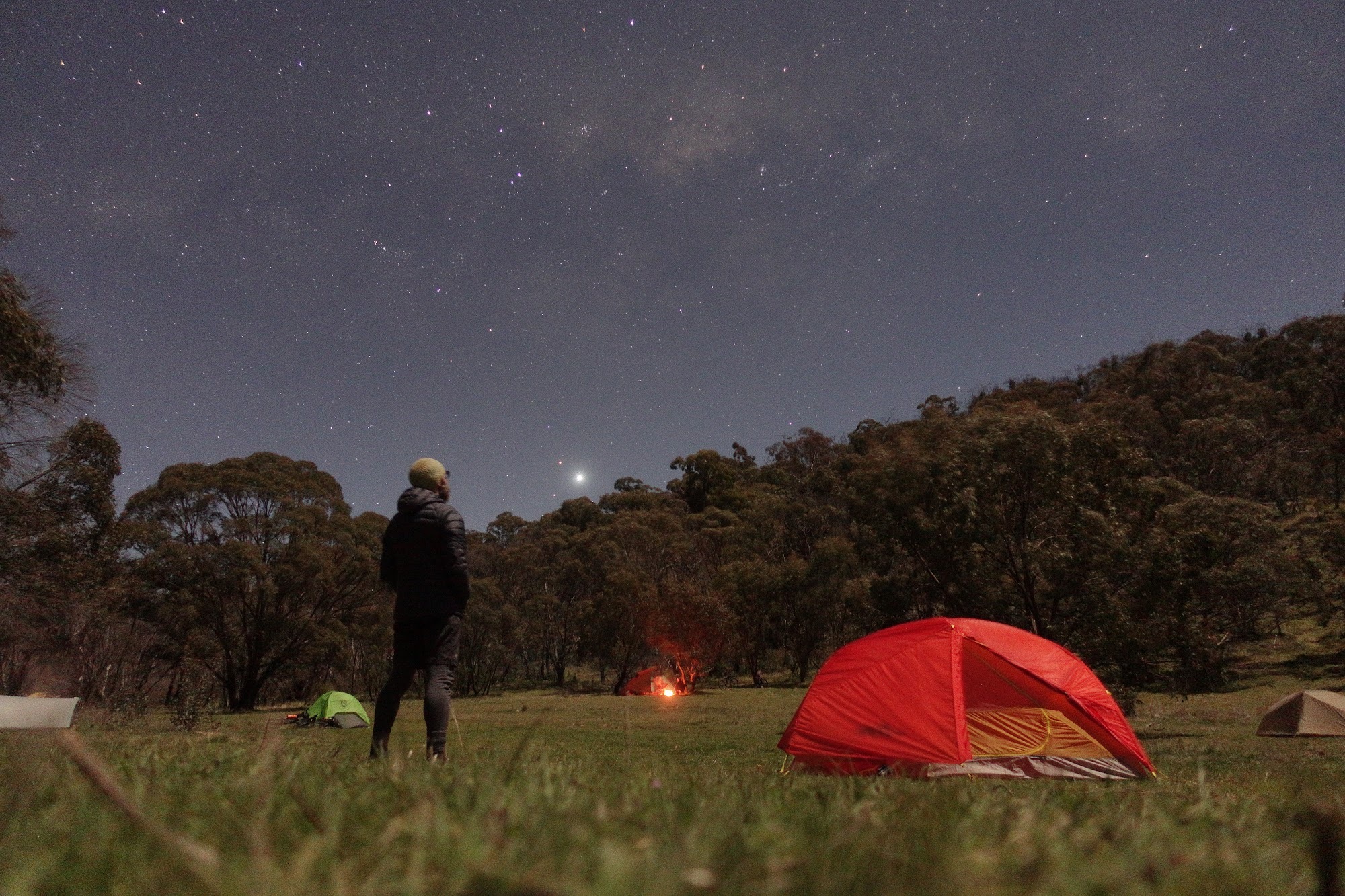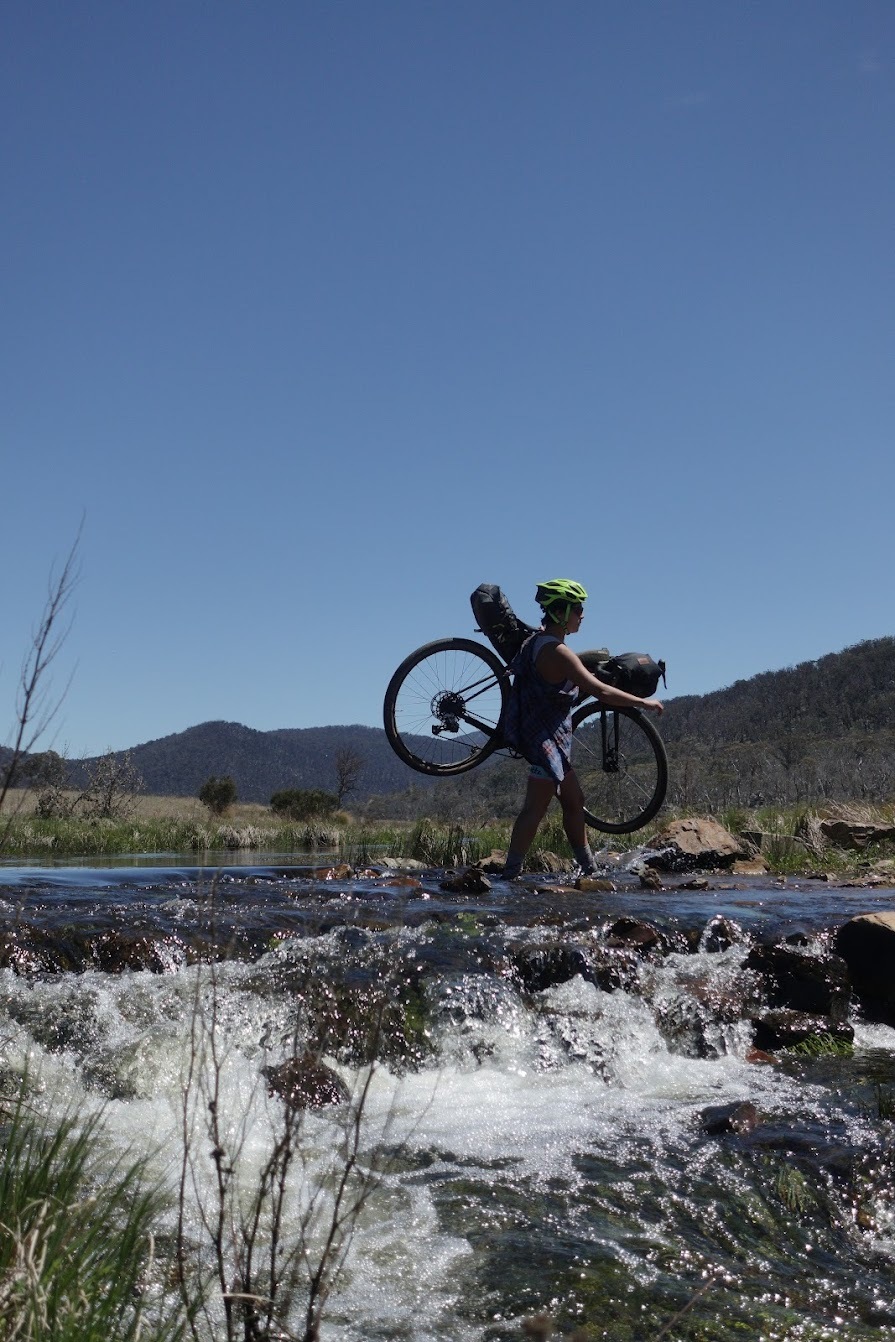 Riding, Views and Brews
When we rocked up at Horse Gully Hut after a leisurely 3+ hours of riding, chatting, photo taking and creek wading, general daily life felt a whole world away and it was smiles and contentment all round. There were a few other colourful characters who'd chosen the same hut for their weekend escape and this only added to the atmosphere. Once we'd cooked up some dinner outside, we retired to the comforts of the hut for some shared stories and refreshments (thanks Charlie and Adam for allowing us to partake in your selection of fine venison salami and single malt whiskey, to accompany the cheese and quince jelly that Steph brought! I'm a fan of small luxuries on a camp trip and, well, "quince elevates cheese".
Once you get away from the city scenery, you get to enjoy plenty of stunning vistas by day but you're also treated to some incredible night skies. With Horse Gully Hut nestled in a little valley, surrounded by trees, the dark blanket of sky felt remarkably comforting, perforated by a scattering of stars, surrounding a bright moon. While there was a cold night forecast, there was a real sense of cosiness as I said goodnight to the gathering, the curious kangaroos that kept popping out from behind the trees, and settled into my bivvy beneath a convenient tree.
The next morning I awake to glorious birdsong, a soft glow of sunlight peeking through the trees and a glistening ground, courtesy of that forecasted cold night. When I eventually plucked up the motivation to leave my peaceful and warm camp-crib, I instantly regretted leaving my down booties at home. My fleecy slipper socks may be warm when dry, but they're no match for an icy cold, frost-covered earth and within the first few steps across the camp area, my damp toes were frozen. My cycling shoes are actually pretty good to walk in but, after the multiple creek crossings of the previous day, were soaking wet and not going to help the situation. I've now added camp shoes/sandals to my last-minute pack list.
It wasn't long, however, before the sun had lost its shyness and was smiling at us with the promise of a beautiful day. Coffee was drunk, porridge was eaten, bikes were loaded and we were on our way back. On a warm day, even the coldest creek crossing can be refreshing and the ride back was glorious. While an out-and-back route might look dull in the planning, a change of direction and a new day can put a whole different perspective on familiar scenery… especially when the scenery is as good as this. There's definitely something cathartic about a return journey with an improved state of mind and a lighter heart.
Another 3 hours of party pace riding and we were back at the car and thinking of what carb loaded goodies to order for dinner when we got home. Short escapes like this are wonderful… It's easy to think 'adventure' needs to be extreme, with long, challenging routes or remote locations. The truth is, it just needs to be enough to feel like you've escaped and, sometimes, the shorter, last minute, unplanned trips are the best type of escape. I got home refreshed, instead of exhausted, and even had time to wash the bike and unpack my gear before dinner (pizza, in case you're wondering).
The Route
Namadgi National Park sits down by the southern border of the ACT (Australian Capital Territory) and is host to a large collection of gravel trails, creek crossings, huts, beautiful views, granite boulders and kangaroos. The trails are generally pretty good with a few rough sections and the occasional aforementioned creek crossing to contend with. Whatever your route, I'd be prepared to get my feet wet and would have a preference for fatter tyres. We rode a simple out and back along the Old Boboyan Road, stopping overnight by Horse Gully Hut. It's super accessible from Canberra and you can ride out there from the city if you're up for a big weekend… the road out there is pretty scenic, but not devoid of cars, so keep your wits about you.
The Huts
The various kosciuszko huts spread around Namadgi and other national parks are absolute treasures. Historic shelters, built by prospectors, stockmen or other adventurers, as places of rustic sanctuary and maintained by the Kosciuszko Huts Association. Sometimes you're lucky and find them empty, but often you'll find other travelers taking a break from the elements and maybe cooking up some dinner or sitting by a warm fire. While the huts aren't there to sleep in, there's usually a good bit of usable space around them to pitch up your camp.
What bike?
For this trip, I was on my 27.5×2.1" tyre equipped Soma Wolverine gravel bike with drop bars and low ish gravel gearing and, for me at least, this was bang on.
That said, I've also been out there on a flat bar 29er hardtail and I'd be relatively happy on my steel, rim braked commuter with 40mm semi-slicks… though the latter would definitely add to the 'adventure'!
Other bikes in our crew were a couple more steel gravel bikes and a carbon one, with a mix of 650b and 700c wheels, along with a classic do-it-all Surly karate monkey with a bouncy fork. Then there was Mattie, on a retro, 1990s cromo framed GT with 26" mountain bike tyres, rigid fork and retro-fitted disc brakes.
All these bikes were perfectly appropriate and just shows that any bike can be a gravel bike and #everybikeisagoodtime. For me, I think the biggest contributor to making your bike 'gravel' and 'adventure' capable, outside of making sure it's in good working order, is your tyres. A mechanically sound bike that fits you goes without saying but add a good set of rubber that's 40mm or more, with at least a little tread, and you're probably gonna be fine.