Mattie's GT Palomar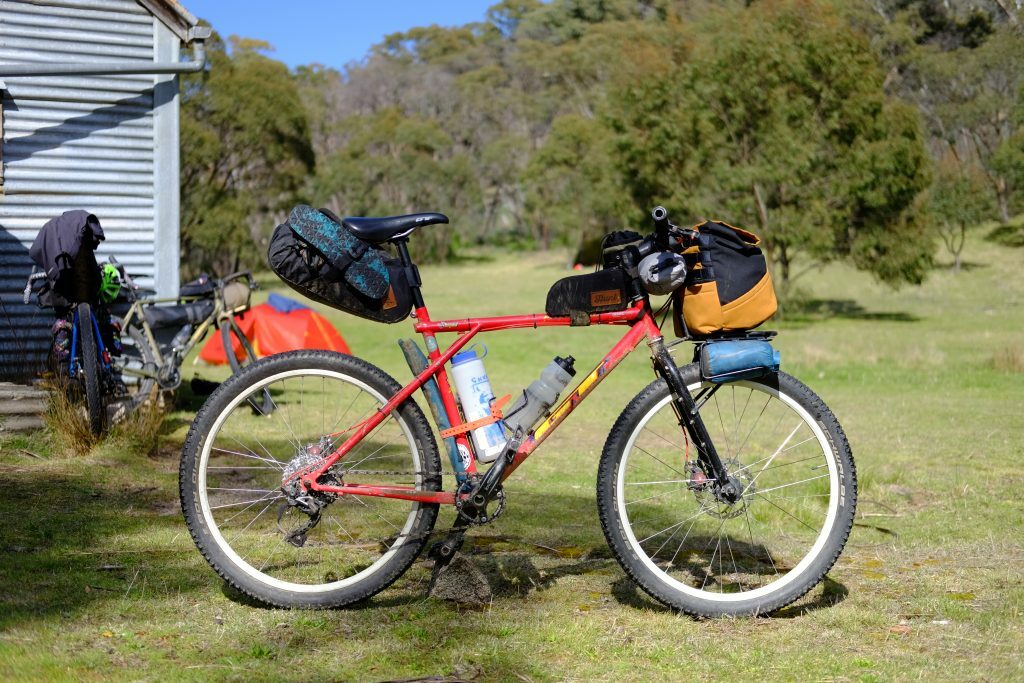 What's the story behind your rig?
Born in the 80s, I've had a long standing affection for 90s and 2000s mountain bikes and spent many happy hours browsing MBUK magazine. When I saw this GT Palomar pop up on the local Gumtree listings for $30 it was a pretty easy decision to go for it.
I really enjoy riding bikes, but I'm not so interested in the finer details of bike parts, so I handed over the build to a good mate that runs @blackboxmachine – my criteria for the rebuild was summed up in one easy text message:
"Please build it up like your Trek (another 90s rebuild), just change to 1 x or singlespeed and refresh the brakes. I'd love rigid forks with rack mounts."
A few weeks, $800 and plenty of effort on my mate's part, the GT was rebuilt. The original brakes were replaced with disc brakes, a rear brake mount was welded onto the frame and the original calliper mounts were removed. 1 x 10 gearing and a Surly fork completed my wish list. As for the rest, a few more new parts and the original saddle was added.
See below for a shot of the original bike next to another custom build from @blackboxmachine.
What trip was this bikepacking rig setup for?
This GT spends most of its life as a dadmuter, with a kid seat on the back and a rack + bag full of nappies on the front. But it doesn't take long to transform into bikepacking duties. Childseat comes off, bags go on and an extra bottle cage gets strapped to the frame, and two more larger cages get attached to the underside of the front rack (by @7r_bags ).
The particular trip this setup is for was an overnight campout just south of Canberra around mid spring. Around 30km each day over a mix of rough and smooth gravel roads. It's a pretty standard setup for me on this rig, although I occasionally add an extra bottle cage under the down tube using a combination of old inner tubes and Velcro straps.
What camping gear were you carrying?
For this ride I was carrying a full camping setup. My tent (Tarptent Protrail) was strapped to the bars. The poles are slipped through a gap in the frame and strapped in front of the rear wheel.
My winter sleeping bag was packed in the saddle bag and the rest of the stuff (insulated sleeping pad, stove, clothes etc) was in the Framework Designs overlander bag strapped to the front rack. In the under rack bottle cages is my pillow (extra large and comfy NEMO inflatable) and spare clothes.
Bike & Bags:
The bike is a GT Palomar frame (late 90s / early 2000s) with a Surly fork.
Saddlebag and top tube bag are by Hunt Bikes, rack bag by Framework Designs. A one litre Sea to Summit dry bag in each bottle cage under the rack. The rack itself is from 7R Bags and the oversized cages are by Widefoot. There's also a Wilderness Threadworks feedbag by the stem and a Hungry big lunch attached to my waist.
Tell us about the things you love, or things you'd change about this rig:
This bike does a little bit of everything and has a fairly upright position making it pretty comfortable. Despite being heavier, having less good handling, lower gearing and slower than other bikes in the shed, it always brings a smile to my face and is a regular first choice for shorter overnight trips.
I'm super happy with the build as it stands. The only things I'd consider changing would be updating the tyres to something a bit more interesting than standard black, and maybe looking at a custom frame bag. I'd also love to find a use for the tiny space in the triple triangle, could maybe use it to store a few smarties or a packet of matches.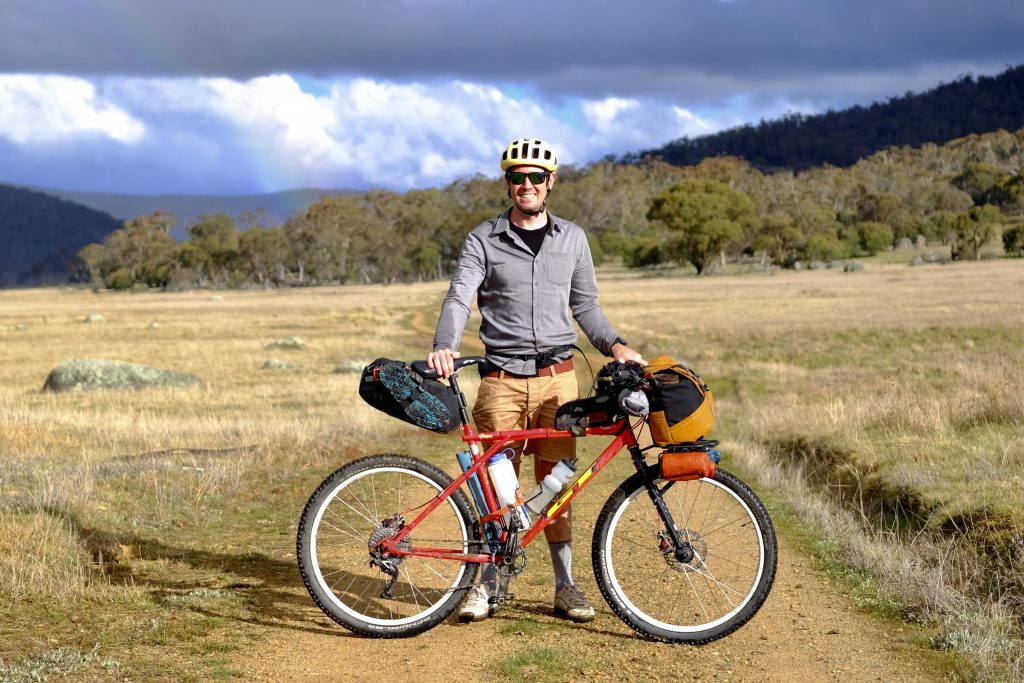 If you'd like to share your bike contact us on our instagram or send us an email.