Canberra to Horse Gully Hut
Horse Gully Hut is one of Canberra's closest historic huts, making it the ideal location for a quick bikepacking overnighter.
However, with a route that criss-crosses a river and an elevation profile that packs a nasty sting in the tail, this route isn't quite as easy as it seems. As Mattie and Ty discovered.
Getting Out of Canberra
Unfortunately, there's no magic way to escape south of Canberra to Tharwa.
From the centre of town you can follow bike paths much of the way, or follow the Centenary trail, but once you hit Canberra's southern suburbs, you'll have to hop onto Tharwa Drive for about 10km of unavoidable road riding.
As I was squeezing this overnighter into a midweek trip, I decided to drive to Tharwa and park up at the general store. I've done this a few times as it cuts out a couple of hours of cross-town riding and gets you 'out-there' a bit quicker. Ty chose to ride straight from his front door.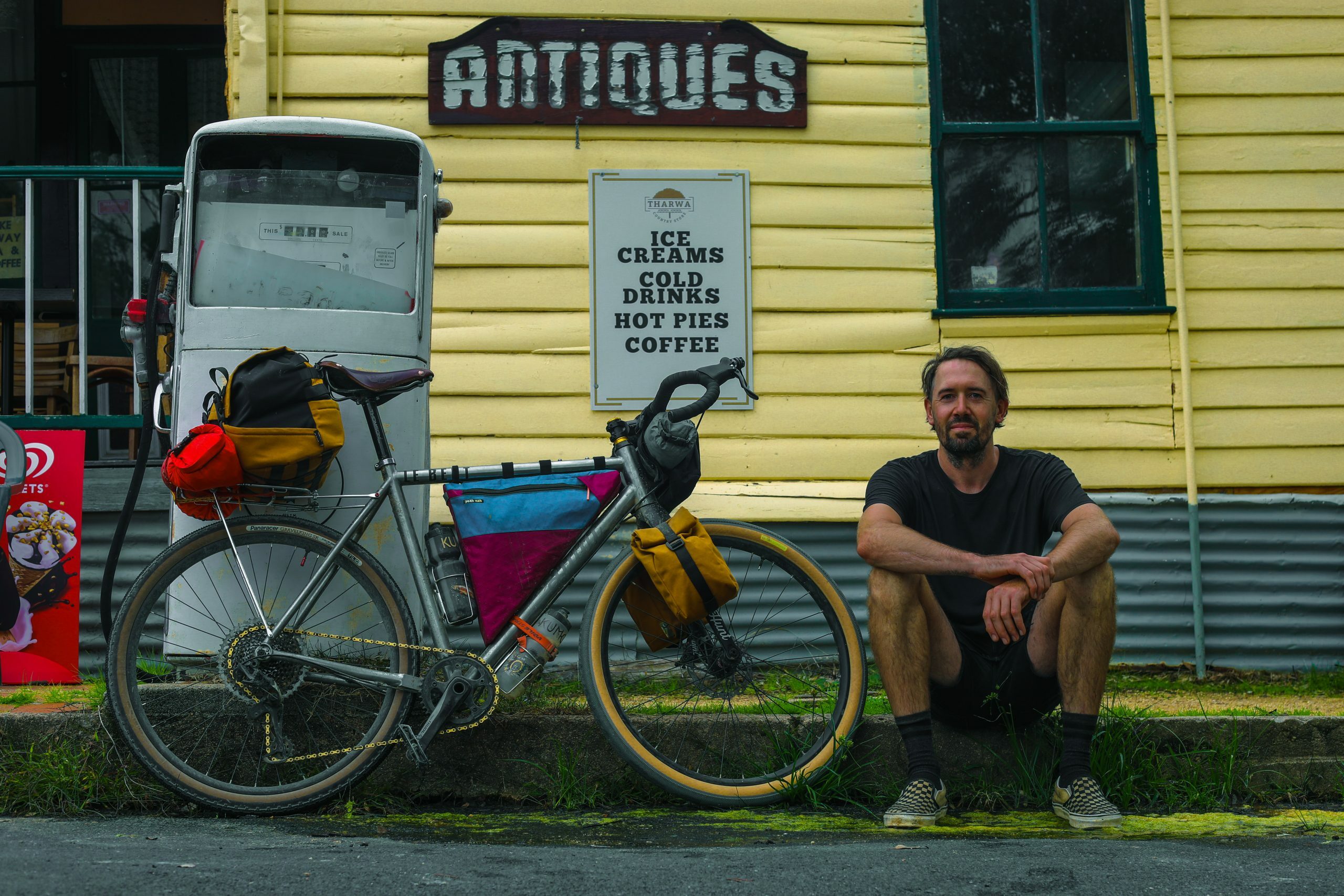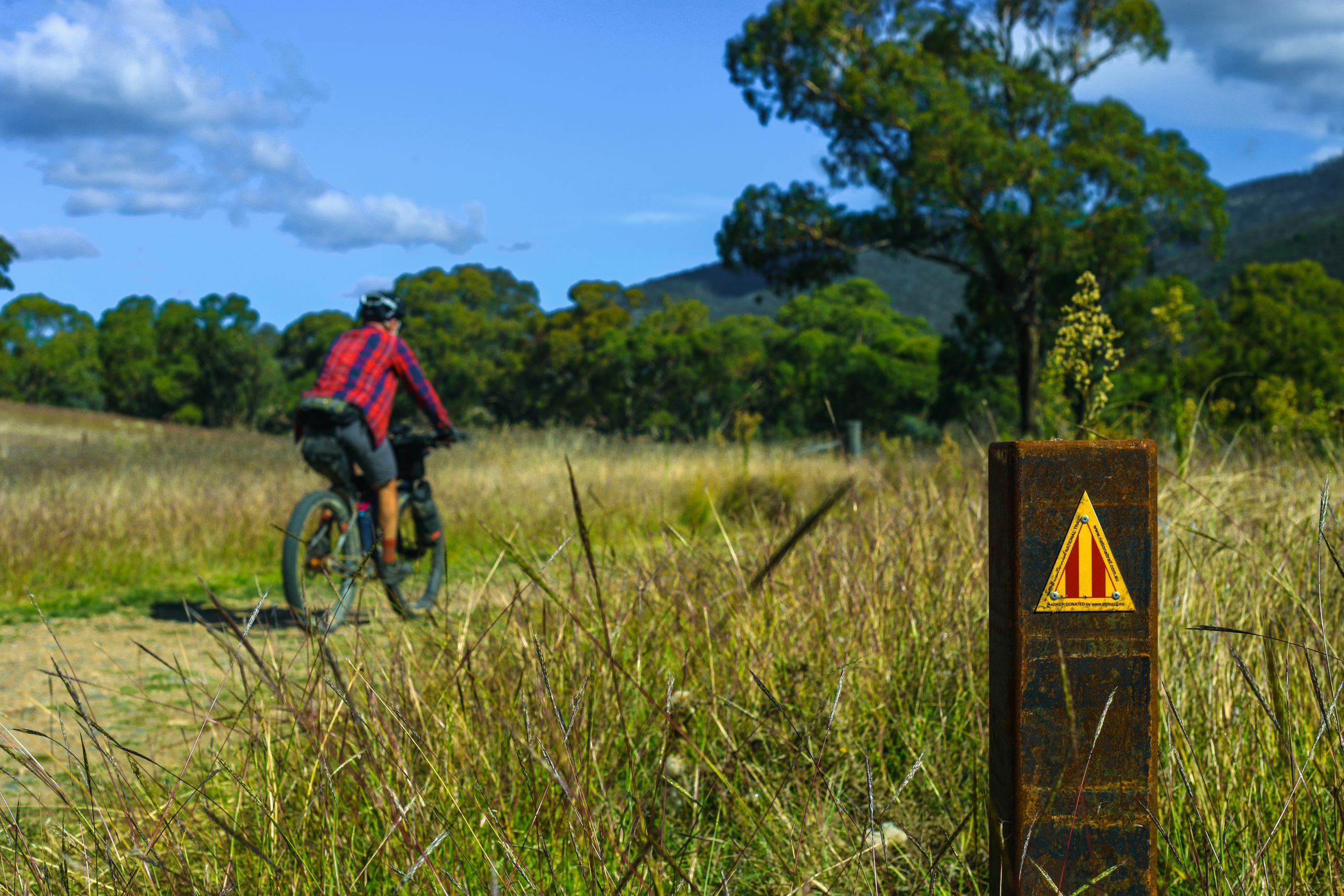 An Easy First Half
Once I'd met Ty and loaded up the bike, we set off down Naas Road for an easy first 10km of undulating, but overwhelmingly downhill road.
At the bottom of the valley, you leave the bitumen for good and get your first taste of dirt. The next 10km are pretty flat and follow the valley floor through farmland. This is the Top Naas Road and varies between champagne gravel and rough corrugations. Your experience is likely to depend on how recently the road has been graded.
With about 20km under your belt, you'll reach Caloola Farm, turning left and crossing the Naas River onto the Naas Valley Fire Trail.
Crossing the Naas River to Horse Gully Hut
The Naas River Fire Trail is a decent road, that starts off nice and smooth. However, once you leave the farmland and enter the trees, the trail gets a bit rougher and you'll begin the first of many river crossings.
Between the start of the fire trail and Horse Gully Hut, you'll cross the Naas river about 10 times in 10km.
Depending on the time of year, you might be able to ride through all of these crossings. Unfortunately for us, our trip followed a period of heavy rain. Meaning it was a case of taking the shoes off and pushing/carrying the bike through many of the crossings.
Not only had the heavy rain swollen the river, but it had also left soft, silty, sandy edges to each crossings, making it even harder to ride through.
Coupled with all these river crossings, the elevation was a continual and steady upwards trajectory, sprinkled with steep and sharp ascents. In all, this portion of the ride was much slower than anticipated, with plenty of hike a bikes.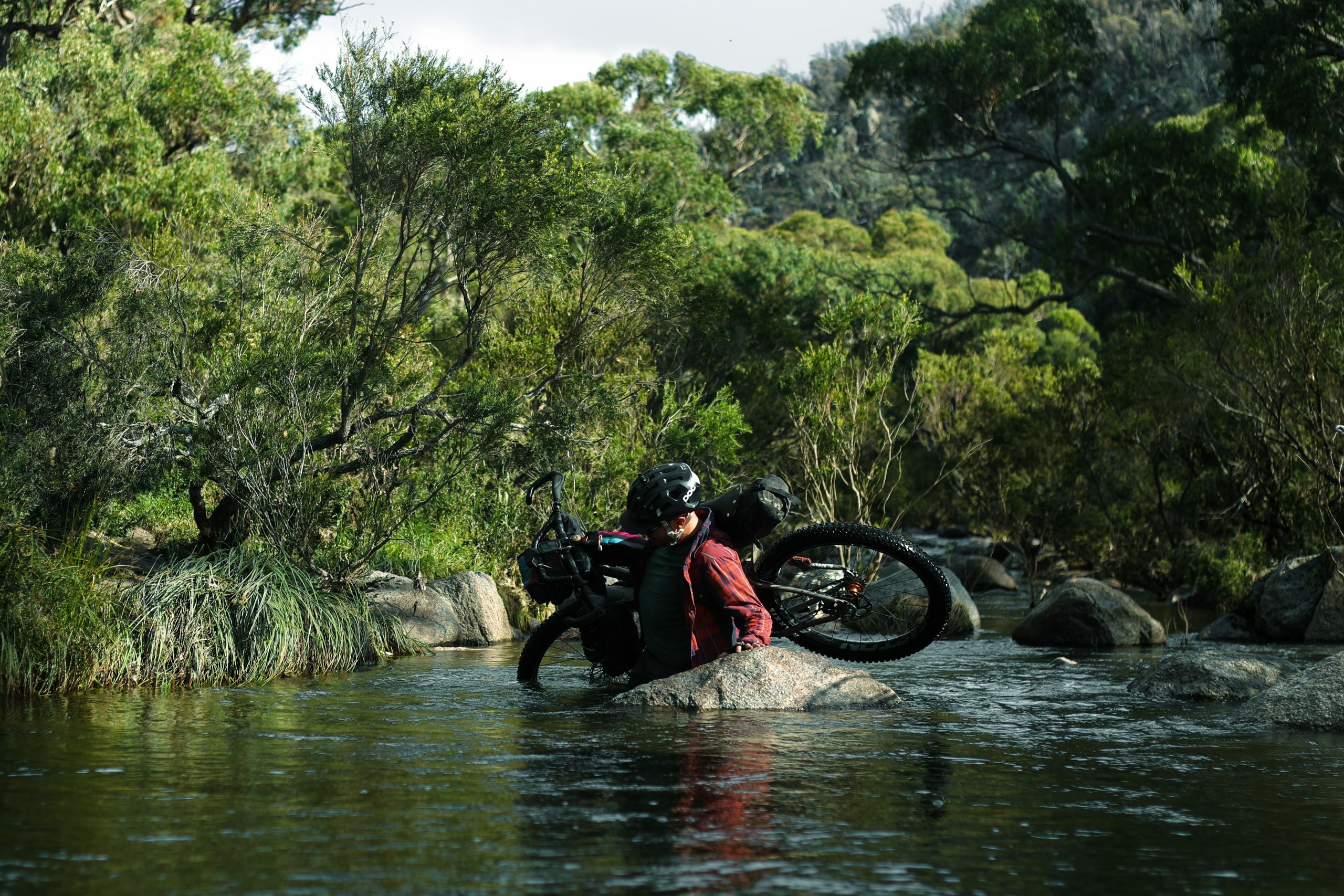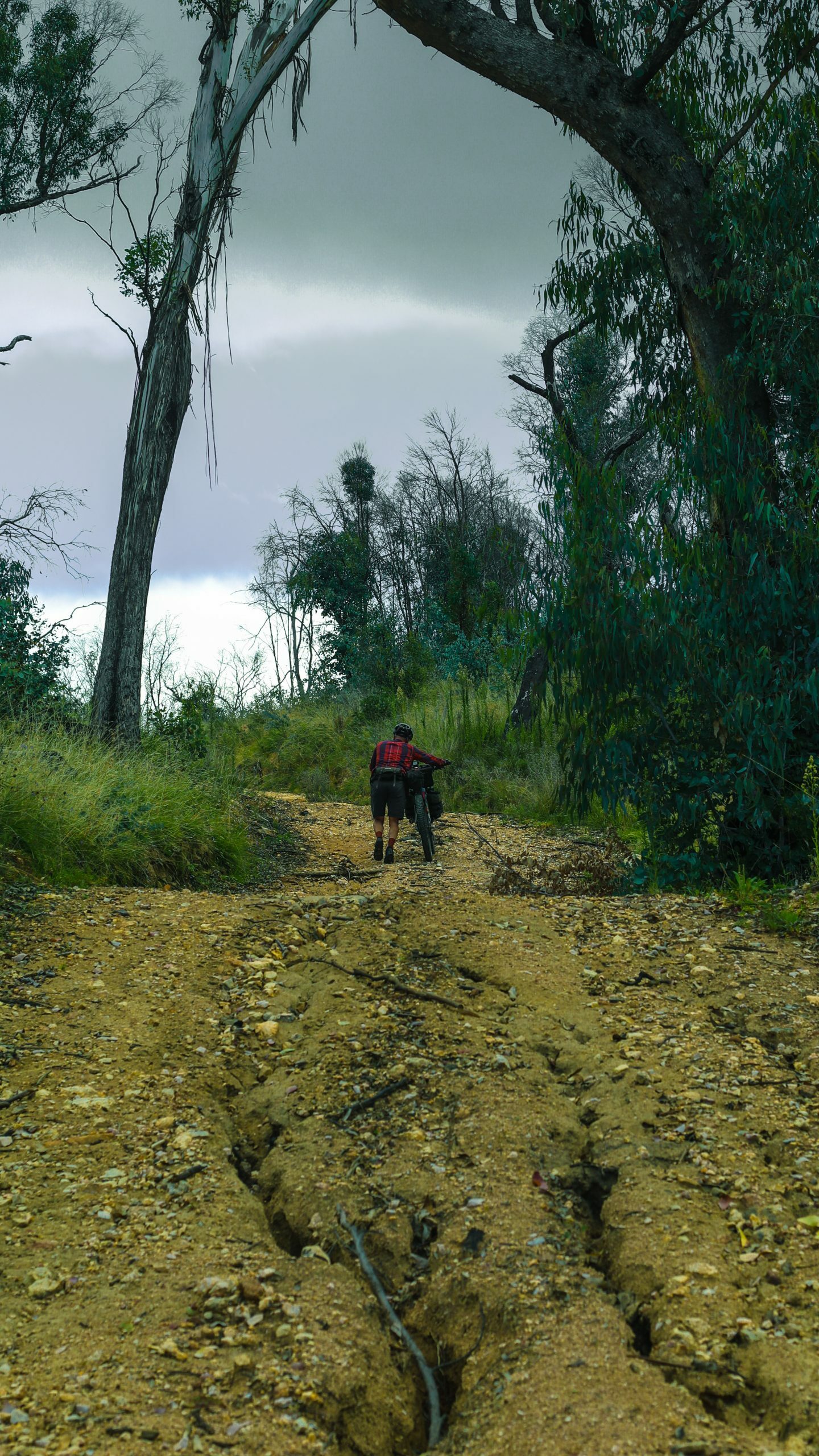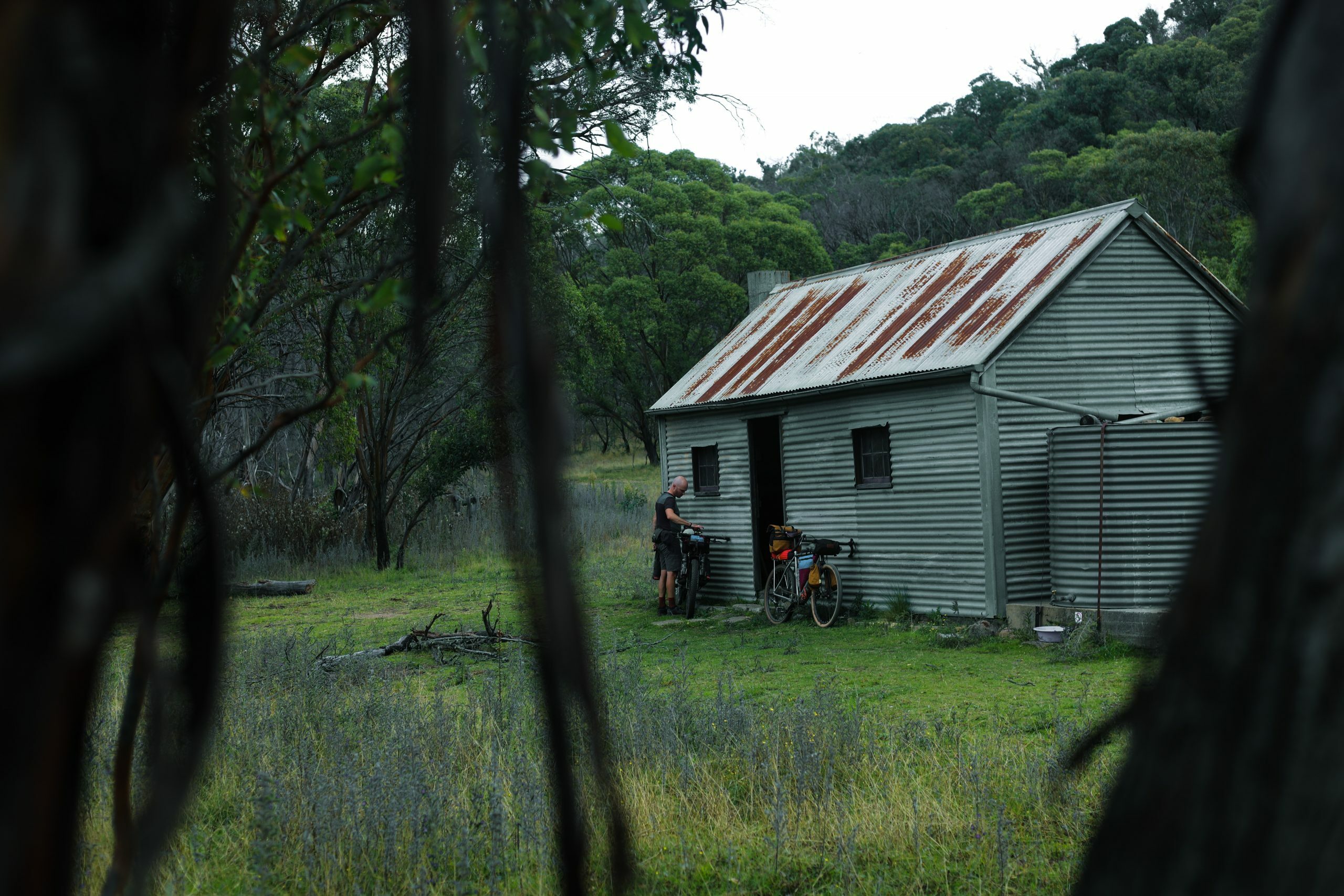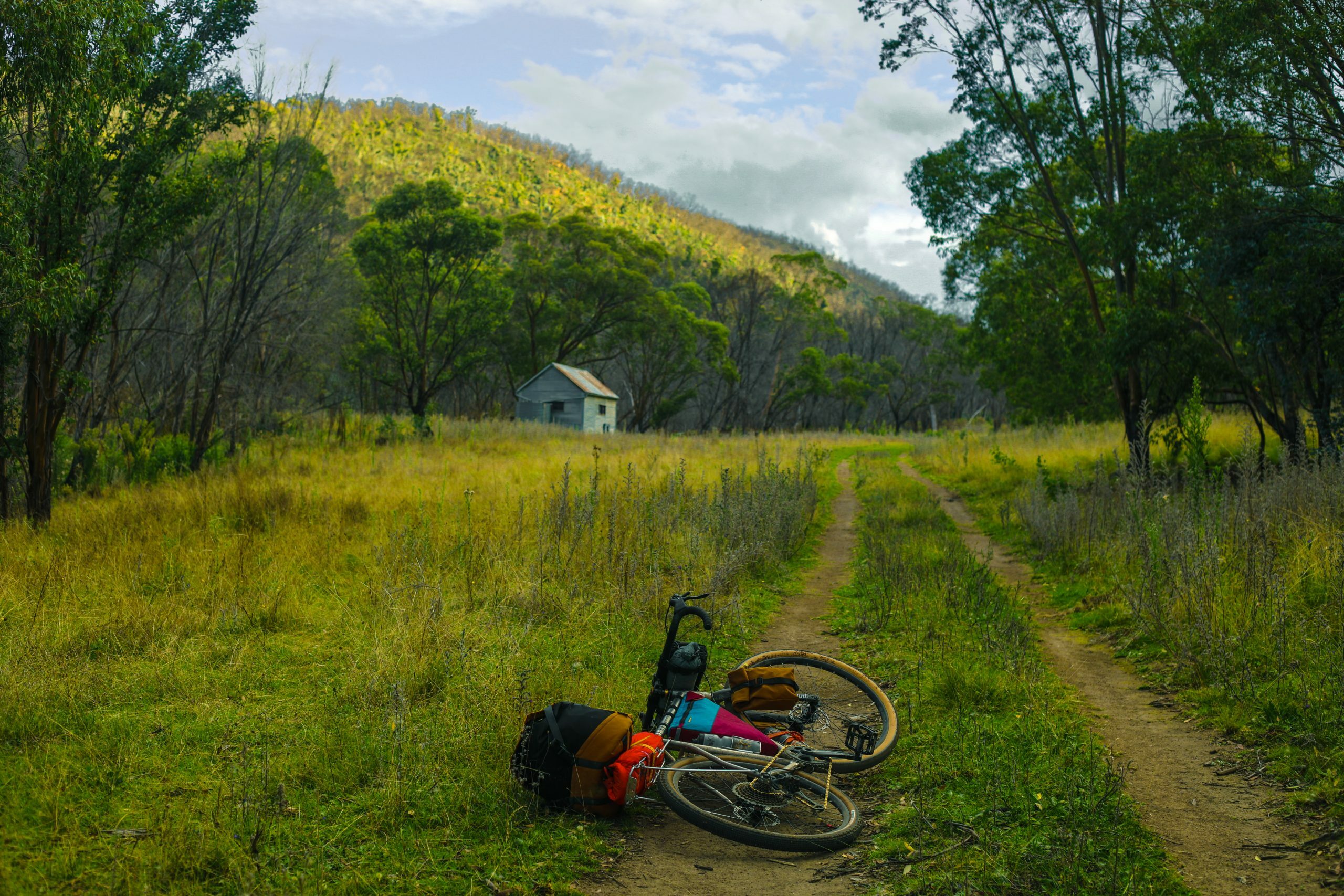 Historic Horse Gully Hut
Arriving at the hut, after one last river crossing and hike a bike, you enter an open clearing of trees and approach Historic Horse Gully Hut.
With the early Autumn sun slipping behind the hillside, we quickly pitched our camping gear (tent for me, tarp for Ty) and settled in for our evening.
The grand fireplace in the hut was soon roaring and we were able to relax with dinner and beers after a short, challenging and incredibly satisfying jaunt from Canberra.
Despite being mostly downhill on the return to Tharwa, the 40km ride took about the same length of time as the previous day – between three and four hours. However the return was a slightly longer distance than the outwards journey as we added a detour up Sunshine Road for a bit of added gravel.