Stuart's Soma Wolverine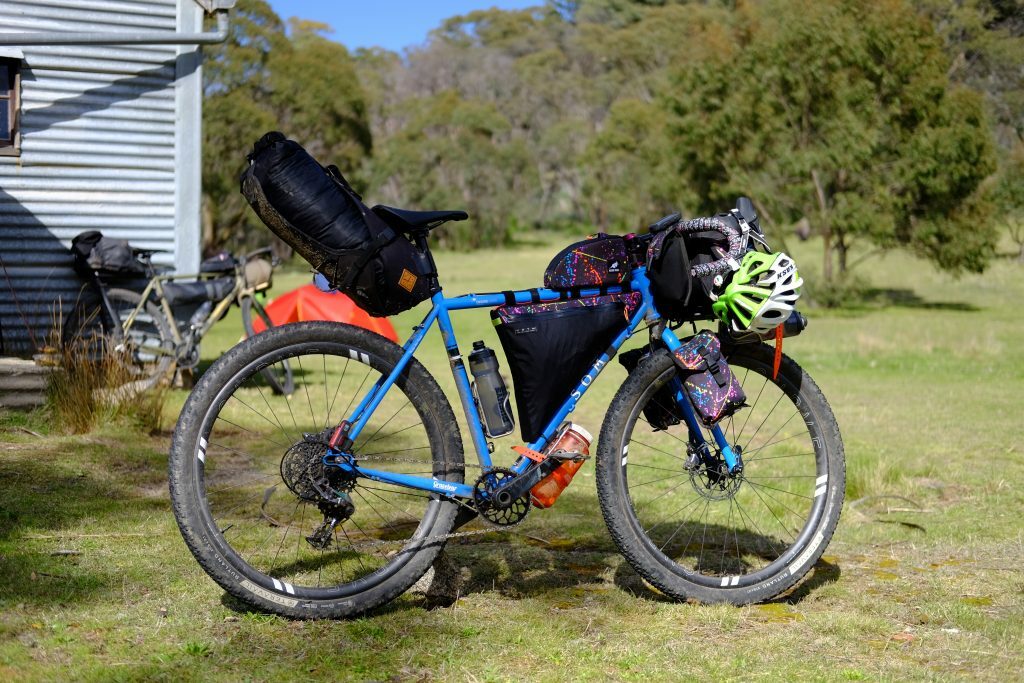 What's the story behind your rig?
When my main rig was stolen earlier this year, with all the bags I had attached to it, I was forced into some serious consideration of a complete new build.
Your average bikepacking setup is usually the result of many trips and purchases, either refining what you have to find the right kit, or replacing worn and broken stuff with new, maybe upgraded gear, but I didn't have that option. The perfect setup? I'm not sure that exists… It's different for everyone and, even then, priorities and requirements change over time. Obviously, I could have just gone down the like-for-like approach and bought the same setup again, but this was a great opportunity to really think about my ideal setup.
Being honest, I have a tendency to overthink things and a lot of review reading, you tube watching and pros/cons list making went into the build spec for my new rig, as well as careful consideration of my own previous experience. I'm pretty happy with the results though.
This is my Soma Wolverine. It's a bike, it does everything I want it to do, without ever complaining. It's not my only bike… But, if I only had one, it would be a bike like this.
What trip was this bikepacking rig setup for?
My Wolverine was delivered just as we entered lockdown in the ACT and the lack of opportunity to travel fuelled some extra shopping therapy to finalise the setup with appropriate bags and accessories. I was super excited to really test my full setup as Covid restrictions were finally eased and we planned a little overnight excursion into Namadgi National Park, just to the south of Canberra. The trip involved a 30km ride, over varying degrees of smooth and rough gravel, out to Horse Gully Hut where we spent a single night, before riding back the following day.
With classic Canberra spring weather, I needed to prepare for pretty much anything. There was a bit of rain on the first day and a full day of sunshine on the second. Day time temps were in the late teens but it dropped to close to zero overnight.
What camping gear were you carrying?
I tend to go down the light but functional approach with most of my kit.
For cooking, I use a simple but solid BRS ti stove that packs neatly into a 750mm pot with the gas canister, lighter and a fold up foon (spork, if you're that way inclined). While I can drink out of the pot too, I'm also partial to a dangly mug to enjoy a good coffee in the morning.
My sleep setup consists of a Thermarest inflatable mat, one of the reflective ones, a Montane, Prism 3 season synthetic bag and a Kathmandu bivvy. The sleeping bag is on the bulky side but it's warm and still works well if it's damp. I used to camp a lot in Scotland, where it's often damp, and also find synthetic good for coping with the condensation that can sometimes build up in your bivvy. Though they're not for everyone, I sleep pretty well in a bivvy. I like the simplicity and minimalism. They're far from ideal in a downpour but, if I'm honest, I'm a relatively fair weather bike-camper.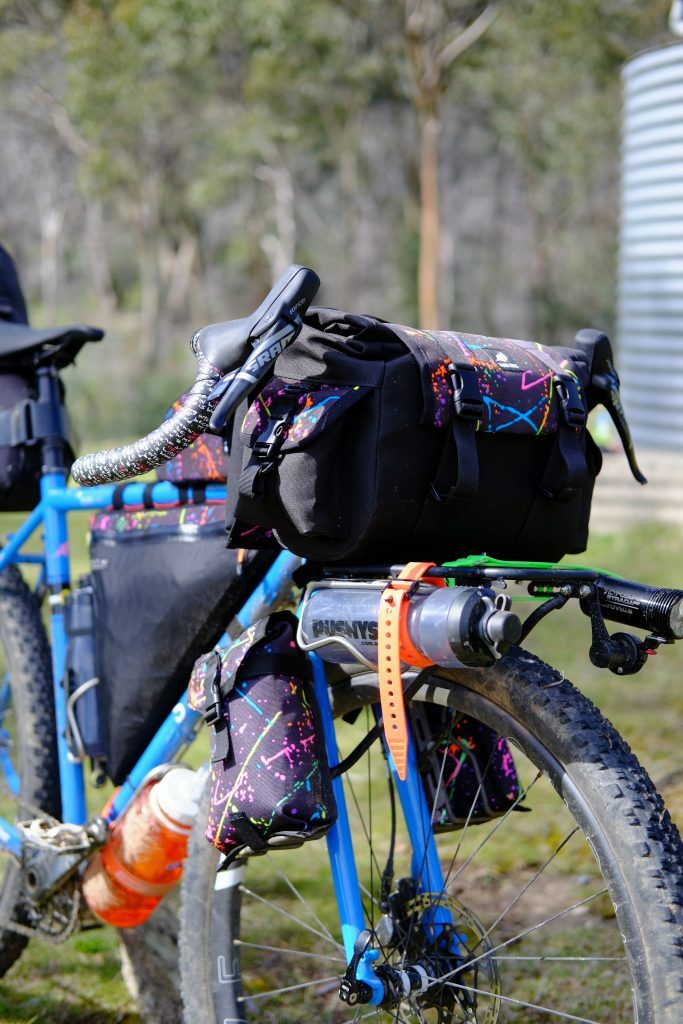 Bike & Bags:
The Bike:
Soma Wolverine with 650b carbon wheels and 2.1" fast knobblies (Teravail Rutland). I chose this bike to be comfy, sturdy but still agile. It didn't disappoint. The steel frame and fork give me a super tough chassis that I'm not afraid of strapping stuff to, or chucking about. My kit is to be used and not pampered. The carbon rims and SRAM Force components lighten things up a bit but are still plenty robust and function great.
Racks and Cages:
On the front is a rando rack from 7 Roads, which means I don't worry about a loaded handlebar bag rubbing on the front tyre and gives me extra space to strap any random extra stuff too. The rack has bottle bosses under each side and I've got my second ti bottle cage under there, along with my main bottle cage on the frame's seat-tube. On each fork leg is a Blackburn cargo cage and under the down tube is a King Manything cage.
The Bags and packing strategy:
When working out what to pack where and what kind of bags I needed, I started to think more in terms of 'how I want to access' stuff, rather than 'where will it fit best'. There's a lot to be said for where to distribute weight too, and that's definitely important, but once you get past your water (the heaviest thing you'll have) and keeping that low, but accessible, everything else is much of a muchness in terms of placement and it becomes much more about how quickly and easily you may need access to it.
Here's my setup, starting at the back…
Saddlebag: Restrap 14l Seat-Pack… My bedroom.
My sleep setup is some of the bulkiest kit I have, and also the kit I'm unlikely to need till camp, or at least until a prolonged stop (there may be emergencies). It needs to go in a waterproof bag, that's out the way, wherever it best sits on the bike. The Restrap seat pack uses a harness and dry bag type affair. I like this for its stability, and being able to just lift out the dry bag and take it to my camp area.
Framebag: custom… My Kitchen.
Holding my cook kit and my camp food as well as some extra sustenance for mid ride (PB&J and Cheese/Pickle sandwiches). I also keep my battery bank, charging cables and phone in here. There's some extra room for discarded layers or rubbish too. Basically, this is all kit I don't need quick on-bike access to, but want pretty much as soon as we pull up to camp, or at any extended picnic stops.
Top Tube Bag: GoGo by @wizard.works holding my compact camera Sony RX100 Mk4. This would be my only camera on a lighter packed setup but I also had my Fujifilm XT-1 on a 3 point strap on my back. Taking pictures is a big part of the adventure for me.
Handlebar bag: @wizard.works Mini-Shazam… My Wardrobe.
I like a top loading, easily accessible bag for clothes and stuff that I might want on the ride, or likely want as soon as we stop. In here is my downjacket and camp clothes, plus extra layers or other bits I may want if it gets chilly (gloves, buff, knee warmers).
Fork Bags: 
In here go items I want easy access to in emergency situations… so readily available without any need to rummage about and compartmentalised for specific situations.
LHS: Garage (tools and first aid kit), in separate ditty bags.
RHS: Shelter; water-proof jacket; easily available and can be put away wet without touching anything else.
Water and sustenance :
My frame bag allows room for a seat tube mounted bottle. So I've always got water in reach. In addition to that, I've got my extra bottle (for swapsies) mounted in the cage under the #7rfrontrack and lastly 1l Nalgene, strapped to the Manything cage under the down tube with @voilestraps . I should also have a water filter in my frame bag… Must order one of those.
Mid ride snacks were stored in my low profile stem bags. These are more like pockets strapped to the bars and your classic cylindrical stem bag. They have a lip flap to keep the elements out that closes with a magnetic buckle, so can be easily undone and fascened again while riding.
Luxuries:
A good camera (Fujifilm X-T1 Mirrorless), a Kindle for some bedtime reading and my Aeropress… I could easily do without all these things, but I always appreciate having them and never regret carrying them. If I were on a trip where weight and bulk were really important, these may be substituted, or left out all together.
Tell us about the things you love, or things you'd change about this rig:
Overall, I'm 90% with my setup. The loaded bike felt fantastic; super stable but still fun and really comfy too. The Saddle bag needs some thought though. Stuffing my bulky sleeping bag in the relatively narrow dry bag is a pain. The bag also extended quick high and far out behind the saddle, getting in the way of mounting and dismounting the bike and also when I wanted to move my weight off the back of the bike on fast descents.
I'm now considering a rear rack. I like the look of the Tumbleweed racks which give me a platform to strap a dry bag to, and cargo cage mounts down the side. I'm thinking about a custom rack-top bag with a wide roll top to make it easy to get stuff in and out of. I'll either use this for my sleeping bag, or for the wardrobe setup from my bar bag… leaving my sleeping bag to go in a bigger, double ended dry bag on the front rack. We'll see where I end up with this.
I also really regretted not packing camp shoes, instead relying on some fleecy socks. I'll be strapping some Teva sandals to one of the bags for any future trips.