Max's Crust Bombora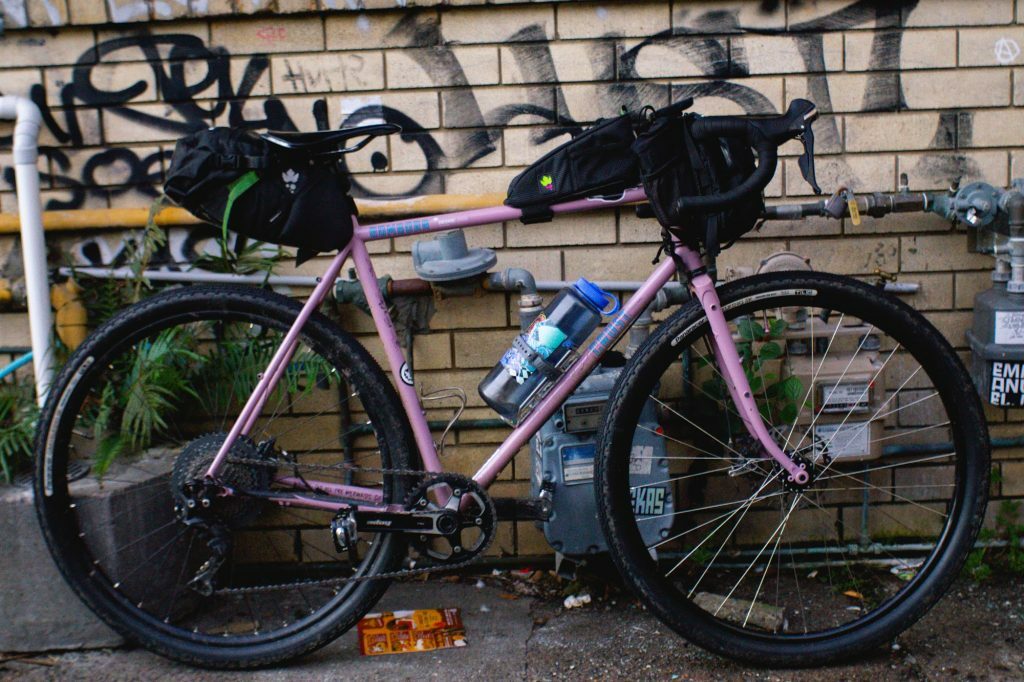 What's the story behind your rig?
My beloved Crust Bombora has been built up as an aggressive, yet capable gravel bike. Not so much a 'race' bike, but certainly a bike that can be ridden hard, fast and far. It's been set up to ride off road and on trails. Coming from a racing background, I've always ridden carbon sub 10kg race bikes. Recently I've found a new found love for steel bikes, first purchasing an old 80s Bauer rigid MTB for $50.
After messing around on the Bauer for a few months, I discovered that having a steel bike was definitely a good addition to my bike collection. This inspired me to purchase my Crust Bombora from a friend who was leaving the country. The bike had only around 500kms of riding on it when I purchased it.
Crust screams out 'bikepacking' and gravel. It was exactly what I was looking for. First impressions were how smooth the whole build rode, how planted the bike feels and that gorgeous pink Bombora colour.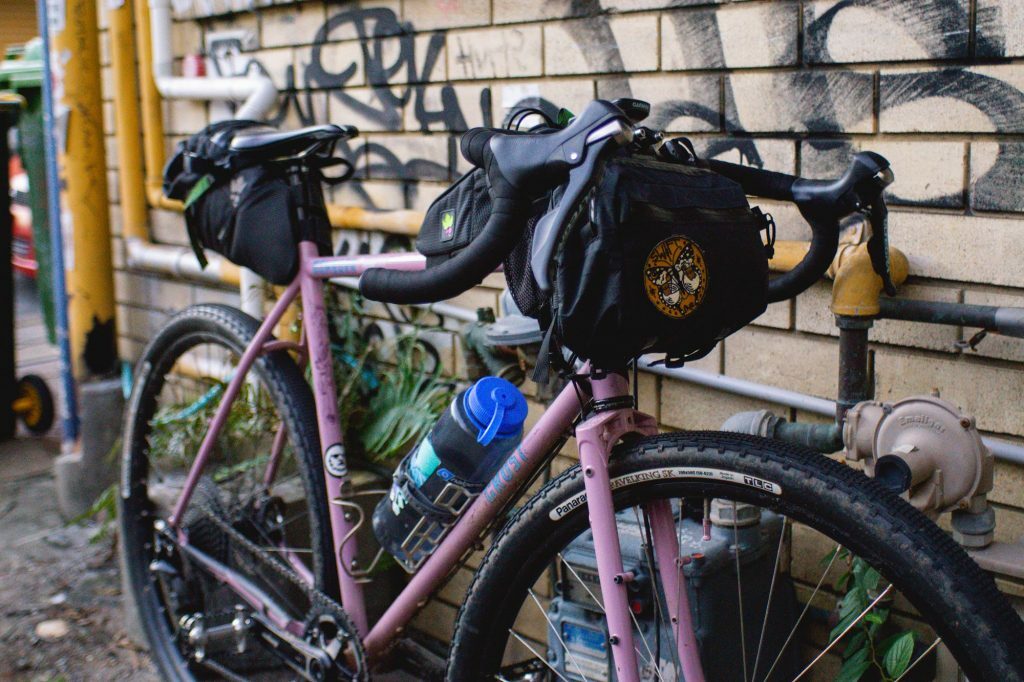 What trip was this rig setup for?
The Bombora was setup to ride Jimna Escape and a scout route of the BPS 400 SEQ bike packing route.
Jimna Escape is a social event in the Sunshine Coast hinterland. There's no pre-planned route, just a destination. Each rider makes their own way to Jimna, either solo or with a group.
The BPS 600 is an extremely tough bikepacking journey through some of South East Queensland's best hills. The BPS 400 is a new edition to the event and is a far easier 400km route that has ⅓ of the climbing of the original route and less rough gravel.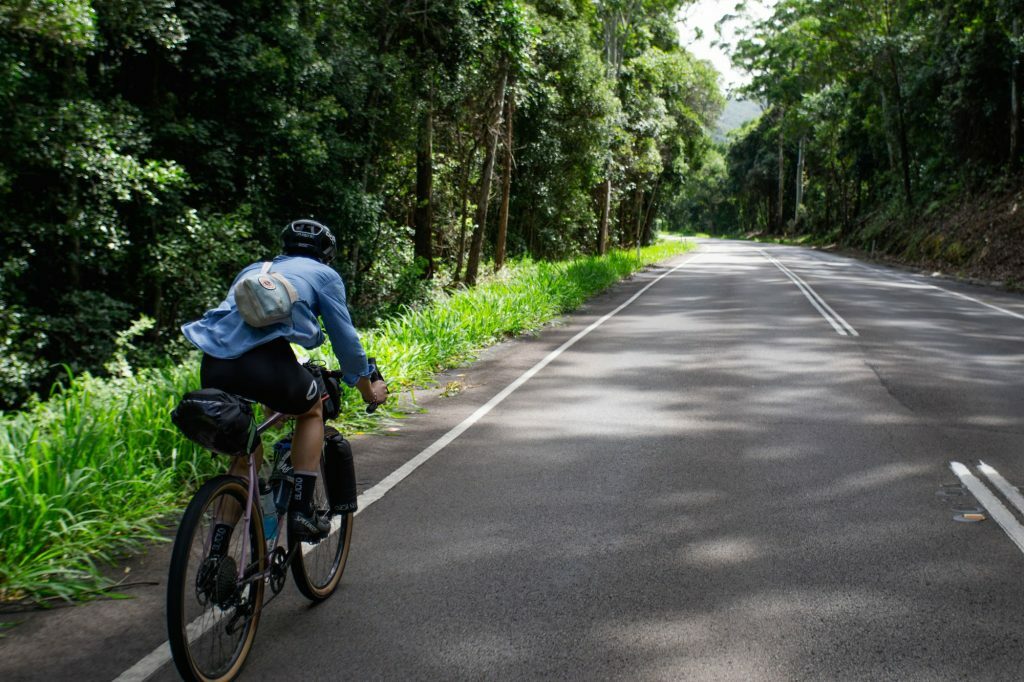 What camping gear were you carrying?
For these two trips, I ran a fairly lightweight camping setup as Autumn in SEQ is pretty mild. I tend to ride quite light as I value riding comfort over camping comfort. But that's just me.
I've got a Mountain Designs Bivvy Bag tucked away in my Swift Ardea handlebar bag. This bivvy is great and has been my companion on many adventures including the Bundy to Bris trip, BPS 600, BPS 400 and some other solo missions. It's nothing fancy, it's basically a thin piece of canvas with a zipper.
For sleeping I've got my super comfy Black Wolf -3 degree sleeping bag, Sea to Summit ultralight sleeping mat, Sea to Summit Ultralight Pillow & Mozzie net. This is the perfect ratio of lightweight:comfort for my liking. This works perfectly for SEQ but definitely will be adjusted for my Hunt 1000 stint this November.
My Cooking system was stored in the Oveja Negra Bootlegger Fork Bags. It's a lightweight combo of an XS jetfuel canister and 360 degree UL cooker all stored perfectly inside a titanium pot/ oversized mug set.
Bike & Bags:
Bike: Crust Bombora
My favourite bike to ride, my Crust puts a smile on my face and it simply gives a pleasant riding experience. I never seem to be unhappy when I'm riding this rig.
Components:
700c Stans rims laced to Hope Pro4 hubs (best hubs in the biz in my opinion).
Panaracer GravelKing SK 700c x 50c
Shimano XT groupset with Ultegra shifters (using a Wolf Tooth TanPan)
TRP mechanical disc brakes
Hope BB, Cranks and chainring
Nitto x Crust Shaka 560mm drop bars
F3 Cycling FormMount
Thomson 80mm stem
Thomson seat post
Pro Stealth saddle
Widefoot CargoMount
Bags:
I love a simple setup, lightweight bags that are easy to install and do their job. This is the best bikepacking set up for a racer or casual bike packer in my opinion. The new line of Miss Grape bags are simply awesome, paired with super spacious and sturdy Oveja Negra Bootlegger fork bags and the versatile 2 in 1 Swift Industries Ardea handlebar/hip pack.
My Crust Bombora was kitted out with:
Miss Grape Cluster 13 Seat Bag
Miss Grape Node Adventure Top Tube Bag
Miss Grape Bud Adventure feed bag
Oveja Negra Bootlegger Fork Bags
Swift Industries Ardea Handlebar/ Hip Bag
Tell us about the things you love, or things you'd change about this rig:
The best part of this bike is its raw riding experience. You just can't beat it. It may not be the most versatile bike and I certainly won't be riding it on the Hunt 1000, but for any smooth gravel trip, this is my go to.
My bags ran amazing as always, I've really found the magic setup for my riding style. I've tested this setup over many different routes and it just works.
The only change I would make to this rig is a set of carbon wheels, laced to my Hope Pro4 hubs. That would be ace.