Bundy to Bris: A Bikepacking Adventure in QLD Australia
Words & photos by Keegan
8 minutes
The Bundy to Bris (Bundaberg to Brisbane) trip was all based around the Kalliwa Hut.
After finding an abandoned hut hidden away on the edge of a national park earlier in the year, I started researching huts in and around Queensland. Kalliwa Hut was one of about sixteen or so that I found and with that I started building a route.
With the temperatures in Queensland getting warmer, I wanted to make sure there was a few water holes along the route, both the swimming kind and the amber liquid kind, but also have some wild camps and other locations to visit.
With the route pretty much complete, I asked a few mates, mentioned it on my Instagram and also on a Brisbane Facebook group. The end result was a crew of four, Allison @allis_on_wonderland, Maxxy @bikepackshop and a good mate Mikko. I also got in contact with Brad @bradcook78 a bikepacker/adventurer with some amazing content, when doing research on Kalliwa Hut I stumbled across a video of his on a 4×4 forum of the dead forest and Kalliwa Hut. I asked Brad about a couple of sections' surface type that would be on day one and he was more than helpful, even showing me a better way.
With Queensland Rail only allowing 3 bikes on each arvo tilt service to Bundaberg and the last minute cancellation of some crew who missed out, we were all over the shop train wise. But by Wednesday night we had all arrived at the caravan park in Bundy.
Thursday Day 1
We got up, packed up and were off. After a short while we would turn off Childers Rd and spend the most of the day on some amazingly fast rolling gravel and loose pack roads.
We stopped at Booyal road house (the last resupply till Biggenden), leaving there we headed to Booyal Crossing, here we would spend a hour or so swimming before getting back on the bikes and heading onto Kalliwa.
The day soon heated up and was at around the 46°c mark at midday, a few stops and pictures later we reached the turn off to the dead forest soon after Kalliwa. Stoked to be there, we checked out the hut then went down to Lake Paradise dam for a swim. Back at the hut, we decided to spend the night under the stars. Laying in the bivvy after a hot meal and some red wine, watching satellites zip through the sky and a handful of shooting stars was absolute perfection.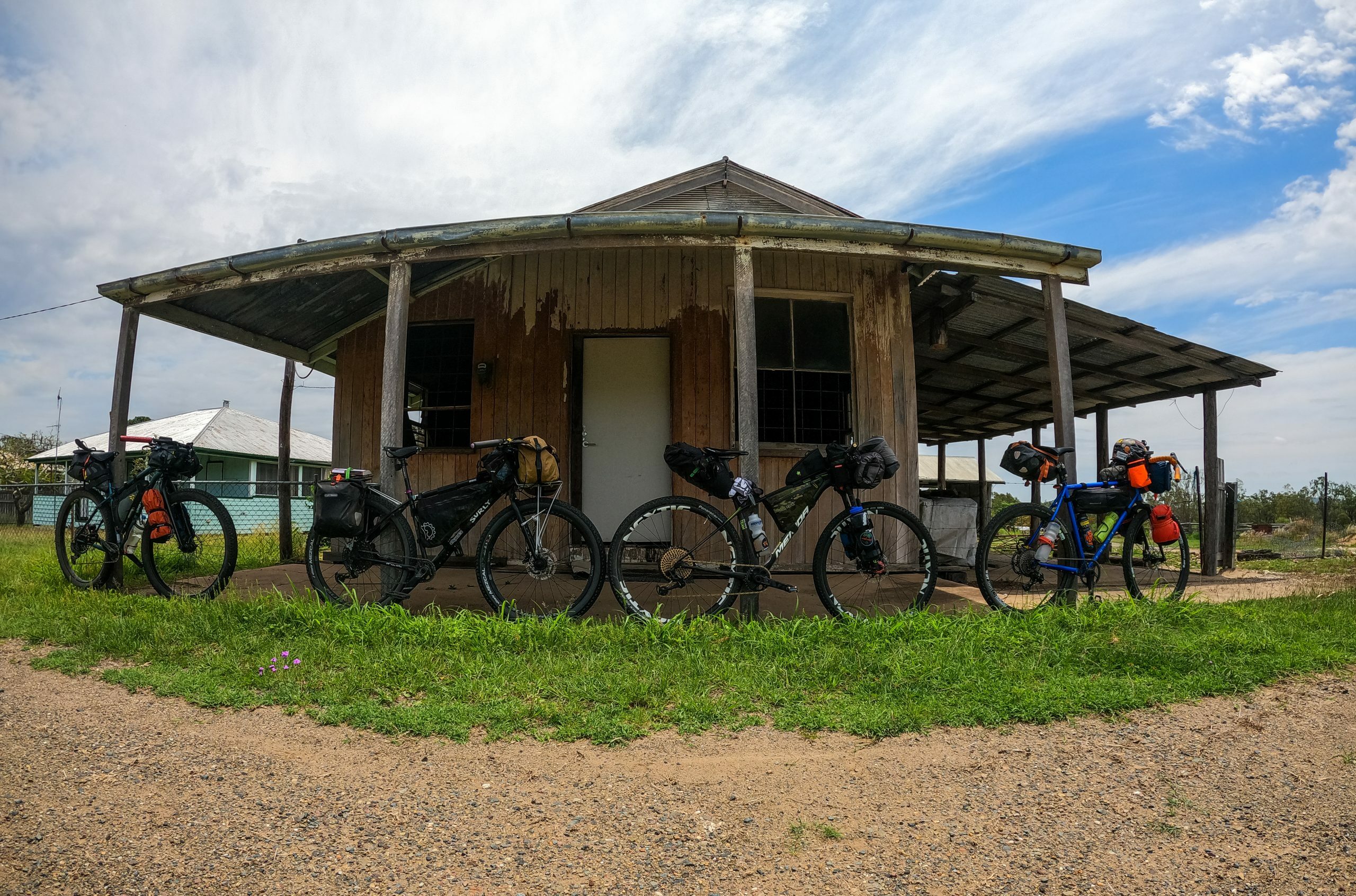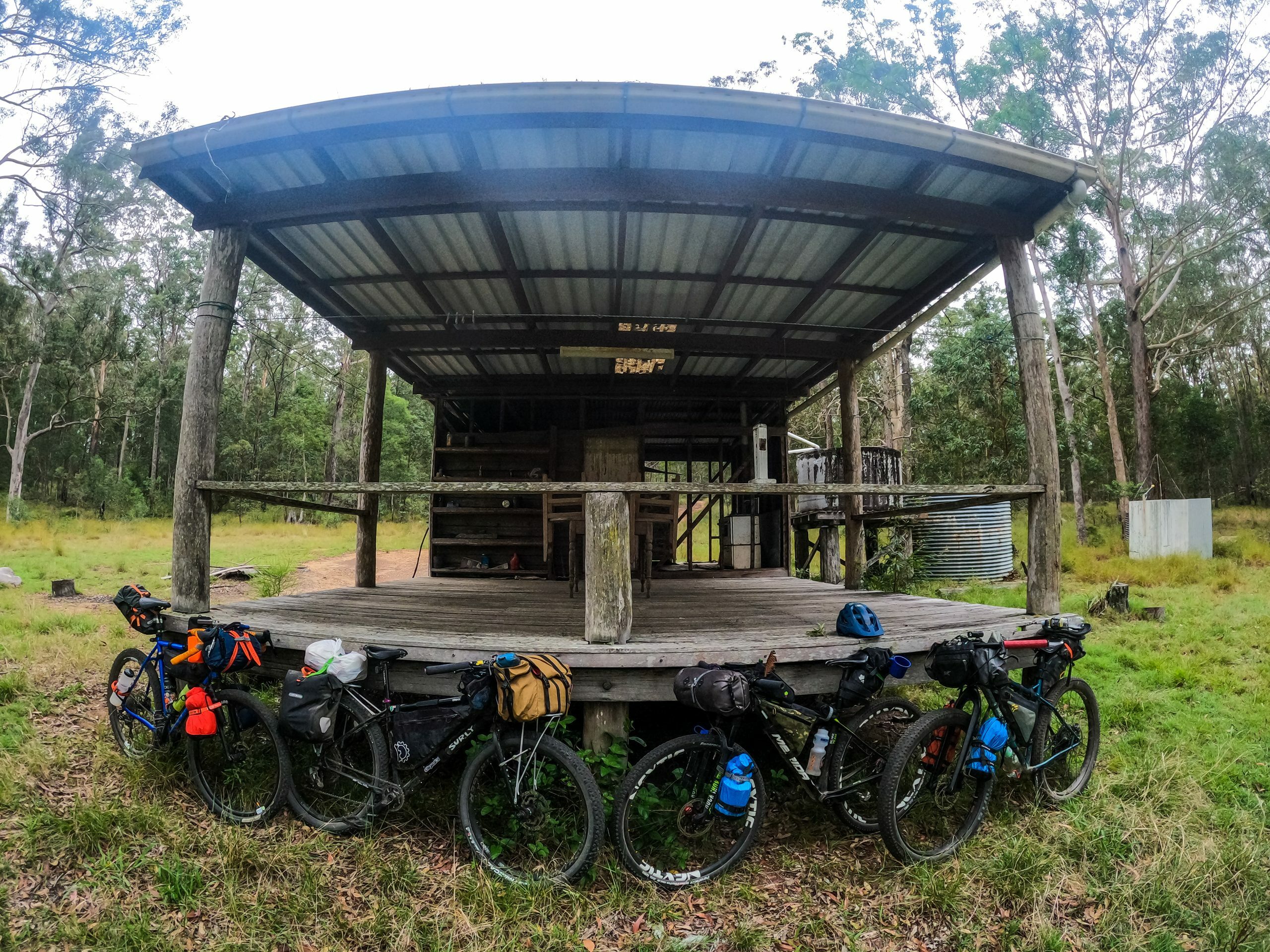 Friday Day 2
We left Kalliwa headed for Minto Crossing. Arriving there we were told a food truck would be arriving shortly so we filled our waters and waited. About an hour or more went by, but still no food truck, so we headed off. A quick chat to one of the construction workers down the road we found out there was no food truck today, of all days, the food truck was in for repairs. Ah well, onto Dicot then Chowey Historical Bridge.
Arriving at Dicot, we met a bloke by the name of Kelly Maddern. We'd stopped at an old shop and it turned out he owned and was restoring it, he hooked us up with some cold water and after a bit of a yarn we headed for Chowey, an old historical bridge, built in 1903 for around 3 grand. After checking out the bridge we decided to follow the rail line to link a road on route, a bit of extra unplanned adventure.
We linked back onto the route and headed strait to Biggenden. We set up at the caravan park, had a scrub and headed down to the pub for dinner and a few cold beverages. It turned out that with every drink you buy you receive drink tickets into the Jag the Joker and one of our tickets got called. We'd already appointed Alison to pick the card and she did just that, an $800 win we split four ways. We got a few takeaways from the bottle shop and headed back to the caravan park.
Saturday Day 3
We rolled out of the caravan park and down to the road house for breakfast, then the bakery to grab some rolls to stuff in our bike bags for lunch. Riding out of Biggenden about 15kms or so a few mates pulled up beside us, they had camped on Mt Walsh summit and were headed back to brisbane. They made sure we were sorted and we said our goodbyes as we headed for Booubyjan Rd.
This was a section of the route I'd been so keen to ride and it didn't disappoint. This section would have us spend the day riding along with mountain ranges either side of us, filled with cattle, roos and some other wild life – surprisingly no danger noodles. A long hot day above 40°c again, we turned off towards Tansey where we found a tap to fill up for our last stint towards camp.
Arriving at Goomeri Showgrounds we checked in, the lady running it gave us an undercover camp kitchen spot, so we left our bikes and a few of the crew set up their sleeping systems. I left all my gear packed as it takes all of two minutes to set up, walked to the pub down the street for dinner. Sure enough as we go to leave, it starts raining sideways. Ah well another drink while the crew contemplate what's happening to their gear. We ended up back at camp and luckily the gear hadn't blown away and wasn't too wet.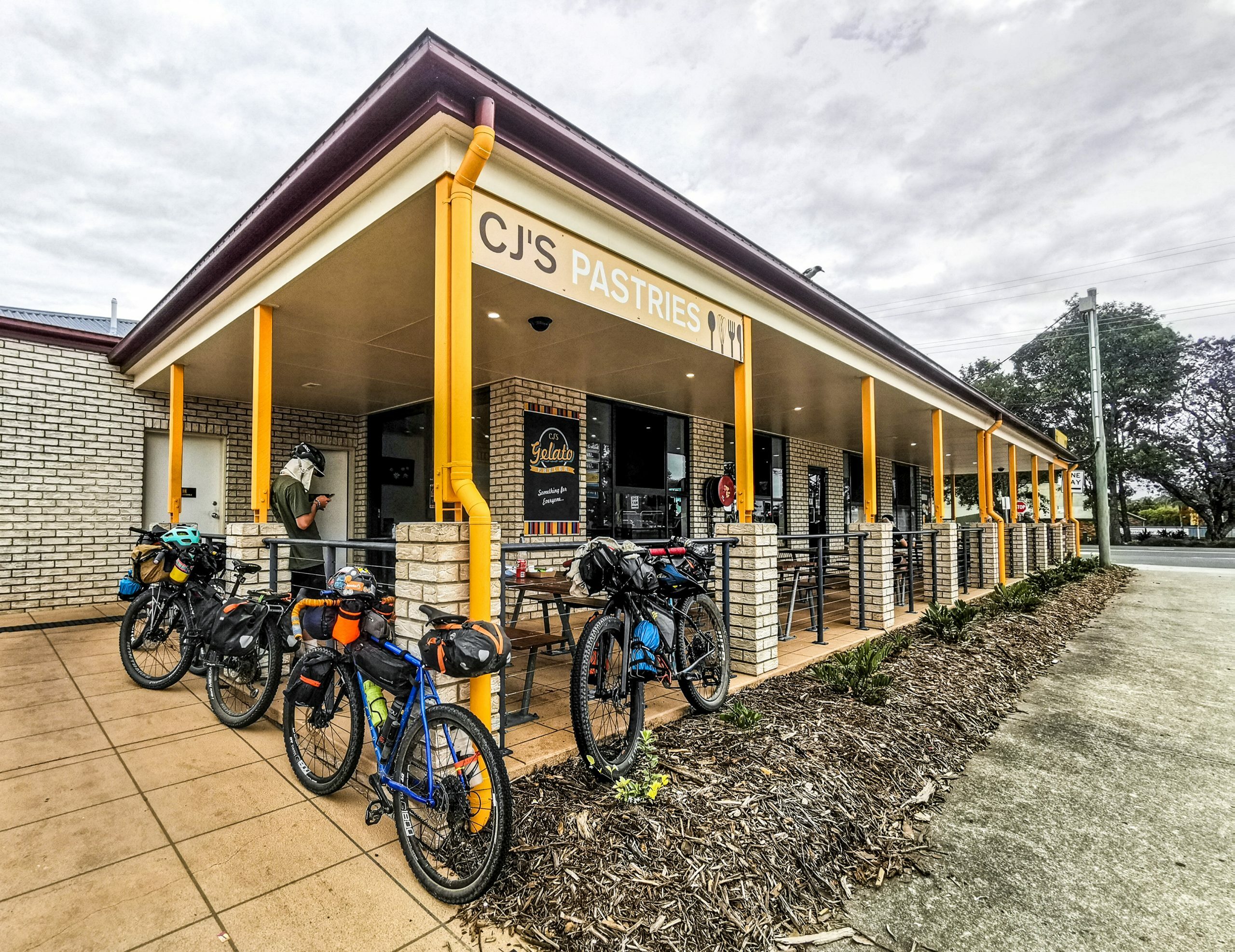 Sunday Day 4
If you have never been to Goomeri bakery it's definitely worth a late start. It's hard to pass up one of the best bakeries in QLD (easily in the top 5). After breakfast we headed for Kinbombi falls for a quick look, one quality free camp that's for sure. With a bit more rain the falls would have been better.
Onwards to Jimna, in particularly Jimna Base Camp. I'd first stayed at Base Camp back in July for the Jimna Escape. If you're bikepacking around North of Brisbane or near Conandale National Park, I highly suggest spending a night, even two and checking out the area. Cheap camp, amazing coffee/soft drinks/milks, snacks & hot showers and fire pits. Goomeri to Jimna Base Camp we rode up some logging routes, saw a fox, got moo'd at by some cows not wanting to move and shred on to get supplies for the night's camp.
Jimna Base Camp is always enjoyed
Monday Day 5
We got up and rolled down to the front gates, got a coffee and a few bits to enjoy while riding Monsildale Rd towards Kilcoy.
Today would be our last day – well, that was the plan until we were at Kilcoy pub having lunch and no one really seemed that keen on going back to normal life just yet. So I mentioned a mountain hut camp and that was that. What I didn't mention was the 26-32% incline up said mountain for about 3.5km. In my defence I did say it was hike a bike.
We arrived at the hut around the same time the sun set. This hut is luxury as it has mattresses wrapped in plastic, so we pulled the mattresses out instead of setting our inflatable ones up and enjoyed the extra weight in drinks we'd hauled up and listened to music for a while before hitting the hay.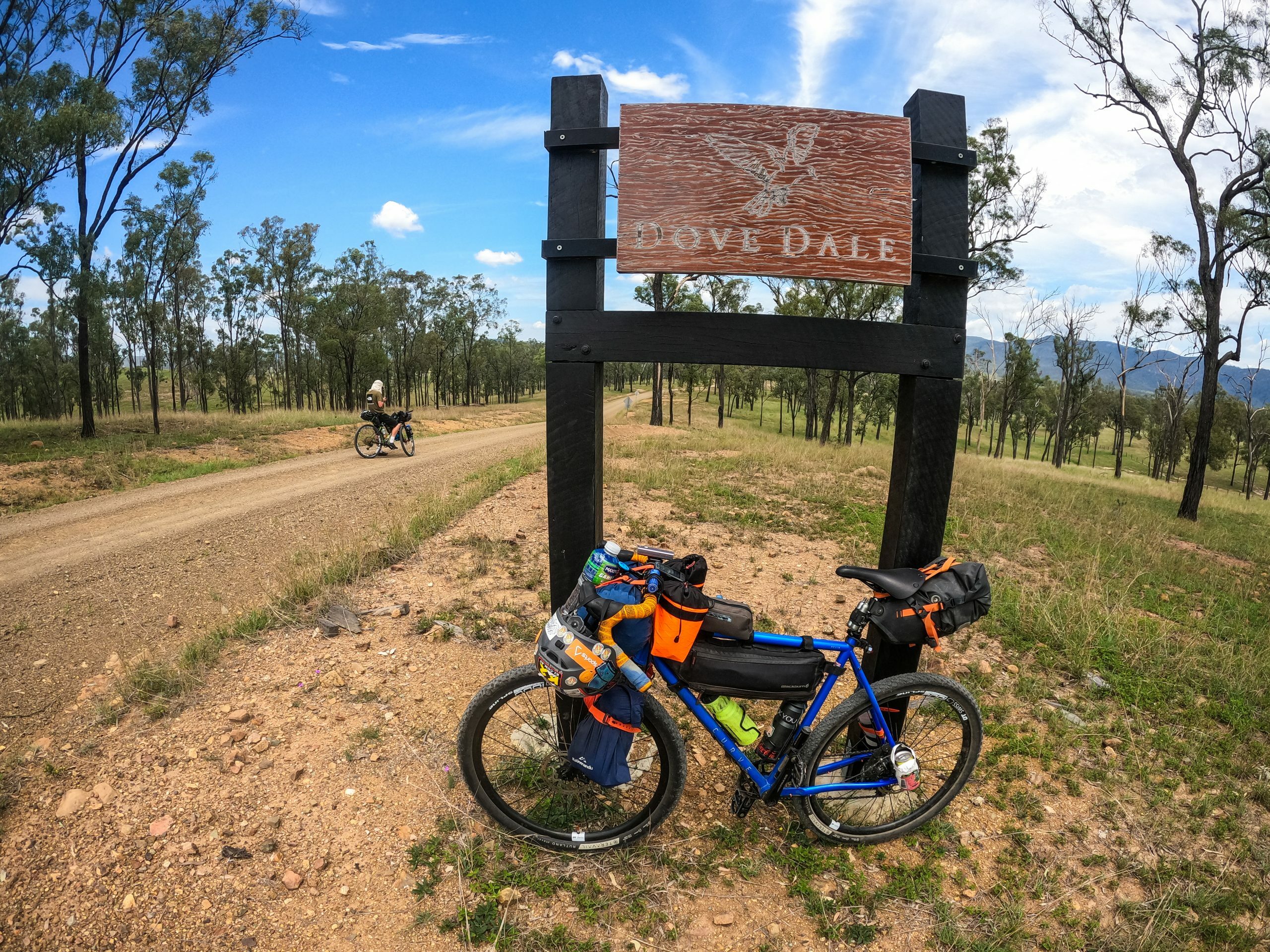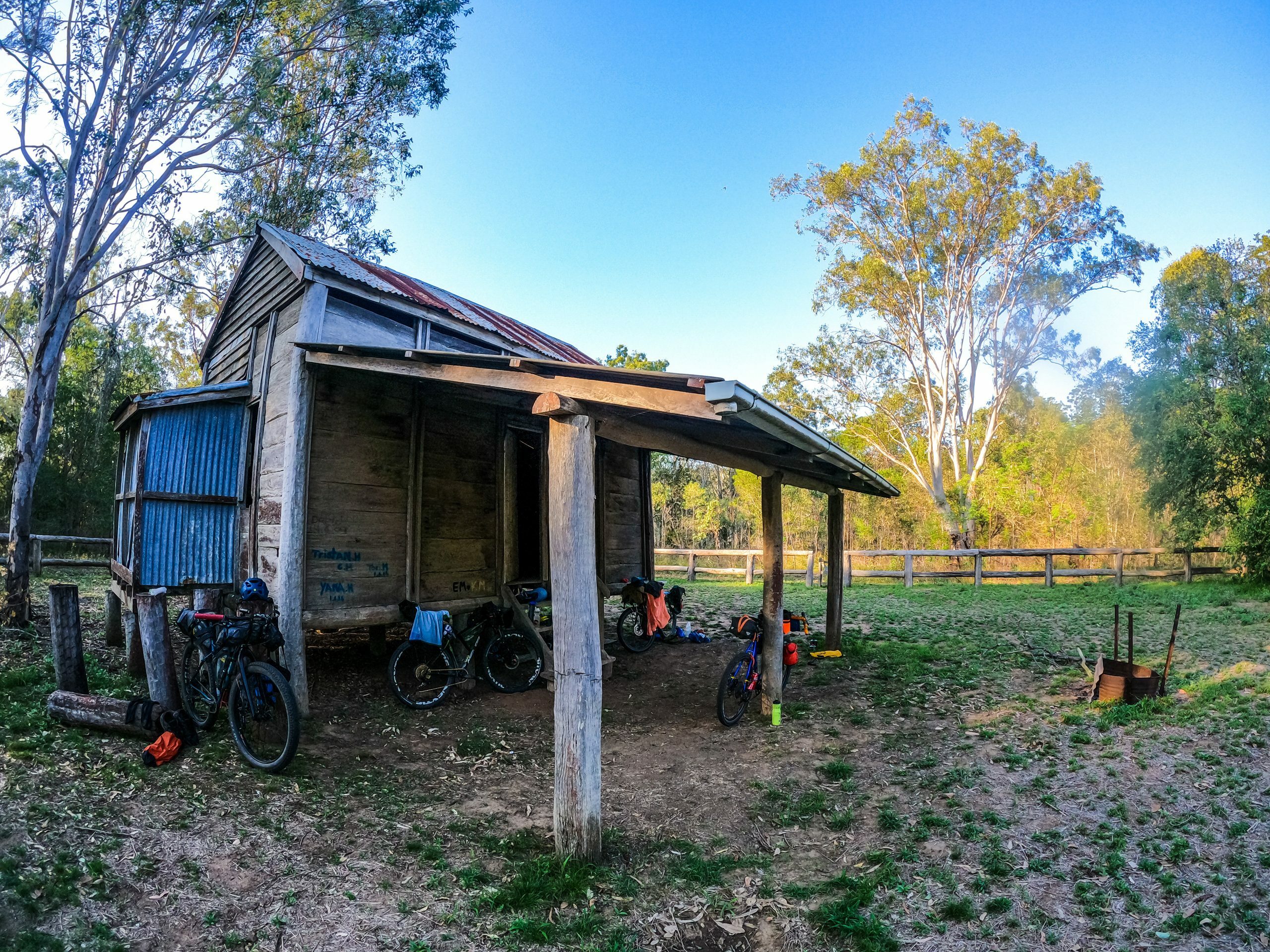 Tuesday Day 6
We slowly packed up and rolled on towards Woodford for yet another bakery stop, then through the back of Woodford and the Beerburrum West State Forest. We linked it to the Wamuran rail trail, following that to Caboolture.
I finished my ride with the crew there and said my goodbyes.
In total, with the bonus camp:
Day 1 – 88.85km 1023vm
Day 2 – 72.75km 664vm
Day 3 – 111.96km 975vm
Day 4 – 88.22km 1613vm
Day 5 – 70.70km 1097vm
Day 6 – 63.23km 415vm
We had a ton of quality shenanigans, laughter & good times spent with amazing humans.
Route link: https://ridewithgps.com/routes/37924418
Special Thanks to
Brad Cook @bradcook78 (for happily sharing local knowledge on trails)
Kelly Maddern Country (for the good yarns and ice cold water)