Winter Solstice 300 – Rich's Story
My 2022 Winter Solstice 300 story begins a year ago with the inaugural event. I first heard about this via a friend and quickly became enthusiastic about the course and the potential adventure in store. Unfortunately, I let my nerves and apprehension about such an endeavour get the better of me and didn't participate; instead I engaged in dot watching and following the event via social media.
As the ride progressed, I was filled with admiration for what they had undertaken, but with regret that I hadn't had the courage to get out of my comfort zone and have a crack. These lessons led to me completing the Mallee Blast 1000 later in 2021, but I had unfinished business with the WS300.
Preparing for the Winter Solstice 300
As the 2022 date and course were announced, the usual uncertainty arose again, but the conversations via the Facebook group and messages between myself and several friends who were also participating made me feel much more comfortable. While my training
had been inconsistent, I had got in five 100km + rides in the months leading up to the ride so I committed to entering.

The other thing that helped me get to the start line was being very clear about what my expectations were. I'm 54 and weigh 95kgs so the Otway climbs are not my friend, but being clear on my goals was important (in order):
Staying safe, and not putting anyone else at risk
Enjoying the ride and experiencing the ups and downs that will come with it
Finishing the course
Testing my limits and finishing the course in one ride (which would be the longest day on the bike I'd ever had)

I had a few contingency plans in place and the other thing to help overcome the daunting 300+km number was to break it down into three rides. Those being: Warrnambool to Lavers Hill (130km), then to Lorne (85km), then Waurn Ponds (90km). It didn't change the total but made the full thing seem more manageable.
Prior to the event a friend, who was aware that I'd had some experience with poor mental health, asked me how I could get past that and do these types of rides. The question gave me a point of reflection and I responded that my anxiety leading up to this was very high, and I was filled with constant thoughts around putting myself in danger, the embarrassment of not finishing, and other unhelpful thoughts. But one of the things I've learned over the last few years is to recognise when I'm having these thoughts and rather than be defeated by them (e.g. last year) or fight with them, to just accept that it's not unexpected to feel anxiety and that it's my brain doing its job and warning me of potential danger.
With recognition of these thoughts and emotions, I can choose to accept them and let them be or, if necessary, take action (e.g. adequate training, safety equipment, contingency plans) and then proceed to the event. To be honest the biggest victory for me is starting challenges like this despite these feelings …. although crossing the line is pretty cool too.

The bike set-up was the next consideration and most of it was pretty standard for food, water, and spares but I also packed an emergency bivvy and a puffer jacket in case I had to stop and rest.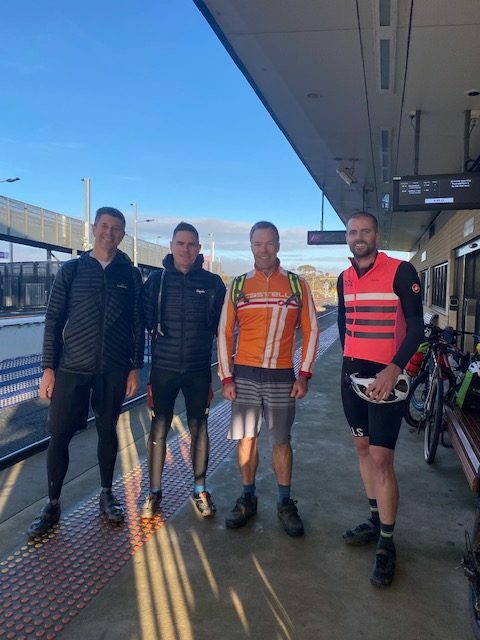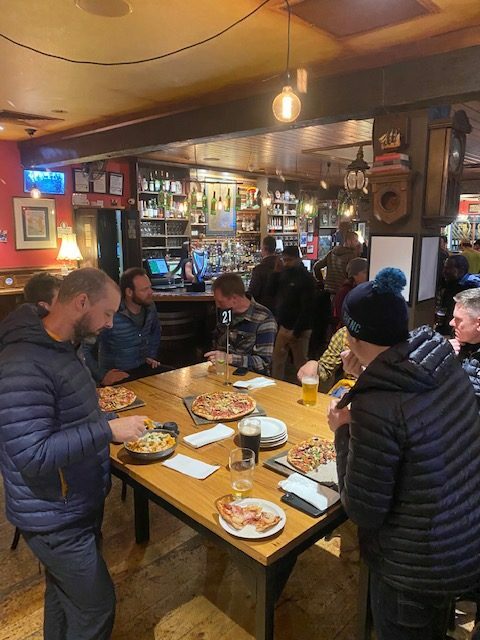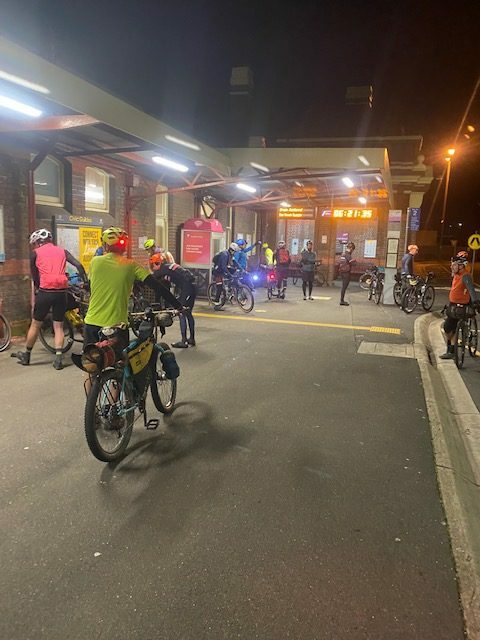 The Night Before and the Morning Start
The trip to Warrnambool on Friday was pretty eventful for many riders, with a train breakdown and contingency plans and buses kicking in, but it appeared that most made it to the pre-ride drink and pizza that Matt had organised. While enjoying the catch up I realised two things:
The people who do this eat a huge amount of food pre ride
The people who do these rides are amongst the friendliest people I've ever met. I experienced the same
thing at the Mallee Blast. Everyone is encouraging and interested in your background and sharing stories.

The starts of events like the Winter Solstice 300 are very casual, with a group photo and a casual "OK everyone, let's do it," and we were on our way. The profile for the start was fairly flat and I was keen to get some kms under the belt. A group of about eight formed toward the front which stayed together for the first 50 odd kms. We got our first glimpse of the Sun around Peterborough (it was quite foggy up to then) and I rode briefly with Damien and then Matt, who were great company. The landscape started to change and the hills started.
Into the Otways
At about the 120km mark I hit the first big climb of the day up Camden Rd to Lavers Hill. Living in Torquay, I'm pretty familiar with the Otways but I hadn't ridden this climb and it was a beauty. The Garmin Pro Climb function had it as a 15.4km climb at 3% and the surface was awesome hardpacked gravel and the scenery was magnificent. And, best of all, my first scheduled rest stop was in Lavers Hill at the café, Yatzies.
Saying hello to a few riders as they came and went, I struggled but ate some food, gave the chain a lube and set off for what I had anticipated would be a very hard section of the ride. At that point it had taken me just under six hours to do 133kms to Lavers Hill but I knew the legend of Halls Ridge Rd was going to put a severe dint into my average.
And what a dint it made – almost two hours for the 11km up Halls Ridge Road. Most of it was unrideable, parts of it were walking through ankle-deep mud and I fell off twice. Once quite hard requiring a realignment of my handlebars to my front wheel. This was the time
that I felt most challenged. It just went on and on and I felt like I was going nowhere and although I knew there were a few riders behind me, I was alone for nearly all of it until I saw the friendly smile of Tim Green come up behind me, it was really nice to moan to someone and share the misery. It's an interesting question whether a section requiring so much hike a bike should be on a bike ride. I hated it at the time, but in the post-ride wash up it had the greatest number of comments and probably created the most enduring memories, so…
Eventually, it was over and after a 10km stretch along Seaview Rd we got to the magnificent Turton's Track. Matt mentioned to me that he thought the total shit show that is Halls Ridge Rd forms the perfect contrast for the elation felt riding along Turton's Track – and I couldn't agree more. It's just the perfect place to ride a bike. Plus, this was territory that I knew very well so my spirits started to rise sharply.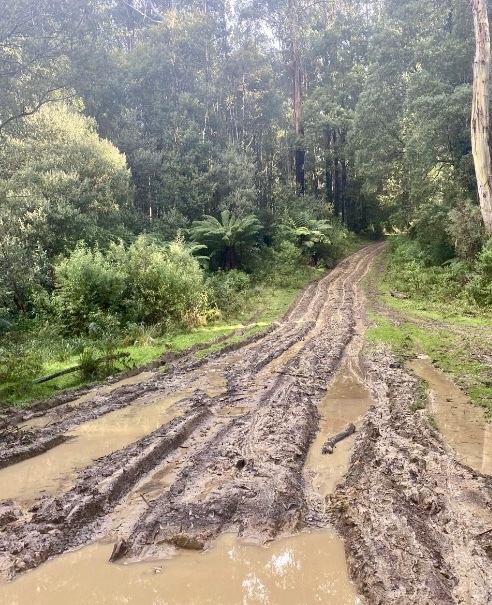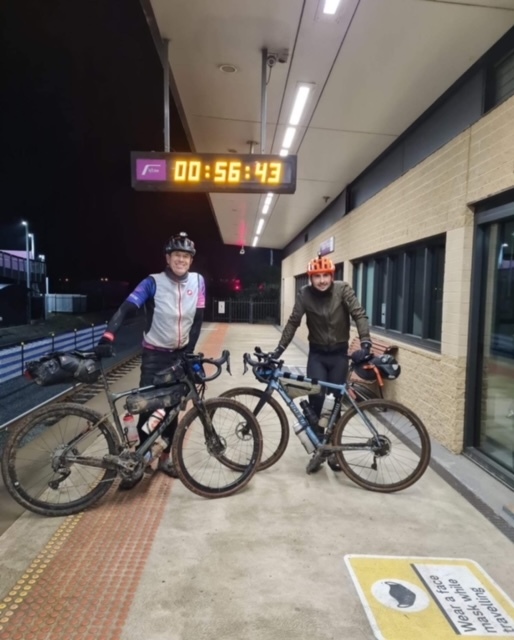 Finishing the Ride
On towards Mt Sabine – Benwerrin Rd, I caught up with Tim again who would become my riding buddy for the remaining half of the ride. On a few occasions, we could have split up but didn't and I think that made the ride faster for both of us, as well as infinitely more enjoyable.
The light was fading fast and we hit the top of the descent into Lorne down Garvey track at around 6.00pm. We fitted the helmet lights (a must in this terrain) and started the rough but quick descent to be in Lorne. Getting to Lorne was a major pinch point in my plan for doing this in one ride as (according to the research) the cafes etc. close around 8.00pm so food options would dry up quickly any later. Some advice from prior year participants suggested this was a suitable place for fresh gloves and socks, and what a great suggestion that was.
Again, I had trouble eating but forced some food down and we set off on the Great Ocean Road together to take on the second of the daunting sections "Big Hill Track". This was nowhere near as muddy as Halls Ridge but it was a lot of slippery clay and a section where it was almost too steep to walk let alone ride. After a few close calls for slipping out, we made it to the top and Tim said to me "There's another milestone down." This was repeated at the top of the remaining climbs for Seaview Rd (another one), Bald Hills Rd and Cecil Track and helped break the last section of the ride into more manageable chunks.
At this stage, the body was starting to protest pretty strongly. I'd felt the first twinges of cramps in the legs before 200kms but was managing them ok but my back and hips were really stiff and I had to stretch on and off the bike to try and relieve them. At this stage shoulders, neck, arms, and hands were also pretty fatigued.
As we approached Bald Hills Rd (50km to go) there was a car parked at the corner and I thought it might be a dot watcher. I was right, but it turned out to be "my dot watcher" in the form of my wife, Belinda. Seeing a familiar, smiling face with some words of encouragement was a real shot in the arm and one repeated with Tim's family as we came through Moriac. I'd also had messages on my phone from my parents and friends, again it made a huge difference even though I didn't reply until afterward.
The last 30km was pretty much flat hard gravel and bitumen with the exception of some hike a bike on McPherson Rd with 1km to go which Matt later told me was included just as a final reminder of what we'd been through earlier. Then the wonderful feeling of accomplishment washed over us as we rolled into the Waurn Ponds station with our partners cheering us in, Tim and I thanking and congratulating each other and the obligatory photo under the train station clock at 00:56:43.
For the record: 310km, 4,713m of elevation gain, 18:24 elapsed time and 16:20 moving time (avg. of 19kph).
The following day I drove out on the course to cheer on a few friends as they neared the finish, which I know other riders also did and again illustrates the community ethos that comes with this event.
I'm so glad that I took this ride on. I learned a little more about myself, met, and reacquainted myself with, some of the best people going around and got to do it in the stunning Otways National Park. When I finished, I was thinking "Oh well, ticked that one off now," but since the event, I'm starting to look forward to next year.
Can highly recommend this ride.