Two Views From the Winter Solstice 300
One the great aspects of bikepacking events is that while everyone rides the same course, everyone has a different experience. The Winter Solstice 300 was no different.
Route creator, Matt Seehusen, has kindly pulled together two of these experiences, adding to the report from one of the fastest riders, Steve Sullivan.
Thanks to Higgo and Ashlea for sharing your stories.
2021 Winter Solstice 300
Higgo: When the Winter Solstice 300 popped up on facebook a few months ago, I was immediately interested. The timing was good, being in the middle of the year. And the distance seemed like a good opportunity to test myself at some of this longer distance riding.
Timing wise, the event fills a big gap in the calendar for this sort of thing, with the VicDivide 550 back in March, and GDT400 (and the inaugural Mallee Blast) not until much later in the year. For me this was the perfect distance in being able to (hopefully) smash it out in one go.
Objectives were to finish, meet some awesome people, and have some fun. Ended up ticking all three of them off.
Ashlea: This time last year I thought a 40km flat ride was a huge effort. Once I escaped country Victoria and moved to Canberra I was riding so much I wondered perhaps what I was capable of.
I am sure everyone has watched the Lael Wilcox documentaries and wondered perhaps if they could do that. It didn't take long to find the Winter Solstice 300, what a perfect first bikepacking race to see how I liked it and what my body was capable of. My sleep plan of a hammock and an emergency blanket I realised was, if you want to say it kindly, just plain foolish, not to mention I hate cold!
Weeks flew by and before I knew it I was driving down to Warrnabool with the help of my parents.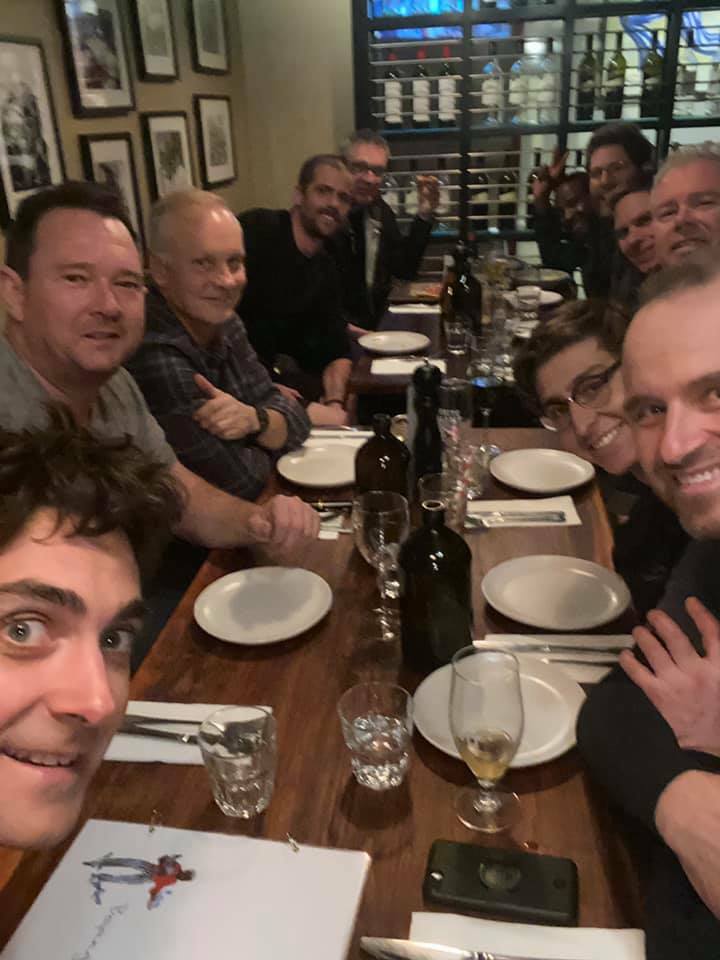 The Day Before
Higgo: I headed to the Waurn Ponds train station Friday afternoon. The way that Matt Seehusen designed the route meant I could park here (at the finish) and have some warm and dry gear to change into. I was greeted by another five riders at the station, on a range of bikes including fully loaded MTBs to a very racy looking Aspero with bugger all bags on it.
Either that guy was in for a very fast, or very uncomfortable ride. That rig belonged to Sully who I had the pleasure of sitting with on the train ride down. Super nice guy and very experienced. Sully and Steve Lane would go on to smash out 300km at a lightning quick pace, coming in equal first place together with a time of 14 hrs and 35 mins.
Matt had booked a table the night before the event at Bojangles in Warnambool. This was an awesome couple of hours to have a pizza and a beer, and get to know some of the other riders taking on the event.
The Start
26 riders had turned up for this inaugural event. Given the time of year and predicted rain, as well as a Covid induced lockdown every other week the numbers were fantastic, route creator Matt Seehusen was sure he would be the only one riding when the event launched.
Higgo: I was prepared for a dismal and wet day from the start – earlier in the week the forecast was for 100% chance of rain all day long. I was prepared to roll out in full rain gear. We were gifted with a dry start, and a tail wind.
The rain kept at bay for the first four or so hours, and the wind stayed with us for pretty much the whole event – thank God it was blowing from behind. The whole event would have been a completely different proposition if it was a headwind for 300km. We even had some (brief) sunshine!
The first 115km flew by at an average of 26kph, it was nice to get some distance behind us. I was with a group with three others and the time passed quickly with new friends to chat to. The sun was out, still a bit cold, but just ideal conditions. A fast start for me, but only four hours in and Steve Lane and Sully were well into their two-man time-trial, and already 10km up the road with no sign of slowing down.
The rain and fog did eventually roll in and the temperatures dropped.
Ashlea: At 6.30am we were off, 1km at a time, still wondering if I'd packed the right gear and was in the right place. I settled into a pace enjoying the sunrise and all the blinking lights in front of me.
Riding by all the dairy farms enjoying the smell (yep cow poo after growing up on a farm smells likehome to me).
I initially wanted to ride all this on my own, allowing myself to be swept up in my thoughts and ride at my own pace. About 10km in my pace lined up with Matt P and we rode together until the first stop.
I enjoyed this immensely, easily chatting and watching the first 55km fly by. I rode with no one from the race on my second day so I soon realised how nice this was.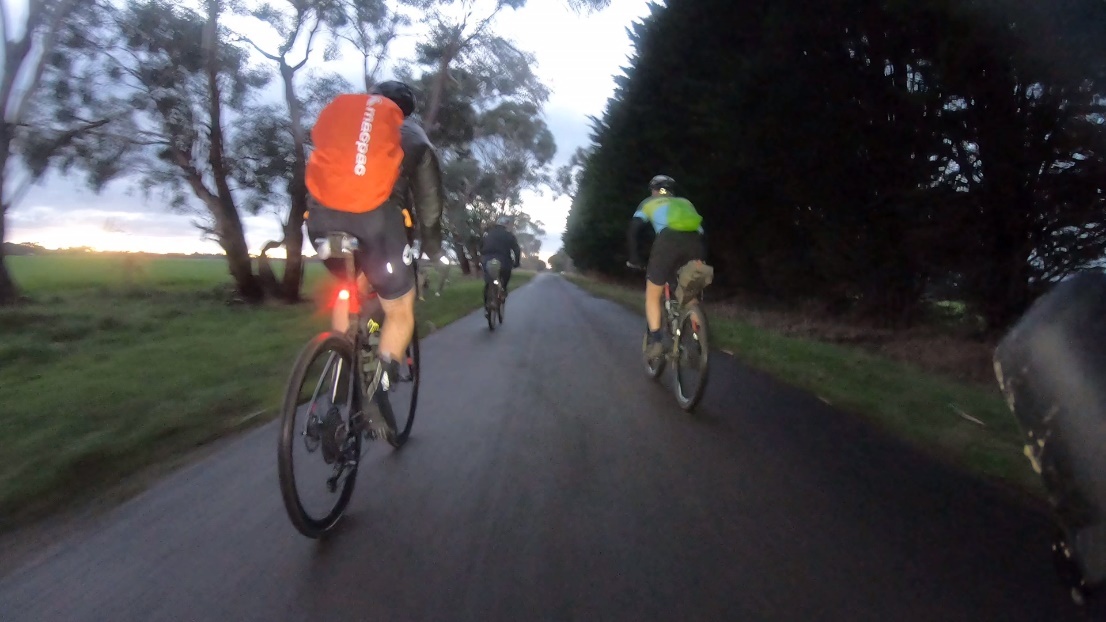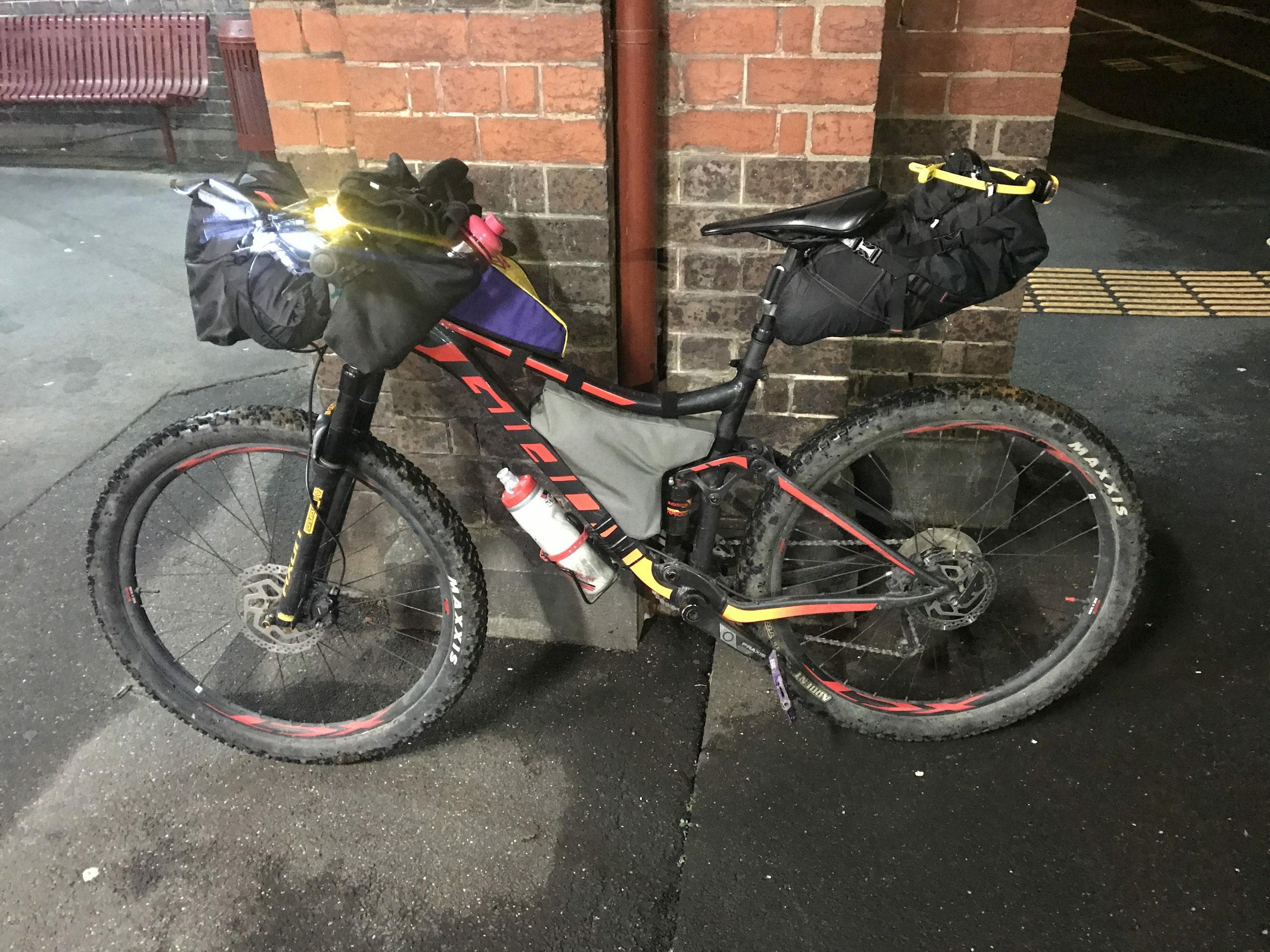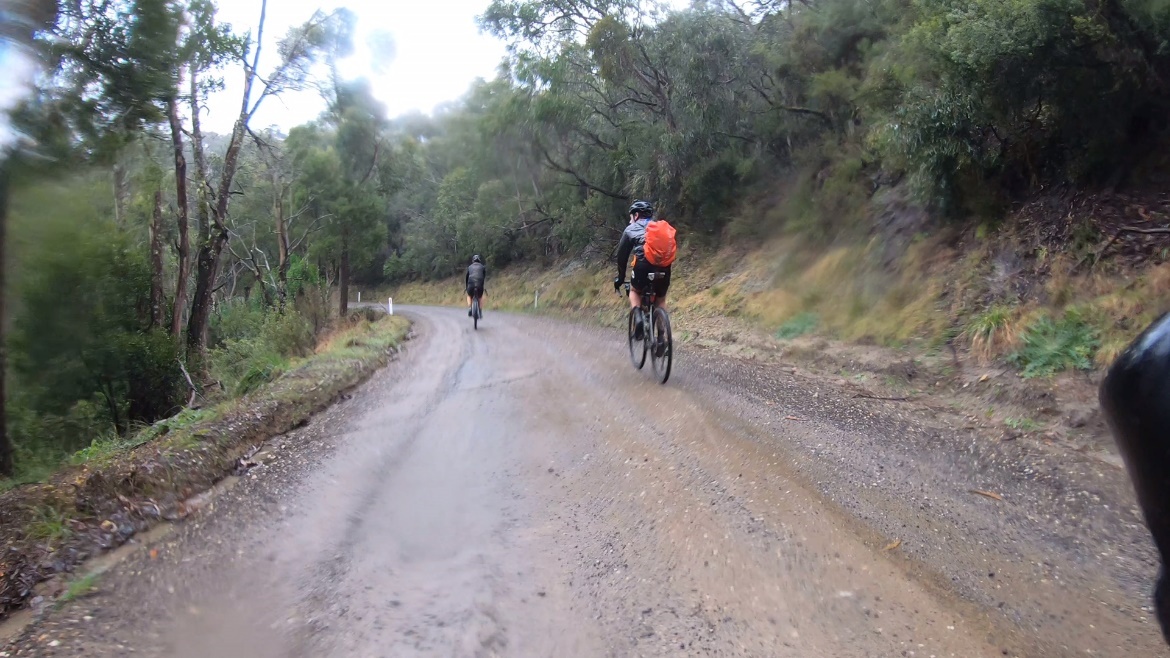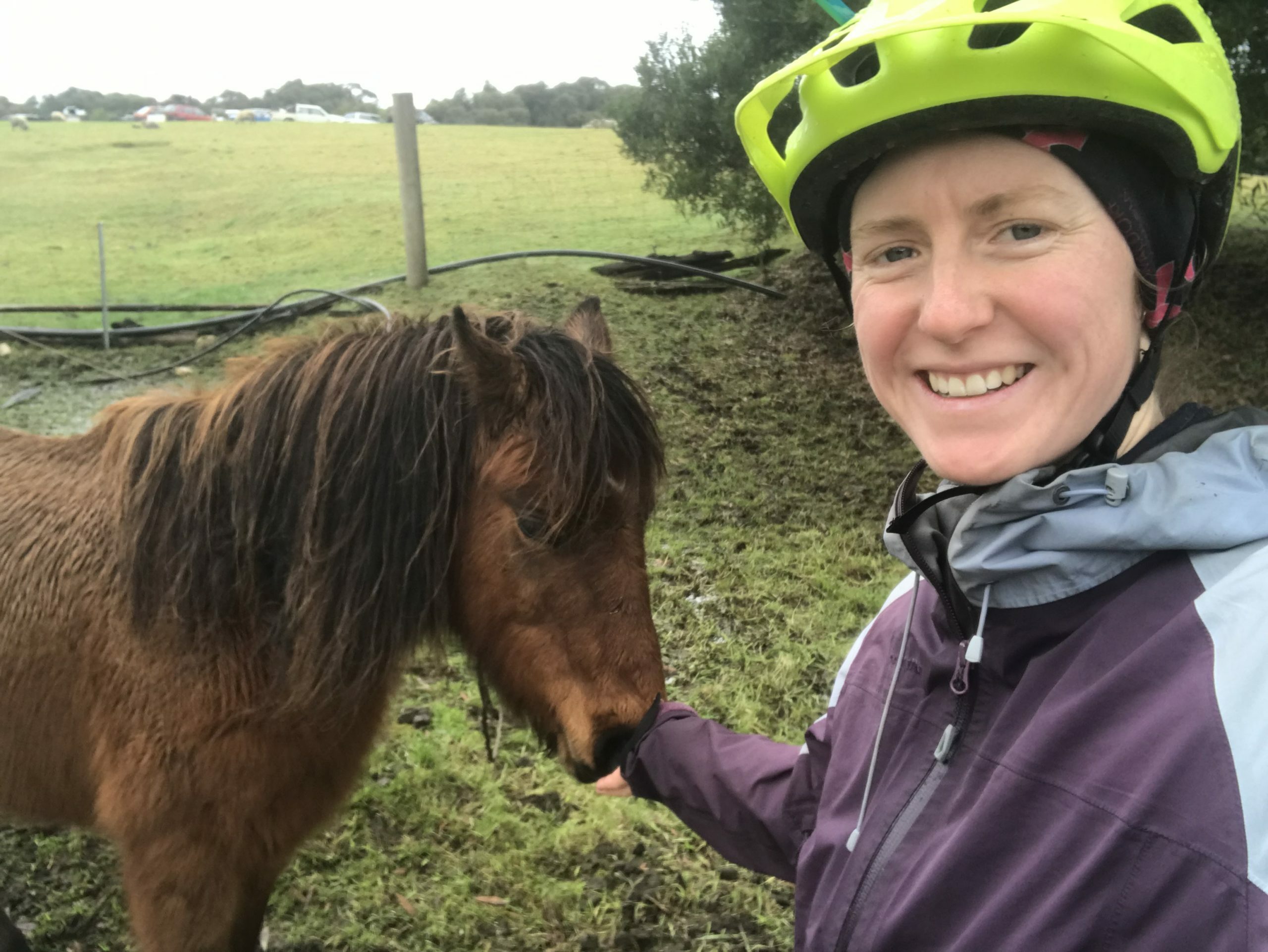 It was a fast course, until it wasn't…
Higgo: About 115km in, the first big climb of the day loomed. It was not steep, but we started to spread out a little from there.
We were ahead of schedule, but I still stopped as I had planned at the top of that first climb for hot meal and coffee – I reasoned if I waited any longer my water would be cold and I would not enjoy it.
So, I downed a warm freeze dried meal and a coffee while I stood under a tree and got cold. I got passed by 2 riders at that point – something to chase with a full belly!
Ashlea: While enjoying beautiful gravel roads I rounded a bend to see a pony tied up eating. He greeted me warmly so I had to stop and take a picture.
I was ready to set off but something stopped me.This little cutie kept neighing and I was a bit hungry so why not hang out with him? This stop was my favourite of the ride.
"Never be in too much of a hurry to stop and make a friend." I could have easily stayed with him for hours. But I shared my vegemite sandwich with him and off I went.
Halls Ridge Road
Halls Ridge Rd had the group talking in the weeks leading up to the event. Lots of photos had been shared around in the discussion group and it was the hot topic on Friday night over pizza and beers before the race.
Higgo: In contrast to the first 115km ridden at 26kph, the 83km to the top of the descent down into Lorne took 7 hrs, at 13kph average. True to form, there was lots of slipping, sliding, and dragging bikes through shin deep mud. Good all round fun. Just to balance things out, there was some absolutely beautiful gravel forest roads in there too.
Ashlea: Arriving at Halls Ridge Road around 3.30pm I realised I had only a few hours of daylight to try and push through it. The first half hour was quite fun, giggling childishly to myself as my rear wheel slipped and spunout from under me in the mud. I was having a great time…. WAS!
Enter, a 4wd-trenched-out trail with mud and a whole bunch of water. My smile soon wiped itself straight off my face and went for a long fast run. For about two hours I walked my loaded bike through the trenches trying to find what part of my brain decided to do this race. At least It wasn't raining right? I made it about one hour before it became dry-shoe-impassable and soon my shoes were puddles.
When it finally ended I had a massive sigh, sweet cruising from there. Wrong!!! So, so wrong. 40+km to Lorne it started raining and I mean raining. I could barely see two metres in front of my bike. It rained so hard my rain jacket no longer did its job. I started passing other riders, bivvied on the side of the road and I wondered if it was inappropriate to ask them if I could squeeze in?
Stupid hammock idea.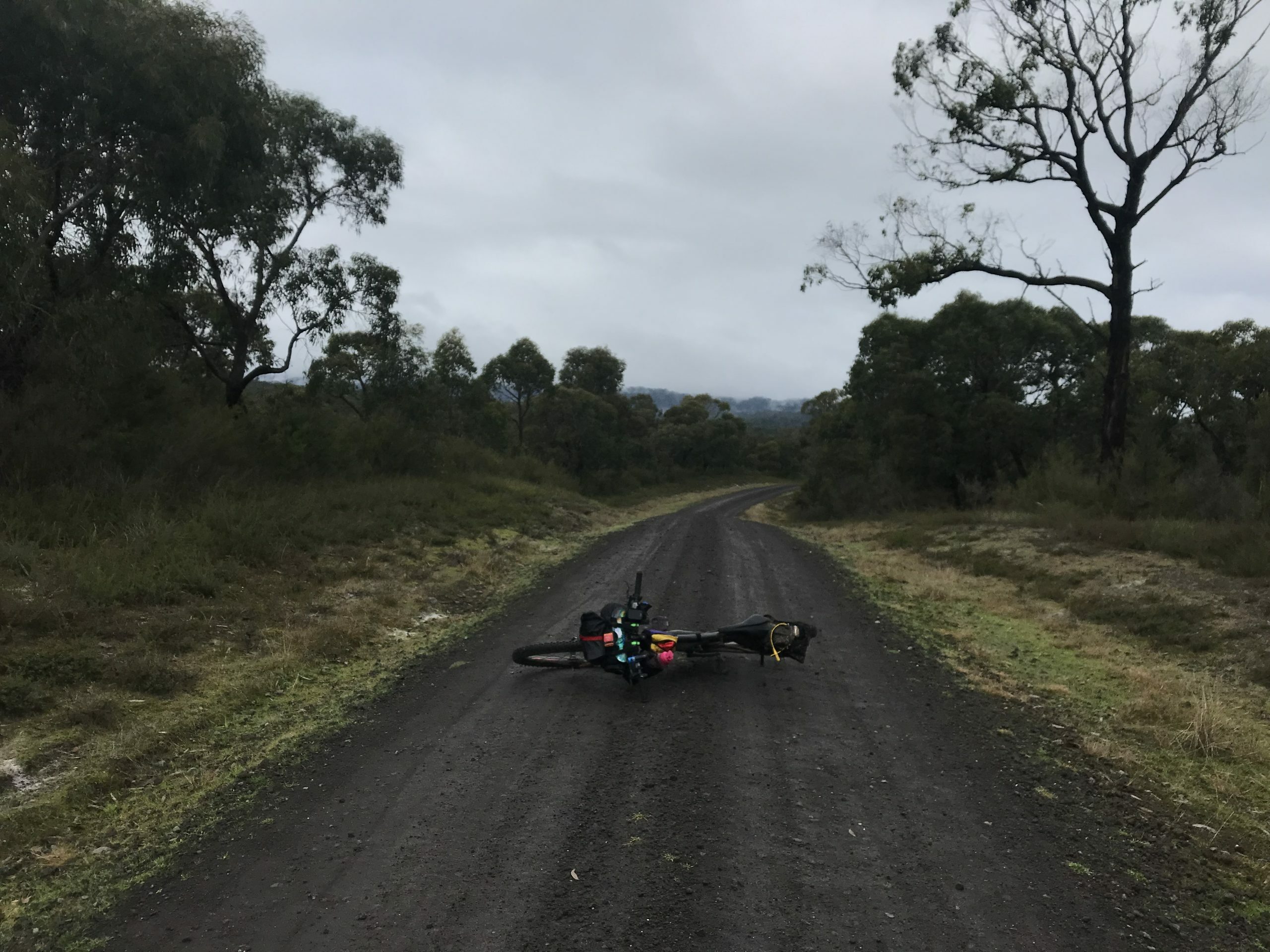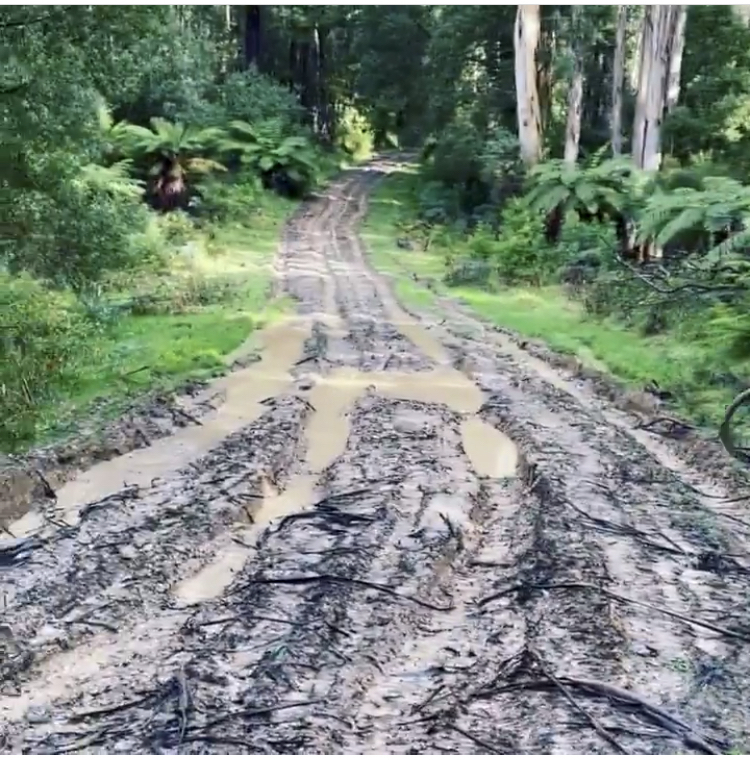 Into Lorne
Higgo: The 11km drop into Lorne was a blast. It was super dark apart from the bit of trail you could see in front of you. Going fast was challenging as you came across some big holes and slippery clay very quickly. Lots of near misses where I should have ended up on my arse. I did drop the bike on one occasion – I was barreling down the track and with a moments distraction did not see a fence/bar horizontally across the track until the last second. I pulled on the brakes hard and locked it up and slid sideways. I managed to avoid the bar but did end up on the ground, lying on my back staring at the stars above me in the big, clear sky. Given I was already on the ground I took a minute for a few deep breaths and a little reflection – I was having fun.
I finished the descent to get to Lorne with plenty of options available for resupply. Looking for a fast option I just hit the service station. 1 chocolate milk, 1 coke (for the road), 2 potato cakes and a pie were quickly consumed. I changed into some dry socks, a new dry base layer and dry beanie too.
It had stopped raining but I reasoned it was only going to get colder at night so might as well. Nick and Jules joined me as I was getting sorted at Lorne. Nick headed off as I was wiping my chain and re-lubing it (an exercise in futility given the trails that were still to come). I looked at the tracker to see how everyone was faring out on the course and was blown away to see the 2 leaders at around 265km in. Next was The Grouch (Oscar Nitz I later realised). Then Matt Seehusen and Matt Ninnes. I was really happy to see Matt Seehusen having a great time out on his own course.
I rolled out of Lorne with a full belly, a little warmer, and was treated to a huge bright moon off to my right as I rode along the Great Ocean Road. This was a nice distraction from the expected hike-a-bike up Big Hill.
I was getting tired at this point (I was 13 hours and 220km in, so not surprised) but knew that continuous forward progress would get it done. The 10km climb took me over 90 mins, with more walking than riding. I passed Nick in the early stages of the climb and knew it was a long way to anyone ahead of me, and would end up riding from that point to the finish on my own.
Ashlea: I wonder if it's okay to talk to yourself, really openly talk? Cause man I had some strong words to say. The roads were dark, long, but never quite lonely as I knew others were out there with me. A quick message to Mum asking for her to book me a hotel in Lorne, about 35km away soon got me motivated.Thank you to Mark and Moses for the chats. Still raining heavily I went to lick away a mixture of tears, rain and snot from my lip and instead found a chia seed! HMMMM, I was truly a mess. Wondering how long that had been stuck to my lip I couldn't help but laugh.
Higgo's Big Push
Higgo: I knew at the top of Big Hill I'd be rewarded with a net elevation loss over the following 10km. I'd ridden the climb out the back of Anglesea many times when on holidays down this way, so was surprised to end up having to walk a lot of it. With 260km in the legs, and the weight of a loaded bike it was just easier to walk. From the top of that hill it was another 35 or so km of pretty flat, long and straight roads with the very helpful tailwind.
Despite the flat roads and tailwind I still only managed around 20 kph average speed, as I continuously reminded myself to continue eating to avoid bonking before the end. At dinner on Friday night Matt mentioned a little kicker in the very tail of the course. He laughed at the time saying it could have been avoided but he wanted to leave it in there as a final challenge. This was a steep little pinch that forced me off the bike one final time to push up and over it. I didn't find it as funny as Matt seemed to when he talked about it on Friday night.
Once at the top it was a straight roll down into an empty Waurn Ponds Station. Finishing at 2.10am, 306km with 4200m of climbing in 19hrs and 40 mins.I sat on a bench for five minutes just to soak it all in. It had been cold, wet, dark, muddy, and bloody awesome.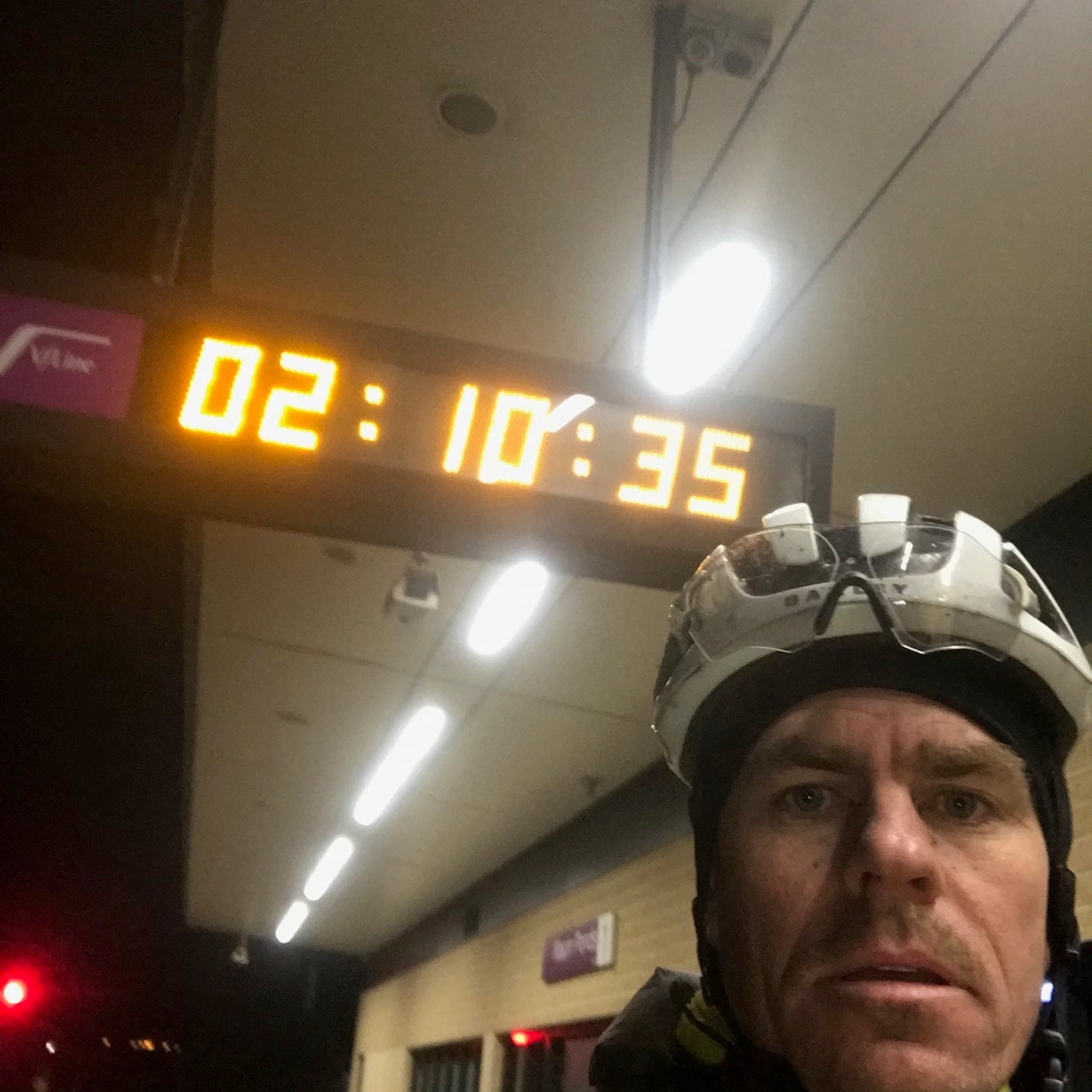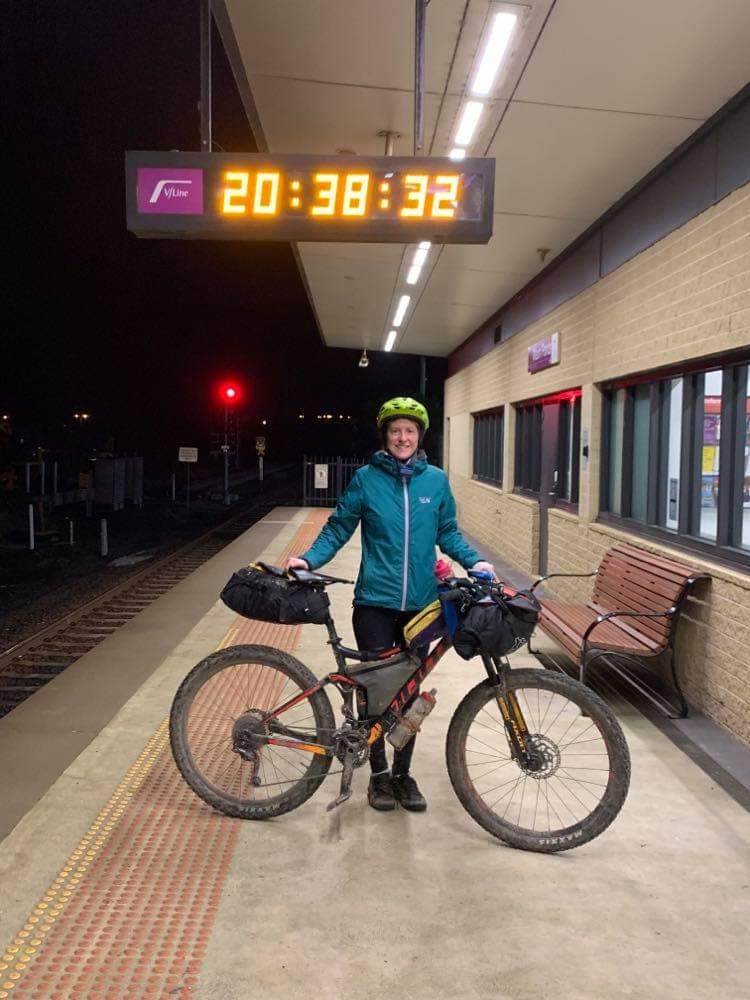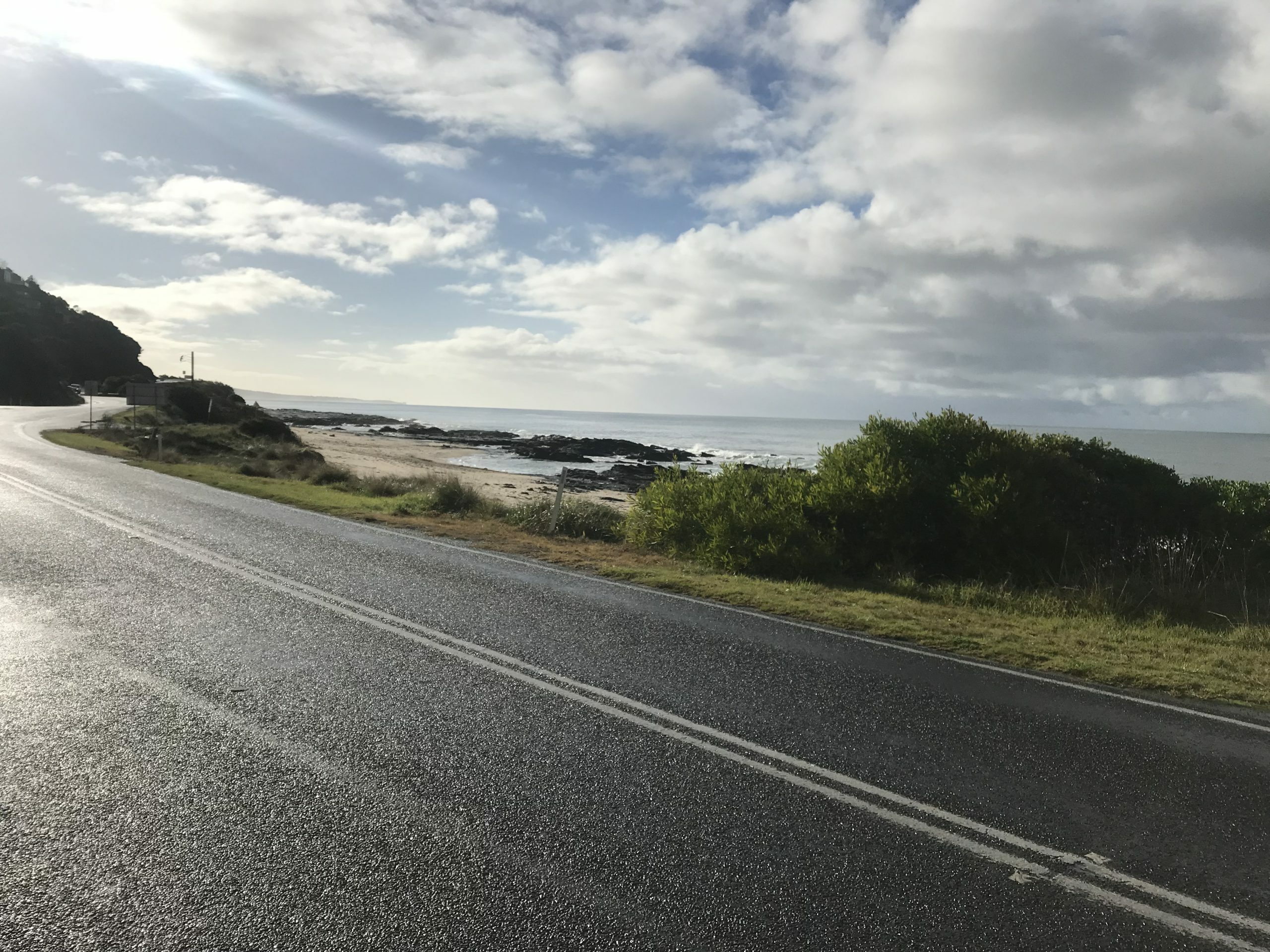 Ashlea's Second Day
Ashlea: About 20km out of Lorne back on the fire trail there was another stretch of mud but today was a gorgeous, sunny, perfect-temperature day.
I am really stubborn, so when it got to the point that I was pushing uphill with mainly one leg because my knee hurt so bad I probably should have pulled the pin. Or when I needed to meticulously pick the perfect spot to go to the bathroom. My search consisted of finding a tree strong enough to hold me up but not so fat that I couldn't wrap a hand around it. My knees could no longer perform the basic squat needed for a female to go to the toilet.
But nope, instead I shoved a hand warmer down my pants onto my knee and continued on.
Matt has created a great route with beautiful flowing sections, amongst tall gorgeous trees hiding you in their canopies. There was so much to love, from the quietest bitumen and prettiest of gravel roads with two campgrounds along the way plus Lorne for places to sleep. A perfect route to push through in a day or 4, pick your own adventure.
38hrs and 8 minutes after leaving Warnambool Station, Ashlea arrived at Waurn Ponds Station.
Final Thoughts on the inaugural Winter Solstice 300
Ashlea's final throughts:
People are awesome, thank you all! The non-racing riders I encountered, Neil, Sam and an unknown, Craig, Rachael, Fraser, the finish line cheer squad and my support crew.
Just do it. You have to start somewhere and even the best in the world had their ' first race' at some stage. Give it a crack, find an old chia seed on your lip, cry a bunch, chat with other racers, talk to yourself but most importantly never be in too much of a hurry to stop and make a friend. They may just be the highlight of your ride.
Higgo's final thoughts:
Massive kudos to DrSLane and Sully for bashing the ride out in only 13 hours & 40 minutes. Just incredible riding. And to everyone that clipped in at the start for the adventure. This ended up being a really clever little route. Some nice fast gravel, a bit of fast bitumen just where you needed it for some respite, and some proper challenging bits.