Matt's Experience on the Mallee Blast 500
Just over 12 months ago I heard talk of what would become the Mallee Blast. From the day I heard about it I knew I wanted to ride it and not just ride it but race it at the pointy end.
Fast forward 12 months. Two weeks out from the inaugural Mallee Blast and I am flat. Having hardly ridden in 3 months I was mentally tired and physically unmotivated. Like many people around the world the constant little kicks we receive living through a pandemic were starting to feel like quite the beating.
After a few messages from friends in the bikepacking world asking if I was racing, I thought I had better get off the couch and at least do the 500km route. I figured I had nothing to loose and the time out there alone would do me some good. My always supportive wife was happy to let me go while she stayed at home with our two-year-old son and that was the final push I needed.
That I hadn't ridden 500km combined in the three months leading up to the race was something I chose to ignore.
North or South?
First the big question was northbound to finish in Swan Hill, followed by a long train ride home or southbound and finish in Torquay, a short ride from home. A comment from my mate Simon 'Higgo' Higgins asking if he was the only northbound 500 rider was enough to tip me towards starting in Torquay, the predicted 30km/h southerly also helped with the decision.
I threw minimal bags on my Curve Kevin of Steel and was ready to go, a last-minute decision saw me put the bar roll on with bivvy and sleeping bag just in case. My plan was to pace myself, not to sleep, go under 40 hours but most importantly enjoy myself.
Friday morning, I roll into Torquay and chat to some of the other riders, it's one of my favourite times in these events and the only time we are all together. Before I knew it 7.00am had come around and we were rolling out. A group of six of us formed quickly and we were moving along at quite a pace, it didn't take long for me to be spinning out with a 32 on the front!
After about 7 or 8 km I turned to Higgo and wished him well, telling him I was fine but was going to pace myself better solo rather than stick with the bunch. A light rain started to fall as I moved towards Bannockburn, busy in my own head. My legs were feeling pretty good and my head was beginning to clear. I was passed by Stephen Lane in Bannockburn who was moving at about the pace I would expect from him (warp speed) and soon met Damien who was on his debut.
Damien and I rode together chatting away until we got into the Brisbane Ranges, one of my favourite local spots. I kept tapping away sticking to my own pacing and was soon riding on my own again. As much as I was enjoying Damien's company, having a few hours heading towards Ballan in my own head was great, I felt the best version of me returning with each pedal stroke.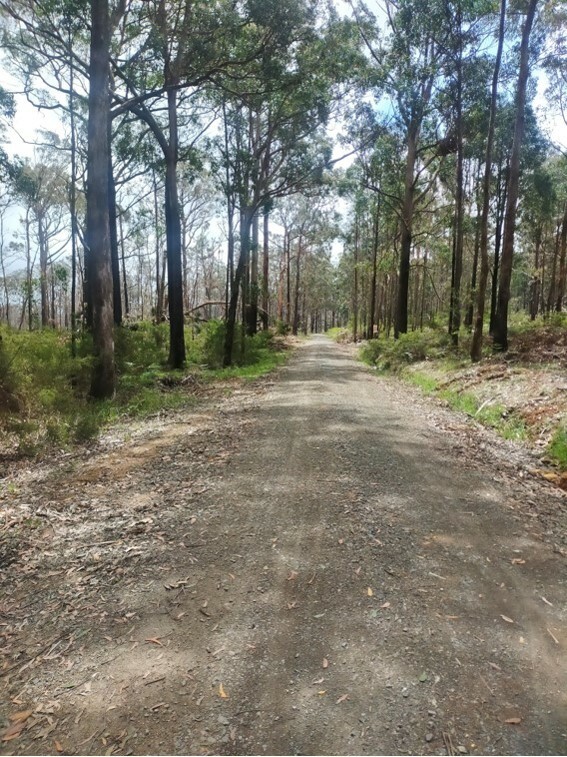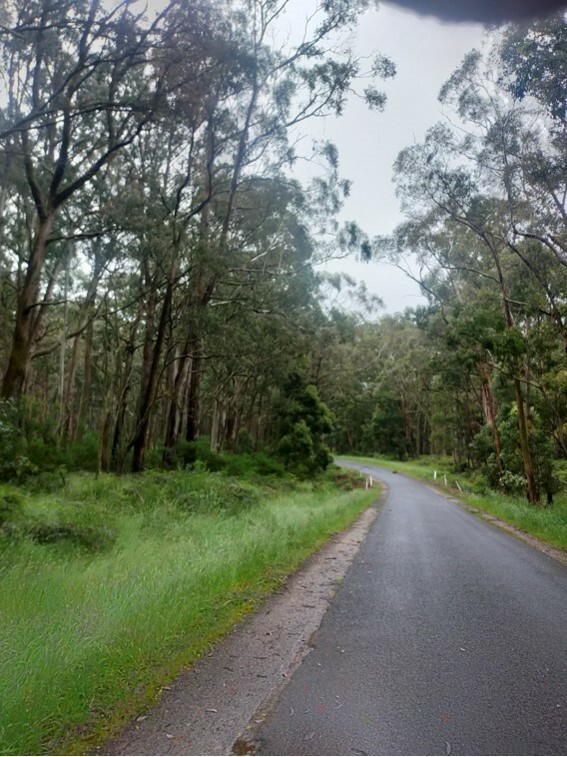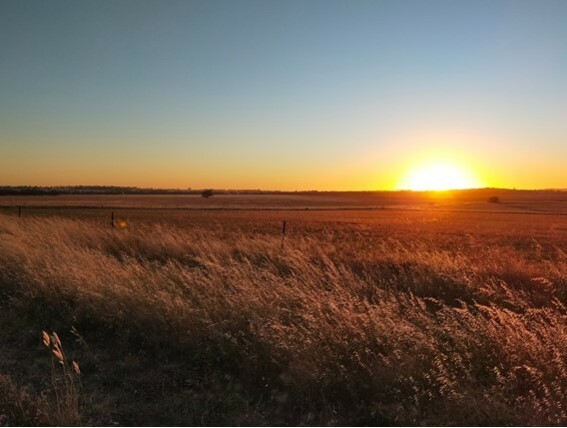 Finding a Rhythm & Finding Time for Photos
Just shy of Ballan I was passed by a group of six riding the full 1000km. I jumped on the back long enough to chat politely and discuss plans for the event, getting a few strange looks when I said I was planning on riding through the night to get to Swan Hill, before saying my good byes and dropping off the back to find my rhythm again. For the next 7 hours or so we would yo-yo past each other enjoying brief five-minute conversations each time. I felt like I was living out the tortoise and the hare in real life. I was the tortoise.
Reaching Castlemaine, I saw a few riders outside subway and stopped for a chat and some food. They were two of the six from the bunch that had left Torquay at race pace and I was quietly chuffed with myself for catching them so early on. I stuffed some food down and set off again, prepping for some hard work through the goldfields track.
I was pleasantly surprised as my legs were finding form the deeper into the ride I went, I was feeling better and better each km and really enjoying myself. The climb out of Castlemaine up Mount Alexander was a cracker. As a bit of a die-hardroadie that doesn't mind a climb it was really enjoyable, especially as the sun began to set. I even stopped to take some photos, a first for me during a bikepacking race.
I was hoping to make it to Bendigo before dark but ended up scurrying my way through the last 10-15km with Peter Harkness and Craig McIntyre in darkness. It was the worst 15km of the route for me, twisty rough track that is hard to follow in daylight let alone night. A quick stop at Bendigo for a Maccas refuel and I was on my way, ready for a long night in the Mallee.
80km later at about 3.00am I was starting to drift off, never a good thing while riding a bike. Thankful that I had thrown my sleep kit in at the last minute, I grabbed a quick hour's rest under a gazebo in Mitiamo. I was back riding about 4.00am and got to witness an incredible sunrise, the land is so flat out there that the sun's rays seemed to stretch on for ever as they peaked over the horizon. Again, I found time to stop and snap some photos!
Swan Hill Time Trial
As I pushed towards Kerang I started to think I could make it to Swan Hill in time to get the 1:40pm train back to Melbourne which would have me back to my family in Geelong some time on Saturday night. Once the thought snuck in there was no getting rid of it. For the first time I broke out of my steady rhythm and started to push harder. Although my largely untrained body was screaming at me, the thrill of a time trial to Swan Hill had me digging deep and loving every minute.
A quick resupply in Kerrang and a glance at the dots showed Peter Harkness only just up the road, my mind had switched to race mode and I was hungry to pick him off before the finish. I also noticed that Higgo was almost at Swan Hill! I was stoked for him. We had talked a bit leading up to the event and I could tell he was aiming to put in a good effort, and I was happy to see that paying off.
My chase of Peter was short lived. About 15km out of Kerrang there were a few farm gates that we had to open and shut, I caught him as he was opening one and it only seemed fair to stay with him rather than blast past! It was a great choice as I enjoyed the next 50ish km chatting away and happy to have some company.
Reaching Swan Hill to the classic anticlimax that only a bikepacking event can offer was great. It is so strange but I love it. Rolling into a predetermined spot with a big smile on your face and celebrating with other strange creatures while society's more normal participants move around you occasionally glancing sideways wondering what exactly it is that they are witnessing.
A quick beer and pizza with Higgo and then on the train home to my family, wrapping up the ride in 29 hours and 15 minutes. I was really happy with myself, not just for the ride but for having a crack knowing I wasn't in the shape I wanted to be. But also, I was happy with myself for knowing I needed to do it, to have the time in my head to rearrange and reorganise myself to be the best version of me.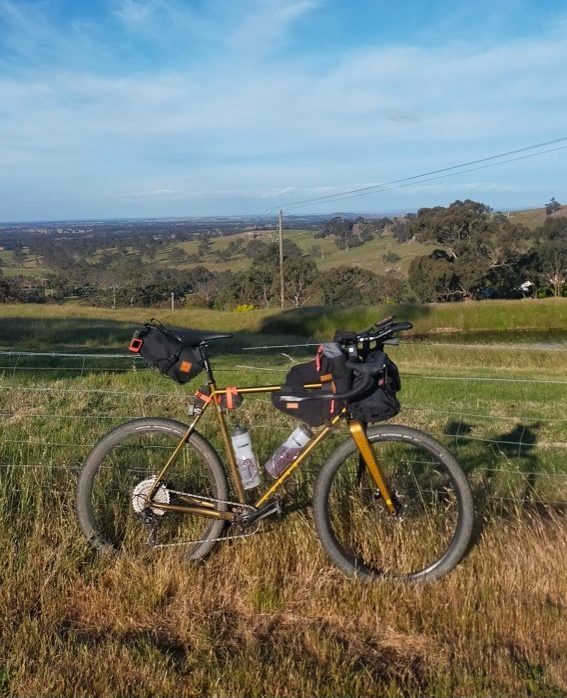 Post-race, friends and family ask how it went. It is always a question I struggle to answer. I try to, but often fail to explain to people that in a bikepacking event, no one cares where you finish or how fast you are, it's not even the point. The point of participating is different for everyone. The point for me is the time spent with others and the time spent alone. Time well spent. A point I all too often overlook in other parts of life.