Winter Solstice 300 – Rider Recap
A day in the Otway's – 14 hours 35 mins
When I first saw the event page pop up on Facebook it certainly got my attention, something close to home (Geelong), logistically simple and low cost!
I figured it could be done without sleeping, which means carrying less stuff which is nice. I feel events like this and many other sub 400km bikepacking style routes have replaced 24 Hour Mountain bike racing to a certain extent.
A great physical and mental challenge with the added challenge of either carrying enough food and water or finding towns along the way with shops open to resupply. You can ride faster and hope to make Lorne while it is open or take your time and be sure everything is open the following day.
Bike Choice
Prior to the event there was plenty of talk about how long it might take, and what would be the best bike to use? The short answer is the bike you own is the perfect bike.
BUT
After recently completing the Dirty Warny Route with a bunch of legends on my serious bike packing bike with 29er wheels and 2.2 tyres, it felt slow in comparison to the Gravelly CX bikes they were all on.
I felt 40mm gravel tyres would be adequate and probably the fastest option for the premium Otway's gravel on offer. I went for the Pirelli Hard gravel tyre.
Timewise if you can average 20km/h including stops that gets it done in around 15 hours. I added some extra time for the most talked about section on course Halls Ridge road.
In my head I was thinking 16 hours would be fast, 18 hours would be achievable I was also prepared for a blow out.
Halls Ridge road has been sloppy and wet ever since logging began in the Otway's. So I was not sure how long this 10km section may take, there was plenty of on-and-off the bike and no one came out of that section without a good slip and slide and some shoes full of mud and or water. My new friend Dr Stephen Lane and I navigated that section in just on 1 hour which was a significant drop from the 30km/h we had averaged for the first flat 100kms.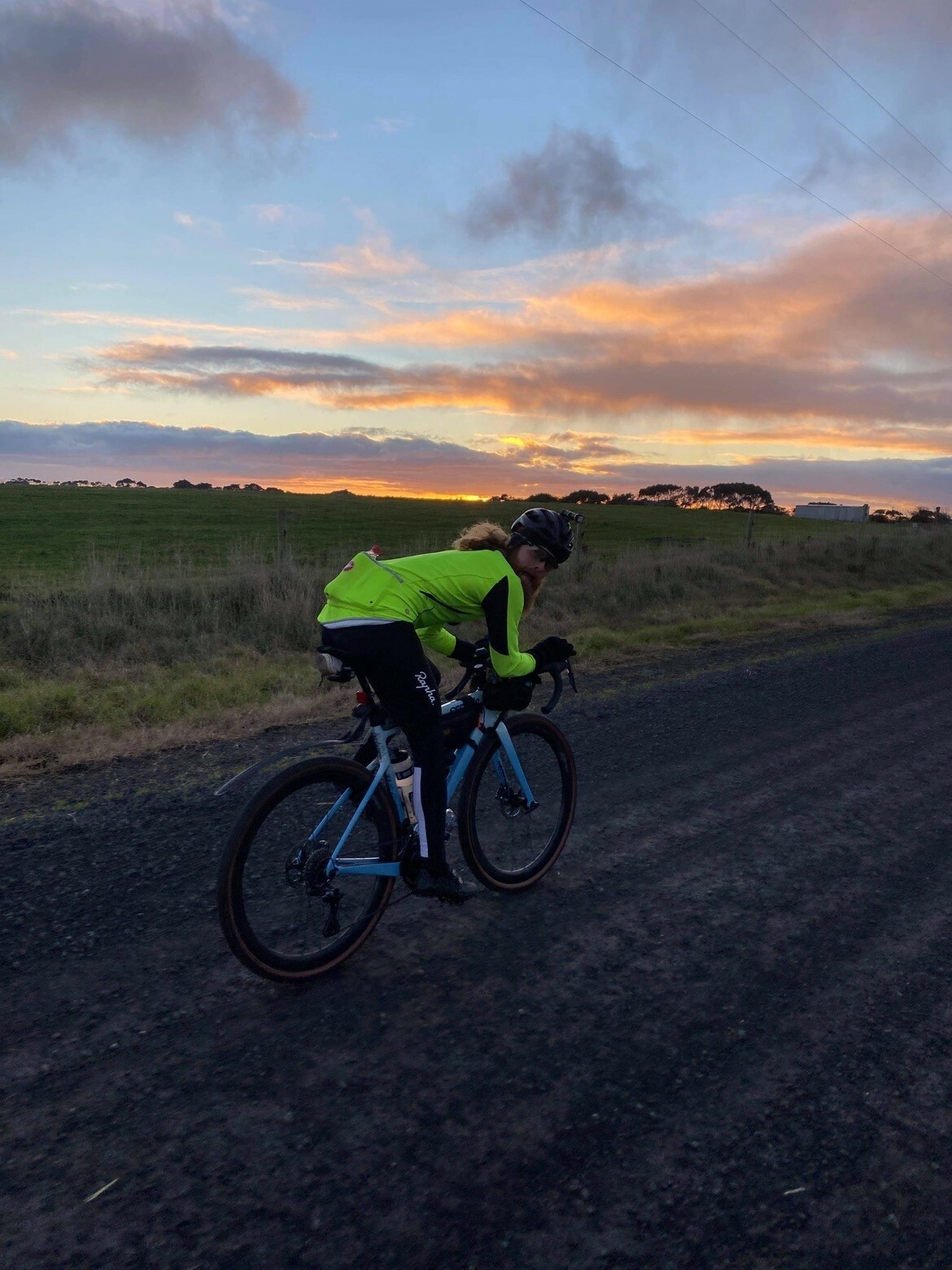 Water and Warm Socks
The weather report for Saturday did look wet but we were hopeful we could beat some of the rain.
Up near Lavers Hill the real rain started and it was pretty much on and off for the next 5 hours, so the rain jacket came out but not the pants I carried. I was wet and cold all the way to Lorne. Dr Lane mentioned he tends to ride faster in the wet and cold to stay warm, just what I needed.
We occasionally checked the dots to see Oscar riding at a rapid pace and always close behind.
Heading into Lorne, I was feeling ok, I had made sure I'd eaten plenty but had ran out of water, (I carried 2L on the bike and a 600ml coke in my pocket to get me the 200KM to Lorne).
I was tempted to carry a camel back but opted not to as I figured it would not be hot, and thought the creeks or streams would be ok with a water tablet thing. We did check the Aire river crossing and promptly kept riding.
Once Dr Lane couldn't feel his hands or use his thumbs he went quiet for a while, I was surprised how close we were in the different sections he definitely used his local knowledge and descended the hills quicker than me, we climbed at very similar pace also, he was a spinner and I was a grinder.
On the way into Lorne we discussed what we needed to source, I still had enough food to get me home, but was keen on water, coke, and DRY SOCKS. I was also entertained to see a man playing Guitar sitting on the back of a Ute up the top of Mt Cowley. I was not prepared to go into multiple shops sock shopping but to my surprise the servo sold socks, and warm ones. It was nice to see a familiar face of Kate from Curve in Lorne getting ready for the Otway Gravel Panthers ride the following day, we were both able to laugh at Dr Lanes lack of dexterity.
The Final 100km
We fluffed around a little longer than I would have liked in Lorne, but its important to get everything sorted and start the final 100 km as comfortable as possible. We headed out the Ocean Road on some more familiar roads and tracks for me. Big Hill Track is known to be steep and slippery, and it certainly delivered. Even in the dry there are sections over 20% which are a challenge. So we did get to take our bikes for a short walk there also. It got dark, the lights came on, it got even more fun.
Reaching the top of Big Hill track/Benwerrin Hill, took us 55 minutes at 9.8 km/h. I knew we only had Bald Hills as the last significant climb out the back of Anglesea which also packed a punch. We joked and discussed who would attack and when. It was also great to see some more familiar faces out on course to cheer us, you get a real boost when you see people in the middle of nowhere getting amongst it.
Dr Lane set a solid pace up Bald Hills but I think he was more interested in getting it done than trying to drop me. I knew the last 40km better than most as it was part of my local gravel loop. I was excited to show Dr Lane the big scary dogs on Retreat Road, I also went a little hard on the caffeine so became chattier (rubbish talk) when Dr Lane really wanted to get it done (sorry mate).
We then had a few more mates pop out at strange places to say hello and cheer us on which really is fun. So thanks Sammy, Josh, Purdie, Feldman's and Jorge. I continued to joke about one final attack up the loose steep mini gravel climb close to the finish (Mc Hurtingberg) but again stayed together.
A few of my friends have mentioned to me in the past I need more mongrel when I race these events, but my goal was to stay as close to Dr Lane for first 100km and see how I was going. I felt he was able to respond to any change in speed and is a super consistent rider, it's also great to watch and learn what others do in these events. He certainly maintained a nice cadence and used his noisy cooked drive train well.
I may have been able to attempt a real quick stop in Lorne but felt the company was too good and it would not have achieved much. I felt he may have made a move up Bald Hills but we were ticking along so well it was hard to increase on that nice tempo.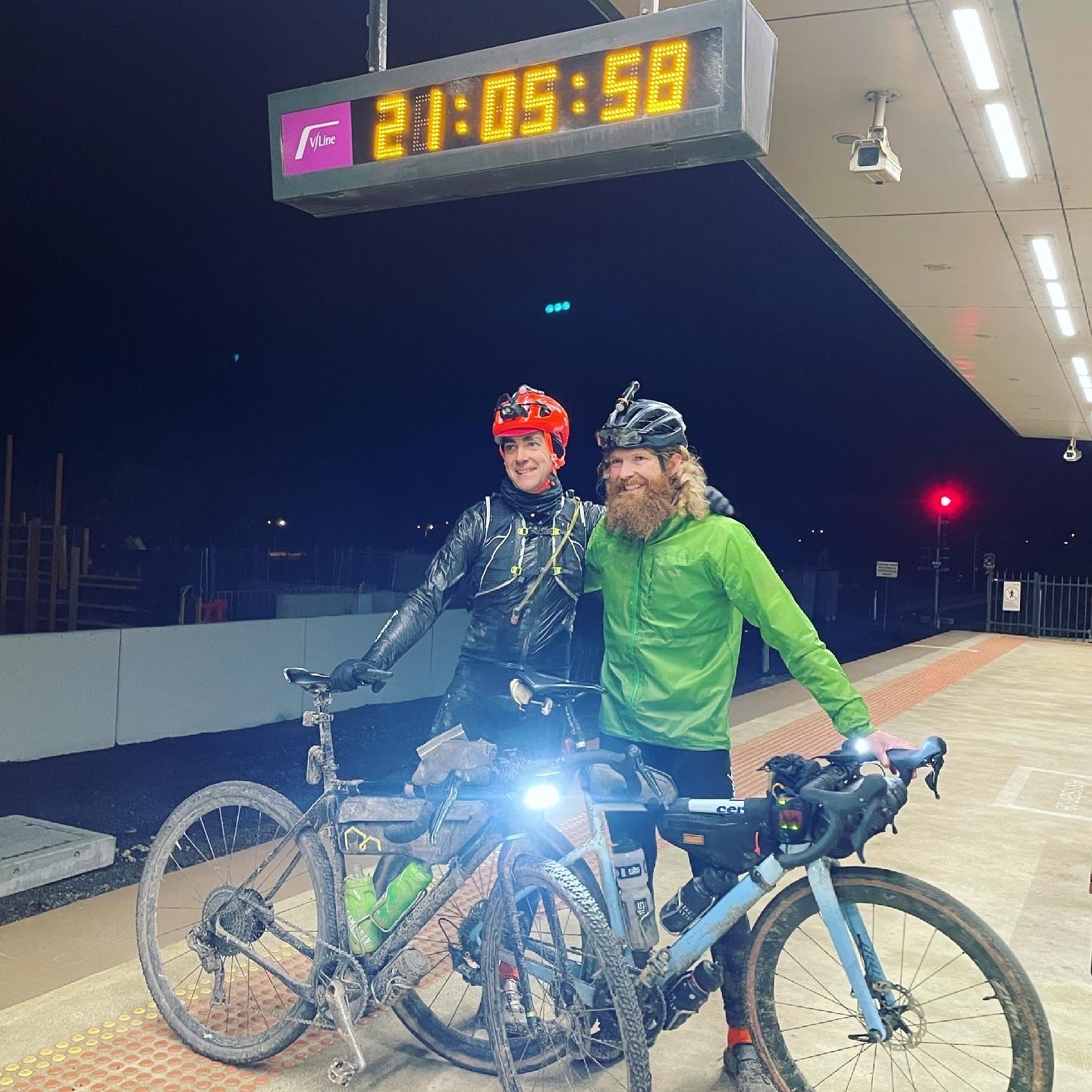 Fast Times & New Friends
At the end of the day it's nice to set a speedy time, but regardless of how long it takes it always comes back to challenging myself and seeing what the body and mind is capable of.
Everyone has tough times on any route, it is how well you manage these moments when it's not going well. I often find those the funniest or most memorable in the long run.
The other great thing about these events is making new friends I did miss the pre race dinner as I was a bit hungry earlier. I met Higgo on the train up and we talked bike set ups and tyre choice etc. He had a great ride and was using it to test his set up and body over a slightly longer route.
It was also great getting to know everything about Dr Lane. I feel my new friendship with him will last longer than a speedy time. I also enjoyed driving the last section on Sunday and seeing my old mate Kelsall just getting it done. Then later that evening I organised my good mate Felds and his family to see Ashlea Hendershott finish her ride which was awesome.
The beauty of this route is you can have a crack at a no sleep option if you like, you can carry everything you own and really enjoy the Otway's over several nights. Or you can book some accommodation in the beautiful town of Lorne. It's really flexible.
I am not sure whether Matt Seehusen (course creator) is a genius or missed opportunities to go through more of the small Otway towns. I think he planned it very deliberately to make logistics a real consideration and to ensure you had thought about what and how much to carry. This time of year is most likely going to be wet in the Otway's so it's great to test rain gear, also great for not over heating or having to carry too much water compared to a summer event.
The Winter Solstice 300
Overall a ripper event that I would recommend as a great intro to bikepacking, the start and finish at train stations is also ideal. I am happy to answer any questions anyone may have about the course or bike setup.
The more people enjoying these events the better. I also feel most people are way more capable than they think, so have a crack.
Finally thanks to Bike Matters Torquay for helping me with the Bike and Wheels.
And my Mum and Dad for coming to the finish that was great.
Steve's Bike Check
Bike & Accessories
Cervelo Aspero, Shimano GRX 600 2 by front chain rings
Zipp 303s wheels with Pirelli Hard gravel in 40mm
Garmin 530 for Nav
Spot Gen 3 – will upgrade to In reach mini ASAP
Small back up battery
Gemini MTB light with 6 cell battery
Exposure Joystick helmet light
KNog rear Light
Zefal Mud Guard
Tools
Lezyne multi took with chain breaker
Leatherman Squirt
Tyre levers
11spd quick link
1 tube
Dyna plugs with extras
Small Lezyne pump
Lezyne glueless patch kit
1 set spare brake pads
Bags
Small Restrap frame bag – full of food
Apidura top tube more food, some
Attaquer mini front roll for light battery, Puffer and waterproof pants
Revelate feed bag – full
Lezyne saddle bag tiny.
First aid
Band aids
Water treatment pills
Steri strips
Nurofen
No-Doz
Nutrition
3 bottles – 1 by 1 Litre, 2 by 500mls all mixed with Torq energy drink.
600ml coke in jersey pocket
8 cliff bars
4 cheese and Veg sanga
1 pack snakes
1 pack raspberry choc bullets
2 picnic bars
2 boost bars
2 packs of mentos
1 pack of Caffeine Gum
Clothing
Rapha long tights
Waterproof socks- rubbish now in bin in Lorne
Shimano S-Phyre MTB shoes
Merino long sleeve base layer
Castelli Gabba long sleeve
Alp Kit waterproof Jacket worn for most of the time
Alp Kit waterproof pants – did not use
Patagonia – insulated jacket not down – did not use
Skull cap
Oakley Photochromatic lens
Seal Skinz gloves – OK not that warm
Waterproof overmits – didn't use (probably should have)