The Kudlila Rally – Sam's Rider Recap
I caught wind of the Kudlila Rally whilst riding to a local hut in the Adelaide Hills over the easter long weekend with Simon, Farhan and a few other friends. My first reaction was, "690 kilometres and roughly following the southern mawson… seems like a nice introduction to this sort of "race" scene. I'll do it and see how it goes."
Sam's Bike Setup
The best bike for one of these events is the one that you currently own.
I got moving, making some tweaks that would make it easier to keep moving further into the night. I bought that dynamo light/power converter that I had been holding off on buying since building my bike with a dynamo hub back in early 2020.
My bike setup was as follows:
Frame/Fork: Surly Karate Monkey
Groupset: Shimano SLX 1×11 32 11-46
Brakes: Shimano XT, Sintered Metal Pads.
Wheels: WTB KOM Tough i35 laced to a SP Dynamo (Front) and a Hope Pro 4 (Rear)
Tyres: Specialized Fast Trak 29 x 2.6
Saddle: Specialized Power with Ortlieb 11l seatpack
Cockpit: Soma Dream Risers, Deda TT bars, Specialized Burra Burra harness and drybag, Specialized Top-tube bag, and Hungry Munchers.
Lights and Charging: K-Lite Ultra V2 (mtb) K-Lite Dual USB charger, with Specialized Stix Flashers.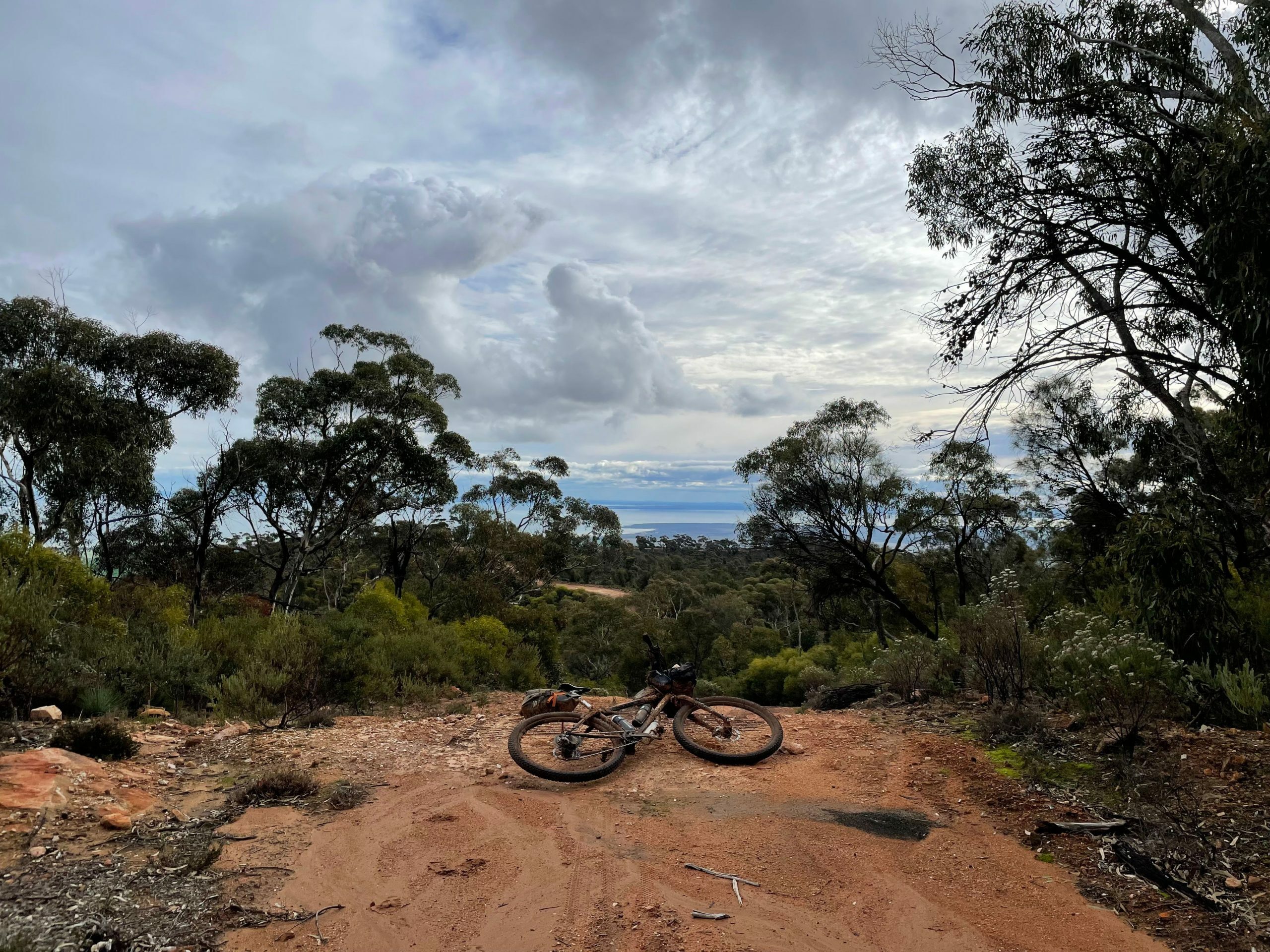 Sam's Prep & Sleep System
Preparation wise, I probably hadn't done the day after day, long hours on the bike before in the same way that I would on the Kudlila. So I decided that the Kidman trail would be a nice trial.
The Kidman trail is a local trail starting in Kapunda and finishing in Willunga traversing 270km of paddocks, farm tracks, forestry and gravel roads in between. Chuck in 100 more kilometres to get to the start at Kapunda because of a train line closure and I had a good weekend tester. The weather gods decided to throw in some rain, wind and mud which now looking back, it was all good prep for the Kudlila rally.
Knowing that the Kudlila Rally route was just sky of 700km, I knew that I was going to have to sleep along the way. From my night under the veranda of the Old Rockleigh Schoolhouse in early June I knew that I'd want to be semi-comfortable (warm) whilst stopped even for the shorter amounts of time.
My sleep gear included:
Tyvek with Mesh Hood Sleeping Cover by Terra Rosa Gear
Mont Evo Ultra light 12 TO 8°C synthetic sleeping bag
Sleeping bag liner
Sea to Summit Ultralight Sleeping Mat
Thermals top and bottom (won't pack them next time)
From the Start to Spalding
I was pretty calm riding the 8km from home to the start. It was nice saying hello to faces that have become familiar over my continued years of cycling. Meeting the others that were about to be out there experiencing the same thing was comforting, most of which I had previously shared more leisurely bikepacking trips with.
Those first 20km were full of chatter for the other riders and keen supporters, meanwhile I was in my head thinking of all the things that could go wrong. Soon enough that energy was shifted to the climbing and descending through the drizzly Adelaide Hills; everyone was spreading out and finding the cadence that suited them. Even though I had ridden the first 220 kilometres at various times before, this time it was somewhat different, I didn't want myself to feel ultra comfortable on the single track descents, as that would have led me to taking risks that could have ended my ride very early.
Making it to Nuriootpa was a goal in itself, having completed a third of the route's climbing already I was ready to have a break, have some proper food before heading out into the night. Moving north of Nuriootpa showed signs of what was to come. Rolling out from Kapunda I discovered it was to get worse, four hours later, minus a toothbrush for cleaning my teeth. I was lying on the platform in Marschall's Hut keen to get some shut eye. I was planning on getting two hours of sleep and only got just over one, my body had cooled down enough that I was shivering and that was a sign that I needed to get moving again.
Luckily the only thing between Riverton and Clare was a false flat climb and no mud. Even if I had to have a roadside nap I was feeling ok. I took the approach of "keep your bike clean, and your drivetrain cleaner" and took care of my drivetrain and brakes. Meanwhile April rolled into town and we ended up riding out of Clare and back onto the peanut butter roads to Burra and beyond.
Rolling into Hallett at 10pm feeling pretty exhausted we washed our bikes and headed for booked rooms at the pub in Spalding.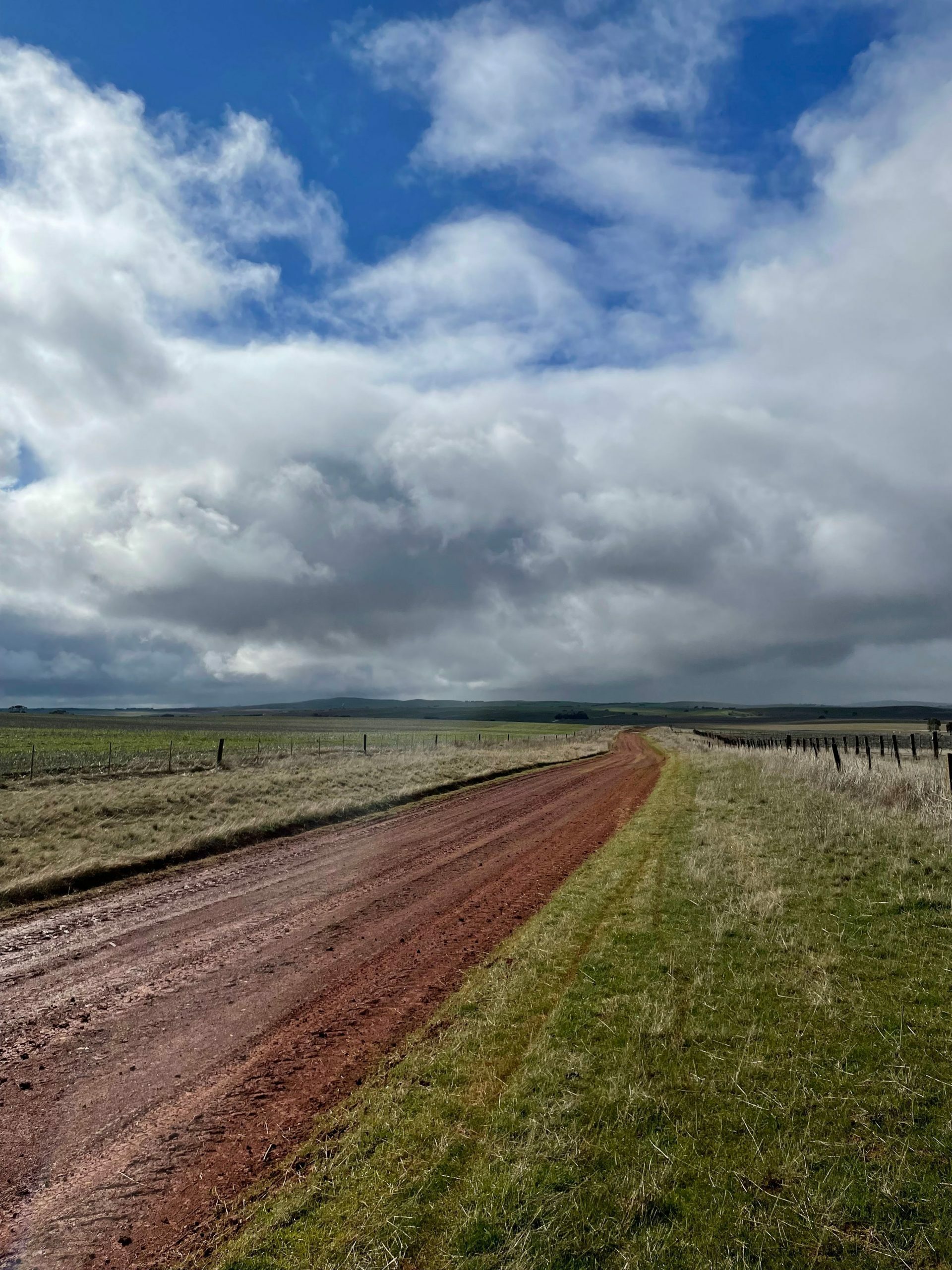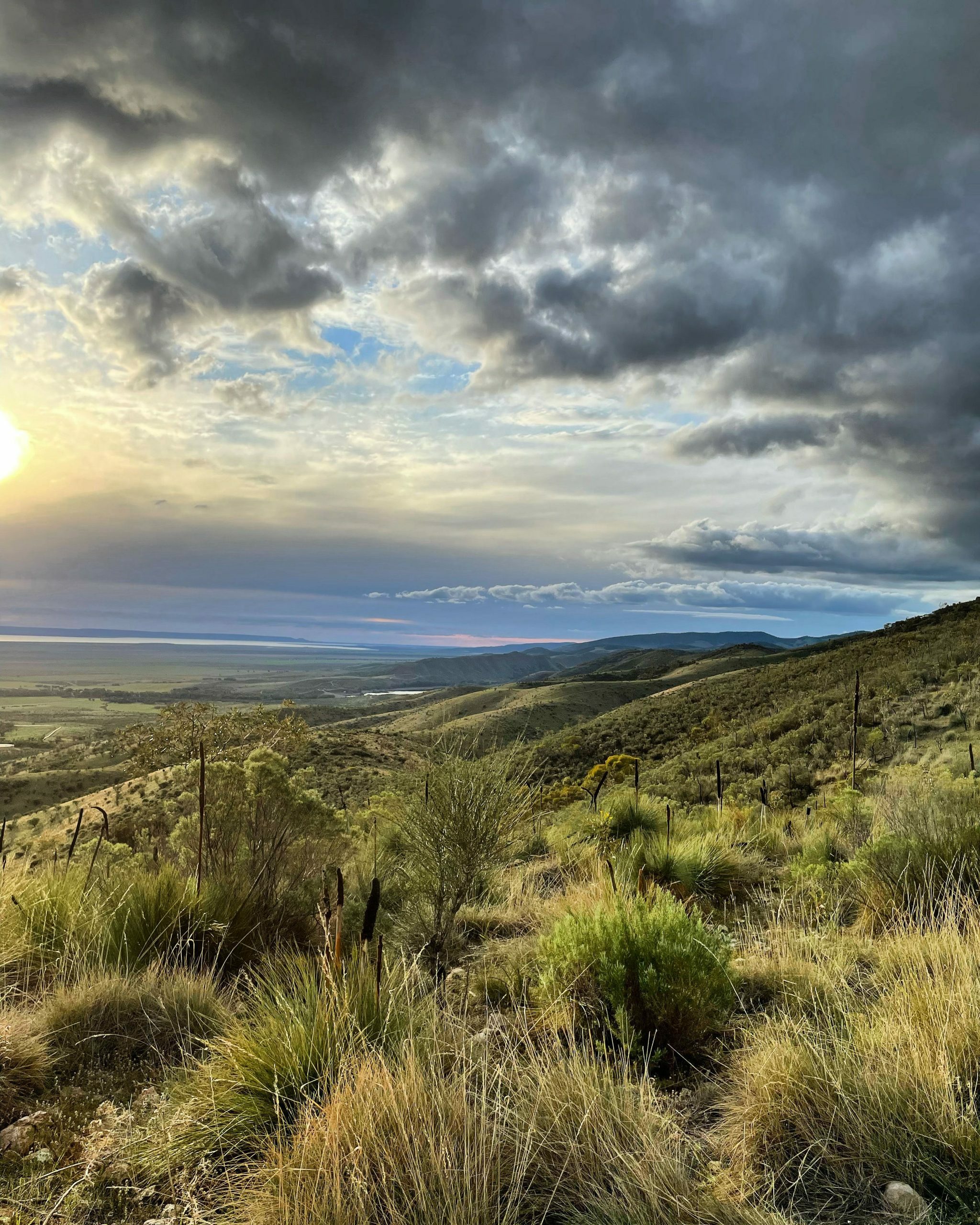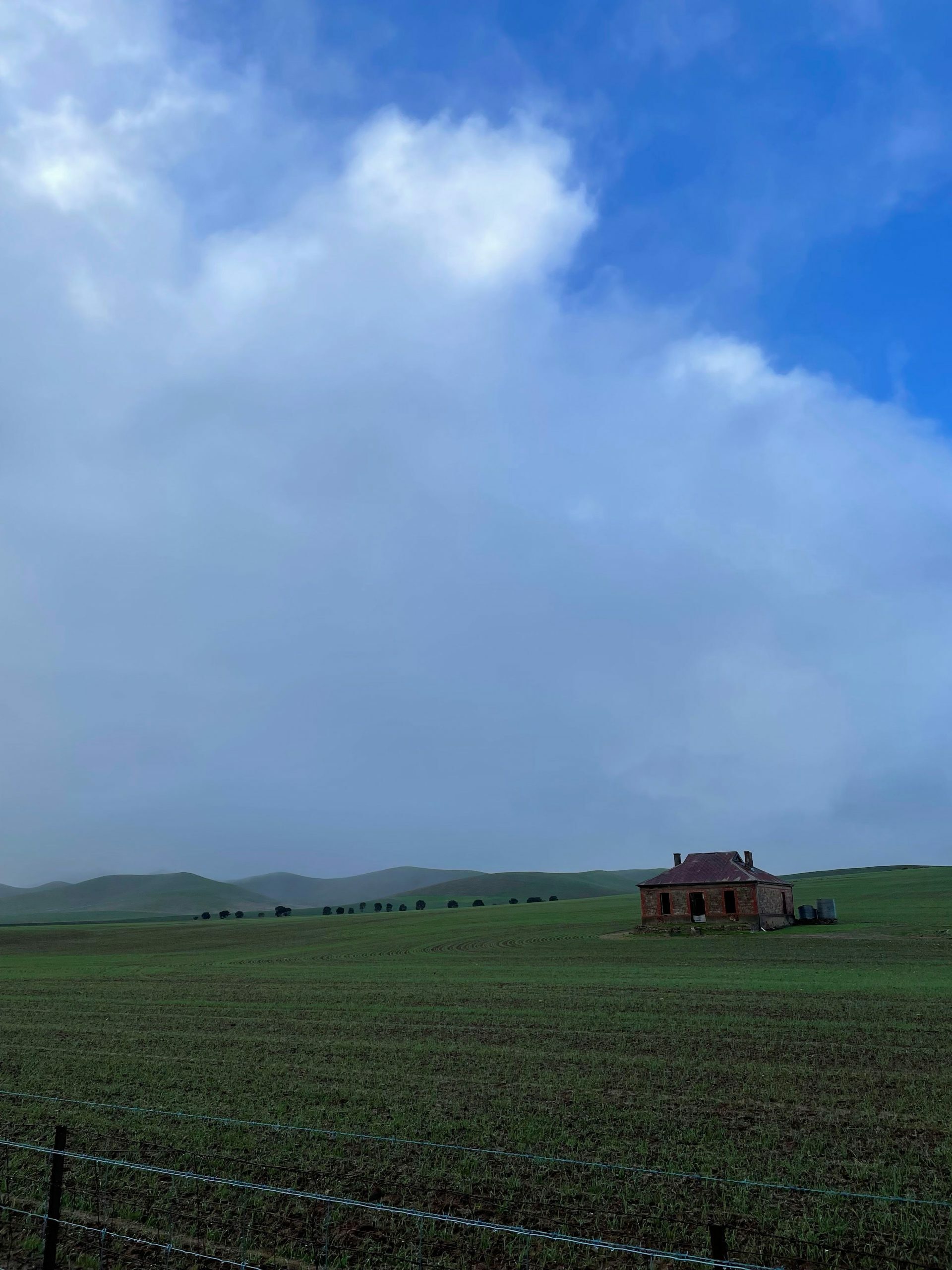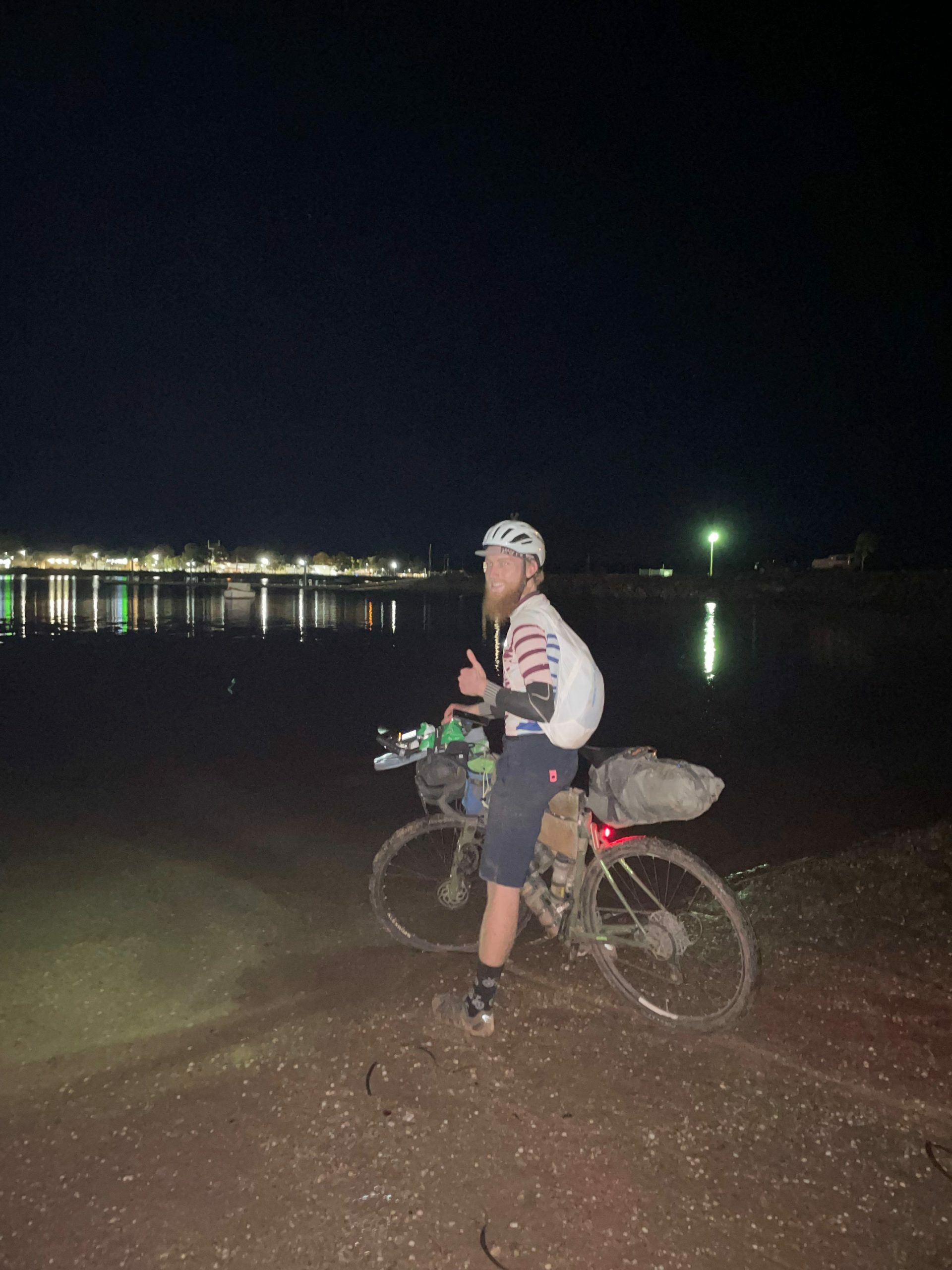 A Couple of Short Sleeps and on to the Finish
A hot shower and three hours of sleep left me feeling rejuvenated, leaving a little behind April I had someone to chase. 30km in and I saw the purple jacket of April cleaning mud out of a drivetrain, and again joined in the mud cleaning party. A lot of the roads unfortunately didn't have much of a grass verge to them meaning that it was pretty well unavoidable to gain a four inch tyre and a muddied chain line.
Past Gladstone, April pushed on ahead as the lack of sleep was catching up with me once again. A nap behind the Stone Hut Hall sorted that out and I was back chasing through Wirrabara Forest where my Great Grandma grew up. Getting to the top of Weckert track was a nice relief, with vistas opening out to the Spencer gulf. I didn't want to hang around too long as I wanted to be back up on top of this range before dark, so down the BBQ track I went and when I could see the track winding its way down in front of me further I again saw April just ahead. Bridle track was probably the highlight of the Route, a challenge after the kilometres the legs had already been through with some spectacular views as golden hour set it.
Rolling into Melrose just after dark meant that I had 100 night kilometres left, with a friendly chat and coffee from Simon at Over the Edge, a Woodfired Pizza from the Mt Remarkable Hotel, I was pretty content. The next minute I was out on the trail that has seen me in hospital getting stitches to my face once before.
A surprise in Wilmington at 10-11pm was a pair of Dot watchers in the middle of the street cheering me and the others on, thank you to both of you, it was very nice having a chat with some enthusiastic people. Horrock's Pass was a bit of a red zone for me, I wasn't sure about riding it in the middle of the night in the lead up to the event but thankfully didn't see a car for the duration of it. Turning on to Spear Creek Road was a nice change with a light "finish" in sight for the first time it didn't seem to be getting much closer until it did and then didn't as I turned out onto Yorkey's crossing for the final 30km.
The loneliest 30km I have ever done on a bike. Not being able to see the lights of Port Augusta or the Flinders Rangers to the East was really quite disorientating to the tired and delusional person I was at the time. Checking over my shoulder every minute hoping that there wasn't a car following me waiting for the perfect opportunity to bury me in a shallow grave.
Rolling into the western side of Port Augusta a strange sense of accomplishment came across my tired body. I was happy to finish. I had fun. I was exhausted. I rolled to the motel. It was lights out.
Looking back now, it all seems a bit of a blur. Little moments keep coming back to me which is nice – moments of elation, tiredness, anger with the route / mud all come together to create well rounded memories and learnings. I look forward to having a crack at another one of these events soon, it is addictive.