The Kudlila Rally – April's Rider Recap
When Simon announced the Kudlila Rally I was immediately compelled to participate but also concerned about how gnarly the terrain was likely to be; knowing how strong Simon is and how much he loves to carve up single-track on skinnies, I anticipated that this route would serve this roadie up some challenges.
Preparation and Plans
I was in denial about my participation ("will I… won't I") and had fleeting thoughts about how best to approach it. Being a 'short' and reasonably hilly race and during winter I was going to approach it by carrying only layers of clothing, many snacks and not much else; keep it light and essentially flashpack the event. But with the weather looking a little soggy, I was concerned that clay roads could be slow going. It seemed safer to pack my trusty waterproof bivvy and a sleeping bag in case I got caught out in backroads in need of a nap.
I did the maths, completion within 72 hours was more than achievable as my goal and I'd hoped to throw a 250km + day in the mix to make the final day shorter and catch a couple of 4 hour sleeps when I needed to.
I did the things I always do before challenging myself. I stewed, ruminating on irrelevant details, I couldn't sleep, I mucked about with my bike (tweaking this and that, changing tyres, brake pads) I made lots of lists…. And a spreadsheet, and googled lots about tyre pressure, and tyres in general, and other things that had no bearing on what I actually did.
I rode a few parts of the route that were close to home and that I hadn't ridden before to get a feel for it. I then worried about those steep trails I'd ridden, imagining myself tumbling down like Jack and Jill.
24 hours before the race, I had gotten most of the practical aspects of my departure sorted but life had gotten in the way of my riding prep; I would usually ride a lot with my bike packed in the lead up and this hadn't happened…. so I had a NEW thing to worry about.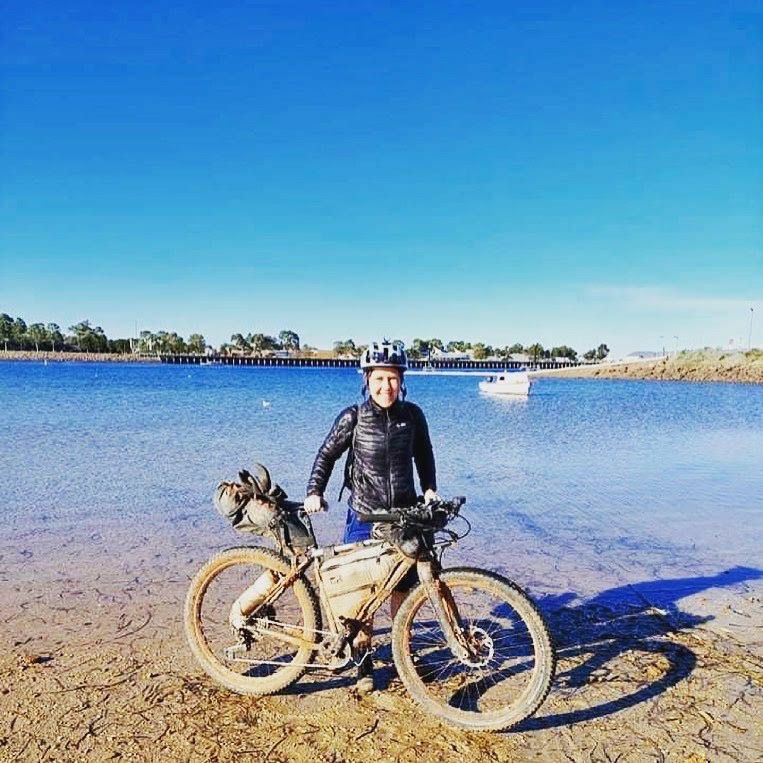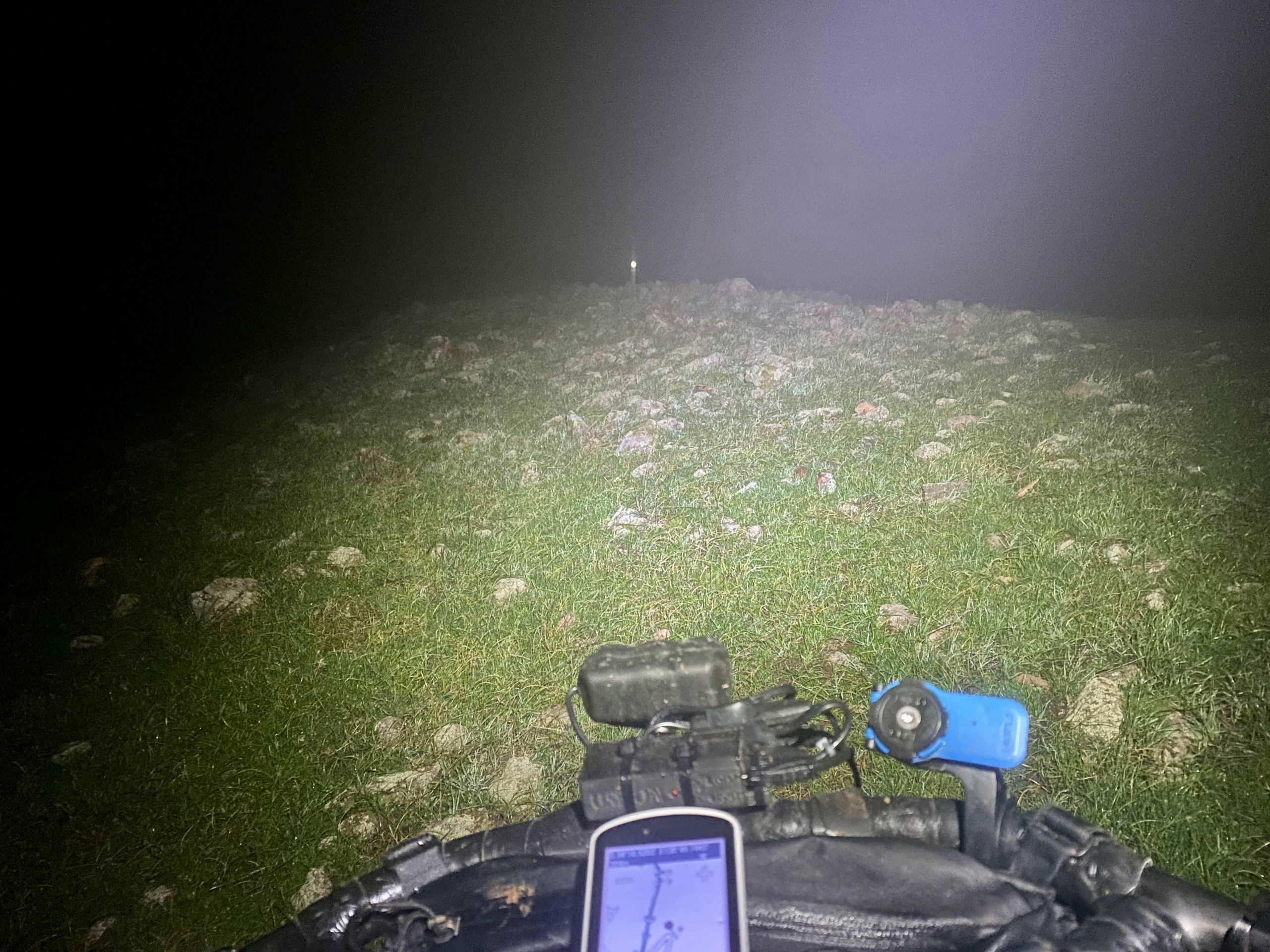 Section 1: Adelaide to Riverton, 225km / 3521vm
Starting with a bunch always rattles my cage; talking to strangers, it being obvious to others that my technical/ riding skills aren't what you'd imagine for someone who rides a fair bit, I feel vulnerable and exposed. All this worry and talking takes effort and energy; energy that I needed to conserve for the many kilometres ahead.
Within the first 30km I was solo (for a while at least), in the light rain and fog. My Garmin (navigation) started playing games, as the first steep climb pressed on through Black Hill Conservation Park my two smallest gears were making concerning noises. I made adjustments on the fly and grimaced with anxiety. It rained. I came across a couple of friendly faces who calmed my nerves and kept me company for a while. I pressed on before losing them on one of my favourite climbs (Blockers Road) en route to Fox Creek to hit a trail I had been worried about. I am no mountain biker, I just ride or walk what's in front of me. I learn, I improve but these gains don't come fast and Fox Creek in the rain was not a day to challenge myself. The trail was slippery, boggy and wet so I rode and walked and got that monkey off the back. I rode with Oscar on and off for the rest of the day; losing him when I climbed and resuming conversations when I slowed on single track.
My body wasn't feeling great, my bike wasn't feeling great, the weather wasn't great but I was out there, doing it, leaning into the experience and taking it one trail at a time. Single track with drops and jumps (mercifully well signposted) towards Kersbrook and then the first of a few 'off course' moments that had me back tracking; my Garmin woes continued, and I started using the offline course map I saved in my phone instead. My conservative time to destination goals were in tatters already but I pressed on. I rode through Kaiserstuhl Conservation Park with Oscar as he diverted to find a Heysen Trail Hut to spend the night and I pressed on, wet from the rain into the night. Some fence hopping and riding by helmet light followed, before hitting the familiar Rifle Range Road, at last moving a little faster, and on into Nuriootpa (two hours later than planned) to warm up with the hot curry I had been dreaming of for hours.
I pressed on after a short stop in Nuriootpa and my Garmin navigation completely died; locked on test mode then the Garmin home screen for almost an hour. Meanwhile, my phone (back up navigation) was almost out of battery and there was water in the charging port. I knew the Mawson trail out of Nuriootpa so I continued in that direction before getting bogged (despite my best efforts to ride along in the bushes) on Pipeline Road (which ultimately wasn't part of the course) before diverting onto the bitumen (still raining) to try and sort my navigation issues out (whilst still pedalling and wearing 'snow gloves' to combat the rain and cold)….. I recalled that Simon made some last-minute changes to the course to route around the anticipated 'Mawson Mud' sections near Kapunda.
I managed to get navigation back and find my way back on course somewhere after Kapunda, en route to Riverton just in time for the foggy, raining, rocky, grassy, Heysen Trail stitch up that took me much longer than I care to admit. Helmet light battery on low, I looked for the reflective 'Heysen' signs in the dark and followed the tyre marks made by Sam along the grassy hillside to make my way to more fence hopping and hiking before finally rolling into Riverton at about 1.30am. Muddy and wet I used a hand dryer in a caravan park bathroom to get some of the moisture out of my electronics and charged my devices for a few hours whilst I slept on the laundry room floor.
Section 2: Riverton to Spalding, 188km / 2260vm
An early wake up but much mucking around and waiting for a downpour to pass resulted in the late roll out time of about 5.00am.
The morning was cold, foggy and wet but the route to Clare was a part of this route that I looked forward to – smooth rolling climbs, scenic and quiet. I crawled along, as the morning light added some atmosphere to the fog. As I pulled into Clare I saw that Sam was in town according to his tracker. I hit the IGA before meeting him at the local skate park. We chatted about the events of the night before – we both got more than we bargained for on the Heysen – before agreeing to roll together for a while to see what the day had in store for us.
We both received a message from Simon warning us to stay out of Burra – the mud unrideable out of town and on to Mount Bryan. I toyed with the idea of riding straight to Spalding but with Sam's encouragement we pressed on as a team in search of the mud. Most of this part of the route consisted of roads I had ridden before, but they transformed in the rain, with the only rideable option being the lumpy edges; featuring bushes, rocks and fencing wire. Any misstep and the mud chewed up the drivetrain, chains seizing and any clearance filled. Armed with a toothbrush, tyre levers and water as our only defence, we stopped often to clear the mud. Sam is strong but also patient and kind, we made a great team that day which lifted morale even as we finally pulled into Hallett at 9.00pm (many hours after my planned arrival) to find the 'bike wash station' (AKA hose and rain water tank) to continue the process of keeping our cranks turning.
My husband phoned the pub in Spalding ahe booked rooms for me and Sam; we didn't like the idea of sleeping out, both wet and yet rigid with mud, in icy temperatures. More mud, a couple of diversions in our desperate attempt not to get bogged again and we rolled into Spalding, to find the nearest tap to shed mud using our water bottles at 1.30am.
By the time we were both sort of clean enough to set foot into our respective accommodation and go to sleep it was 2.30am. Despite the luxury of a bed, heater and blanket, I shivered through the night.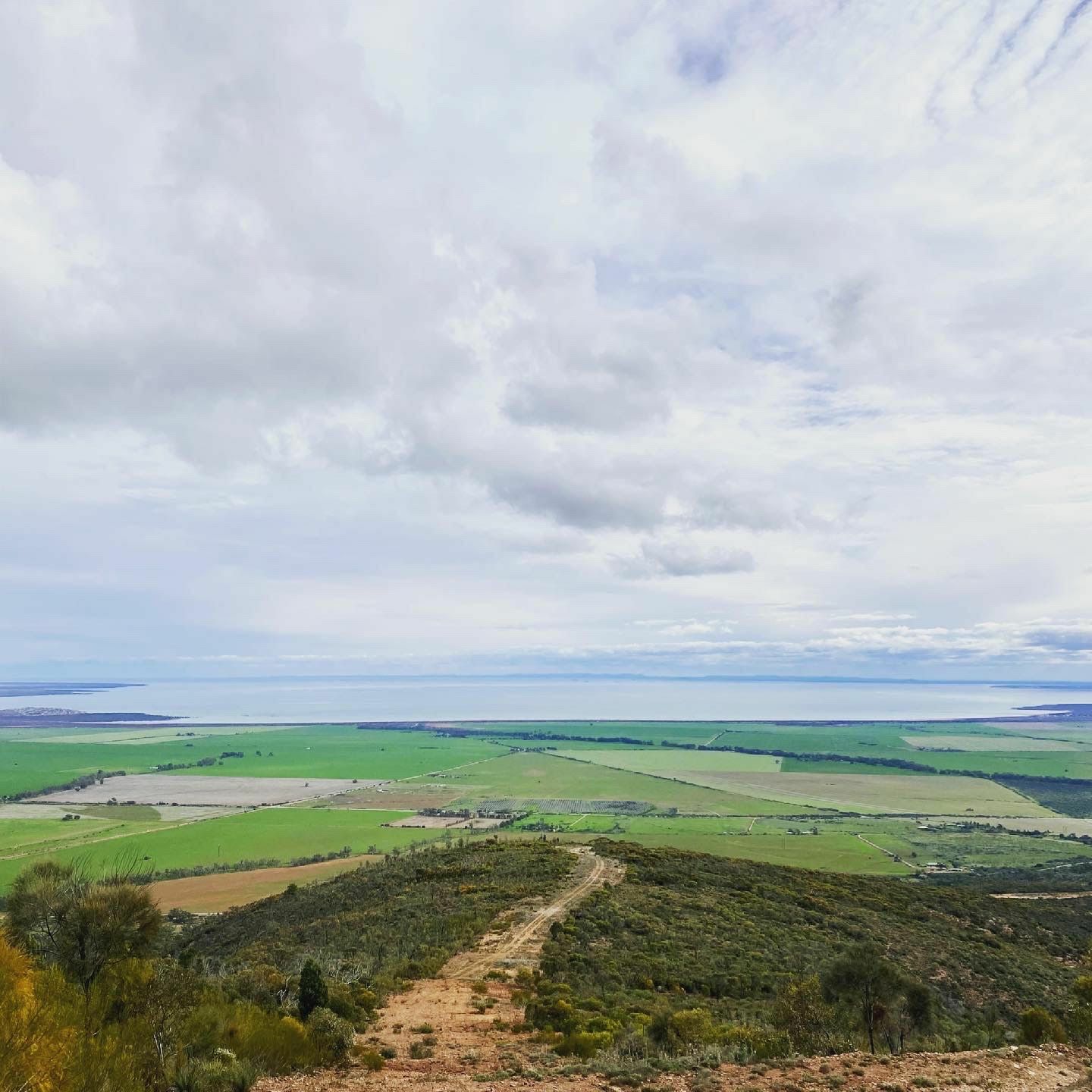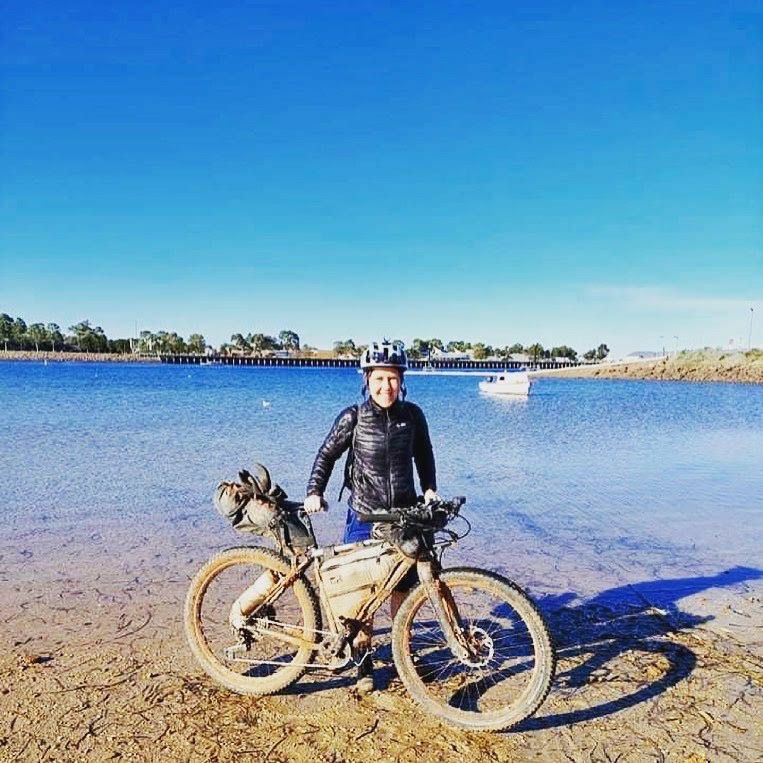 Finale 229km / 2338vm
A 4.30am alarm + freezing cold + fatigue = 5.45am roll out. The roads out of Spalding were not red, I felt heartened and reassured that the most challenging parts of the route were behind me. I also rationalized that if the route led me in the direction of a 'red (clay) road' that I would simply take a different path; I was done with the mud and worried that I would find myself stranded as my bike had taken such a beating. I enjoyed an amazing sunrise (at last!) and got out of my own head for a while just to enjoy this new (mud free!) Kudlila Rally experience.
Despite this new resolve and the events of the night before in the cold, deep, mud, by 8:30am I was bogged again. Sam found me swearing just a little (also smiling) as I tried to scrape slabs of mud off my wheels to get moving again. I debated whether the mud was better or worse than the tangle of wire and plants that accumulated in the jockey wheels when not riding in the mud.
Hours later we pulled into Gladstone, Sam a little ahead of me, I quickly found him, toothbrush in hand next to the tap. Some chain scrubbing, another disappointing gluten free resupply later and I crawled on whilst Sam luxuriated a little with a pasty. A kind local woman saw me (muddy from head to toe) as I crawled along the road and asked me if I needed a shower and a cup of tea; I think she may have mistaken me for long term homeless. I gave thanks and told her I couldn't stop because I was "In a race," as if she couldn't tell, as I 'took off' at 12km/hr down the road with no one following me….
By this stage I knew I had a little climbing ahead of me before Melrose, but as the route indicated 7500vm and I had already climbed over 6500vm, I made plans for a faster finish. "The hard work is all but done," I told myself and I looked forward to the section of trail through Wirrabara Forest, the 'free kilometres' on the rail trail and 'bomb down' into Port Augusta.
This was all well and good as I hummed along, snacking on weird collections of things in packets. I didn't even mind the next section of Mawson bogging or the dirt bikes that sped past me, as my goal was in sight. I light heartedly mused to myself that Simon probably personally felled the trees on the path through Wirrabara as an added little opportunity for exercise.
I thought I was now hip to his jive, that I understood his communication via GPX file, his gift for crazy making by trail…. A few rude awakenings followed… The sinking feeling upon realising what was ahead of me could have been mitigated altogether had I undertaken any of the following in advance of the event:
a) Asked Simon about the route;
b) Looked in detail at the route;
c) Taken closer note of the elevation profile.
In short, these perceived bumps in my road were 100% user error. The Wirrabara Range Conservation Park, Telowie Gorge Conservation Park and the apparently notorious 'Bridle Track' pushed me well and truly beyond the 7500vm I anticipated.
That said, I was in awe of the views earnt by hiking my bike up (and at times down) the brutally steep, rocky tracks that followed and was grateful not to have found myself trying to make my way through this section at night. The sun shone and I was so grateful to have my mind blown by the sheer scale of the vista that the climbing afforded me. I took photos, sending them to my family and dot watching friends and played tourist for a while, absolutely staggered by how EPIC it all seemed and was desperate to share it.
Some hours later, low on snacks and water, knees starting to scream I crawled along the Bridle Track. Sam had passed me, his backside planted over his seat post bag descending 'BBQ Track' and I assumed he was long gone. I battled with myself – "You're going to be out here all night; you've bitten off more than you can chew," and moaned to my husband who phoned to check in as I hiked onwards. Reassurance received, in the fading light I told him I was committing to getting to Port Augusta that night. "Port Augusta or Blow Up," I said with conviction. He offered to book me a room so that I had somewhere warm to sleep and shed all the mud when I finally arrived.
What felt like an eternity later, I rolled into Melrose to find Simon (from Over the Edge) chatting to Sam and offering coffee which was gratefully received. Coffee, plus mashed potato and veg from the pub, some bar snacks for my feed bags and a water refill. Over dinner I asked Sam about his experience of riding the 'Dodging Bullets' trail out of Melrose. "Rode it once and ended up in hospital," he told me; I decided against it.
Feeling so cooked, I decided that I had already tested myself enough for one day and took the rail trail to Wilmington to find local friends cheering me on, along on the trail. I rapidly relayed my love/ hate relationship with The Kudlila Experience (oh the joy and the trauma) and rode on into the night. Most of the course was familiar to me, this was welcome on a clear, crisp night. Kangaroos, foxes, Port Augusta city lights appearing long before the town does, a descent along Spear Creek Road (corrugated bitumen) for a long time on sore sit bones.
Filled with confidence that I had enough battery power to make it to the finish, I treated myself to some music and belted out daggy tunes well into the night. Hitting the gravelly loop around the town felt like a stroke of Jesse Carlsson – a taste of the end long before you can finish and a diversion off the highway at midnight into what can only be described as a dirt track through a whitegoods grave yard, led me to a dead end. Checking my multiple forms of navigation and my internal 'stitch up alarm ringing', I envisaged that the route probably involved hiking my bike over an embankment, possibly a fence or two…… I decided that instead of continuing the 5km or so to the finish, taking the long way back to the highway to ride around to the finish seemed like the wiser choice.
The level of fatigue was intense, my knees beginning to question my life choices. Messages from friends appeared as I rode, I was tired and wandered the back streets of Port Augusta, unsure of what to expect of 'the finish'. I found my way to the water's edge at about 1.30am; the finish. Overwhelmed with a sense of achievement and also a "WTF just happened to me."
Reflections
This may not seem a glowing recommendation of the Kudlila Rally, but if that's your take then maybe this isn't the event for you. This route was a master stroke; full of 'not this way but that', 'you're close, but not so fast', 'wow that's amazing' and 'I didn't even know this was here'. It's full of struggle and surprise, crazy trails that only make sense when you receive the reward, the sort of route that only someone who has ridden these tracks many times could craft and only the dedicated or unhinged enjoy the course in just a few days. Simon is an evil genius, an incredible rider and unassuming adventurer.
Multi-day in the wet was new to me, this route was full of my own personal experiments and I enjoyed that. I'm convinced that this route would be substantially faster and easier in more favourable conditions; maybe even more obviously fun, the joy not so well disguised.
It has taken me a day or two to arrive at 'thanks' to Simon…. and to be able to ride again.