Ollie's Salsa El Mariachi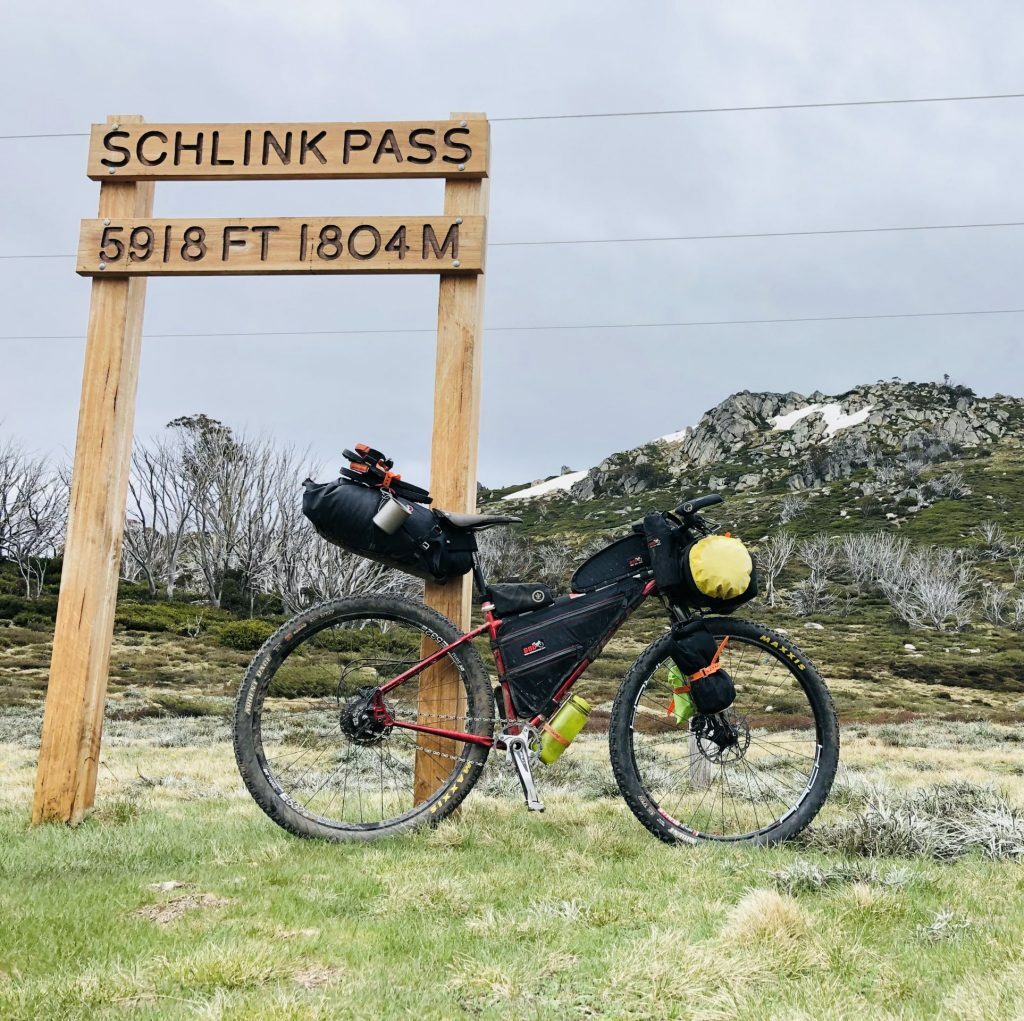 What's the story behind your rig?
Through my 20's I hiked quite a bit, lots of multi day adventures both in Australia and NZ. I didn't really get into bikes until my early 30's. At that point, I didn't really know much about bikes, but I bought an old steel hardtail off a friend and took up mountain biking. I initially occupied myself on singletrack around Canberra – Stromlo, Bruce ridge, Majura and Kowen.
My lust for bigger landscapes beckoned, and I began to venture further afield to my beloved Brindies and spent many a day exploring trails on daytrips into the mountains.
It was around this time that I heard about bikepacking. With a background in hiking, and now slightly obsessed with mountain biking, heading off to wild places with all you need strapped to your bike seemed like a logical progression for me.
I prefer to build rather than buy, so I set out researching bikes and setups and tracking down parts to build my ideal bikepacking bike for adventures near and afar. I found the frame for a bargain clearance price on a German online site and collected the other bits and pieces for the build from various places. The folk at Monkey Wrench Cycles built me the wheels, and I traded a six-pack of coopers for the rigid fork from a bike mechanic with a glorious ginger beard.
I built the bike up in my garage, and it was just as good as I'd hoped it would be, it was begging to be taken on adventures, but then life and a new baby got in the way of my bikepacking dreams, and it was relegated to a dusty corner of the shed. I'd occasionally bring it out for day trips in the mountains, or laps of the Centenary Trail but it didn't see an overnighter for a few years after it was built.
That was until a couple of years ago when a good friend of mine and my favourite adventure buddy suggested a bike trip in NZ, that was when my bikepacking desire was rekindled.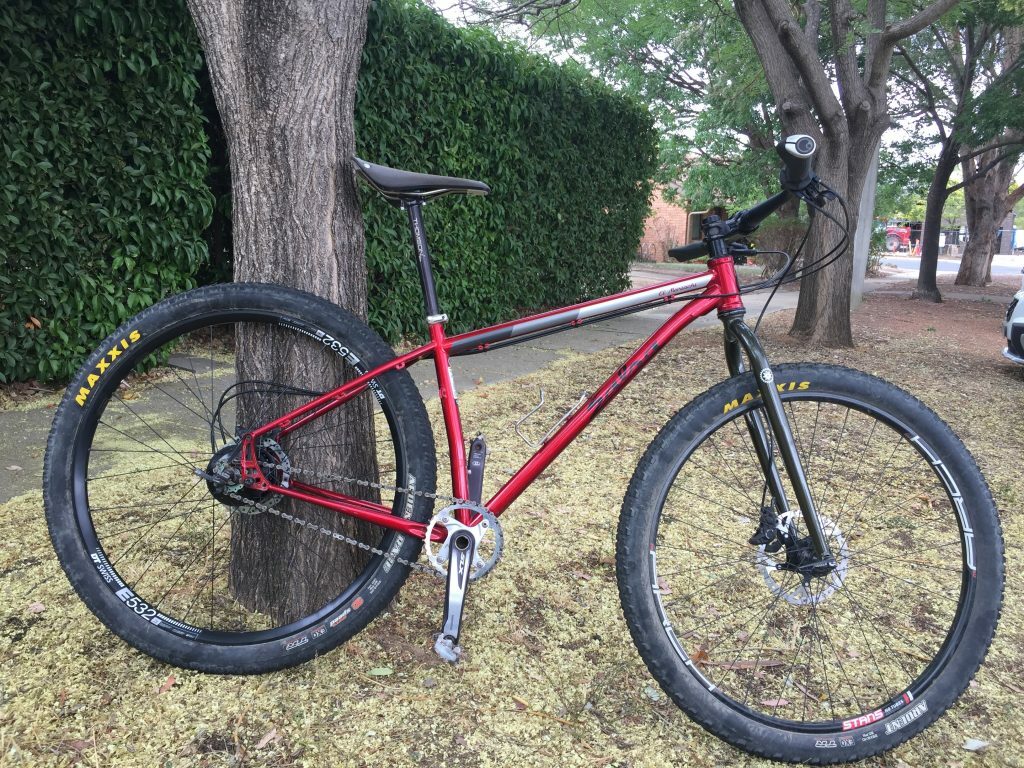 What trip was this bikepacking rig setup for?
I was turning 40 soon, and that seemed to be a good excuse to do something a little more extravagant than usual. I'd planned to take a couple of weeks off work and do a 1000km loop around the top of the South Island taking in a couple of hundred kms of singletrack with the balance being gravel roads and quiet country tarmac.
I hadn't really done anything like this before, so a few practice trips were in order with a trip to Jugiong being my first multi nighter.
The Covid pandemic delayed my initial planned trip to NZ, but in between lockdowns and stay at home orders it gave the opportunity for more exploring closer to home in the Mountains of the Australian Alps. I have since taken it to NZ and I will be exploring Tassie with it this summer.
What camping gear were you carrying?
It took a little while to refine my kit, but after a few trips and a bit of trial and error I've got it pretty sorted now, and my gear doesn't really change from trip to trip, apart from the amount of food I need to take.
Mont Moondance 1 Tent
Thermarest neoair and a Tier Gear quilt
Jetboil and snowpeak titanium cup and spoon
Riding clothes, rainjacket, tent and stove goes in the front roll, dry clothes, quilt etc goes in the saddle bag. Food and everything else misc goes in the frame bag, feed bags and top tube bag.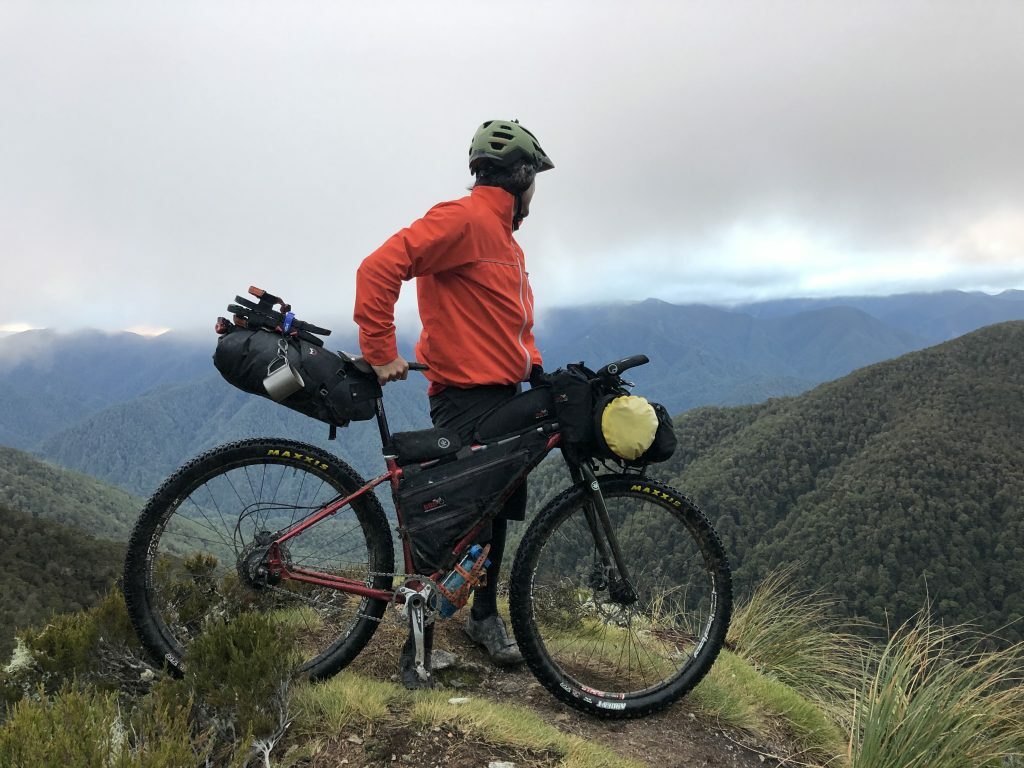 Bike & Bags:
Frame – Salsa El Mariachi, Salsa steel fork
Wheels – Stans Arch rim / DT Swiss 240s hub (F)- DT Swiss E532 rim / Rohloff speed hub (R) – Tyres – Maxxis ardent race 2.4 and Maxxis ardent 2.35
Drivetrain – Surly Stainless chainring and SLX cranks
Brakes – Shimano SLX
Bottom bracket and Headset – Hope
Bars – Salsa Bend 17 degree
Stem and seatpost – Thomson
Saddle – Brooks c17
Frame bag, top tube bag, and feed bags – Bikebagdude
Front roll – Catcus Outdoor
Saddlebag – 14L Revelate terrapin
Cages – Kingcage titanium manythings
Tell us about the things you love, or things you'd change about this rig:
I love this bike and will never part with it. It's taken me to some amazing places and helped me to create some life lasting memories, and there's the promise of many more to come on it.
I ride it to work, to the grocery store, with the kids, on gnarly singletracks, long tarmac days and on epic mountain trails. It climbs well and I can descend on it at full noise with absolute confidence. I've jumped it, I've crashed it, I've ridden 100 mile days on it, I've raced down super smooth highway hills at ridiculous speeds and pushed it for hours up spirit sapping hike-a-bikes. It's scratched, it's a little faded, the paint's worn down to bare steel in places, but every mark has a story, and in over 7000km of riding I've never had a mechanical on it, I've never even got a flat! It just feels bulletproof and reliable. I feel that I could grab my gear, strap my bags to it, hop on and start riding across the globe tomorrow, I'd occasionally need to put a bit of air in the tyres and change the oil in the hub every now and then, but that's about it.
The Rohloff is superb, it's a little heavy and the twist shift takes a bit of getting used to and it's not without its little quirks, but the gear range is excellent, it's so clean externally, and it just feels like it'll last forever. All it needs is an annual oil change and the occasional adjustment of the dropouts to tighten the chain as it wears.
I deliberately chose good quality easily serviceable hubs, headset, and bottom bracket. These have all performed really well and should last a long time with regular maintenance. SLX level components and Thomson bits just work. The Salsa bend 17 degree bars combined with ergon grips are super comfortable and give great control, bar-ends on the ergon grip give welcome additional hand positions on long days.
The custom built wheels have been flawless, again I chose strength over weight and I've ridden quite a few pretty chunky descents fully loaded and they've never needed truing.
It's not lightweight, but feels great. The steel frame, whilst decent but not super high quality rides really nicely, and has that lovely springiness that a well built steel frame delivers so well. The rigid steel fork prompts good line choice but is sturdy and predictable. Even fully loaded, after a day or two of getting used to the weight distribution you kind of forget the bags are there and can hook into swoopy fast offroad descents without a worry in the world.
The bags are great, Bikebagdude custom gear is really high quality and fit perfect. Both the Cactus and revelate front and rear bags function well and are holding up to quite a few trips now in some tough terrain with some pretty serious mud and adverse weather.
The only thing I'd change would be more mounting points for cages on the forks and the underside of the downtube. I've overcome that with King Cage universal support bolts, they're a little inelegant and expensive for what they are, but they work. I carry a fairly decent kit of tools and spares, and I haven't quite settled on the best approach for where and how to carry them either.
I set out to build a bike that would take me to wild beautiful faraway places, and my Salsa has delivered that in spades, it's my perfect adventure bike.