Canberra to Jugiong 200 Miler
You can quickly forget what 'Lockdown life' was like. Limited to only an hour a day to ride, and therefore stuck to a small radius close to home, I spent far too long wondering where I would like to ride as soon as restrictions were lifted, and Jugiong seemed to fit the bill.
It had been on my list for a while. It's a nice round 100 miles (160km), so a solid ride, there's a great pub there, it goes where there isn't much traffic, and about half of it I hadn't ridden. The first idea was to ride out and stay the night at the deluxe accommodation at the Sir George Hotel and enjoy their good tucker. As lockdown started to ease in unpredictable jumps and steps, it became obvious that planning ahead with bookings was risky in case the ACT border didn't open when they thought it would, whether Jugiong would be included in the Canberra bubble or not, and all that other lockdown uncertainty. In any case, things were pretty full as everyone wanted to get out of town as soon as they could.
So a big 200 miler (320km) out and back in a day seemed the best way to guarantee some miles, and a couple of others were keen, but then the competing demands of long overdue catch ups with family and friends meant the first common date we could do was getting pushed out to December. Too long for me to hold onto those pent up lockdown blues, so I decided to just do it myself. The spring weather hasn't been kind to the cyclist, so when a dry day opened up on a Tuesday I locked it in.
2.00am start for 200miles
Double imperial century? The same distance as Unbound Gravel, but about double the climbing at 6000m. A challenge. I checked the forecast and it was going to be 4º to 25º, so a warm day and a bit cool at the start. I didn't want to take too much clothing, but at the last minute I thought maybe I just should take a bit of warm stuff. Wise move. I left Kingston (Canberra, ACT) at 2.00am and it wasn't too cold, but the further I went the further it dropped. Near Uriarra Village it was 0º and didn't get any warmer until about 7.00am.
The climb up to Piccadilly was the highest point of the day, and from the Condor Creek crossing it's about 10km at 5.6%. I wasn't too cold as I was working hard and going slow, but the fast drop into Brindabella Valley in the dark numbed the fingers and toes, despite the warm clothing. The road up to Piccadilly and down into Brindabella Valley is reasonable, but it turned out to be one of the roughest sections for the day.
It was about 5:30am and 55km as the sun started to rise and I climbed out of the Brindabella valley. From here the gravel roads were starting to get really good. Surprisingly wombats were the most common animal, but I rode through a herd of horses with foals, a first for me. No cars or people were out at that hour, only fools on bikes. I'd ridden Brindabella road before, coming onto it from Nottingham road, and as I got to that turnoff I was preparing myself for things to get pretty remote. It's basically just a pine plantation from that point. Nobody really lives there, and people going from Tumut to Caberra usually go up and around on the Hume.
I could hardly believe my eyes then, when around the next corner the road became what would be considered a highway in many areas of Australia. Wide, well marked, smooth, gentle corners and in good condition, I wondered what it was doing out here? I could only assume logging trucks. The road went for miles and miles like this, and I saw only two utes and two logging trucks. I almost had it to myself. Riding along this excellent big winding road, surrounded by pine trees, it felt like I could have been riding in Switzerland or Canada or somewhere, and it would be great to do it on a proper road bike. I later worked out there's a bit under 50km of that sealed road, so you could do an out and back of almost 100km. A pleasure to ride and a feast for your eyes.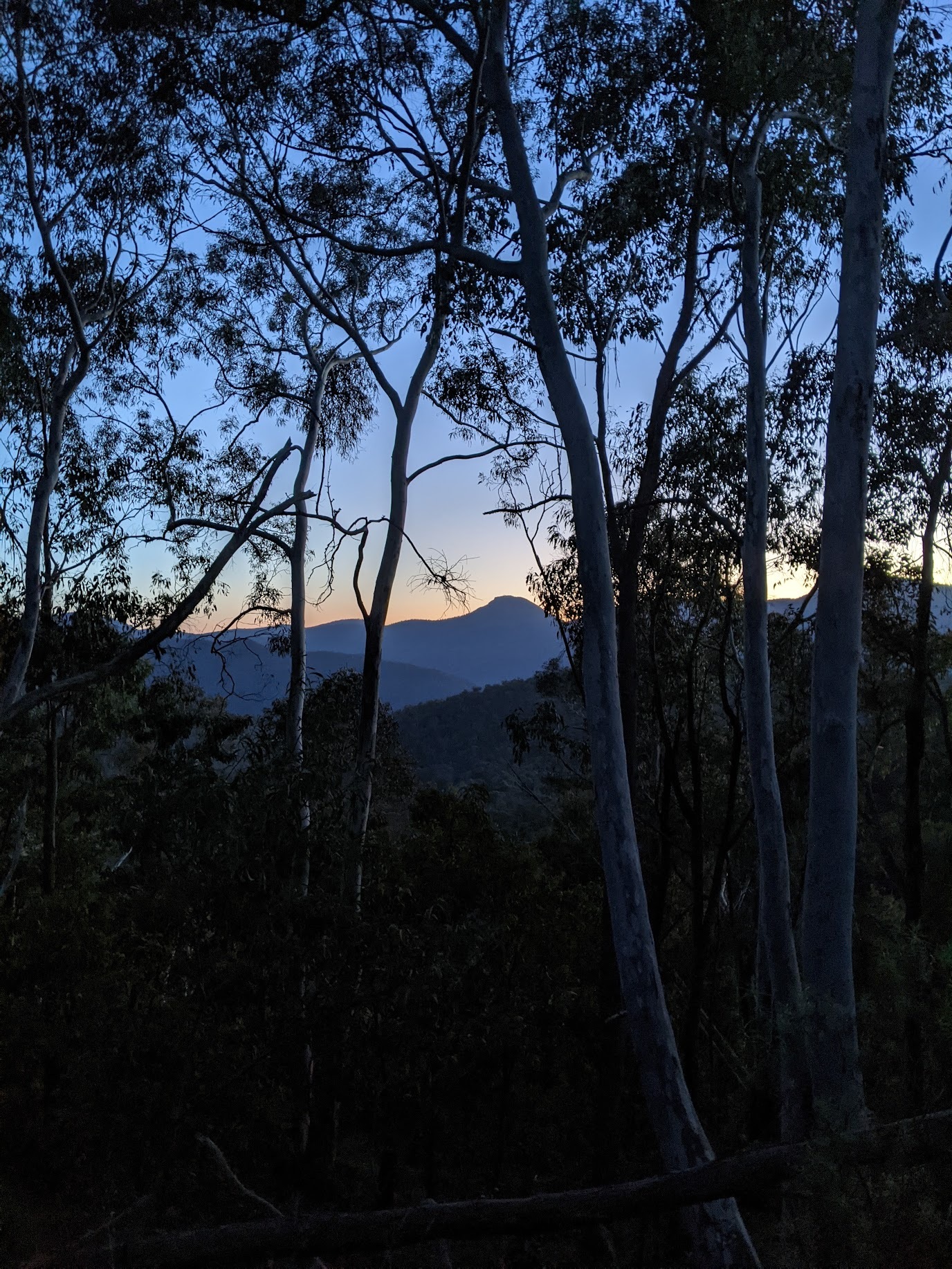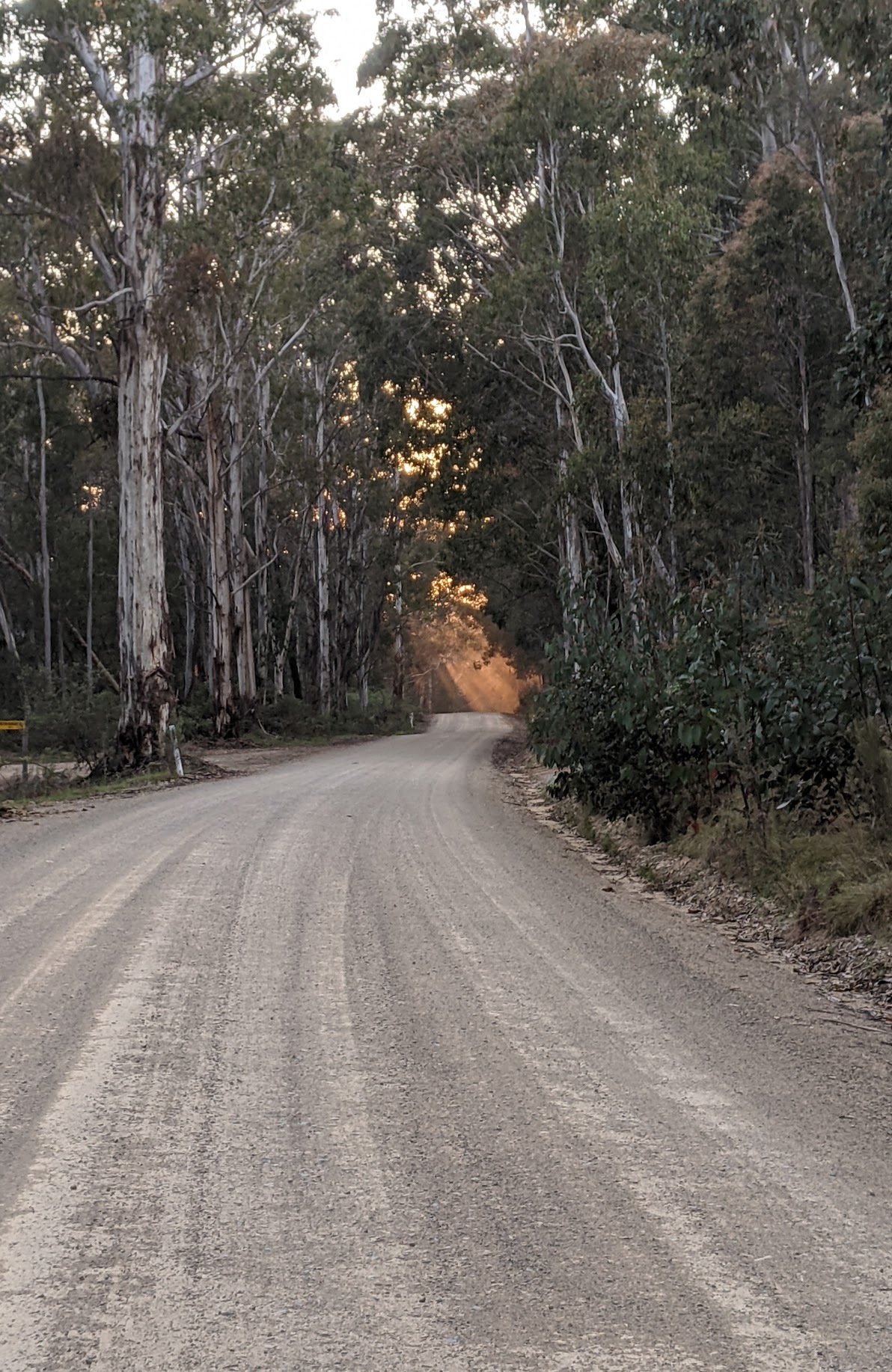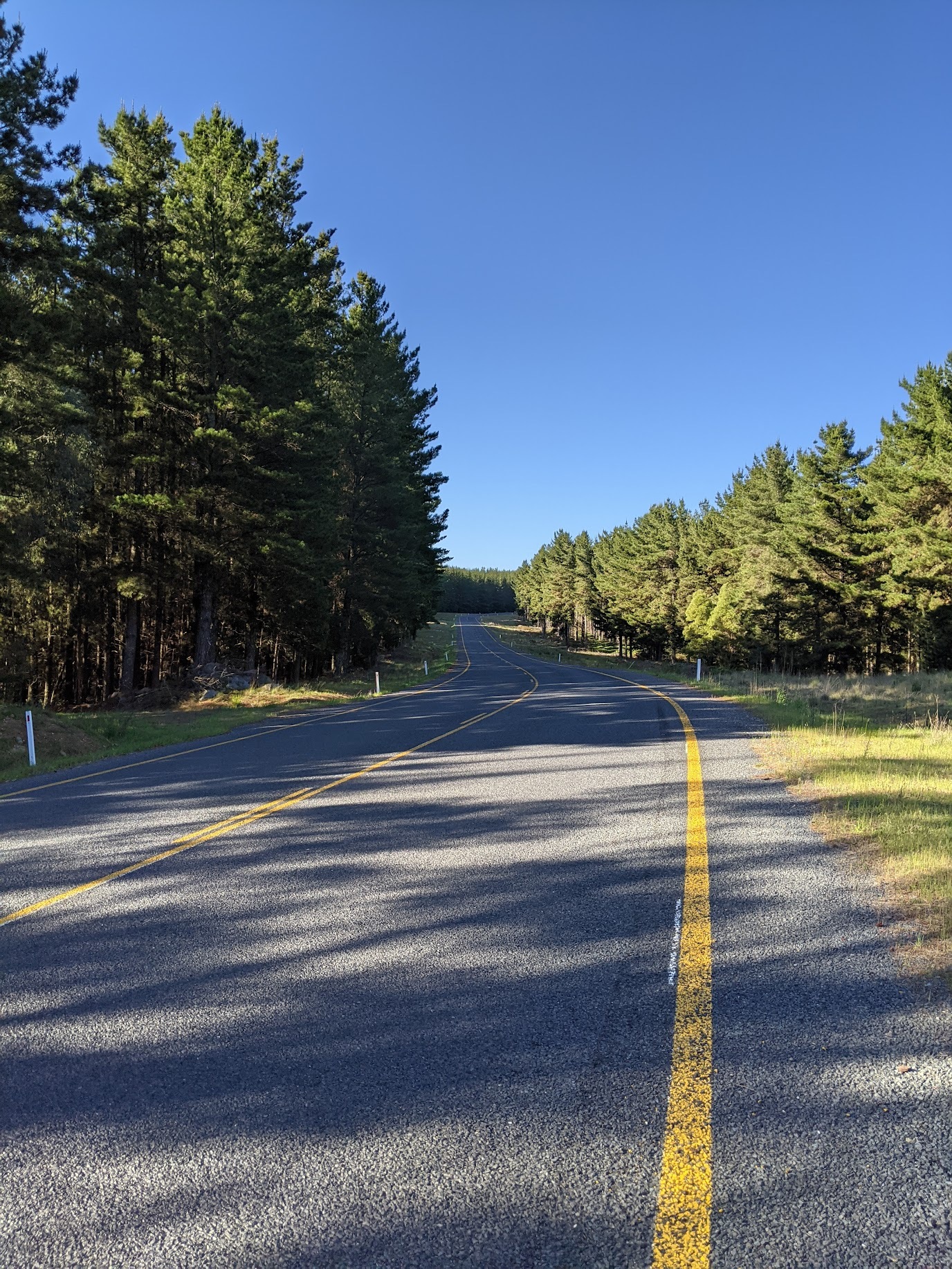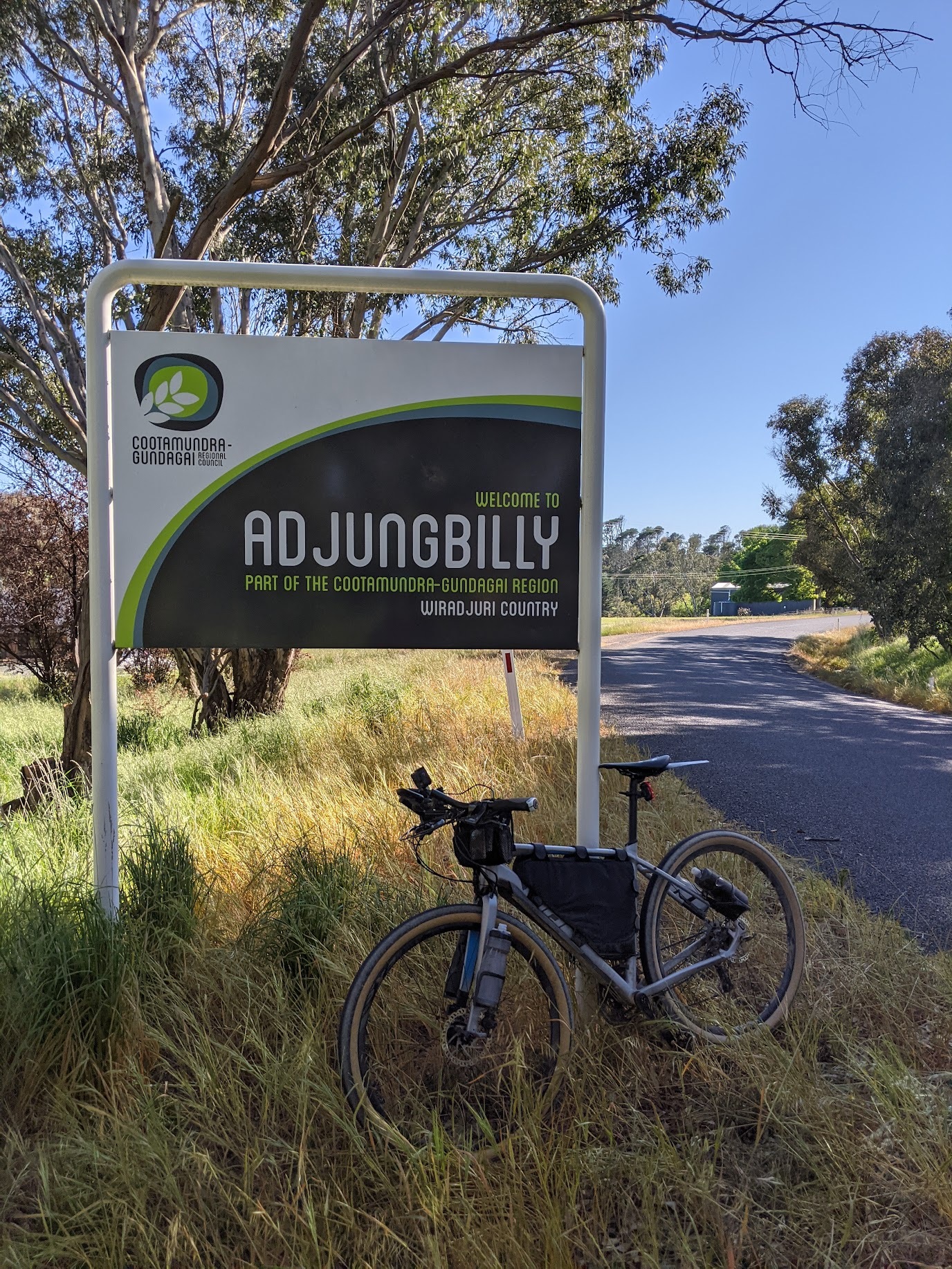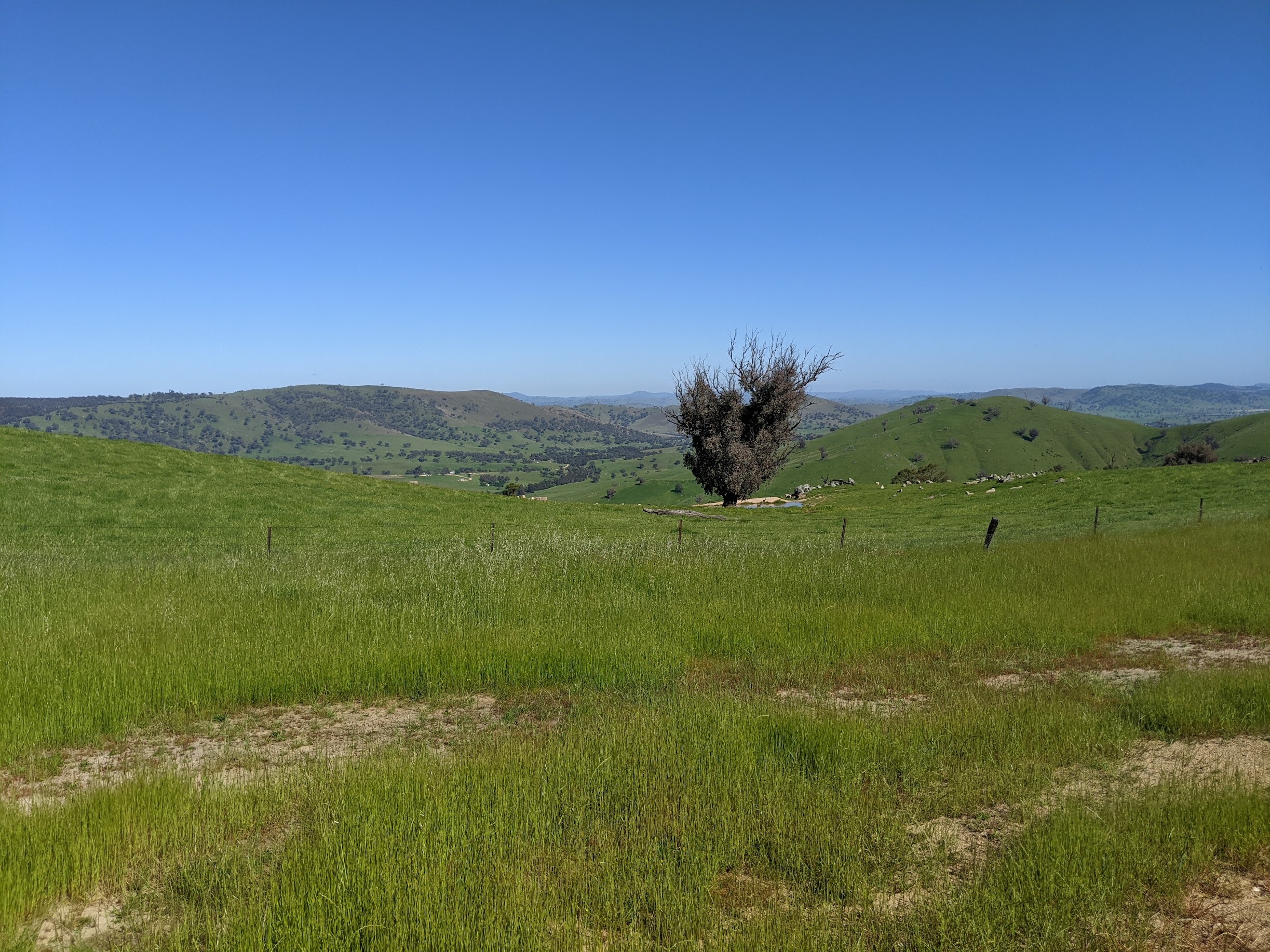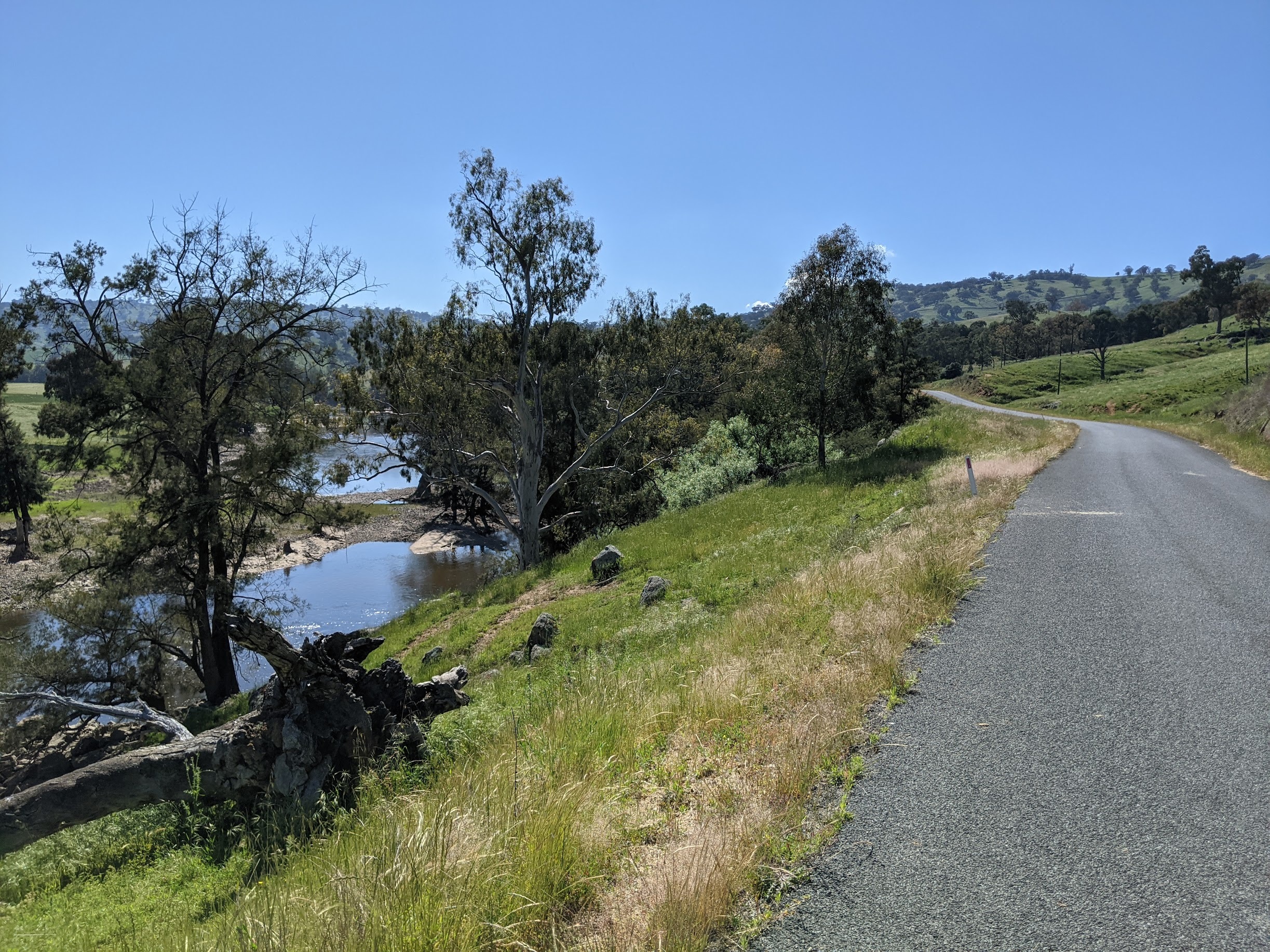 Primo Conditions along the Murrumbidgee
I went past the Bondo Forest camp at Argalong at about 7:30am and 90km, and there were a bunch of people standing around idling trucks getting ready for the work day. I took a gravel shortcut to avoid a big drop and a climb back up, and then got back onto the primo bitumen for about another 10km. Eventually the road turned to gravel again and there were some rolling hills until the big downhill into Adjungbilly. I got there about 8:45am and 115km, the sun was well up at this point, and feeling had returned to my extremities. The countryside coming into Adjungbilly was superb, no doubt helped by it being spring, good winter rains, and my eyes being treated to expansive views instead of 10 odd weeks of just my suburb. It was hard to get the smile off my face.
Climbing out of Adjungbilly it was time to take off some layers as I got to the top, and I talked to some farmers on the road moving sheep. Then it was about 14km of rolling sealed downhill to the Murrumbidgee at Gobarralong. There are some stunning views of the Murrumbidgee valley as you speed down from the high ground, all on quality bitumen again. The downhill ends where you meet the river at a tee intersection. Left to Gundagai or right to Jugiong. Heading north, the road is flat and smooth and follows the river for almost 20km. Riding beside the big open Murrumbidgee was about as good a ride on a dirt road gets.
Rivers aren't so big in Australia, and they're often full of fallen trees and brown water, so to ride beside a big open one along flat plains with fairly clear water was something special indeed. It's fairly different to the Murrumbidgee near Canberra which seems browner and is in hiller terrain. At one point on the big open river flats with the road disappearing into the distance, it felt like I was in a greener version of "North by Northwest" and would come across Cary Grant being chased by a Crop Duster any minute. Such a scenic area. No road like that can last forever, and there's a steep pinch to climb up to an intersection with the road I'd be riding back on. First though was the short 7.5km detour into Jugiong.
A Burger at The Sir George Hotel
I had four water bottles with me and a little more would have been good to get me to Jugiong, but I could have filled up at many flowing creeks along the way using my filter if I had to. I cooled down a bit and drank some water at the camping ground before riding over to the pub and having some lunch. It was just before 12pm and I'd done 160km, or 100 miles. The Sir George Hotel is big city quality, with its own bakery and deluxe accommodation, in a town of about 200. It's well worth stopping at if you're on the Hume to Melbourne, or even a day trip from Canberra.
It was tempting to settle in after having a burger, but I had a long way to get home so I didn't want to rest too long. The first part out of town is a bit of a climb for about 10km but then you drop back down to meet the Murrumbidgee again. This section was also flat and smooth and for a lot of it you're riding right next to the big open river. If big distances aren't your thing you could start at Jugiong and ride both the upstream and downstream sections for about 80km of first class gravel and 15km in and out of town.
At about 2:30pm and 190km it was time to leave the river and climb out on Nanangroe road for about 9km at 3.5%. It was quite hot at this point, around 30º, and in hindsight I should have checked the weather forecast for Jugiong. It's far enough away that Canberra weather doesn't apply so much!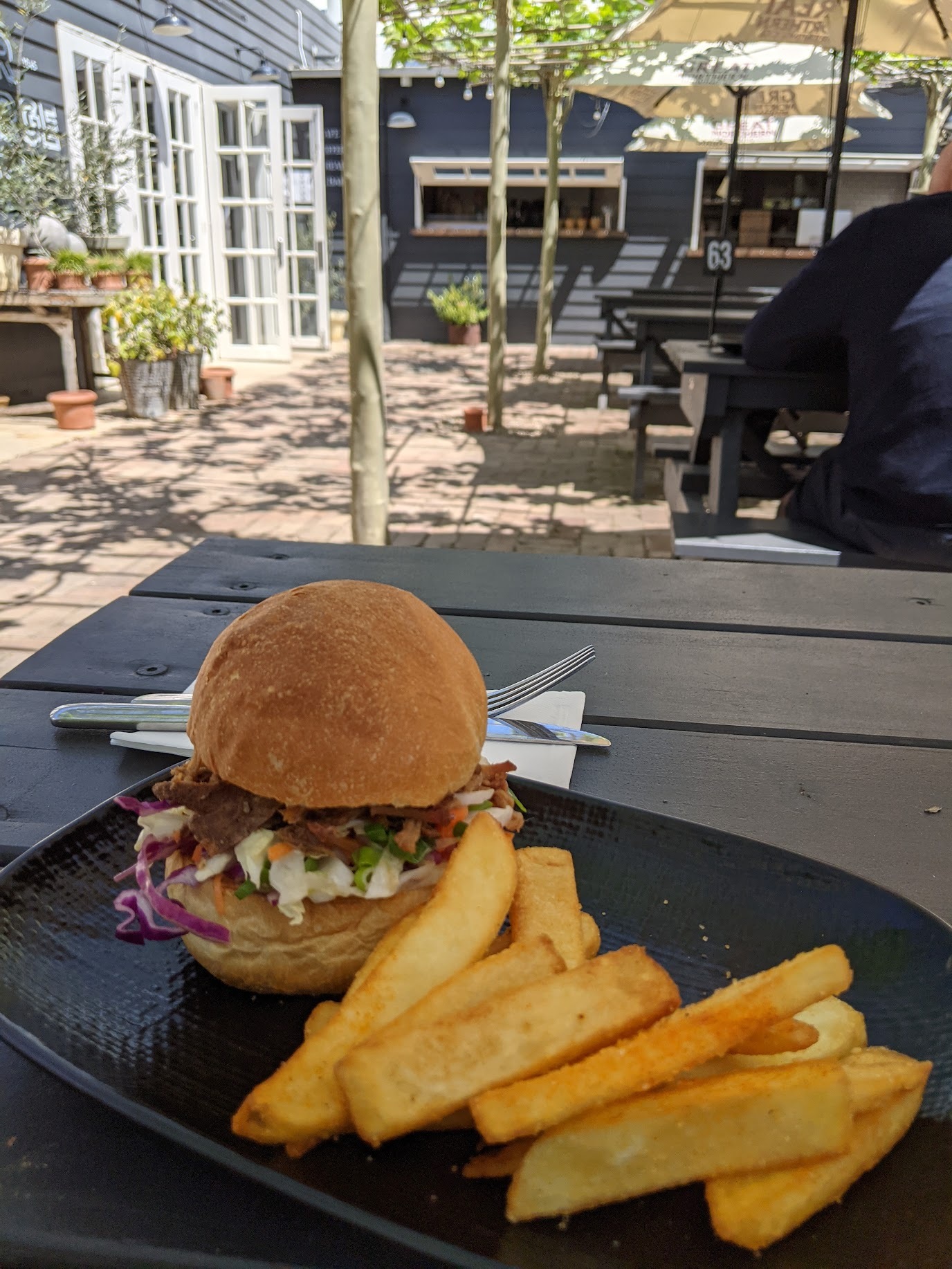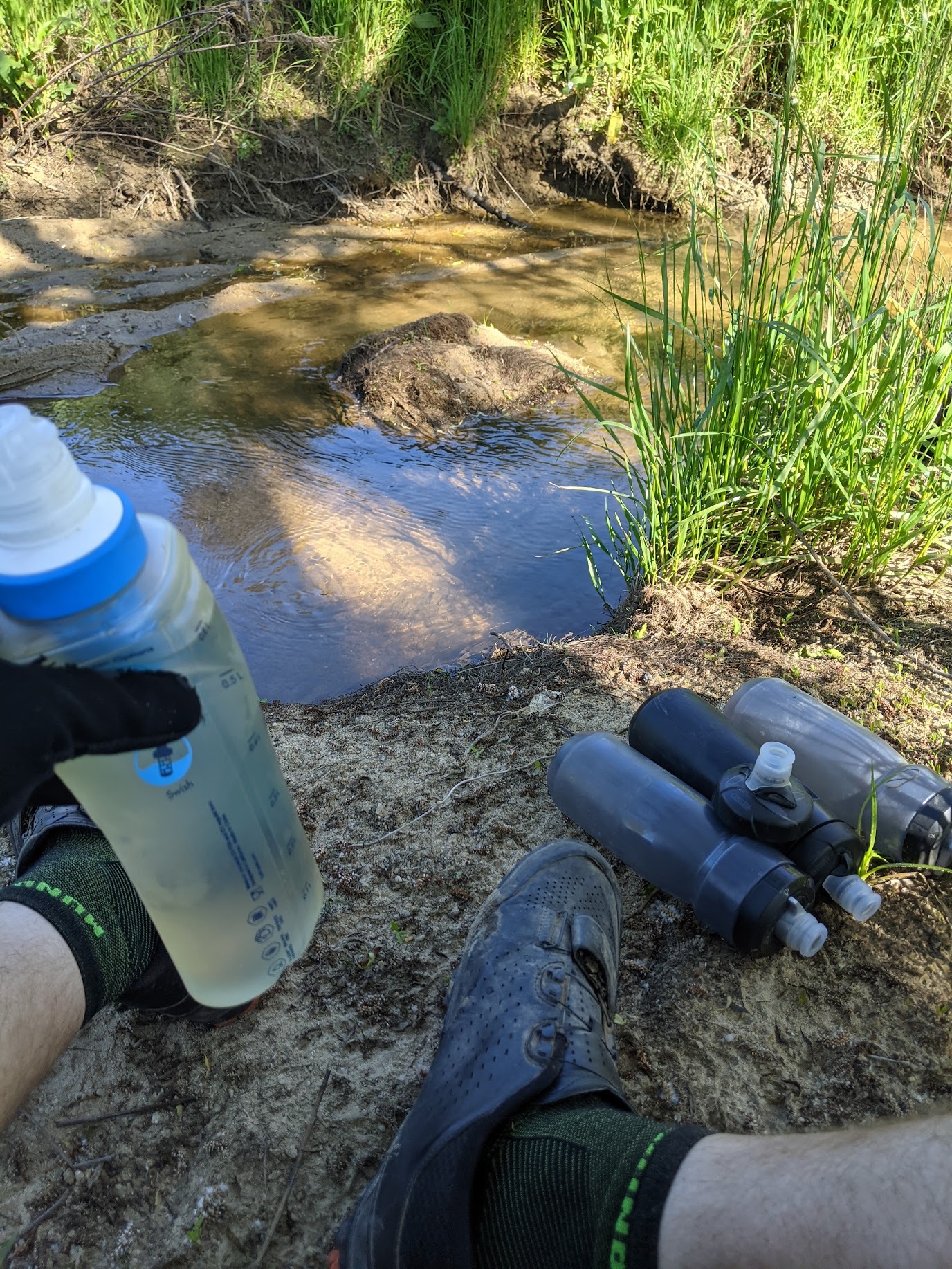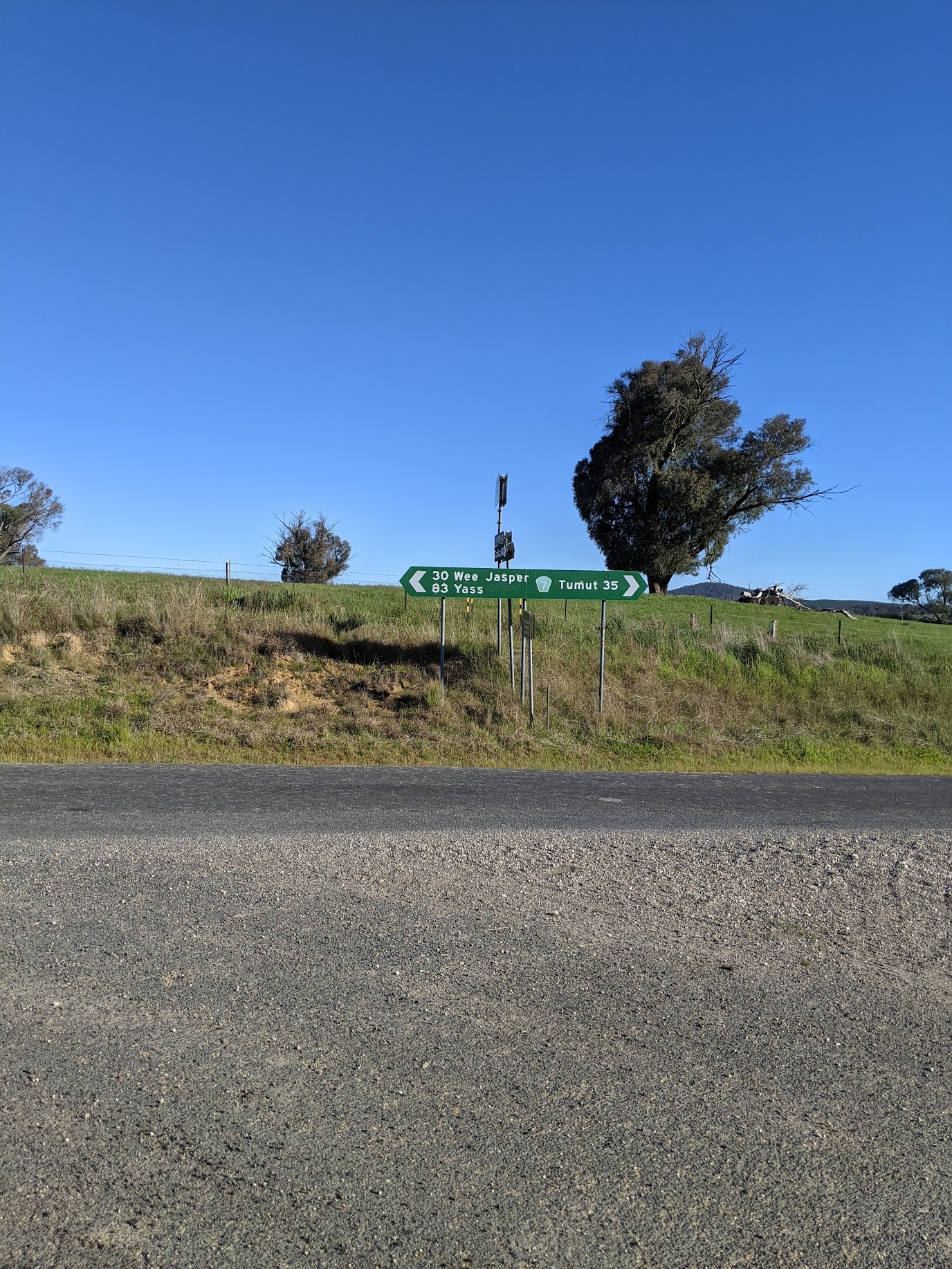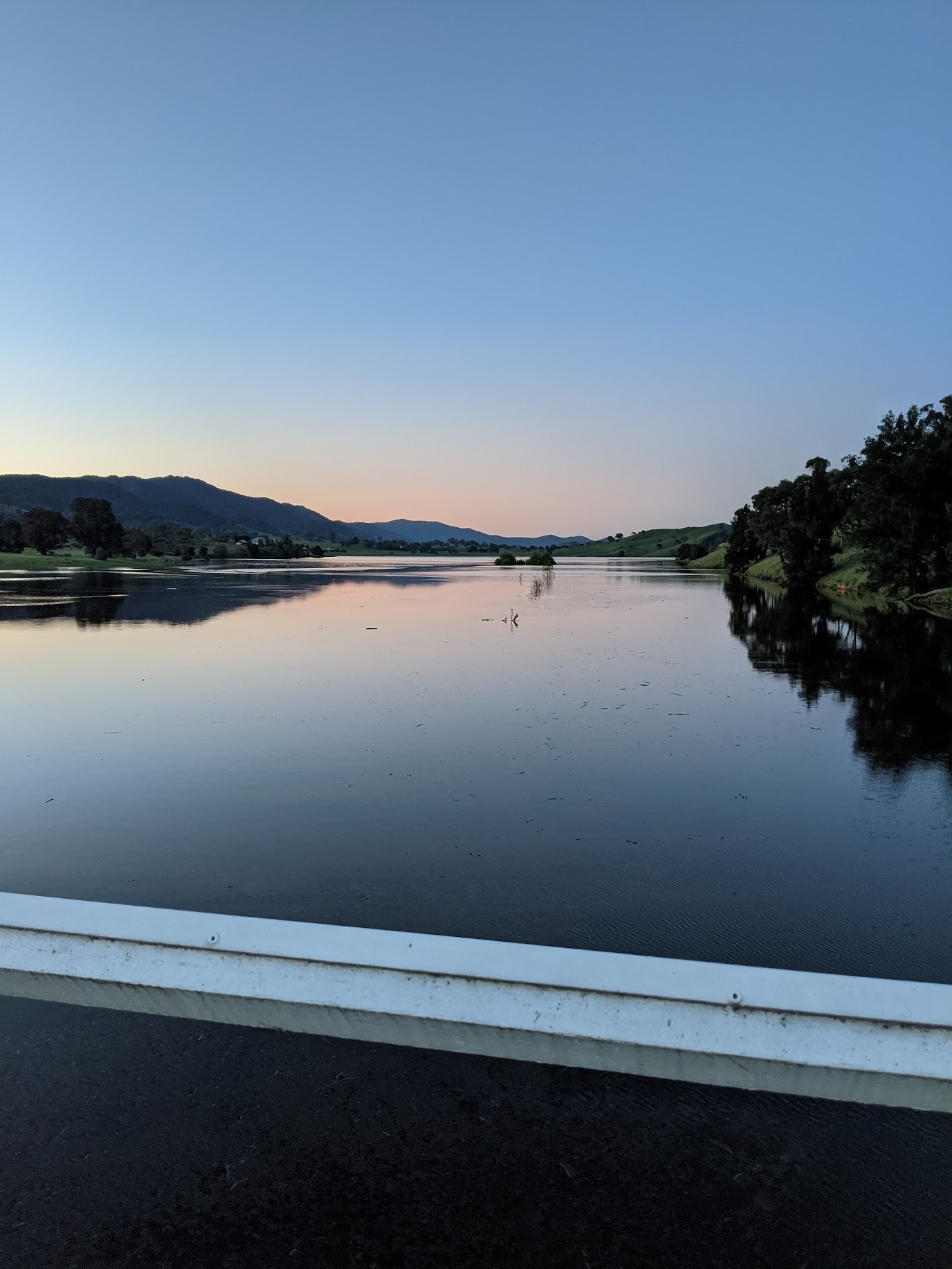 A Few Decisions on the Way Home
I'd planned two return options at the 210km mark. Either stay on the bitumen and head back to Adjungbilly and then onto Wee Jasper road, or turn left and go through Bungongo and Couragago forests. The bitumen was longer, but less climbing, and pretty simple to follow. I was happy to do a bit more climbing through the forests, but I'd need the GPS to show me the way. I couldn't remember which route I loaded so decided I'd just follow what I had. My brain isn't the most agile after 200km of riding. The GPS took me back towards Adjungbilly and even though it was only 55km from Jugiong, I'd already gone through my four bottles thanks to the heat and the climbing.
My water filter had slowed down so it took 40 min of hard squeezing to fill four bottles. It was testing both mentally and physically. Still, better to do that than to have a gutful of cowshit laced water 150km from home. It was a 7km grind at 3.2% to climb back out of Adjungbilly and I was pretty cooked in the heat and still air. Meeting the Wee Jasper road at almost 5.30pm and 225km it was a left turn and pretty quickly the bitumen ended. The gravel wasn't too bad, but it wasn't great, and I was getting fairly tired. 
The shadows were fairly long when I got to the top of the climb before a 10km descent into Wee Jasper, and it was good that I got there with a bit of sun because the road had some bad hidden ruts and holes in it. You'd have to be careful descending that at night. I got to Billy Grace reserve at about 7:30pm and 250km and it was time to put the warm clothes back on and mentally prepare for the slog out of Wee Jasper. Burrinjuck Dam was backed up as I crossed the Goodradigbee river at Wee Jasper bridge for a final twilight gaze, and the climb out wasn't as bad as I'd expected as it got dark.
I had the decision to make whether to stay on the bitumen and turn onto Mountain Creek road near Rupert Murdoch's farm, Cavan, or take the shortcut on Sawyers Gully road. Shortcuts sound good but the road has a few hills, a few ruts and corrugations, and it was dark and I was tired. It was 9pm, 19hrs and 265km in but I took the turn onto Sawyers and after a bit of mild climbing I enjoyed about 5km of downhill. That led into some tough climbs though and I walked a bit of the last big climb for about 1.5km at 7.5%. Didn't want to walk but it was probably as fast as I was riding it.
20+ Hours and 200 Miles
I got back on the bitumen of Mountain Creek road at about 10:30pm at 285km and knew the remaining road was pretty reasonable if I just kept at it. The climb out of Uriarra wasn't too bad, but the neverending rolling hills until you get to Stromlo tested my will. From Stromlo you're back in town and I just had to tap it out to get home. It had crossed into Wednesday at this point, and the roads were empty so riding the wrong way up Adelaide avenue for a bit to save some metres bothered nobody, and was a small chance to show the road I could still be the Boss. Barely.
I rolled home a bit after 1am and 345km, comfortably over 200 miles. A shower then bed. I was certainly spent, but not devastated. I wanted to finish it in under 20 hours of riding, but it was about 20.5. It was under 24 hours including stops though, and I think I'd beat the cutoff for Unbound Gravel (formerly Dirty Kanza). It was a great day on the bike, experiencing all the stunning and changing scenery. It truly was a feast for the eyes.
If you want to experience it yourself but you're not up for 300 odd km, you could break it into two days and stay at Jugiong. There's some great camping there right in town on the river, or stay in the deluxe accommodation at the pub. You could also start and finish at Wee Jasper, driving from Canberra, taking Nottingham road to link up to Brindabella road. A friend, Michael, did that a week after me. I think he's still talking to me. You could also just start and finish at Jugiong and ride the river roads. They're really flat and were some of the best roads I rode along, with stunning scenery.
Gear:
I rode on 700x55mm smooth tyres, but you could get away with much much less. 28mm might not be enough, but 35mm would be fine for most of it.
My gearing was 46/30 front and 34/11 rear. I walked only one hill, but that was after 250km and I was tired. You might want a higher gear if you've got more horsepower than me, because I did use top gear at times.
I carried four 750ml bottles. There were plenty of places to fill up with a filter, but that would change for summer. Two wouldn't be wise in my opinion.
I passed very few people so an Epirb or satellite messenger is essential, but also enough tools and spares to fix a problem. The rescue helicopter isn't really for getting you home because you've snapped a chain or torn a sidewall. You'll need a sat messenger to ask a loved one for help though.
As a side note, I experimented with my nutrition for this ride. When lockdown started I changed to a low carb high fat diet for a few reasons, and when I was getting ready for this ride I thought I would have to switch back to carbs – energy bars, sports drink, all that stuff. I did some research though and it sounded like if your body was adapted to running on fat, not carbs, you should have no trouble fueling your body for long endurance activities without eating much. I was doubtful and took along plenty of sugar in various forms, but I never touched it. I didn't really have breakfast, ate only 200g of nuts on the ride to Jugiong, ate a burger for lunch even though I wasn't hungry, and had 100g of beef jerky on the 180km ride home. I did use a hydration tablet (not energy drink) in every bottle though.
My speed seemed broadly similar to other long rides, but my stomach felt really good all day, where it is normally either bloated and stopping me from drinking, or it's running out of sugar and I'm bonking. Nutrition is a personal thing, but the idea that you must load up on carbs for long distances is a myth.
Not having to take a mountain of food makes logistics a breeze.