Jason's Tempest Bicycles Thunderhorse
What's the story behind your rig?
Not long after I started riding back in 2016, I was captivated by the allure of the IPWR, which inspired a 4 day bikepacking adventure with a couple of mates (on the tarmac). Completely clueless, my massively overloaded bike suffered a couple of broken spokes on the first day, which had us searching for a bikeshop to save the trip. I was fortunate enough to limp into the workshop of Rob Benson from Tempest Bicycles, who stayed open late and handmade three emergency spokes for me – saving our weekend. After witnessing his work and seeing a few of his gorgeous frames that were on display, I knew I had to have my own Tempest frame. One day.
I went on to do a few more off-road weekenders on my old Merida MTB (aka the Knee-Killer), and I was hooked. Except I hated that bike so much, so I reached out to Rob. Fast forward a couple of years, and after many, many long discussions (and a billion annoying questions from me), Rob got to work designing the rig to end all rigs. A fillet brazed, internal Di2/dyno/brake/dropper routed bikepacking and commuting beast, covered with braze-ons (22 to be precise). On top of that are internally routed Klite Qube and Bikepacker Ultra lights which are just too good.
What trip was this rig setup for?
This bike was set up for slow but rough off-road exploring and bikepacking adventures. It was completed in April 2020, just before the parts shortage as the pandemic hit Australia. Our plans were put on hold.  We started to work on planning to tour on the original Hunt 1000 route in reverse, not sure when it would actually be able to happen.
A few false starts later, and due to family commitments this trip was put on hold – so instead we set out on a 5 day trip through and around the central coast hinterland in NSW, to stay relatively close to home. The bike finally got to do what it was designed to do, just two years late. The route consisted of lush gravel roads, pinchy climbs, wet clay and sand, and the harsh and rocky Convict Trail. And of course, with a good dose of hike-a-bike (fortunately most of the bike pushing wasn't up-hill).
What camping gear were you carrying?
This trip consisted of a full camp setup, with the need to be fully sufficient for 5 days without resupply. We were looking to enjoy the trip, so creature comforts like clean camp clothes, cooking supplies, and plentiful snacks were absolutely necessary.
For my camping setup I had a Naturehike CloudUp 2-man tent and a Sea To Summit sleep system (Ember quilt, insulated mat, and Aeros pillow). I upgraded to a 2 man tent as my 1 man hiking tent setup just left me feeling far too claustrophobic. Same with the quilt… I'm a big dude, and I get way too claustrophobic in a bag. All that extra space was also perfect for stowing away food bags at night, to keep it safe from the pesky possums and mice. Lessons were learnt.
Cooking system is a Lixada titanium pot and a Soto Amicus stove, which pack up nicely together with the gas canister in the bottom of my fork bags. I like to cook real food as opposed to freeze dried stuff – my two favourite bikepacking meals currently are Red Lentil Soup with Chorizo and Beans & Rice with Fritos & Cheese. Super easy and delicious.
Bike & Bags:
Bike: Tempest Bicycles Thunderhorse
Front bags: a Revelate Sweetroll for tent and quilt, plus Revelate Egress for wet & cold weather gear. 
Cockpit: HUNGRY Muncher for snacks, Alpkit Stemcell for my water bottle (I hate drinking from a hose), and a Terra Rosa Gear top tube bag for toiletries and other easy to get to things (attached with FIDLOCK quick release fasteners). 
Fork bags: Terra Rosa Gear bags for all of the food stuffs.
Framebag: Terra Rosa Gear, fitted specifically for this frame with all the various "stuff".
Saddle bag: Revelate Terrapin bag which has all my camp clothes, plus a change of riding clothes.
Other stuff: some custom mounts I made from some old Brooks saddle bridges to attach extra water bottles to my rear triangles.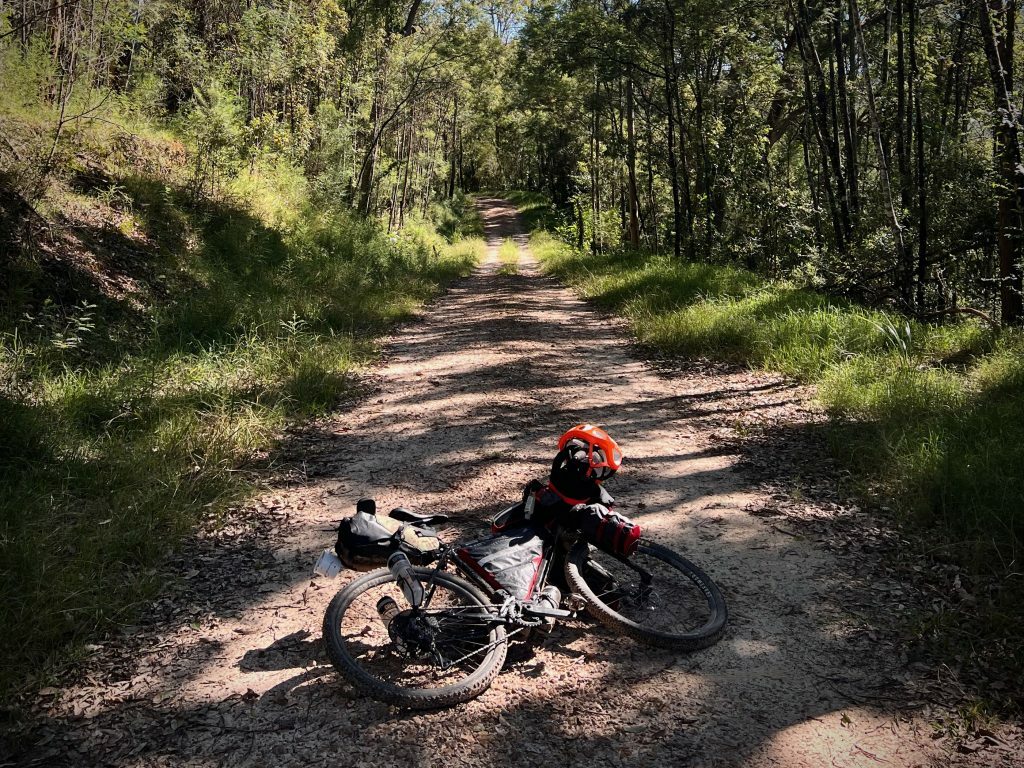 Tell us about the things you love, or things you'd change about this rig:
The bike is just so bloody comfortable. But that's what you would expect from a fully bespoke frame. The Redshift stem and seatpost also add a HEAP of cushion for the super rough stuff we were riding. I also love the gearing on this thing, 24/36 chainrings with 11/42 cassette mean that I can ride up silly steep stuff at walking pace. Which I really need. The bags are insanely good, especially the custom bags from Terra Rosa Gear and HUNGRY. Craftsmanship and quality on these are way beyond the standard off the shelf stuff.
Ideally I would love a bit more clearance in the back end, however given the speeds I like to ride at it really isn't an issue. The p-clamps I used to attach the rear bottle assemblies also broke due to the rugged terrain, so I'll get heavier duty ones for next time.
All in all, it's a ridiculously solid rig.