TreadLite Bike Bags
Who are the people behind TreadLite Bike Bags?
We are Scott and Mary Hawn; both originally from Colorado, we moved to Australia about 10 years ago and started TreadLite just over 3 years ago. We are based in the Adelaide area and have TLBB headquarters in our own back yard.
We like to think we make a pretty great team with me (Scott), taking care of things like the website, socials, billing, shipping and talking with customers to answer questions, set appointments, get colour choices etc.. This means Mary can focus on 100% of the making. Every TreadLite Bike bag is handmade by Mary from the cutting table to the sewing and seam sealing, adding the logos and even drawing up custom patterns and making mock-ups for new creations.
Keeping it all in the family, we were so happy that Mary's sister Sue Safer, an amazing graphic designer, came up with exactly what we were looking for in the TLBB logo. I don't think Sue has any idea just how many compliments we get on that logo.
How did it all start?
Mary loves to create and see things come together, she started sewing when she was barely tall enough to reach the foot pedal. I have always loved everything bicycle. When I started shopping around for bike bags to go on some longer adventures, Mary had one look and said, "I can make that stuff for you."
We went on the hunt for some materials and before you knew it I had my first frame bag. Let's just say I was more than a little excited by her handy work. It wasn't long before I had friends asking if Mary could make them bags too. We knew we were on to something good, so it just seemed like a natural progression to go into business.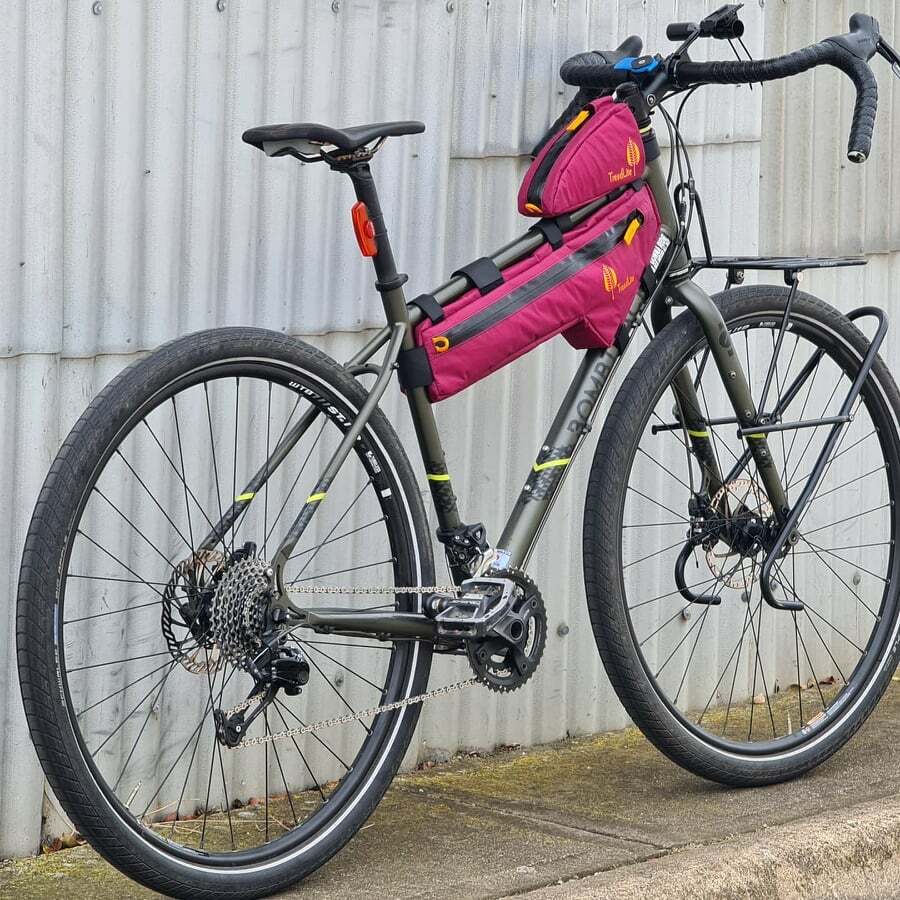 Which TreadLite Bike Bags product are you most proud of?
It may sound like a bit of a canned answer, but our products are like kids, we love them all equally and we are so proud of everything we make. We do love that we can have a very personal feel with our customers, and even when they are not custom bags (shape/size/design) they are still able to customize the colour details like logo and zipper pull colours, liners and even drawstrings. I like to think that gives every bag a custom, one of a kind feel that the customer is proud to have on their bike.
What excites you about the Australian and NZ bikepacking scene?
We are so excited to see firsthand, the growth in the AUS/NZ bikepacking scene. How could you not be, right?! When you think of choosing your own adventure, we are spoiled for choice in this part of the world. You'll find everything from hot deserts to high mountains, rail trails to bushwhacking routes. There really is something for everyone. It's so easy these days to track and share routes, and we see so many people doing that. It's pretty great that anyone can find a route that suits their taste/ability and just go for it. With all of that and the overall sense of inclusivity, how can the scene not continue to grow in an exciting positive way?
Where's your favourite place your gear has taken you? Or that someone has taken your gear?
For me personally it was my ride on the Mawson Trail last year. One of the best things about owning a bike bag business is saying I "have to" go do some product testing.
We do get really excited to see our bags being used in big rides/races like the Indian Pacific Wheel Ride and the Race To The Rock. Like a lot of people, we are dedicated dot watchers during those types of events, and it is all the more exciting knowing some of the riders and having TreadLite Bike Bags on their bikes.
One big favourite and probably the most extreme would be when Jimmy Ashby and Chad Freak strapped some TreadLite Bike Bags to their bikes and rode from Perth WA to Coober Pedy SA via the Anne Beadell highway. The ABH is an unsealed 1350 km track with only one stop to get water and food. This was all of course after they rode to the beginning of the ABH in Laverton WA. You'll be able to read all about that in Australian Geographic Magazine and on Jimmy's socials.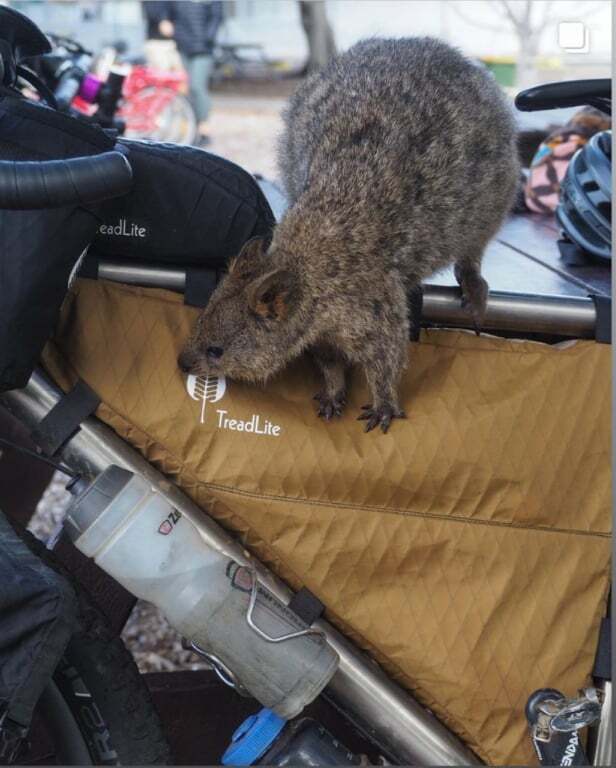 What's next for TreadLite Bike Bags?
That's a question we ask ourselves often. We have some ideas churning around for some different types of bags we can make, and what we can do to make our existing range even better. With Mary being her own toughest critic, the bags just get better and better. As for the business side of things; we've continued to grow pretty organically through happy customers and word of mouth. I don't see us slowing down anytime soon.
Are there any other Aussie/NZ makers, creators and scene builders you want to shout out?
There are so many great scene builders in the Adelaide area. Treadly's Bike Shop puts on some awesome events for makers and those looking to learn from others.
James Raison gets the word out there about trails and routes, gear and all things gravel on his website lavelocita.cc. Helen Dominish and The Uncool Cycling Club not only ride everywhere and write all about it, but they contact local councils about rails to trails conversions and signposting routes like the M2C Lavender Trail. BMCR in Adelaide, Over the Edge in Melrose and Curve Cycles in Melbourne all help build the scene with awesome products and helpful advice. The list really is too long to go on, and I wish I could mention everybody by name, but you don't have to look too far to find someone making a positive impact on the bikepacking scene around here.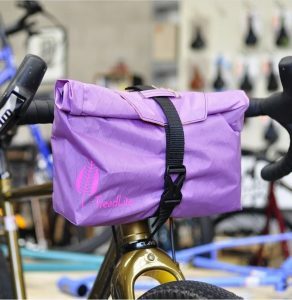 Thank you to TreadLite Bike Bags for sharing. Is there anything else you'd like to mention:
Well first off, thank you for including us in your write up about bikepacking makers. We are so happy that people who love bikepacking, also love to share their information and make it accessible to everyone.
I mentioned some big rides and races in one of your earlier questions, but I think it's important for people to know, they don't need to be an elite athlete or quit their job and cycle the world, to strap some bags on their bike and just go for a ride. We make bags for commuters, kids, day-trippers and long trippers. We absolutely love when people send pics of our bags in the wild so thanks to everyone uses them, sends pics and helps spread the word about our little operation.
Instagram @treadlitebikebags
Facebook Treadlite Bike Bags
Website www.treadlitebikebags.com
If you'd like to be part of the makers, creators and scene builders series, or if you'd like to recommend someone, contact us on our instagram or send us an email.