My Way on the Mawson Trail
After recently returning from a life changing 4 week bikepacking trip through Tasmania in January I needed a plan to justify continuing the sedentary office life. The time between my usual "plan a trip, save a little money and go" scheme was getting shorter and the trips were getting longer. This time 6 weeks from Adelaide to Uluru, cycling the Mawson trail, the Oodnadatta Track and the Red Centre Way.
I write this as I have a couple of rest days to reflect on the most incredible experience of my life to date. Sitting in my tent at a cattle station, sipping coffee about 100km from the end point, Uluru. I must note down my memories before they fade so I can share them with the world in hope it will inspire more people to get out of their comfort zone, take on a challenge and see what this beautiful world has to offer. Sure, you might not be able to travel outside the Australia/ New Zealand bubble right now but don't forget we have this spectacular countryside right outside our doors and you don't even need a lot of money, all the gear or a car to get there. Just an adventurous spirit and the mindset that everything will work out as it should.
This piece is about my time on the Mawson trail. A 900km cycling trail from Adelaide to Blinman in the Ikara- Flinders Ranges, which follows rarely used country back roads, rail trails, forestry roads and farm access tracks made up of mostly gravel and red dirt. The route is compared to that of an "ants trail" linking up small towns that were best known for copper mining and wheat production in the early settlement period.
Starting the Mawson Trail in Adelaide
After changing my flight to an earlier date than previously planned, I packed my bike into a bike box on the 28th May and boarded the plane to Adelaide. I had never been there before so I took a couple of days to set up my bike, get some supplies and take a walk around town, slowly getting used to the cooler weather and mentally preparing for my solo adventure through Outback Australia.
Now, the Mawson Trail officially begins at Gorge Road in Northern Adelaide and runs through the Adelaide Hills to Lobethal. As I was staying on the South side of Adelaide I decided to mix things up and make my way to Lobethal on other roads so I didn't have to ride through the city.
Just outside Lobethal I was pedaling up a range and heard a 'ping', I'd managed to break a spoke. Just my luck, on day one things were already going wrong! Was this going to be a pattern for what was to come? A friendly cyclist stopped to offer help and we retrieved the broken spoke from the rear wheel and I continued on my way. He assured me it would probably be fine for a couple hundred k's but fixing it sooner rather than later would bring peace of mind. So I decided to make a detour to Gawler Cycles, the closest bike shop that didn't require back tracking and allowed me to continue on to the next town which met up with the Mawson again, Kapunda.
I phoned Gawler Cycles when I was about 20km away to check they were open and able to help out. I was in luck, Neville was able to fix my wheel for me on the spot and we had a good yarn about my adventure and before I knew it, I was back on the road again. I cycled to Kapunda that day along some smooth undulating bitumen so as not to lose too much time on the detours. The roads were surprisingly well set-up for cyclists, a decent shoulder to ride in and most cars giving me 1.5m as they passed. My fear of road riding started to fade but I longed for the sound of the gravel crunching under my tyres.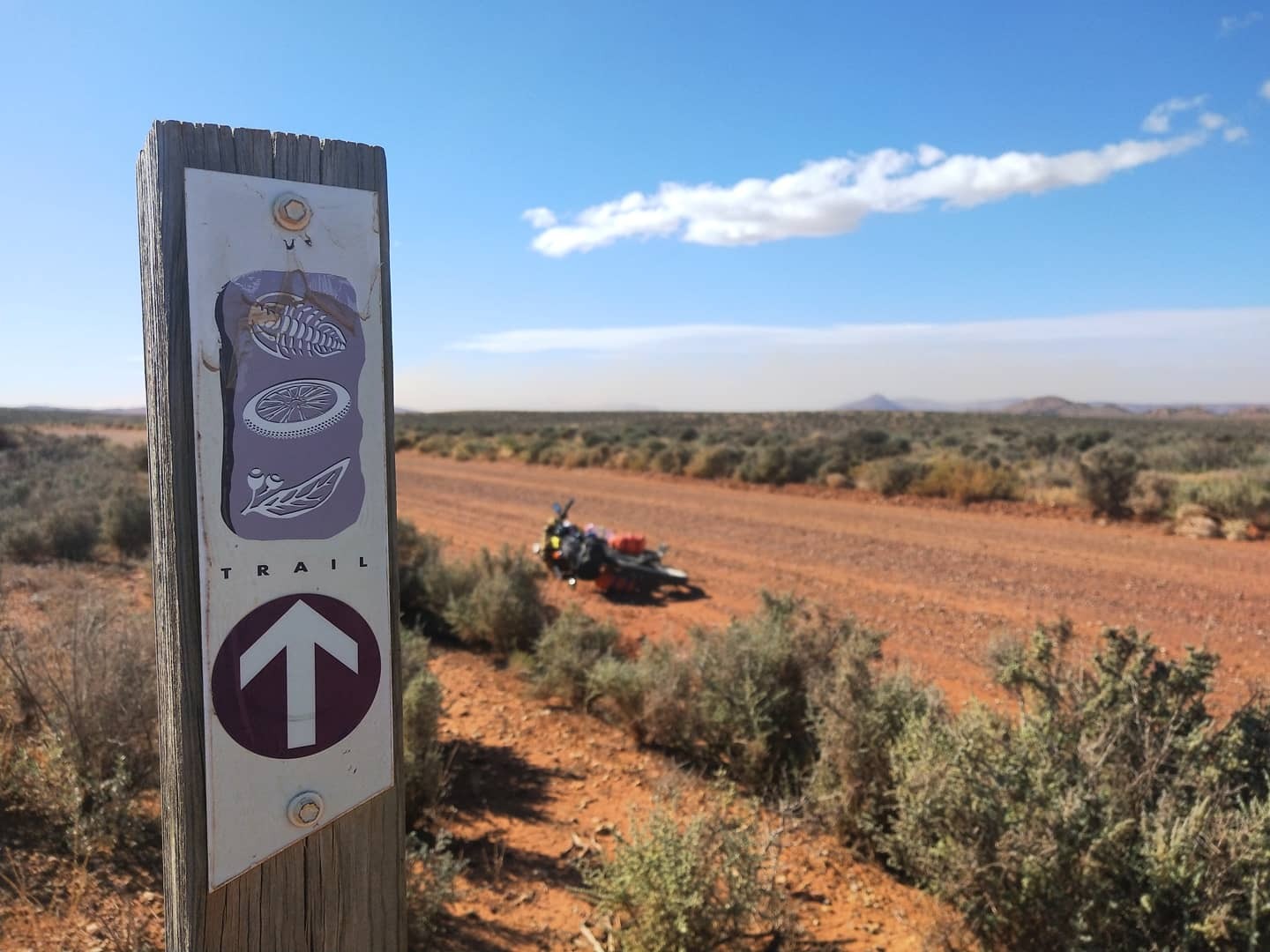 Red Dirt of The Mawson Trail
As there were many variables to consider with a trip that covered 3 different areas in 2 different states, I was bound to have some bad weather in at least one section.
That section was the Mawson trail.
The combination of rain and red dirt roads made for a sloppy ride. As I woke that morning in Kapunda to a wet tent from the previous night of rain, I decided to once again detour off the Mawson Trail onto some roads that were a little less red. With the help of Google Earth I'd created a new route to Riverton via gravel roads and highways. The rain continued to follow me for most of the day but I was back on the Mawson Trail and heading though some gorgeous Barossa scenery. I wanted to stop in at some of the wineries along the way but the cold wind and rain had me shivering to the bone. The thought of the warm bed and meal I was offered for the night in Clare was my only motivation to continue pedaling.
Prior to leaving Brisbane a friend of mine, Patrick, had told me he had some friends with family in Clare who might be able to help me out with a place to stay. He said he would get in touch with them and see what they could do. When I reached Adelaide I contacted the friend of a friend, Hannah, and was told there was a bed and a meal waiting for me when I got into Clare and that her parents house was right near the trail.
To be greeted in Clare by John and Lorelle with such generosity was so heart warming to me. I didn't even know their daughter and the chain of trust between friends of friends was then bestowed upon them. It was a real life pay it forward experience. It was one of the most random acts of kindness I'd ever experienced. Plus I got to sample some of John's favourite wines from the Clare Valley region so my winery experience was not lost. We talked about my plans to pedal to Uluru and I learned about their daughter Hannah through their eyes. I went to bed that night with a full heart and a full stomach.
Once again the weather was not on my side, it was forecast to rain over the next few days and my best chance of avoiding it was to continue north as quickly as possible. I really didn't want to detour off the Mawson too much more so I decided to tackle some of the red dirt roads heading out of Clare. How bad could they be?
It was like riding through fresh cow poo! It stuck to my tyres layer upon layer, decreasing the clearance between my tyre and frame. The chain was coming off, the goop was dragging my bike like quick sand. I was getting nowhere fast. I was off the Mawson once again in search of more desirable lines.
Heysen Trail Huts and Silo Art
When I reached Burra I looked at my map of the Mawson. The ants trail wanted to take me 100km east before bringing me back North to the small town of Hallet, which in a straight line was only 30km away from Burra. I knew my best chance of escaping the rain that was following me was to head north as quickly as possible and this extra 70km was unnecessary. So I compromised with my inner adventurer, I took some gravel back roads and came out on the highway about 15km from Hallett, skipping about 50km of the Mt Bryan section and still making it an 85km day.
The highway was being resurfaced and there was little to no traffic so the workers let me through. The tailwind gods worked with the sun and blew me to Hallett just before the rain started again. I camped in an old railway station converted into a hut which was managed by the 'Friends of the Heysen Trail" walking society. The Heysen trail is a 1200km walking trail stretching from Cape Jervis, which sometimes crosses the path of the Mawson Trail and also finishes in the Ikara- Flinders Ranges. The huts can be used by people on both trails and are kept in pretty good condition thanks to the volunteers and the SA Government.
You might be able to guess how my morning started by now as the rain pattern was strong. The next stretch was 125km to Laura. Of course I could camp in Spalding or Jamestown along the way but the rain lasted until 11.00am that morning. I decided to take some other gravel roads to Laura via Jamestown and skip Spalding altogether, making it an 80km day instead. I was getting my share of dirt roads in, got to Jamestown in time for a pub lunch and was seeing some beautiful country side along the way.
So I'm not on the designated path the whole way, I'm creating my own adventure. Using my navigation skills to plan a route that would suit me. I had 2 other parts to a 6 week adventure to think about. I didn't need to cover every kilometre of the trail. This to me, was real adventure! This is what I was here for!
I was really getting into some beautiful country towns and farm land now. On the 130km stretch between Laura and Quorn I had stopped in at the Wirrabara Silos to see some of South Australia's famous silo art, an overnight stop in Melrose at the base of Mt Remarkable and eaten at several delicious country bakeries along the way. It was all dirt and I was having a blast. I could now see the shapes and colours of the Ikara- Flinders ranges, the first part of my trip would be coming to an end in a few days but there was still so much to see.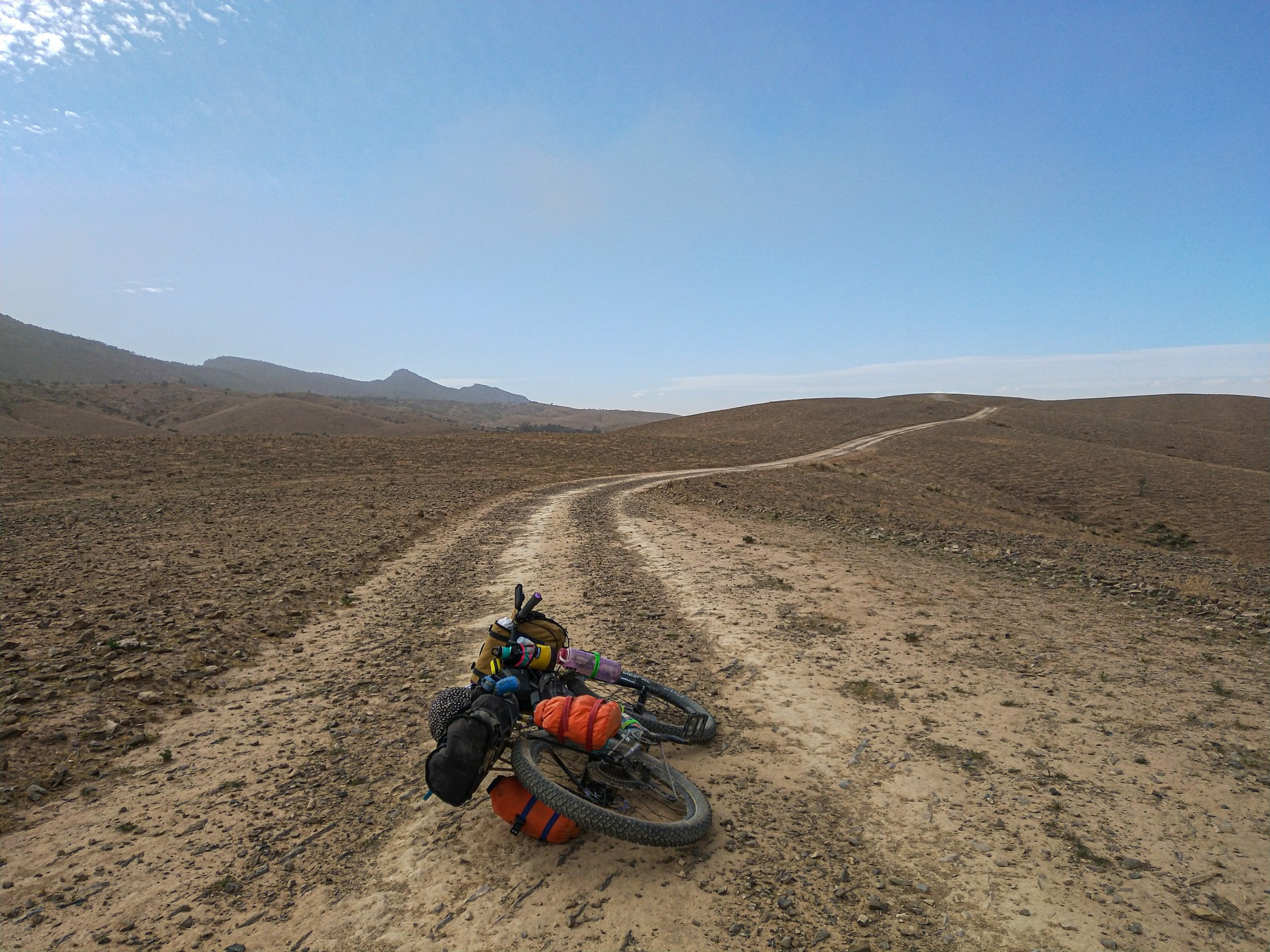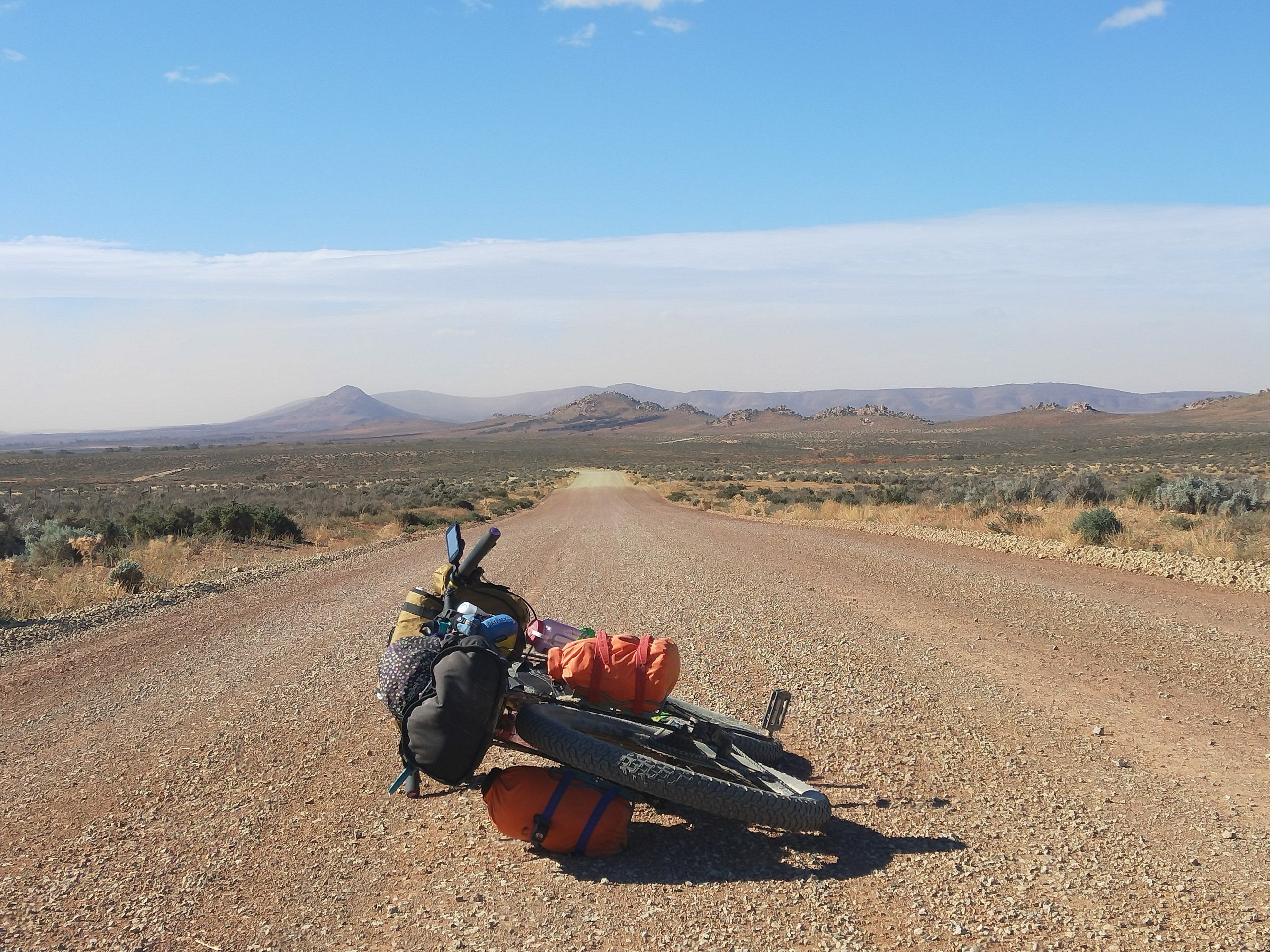 Wilpena Pound and Reaching the End of the Mawson Trail
Between Quorn and Hawker I detoured off the Mawson trail and rode some sections of the Heysen Trail. The winds in the mountainous region were strong and I could see the dust from the trails whirling in the distance. I was surrounded by magnificent ranges on both sides of the trail all the way through to Blinman.
The colours in the mountains changed from blues and purples to red and green hues as the sun danced amongst the clouds.
Wilpena pound (Ikara) a great big natural crater was hard to miss as I pedalled around it on my way through to Blinman from Hawker. As I reached the campsite in Wilpena pound my frozen limbs wanted desperately to be soaked in a hot shower and nestled in a warm bed. I contemplated getting a room as I sipped a coffee at the tourism centre but the $180 fee couldn't be justified. I was here for the experience, to lay in the natural land of an area I'd never been before.
Although it was raining and cold the weather was due to change in a couple of hours and things were looking brighter. I sucked it up and pitched my tent in the wet red soil, a hot shower and a fire was the best I was going to get on this cold night but it was greatly appreciated.
A late start from Wilpena Pound, due to my body waking as a human icicle also meant I could pedal with some cyclists I had been meeting along the way at the pubs. These 5 guys in their late 60's and early 70's were on their own adventure, albeit supported by a friend with a ute, but still out there with a similar goal. On the other hand the late start meant that I had only pedaled 68km in 2 days to get to the end of the trail.
Sometimes you need some chilled days of cycling, you need to work with your natural surroundings and accept that some things are out of your control. I slept in a hut that was stocked with firewood just 18km out of Blinman and in the morning I rolled into town still wearing my thermals, sleepy eyed and craving baked goods that was surely fulfilled.
It had been 11 days since I started, there was still so much to see but my mind, body and spirit were already filled with so much happiness and gratitude for this amazing country I was lucky enough to be in and the people I had met along the way.
The next part of my adventure from Marree to Marla follows the Oodnadatta Track, 600km of dirt road running along the old Ghan railway. This will be hitting the Desire Lines CC page over the next few weeks when I return.