Bikepacking L Plates – Stradbroke Island Overnighter
Lots of things have taken place in 2021: President Biden takes office, the Olympic Games are held in Tokyo 12 months late; COVID is still causing drama; COP26 in Glasgow is held; and Lauren buys some camping gear.
Obviously in terms of importance, it's not up there with major 2021 events, but, when you have never pitched a tent in your life, (let alone owned one!) it is kind of a big deal.
The "need" for camping gear started when I had an urge to hike the Border Trail (O'Reilly's to Binna Burra) and camp out overnight. This then quickly escalated to hiking the Carnarvon Gorge Great Walk in August, and it was only a matter of time before I combined my new love of camping out, with my old faithful love of riding bicycles. It also helps when your Instagram feed is full of inspiring humans going on amazing two-wheeled adventures as well.
With that, I needed to invest in a bit more gear. I measured up my wee little Rocky Mountain Element frame and hit up Maxxy at The Bikepack Shop to see what he could do for me. Side note – I first met Max 7 years ago when he was trying to raise money so he could compete at Junior Nationals by washing bicycles. His Dad dropped him at my place, and he cleaned my roadie and mountain bike to perfection. Legend kid! Now he is all grown up and helped me out again by recommending the Oveja Negra Gearjammer™ Seat Bag for my small mountain bike frame. Thanks Max!
Minjerribah (Stradbroke Island) Overnighter
Stradbroke Island, or Minjerribah as the Quandamooka people originally named it, was to be my first Bikepacking Destination. "Straddie" is a one hour ferry ride from Cleveland, which is about fifty minutes from Brisbane City, and one hour if you're coming from the Gold Coast. I talked my long-time friend, Ronald, into coming with me, and we met at the ferry terminal with our bikes all packed up. Our first false start was missing our planned ferry of 11:30am, but the good thing about being a walk-on passenger is that you can just get the next ferry. (I won't mention that we missed it because Ronald forgot his front fork skewer… it happens mate!). With no stress, and after a coffee at a local cafe, we were on our way.
We didn't really have a plan, but we had booked a camp site at Amity Point Caravan Park, so we knew we needed to end up there. Originally we had planned to stay on the Beach at Flinders Beach camping area, however you have to ride along the beach to get there and the tides weren't on our side. You can get there via a 4WD track, but we went and checked this out and it was really soft sand which made it tough going.
If you plan on staying at Flinders Beach, I recommend taking all of your food for the night with you because it is a bit of a mission to get back out to civilisation. Ronald and I were somewhat "glamping" with this trip, meaning that we relied on local shops, restaurants and cafes for our food. Look, if you can avoid the dehydrated food-in-a-bag, you might as well!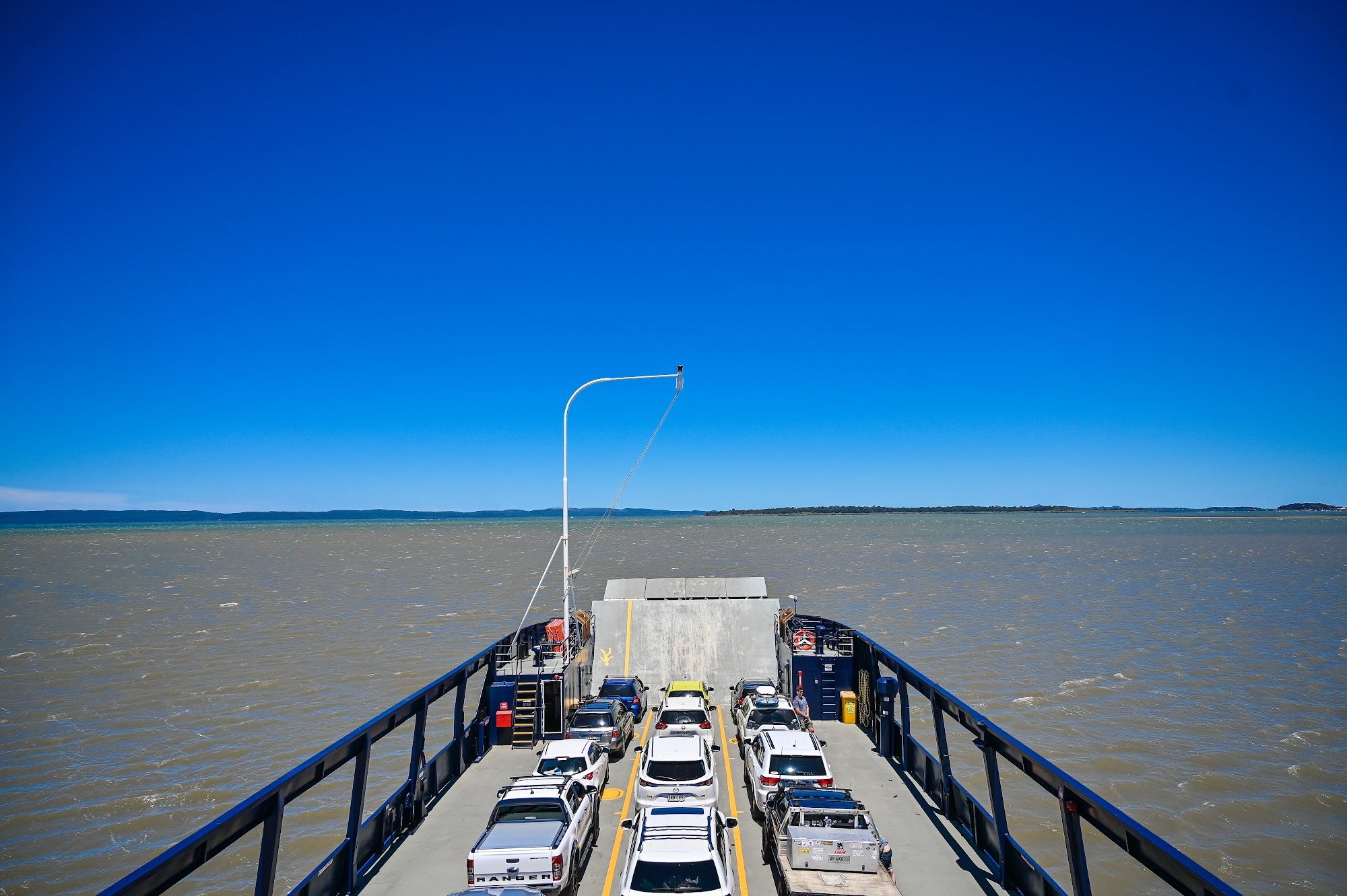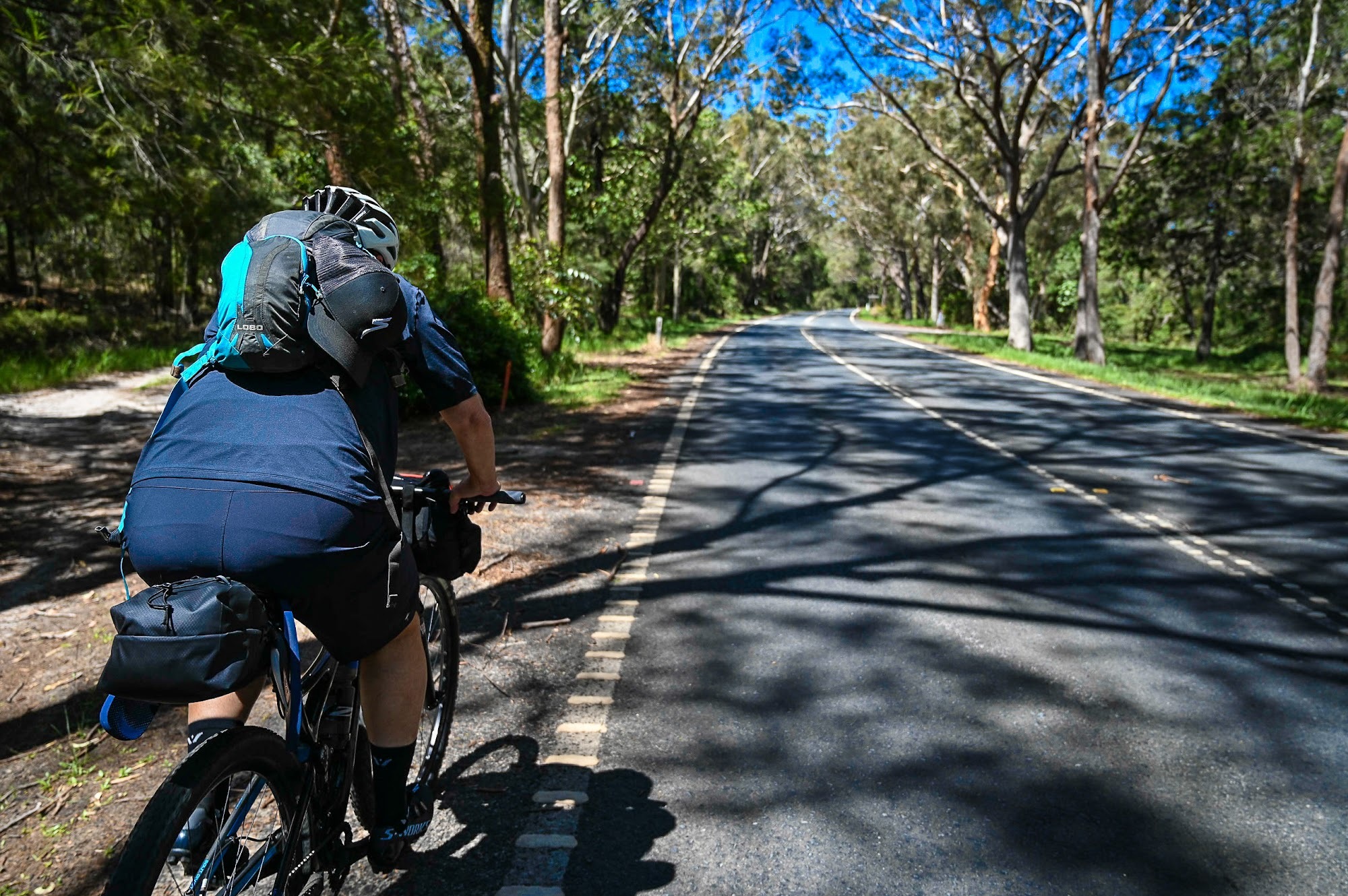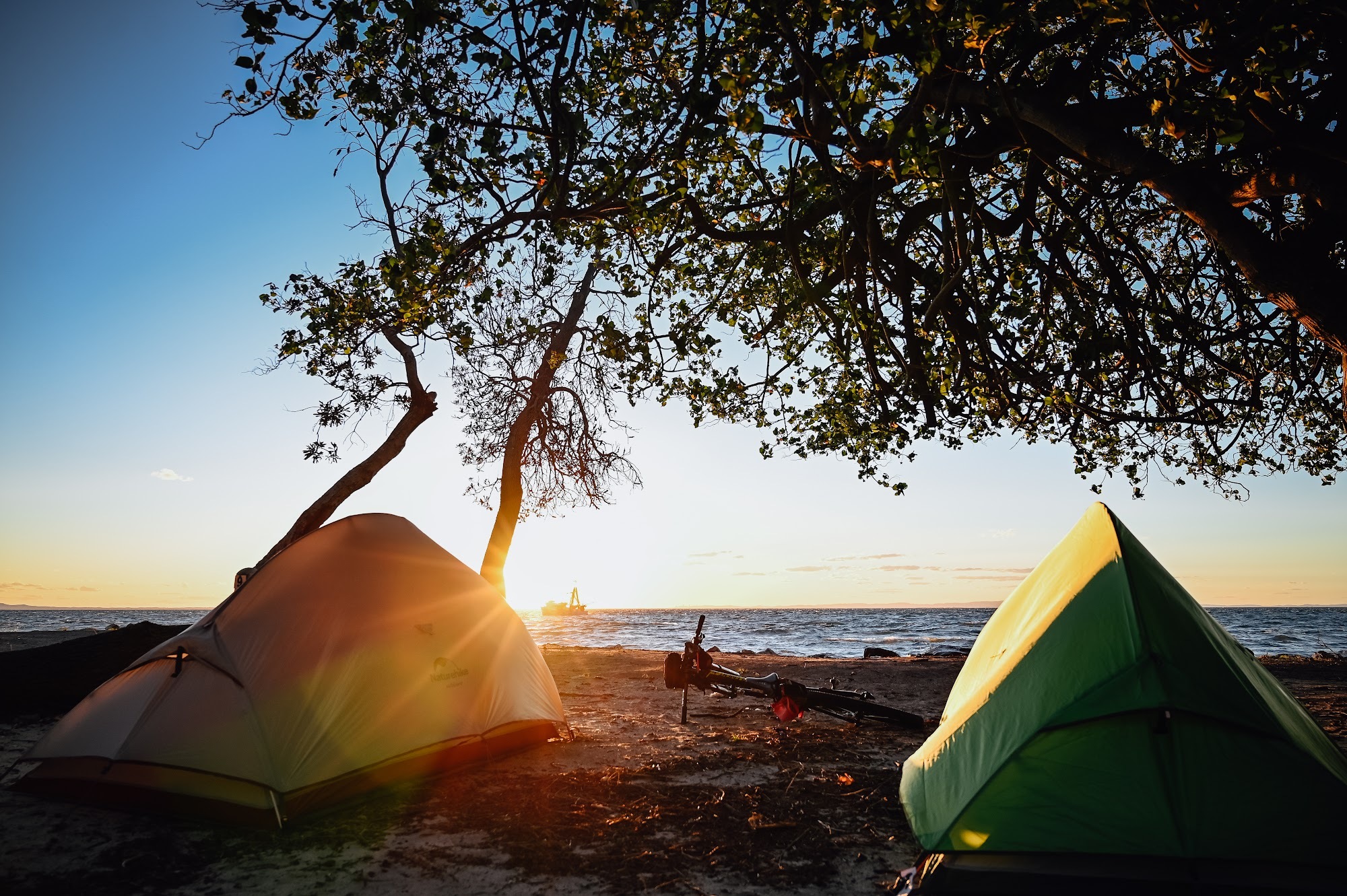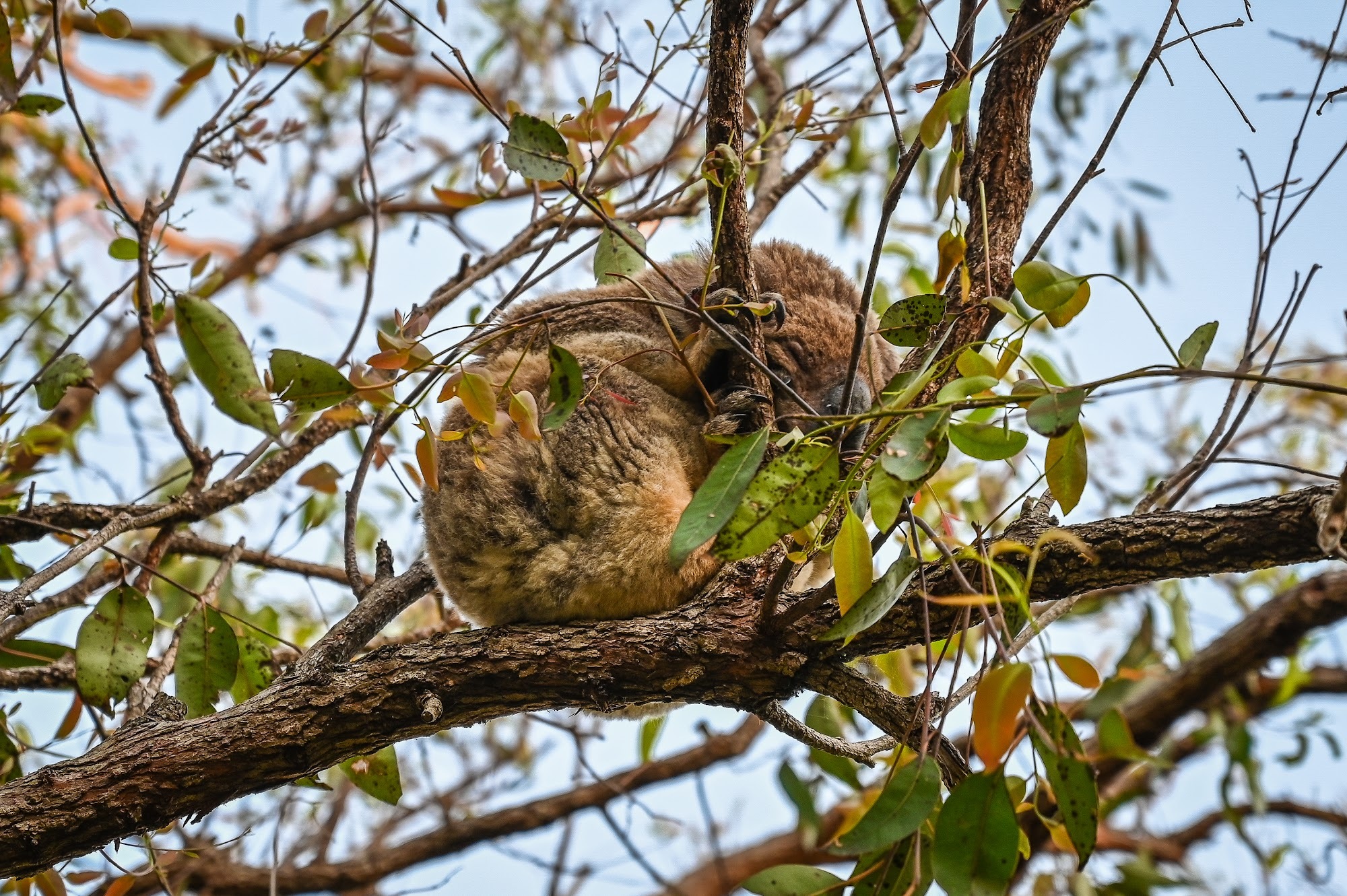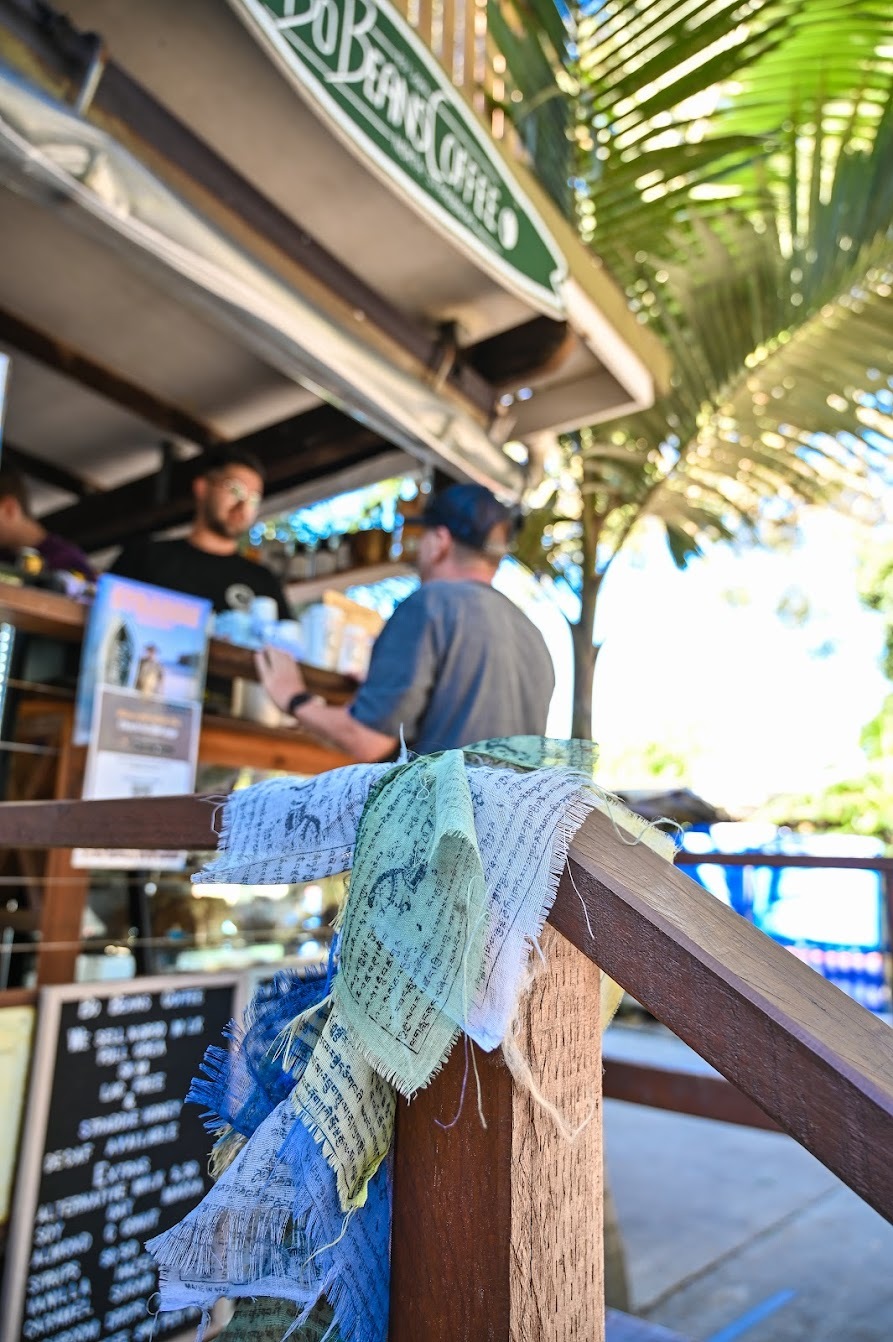 Amity Point Caravan Park
The 18km undulating ride from the ferry terminal at Dunwich to Amity Point brought back memories of the State Team Time Trial Cycling Queensland held on the island in 2017. It was much less painful this time around – especially as we had a nice tailwind.
We arrived and everything had stayed secure on the bikes. Win. We then had to set up our tents in gale-force wind. Not so much of a win. The camp-site view over the water towards Brisbane was well worth the windburn though – we woke up to dolphins playing in the water and three koalas sleeping in the trees above us! Just magic. The two little Naturehike tents held up surprisingly well in the wind. I know there are better tents out there, and bikepacking-specific tents that I drool over every time I go to Wildearth, but for $170 if you're just getting started, these Cloud Up 2 tents are brilliant. They only weigh 1.4kg, and fit nicely in a handlebar bag, seat bag, or a backpack.
Day two saw us hunting down a coffee at Bo Beans. Bo is a well-connected and knowledgeable local. He gave us two options to ride to Point Lookout – trail or beach. Tough choice, but we went with the beach. No Regrets. The sand was very ridable close to the water and we covered ~10km along pristine beach with only the odd 4WD to contend with.
We stopped for a quick swim in our knicks, and then continued to Point Lookout for brunch. The North Gorge Walk was closed for repair, however if you get the chance, this is well worth it.
Hooked on Bikepacking
After a feed and look around Point Lookout, we meandered back to Dunwich to catch the 12:30 ferry back to Australia (i.e. the mainland, Cleveland). It was a short 24 hour adventure, with only 70km of riding, but I have completed my first bikepacking trip and I'm hooked!
I am looking forward to many more adventures with old (and new!) friends, and exploring some hidden gems around South-East Queensland and beyond. There are a few little adjustments I need to make to my setup, including the creation of a bit more space so I can carry food, cooking equipment, and also a first aid kit next time (as we ran the gauntlet this trip of not having one), but overall it worked really well.
For now, the cross country frame gets me adventuring, however a new bikepacking-specific bike is possibly on the cards not too far down the track (N+1).
Gear list:
Bike – Rocky Mountain Element XC Mtb
Handlebar bag – Restrap Bikepacking Bar Bag Small
Saddlebag – Oveja Negra Gearjammer™ Seat Bag – WACK PACK
Tent – Naturehike Cloud Up 2
Sleeping bag – Sea to Summit Spark 1
Sleeping mat – Sea to Summit Comfort Light Insulated Mat
Headlamp – Knog PWR 1000 + small battery
Cycle Clothing – Velocio Luxe Bib Shorts and Micromodal short-sleeve ride shirt
Luxury Items – Nikon mirrorless camera and a harmonica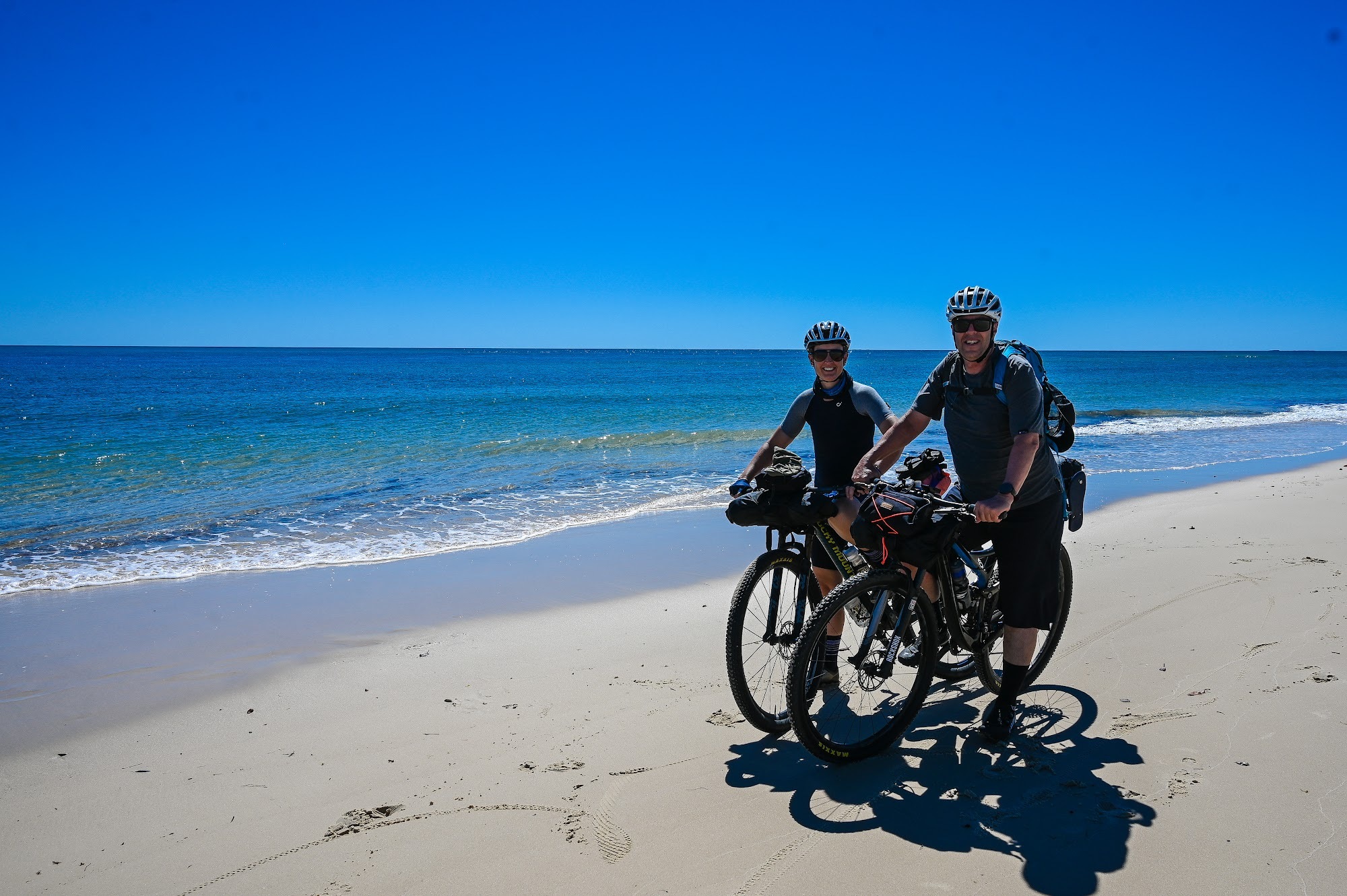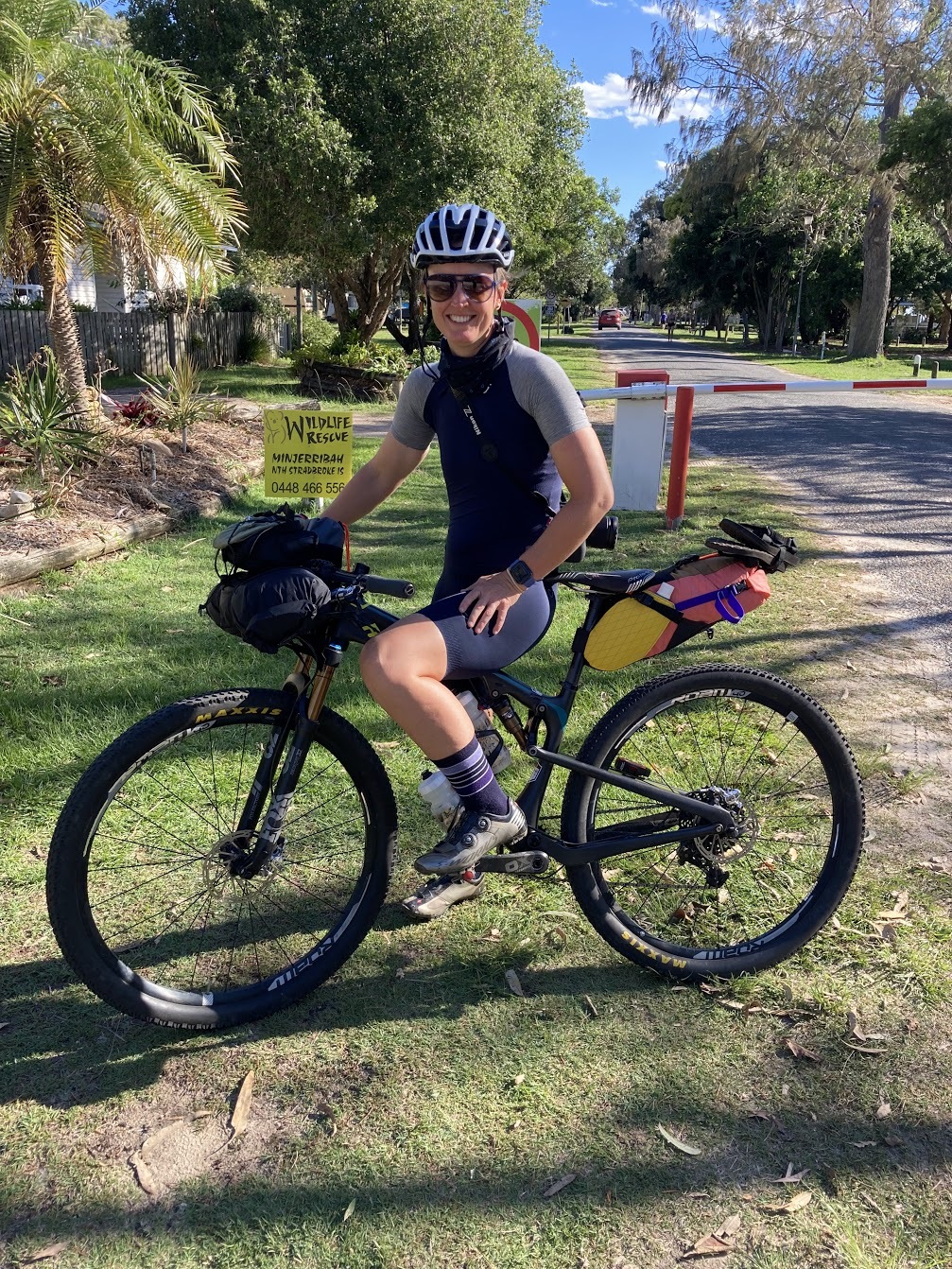 Lauren's five tips for a beginner:
1. Don't go too far or too remote. This allows you to buy food if you need to, or phone a friend should something go wrong. Work up to those big trips.
2. Take only essentials. Similar to Chanel taking off one item of clothing before leaving the house, take one thing off your bike before rolling out. Unless it is a harmonica, that needs to stay. No matter what anyone says.
3. You can deal with no showers or clean clothes for a few days if you need to. Embrace the grit.
4. Go with someone. Not only does this make the adventure more fun, but it can make the trip a little bit safer. If you are willing to share resources, it can also lighten the load, or be a good back up in case you forget something.
5. There are no rules – just get out there! Don't let your gear, your bike, your fitness, or anything else hold you back!