The BVRT E2E (End to End)
The Brisbane Valley Rail Trail, also known as the BVRT is a 161km stretch of unpaved gravel between Wulkuraka and Yarraman, just outside of Brisbane. The rail trail follows, believe it or not, the old Brisbane Valley rail trail line!
Every year, the annual BVRT E2E (and E2E x2) is held. This is an ultra-endurance cycling event that travels either 1 or 2 full lengths of the BVRT. This year I set out to tackle the full 2 lengths of the BVRT. Although I have done my fair share of 'ultra-endurance' training rides, I had no idea about what I was getting myself into.
The BVRT E2E Race
I was nervous for this one, much more nervous than a standard XCO event. I don't believe this came about from the distance or the competition, more so from the fact that I was about to embark on a 12-hour journey, at night. Putting the nerves aside, I kitted up at Esk station, put my number plate on and got my head in the game. But something wasn't right, I just couldn't put my finger on it.
Around 15 minutes went by, I was relaxing and catching up with a few familiar faces, all of a sudden it dawned on me. I didn't have my glasses. 90% of the riders around me were wearing clear lensed glasses, the other 10% (including me), were bare faced, ready to be attacked by the dust. At the time, I didn't think much about it. "I'll be fine, I've ridden 250km without glasses," I kept saying to myself.
After a somewhat lengthy race briefing, we were underway. The event organizer peeled off on his fat bike and vroooom, we were off! To my surprise, these ultra riders are fast! Really fast! I had positioned myself in the front pack for the first 60-70km. Despite a few of the riders crashing, getting flats, and riding a few somewhat questionable lines, we remained pretty consistent in speed. The amount of dust getting kicked up was unbelievable. I was already struggling to see. This was a long journey, I was thinking to myself, "It's great being in the draft of this group but I think I need to stick to my race plan." Just like that, I decided to drop back off the leading group and get into my solo groove.
After jumping back onto the BVRT dirt from the Wulkuraka turn around, I started to see some of the other riders coming past in the opposite direction. With every rider that went past I noticed it was getting harder to stare into the light. My eyes were really blurry. It got to the point that I had to block my eyes from the light whenever a rider was coming towards me. Still, I didn't think much of it and assumed it would be easier once the rest of the riders had come past.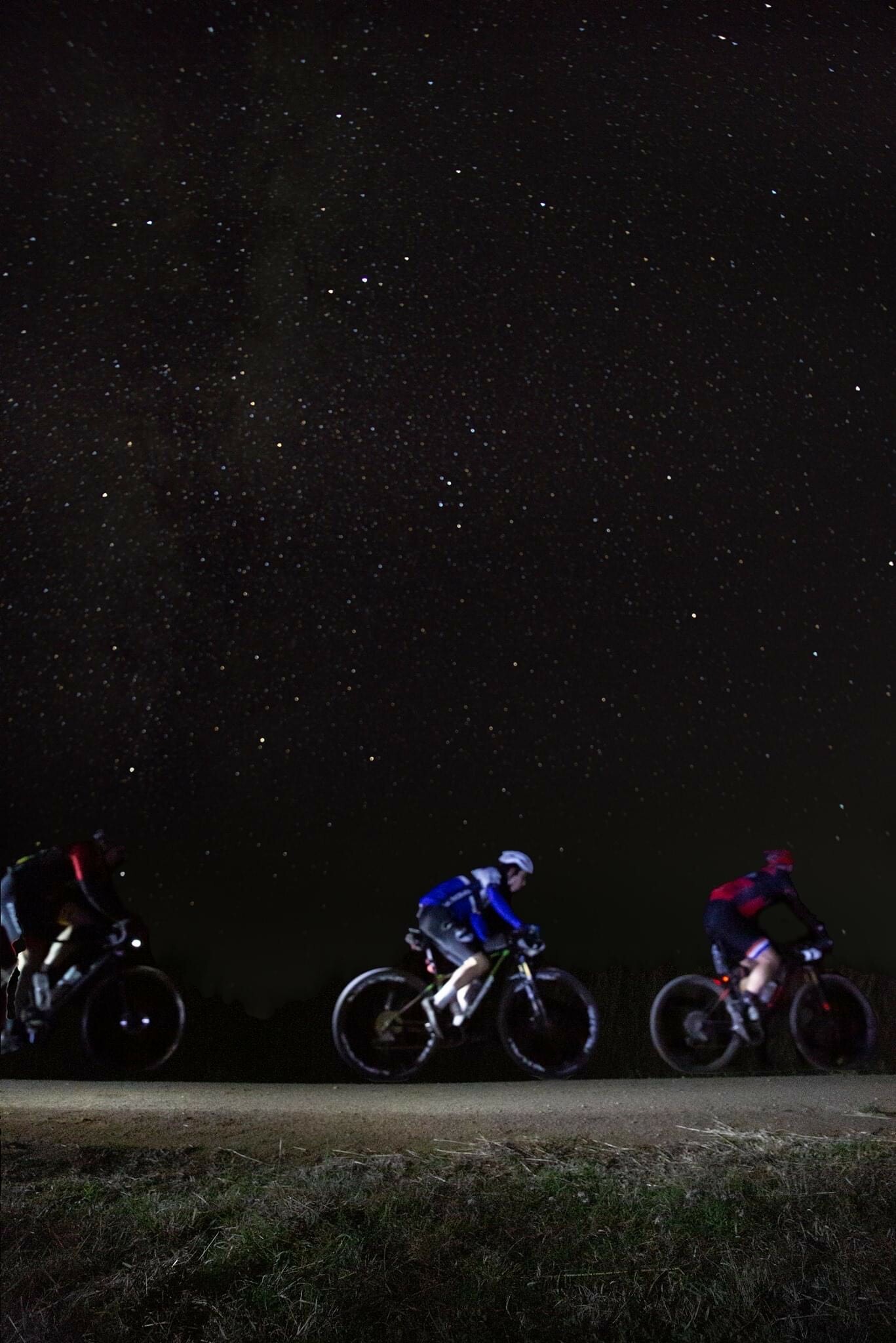 Getting Lost On The Trail
I got into my groove, my legs were feeling great, my morale was high and I was super excited for the night ahead of me. As I pedalled my way through Fernvale, I noticed once again that my vision was seriously affected. I kept pushing through.
My eyes were screwed, I had around 30% vision. Coming through one of the many road crossings, I had for some reason not taken note of where the path was leading and ended up in the middle of someone's paddock. This was weird I thought, the track lead me straight into this paddock! Surely, it's just down this way. I went against my gut feeling and travelled on in the opposite direction, luckily I quickly realized that I was off track. I turned around and travelled back towards the road. I distinctly remembered this section from the last time I rode the BVRT. So, I was pretty confused that I couldn't find my way, but hey, I could barely see a thing! I took a punt and crossed through a grassy field which happened to spit me back onto the track. Phew! That was scary!
At this point I had been riding solo for quite a while. I kept getting a flash of a riders light from a few k's behind me. This was a relief. I kept up my pedalling and finally made it back to Esk. I felt great… apart from my eyes. So, I decided to stop and flush my eyes out with saline solution. To my surprise, this didn't actually help. At this point I was struggling to grasp how I was going to ride for another 150km+. Luckily the kind ladies at the Esk station gave me some support as I went to push on to the next part of my journey.
Lesson Learnt
As I left the station, I noticed that my vision hadn't improved whatsoever. I travelled around 150 meters from the Esk station and I was already lost again. I couldn't work my way through the Esk streets to get back onto the BVRT. I knew what I had to do; I couldn't keep riding like this. Unfortunately, I had to pull the plug.
I was feeling great. My legs were ready to keep on riding. As much of a shame as this was, I think it was a great learning lesson. Always bring your glasses!
BVRT E2E Gear SETUP:
Being my first ultra-endurance gravel event to this extent, I was super excited for days leading up to the race. My bike setup evolved around being comfortable, yet fast and confident. I decided to run the TT bars to keep me aero and fast, although some people don't fancy this set-up, I wouldn't have run it any other way.
My gear for the ride consisted of:
This lil guy is super useful. I had it packed full to the brim, quite literally, with two batteries for my Ayup lights, emergency first aid, Panadol, some snacks, puncture repair kit and a few other pieces of equipment.
The beauty of these top tube bags is the ease of access while riding. This made it much easier to switch over batteries and access important 'on the bike' gear.
This has to be my new favourite piece of kit. I used to be a 'stuff the gear in your jersey pockets until they rip' kinda guy… So I thought I'd try something new and test out the small Geosmina seat pack. Not only is it sturdy and easy to keep your gear tight and compact, it also offers a lot of room to fit 2-3 Revoloop Ultralight tubes, multi tools, tyre levers, CO2s, spare valves etc.
My favourite part of the bag is the roll up closure system which allows you to adjust the amount of gear you take, without your gear rattling around.
Honestly, these are the best bibs I've ever worn. Being a Sunny Coast brand, I thought I'd try these out, as they're reasonably priced, what's not to love about these bibs! So comfortable for those longer rides. The Ridge Gravel Bibs come with four handy cargo pockets, which I had stuffed full of 12 Clif bars and 8 Gu energy gels, also including my phone, headphones and keys. 10/10 would recommend.