Sandstone Wilderness 600: "Make Good Choices. There are No Rules."
Mantras in Adventure and in Life
The temperature hits 40C; the clear blue skies mean that the relentless Queensland sun has been beating down on my semi-fried face all day and it's been an hour since I last said to myself "I'll stop for a break at the next shady bit". It's the Outback and I've quickly discovered that "shady bits" are few and far between in this dry and barren landscape. To be honest, I don't even know if it's 40 degrees as I haven't had phone signal for a few days, but I'd say it's a reasonable guesstimate. I have one simple task – keep pedalling, make good choices and remind myself, there are no rules.
I've been fortunate to go on my fair share of adventures of all shapes and sizes, from paddling to fastpacking to bikepacking and in the past year or two, these missions have often been accompanied by their own mantra. This is something that actually started when I was trail running ultra marathon type events, but the same philosophy applies. Sometimes it will come to me before a trip; sometimes during a hard slog up a hill; or perhaps while alone in a dark tent at night, fatigued from the day just past.
So, with that in mind, "Make good choices; there are no rules" was the mantra which came to me for – and during – my latest solo trip, my self named, self-mapped Sandstone Wilderness 600 – a mainly off-road adventure through Outback Queensland. This was a trip I designed amidst our closed state borders, to visit a couple of friends who live in the Capital of Outback Queensland, Longreach.
"Make Good Choices"
"Make good choices" came in the planning and lead up to this remote bikepacking adventure; conscious that I was travelling solo, into my longest stretches of no resupply; with few confirmed water sources and on a body which is quite frankly, not all that fit right now. That being said, trusting in my base, combined with my stubbornness and experience in a whole host of multiday adventures and solo trips, I did back my ability to make it through, so long as I made good choices.
So what do good choices look like on an adventure? This of course depends on so many factors, however in my case, this meant – carefully researching my route as much as possible, bearing in mind it's certainly not an established bikepacking route. Allowing extra time to cover the distance. Carrying extra food in no resupply stretches in case I was delayed by weather, injury or a mechanical. Carrying as much water as I could (which was about 10 litres at a time) and spending considerable time in advance looking at satellite imagery to identify water sources and pinpoint them on a map.
Giving myself route options depending on weather and potential "bush telegraph" information about road conditions. Carrying a Garmin InReach and sending out a tracking link to a select few friends who I knew would check I was still alive, but not stress out if I wasn't entirely on schedule. Sharing my detailed trip notes with these friends too so they had an idea of my intentions each day.
Essentially "make good choices" meant making what I perceived to be safe and sensible choices, depending on the environment each day, and my body and mind.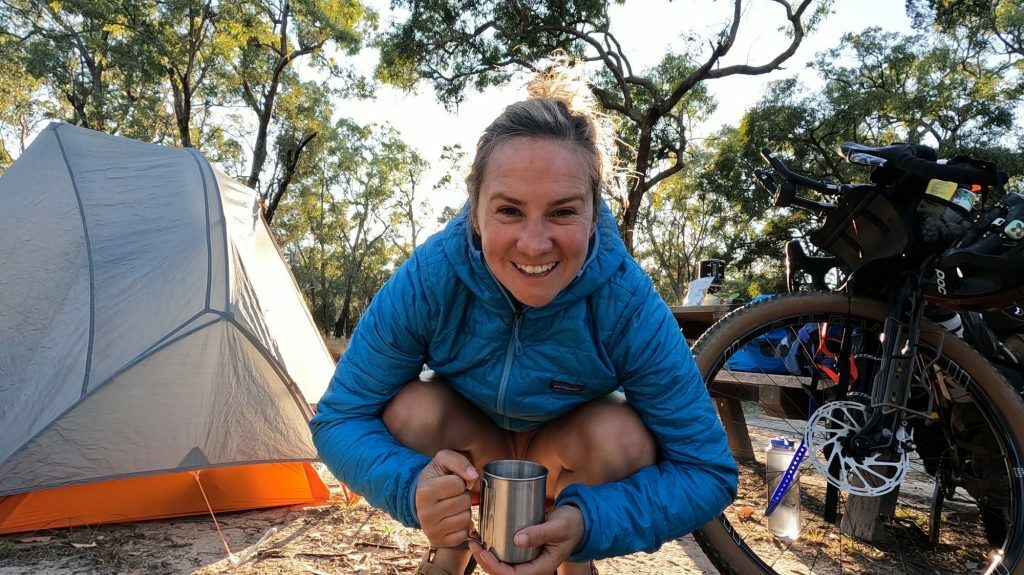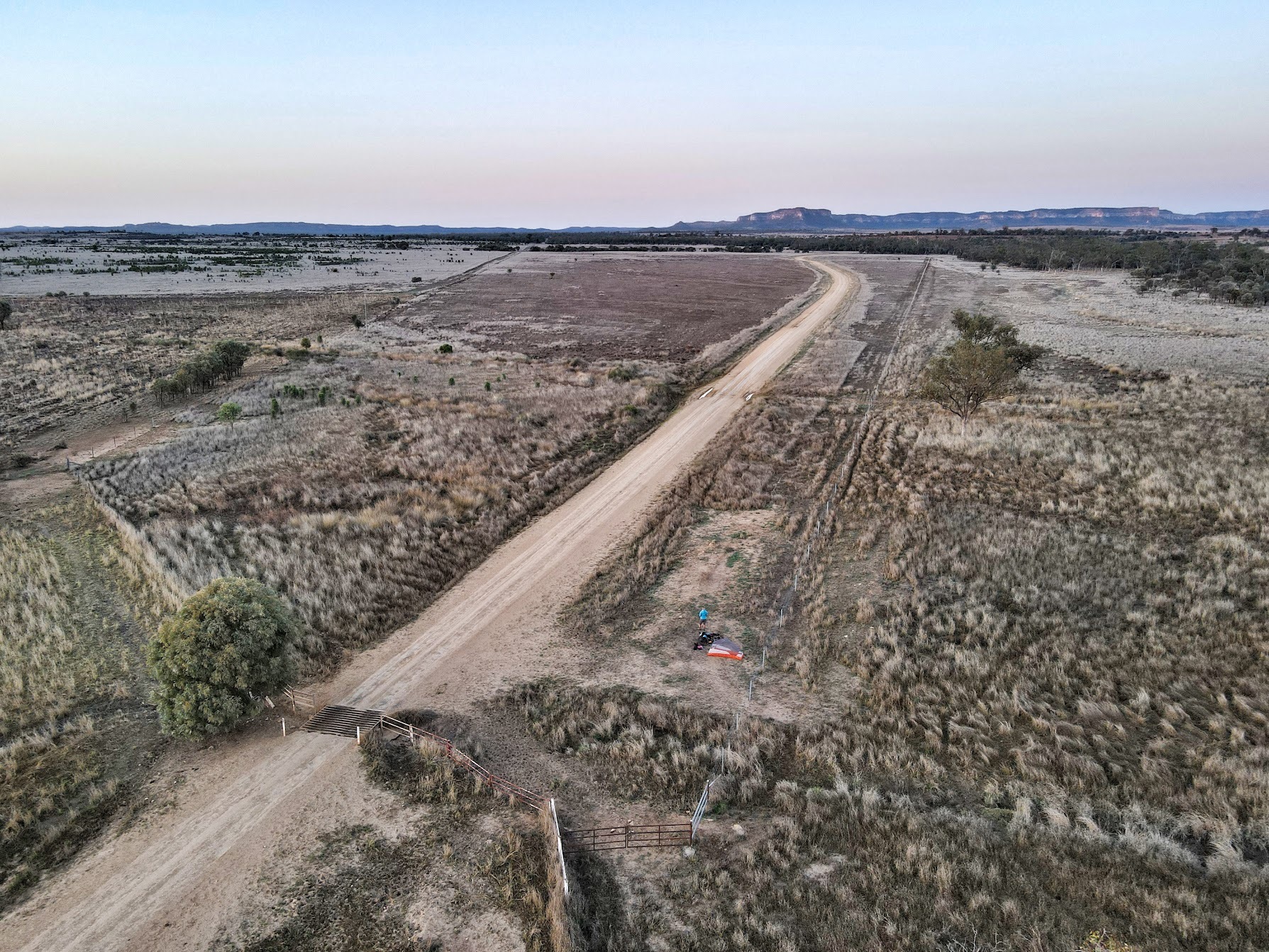 "There Are No Rules"
This half of the mantra fell into my hands and my heart on day one of the trip. With severe storms forecast, following weeks of bone dry weather, and a little time for ground truthing, I had to make some quick decisions which ultimately led me to re-route the first half of my trip and unexpectedly utilise my van (aka Brian) for a couple of extra nights.
It's so curious to reflect and to think how at the time I questioned whether I just plough on and suck it up and stick to my route – in spite of the weather being potentially dangerous (and miserable) and the fact that the original route contained a couple of days of very functional, busy bitumen highway riding, to purely connect A to B. It was definitely a question of ego here – I mean, I'd just podcasted about my route plan – and now I was changing it. It was such a brilliant reminder of the totally arbitrary nature of these adventures in so many respects; the fact that nobody else really gives a f*ck about what you're doing out there, and the absolute gift of freedom of choice in solo missions like these. How good!!
The change of route ultimately gave me two extra days exploring incredible National Parks – which included a bonus hike in the breathtaking Carnarvon Gorge and a really fun ride around the striking Minerva Hills National Park. I was so stoked with my choices and the "make good choices; there are no rules" attitude was firmly set in motion.
Mantras in Adventure and in Life
With hours upon hours of solo riding, in Outback heat and with very minimal contact with other humans in many stretches, you get a whole lot of time in your own head. Anyone who followed my journey via Instagram (@allthegearnaeidea) may know that I was gifted an onion in a remote section of Carnarvon National Park, which subsequently became my trip companion and my Tom Hanks' "Wilson" equivalent. Endless chats with my bike (Celeste) and an onion just didn't seem that odd after wonderful stretches of solo time in pretty harsh conditions.
Having said that, beyond the onion and the bike chats, there was also a wee bit of room for slightly more profound reflection and it didn't escape me that the reality of this "Make good choices; there are no rules" approach can be extended far beyond adventure. The lessons we learn on these adventures can be so beautifully applied to life as a whole – indeed, arguably, every day on an adventure, is simply life, right?!
Over time, I've gained a real curiosity into the traditional view of adventure as "escapism". This idea of "getting away from it all", when I've truly learned that the reality of life is – wherever you go, there you are. Regardless of your surroundings, you are still the same person; with the same authority to choose how you react to any situation and the same power to choose the feelings you attach to and those you don't. Granted, it can be a test when you return from the relative simplicity of a bikepacking trip to dealing with the realities of work, bills and deadlines, navigating toxic situations and a wonderfully hectic pup, but these solo endurance adventures are the perfect place to put into practice that reality of owning the ability to make good choices; and the freedom to live your life as you so choose.
I'm forever grateful for the lessons in life that accompany each mission – and for the reminder that we do indeed choose and create our own reality each and every day, regardless of where we are.
To check out my specific set up for this route, you can see my bike and gear on the Bike pages here.
I've also finally the adjusted route in ridewithgps for those interested. You can find it here.
For more insight into the trip itself, you can listen to Episodes 10 and 13 of Into the Wee Hours podcast, covering the before and after of the Sandstone Wilderness adventure.