Sarah's Curve GMX+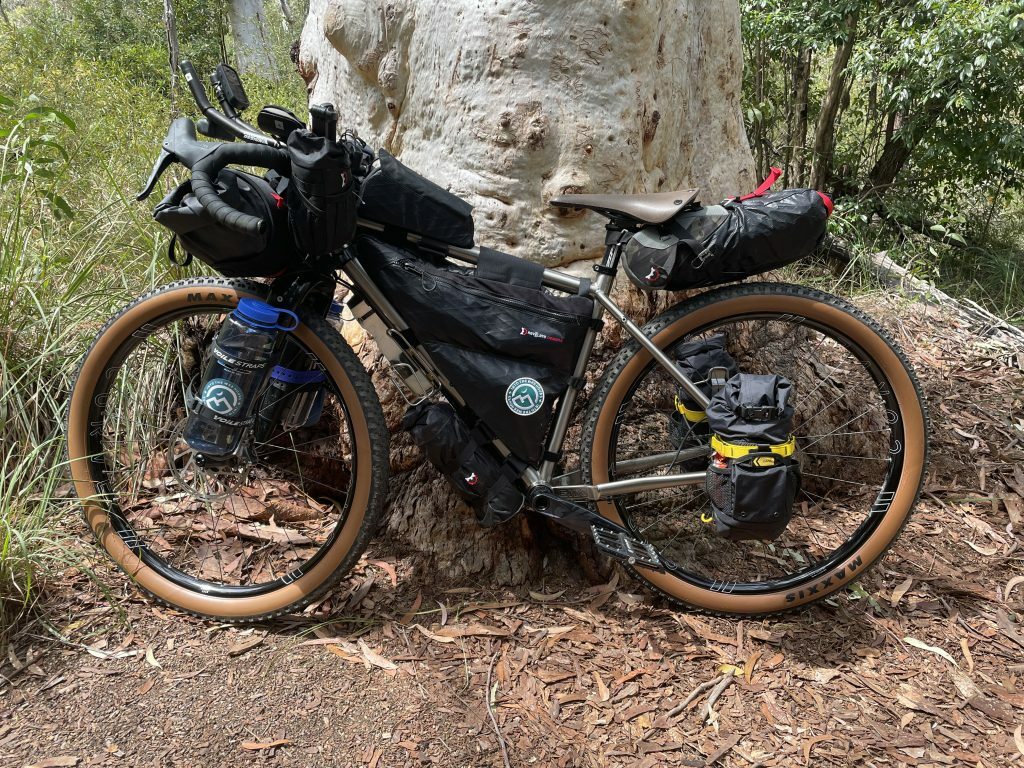 What's the story behind your rig?
This is my second gravel/adventure bike.
My first was a Cannondale Topstone 105 which I loved, but being a small frame, I wanted something which could hold more gear plus also offered greater tyre clearance.
Realising that adventuring by bike has a serious future in my life (and thinking I would sell my dual suspension MTB and just have one all round awesome bike… which, didn't happen, since the number of bikes we have is N+1, right!), I went all out. Enter, my titanium Curve GMX+ aka "Celeste". I realise that name potentially sounds spiritual (which I'm good with), but truth be told, it was actually derived from Babar the elephant's wife.
What trip was this bikepacking rig set up for?
I set this up for a 600km route I mapped in Outback Queensland – self named, self-supported "Sandstone Wilderness 600".
I have friends who live in Longreach and I wanted to visit them an alternative way to bike/drive/train. The route was mainly off-road and I was set up for potentially 5 days of no resupply and carrying 10 litres of water at a time. I had a couple of 130km days and some shorter stretches too, over ten days of bitumen, sand, gravel, red dirt, black soil and a bunch of corrugated stuff.
What camping gear were you carrying?
I took a full camping set up on this trip including a Big Agnes Copper Spur HLUV 1P bikepacking specific tent (ie/. Shorter poles – why don't all tents do this?!).
With short legs and bigger tyres I really struggle for clearance on the rear tyre, so I just ran a Revelate Designs Vole saddle bag, and my tent filled the whole thing. I took my summer-weight Sea to Summit Spark 0 bag, which was stashed in my handlebar roll, and a Thermarest NeoAir sleeping mat. I realise it doesn't make sense at all weight wise, but it was in a bag on my down tube – it just fitted easily there.
My Jetboil stove and awesome Nemo inflatable pillow and clothes were all in my handlebar roll.
Bike & Bags:
Curve titanium GMX+ XS frame.
Built with a SRAM Force1/GX groupset. The wheels are 27.5" Curve Alloy Dirt Hoops fitted with 2.2" Maxxis IKON tyres and a tubeless set up. Curve Walmer drop bars and ancient Profile Design aerobars, plus a Brooks Cambium C17 saddle and Pedaling Innovations Catalyst flat pedals.
For power, I ran an SP Dynamo hub, connected to a K-Lite Dynamo Power front light and dual USB box.
My bags are primarily from Revelate Designs – including a harness and bar roll; full frame bag; 2 x feed bags and a Vole saddle bag. I carried bottles and food on the front forks with a Blackburn Outpost Cargo Cage and King Cage Titanium ManyThing Cage plus Voile Straps.
On the frame rear, I mounted Curve Titanium cages and Rocket Pooches. I did also take a drone which I carried in a Dakine hip pack and a Salomon 12L hydration vest for long stretches with no water.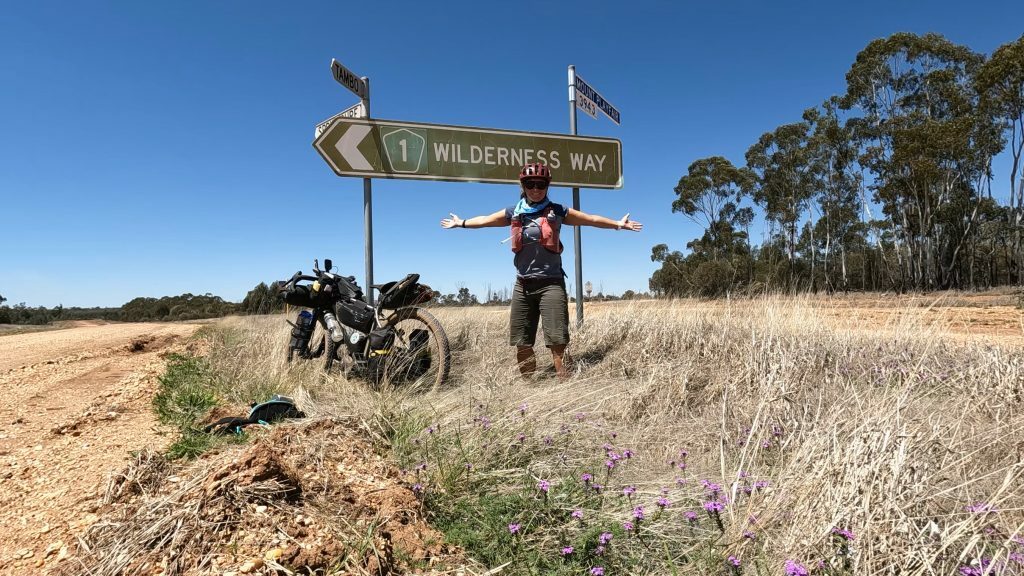 Tell us about the things you love, or things you'd change about this rig:
Celeste is an absolute weapon.
I feel like she takes anything thrown at her in her stride and practically pedals herself. I love riding in the drops and the wide Walmer bars are just awesome (I had them on my previous bike too). I love the million bosses to mount things to and the oversized frame meaning I can run a really decent sized full frame bag – which is typically tricky on small frames for humans my height (pushing 5'4 with short legs).
I still hit the issue of rear clearance – so if someone can create a well balanced skinny bag which then extends out with extra room for me, that would be awesome. I was really stretching it with the saddle bag and was conscious of tightening it as much as I possibly could. I ran a rack on my previous bike and know this is an option again; I just like the clean lines of no rack!
The set up was flawless for this trip and other than that rear clearance issue, I wouldn't change a thing.