A few weeks ago, determined to make the most of my last weeks of uni holidays, I planned a few nights away on my bike into Kosciuszko National Park. Initially I was planning on going solo, as I resigned myself to the fact that most of my bikepacking mates have a variety of jobs, kids, families etc to attend to.
Poking around RideWithGps.com's public routes, I came across a 135km loop, marked with plenty of huts and other info points. Perfect, I can do that at Party Pace across three days, I thought. Offhandedly I suggested to Stuart, fellow adventure enthusiast, that I had some flexibility on dates if he was interested.
Later that night the message came in: we were on.
Day 1 – Bog-Trotting
The day finally came! I was fresh off an overnighter earlier in the week into Namadgi NP, as the opportunity to take a friend on their first overnighter had presented itself. Feeling a bit tired, I got home, restocked the food supplies, chucked in my thermals and off we went.
The route I'd planned for day 1 was 35km, +600m, to camp at Townsends Lodge. Spoiler alert: That's not where we ended up.
We arrived at the start line a few hours behind schedule due to multiple minor delays, and then a longer delay about 1km into the ride due to roadworks on Tantangara road. Still, we were feeling good and not worried.
The route took us down the Snowy Mountains highway for a few kms, before an abrupt turn onto an unmarked fireroad. We shrugged at each other, checked the map again and set off. Steep, rocky hike-a-bike quickly ensued. Pushing a loaded bike up pinches of 18% took a lot of time, energy, and skin off the backs of my heels as my cx shoes did not adapt well. Enter: teva sandals, an unlikely hero of the trip. Stuart managed to ride the majority of the climb, dutifully waiting and taking the usual gorgeous photos as I hauled myself and my bike up. The first of many photos of me walking my bike up things.
Eventually we made it to the top of that particular climb and the terrain opened up a little. We passed Gavels Hut, and rode on as Nungar Plain opened up in front of us. We both took a moment to admire the view as the vast, grass covered plain, surrounded by hills and mountains in the afternoon sunlight was nothing short of magnificent.
There is a song I've known and loved for a while, Droving Woman written by Kev Carmody, and then performed by Paul Kelly, Augie March and Missy Higgins.
" But them inland skies have the starriest of nights
With the dance of the fire throwing flickering lights
The beauty of it's sunsets were a constant delight
I felt that nature had let me intrude"
I mention it here because that is honestly how I felt at that moment. That we were being gifted a private moment of nature.
We carried on skirting around the edge of the plain, following loose double-track marks in the grass as the GPS assured us a track existed. The terrain became increasingly hard going with overgrown grass and some shin-deep boggy sections slowing us down. The line on the GPS then had us take a sharp left turn to go directly across the plain. Again, we looked at each other, shrugged, checked the map and off we went. The landscape seemed to dance and change with each moment of the fading light, with herds of brumbies crossing in front of us. But, we were both getting pretty nervous as to the distance left to travel, the slowness of progress and the fast fading light. This was soon crystallized as we came to a river crossing: the choice of 'cross now and camp at the hut', or 'camp here on this boggy, exposed plain and cross in the morning' was pondered… I made the decision for us. I picked the shallow-est looking part and gingerly entered the water. Waist deep for me, but thankfully not too cold and not too fast-flowing. We ferried the bikes across (the first of many tasks that would have been an absolute nightmare if not for the company of Stuart) and kept pushing on. Lesson learnt: either be strong enough to lift your loaded bike over your head (like Stuart is) or have a packing strategy that means substantial weight can be released easily to allow for multiple quick trips across the river.
After the river crossing we continued on, back following the invisible trail. There wasn't much talking at this point, both of us feeling the need to just put our heads down and keep moving. Sometimes riding, sometimes bog-trotting.
One notable exception to this was when Stuart stopped ahead to warn me of an impending hole in the ground. At least, he was planning to warn me until he got distracted by the view and pulled out the camera, just as I went to put a foot …directly into the hole and abruptly fell in. Definitely a few chuckles there.
As darkness properly fell, the bog gave way to a forest of dead eucalypts that required us to bushbash through. A few times I lost Stuart up ahead in the darkness and had to work hard to stay calm. Finally I heard an excited shout of 'I found the trail!" ahead. We were still 10km away from the hut I had planned for the night, but there was supposedly a Schofield's Hut less than a kilometre from our position. It was an easy decision to aim for there as both of us were feeling ready for shelter and food. 400m down this new trail and I saw the hut. It was real, not destroyed in the fires, and deserted. We arrived at 9pm with a huge sigh of relief.
Lifesaver-Stu made quick work of the fire situation, by the time I was out of my wet and cold clothes he had a bustling fire going. Sitting by the fire with dinner, we both started to relax a little and considered what we'd just achieved. It was a cold, clear, dark night, with the Milky way glittering across the sky.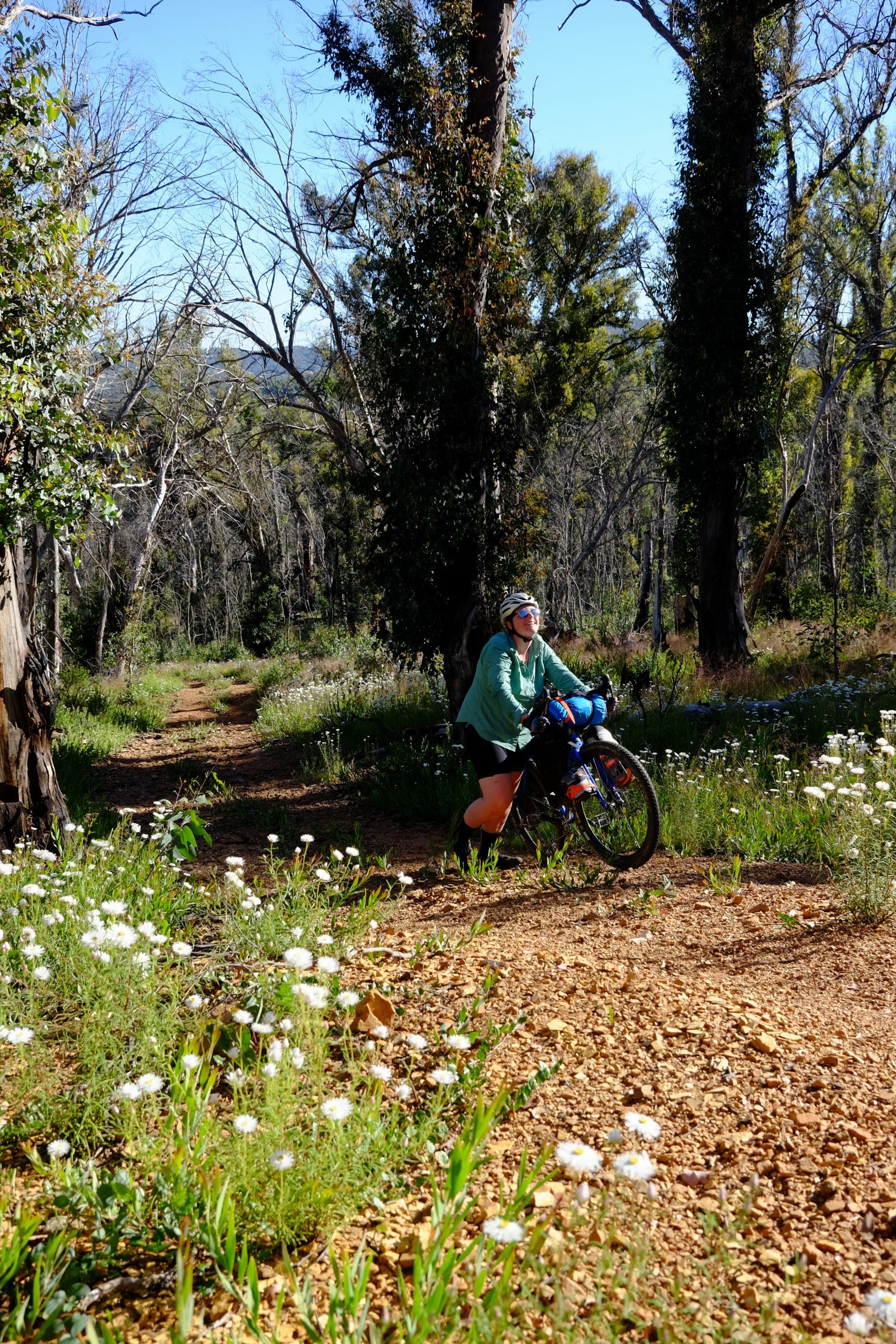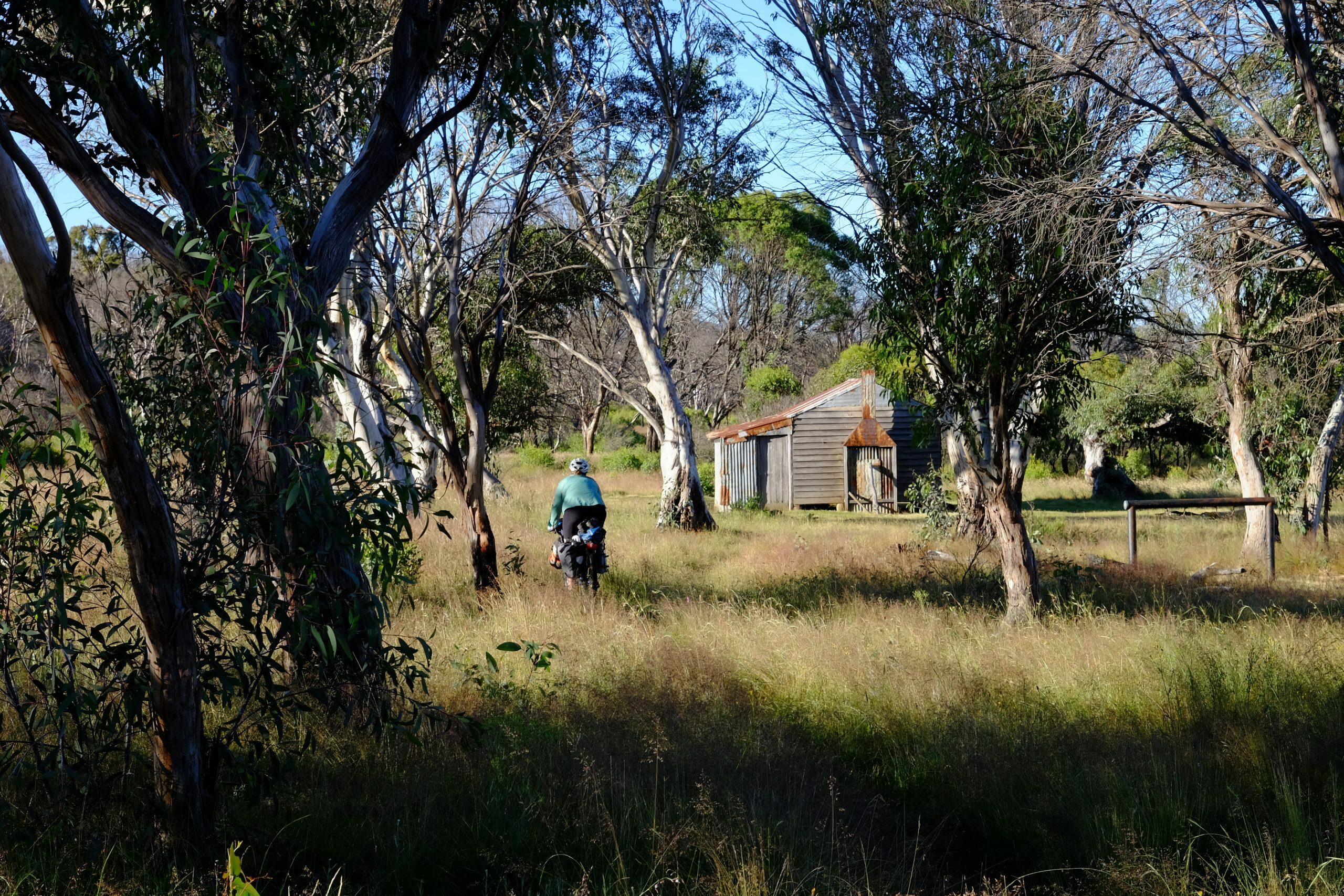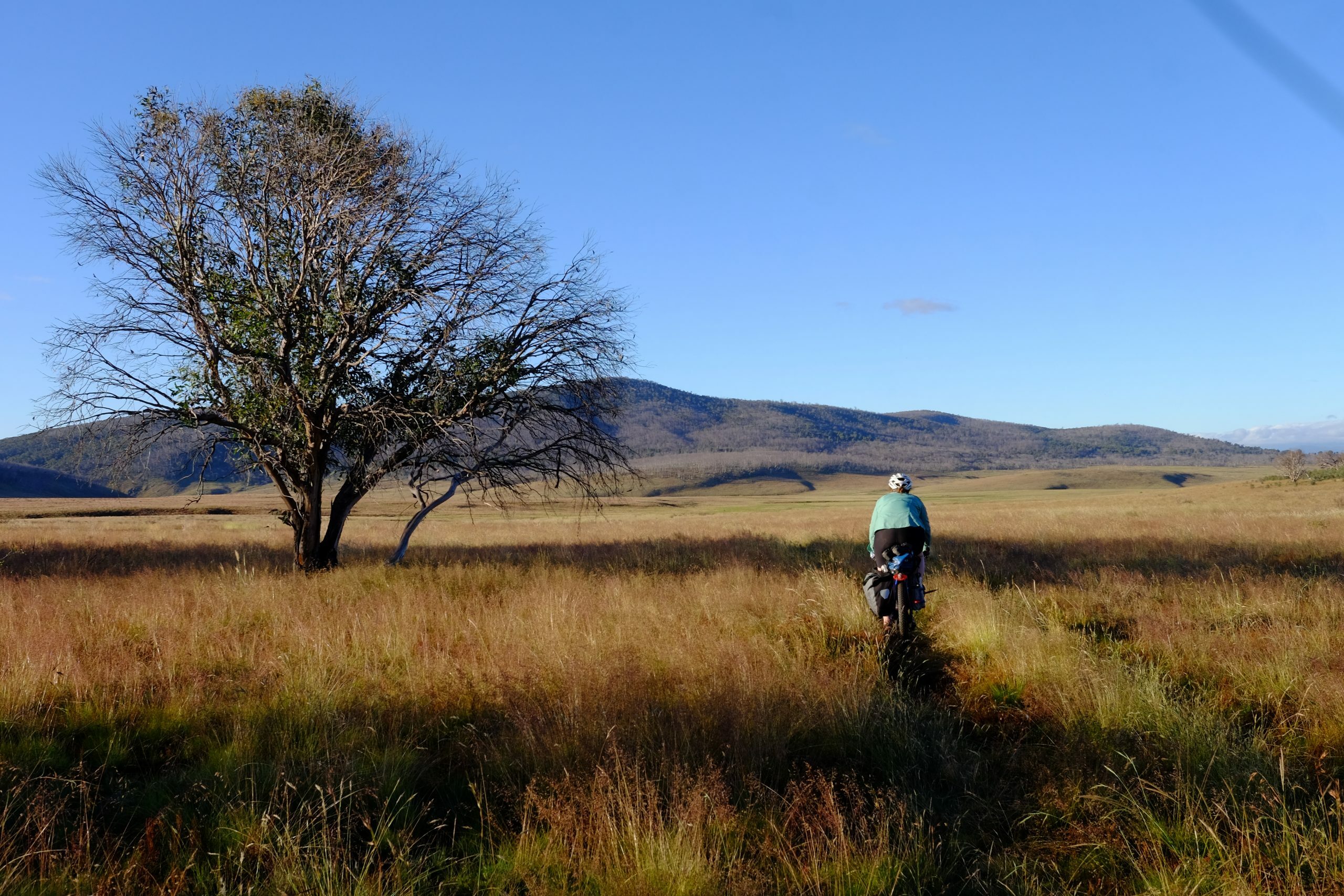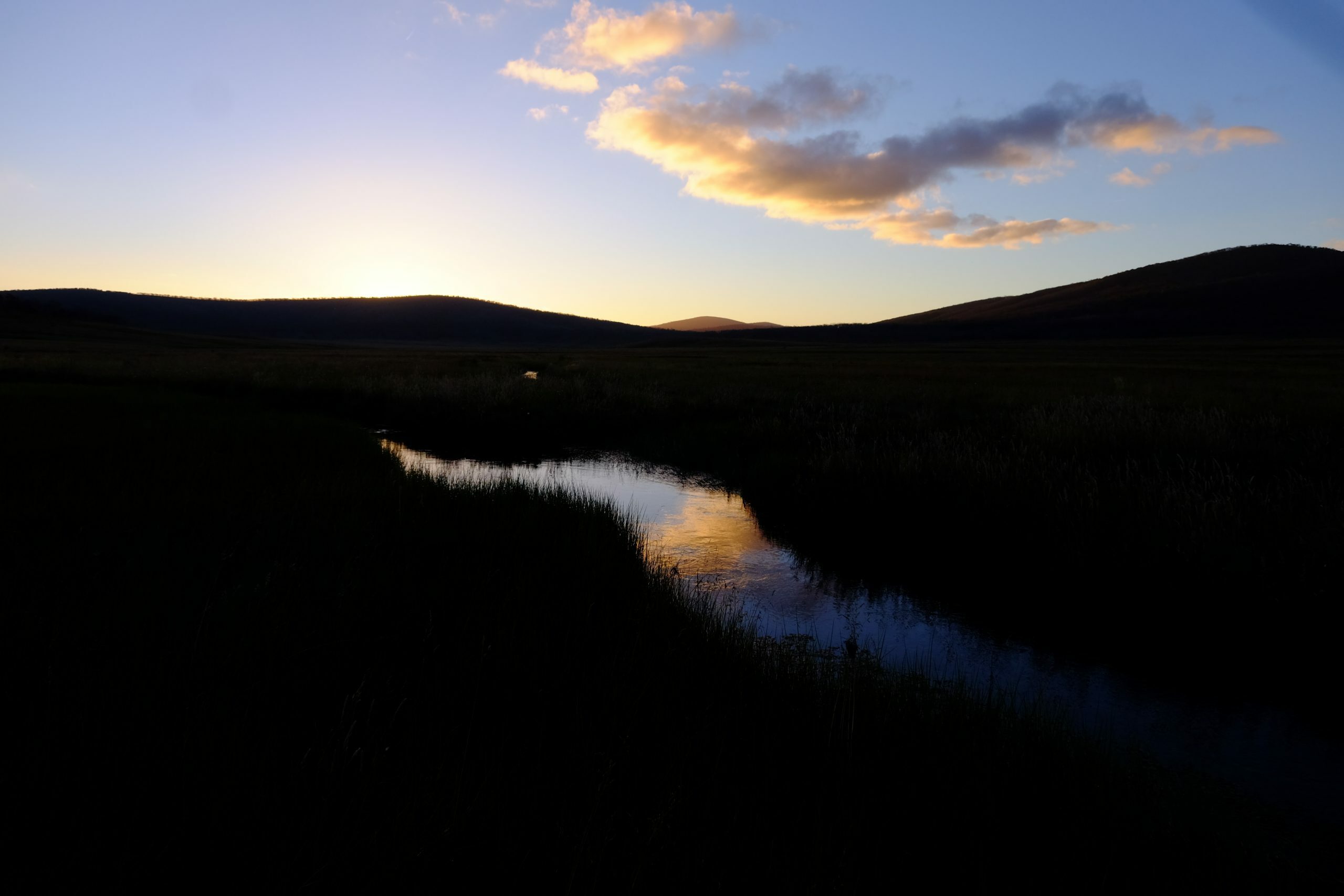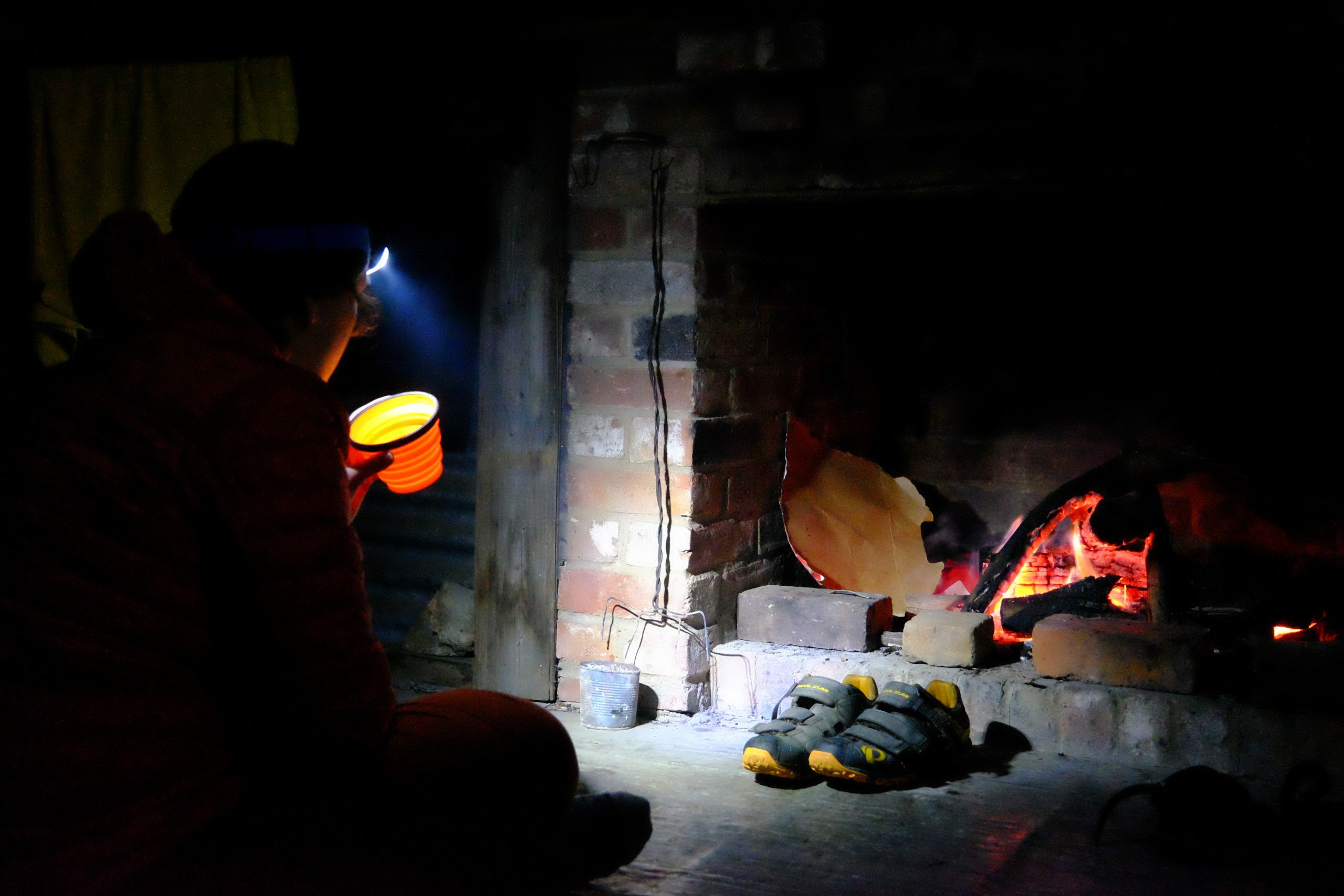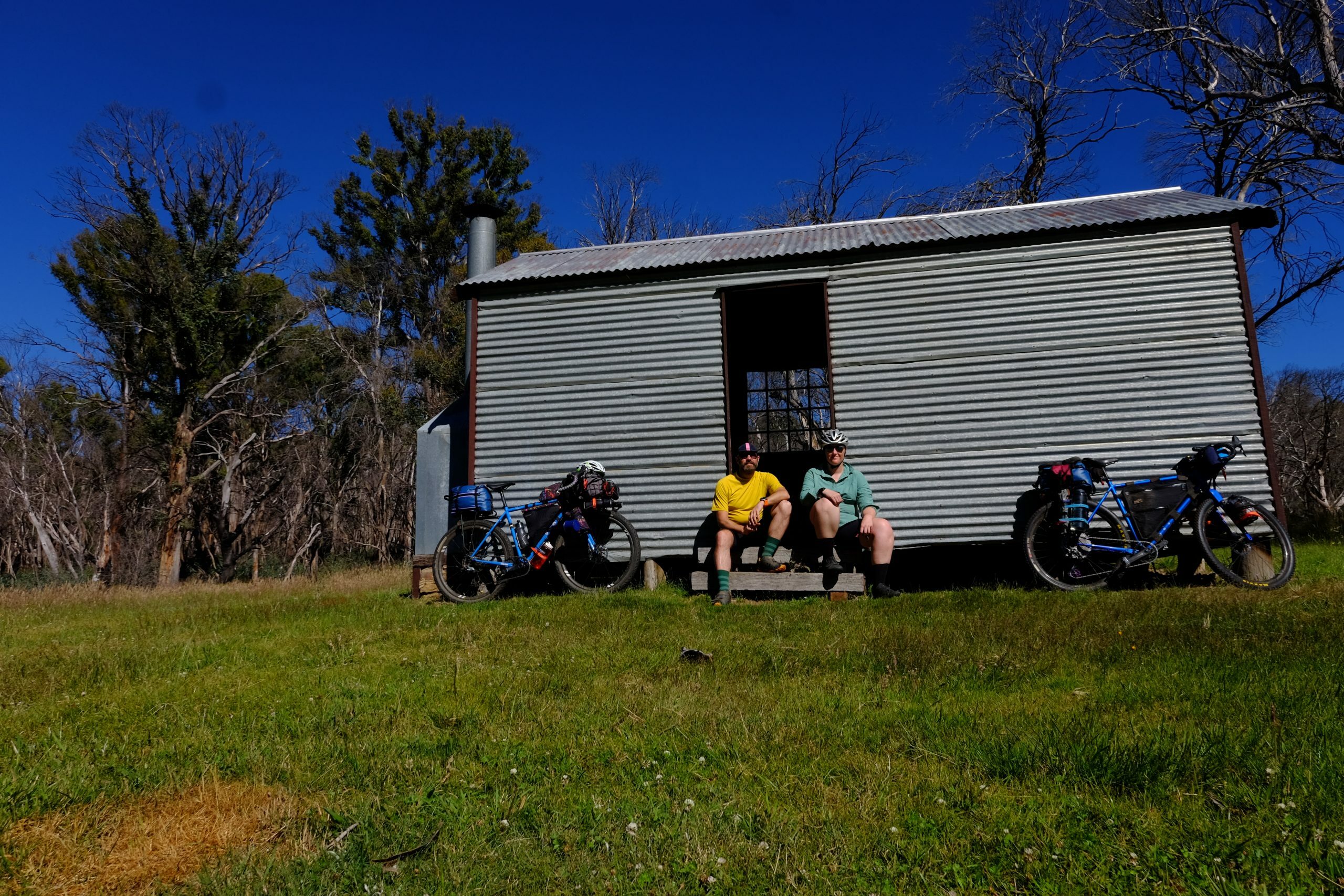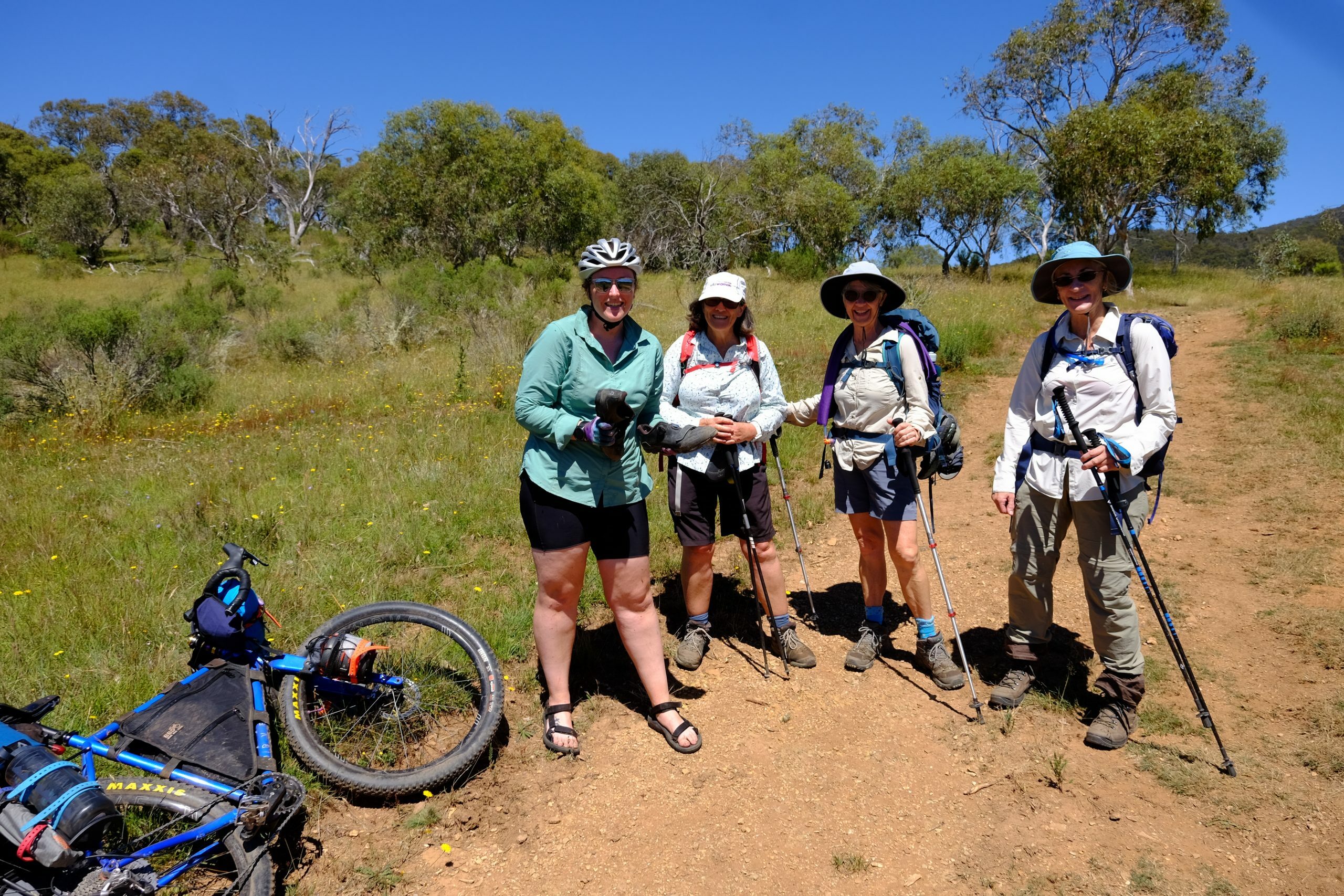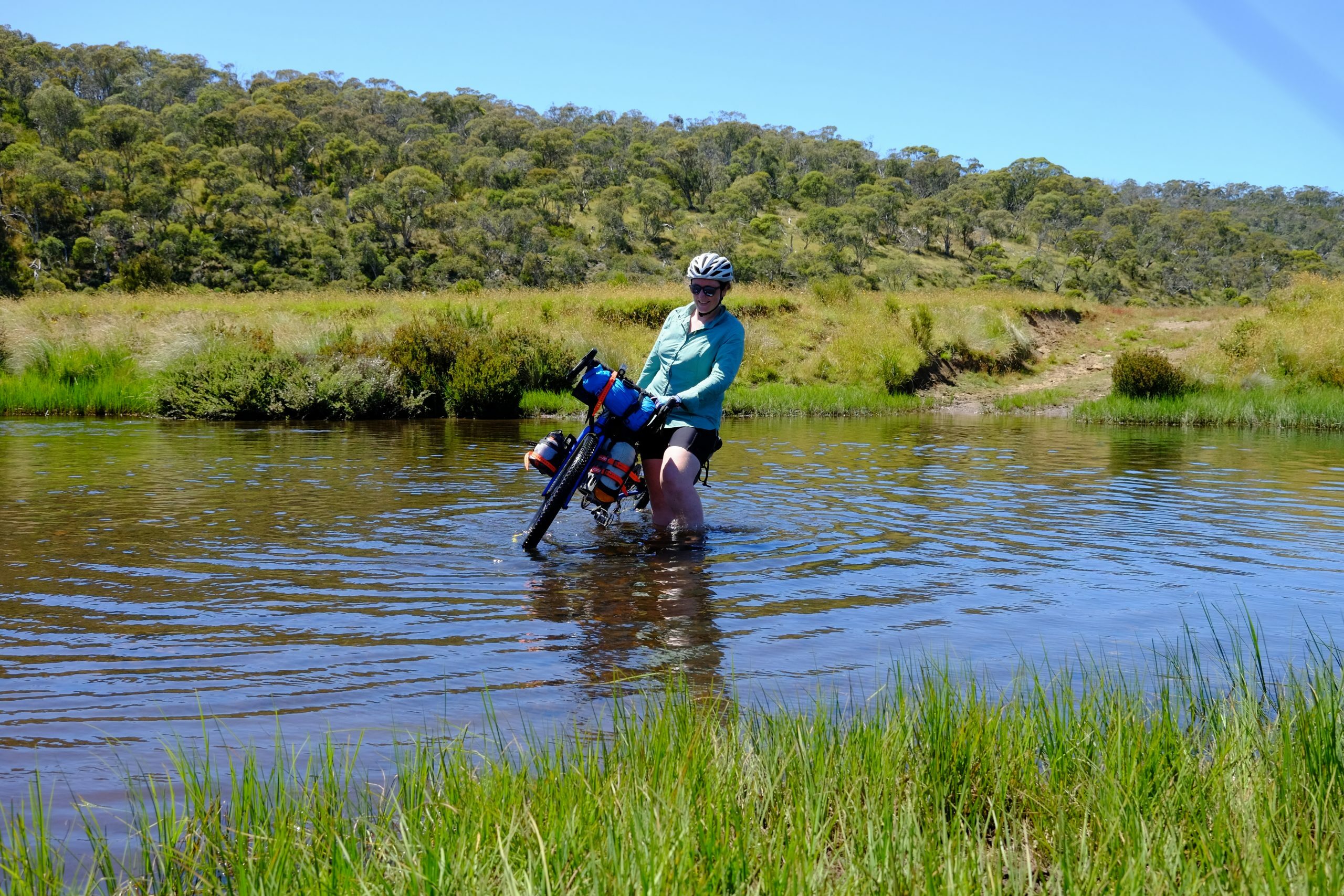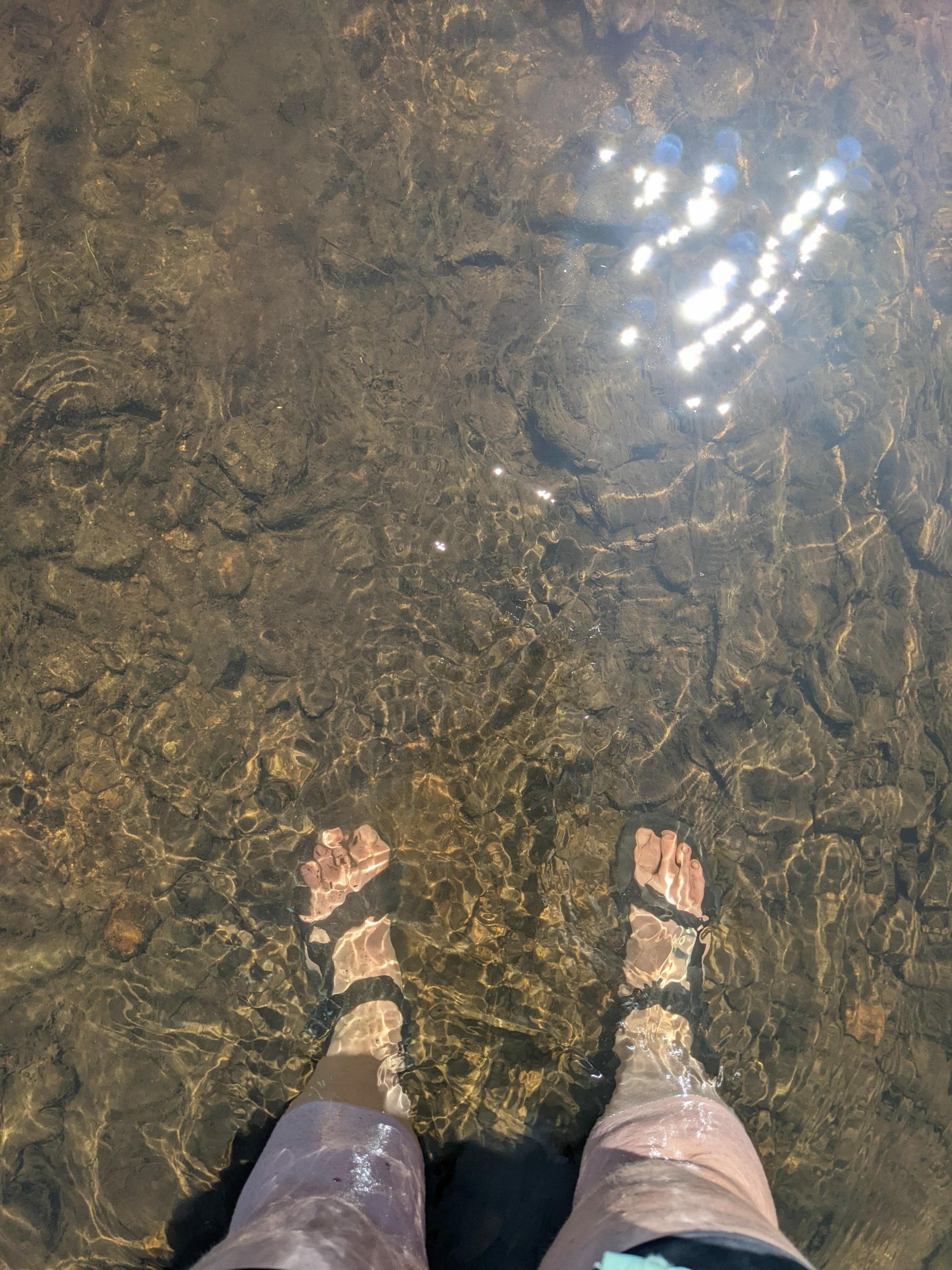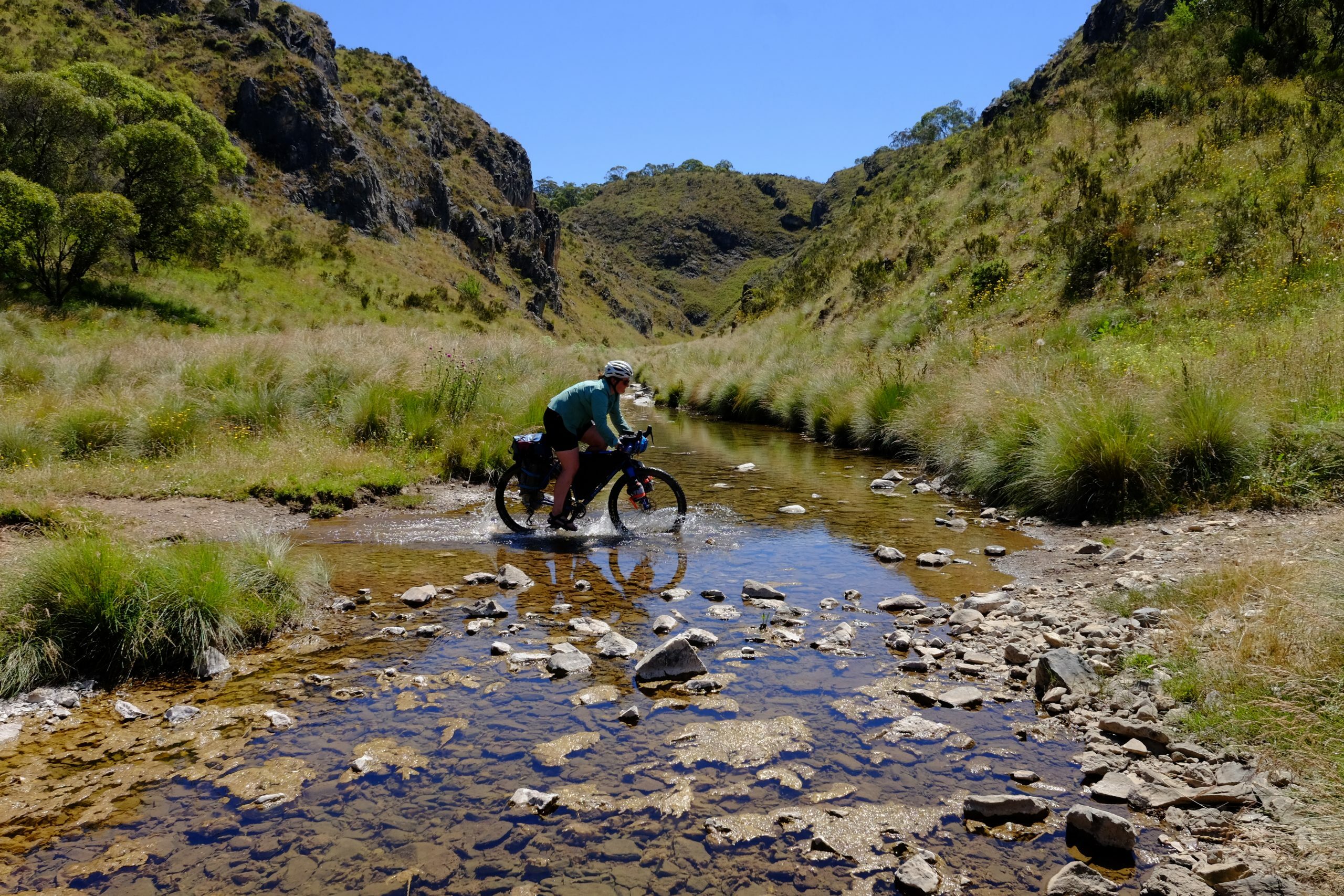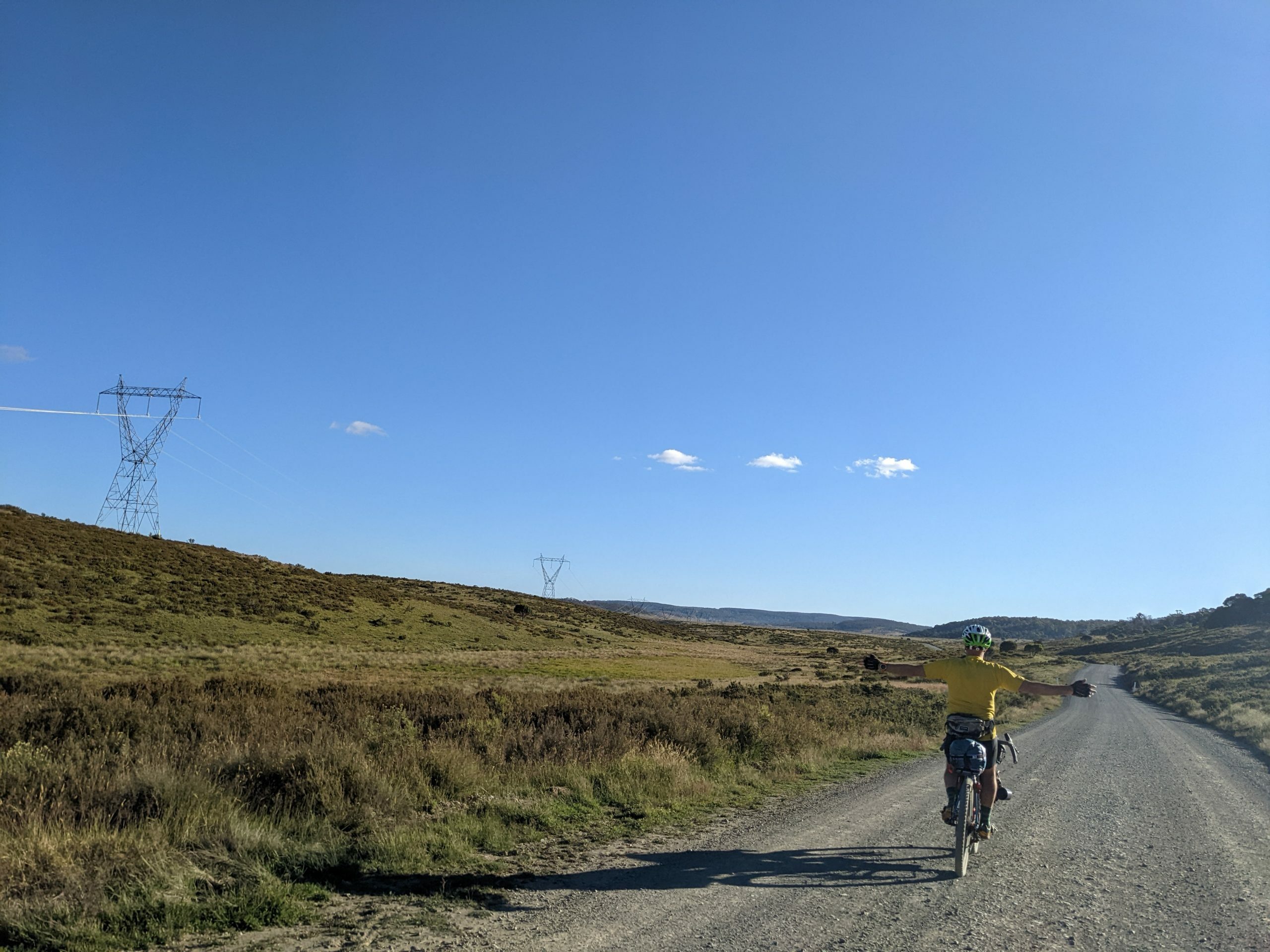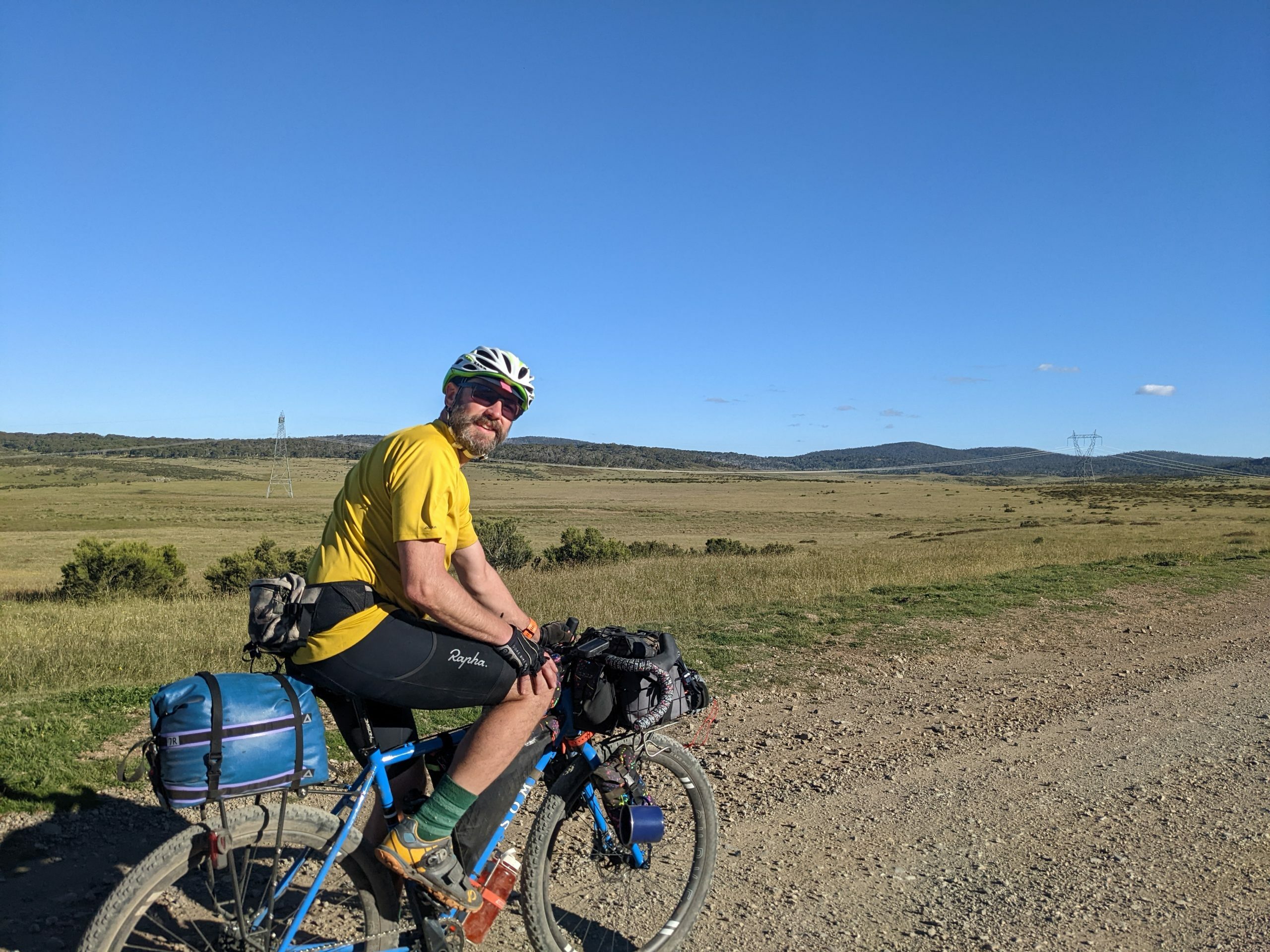 Day 2 – How Good's Water!
Day 2 was not nearly as dramatic as day 1, but definitely not without challenges. As we had fallen short of my planned distance from the previous day, we had an extra 10km to do today, to make it a 60km day with +1200m. Not unachievable, but the previous day had left us suspicious.
We started in good spirits, with a long, gentle downhill with some shallow creek crossings. I removed my bike shoes in favour of adventure sandals for the crossings, strapping my bike shoes onto my rear rack. Arriving at Pedans Hut, my shoes were gone, having flown off somewhere on the previous rocky descent. I'd be lying if I said I was 100% devastated… Those shoes had given me hectic blisters and had had a good life.. I considered leaving them behind. Thankfully once we'd returned to the main trail, some happy hikers we'd passed a few kilometres earlier had picked up my shoes and we were reunited.
The rest of the day passed without the bog trotting of the night before. As we travelled north along the Murrumbidgee National trail + Bicentennial National trail, we did see many rocky and steep climbs, descents, river crossings, herds of brumbies and vast open plains. And march flies. So many march flies. I've since heard anecdotal reports that March flies love blue things! Both of us riding blue bikes and me with a green/blue top… maybe we never had a chance.
The weather was hot and dry – each river crossing gave a welcome opportunity to drink our remaining water, filter and refill bottles and to soak our feet and caps. On more than one occasion we found ourselves saying 'How good's water??' to hearty agreement from the other.
Around 3.00pm we made it to Blue Waterholes and stopped for lunch. If Stuart was the MVP yesterday for his fire-starting and bike-hoisting abilities, today I was the MVP because I was the only one who had packed lunch, and I had enough to share. Peanut butter + apple wraps and a side of biltong was roborotive for both of us.
Aside from one last steep climb out and a bit of ziptie bush mechanics from Stu for his basket, the next 25 ish km along Long Plain Road passed without incident. We made it into camp at Long Plain Homestead at 7.00pm, and in stark contrast to the previous night, the campground was full of caravans and 4WDs with generators and pumping music… We took ourselves to the 'camping with horses' section which was much quieter and we slowly set up camp for the night.
Day 3 – A 3-swim Day
My original route for day 3 had us heading down to Yarrangobilly thermal pools, but we decided to skip that section – the map suggested that our day was now 38km with no major climbs. Easy, we thought! We'll be back at Adaminaby for a pub lunch! Wrong.
The day started with a refreshing/freezing swim and water refill in the Murrumbidgee River, and a short stint along the Snowy Mtns highway. Soon enough we were back on the dirt, travelling north-east along Bullocks Hill fire trail. Some very sketchy, rocky descents and many march fly attacks happened on this road. Once again, a spectacular set of rolling hills and valleys made it worth it.
A refreshing/freezing swim in Tantangara creek, more herds of brumbies before yet another long climb up the other side of the valley, through daisy covered hills and onto the finish line. The last 9km still had a few surprises, with two large lizards, a large spider hole that did in fact, contain a large spider upon investigation by Stuart, a road half-built, seemingly in the middle of nowhere, and yet more pinchy climbs (not really a surprise at this point).
I was still wearing my teva sandals, with today adding socks to the ensemble to really complete the high-fashion look. The hike-a-bike sections proved challenging as I was still nursing blisters from day 1, and every passing prickle seemed to grab onto my socks. That said, I will take topical prickles happily with the added walking ability the sandals provided, any day. My inner child relishes the freedom of being able to march confidently into any creek, river or muddy patch in sight and then leap back onto my bike.
Finally, around 3.00pm, the car was in sight and right where we left it at Wares Yard campground. Top tip: stash 2x gatorades in the car for this very moment. After unpacking the bikes and loading the car, we both had a dip in the nearby creek and changed into clean clothes for the drive back to Canberra for burgers and milkshakes.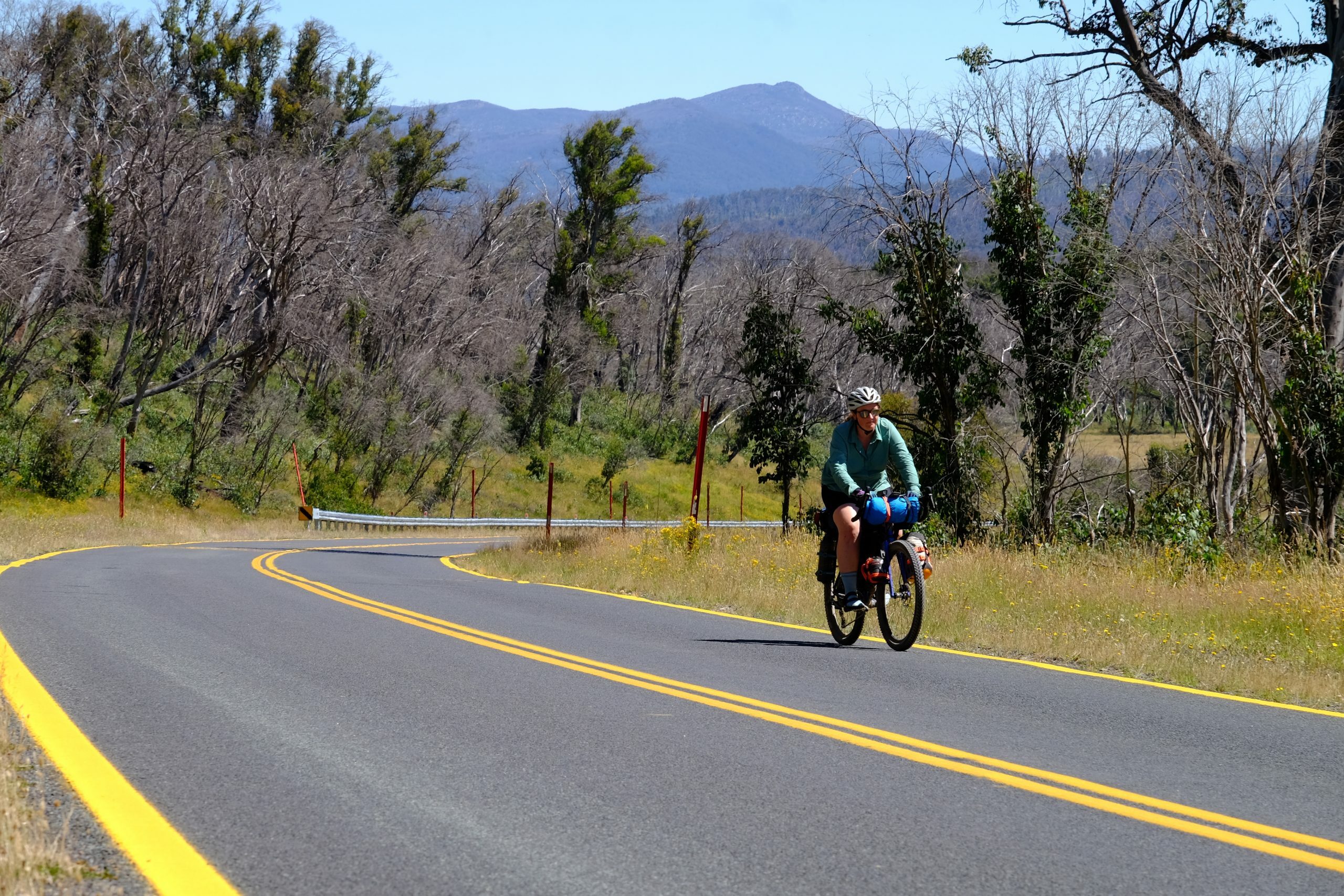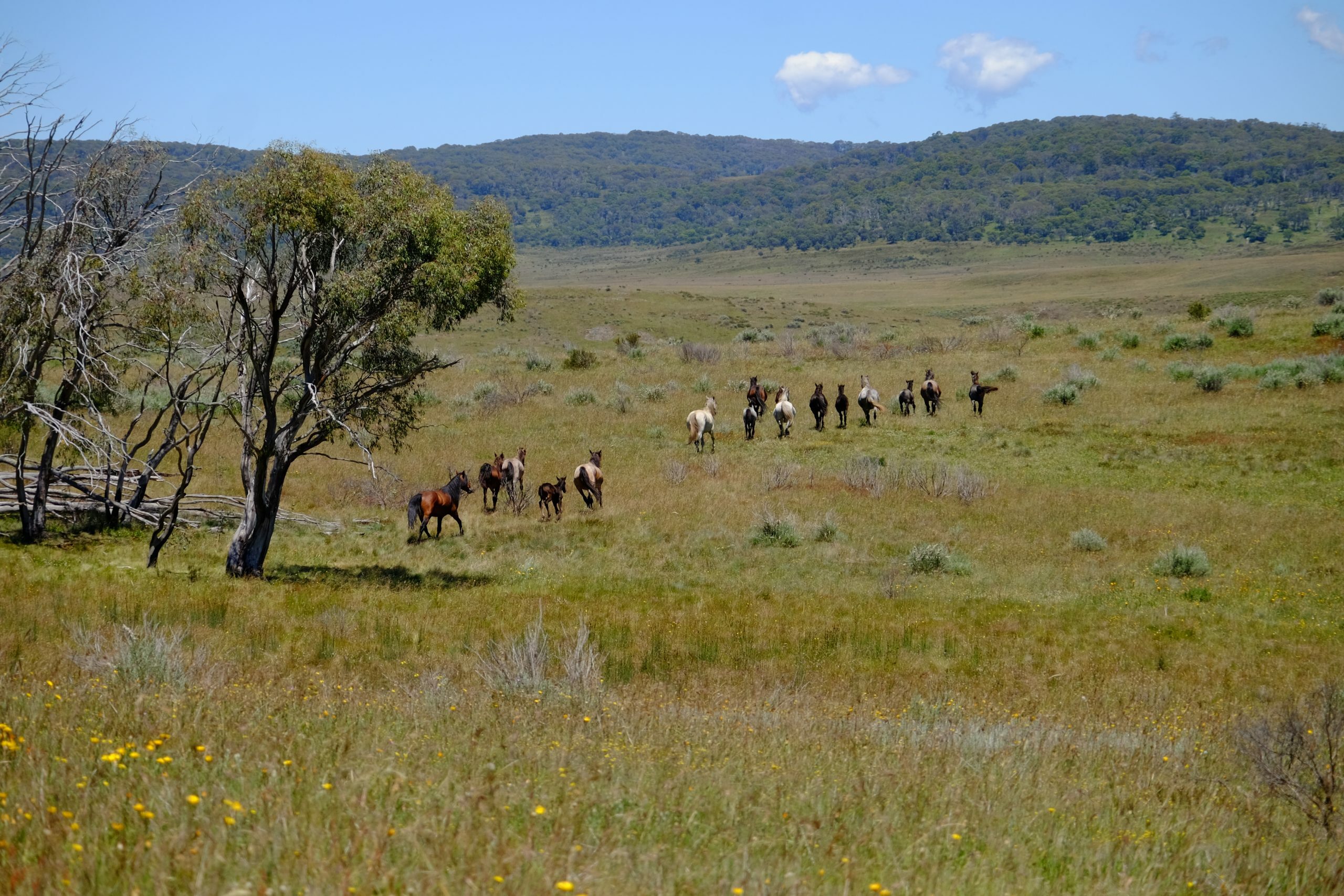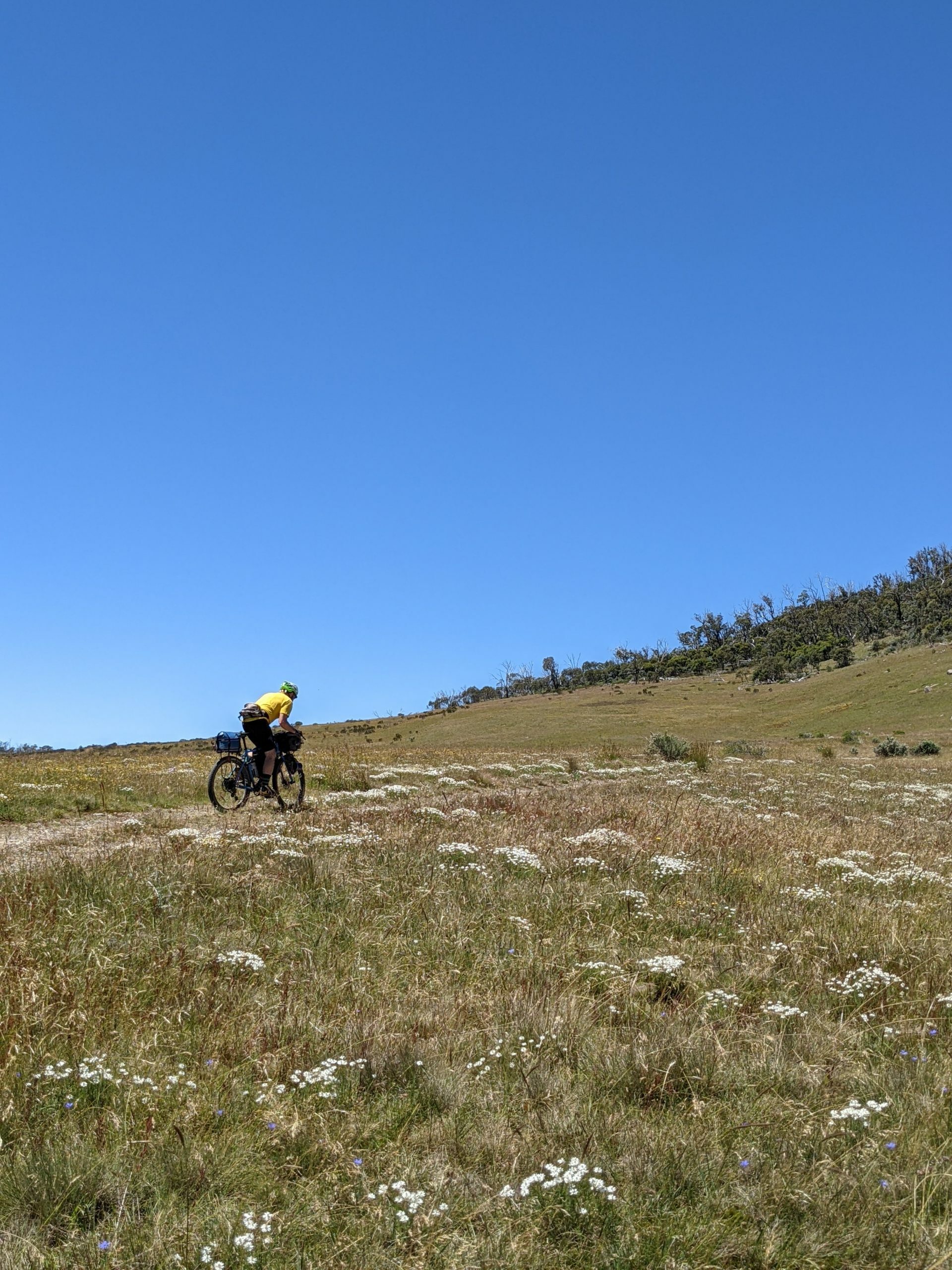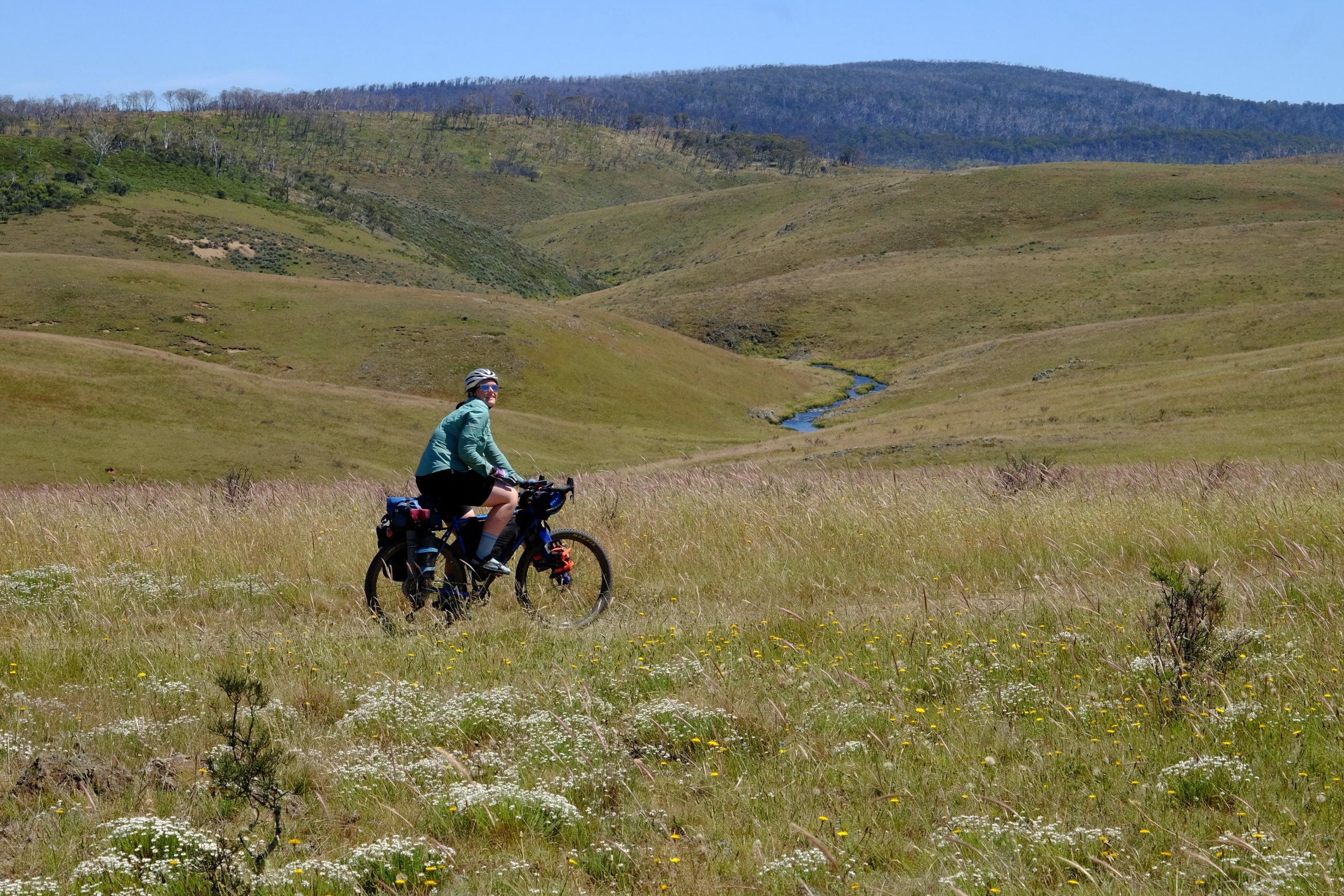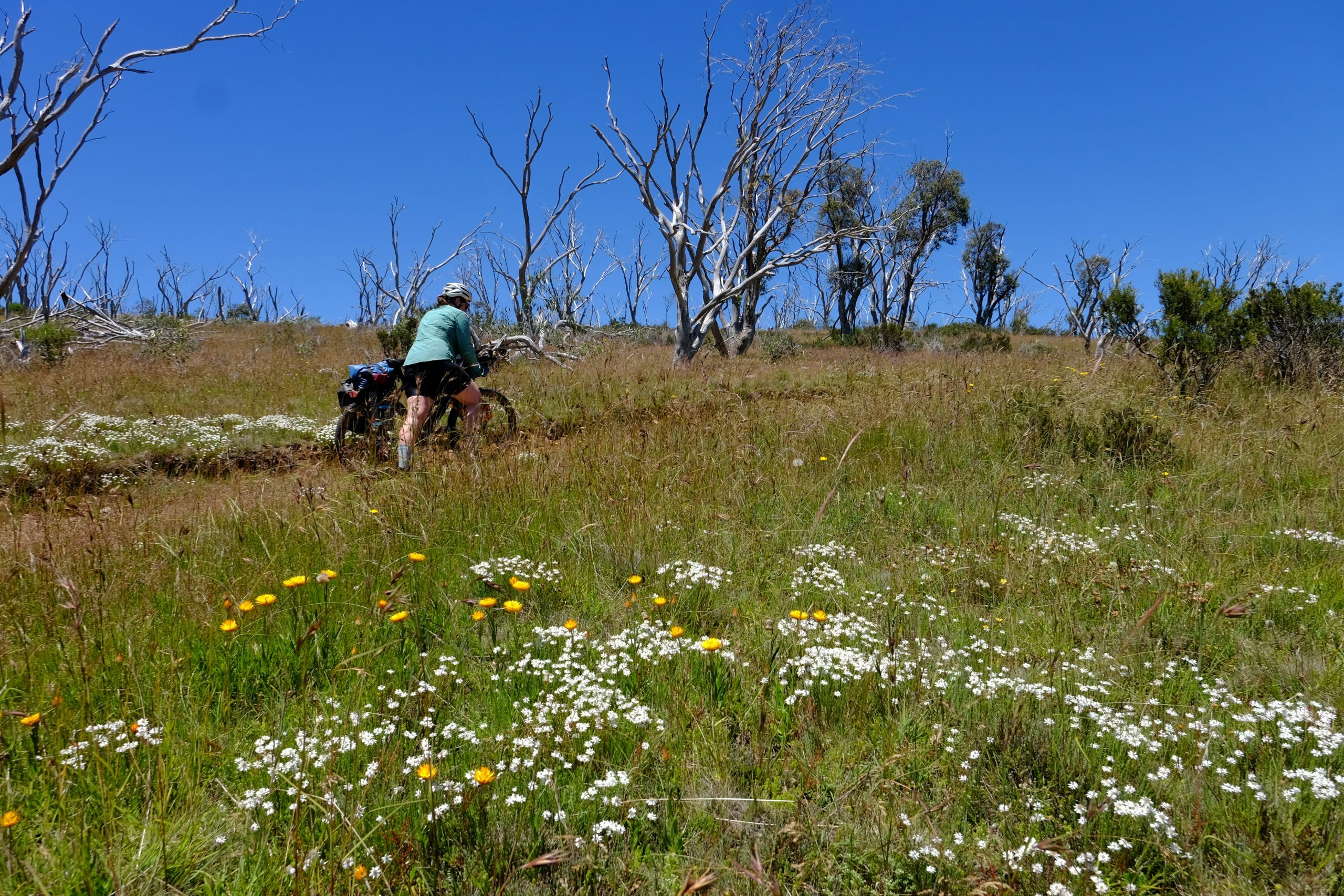 Final thoughts:
This trip was mostly unseen country for both Stu and I. Him being a Brit, and I having moved to Canberra from Brisbane exactly 12 months ago. At the time of writing, it's been a week since we got home and I am still agog at the beauty, complexity, and harshness of the vast country we saw.
I think we both feel so lucky and grateful to live in the high-country vicinity; I'll speak for myself when I say I feel so warm and full that I get to share it with such lovely, funny, welcoming, and wacky people like Stuart.
Give me riding bikes with lovely people in beautiful places any day.
Lessons learnt:
Fuck march flies.
Information learnt whilst on the route is a poor substitute for prior research of the route.
Wine should be kept in a leak proof container.
Hike a bike can be overcome by sandals and a ✨Positive Mental Attitude✨.
Have friends you trust to lead you through the darkness, or into a grassy bog.
Do hard stuff, feel strong.