Bikepacking from Canberra to Jugiong
I had been excited, 2020 was going to be a big year. Time off work and adventures both locally and abroad had been planned, but then covid happened and the world as we knew it ground to a halt.
As the weeks and months ticked by, everything that I'd planned gradually had a red line put through it on the calendar. Time in the wild on adventures gives me energy, inspiration and life. I was feeling claustrophobic. I needed to stay local, but I needed to get out, I needed to ride my bike and sleep in my tent – even if it was just for a long weekend.
I started looking at maps looking for some unfamiliar trails, a long weekend route which would help cure my restlessness. I pieced together a route and packed my bike.
The weekend came and it was looking wet, real wet, and real cold! But after the year that had been, not going wasn't an option.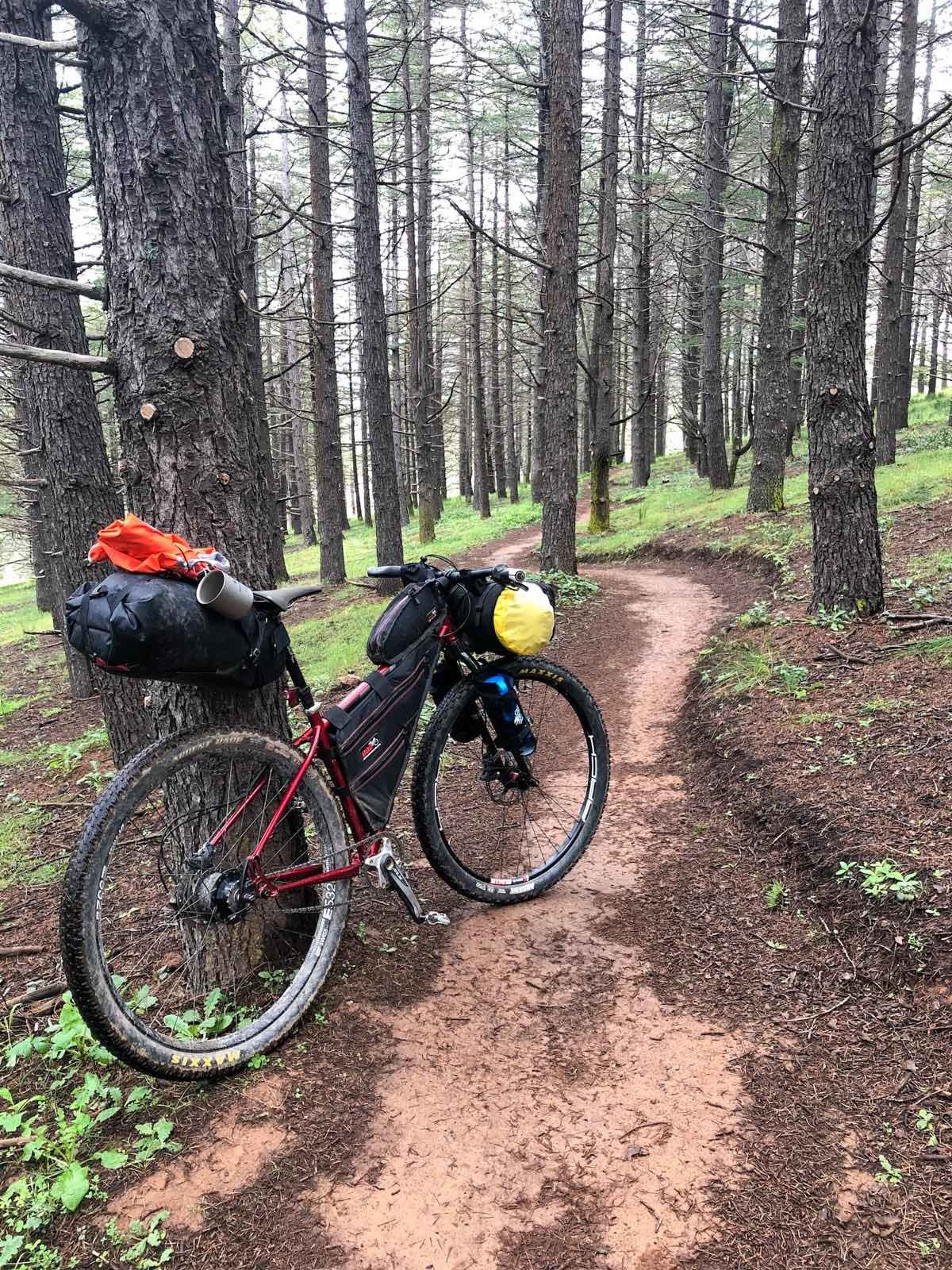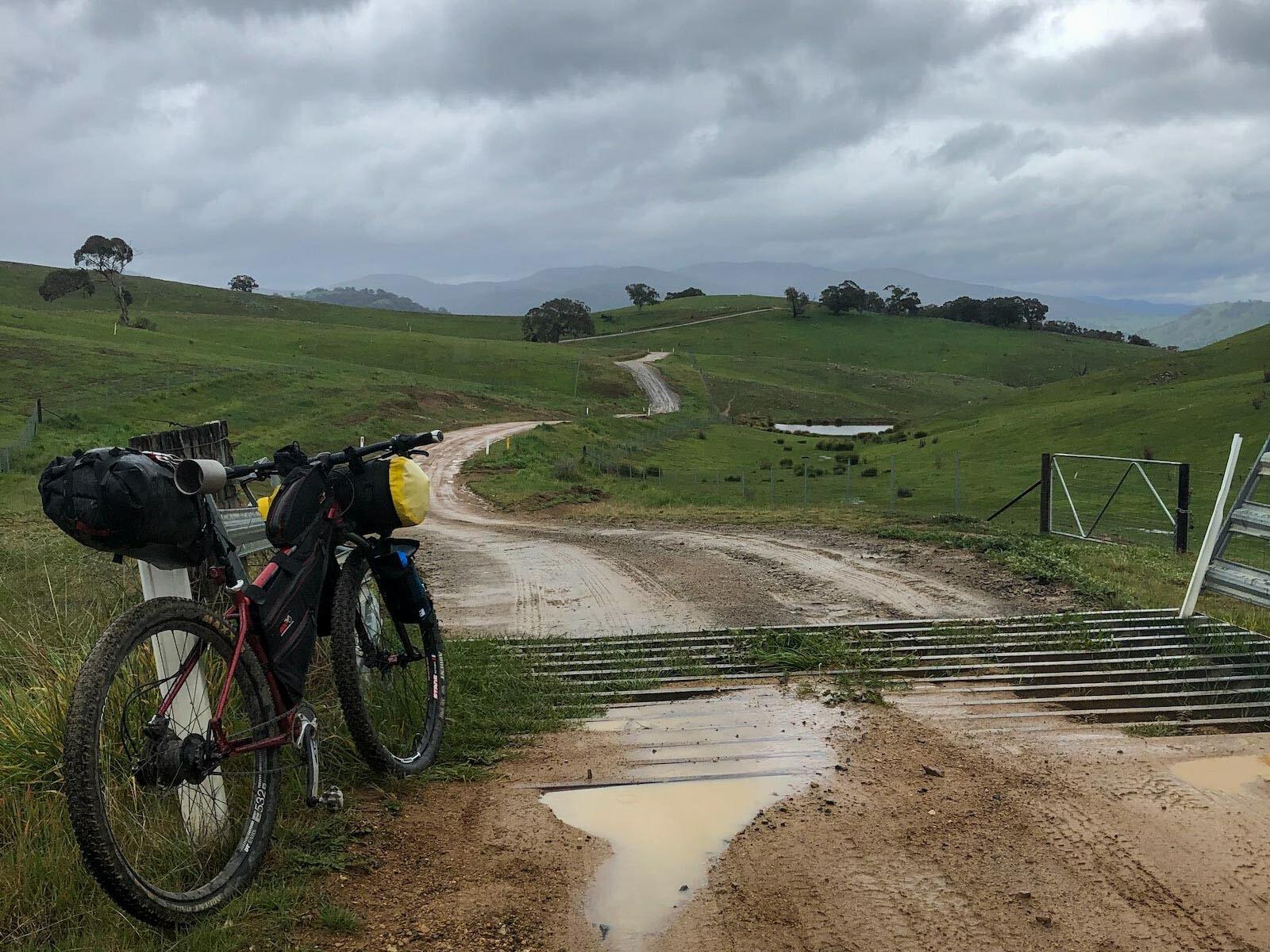 Day 1 – Canberra to Wee Jasper
I left home near the centre of Canberra and rolled through the flowy single track of the National Arboretum before heading out on the tar towards Uriarra. After leaving the firetrail near Mt Stromlo, the next 25 km or so were bitumen, but it was a quiet country road and very few cars were encountered..
I hit gravel again as I turned off onto Sawyers Gully road, a rolling, undulating , dirt road through quiet farms with only sheep and cattle to notice my passing, then back onto the tar for the last 15km, mainly descending, down to Wee Jasper. It was a hoot coming down the fast, windy road towards the bridge over the Goodradigbee.
There is a series of campgrounds just out the back of Wee Jasper, varying in facilities but all rather beautiful. Green grass, shady trees, and a flowing river nearby. There's water, hot showers as well as basic supplies available at the office. Because of COVID rules, bookings were required, I got in just on dark and found that the camp hosts had been anxiously waiting for my arrival. After assuring them that I wasn't completely mad, riding my bike in the torrential rain and cold winds, they pointed me towards the best campsite. Being a wet weekend, the place was almost deserted, save for a couple of grey nomads and few hardy souls who'd come to spend the weekend caving and walking on the Hume and Hovell track.
Day 2 – Wee Jasper to Jugiong
It was still raining lightly when I awoke to the sound of kookaburras. A quick pack-up and breakfast before beginning heading off on a decent climb up the range behind Wee Jasper on the road to Tumut. It's a mixture of pine plantations and native bush as you continue to climb on dirt steadily, but gently, for about 20km before plateauing out at about 1000m.
Up here, it was thick fog and freezing cold, but at least the rain had ceased.
There's a short bit of bitumen through farmland, as you head north before swinging east into more plantation pine of the Bungungo state forest, before an epic 15km descent down to the Murrumbidgee river. This road looked good on the map, but wow it was just one those perfect moments when an adventure becomes unexpectedly amazing. The sun had just come out, the light was perfect, and I had this beautiful smooth gravel road through seldom visited farmland, snaking along a strongly flowing Murrumbidgee lined by massive river red gums all to myself. Any remnants of the covid induced claustrophobia and restlessness of 2020 that had been plaguing me completely melted away at that point.
I needed this moment.
Leaving the river, there was one more final pinchy climb through the foothills of Mount Bundarbo before another fast descent, this time on bitumen, back down towards the river and the little town of Jugiong.
Free camping on the ovals at Jugiong showground, with a friendly country Pub and a café that does tasty breakfasts and great coffee was an ideal place to finish the trip. There are no great straightforward options to loop back to Canberra, so I had arranged a pick up and headed back home feeling refreshed and renewed. We all have our own reasons for needing adventure, this short local trip was a good reminder that sometimes you don't epic trips to meet those needs. Adventure can be found anywhere.