Five Tips For Finishing The Hunt 1000
The Hunt 1000 is an annual bikepacking event started by Dan Hunt in 2016. Each year has seen a slightly different route taken through the Snowies and the Victorian Alps from Canberra to Melbourne.
It is perhaps unique in Australian bikepacking events in that it is not a race, and riders generally self-seed according to speed and ability, starting on different days with the idea to end on the same day together. It is also renowned for an extremely low finishing rate, a combination of remote tough riding conditions, wild weather and the rigours of a route with more than 20,000m of climbing means less than 50% of riders make it to the finishing line each year.
Oliver Cashman is a veteran of the Hunt having finished the ride in seven days three times, 2016, 2017, 2018. He also runs Omafiets bike shop in Sydney which specialises in both transport and adventure cycling. We asked him for his top five tips for getting yourself across the finish line in the Hunt 1000.
Tip 1: Practice Riding a Packed Bike
Spending time riding is really important in the lead up and certainly logging hours on the road bike or unloaded MTB is better than sitting on the sofa. But really nothing prepares you like riding your fully laden bike.
There are lots of aspects to this. A heavy bike puts different strains on the body, you often end up riding a lower cadence and pushing harder on the pedals. You want your body to be used to this. Frame bags, stem bags and feed bags all also subtly change the way you ride, the position of your knees and hips. If that's going to create issues, you want to know that in advance.
Riding a heavy bike also gets you psychologically ready for the reality that you will be slower than you probably thought you would be. Used to averaging 20km/h on a light gravel bike? It's quite the shock to find yourself doing 3km an hour pushing a bike that's 15kg heavier than you remember for a few hours at a time.
Lastly, riding your laden bike lots gets your systems of packing and unpacking sorted. You are going to be doing it in the dark a lot, maybe with frozen fingers, probably while pretty tired. Get good at it before you set off.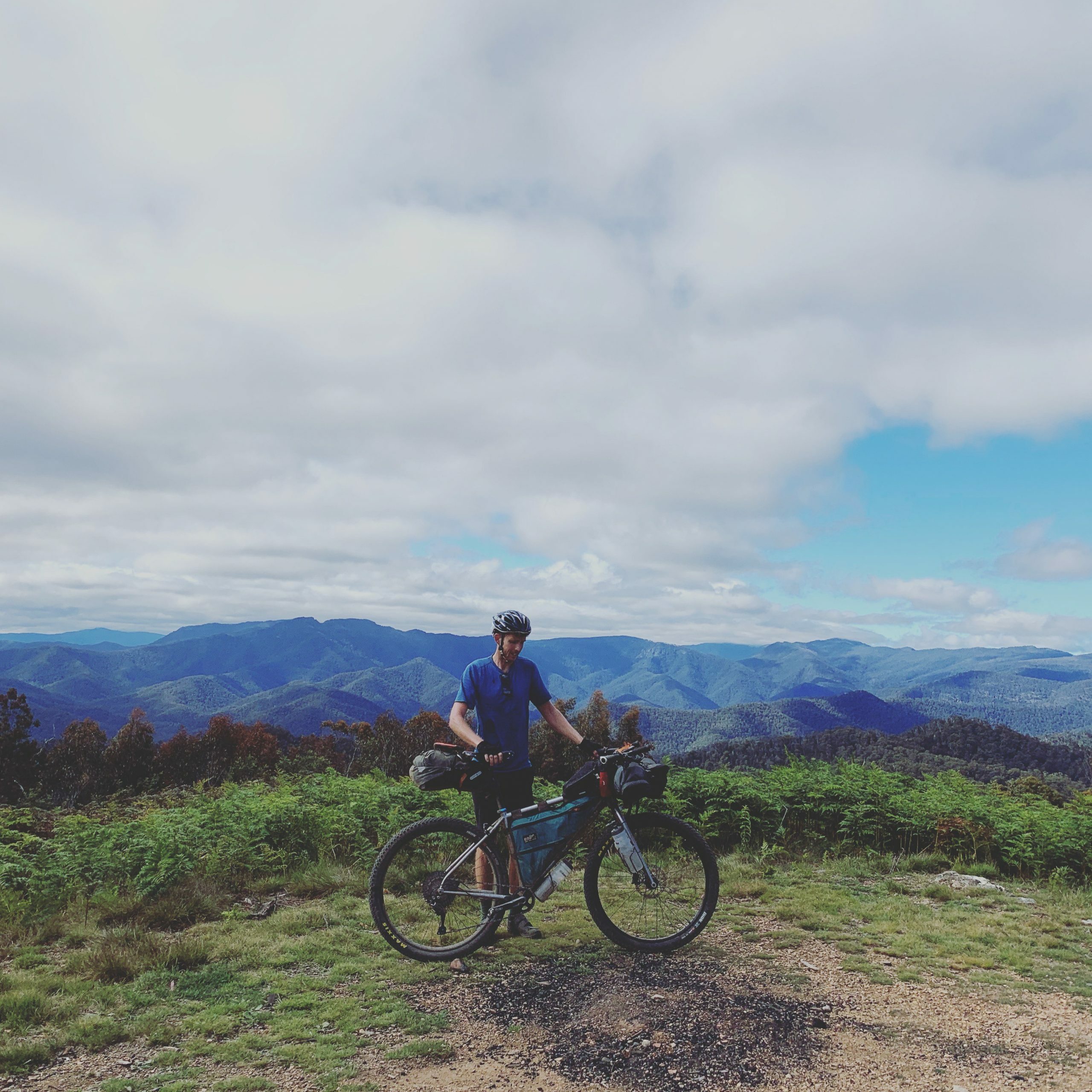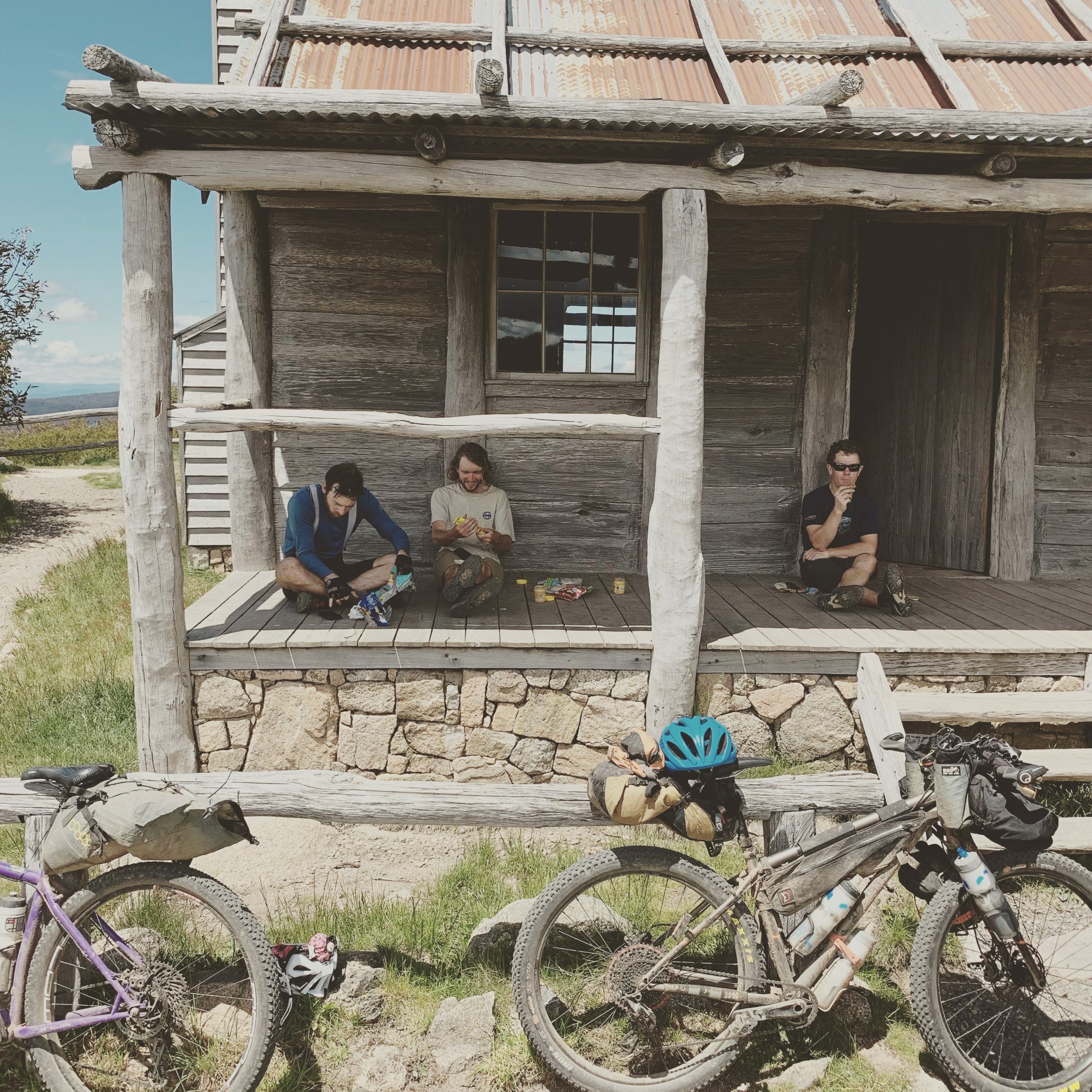 Tip 2: Look After Your Body
Riding the Hunt 1000 you will likely be spending back to back days of 10-12 hours of riding. If you have done this before, you will know just how important it is to keep your hands, feet and butt happy.
There is no magic answer here as different folks find different things work for them. I personally alternate riding days between merino boxers and a padded chamois, which works for me, and I swear by merino socks. I highly recommend doing some back to back 100+km riding days in the lead up to work out what works for you.
Also tied into this is the serious advice to buy some newish MTB shoes that can handle some walking. Yes it's a bike ride and you will spend the majority of each day pedalling, but also most days on the Hunt 1000 involve at least some hike a bike sections, some years have involved multiple hours of hiking slogging heavy bikes up hills. Most cycling shoes really aren't designed for this and can either be extremely uncomfortable or just simply fall apart.
Most years on the Hunt I have seen riders desperately taping or cable tying exploding shoes back together. There really aren't many good fixes when you find yourself in this situation so I strongly recommend getting some shoes designed for the rigours of hikeabike, with a bit more flex and proper rubber soles.
Tip 3: It's Not a Gravel Event
Every year in the lead up there seems to be a bit of a debate about whether it's better to ride the Hunt on a gravel bike or a mountain bike. Make no mistakes, when you look at the statistics of folks who have actually finished the Hunt 1000 it's overwhelmingly a mountain bike event.
Dan from Hunt Bikes makes rigid 29er bikepacking mountain bikes and designs the route accordingly. Yes there are sections that are gravel bike friendly and even significant stretches of tarmac. But there are also some incredibly rough extended sections of the route where I would say a MTB tyre greater than 2" is not just more pleasant to ride but actually necessary from a safety perspective. Riding big alpine descents off road on a heavy bike, often on incredibly steep and exposed rocky terrain is precisely the situation where a slightly bigger tyre can make the difference between getting down safely and not.
I ran Maxxis Ikon 29×2.35 tyres front and rear the first two years and then switched to running an Ardent 2.4 on the front the third year. I can still clearly remember one near miss on a fast chunky rocky strewn downhill where just that tiny bit more grip on the front tyre was, I believe, all that kept me upright.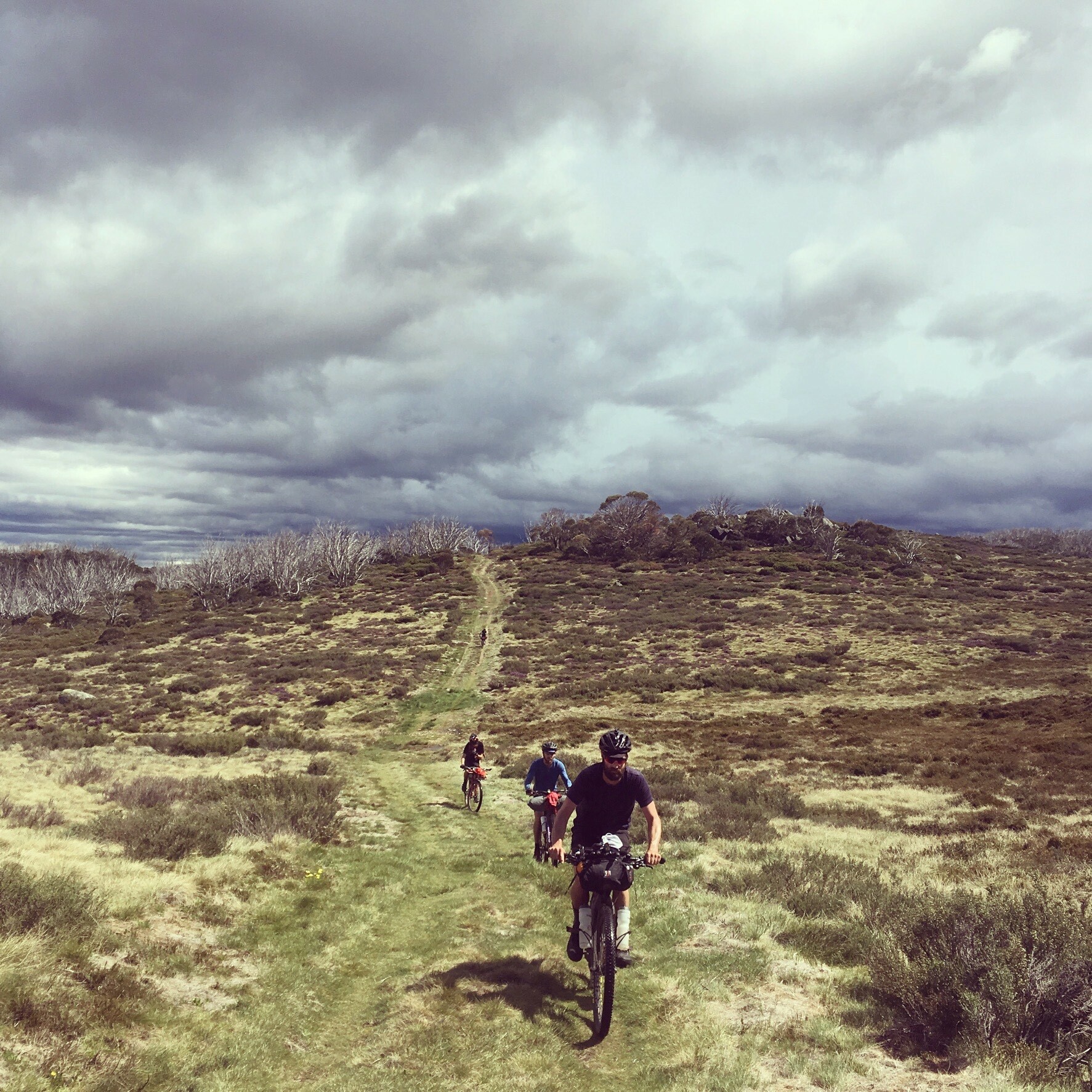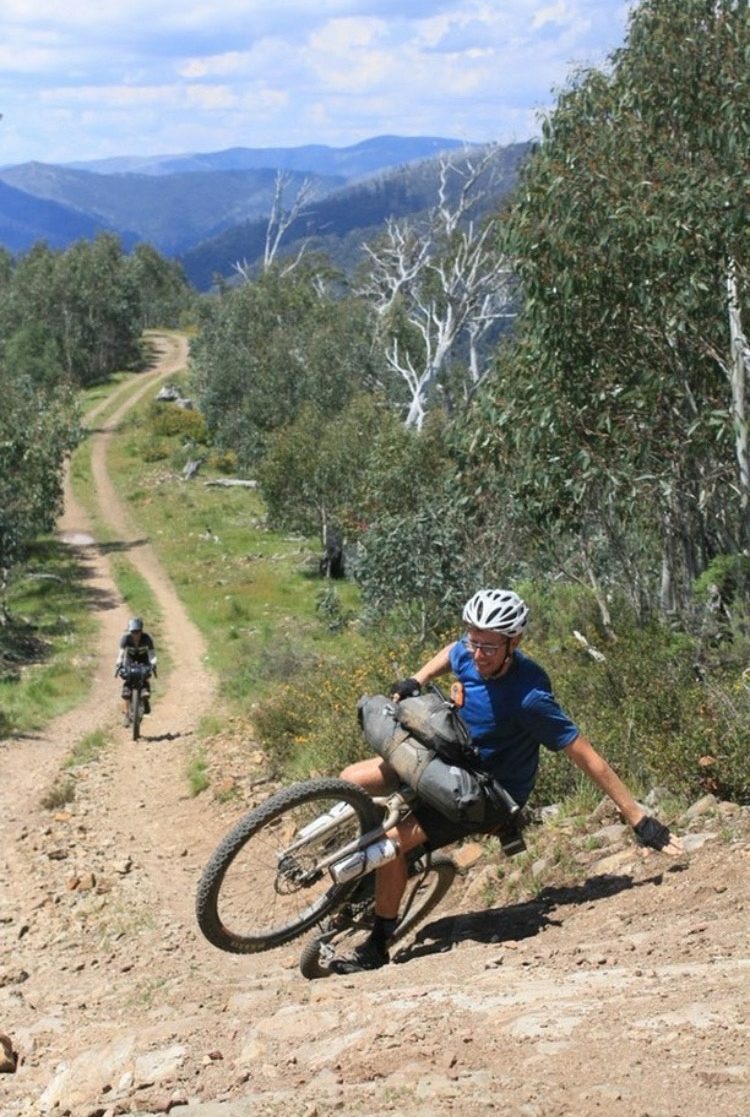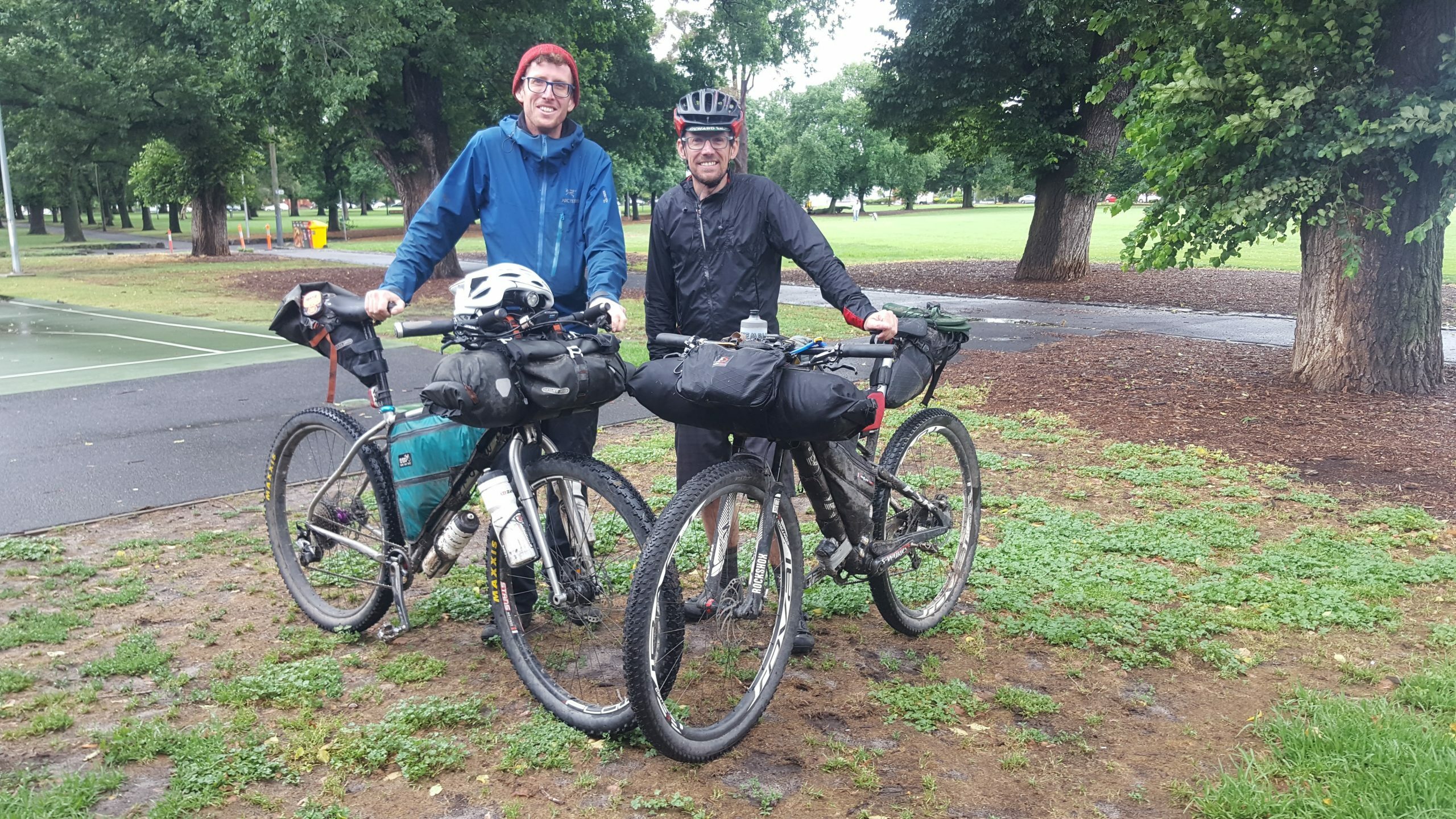 Tip 4: Find a Riding Buddy, But Probably Just One
A core part of the Hunt for me is the experience of meeting other riders and experiencing the ride together.
[As an aside it's actually what drew me to the Hunt 1000 as I feel that many bikepacking events become so race focussed that it distorts the experience for everyone. There are no winners and losers in the Hunt, if someone else rides it in 6 days and you ride it in 10 then you can both pat yourselves on the back for having undertaken an epic ride]
Riding with others gives you support and motivation when things get tough (and they will get tough). In 2016 I rode with Chris Moore and when I got gastro (from an unfortunate meat tray incident in Licola) he stuck with me and made sure I got through probably one of the worst days of riding I have ever been through. He made sure I kept fluids going in and honestly made the difference between that day being mildly dangerous and potentially life threatening. In 2017 with the snow at the start and heavy rain forecast for the end I rode with Dave Nairn and we knocked out back to back 200+km days to ensure that we had a buffer of time to navigate the last few days of riding in extremely heavy rain into Melbourne safely.
That said, having more than one other person who you are committed to riding with means adding in additional faff time and the risk of mechanicals derailing your plans. I am sure many people have experienced group rides where you are constantly stopping when riders want to take off layers, have snacks, take photos etc. The additional time penalties grow to a point where it becomes genuinely challenging to cover the distance each day. I think it's also important to go into the ride being open to riding with new folks and other riders you might not know yet, rather than being set on riding with your existing buddies.
Tip 5: Take the Elevation seriously
Alpine environments make up less than 0.7 percent of the Australian landmass, which means the vast majority of us are not used to spending significant amounts of time up in the mountains. Sub zero temperatures and heavy snow falls are a distinct possibility even in summer, as many riders found out the hard way on the 2018 ride. Riders who started a few days earlier than the grand depart encountered over a foot of snow and heavy storms in one of the harder parts of the route through the Jagungal Wilderness. Many riders needed to be rescued by rangers and many more pulled out finding that their clothes and sleeping equipment were not up to the conditions.
Given most riders take 7 days on the course, it's just simply not safe to say "I had a look at the forecast and it's looking good, so I'm just packing a bivy bag and a light sleeping bag". Whatever the forecast is rolling out of Canberra, heading up to the Snowies and Kozcisoso is almost guaranteed to be different to the conditions when you hit the Victorian Alps, Mt Hotham etc 4-5 days later.
As a bare minimum riders should have full length top and bottom woolen layers, rain pants, waterproof jacket, beanie, buff, full finger gloves and a sleeping system rated to at least freezing. The fact that it's an organised event in no way changes the reality that you need to be completely independent and ready for all conditions.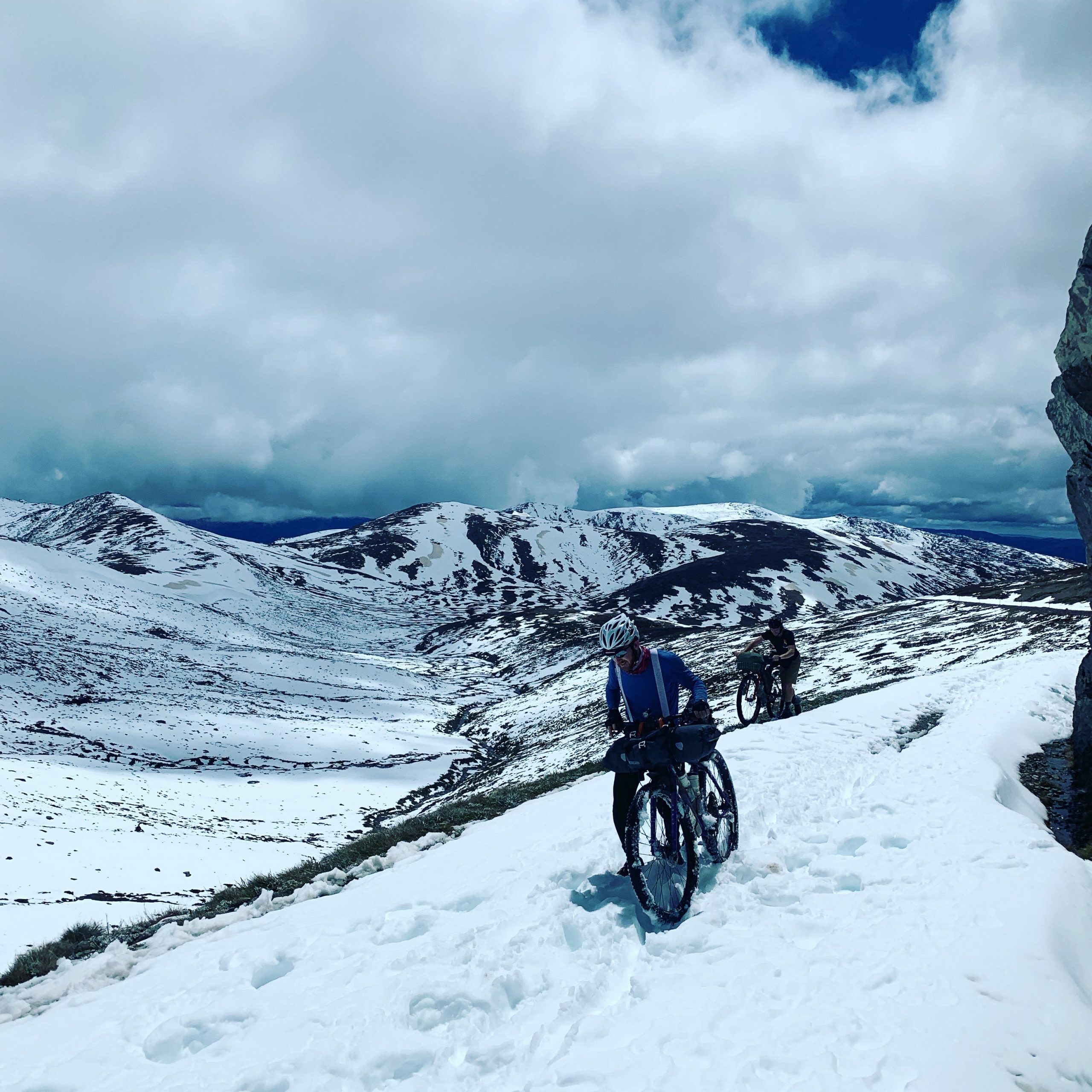 Oliver is lucky enough to be building bikepacking bikes for adventures of all shapes on almost a daily basis, feel free to reach out to him at oliver@omafiets.com.au