My First (un)successful Bikepacking Event
I have been eating dust for the last hour. My knee is having problems and I'm stopping every 60 vertical metres for a mini-break. This has been happening for the last 600 vertical.
I've just ridden past a nice looking shady spot for a break, but I want to finish this climb. Only about 300 vertical to go before I start some more climbing, hoping to get to my planned camp in a couple of hours.
BOOM, body gives up.
I'm now back at the nice looking spot, busted. I'm in pain, my knee is not working, I can only be described as extremely emotional.
I have failed.
The obvious self-help advice is that failure is learning. But when you're lying in the dirt on the side of the road wondering if you can somehow use the "Force" to get an ice cream, you really want to slap those self-help gurus in the face.
My First Bikepacking Event – The Capital Divide
I was one of the 40 people to pedal out on the Capital Divide and also one of the 36 people to pull the plug.
Wow, look at those numbers! It would be easy to think that the majority of the field were unsuccessful in their attempt at tackling this awesome route. It's ok, I was thinking that. But time and reflection are funny things.
It's a month on, and I now look back at what a successful event I actually had. The typical description of this phenomenon is "type 2 fun" and I'm totally sure there are 35 other people with similar success stories.
Finding your own definition of success?
Here's a list of the things I remember about the Capital Divide that made it a successful event for me:
The 50km riding with Chelsea because she is just an awesome person.
Just as I was starting to really struggle, I rode with Martyn who is also awesome and who despite being in the hurt locker, was super positive and encouraging and through him I found an extra bit of energy in the tank to make it to my planned rest stop.
The excitement I felt by the small patch of shade on Mountain Creek road, just as thought I was going to dissolve into a puddle of sweat.
The kindness of the car campers at Blue Range who offered me their water so I didn't need to wait for mine to treat.
Having a snack break with Ty and Chelsea in Hall and thinking how Ty was making the most of his ride experience by taking photos for others to enjoy. The event was a choose your own adventure style.
Despite the knowledge that this ride was far beyond my current fitness and injury threshold, I was supporting a local ride which I very much wanted to see happen again. Imagine if 36 of these riders didn't show up on the start line.
I learnt how hard eating is when you are really tired, but also that hot cross buns are the ultimate ride snack.
It was my longest ride ever and the most vertical metres ever, all with a loaded bike and a busted knee.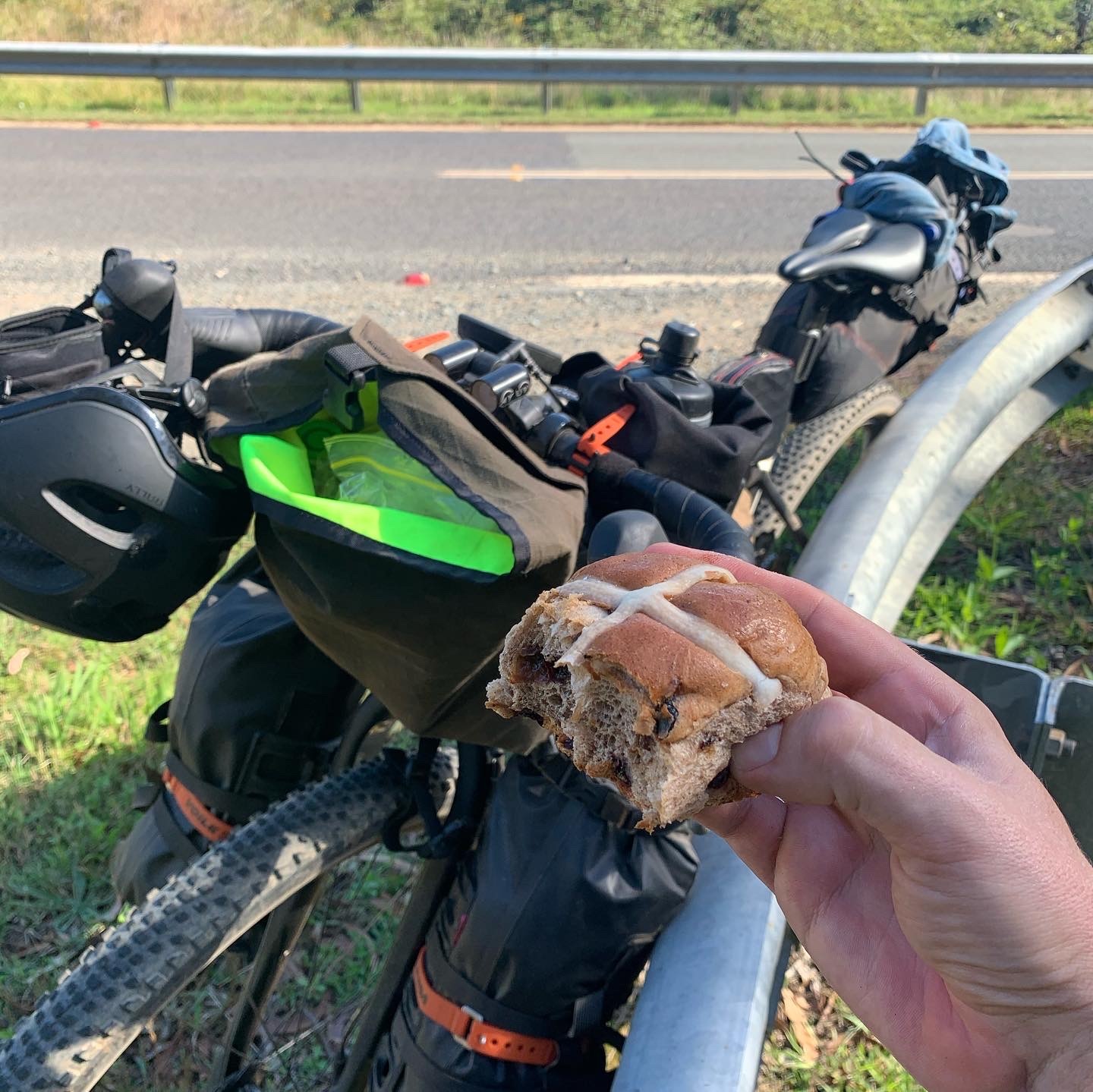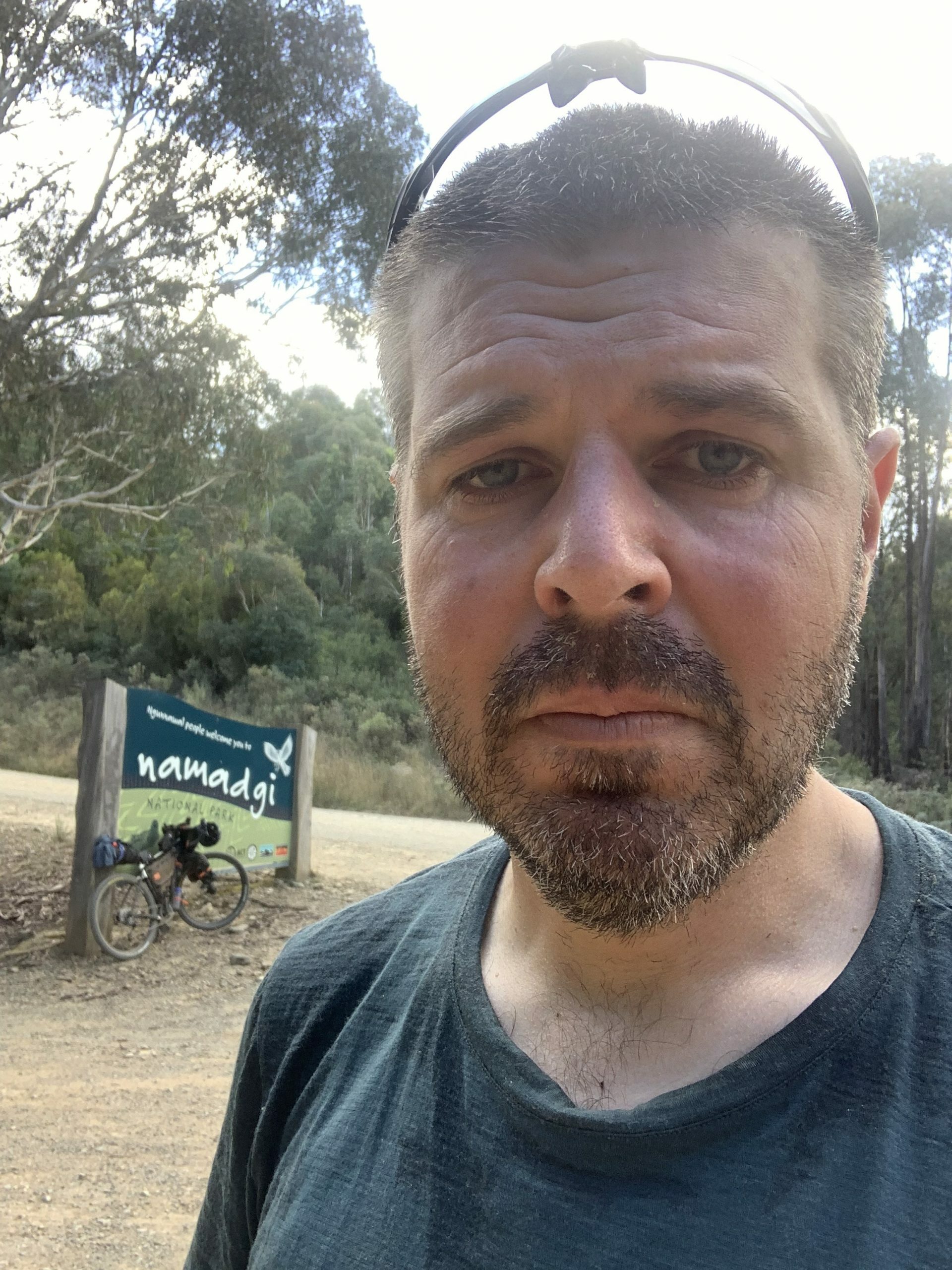 Happily (un)successful
By now, you have lost interest in my successes and are wondering about the ice cream. No, the "Force" did not work, but a quick message on the Garmin inReach had my support crew on route for a pick up. The route is well set up for multiple bail out options which I now really appreciate. Just don't expect phone reception the whole time.
The Capital Divide is tough, as one expects from these events. But it is a very special route; you can pick your challenge and still be close to the CBD for any problems and assistance.
Next year, I am going to attempt to be unsuccessful again. I never regret going for ride with awesome people.