Australian & NZ Bikepacking Gear Recommended by You
Words & photos by the Desire Lines CC Community
8 minutes
There's a whole bunch of great bikepacking gear being produced by Australian and NZ companies right now. We wanted to give the Desire Lines community the chance to shout out the gear they love and help support local bikepacking makers.
Framework Designs Custom Panniers
I don't use panniers a lot, but on a trip for two (on the Salsa Powderkeg tandem I just bought!) we need a bit more space for comfort items. Basically wine and cheese. Panniers are the clear answer but I could never get into the aesthetic of any of them.
Tia at Framework Designs in Melbourne used the hardware kit from a set of Ortlieb Backrollers to make these gorgeous and functional custom panniers for a trip to New Zealand and I LOVE them. Tia's stuff always looks a million bucks, is super functional and from my experience lasts really well. Teamed up perfectly with her awesome Overlander bar bag. Stoked.
Recommended by Adam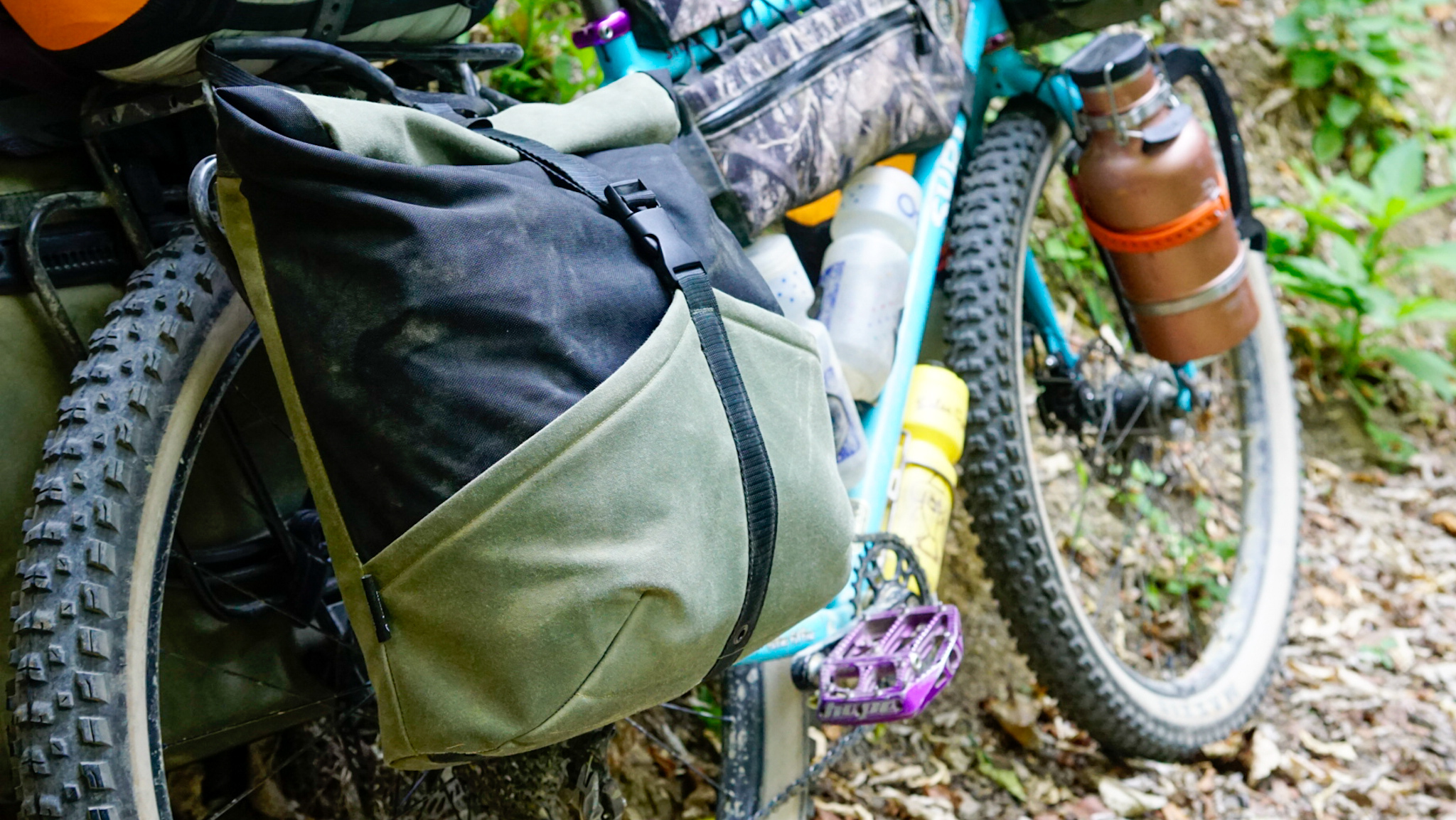 Wayward Riders Louise Harness
Super happy with the Wayward Riders 'Louise' harness from Andy in Wellington, NZ. Super simple, feather light, easy on the budget. A thing of beauty.
Photos: exploring around Rotorua NZ & on the Moerangi Track NZ.
Recommended by Gaye
YeahNah Threadworks Low Profile Snack Bags
Having some easily available snacks within reach while you're riding is an essential for longer days in the saddle. While Stem Bag cylinders are popular, they can get in the way of your knees a bit when pedalling.
Enter the YeahNah Low Pro Snack Bag – Made by Canberra endurance bike packing legend Ty Domin.
Such a simple design that's made to withstand the rugged bush and has been thoroughly tested by Ty and his chief tester, Chelsea. There's a couple of velcro straps to attach it to your bars and another long one to go around your fork crown. The bag has folded sides to expand and will comfortably hold a banana, a bag of lollies or an Up-N-Go. The flap closure keeps the weather out and is easily opened with a simple clip (the latest design has a cool magnetic closure!).
I have one of these either side of my stem, living pretty much permanently on my mountain bike. There's usually a collection of tasty treats in the right one and my point n shoot camera in the left for easy insta captures.
Recommended by Stuart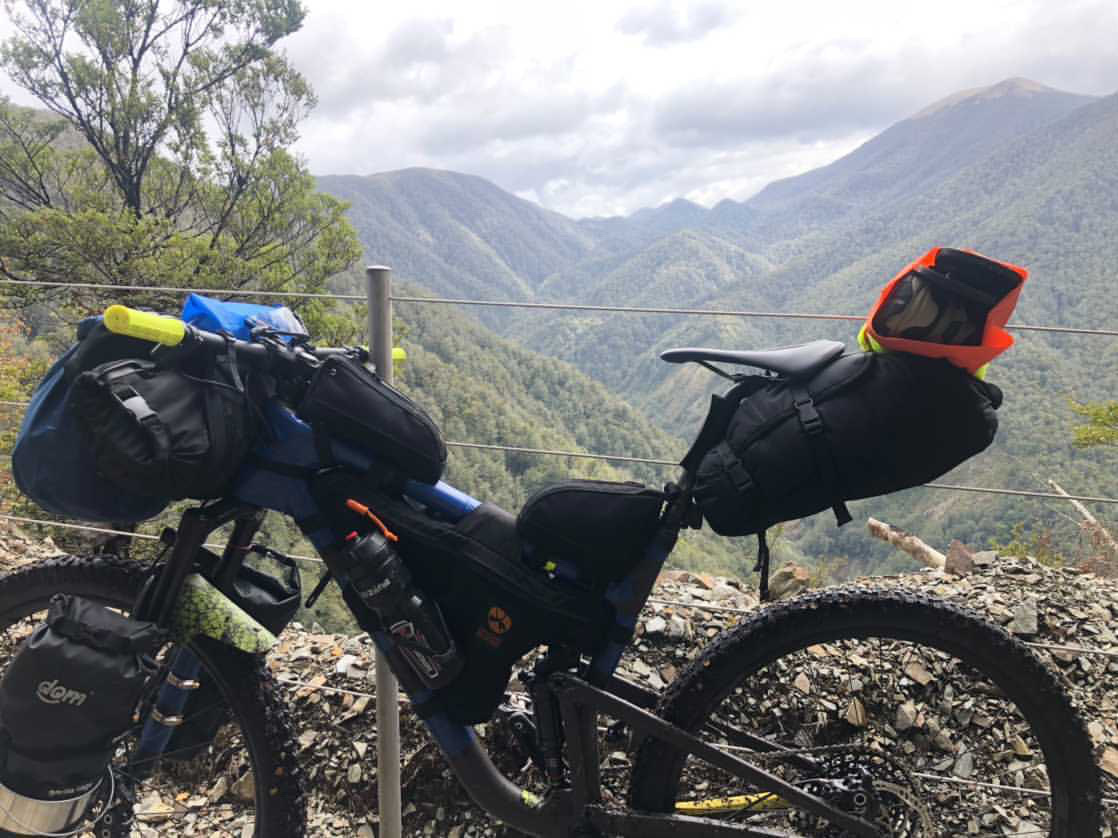 Dancing Moose Custom Frame Bag (and more)
A mate of mine visited Dancing Moose in Rotorua a few years back. He knew I was planning a trip. Spoke to Mr Dancing Moose himself, Harm Zuidmeer and he made the custom frame bag planning easy. Off the shelf I also got the bar roll, glovebox, top tube bags and saddle bags. Complimented by Dom Gorilla bags.
Best experience ever touring NZ for 11 days point to point taking in 4 tracks and the roads (and boat rides) in between. Old ghost road must be on everyone's bucket list but I recommend to smash it out in a day, travel light and enjoy the wicked ride.
Recommended by Jeff
Ground Effect She Shell
I love my Ground Effect She Shell for winter riding…rain or snow!
Happy adventures…post lockdown!
Recommended by Jasmine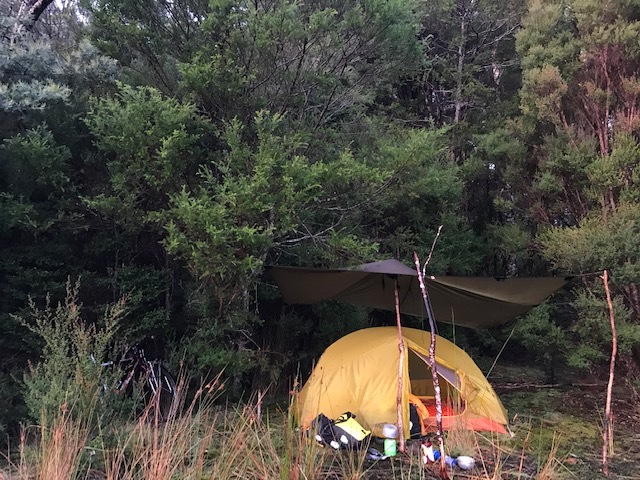 Terra Rosa Gear Tarp 2
The piece of gear that instantly sprang to mind when I saw Mattie's call-out for contributions to this article is my Terra Rosa Gear Tarp 2. This simple bit of silky-smooth silPoly felt like a bit of a splurge when I bought it, but has paid for itself countless times over. It's always stuffed into the bottom of a pannier when I go away. Some decent dry space when camped out when it's drizzly (or pissing down!) transforms any evening that had potential to be a bit meh due to bad weather.
I've used it as a sleep shelter, a wind break, a sun shade, and (most ingeniously I thought) a water catchment system when I was caught out one time. Not to mention the sense of gratification a clever bit of "tarpology" gives, when rigging it up to branches, bushes and/or bikes! It's such a well-made piece, and it always feels good buying from small Aussie makers doing good things to support getting people getting out and enjoying nature.
Recommended by Tyla
Bike Bag Dude Bags
My Bike Bag Dude (BBD) bags have been in all types of conditions: rain, snow, mud. Knowing I can have all my essentials on board is a game changer.
Made right here in the heart of Newcastle. All products are made with the best materials available, and can be made custom to any frame. You will see this product worldwide for a reason because it's made with passion and years of knowledge.
Recommended by Johno
Frameworks Designs Sight Seeker
I originally picked up the Framework Designs Sight Seeker to sit in the basket of my round town bike to carry groceries, coffee brewing kit for #coffeeoutside, a spare jacket etc. It's definitely got a cool 'city' vibe to it. It's super hard wearing and totally up to the job. The shoulder strap and ease of removal makes it great for taking it into the shop with you. It sits in my basket nicely and holds a surprising amount of kit pretty securely.
However, when my main whip was stolen, along with all my bike packing gear, I was left with a week to make my city-bike ready to take on the Thunderbolts Adventure ride over the Barrington Tops. The Sight Seeker carried my spare layers and a bunch of snacks over some pretty rugged terrain… it also provided a welcome perch to rest my head when exhaustion and cramp got the better of me at the top of an 8km climb.
I've retired it back to city duties again for now, but I know it'll be ready to help out should adventure come calling again!
Recommended by Stuart
Alien X Bikepacking Bar Cradle Rack
My bit of Au kit is a handlebar bar cradle rack made by AlienX Bikepacking Accessories. It bolts easily onto the bars and holds a load securely.
Recommended by Ray
kLite Revolution Wheels
I have been testing these kLite Revolution rims for some time now and I am absolutely stoked. Well over 3000km on mixed terrain in some of the harshest conditions.
I have hit many things rocks, logs, sticks – you name it, I have hit it. The technology behind this product is the reason why they are bulletproof (the world's first dual-layer mesh inlay carbon rims). I find the rim to be nice and stiff and even with 43C tyres, the rim is able to bag the tire out for maximum surface contact. It just feels great as a good quality rim should.
Recommended by Johno
Hungry Frame Bag & Terra Rosa Gear Fork Bags
My favorite bit of gear would have to be my Hungry made frame bag, I've not taken it off the bike since getting it 18months ago. Super handy for carrying gear and snacks for wherever you decide to pedal.
Coming in a close 2nd would have to be the fork bags I had made by Terra Rosa Gear, when these are strapped on the real adventure is about to begin!
Recommended by Marty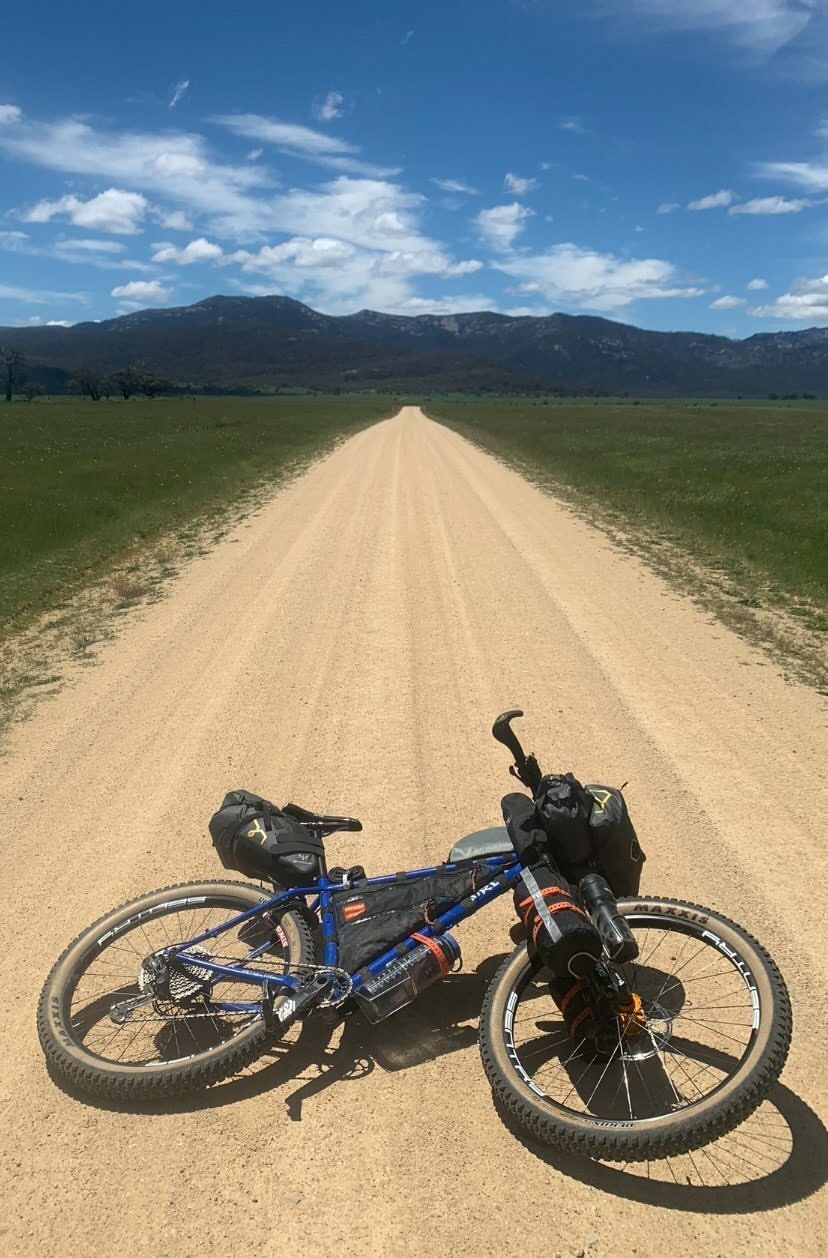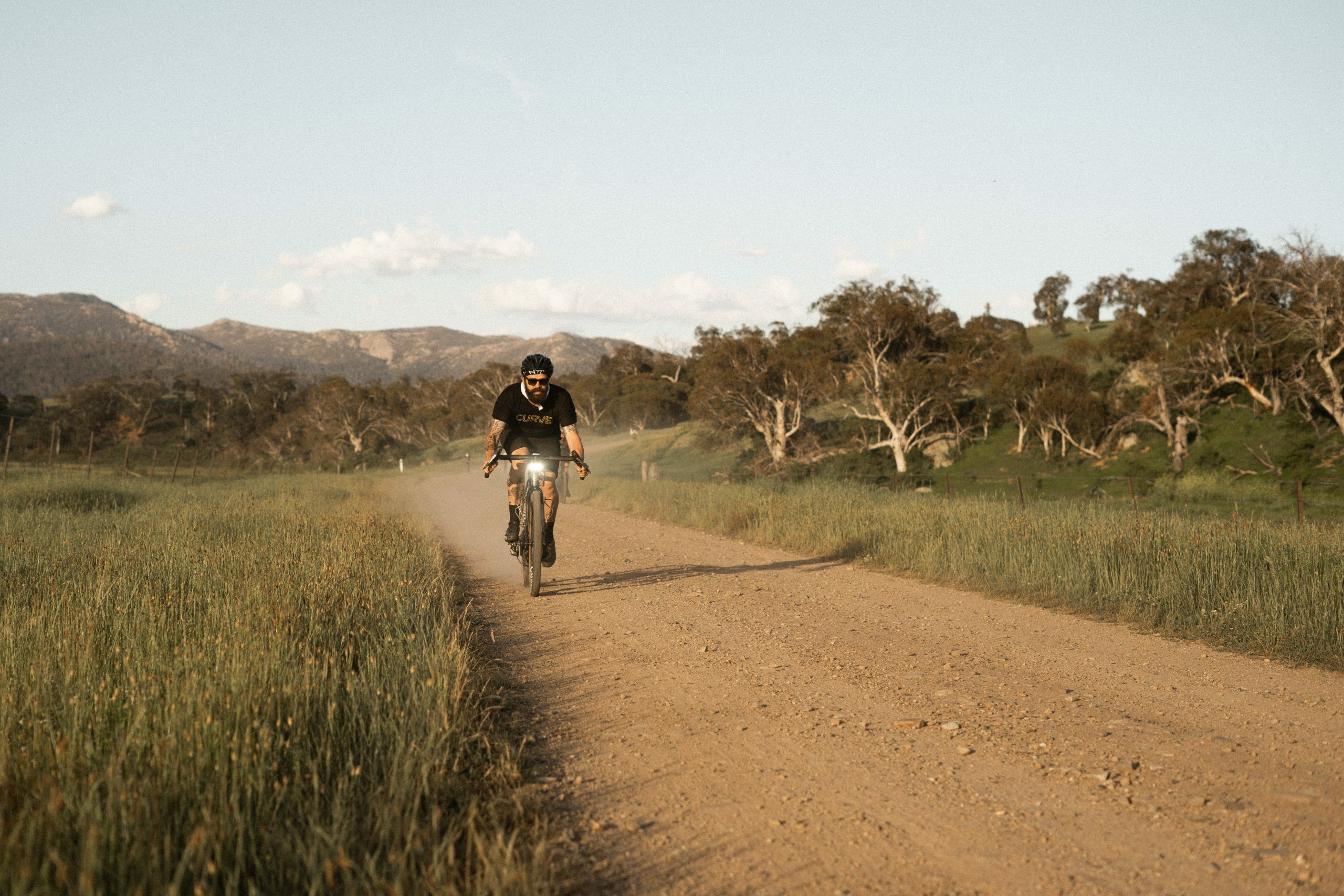 kLite Dynamo Power Lights
Are you looking for a reliable lighting set up? You can't go past kLite to meet these needs.
Powered by a dynamo, kLite lights are bulletproof. kLite offers ultra bright dynamo lighting with powerful USB charging options on the fly. As soon as you start peddling you have light.
I have been running the low drag version of the ULTRA for the last 12 months – this light is amazing! Definitely an option for your bikepacking and adventure cycling needs.
Recommended by James
Photo by @phillipsage and @alldayrollclub
Hungry Big Lunch
I was fortunate to snap up a HUNGRY Big Lunch v1.0 earlier this year when Harry was doing a sale of old stock. It's really been the gateway into a bit of freedom when riding off road. It's simple, spacious and made on Dharawal Country. Here it is featured with my staples: snacks, film camera, myki, pens, pencils, and an ipod featuring a hand-crafted audio book gifted to me by friends. The Big Lunch v1.0 packs a punch, I've been known to carry a loaf of bread in it for a lunch time snack.
I'm currently consulting with Harry about the design of a frame bag for my bike, and he's been nothing but patient and excited about bringing a bit of kook to my bag. If I ever decide to upgrade from the Big Lunch v1.0 I look forward to gifting it to a friend and starting them on their bike packing journey, because this bag has a lot of life and love in it.
Recommended by Annie