Pete's Surly Bridge Club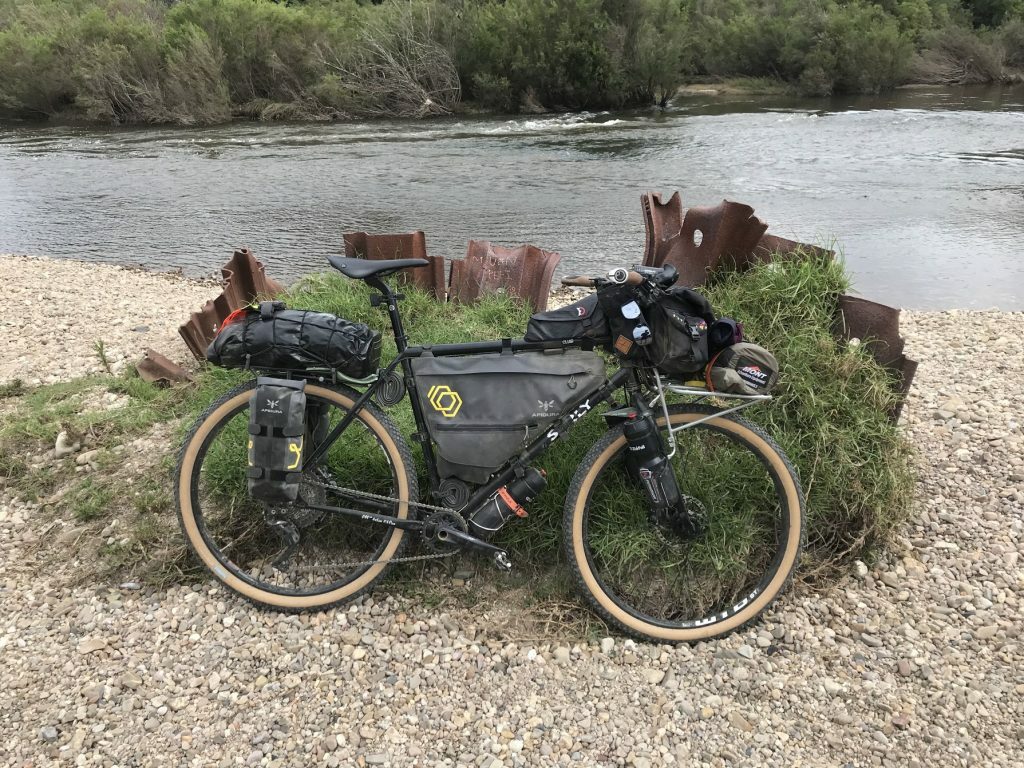 What's the story behind your rig?
Anyone who is trying to build a bikepacking rig (or any bike, really) at the moment knows how challenging it is to find what you're after, it's all a compromise. I bought "Ridge" second hand in late 2021, he was built at Commuter Cycles a couple of years earlier. I suspect he was largely domesticated, never had any experience in the wild.
Honestly, it took me a while to warm to this bike. It came up for sale and I knew it was a great platform to build from so I jumped at the chance, it was a risk that paid off.
Not being much of a flat bar aficionado I had a hard time finding a setup I was comfortable with. I tried Salsa Bends, a Jones Bar, a VO Curvy but couldn't overcome the various flavours of sore and numb. I did what I should have done in the first place, went to the professionals. Cath at Commuter hooked me up with a Tumbleweed Persuader bar and a rare-as-hens-teeth Thomson stem, it's perfect for me.
A groupset upgrade followed, the stock SRAM/FSA drivetrain was pretty tired and needed replacing.
What trip was this bikepacking rig set up for?
As it happens you can read about the trip here on the site. In short, this bike was built to be able to do multi-day adventures that could include all but the most technical terrain. I'm not entirely new to bikepacking and as such have a few options for racks and bags that let me tailor the setup to the trip. An earlier iteration of this bike was a basket rig with a Wizard Works Alakazam, I did a four day tour with some mates and decided it was way too front heavy.
What camping gear were you carrying?
My shelter is a Mont Moondance 2, it was bought before I got into bikepacking, but it's excellent. These are remarkably similar to the Big Agnes tents.
A Mont Helium 300 bag keeps the chill off, Sea to Summit Ultralight Mat and matching pillow underneath.
Cooking kit is very minimal, a Trangia and a Sea to Summit 1.2l alpha pot. I'm a heathen and have been experimenting with coffee bags to avoid carrying/cleaning up an aeropress, I'm not quite a convert but the convenience is unmatched.
Bike & Bags:
Surly Bridge Club XL (circa 2019)
All Shimano XT, 11sp 32t x 11-46 with 2 piston brakes.
Wheels are stock Novatec x WTB i29 with Rene Herse 650b 55mm "Umtanum Ridge"
Cockpit includes the inimitable Tumbleweed Persuader, Ergon GP1 and SQ labs 411 'Innerbarends'. I'm running a fairly short 70mm Thomson stem to give me a little more control over the front load as well as keep me fairly upright. The handling is snappy considering how much I'm usually haulin'.
Saddle is a Brooks Cambium carved C15 atop a Velo Orange Grand Cru post (the arch is actually fairly ergonomic I discovered while hike-a-biking)
Lighting is an Exposure Strada SB, a couple of decent blinkers out back for the main roads.
Navigation is a Wahoo Elemnt Bolt (v2). I carry a Spot Gen3 to ping home and in case I find myself in a pickle.
Up front is a Surly 24 pack rack, a couple of voile straps to hold the tent and a cargo net for stuffing a rain jacket or wet clothes. A Wizard Works Mini-Shazam as a pantry, also works well as a saddle bag on a Carradice support. Lezyne power cages for water bottles, underneath is an Arundel cage.
Midway is an Apidura Expedition frame back, I've tortured this bag and only have a slightly fiddly zip to show for it. Revelate Mag-Tank and a pair of Restrap stem bags.
Out back is a Tumbleweed T-rack with two Blackburn outpost cages and Apidura 3l Expedition fork packs, an Ortlieb 10l dry bag with another cargo net to top it off.
Tell us about the things you love, or things you'd change about this rig:
I feel confident when I'm with this bike. Not a cocky, risk-taking confident but more a "we've got this" confident. The honeymoon is over, but not being surprised when this bike crushes anything I throw at it with ease never gets old.
I'm in the queue for a new wheelset, a SON dyno will aid charging and a DT swiss 350 hub and 30mm DT rims will round out this build.
There's not much not to love, it's the right tool for a lot of jobs. The flexibility to chop and change racks, bags, wheels etc means I'll have almost endless reasons to not buy another adventure bike.