Marty's Nordest Britango
What's the story behind your bike?
I wanted a steel hardtail/bikepacking bike to fit between my gravel bike and my XC/trail mountain bike, for tackling rough rides and multi-day trips in the Alpine National Park near where I live. My gravel bike is a steel Curve – it's sturdy, has plenty of mounts and copes with being loaded up, but I wasn't keen on riding backcountry goat tracks with a carbon fork, drop bars and 1:1 gearing. My mountain bike is a carbon BMC – far too nice to have bags strapped to it and then mistreated on sketchy mountain tracks.
While keeping an eye out for complete bikes I spotted this Nordest Britango 2 frame on Marketplace. The seller had ordered it from Europe, but it took months to arrive, during which time he'd lost patience and bought another frame, so this was still fresh in the box. The hard part on the build was patiently collecting all the parts I wanted before setting aside some time and putting it all together.
It turned out just as I'd hoped, and what I love most is that it's built to my spec rather than being an off-the-shelf bike. It's coped very well on multi-day bikepacking trips but is equally good on the XC and flow trails, so good in fact that it doubles up with the BMC and I can't decide which to ride sometimes.
What trip was this rig set up for?
The photo above is outside the Benambra General Store, a day or so into last November's Hunt 500, which I rode with my mate Ian from Beechworth. Some of the other photos are also from that trip. I had capacity for 3.5lt of water and was carrying food for four days. As it turned out, there was heaps of water on almost all the route and plenty of food refuel points, so I could have saved myself a few kilos.
The fork cages are attached via King Cage USB mounts. The double bottle mount is a Wolf Tooth B-RAD, and the rear rack is an Aeroe Spider, which was solid as a rock. When speccing the bike I made sure I had a second front wheel with a SON28 dynamo, which I used on this trip.
What camping gear were you carrying?
I like bugs and snakes to be on the other side of a zip, so I use an ultralight tent (Mont Moondance 1) rather than a bivvy and tarp. The tent's packed in the handlebar bag, and about halfway into the Hunt I started carrying the poles under my rear bag for extra stability. I had my sleeping mat and bag in the handlebar bag too. My clothes were in the rear bag, and food and cooking gear was in the fork and frame bags. Somewhere in there there's also a Snow Peak titanium sake bottle full of Rutherglen muscat.
Given the likelihood of alpine weather on the Hunt I carried a few extra clothing items that don't usually make the cut on overnight trips: warm ski gloves, waterproof trousers, spare socks and base layers and a sleeping bag liner. I didn't use the gloves or liner, but the waterproof trousers came in handy a couple of times when we were riding at altitude.
Bike and bags:
Bike: Nordest Britango 2 (steel) with Marzocchi Bomber Z2 130mm fork, XT drivetrain, SLX four-piston brakes, SON28 dynamo hub with KLite dual USB charger. I used the dynamo to charge a 10,000maH powerbank during the day, then hooked up my devices to the powerbank overnight. Tyres are 2.6 front and 2.4 rear.
Bags: Blackburn Outpost Elite handlebar bag and frame bag, plus another Outpost handlebar bag on the rear rack (I like the convenience of the both-ends opening of the handlebar bags), 2x skingrowsback stem bags, Restrap fork bag, Apidura top tube bag.
Navigation: Garmin 830 with the full route loaded. iPhone and RWGPS/Gaia (with maps downloaded) as backup.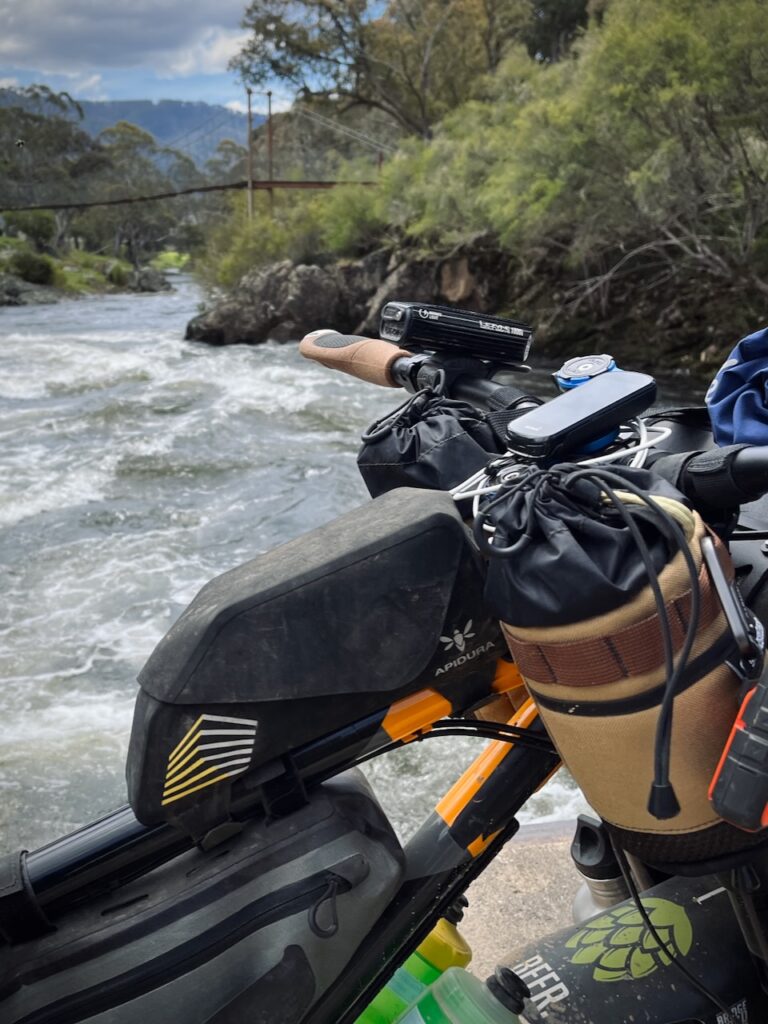 Tell us about the things you love, or things you'd change about this rig:
The bike is incredibly comfortable, which is crucial on long multi-day trips, and the component choices I made have proved to be good ones. The operation of the 12 speed XT drivetrain is a cut above the 11 speed XT on my other mountain bike, it's so good in fact that upgrading the other bike to 12 speed is on my to do list. The 32/52 gear combination that I get with the Burgtec oval chainring and Garbaruk cassette ensures that my legs run out of steam before I run out of gears.
Since the Hunt ride I've upgraded the Outpost cages to titanium to save some precious grams, and I'm still torn between ordering a custom BikeBagDude frame bag vs using the main triangle for water bottles and adding a second bag on the fork instead.
The bike's versatility is probably its standout feature. I can load it up for a bikepacking trip, roll it into town or the pub, or fit the dropper post and change out the front wheel and take it shuttling at Falls Creek. It's a true all-rounder and if I could only have one bike in my garage, this would be it.
If you'd like to share your bike contact us on our instagram or send us an email.