Claire's Curve GMX+
What's the story behind your rig?
When I first saw Curve Cycling's Sarah and Jesse testing the massive second incarnation of Curve Cycling's GMX on some wild adventures in Far North Queensland, I never imagined that I would see myself wanting one of those HUGE bikes, let alone discovering it to be my favourite bike ever!
Fast forward to some off-road adventures on my commuter bike between lockdowns in early 2020. The 40mm tyres of my 2009 Salsa La Cruz were not enough for the places I was going, I wanted something to handle the rough stuff, but provide more long-distance comfort and carrying capability than a mountain bike. Lockdown was a great opportunity for some serious internet research, and I had checked out all off-road bikes I could find. My research led me to Curve. In a sunny moment between lockdowns, I got myself down to Abbotsford and briefly test rode a GMX+. Joy at first ride, I immediately ordered a size small with all the fancy components.
Soon afterwards, I moved to the UK for work and Curve organised for my bike to be ready for me at Giro Cycles in Esher (near to London). I collected it on a Saturday morning and rode the 150km back to where I lived in Southampton almost entirely off road. It was a baptism of gravel, back roads and overgrown bridle tracks lined by brambles and nettles. What a blast! Gerty had been named by the end of the journey; a robust lady, capable of rolling over everything.
Evan from Terra Rosa Designs custom made the frame and top tube bags. The lime green shade is that of the breast feathers of the Swift Parrot, an endangered migratory parrot that breeds in Tasmania and flies across the Bass Strait and as far north as southern Queensland. A favourite bird and an appropriate mascot for a long-distance bikepacking machine, a Swifty sticker from Keep Tassie Wild adorns down tube.
What trip was this bikepacking rig set up for?
My set-up varies slightly depending on the trip. The set up pictured here is from my adventure through the Cairngorms in late Autumn of 2021. This was a particularly challenging time of year to bikepack in Scotland as the days are short, windy,and cold. My route included the Cairngorm Loop Bikepacking Route varied to start and finish at the Aviemore Train Station, with the addition of an extra loop out through the beautiful Balmoral Estate for a challenging and spectacular 400km total distance.
What camping gear were you carrying?
The Cairngorm Mountains in November required a proper tent, four season sleeping bag and stove to keep me safe. I have a Big Agnes one person Copper Spur that can be tightly squashed into an Apidura fork bag with its bike packing specific short poles and pegs in my frame bag. I carry all the warm things I may need during the day (puffer, raincoat, rain pants, beanie) in the other fork bag. The saddle pack carries all of my night time gear.
My sleep system on this adventure was a Sea to Summit UL insulated inflatable mat and pillow, and a minus 6deg sleeping bag that I have had for ages, label since disappeared. My MSR Pocket Rocket stove is stored in a small titanium pot with a reusable coffee filter and flint in my frame bag, where I also carry my collapsible cup and bowl, tools, spares, and food.
There are plenty of resupply options in the Cairngorms, so I only cooked breaky porridge. This is a special recipe of trail mix, quick oat packets and protein powder. My main hydration was a load of warming coffee and tea, with the occasional can of rocket fuel, AKA Irn Bru. I didn't carry a water filter into Scotland as the water is so lovely and there's heaps of it running around, especially in November!
The Bike and Set Up
Frame: Small Curve Cycling GMX+
Bar: 50cm Walmer
Wheels: Curve 29" Wider Dirt Hoops with SP Dynamo
Tyres: Front 3" WTB Ranger, Rear: 2.8" Terravail Coronado (mismatch only because I couldn't get a new Ranger when the rear wore out…at least they are both black!)
Drivetrain: SRAM Red Eagle 32 x 10-52
Lights: K-lite Bikepacker Ultra V2 and Exposure Axis (mostly for use as a torch when not riding!)
Navigation: Wahoo Elemnt Roam
Bags and Gear
Terra Rosa Gear Top Tube Bag: USB charger and cables, lip balm, first aid, Leatherman squirt, head torch and emergency Skittles
Terra Rosa Gear Frame Bag: Cooking gear and food, tent poles and pegs, Tools, chain lube and spares, poo trowel, Packable backpack
Apidura Fork Bags on Curve Rocket Pooch Cages: Tent in one, Spare gloves, beanie, puffer, rain pants in the other (almost always some of these were being worn!)
Apidura 14L Saddle Bag: Sleep kit, long thermal tights and undershirt, spare socks, toothbrush, and tiny towel
Apidura Feed Bag: Spork, rubbish, some sort of bar, Irn Bru or more Skittles!
Montane 1L hip pack with my Fuji XT-30 wrapped in a beanie, wet wipes, and spot tracker.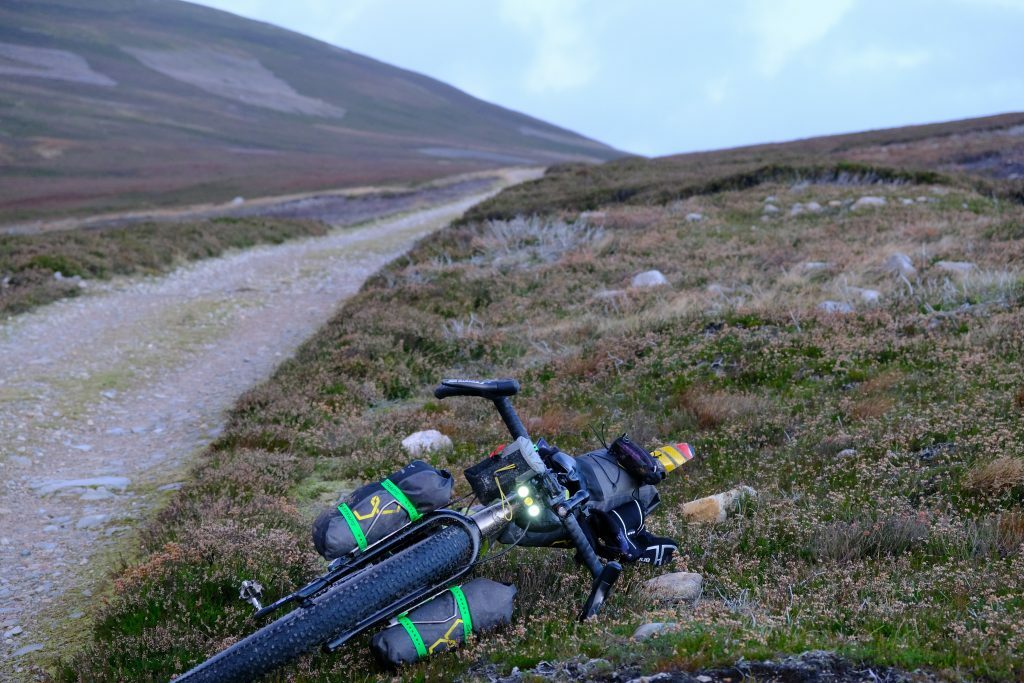 The things I love or would change about this rig:
I absolutely love this bike and after multiple outings, wouldn't change the build at all. With the wide tyres, big hoops, and long wheelbase, she rolls over almost anything. My setup varies slightly between trips, I mostly use a smaller 9L saddle pack as the larger 14L pack sits quite high and gets in the way when mounting the bike and getting my weight behind the saddle for descents. Fork bags or Curve Rocket Pooches are added or subtracted depending on the amount of gear required. The only thing that I wouldn't mind is a bolt on top tube bag as I am always shifting it back upright.
The GMX+ has a heap of bottle storage options that I haven't made use of yet. Keep your eye out for Gerty dressed up in Desert mode with all the bottle bazookas!
If you'd like to share your bike contact us on our instagram or send us an email.