Allison's Surly Bridge Club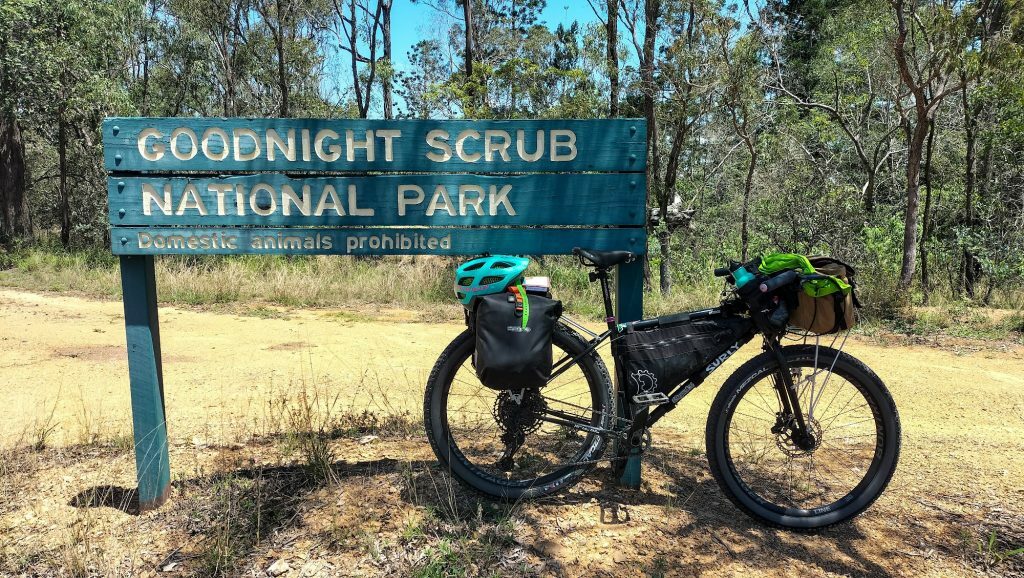 What's the story behind your rig?
Oh, the love of my life! My Surly Bridge Club, named Aurora (after my obsession for the Aurora Australis/ Borealis) has been my favourite bike I've ever owned. I have put my literal blood, sweat and tears into building it up into the beast that it is.
I was trialling this setup to use as my 'long term' touring setup. I got the panniers and rack a couple of days prior to heading off and tested them out over a six day, 565km bikepacking trip from Bundaberg to Brisbane with a couple of mates.
What trip was this bikepacking rig setup for?
Over the six days we rode mostly hard packed gravel, some soft sand, rutty washed out downhill sections, railway tracks and a bit of bitumen. After the fifth day of riding no one wanted the trip to end, so over a steak and a few beers at the Kilcoy pub we all decided to chuck in an extra couple of kms of hike-a-bike to find the ultimate bush camp to chill at for the last night.
I usually ride alone so I was adamant I was able to push my fully loaded rig up the mostly vertical hill (not exaggerating) by myself. Although I was very persistent, I gave in to maybe the 5th offer the boys had made to push my bike for me (I think they were more sick of my grunting than pitiful). I was happy to see that even they struggled to push my bike up and everyone was 'delighted' to have a go!
We did this trip in late October with piping hot days reaching 46 degrees. Mine was definitely the heaviest rig on the ride with others using ultralight bikepacking bags, but if I was going to be using this setup long term it needed to suit me in all terrain.
What camping gear were you carrying?
I recently purchased a Six Moon Designs Lunar Solo. It's so super light and I am happy to report I am getting better at pitching it every time I use it. As for cookery, I'm using a basic 360 degrees pot from Anaconda, where the lid acts as a bowl and a K-mart stainless steel cup. They both go on the fire and are affordable and decent quality. The MSR Pocket Rocket stove and a standard gas canister have fuelled multiple trips.
Bike & Bags:
Surly Bridge Club
SRAM GX EAGLE 1×12 groupset, Jones Bars, Thomson stem and seat post, Brooks B17 short saddle, Bontrager carbon Line Pro 30 MTB wheels, Vittoria Mezcal 27.5×2.6" tyres.
For this setup I ran a Tubus Vega steel rear rack and a cheap but sturdy Soma Lucas alloy front rack for support for my medium 'Big Buffalo Xpac Bag' from Buffalo Bags out of Thailand.
Revelate Designs 'Ranger frame bag', 2 x feed bags on either side of the stem, one from Revelate Designs the 'Feed bag' which was purchased second hand for a couple of beers and a few bux holds my camera and phone and the other colourful little 'Snack Stack Stem Feed Bag' from SkinGrowsBack holds my main water bottle for the day on the other side.
The Ortlieb 'Gravel Panniers' are proving to be a winner in my books!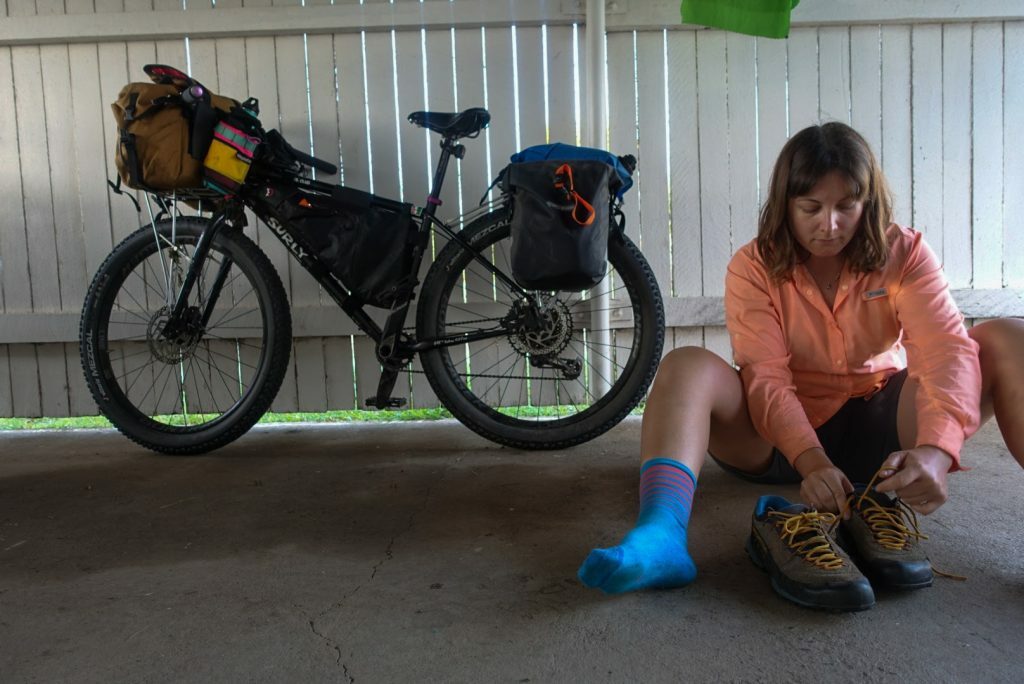 Tell us about the things you love, or things you'd change about this rig:
My favourite bag out of all of them is the Revelate Designs 'Ranger Frame Bag'. The zips are super strong wetsuit zips and I can fit so much in there. Including, but not limited to, choccys, beers, a salad roll, tent poles, pegs, a pump and tools.
What I love about the Surly Bridge Club is that there are so many mounting points! You can run so many different setups using the gear you already have or upgrade with a couple of cages and racks and use every single mounting point to your advantage!
I'm always changing things along the way. I feel like this may well be the best long distance/ long term touring set up for me. I love the accessibility aspect of all the bags I have with this set up. I can open every bag and grab what I need without pulling 100 things out before I get to it!
For a shorter roll or anything with a heap of 'planned' hike-a-bike I would probably just use a couple of dry bags Voile strapped to some Blackburn cages, the saddle or handlebar.