Alex Hotchin
Tell us about yourself, who you are and where you are based?
I am a cartographer, illustrator, adventurer and (sometimes) writer. I grew up on a cattle property in South West Queensland, and now live in Melbourne.
I am at my happiest in the sea.
How did you get started in cartography?
In 2011/2012 I undertook a long ride from Scotland to Cambodia on my bike. When I returned home I made a series of maps telling the story of this adventure, had an exhibition and published a book.
Lots of people wrote about these maps and word spread quickly. Without intending to – I had put myself out there as a "map maker"!
What tools do you use to create your art?
My maps are hand drawn with archival ink pens and watercolour. I like detail a lot so my favourite hand tools are the ones with the finest of nibs: .05 and .1. Each element of the drawing is scanned and assembled in photoshop to make the final map. I also make original artworks on heavy 100% cotton paper.
Most of my drawings are commissioned and I have been lucky to have made maps for people from all over the world. I also make some of my own work that I often offer as limited edition prints.
Do you do much sketching out in the wild?
Yes. A lot! That's what makes me quite a slow traveller. I'm always stopping to draw or paint something….a view, a leaf, a bird. It's how I see a place, how I get to know it.
I always take a small light set of watercolours, brushes and pens. The small Moleskin Japanese concertina sketchbooks are excellent travelling companions.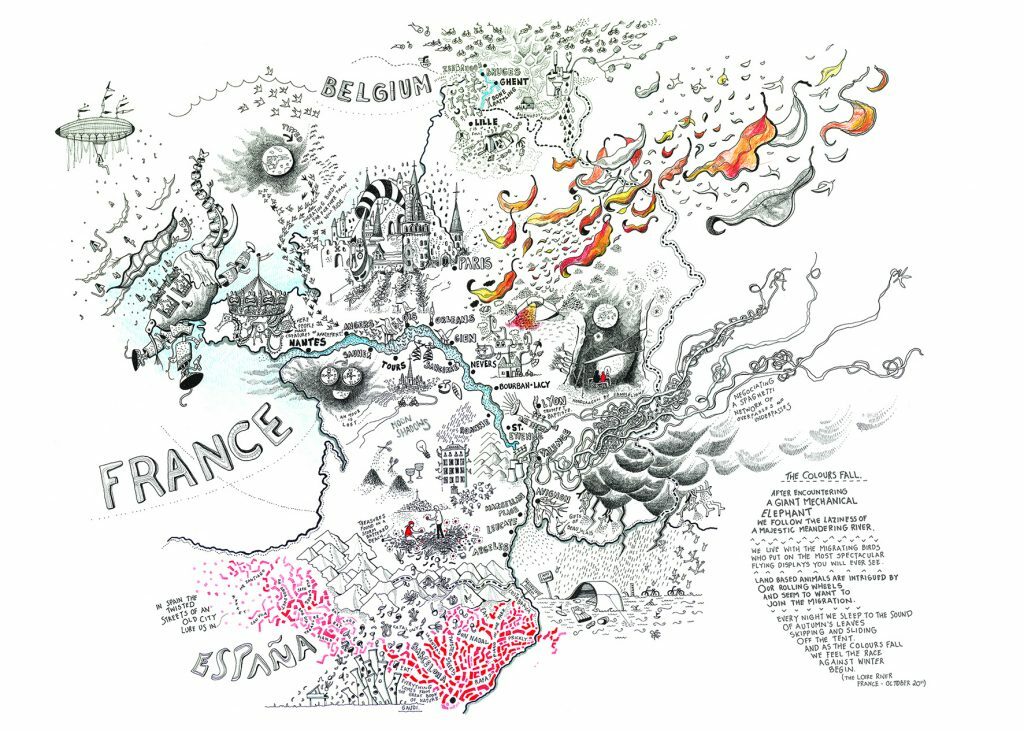 What are your motivations, influences & inspirations?
The world and its patterns and stories are my inspiration. There is so much to explore and discover out there, and overlaid onto every place are the stories and experiences of all living things. I would like you to feel like you go on an adventure when you look at my drawings, and I aim to re-iterate how beautiful the world is.
What's your connection to bikepacking and adventure cycling?
Bikes have always been part of my life. To me they represent freedom. My big ride in 2011/2012 just reiterated to me that riding a bike is the best way to travel.
It makes everyone equal.
Is there any one map that you're particularly stoked on, or that has a meaningful story or connection for you?
My Borderless series of maps that I made when I returned from my trip. That adventure, and those maps – they changed my life and what I do, and how I see the world.
I can say I am fond of all of the maps I make for different reasons – I always learn something. Eventually I usually fall in love with every place I draw.
What's next?
I'm currently working on a series of maps for the Freedom Challenge – a 2150km race across South Africa.
Someday I would like to ride some of the routes I've drawn – particularly Baja and Badlands.
Instagram: @alex_hotchin
Website: alexhotchin.com