From One State to Another – The Victoria Divide 550
"My mind became intrinsically attune to the present moment as if I were in some sort of trance, and I remember looking down at my legs and sensing that the pain I had once felt was now almost non-existent. I stood out of the saddle and powered up one outrageously steep section of road after the next…"
It's not too often that life presents you with an opportunity to truly test yourself. To really strip back your skin, let go of your familiar comforts and taste what it means to be alive in the rawest form. In this modern life of technology and automation how often do we really connect with ourselves? For me, that opportunity came in the form of a 557km unsupported mountain bike race across the state of Victoria, Australia. The Victoria Divide 550.
Preparing for The Vic Divide
Not long before the race began, my partner and I had made a major life change. On the brink of burnout, we took a leap of faith in this unpredictable COVID 19 era, quit our full-time jobs, and shut the door on our demanding, workaholic, 9-5 stressed-out lives. In other words, I had freshly let go of about 6 years of subliminal baggage associated with being an Operations Manager where I had a mobile phone that rarely ever stopped reminding me of what I hadn't done yet, and a brain that had become accustomed to those regular vibrations. So, when it did eventually come time to line up in the dark and start the first few pedal strokes across the state of Victoria I had already shed so much more weight than any training regime ever could.
Regardless, I trained, I fretted, I obsessed and I finessed over the Vic Divide for months prior to the day it came time to leave my job and begin packing for the race. If you were to ask any of my colleagues, family members or friends, they would probably tell you that if they heard the words "Vic" or "Divide" come out of my mouth one more time they were going to scream. I was transfixed. And looking back on it now, I would say it was probably my way of coping with the stress of rolling the dice at a comfortable life of security and stepping out into the unknown.
The Victoria Divide is a 557 KM off-road, self-supported, bikepacking race which follows the Great Dividing Range across the state of Victoria and finishes at the Murray River in Albury-Wodonga on the boarder of New South Wales. The unsupported nature of the event means that there are no aid stations, event staff or organized assistance. All riders are responsible for their own safety and are able to access services which are publicly available to all participants such as supermarkets, public toilets or bicycle mechanics. The course was developed in 2019 and is now in it's third year. The route traverses through the traditional lands of the Wurundjeri, Daung Wurrung, Nguraiilam Wurrung, and Waveroo People.
I can't even begin to tell you how much preparation went into lining up at the Wurundjeri Spur lookout for the Vic Divide. (At least not in this article). My friend and fellow rider Tom Jenkins and I conditioned our bodies (and minds) by throwing ourselves into every far-fetched scenario we could conjure. From leaving on a 200km ride in the bush at 10pm to riding the muddiest 4×4 tracks you've ever seen the day after a storm rolled through. And that's just the physical training never mind the equipment, supplies and logistical planning.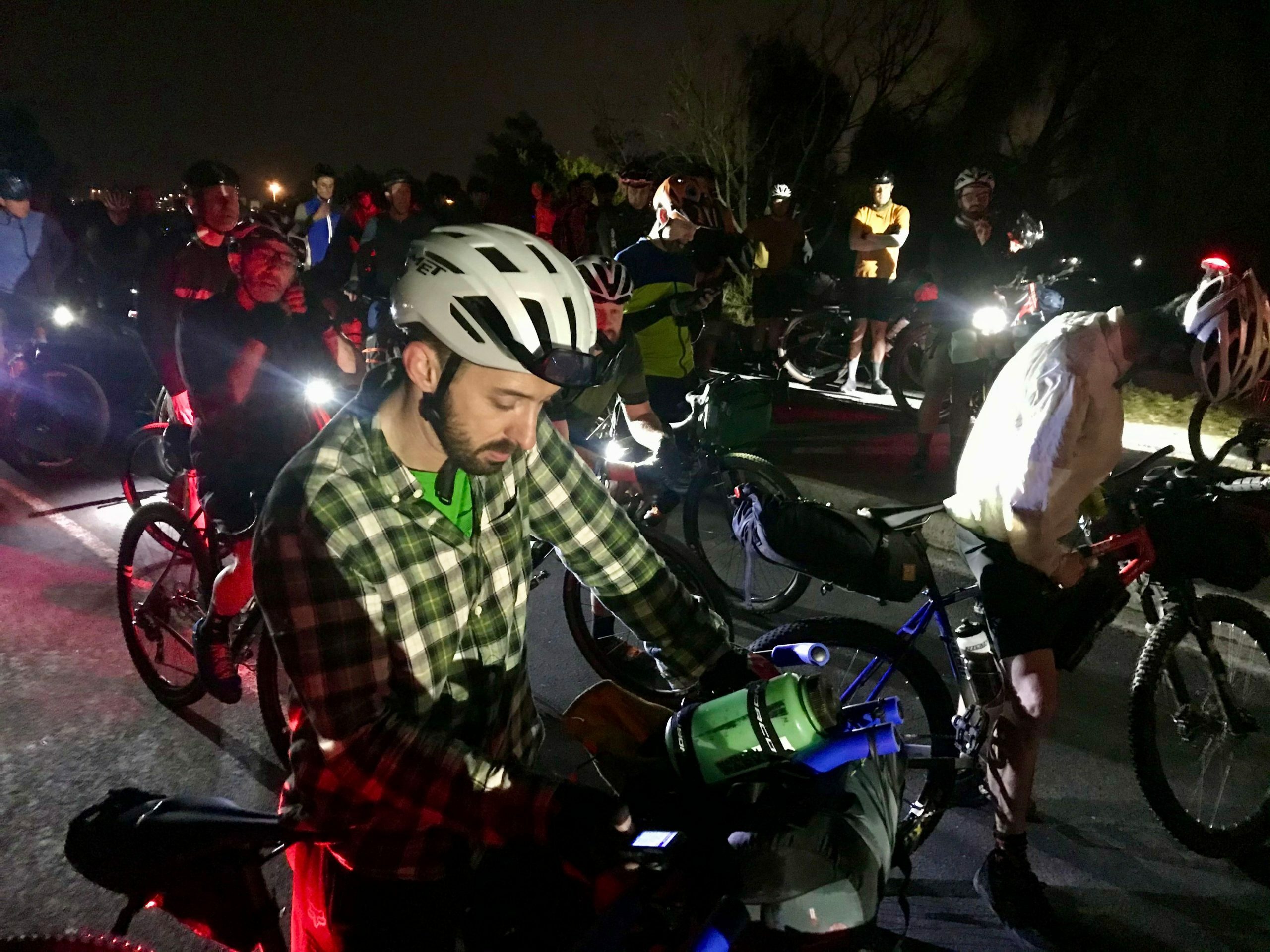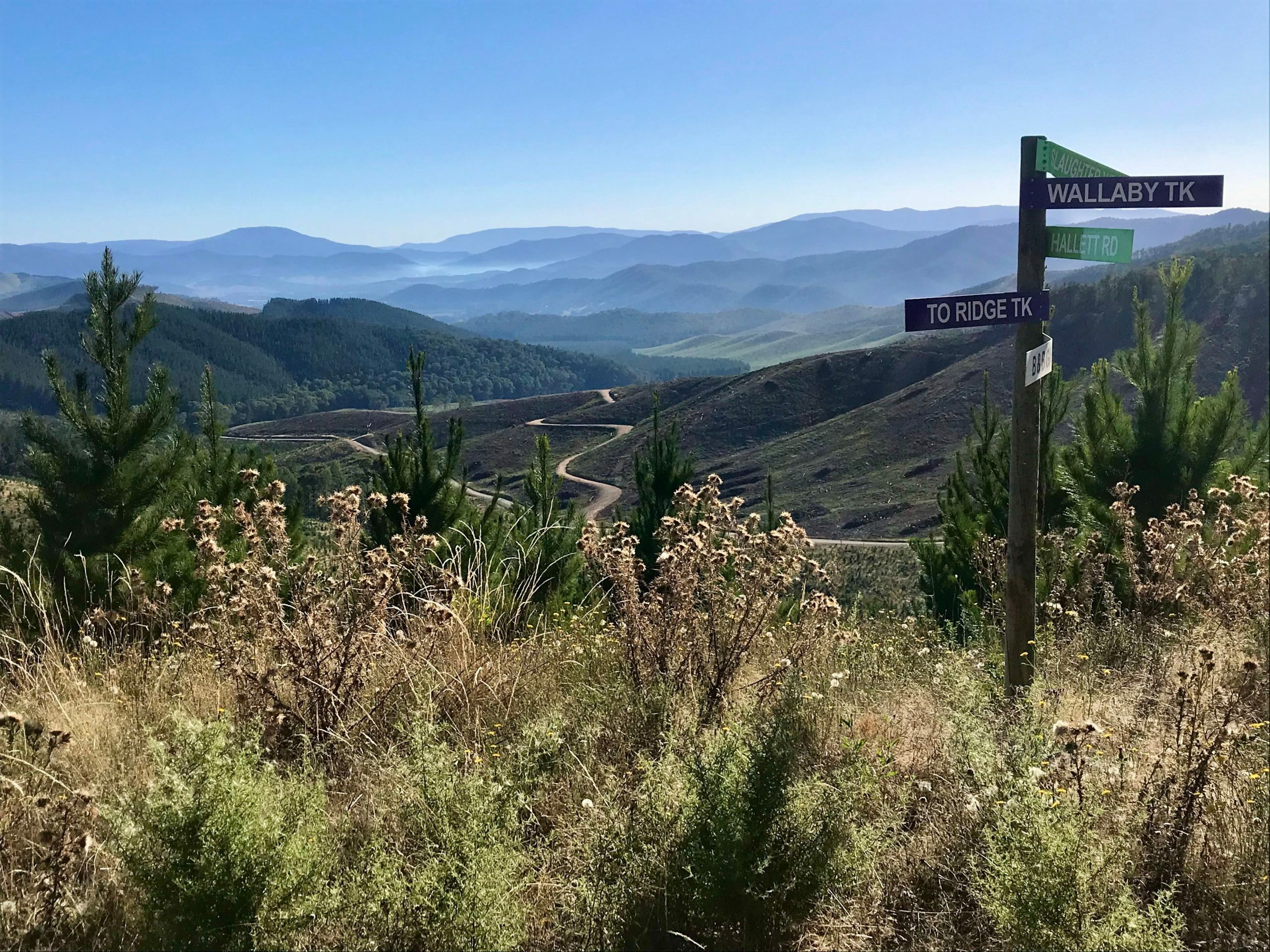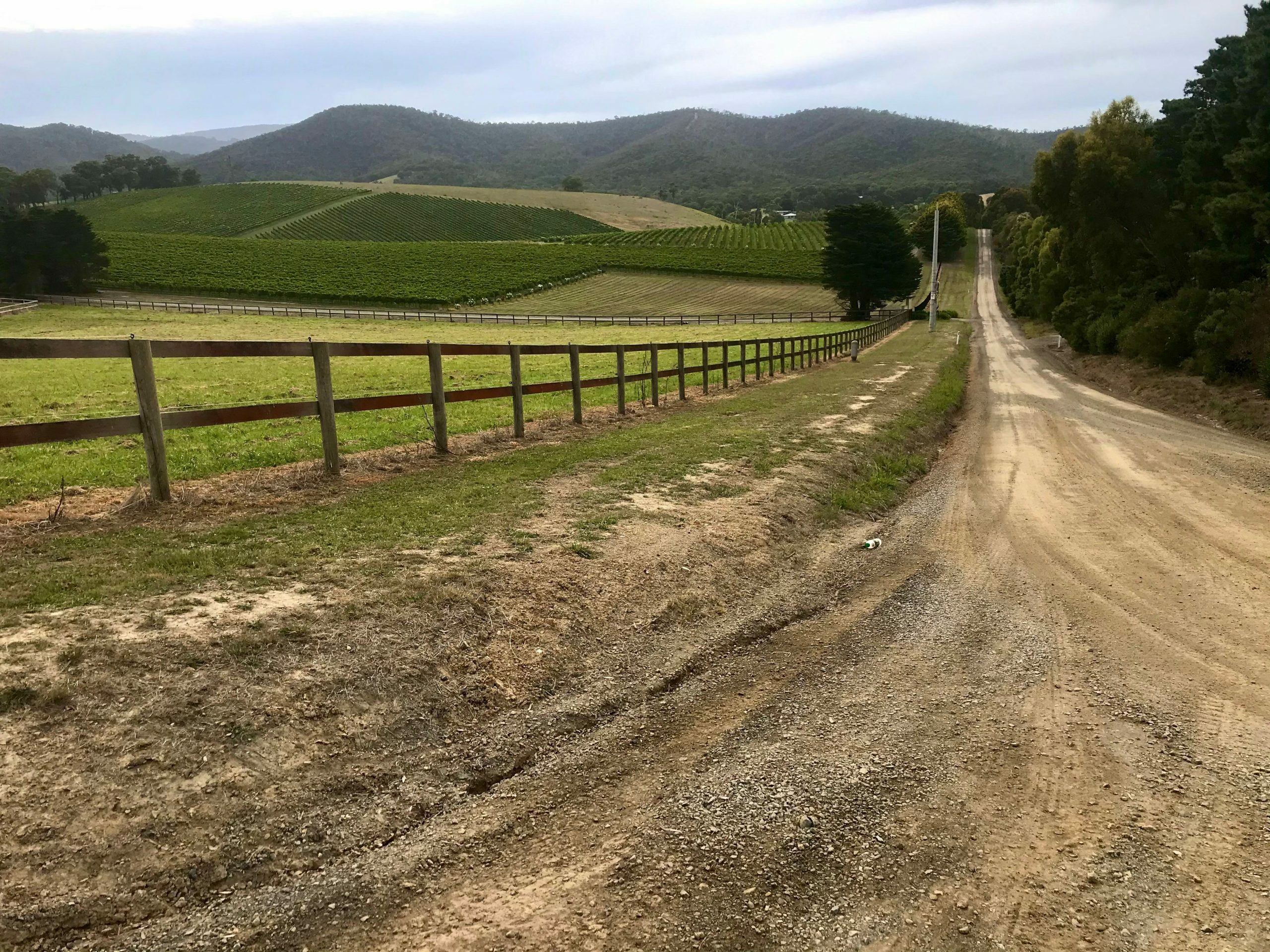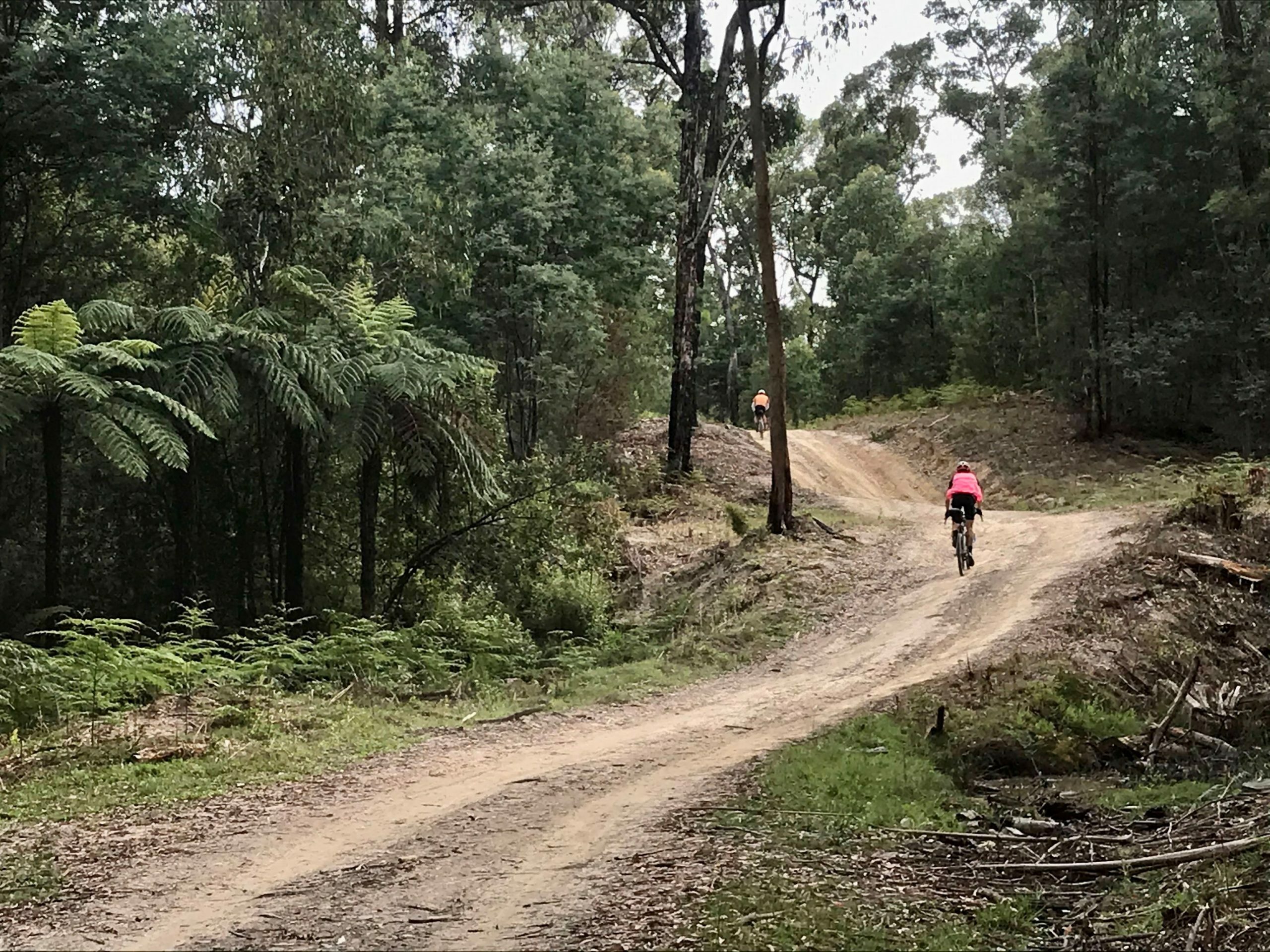 The Day of The Divide
At last, it was 5:45am on Saturday, February 27th and I found myself lined up at the start line for the Grand Depart of the Victoria Divide 550. Lewis Ciddor, the course creator and director, was standing on the back of his car in the dark giving a 'welcome to country' and final send off to 100 other nervous riders with a range of stuff tied to their bikes. We started off like an anxious swarm of bees with flashing red and white lights strapped to our bodies buzzing through the dark, foggy, pre-dawn bike paths of Melbourne and headed to the hills. The pace was already up and the large groups of riders were zooming Northward across the state. Only a couple of hours in though, and before you knew it, the groups had already dissipated and you were likely to be riding solo as the sun came up and warmed your cold fingers and ears. The first sunrise on course, marking the first day of a multi-day and night adventure where the clock does not stop.
I can remember pedalling up the first uninterrupted ascent just passed a small village in the Yarra Valley called Toolangi. The road up Mount St Leonard is a steep and picturesque gravel climb that meanders high above the valley floor under a dwindling population of old growth mountain ash, through strands of lush and towering tree ferns. The climb is tiny in comparison of what lies ahead, albeit enough of a challenge to hear the very early beginnings of your legs shouting "ouch!" and "just how many more days of this torture are we in for?". Interestingly enough, something I've learnt from long distance cycling is that the progressive muscle soreness and fatigue you experience rarely seems to be as steady and linear as one might expect. You sort of anticipate that the accumulated tiredness in your legs (and mind) will incrementally worsen as time goes on, but in reality that is often untrue. In most cases the first few hours of a ride can be more challenging than the next and it is not unheard of to experience highs and lows in the mental and physical sense as days go by. Anyway, we'll get into that later, but for now, just understand that most riders are probably coming to terms with the idea that the first 4 hours they've been riding (equivalent to your average long-ish Saturday or Sunday ride) is really only the tiniest beginning of a very lengthy journey.
An Early End?
Less than 8 hours into the race and not far off from Marysville, the first major resupply point, my race came to a sudden and grinding halt as my worst fears became a reality. A couple of weeks before the Vic Divide began my Dad asked me how much of the success in a bikepacking race I thought was attributed to preparation, and how much was simply just luck. We both agreed that a very large portion is out of ones control and guessed that ratio would likely sit somewhere around 50 / 50. As I came speeding down a particularly steep and rocky stretch of road, and realized I no longer had any rear brakes I found myself thinking of that conversation. Fortunately, I was able to stop and avoid crashing on the rugged and steep section of 4×4 track with only front brakes. I pulled over to the side of the road, looked down to investigate what had happened, and saw a pool of hydraulic fluid in the sand underneath my wheel. My heart sunk. The brake pads were completely gone, and even the piston which actuates the brake pads had fallen out, and in turn caused all of the brake fluid to leak out on the ground. I had packed enough spare parts and gear to get me out of some pretty far-fetched mechanical anomalies, but this was unfortunately far outside of that realm. I could not believe my fucking eyes!
There was no way I could ride another 450km of technical mountainous terrain with just front brakes. I knew there were sections of trail ahead that demanded respect and a full functioning bike to say the least. Over 10 000 more meters of ascent and subsequent descent remained. Long sections of single track where one wrong move could send you plummeting off the side of a cliff to the river below still laid ahead of me. I had done absolutely everything I could think of to prepare for this race, I had literally spent months scouring over every minute detail. Yet, here I was on the side of the road with my hands covered in hydraulic fluid, ready to throw in the towel and cry as riders whizzed down the boulder strewn track towards Marysville.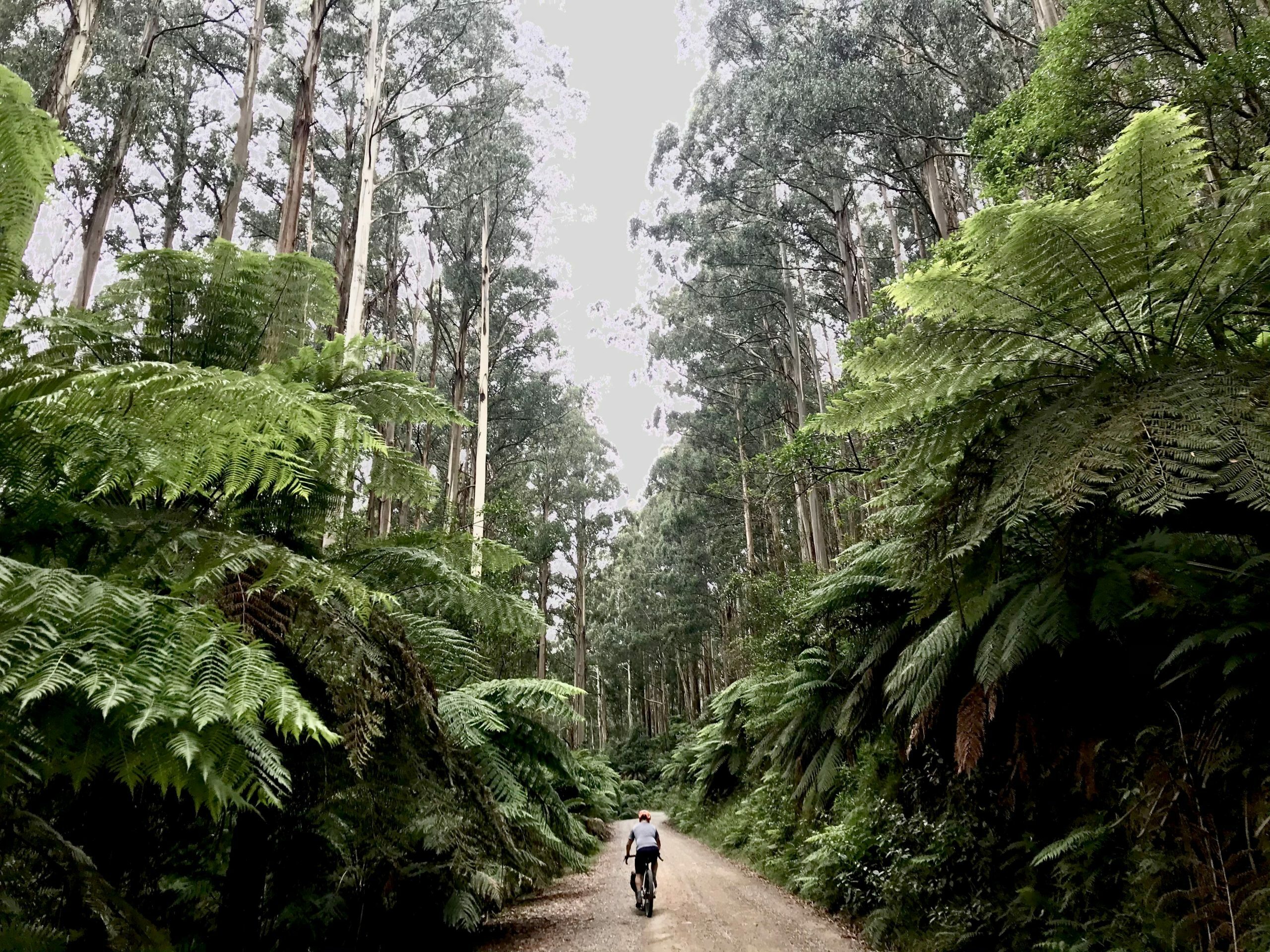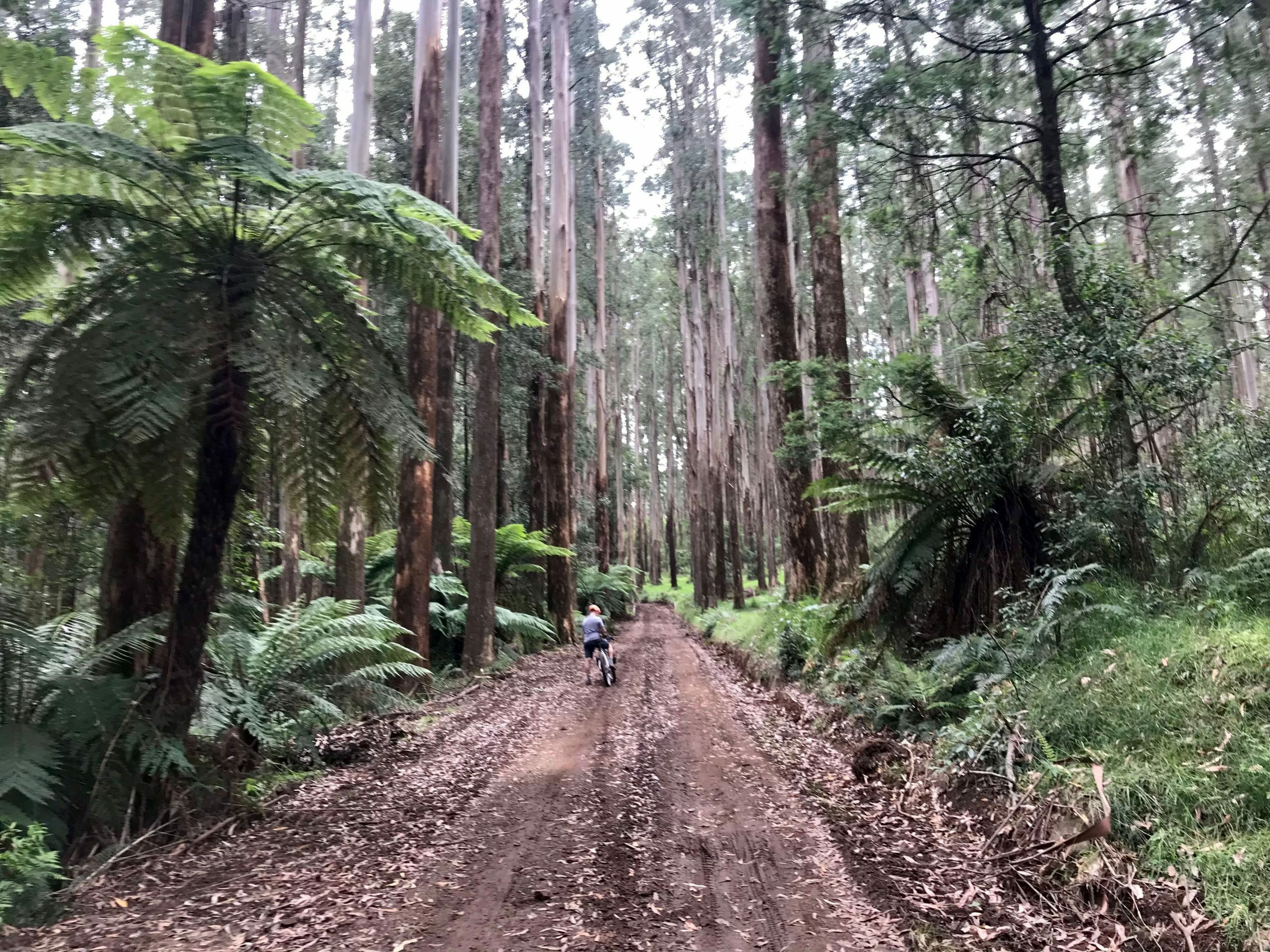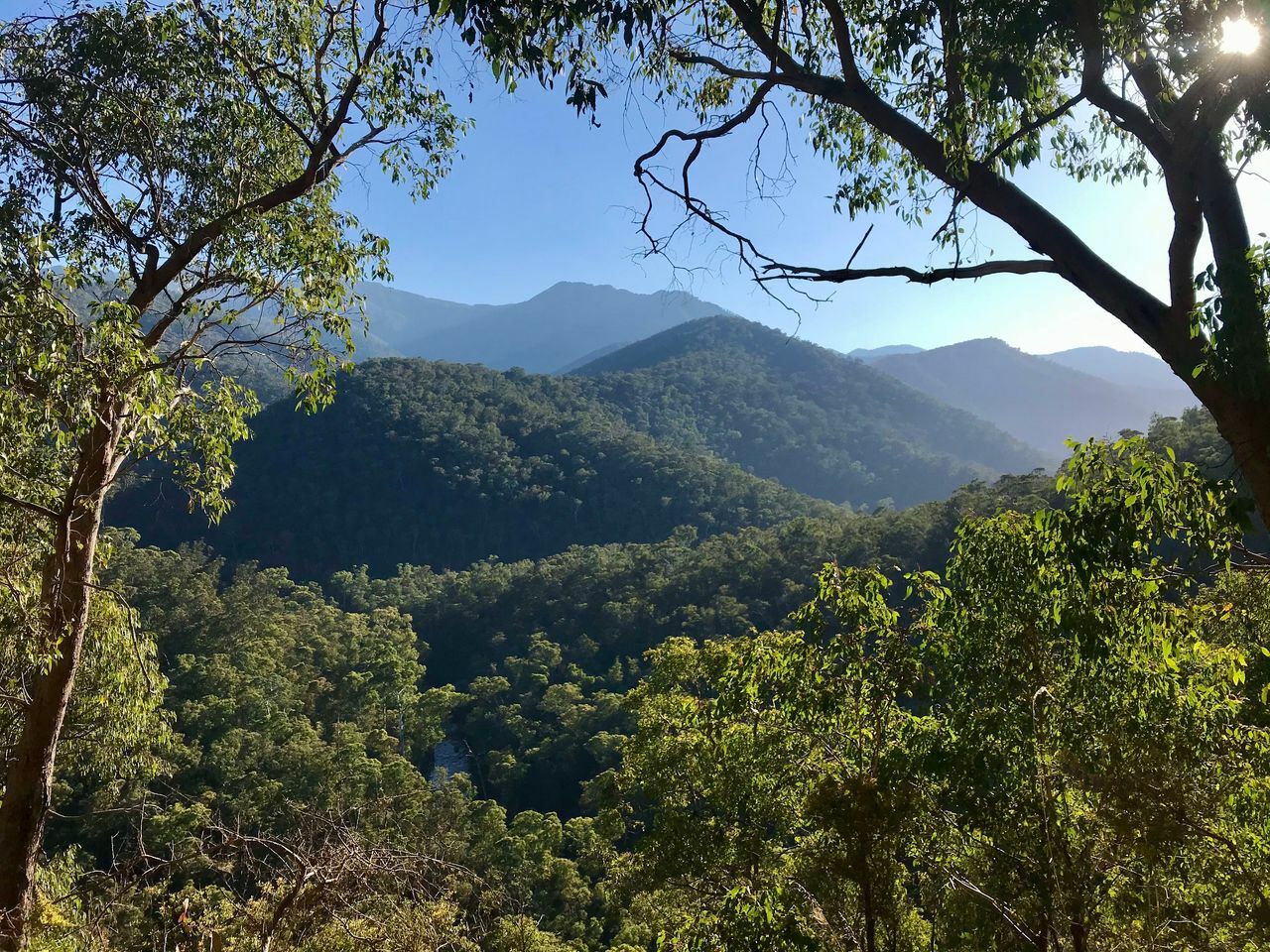 Saved by Baby Oil
I just couldn't bring myself to accept that reality. Not yet. I knew it was more than likely inevitable, but I thought to myself, "If I'm pulling out of this race it is because I have exhausted every single other option available to me". Even if that meant pushing my bike hundreds of kilometres through the mountains until my body wouldn't physically go any further. After all of the work I had put in to get here, I needed to know that I had given it my best shot. And so, I plugged along cautiously with just a front brake towards Marysville.
I would have been quite a depressing person to talk to at that stage in the race. I remember pretty much bitching to anyone who passed about my terrible misfortune. I had already given up on my ambitious goal of completing the course in less than 60 hours.
Thankfully, a French rider by the name of Jean-Baptiste Mariez from Curve Cycling gave me a tiny morsel of hope when he told me about a rudimentary methodology of replacing hydraulic brake fluid with baby oil.. Yes, baby oil.. I repeated the detailed instructions he had given me over and over in my head like a mantra for the entire hour it took to reach town. "Open the bleed valve, squeeze the brake lever in, fill the reciprocal, close the bleed valve, release the brake lever. Open the bleed valve. Repeat…." It was unlikely, but it was a light in the dark when there was no other way of moving forward.
As I limped into Marysville, I was fully aware that my fate now depended on whether or not Foodworks, the only supermarket in town, had baby oil and all of the extra tools I required in stock. If not, I was pretty much out of options. I had worked out a mental list of exactly what I needed to complete the repair so that I could move quickly and efficiently once inside the store.
By some grace of god I managed to purchase a mini socket set, pliers, baby oil, methylated spirits and some spare rags. You could have easily confused the grocery store entrance for a yard sale at that stage as I pulled my bike apart whilst jointly attempting to replenish my physical hunger and thirst. Hot crossed buns, hydraulic fluid, salted cashews, Coca-Cola, oily brake pads, rags, and Sour Patch Kids were strewn across the across the concrete.
"Open the bleed valve, squeeze the brake lever in, fill the reciprocal, close the bleed valve, release the brake lever. Open the bleed valve. Repeat….", Miraculously, and thanks to the directions received hours earlier I managed to bleed the hydraulic line with baby oil whilst avoiding getting any air bubbles in the line. The next obstacle was addressing the brake pads and rotors that were completely contaminated with oil rendering them practically useless. I had brought an extra set, but had already used those as a place holder to keep the pistons in place until I could get to Foodworks. I removed those again, cleaned them with metho, set them on fire on the pavement to remove any additional contaminants, and then re-abraded the surfaces by rubbing them in circles on the concrete. I then put the brakes back together again. To my surprise, when I rode the bike in circles around the parking lot the brakes seemed to now be working again! A fellow rider by the name of Frazer Lorkin, who had sympathetically watched most of this 90 minute saga ensue also just so happened to have an extra set of the particular brake pads I required and I traded some hot crossed buns with him for a spare set in case there were any further issues along the way.
2 hours had now passed but I was rolling again, in good spirits, with freshly serviced brakes, and enough food and water to last me for the next 24 hours without a resupply. I had somewhat inadvertently also given my tired legs a much needed rest after the first 8 hours of riding and took that as an extra bonus as I tried to get back on pace. Feeling renewed, I powered up the steep gravel inclines of Yellow Dog Road, over the side of Lake Mountain and then down the other side into Big River State Park. I was in the zone and felt so grateful to be riding again, so I put my head down and kept plugging forward with hardly even a minute off the bike in the next several hours.
The Howqua River Section
Big River Road lead me through the spectacular valleys of the river in which it gets it's name and onwards in the direction of the Howqua River. At this stage it had been somewhere to the tune of 16 hours since we'd left the Wurundjeri Spur lookout on Kew Blvd in Melbourne's inner-east. I now stood at the foot of the next major climb, this time a sealed road up and over the Mount Terrible Range with the town of Jamieson on the opposite side. The sun had set a couple of hours ago and the full moon lit the road ahead. Determined to get back on track after the previous set back, I decided I would push through.
The starry night sky dazzled overhead as I ascended into the darkness, high above Big River, transfixed and alone. I plugged onwards over the top of the climb, down the winding descent and past Jamieson. From here the Howqua River branches off eastward for the 100km climb along the Howqua River and up to Mount Buller Village. It was now 2:30am and time to get some rest. I rolled out my tiny, quarter-sized portion of a yoga mat and bivvy bag under a picnic table, and filled up my water bottles from the Howqua in preparation for the next day. I knew I would be out like a light, until the cold woke me up again, so I didn't even bother setting an alarm.
Sure enough, and like clockwork, I awoke, shaking in a damp bivvy bag 1 hour and 21 minutes later. It was now 3:50am. I rolled up my mat shivering, shook out my bivvy, strapped it to my handle bars and jumped back on the bike to start ascending the Howqua track. Ready for a brand new day.
Sleep deprivation seems to be a fairly big aspect of bikepack racing. Maximizing the time spent on the bike pedalling and rolling at a sustainable pace, tends to prevail over riding fast and having to stop often to rest. This is especially apparent in shorter two, three or four day races such as this one where It is very unlikely that the fastest riders will sleep much at all. At a certain stage past that point though, the body can't cope with the accumulated sleep deficit, and it becomes exceedingly important to get regular rest.
My goal going into this race was to complete the course in less than 60 hours with around 4 hours sleep. This would be considered a lot of sleep to most riders at the 'pointy end' of the race, but I had learnt my lesson by pushing sleep deprivation to a fairly uncomfortable point in the GDT 400. This time around, being my second bikepacking race, I strategized that I would have a better chance of achieving my goal (as well as a more enjoyable experience doing so), if I gave myself the opportunity to sleep a little more as required.
It was 4am and I was frantically pedalling up the Howqua Track in an attempt to raise my core body temperature. Around 250km in, I made my way along sections of single track towards Mount Buller. I passed a fair few sleeping riders on the side of the trail, and was feeling very grateful to still be in the race after having the entire escapade almost ripped from underneath me the previous day. It felt pretty surreal to still be rolling into the night though. I found my subconscious mind seemed to be confused as to whether I was still riding into the first night or whether it was now the second morning. This inner-turmoil was a little tricky to process at times, but when the sun did come up I was greeted with some of the most gorgeous riding on the course.
The Howqua Track traverses alongside and high above the Howqua River as it precariously climbs out of the valley and along the side the gorge. There is a real sense of moving through some pretty remote areas not often experienced by other cyclists. I can remember the morning sun felt restorative on my tired face as it glinted through the trees and warmed me up. I poured a sachet of instant coffee into my water bottle, and sipped the cold brew as I embraced the fact that it was now morning again, and the dawn of a new day.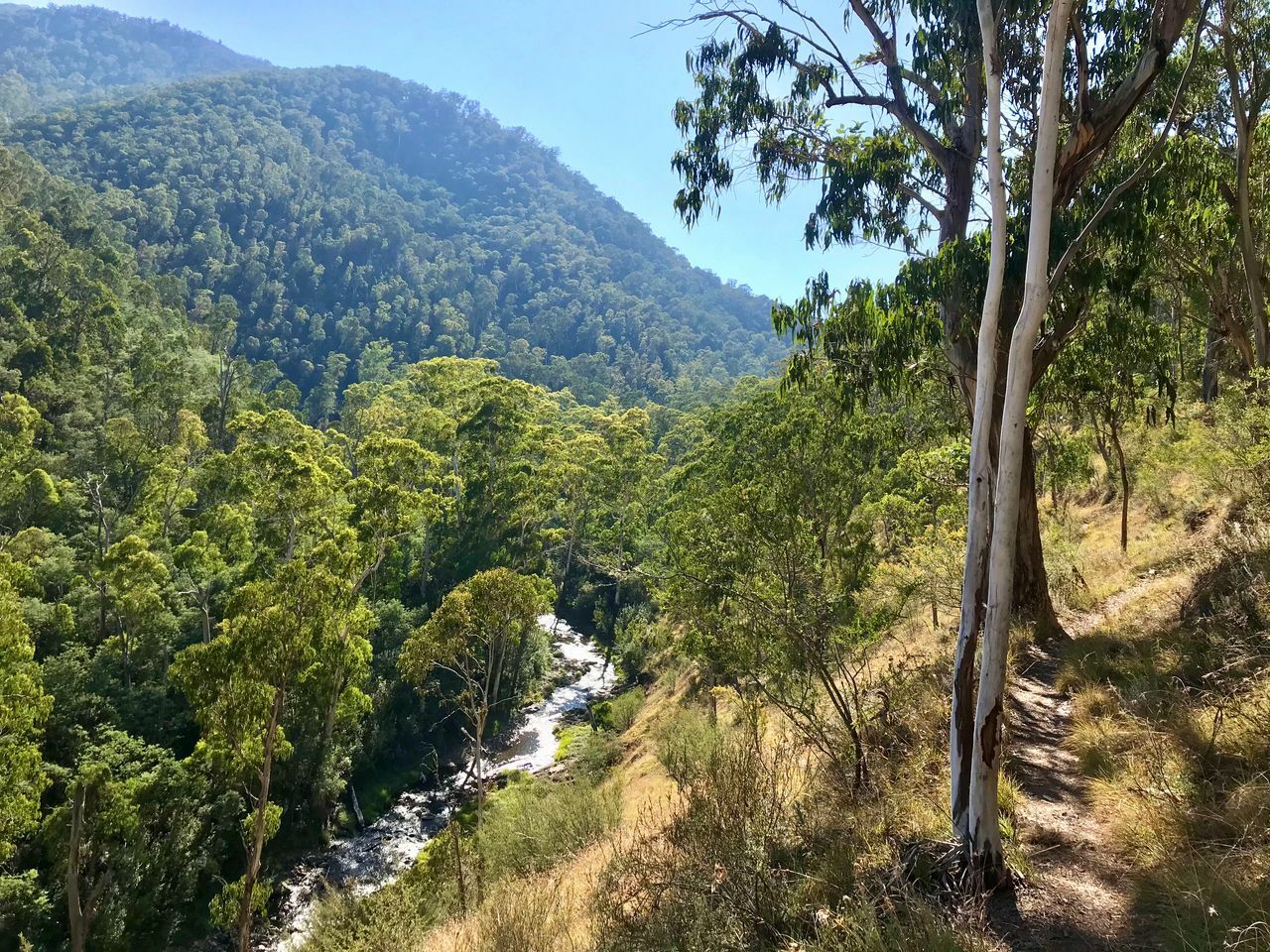 Respecting the Trail
Although outrageously serene, the Howqua Track presents the VicDivider with some of the most hazardous riding of the course. The single track skirts high above the valley floor and river below where one slip up could send you tumbling all of the way down an escarpment in which momentum would not be in your favour.
As the morning wore on, I was increasingly unable to ride these sections with any conviction, and I found myself pushing long stretches of the track. On a much friendlier section of trail I rounded a tight bend as I lost my balance and was unable to unclip my foot from the pedal causing me to fall about half a metre into a bush which ripped my cycling shorts and tore the skin underneath a little. This made me increasingly more pensive as I pushed my bike across the steep sections for what seemed like dozens of kilometres of trail, high above the gorge.
It was around this stage that I ran into the first rider I had seen in several hours, Pete Johnson. He was one of the people I had passed sleeping on the side of the trail earlier and was clearly a very skilled rider. I watched him ride the single track with ease as we chatted intermittently along the trail. I let Pete carry on in front of me, so as to not hold him up or feel pressured to ride sections where I needed to hop off and walk. I watched him effortlessly flow along the edge of the gorge into the distance.
Plugging along slowly, it would have been about 5 minutes or so since I'd last seen him when I rounded a bend to a section of scrubby bush between two long sections of 20+ metre cliff. I noticed a bike over the side. Pete had gone over the edge and into a thorny blackberry bush. He ended up head first, about 2 metres over the side of the trail with his bike on top of him. I tried to help pull his bike off of him, so that he could climb back up, but it was so tangled in blackberry that it posed a real challenge to get out without falling on top of him myself and making matters much worse!!
After about 5 minutes of fighting with the thorny vine we managed to get his bike off of him, and only then was he able to finally clamber back onto his feet and back up onto the trail. He was covered in pokes, scrapes and scratches from the relentless bush. We pushed along a little slower from then on, each with ripped shorts and torn egos in tow.
Living in the Moment on the Victoria Divide 550
By this stage the day was starting to get on and the sun was high in the sky. The mid-day heat was contrasting to the morning cold and I felt it burning my skin as I started to lose patience with the seemingly never ending and unforgiving single track. I started to wish time away.
There is something to be said about being present in everyday life let alone in ultra-racing. Living in the moment. Being in the now. I find the further we let our minds wander away from the present time the more we end up getting stuck pining for future or fretting about the past. It is as if to live in harmony with the universe around us we must be present in the current moment. It grounds us. This is certainly increasingly apparent when pushing our bodies and minds to extreme limits. So in my anxious state, when I started wishing for the single track to finally end, knowing that once it was over I would be happy again, I was pushing against the grain. And in my sleep deprived state that sent me swirling into a mood of angst and dissatisfaction. I was ungrateful. I couldn't even fathom riding for another 36 hours.
I was no longer embracing the moment I was in and instead became annoyed with my surroundings. I was mad at the way the narrow precarious trail we rode along washed out completely in spots. I was mad at my lack of ability to ride the single track confidently. I was mad at how long it was taking to get to the end of this difficult section. And more than anything else, I was mad at myself for being mad.
The single track eventually did end, but I seriously doubt this had anything to do with me wishing it away. From there the Howqua Feeder Track finally crosses the river, and the notorious Mount Buller climb proceeds up the back of the mountain. I took a moment there, at the river and washed my face in the cold mountain river water. I remember it being so cold that it caused every muscle in body to clench suddenly each time I splashed a handful in my face, waking me up as I did so. I also reached into my cycling shorts and applied some chamois cream to the sore spots in order to prevent chafing and saddle sores later in the ride.
After about 120 seconds or so off the bike I started on the climb. It was really hot at this stage, and the sun was high in the sky, beaming down on top of me. I was able to regain some mental composure as my heart rate increased and initiated the flow of endorphins, but my body was still feeling the heat of the day and the 30+ hours I'd been riding. I could feel the sun burning me. I had stopped a couple of times previously to put on sunscreen, but it felt as if I was sweating it off almost instantly.
I kept on pushing up the climb as the views became increasingly more stunning. So many cyclists do the climb up the main tourist road that runs from Mansfield to Mount Buller Village, but so few get the opportunity to experience this remote stretch of pristine gravel up the back of the mountain. For that I was grateful. I was also grateful to be in a slightly better mental headspace than earlier, even if my body was struggling. I was grateful to be in this incredible part of the world riding my bike. After all, I thought to myself, I don't have to be here. I get to be here. That notion propelled me forward. I knew that high-highs and low-lows were an often inevitable aspect of sleep deprivation and ultra-endurance.
I knew that the oh-so-familiar sleep demons would likely come to haunt me again, but at least for now I was content. In that moment the thought crossed my mind that once I did eventually crest the top of this mammoth climb I would be well and truly half way across the state of Victoria.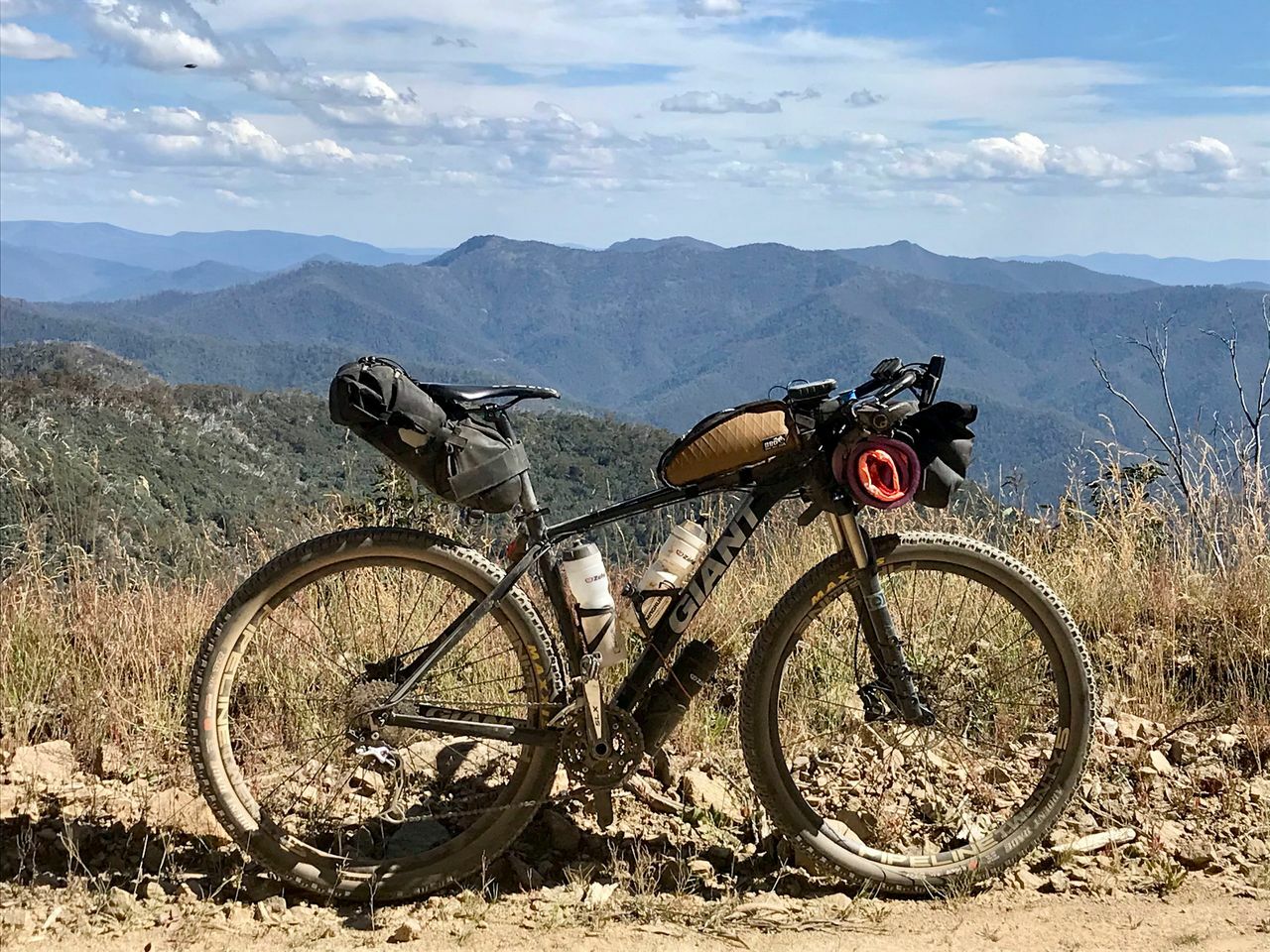 Mt Buller and Beyond
I got to the ski village at the top of Mount Buller in good spirits, albeit with a very battered body in tow. The supermarket had closed about an hour earlier. This was a problem as I would need enough food to get me through the next twelve hours or so to Myrtleford or else I would have to stop and wait until the following morning when the Mount Buller IGA opened. Again, unwilling to take "no" for an answer unless I had exhausted all possible options I rode over to the store anyway. When I arrived the cashier, whom I had met on a previous cycling trip, had thankfully stayed back late balancing the registers, and let a few VicDivide riders in to quickly grab necessities for the journey ahead.
After a bowl of fries with some other tired riders at the village pub, and the best, cold, glass of coca-cola I've ever had, I carried on to continue climbing up and over Mount Stirling. This is the section of trail I was most nervous about covering in the lead up to the race. I knew there would be some pretty technical single track, and I was really stressed about my riding ability after having ridden for over 36 hours with little sleep. It turned out the modifications I did to my old 2011 Giant XTC in the lead up worked wonders. Specifically the angled headset installed by Spoke 'N Sprocket and fancy wheels built by Craftworks really paid off and it turned out my fears were fairly unfounded as I rolled these sections of trail with ease.
I caught up to a few other riders who were at a tough mental low point, and had decided to stop and get some sleep at the No 3 Hut. I decided to keep moving while there was daylight. At this stage we had reached the overall high point of the climbing and had covered over 350km's of the course. The sun started to set for the second time on trail and I knew I would need to stop for another power nap at some stage in the early evening, but the views were incredible and I was feeling great.
Eventually, a couple of hours had passed and I came across another hut in the dark, with smoke coming from the chimney. Given the cold sleep I had the night before, I picked this as a ideal spot to stop for a nap. The couple inside seemed nice enough, but also kind of gave me the creeps. I felt somewhat rude by not even engaging in conversation with them, but I hadn't intended to stop for long. I rolled out my little sleeping mat by the warm fire. I remember dozing off as the man, who smelled of whisky and sounded really drunk, cracked a joke about the rodents who come in from the night to sleep whenever one starts a fire.
I woke up very suddenly about 45 minutes later at 10pm and the cabin was empty. It was extremely hot inside and my bivvy bag was wet again, but this time from my sweat. My eyes quickly darted around the cabin. The couple were gone. They must have returned to their tent outside I thought. Given the time, it dawned on me that if I got up now I would be making really good time. Suddenly the abandoned dream of making the finish in under 60 hours seemed somewhat achievable if I could only manage to ride strong for the next 20 hours without any major issues.
Sleep Deprivation and Baby Head Boulders
That 45 minute nap had worked wonders and the near-to full moon kept my ambitions aglow for awhile as I rode the ever-so-undulating track deep into the second night. I felt consumed by the world around me and time barely made sense to me anymore. The silhouettes of tall, woody and leafless snowgums stretched out overhead on either side of the trail like big hands connecting at the finger tips. They creaked in the wind causing the distant night sky behind to blink, twinkle and pop as their slender bony fingers swayed and shakey limbs projected moon shadows across the trail in zebra formation. My headlight rattled and bounced along the jittery terrain underneath. I crested the top of a hill along an exposed ridge line, hopped off my bike, and let it rest against the back of my thighs as I took a conscious breath and peed over the side. Moments like these were fleeting. I gazed across the moonlit view and the wild mountain backdrop. A wallaby suddenly bounced out from behind and scared the shit out of me causing me to urinate on the front of my dusty cycling shorts. I stood there for another moment and took another conscious breath of the crisp midnight air. A minute or two passed and the alpine breeze blowing against my face reminded me that I'd better keep moving in order to avoid freezing.
I'm not sure how much time had passed between that ridge line and the road to Cheshunt below. The descent had been pretty gnarly, putting my bike, skills, and fitness to the test. Especially in the middle of the night after riding for somewhere around 40 hours. There were these very long and steep sections that seemed to be endless "baby head boulders" as they are affectionately known in the bikepacking community. I would have said they were more like adult size though. There are only two ways to ride that sort of rubble ridden 4×4 track.
1) The slow and timid approach: meticulously navigate the boulders with both hands on the brakes avoiding larger boulders while getting off to walk the really bad sections. This method will surely cause a lot of hand and body pain from the tense body positioning it inspires as well as being much slower.
2) The who gives a fuck it's 3am and I've been riding for an eternity approach: keep your weight back over the rear wheel and surf the boulders with as much speed as you can handle! This method sounds reckless, but in all seriousness seems to be the best practice if you don't want to destroy your wrists and take twice as long doing so. As you can likely imagine I went with Method #2 and it turned out to be some of the most exciting riding of the course!
Anyway, back to Cheshunt Rd. At this stage I hadn't seen another soul for a very long time. I knew I should be reaching a small village called Cheshunt soon. Time seemed to be standing still and no matter how long I rode I seemed to get no closer. According to my GPS odometer, I should have reached Cheshunt by now and I was hanging out to take another much needed nap there. I had been riding for somewhere around 400km. Strangely my odometer reading had seemed to be ahead of schedule the entire race. This was extremely disheartening at times when I discovered in a sleep deprived state that there was still so much further to go. I would later find out that the multitude of technological devices strapped to my handle bars (although looking pretty cool) were in reality distorting each others signals. The SpotTracker (for tracking), Wahoo Element Bolt (for trip info such as odometer reading) and Garmin Etrex (for navigation) all send out and receive a signal. These signals often don't play nice with one another which meant my odometer reading was way out of whack. This really messed with my head a few times. You know the feeling when Google Maps miscalculates the length of time stuck in traffic on your commute to work causing you to take twice as long as expected? Imagine that same feeling, but after 40 hours and finding out that you still have another two hours of riding to get to your destination! This just about ruined me. Again, I would remind myself to be present in the current moment and to stop wishing time away, but the sleep demons were well and truly coming back for vengeance. My rational mind told me everything was fine, and if I just kept riding, I would be there before I knew it. My emotional mind felt as if it had been taken hostage by the sleep demons, and was flying off the handle. I tried using my Garmin Etrex navigation device to work out just how much further the lake was where I had imagined there would be a nice spot to rest, but my sleep deprived brain was struggling to interpret the data. I rode on.
Eventually, after an hour or so of this internal battle I decided to just give in and pulled over to sleep in a ditch on the side of the 4×4 track. I rolled out my little quarter sized yoga mat in the dirt as bull ants and spiders scurried away. I didn't care. I lied down to sleep amongst them. I was apprehensive about what kind of person I would come across out in this remote part of the world at 3:30am. Only someone like me I suppose! Yet, it weirded me out a little that some unknown creep could find me unaware and sleeping on the side of the road. The next thing I remember I sat up very suddenly and was shivering, about 45 minutes after I'd lied down. It was 4:45am. I jumped back on my bike feeling somewhat grateful that I had awoken unharmed. I strapped my bivvy bag to my bars for the third time on course. After about 2 minutes of vigorously riding in an attempt to warm up, I came across the lake I had previously been holding out for with public toilets, a shelter, and picnic tables underneath. I swallowed a sleep deprived feeling of hysteric laughter with a tinge of anger. My knees felt like they were going to seize as I tried to warm up in the frigid pre-dawn dew.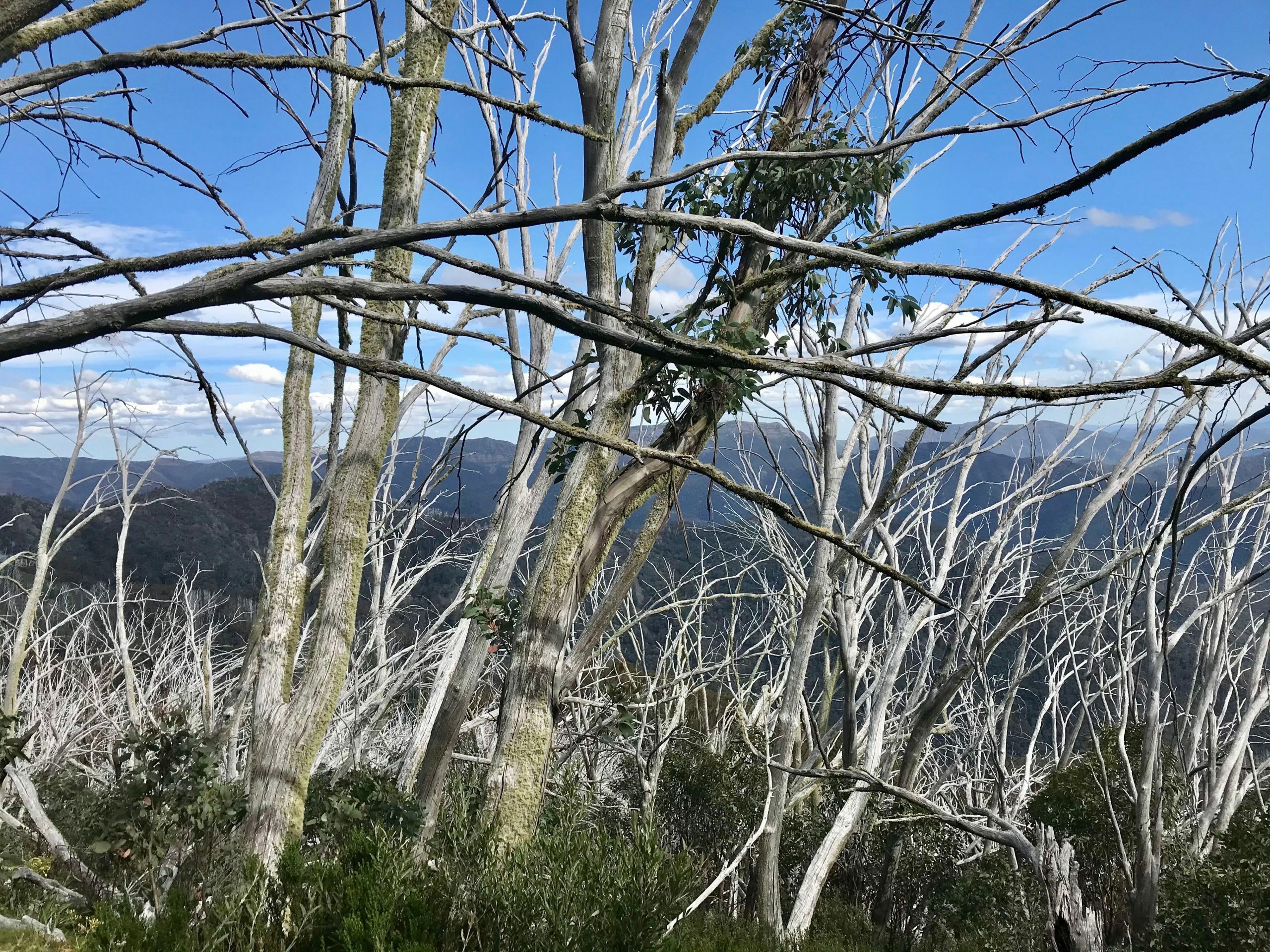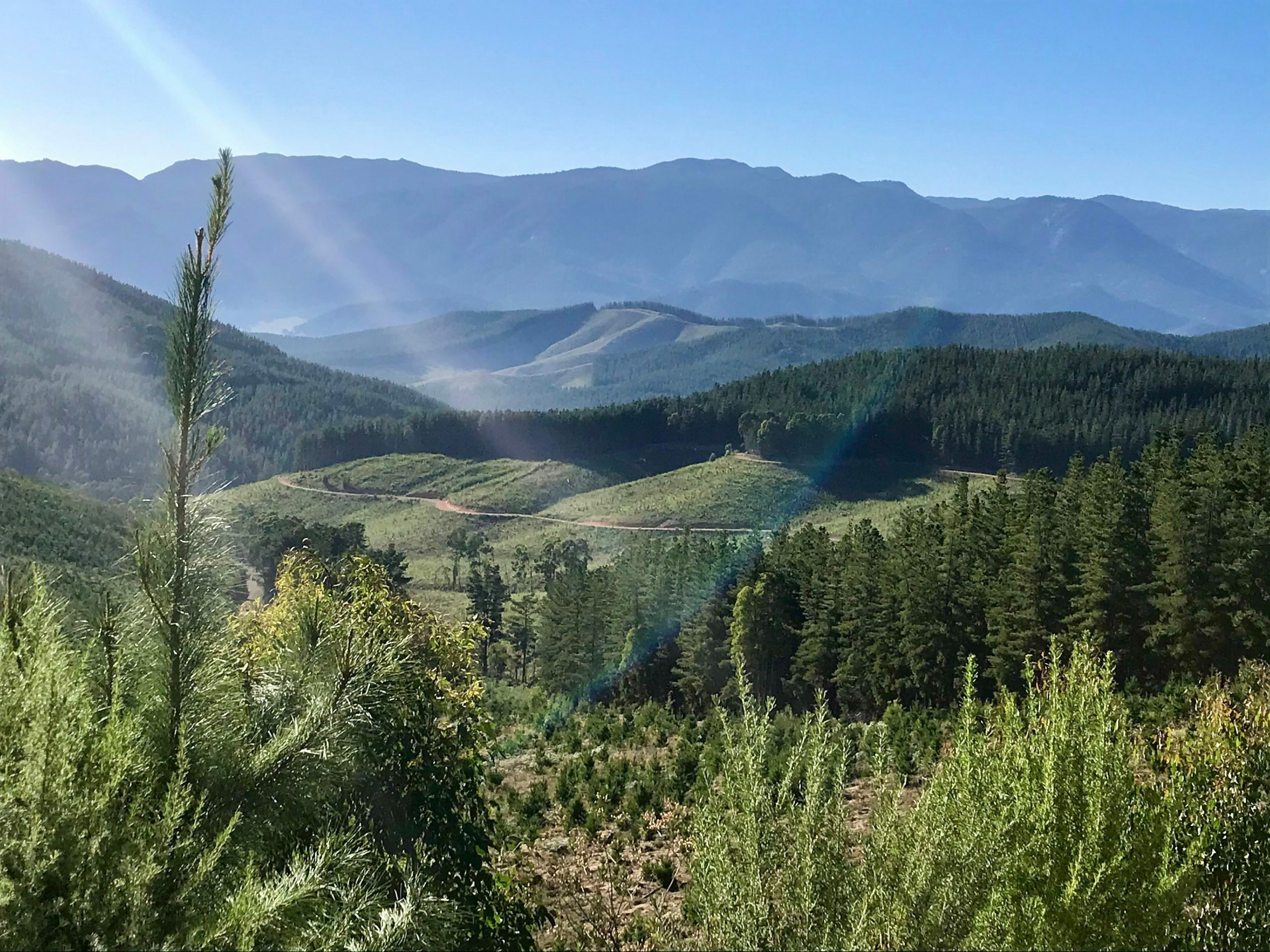 Reaching that Flow State, Maybe
When the first signs of morning were visible in the starlit sky, the horizon slowly and seamlessly morphed from black to a light grey and then a warm pinky-amber colour. The temperature drop was noticeable as the sun's heat forced the cool air further down into the valley I was riding through. I poured another sachet of instant coffee into my icy water bottle and kept riding. My eyes opened a little wider in steady increments as the third sunrise on course gave way to day and illuminated the hilly landscape around me. I sipped my coffee and felt at one with the world around me. I felt alive.
I had now been riding my bike without a real break for around 50 hours, over 420kms with 9000 metres of vertical ascent and less than three hours sleep. I had no idea what position I was in vs the rest of the riders, but knew that I was somehow in reach of my sub 60 hr goal. If only I could keep it all together for another 10 hours of solid riding. The thought of continuing for that much longer at this stage was too much to accept, so I just told myself to focus on the current moment and nothing else. Be in the now. When I thought about where I was and what I was doing in that exact moment the ride never seemed to daunting. It was a beautiful day, I was riding my bike through some outrageously gorgeous country and that was all that mattered. I don't have to be here, I get to be here.
Looking back on the last 10 hours of the ride it feels as if they played out like individual scenes from a movie. Something happened to me on that third morning and I'm still unsure of exactly what it was. A tangible shift in mental and physical experience. I've poured over scholarly articles, and reached out to various riders without a definitive answer. Everything seemed to suddenly get so much easier. Was I in flow state? Or was this a neurological reaction to the progressive effects of sleep deprivation? Was it the steady flattening of my heart rate and cardiovascular system over three days of strenuous exercise causing my power output to flatline and thus resulting in reduced perceived exertion? Or was it merely some sort of inbuilt survival mechanism that kicked in when my body realised it was in for the long haul? Whatever it was, it felt as if my body and mind were finally getting with the program!
I approached the final climb outside of Myrteford and up The Flagstaff via Flagstaff Rd, a long, steep, gravel ascent with around 1000 metres of vert and several sections over a 15% gradient. The temperature really cranked up high and it felt like I was roasting under the hot sun like a tenderized piece of meat on the barbecue. I was really worried my body would just suddenly give up in a dramatic display of resistance and stop allowing me to move forward in the 30 degree heat. Instead the opposite happened and I almost couldn't believe it.
My mind became intrinsically attune to the present moment as if I were in some sort of trance, and I remember looking down at my legs and noticing that the pain I had once felt was now almost non-existent. I stood out of the saddle and powered up one outrageously steep section of road after the next without stopping to rest or catch my breath. My body felt almost unstoppable and I had the sensation that I was no longer working to keep my momentum moving forward. I was in the now.
The route relentlessly traversed further through one undulating landscape after the next, but I kept my focus on spinning the pedals past each obstacle I came across. Eventually, I came to the last long section of single track outside of Yackandandah at around the 510km mark of the course. The trail weaved, dipped and dived for 8 kilometres, through endless eucalypts and tree ferns in every direction imaginable. Previously on course I had ridden sections of single track very slowly and cautiously, but in this new mindset I was able to focus so intently that I rode them like a man possessed, well above my usual skill level.
Finishing the Victoria Divide 550 in Under 60 hours
I stopped to fill my water bottles in a stream off the side of the trail where the single track crossed over a 4×4 section of road. A large tree fern sheltered me from the sun above and I stood at the edge of the water for a moment as I found myself questioning whether I was actually awake or in some sort of a dream, still back on the side of the road outside Cheshunt. The forest around me was every shade of green and lush. The air was thick and humid. I sipped at the cold water and sensed how all of the life around me was contributing to the stream at my feet. I drank it all in.
The air, the sun, the light, the dew.
I am on the brink,
I am before the edge.
Where life is born and all life ends, I am subconscious.
My feet.
My face.
My heart.
My hands.
I do not accept the pleasant.
I do not reject the awful.
I am the world.
I am the mountains.
Instead of stopping to resupply in Yackandandah I kept moving and almost recklessly raced through town to start on the last 40k of the course. I was 56 hours in and couldn't let myself lose focus now or everything could crumble so quickly. It felt precarious. For that reason, I tried as hard as I could to not let my mind find comfort in knowing the course was nearing an end. I was afraid that if I did so my body would finally stop and my mind would not be able to cope with the challenging sections of riding that may lie ahead. Instead I rode as hard as I could in every moment.
The last two hours towards the finish line were like a time trial. I stood up and powered through every hill climb. I ducked down into the aero position on every flat section, never allowing my mind to find comfort in success. My thoughts felt slow now and my legs were fast.
I summoned every last bit of strength I had. The smell of the air, the flora, the humidity, the wildlife had all changed. I caught a glimpse of the Murray River in the distance and then there was the bright orange and red sculpture that marks the end of the route.
In 58 hours and 25 minutes I had journeyed from one state to another.
Thank you to:
Spoke N Sprocket for all of the mechanical support and friendship in the lead up. Vince, Nate, Fiona, Scott, and Crew.
Craftworx for the beautifully made wheel set.
Jess Douglas for the insightful coaching and helping me achieve my goals in the last 2 weeks leading up to the race.
All of the riders on course. You are all an inspiration and gave me the courage to continue. Jimmy Röstlund, Jean-Baptiste and Steve Varga from Curve Cycling. Sam Daw, Pete Johnson and Tom Simpson. Frazer Lorkin for the brake pads.
Emma Flukes and Dr Stephen Lane for your help with my research for this article.
Lewis Ciddor for giving so many the opportunity to experience something so incredible.
All of my friends and family for your support and patience leading up to and after the event.