Thunderbolts Enlightening, very very Frightening
It's easy to get into a regular routine and ride the same routes and trails all the time. Though there's comfort in that, it can also get a little tiresome, so I like to mix it up with adventures further afield. We're all short on time these days so if someone else offers up a ready-made adventure, it takes some of the planning and uncertainty out of lining one up. The Thunderbolts Adventure, organised by Graveleur, did just that. In the need for a challenging weekend of bikepacking and a little escape from reality in unfamiliar country, I signed up and, as a couple of pals from Canberra had the same idea, we gathered a little crew to car-share up to Gloucester. Road Trip!
The route itself is a sort of out-&-back covering 250km. It takes in a significant portion of Thunderbolts Way, starting in Gloucester, NSW, and riding across the glorious Barrington Tops. With over 5000m of vertical elevation over 2 days, riding on unpaved surfaces, it's not an event to be taken lightly… but then, where would the challenge be if it was? The challenge ended up being more than I bargained for and resulted in many learnings.
The team at Graveleur run the event annually and a lot of organisation goes into making up the 'Adventure' part of the title. Your entry gets you overnight camping at the halfway point, a cracking cooked dinner and breakfast, more on that later, and they even carry your tent to the mid-point for you! The 2021 route saw some last minute changes after heavy rain left a portion of the usual route caught in a landslide and deemed unsafe for use. The new route still took in the good stuff but, crucially, added some severity to the end of day one.
1 week to go: Disaster
Prep is all too important on a big ride and the weekend beforehand I put some thought into my packing strategy and some effort into tuning up the bike and ensuring everything was working. Nutrition should be high on your planning list too, or at least on it. Note its absence above.
My plan was to ride my drop bar gravel bike with 2.1" 650b rubber, a comfy position and good stopping power. However, Beelzebub, it seemed, had a devil put aside for me. I awoke on the Sunday morning to find our bike storage had been broken into and both my two main bikes had been stolen.
The cheeky thief had thankfully left me with my commuter bike though. I spent the next couple of days feeling sorry for myself and deciding whether I should still go to the event, but the bike community never ceases to restore my faith in the world and I was blown away by offers of loaners and assistance to get me riding again.
What bike for a gravel adventure?
It's a frequently asked question, along with what tyres, saddle, bag setup.
The answer is actually pretty simple: The bike you've got.
Never has this been as clear to me as it was then. Like many, I spend plenty of time tweaking my bike setup and trawling Instagram to get inspiration from other setups and dreaming of my perfect build. Ultimately though, one of the best things about gravel cycling is the inclusivity it offers. It's about a gentler pace, finding adventure with a 'ride what you brung' attitude. With only my steel, rim braked commuter available to me, I wanted to make what I had work. I swapped out the tyres for something with a bit more grip, took my pannier rack off the back in favour of running a big seat pack, and fine-tuned my position for longer days rather than short city riding.
My bike: Bombtrack Arise (Steel frame and fork) with rim brakes, flat bars, 1×10 gearing and a basket on the front… yes, I left that on!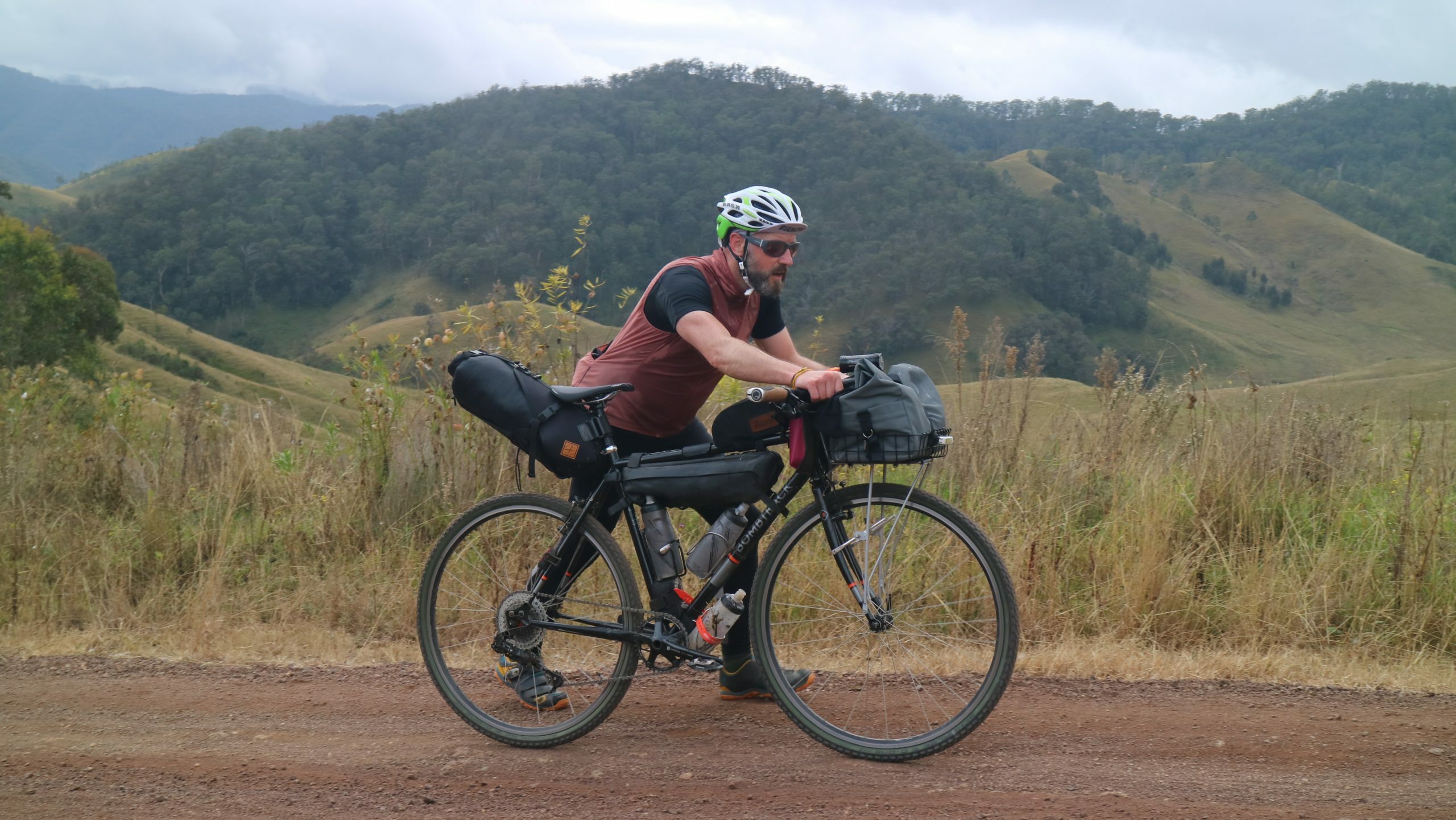 The ride: Little high, little low
The start line was dominated by some beautiful titanium steeds but there were also a few mountain bikes, some more interesting gravel builds and me with my basket and bag full of cereal bars and lollies I'd snagged from Aldi the day before.
It's a pretty big event with a few hundred people lined up to ride. Though the kind folk at Graveleur will carry your tent for you, you're asked to carry everything else you need and there was a variety of bike packing strategies on show to take care of two day's snacks and your chosen sleep system. I was running my sleeping bag, bivvy bag and extra over-night thermals in my saddle pack, snacks in the half frame bag and stem bags, and extra food and any clothes and spares I might want during the day within easy reach, in the basket bag on the front.
We were set off in waves of 50 or so riders, in 15 minute intervals, and stuck in a fairly big group for the first 20km of bitumen. 'Eager' is the way I'd describe the pace and atmosphere at the start. I'm not really one for big group road rides anymore, so I wasn't really in my comfort zone at this point, but got swept along with the spirit of everyone else… possibly using up a bit more energy than really necessary. Struggling to find a comfortable pace, I just sort of hung on with the pack until we left the pavement and hit the gravel.
Once we left the smooth surfaces, the pack was stretching out and so was the scenery. There was plenty of chat with people as we do-si-do'ed between the various mini groups that started to form. Everyone was in good cheer at this point and looking forward to what else the route had in store… though there were a few mentions of an illusive 23km climb toward the end that had me wishing I'd paid more attention to the route profile. Overall, the majority of Day 1 was trending up hill gently, with some pinchy climbs every so often, all heading toward the water stop point at 70(ish)km, somewhere near that much mused final pass.
My riding buddy for the weekend, Mattie Gould, was not feeling his best and the two of us settled into a more leisurely pace. Both of us lean toward a more bimbly groove and enjoy taking our time, enjoying the scenery and stopping to take nice pics. We were pretty aware of the importance to stay fluid and fuel positive and kept sipping and snacking on what we had… though the more we ate, the more we longed for what we didn't have. It seemed my strategy of just taking the cereal bars and sugar intake of a normal ride and multiplying it by the increased distance wasn't a good one and the further we got, the more we craved something savoury, some real food. Why do we never learn?!
Apart from occasional corrugations in the gravel roads, the surfaces were generally pretty good without much that was too bumpy and only occasional loose corners. The vistas were stunning, with lush green pastures stretching off toward rolling hills, punctured by scattered trees of old and new varieties. Event photographer, Bob Barrett, passed us frequently in a safari-ready Landrover defender and we did our best to smile and look stylish… truth be told though, we were really feeling it. My trusty Garmin 530 has a feature which tells you the length and gradient of each climb as you approach it and, while this feels useful for pacing when your legs are good, it was starting to feel a bit oppressive.
As we approached what we knew must be the 23km monster we'd heard about, my Garmin screen flipped to what I can only describe as a rainbow of doom. An arc of colour coded sections of mountain, starting steep with 8km of mostly 15% red and burgundy, before settling to 15km of shallower gold and green gradients. We were struggling to eat anything we had, but acutely aware of the weight of the sugary sustenance that festooned our bikes and that we had to drag up this hill. We were all out of water too… where the &%$* was this feed stop?
The limits of my gearing were evident, and I realised why touring bikes run much smaller rations than this. It wasn't long before we dismounted and settled into a long walk up the brutal slope. The group in front had vanished and there wasn't a soul to be seen behind us. We tried to stay cheery for a while and Mattie had actually perked up and did an incredible job of keeping me moving. My legs, however, were not playing. Every metre seemed to feel harder and steeper and I could swear that my bike was gaining weight as we climbed.
5km into this brute and cramp was biting like an angry dog. I'd try and shake him loose, but his jaws only gripped tighter, occasionally tugging against my struggle to remind me who was boss. This was horrible. I saw a white ute stop to chat to Mattie up ahead and then head down toward me, it was the sag waggon checking on the wounded at the back of the ride to see if anyone needed to be left for dead. They handed me a banana, topped up my bottle with some electrolytes and informed me that I had only 2 or 3km to go before the water stop and the top of the steep section. I can make that, I thought, I need to make that.
As we left the denser gumtree-lined turns, the road slacked off and we attempted to remount and pedal on, trying to stay on the good side of cramp-dog, who was snapping at my heals, we approached the water stop.
Carry on, Carry on
Once we'd had a good rest and refuelled as much we could, we pushed on. Much to our surprise, a few other folk had turned up at the water stop after us, looking similarly broken. Knowing we weren't right at the back gave us a wee boost and I reminded myself that there were no more steep ups to come… and a healthy portion of down. As we cruised along the plateau and the sun was creeping lower toward the horizon, the temperature dropped and we layered up for a big descent back down toward our camp for the night. The sag waggon passed us again and 'suggested' we take a slight detour. The 'official' final descent was apparently pretty rough in places, to the point that the support vehicles weren't taking it, which didn't sound great in either the dark or our weakened state. The alternative was to take what would be the first climb of day two, a smoother more sweeping descent… good plan.
We were joined by Barbara, another rider on a full suss mountain bike, who'd been riding her own adventure all day and was in a similar state of exhaustion. Aiming to keep up morale, we decided to ride together. Something I've always loved about cycling is the camaraderie between riders on the road. Strangers come together with a shared sense of journey and appreciation of the what, where and why we're riding. You might chat, you might not, but you're definitely in it together. As the daylight dimmed, along with our energy levels, and that of our bike lights, we chatted less but rode like a true team. We rode close enough together to make the most of the light beams we had between us. My Garmin kept me informed of turns coming up and I stayed on the front to warn Mattie and Barbara of braking points, loose surfaces and tight bends. Managing speed took some concentration, keeping focused on how much grip I had in corners and how much stopping power I had in my spongy rim brakes.
I'm not sure if it was the fuel we took on at the food stop, the exciting descent, or the prospect of real food and a place to sleep, but I was feeling a bit of a second wind and found a bit of pace in my legs on the 10km of road we had to ride from the bottom of the descent to the overnight stop. It was cold though and we were still far from quick. We were counting down the kms and a wave of relief came over us as we saw the pub lights in the distance. As we approached the car park, we could see and hear the bustle of the party atmosphere amongst the riders that had already arrived. Barbara's husband was waiting for her in the car park and she was super pleased to see him. Mattie and I rolled in and dumped our bikes, checked ourselves in and picked up our meal ticket and a free beer.
There was plenty of folk about, chatting over how their day had gone, sat around various fire pits. We caught up with some of the riders who we'd shared a few km with during the day and compared notes. Our dinner numbers were called and we grabbed ourselves a plateful of tasty pasta options. The dinner was provided as part of the event entry and, credit where it's due, was exactly what my body needed. While some folk were enjoying the festivities and the music provided by a Melbourne based DJ, we decided to go and find and erect our tents and settle in for the night.
Much of the day, there was a resounding thought in the back of the minds of both Mattie and myself; "Why are we doing this?" The Route was super hard, we had pressure of getting to the end at a sensible time, the possibility of running out of light and a lack of time to enjoy what we really love about riding – enjoying the scenery and stopping to take nice photos. It didn't help that we'd got our food plan all wrong. We just weren't enjoying it the way we wanted to… sleep on it.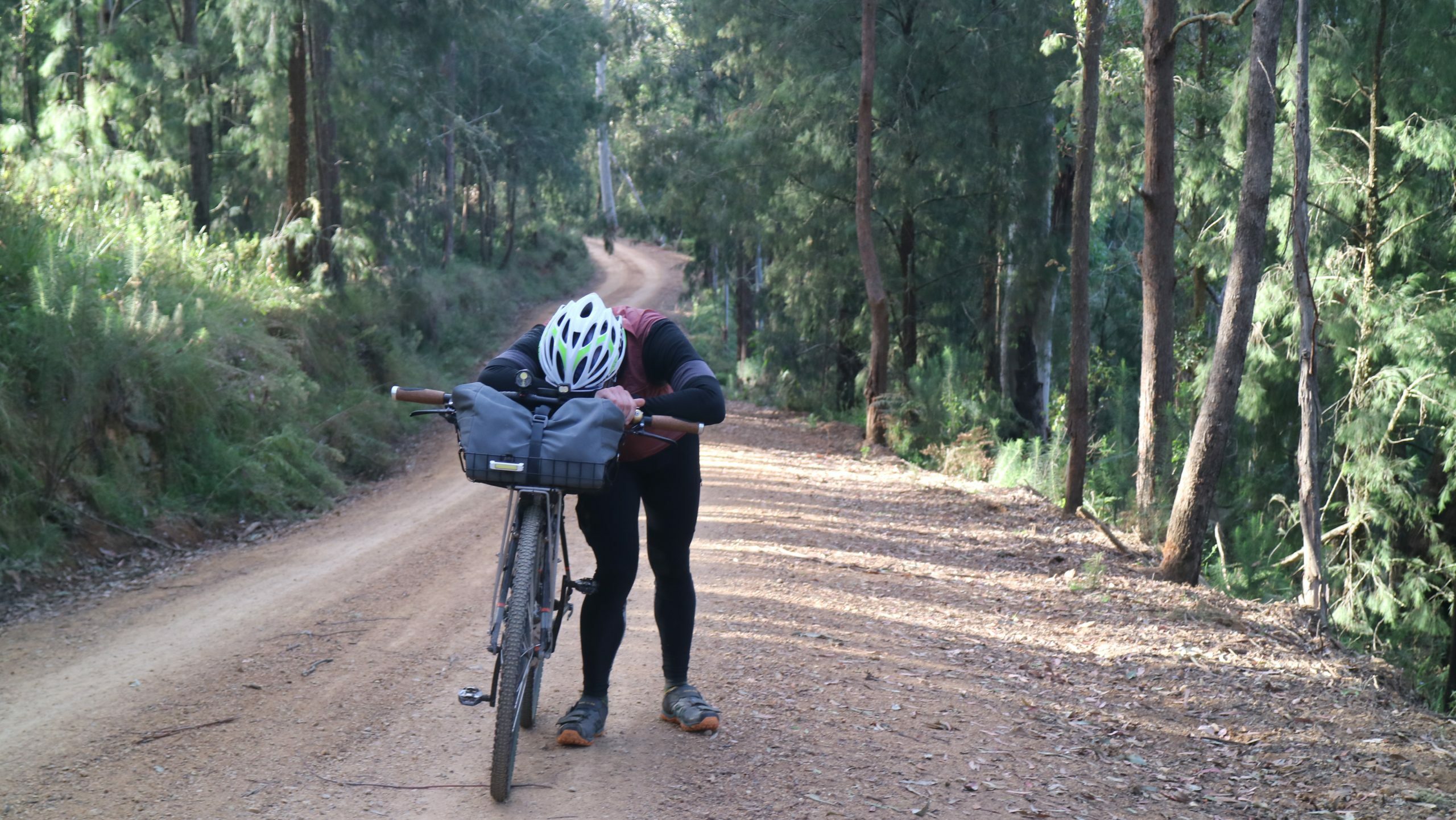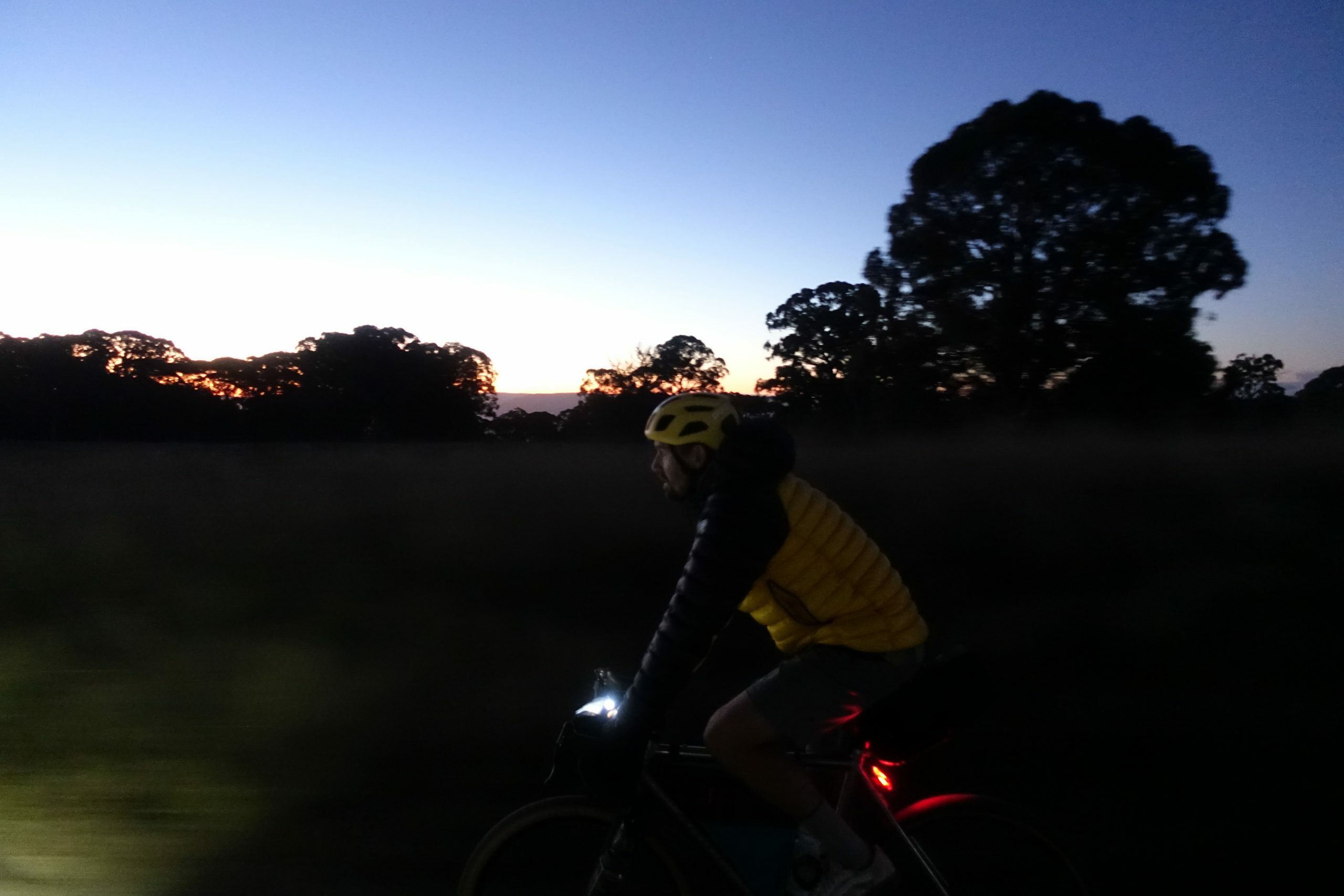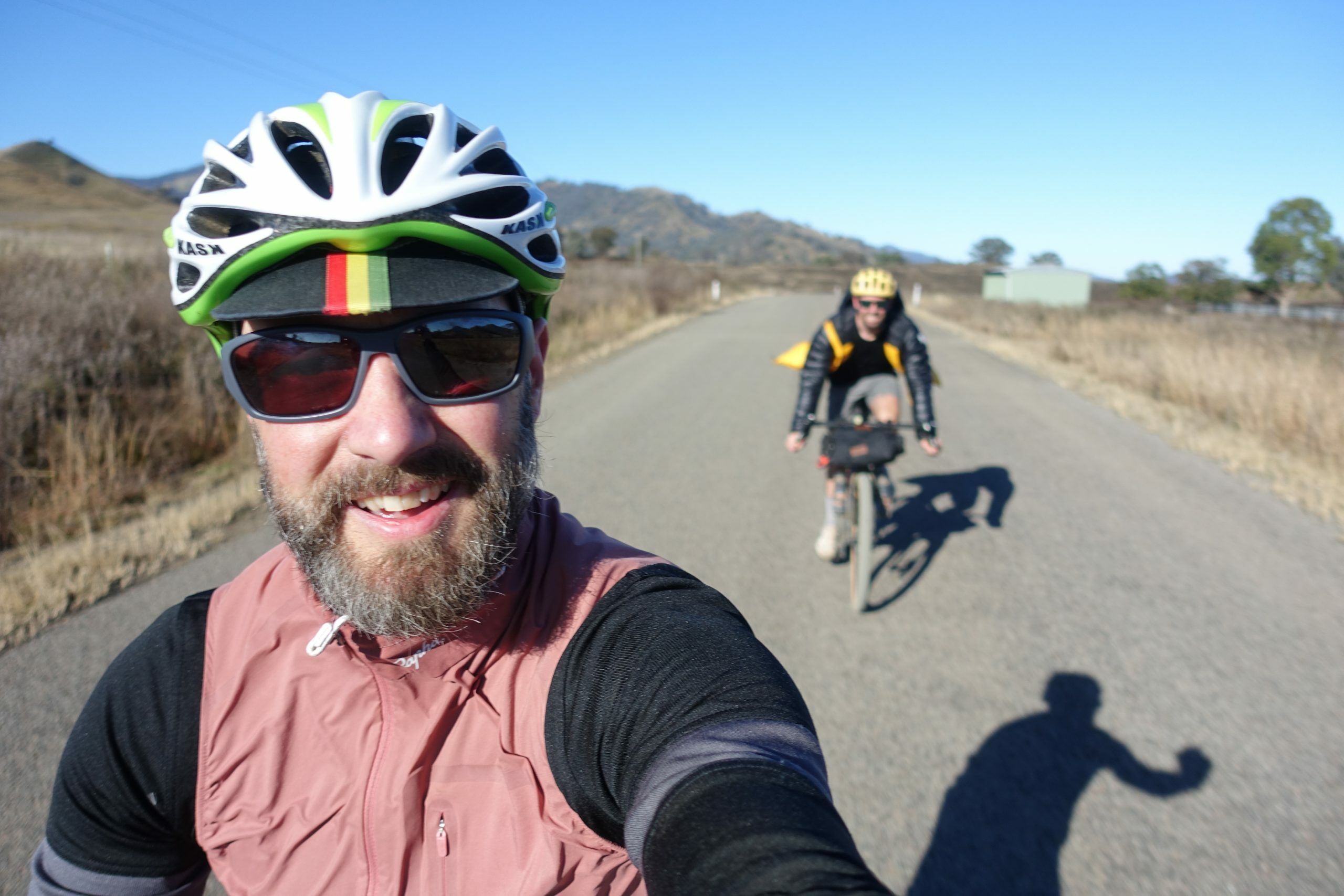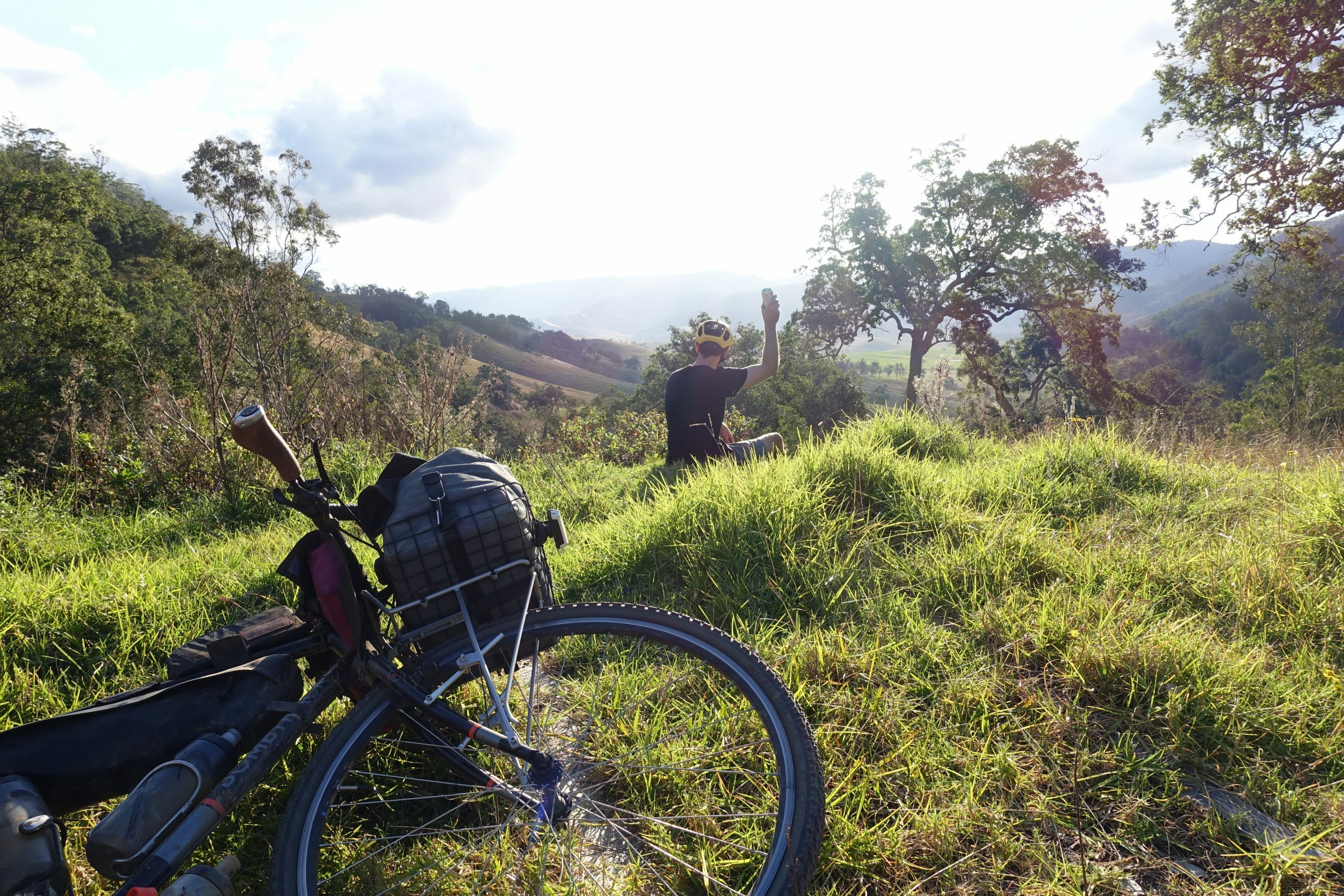 The Ride: Day 2
The next morning we awoke nice and early after a fairly good night's sleep, all things considered. We packed up our tents, grabbed the bikes and strolled off to the pub to see what was instore for breakfast… Much like the dinner the night before, there was no need for concern here and there was a healthy portion of porridge, fruit, bacon and egg rolls on offer; Perfect. We ran into our road trip pals, Lucie and Steph. Lucie had been attempting the solo time trial but decided to pause for a proper sleep at the midpoint and take a leisurely route back on the Sunday instead of punishing herself through the night. We scoffed a good breakie and shared some stories with a few riders over table, before setting off for the day. A 10km warm up along a mix of bitumen and then some smooth gravel preceded the first climb of the day; an 800m height gain over 11km. This took us back to the highest point of the route, along the Barrington Tops.
We took the long steady climb at a sensible pace and as we wound our way up the to the top, we watched some riders push on ahead of us, just as we passed others with similarly tired legs. One thing was evident though… everyone was in a good mood. Riding at the back with the more relaxed riders felt like where I needed to be and the first 20km was lacking the pressure of the excited start pace of day 1, which was very welcome.
The sun was out and it looked like we were in for a stunning day in the saddle… all be it long. Both Mattie and I had agreed that we'd just pedal our own pace until we couldn't handle any more… we'd given Lucie the keys to the car and crossed our fingers that an elite endurance rider might have enough energy in the tank to take pity on us if we scratched out early.
The gravel descent down the other side of the Tops was fast and loose with a couple of sketchy corners, but with some stunning views. Our biggest 'hump' out the way, I found myself locked onto the 'climbs' function of my Garmin, which informed me of how many climbs there were to go. I knew I could keep rolling but that any significant uphill was going to be a grind. Somehow, though, we were in far greater spirits than the previous day… even though super tired. We'd definitely found our pace and also an acceptance of what we were capable of and what we wanted out of the weekend.
Other riders came and went, with some lovely casual encounters. Short encounters and random chats with strangers is something I love about cycling. I'm generally a solitary person, but enjoy small measures of socialising. Those brief chats with other riders while you pass on the road are great… comparing notes of your chosen ride, route, bike, or commenting on the beauty of the view or the challenge of the climb, then you drift off on your way at your own pace; Brilliant.
As expected, Lucie caught us up at her own 'leisurely' pace and rode with us for a bit too, which was lovely. Later on Steph and some folks from 'All Day Roll Club' joined us too after they'd stopped to grab some Instagram content on route. After each encounter though, it was clear we were drifting further toward the back, which was find with us.
As we reached the top of the last big climb of the day and glanced back over our shoulder, we caught sight of a stunning view over the valley and decided now was the time to crack open the beer we'd been carrying in our packs for the best part of two days. Despite knowing daylight was running short and so was our energy, this felt like a great place to pause and take in the experience before we were too done in to really appreciate it. 100% worth it. I think it was at this point that we knew we'd got what we needed to out of the ride. We didn't need to prove anything to ourselves by finishing, or getting any great time, we were content with our place and our achievement. A sort of silent agreement was arrived at – to ride until sundown and then just, well, stop…
Nothing really matters…
And, that's what we did. We kept going as the sun started to drop behind the surrounding hills and we edged slowly closer to the finish. Each little rise in the road had my body aching all the time and each rumbling downslope sent shivers down my spine with delightful relief, if a little sketchy due to a distinct drop in concentration levels.
As we crossed over the 'gravel-horizon' onto the remaining 20km of bitumen, the last ounce of sunlight faded through the trees. We pulled over to the side of the road, pulled our down jackets and bivvy bags out of our packs and settled down in the verge. Mattie fired a message to Lucie via his Garmin InReach (gotta get me one of those) and we just stopped. This moment was one of the most memorable moments of the whole weekend, of memorable moments from a list of previous adventures. In this moment we were happy with our lot. We'd done enough, we were on our own in the middle of nowhere, with nothing but the stars and each other for company. We quietly smiled and took it all in.
As we gazed up the road to look for car headlights that might be our ride, we heard a vehicle coming the other way. Looking back up the road we spotted a pair of car headlights, following a solitary bike light… it was Barbara!! We weren't the last of the pack! She stopped to check we were OK, as did her husband who was supportively following her in the car in case she decided to call it quits… which there was clearly no chance of her doing. After a quick catch up, we applauded her commitment and cheered her on her way and smiled again as we awaited our rescue by Lucie, who turned up another 15 minutes later.
The arrival of a motorised pickup vehicle was the end of me and I let out a few tears as Lucie gave us both a hug and helped us get the bikes onto the car and we climbed on board. We were done, we were satisfied, we were content.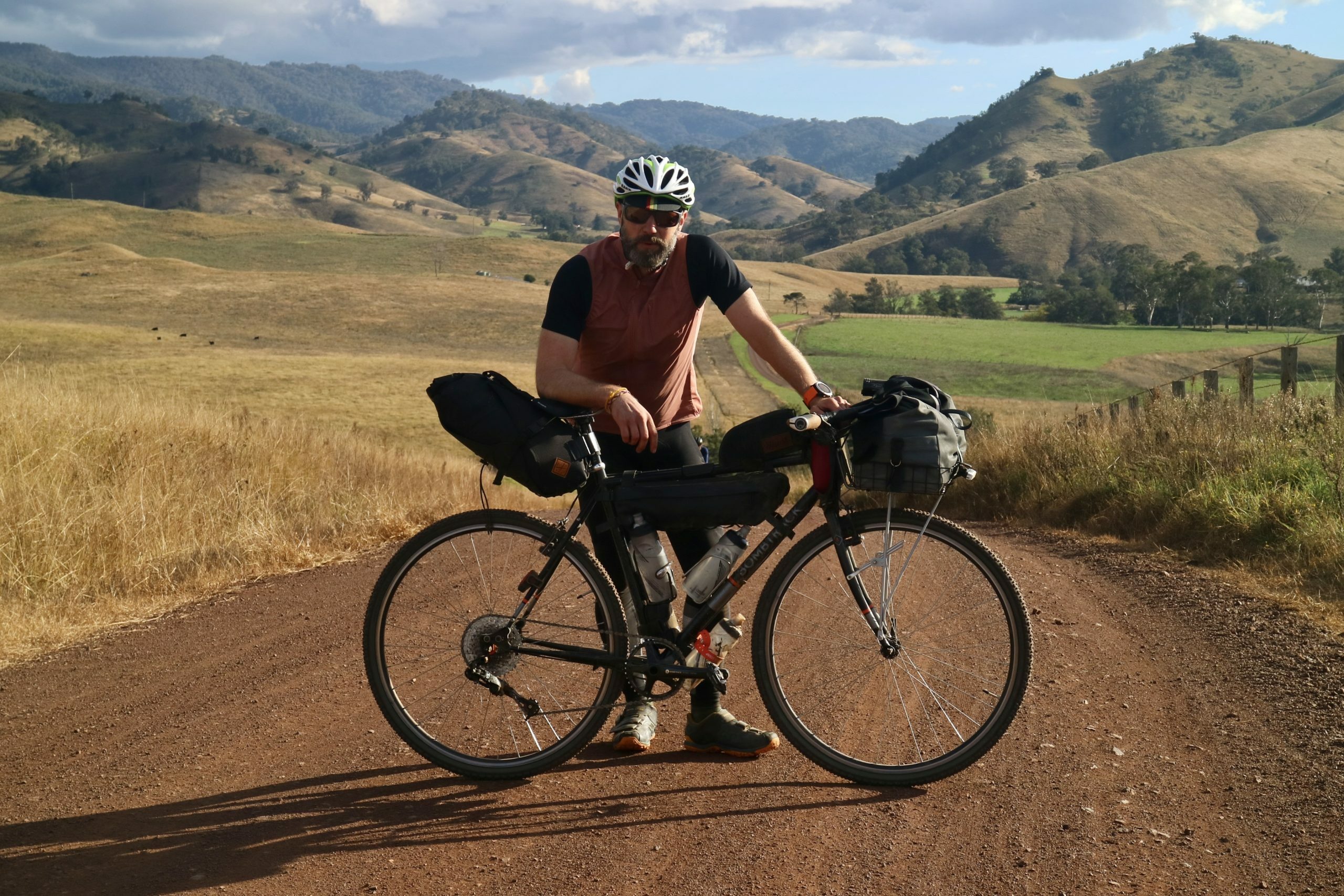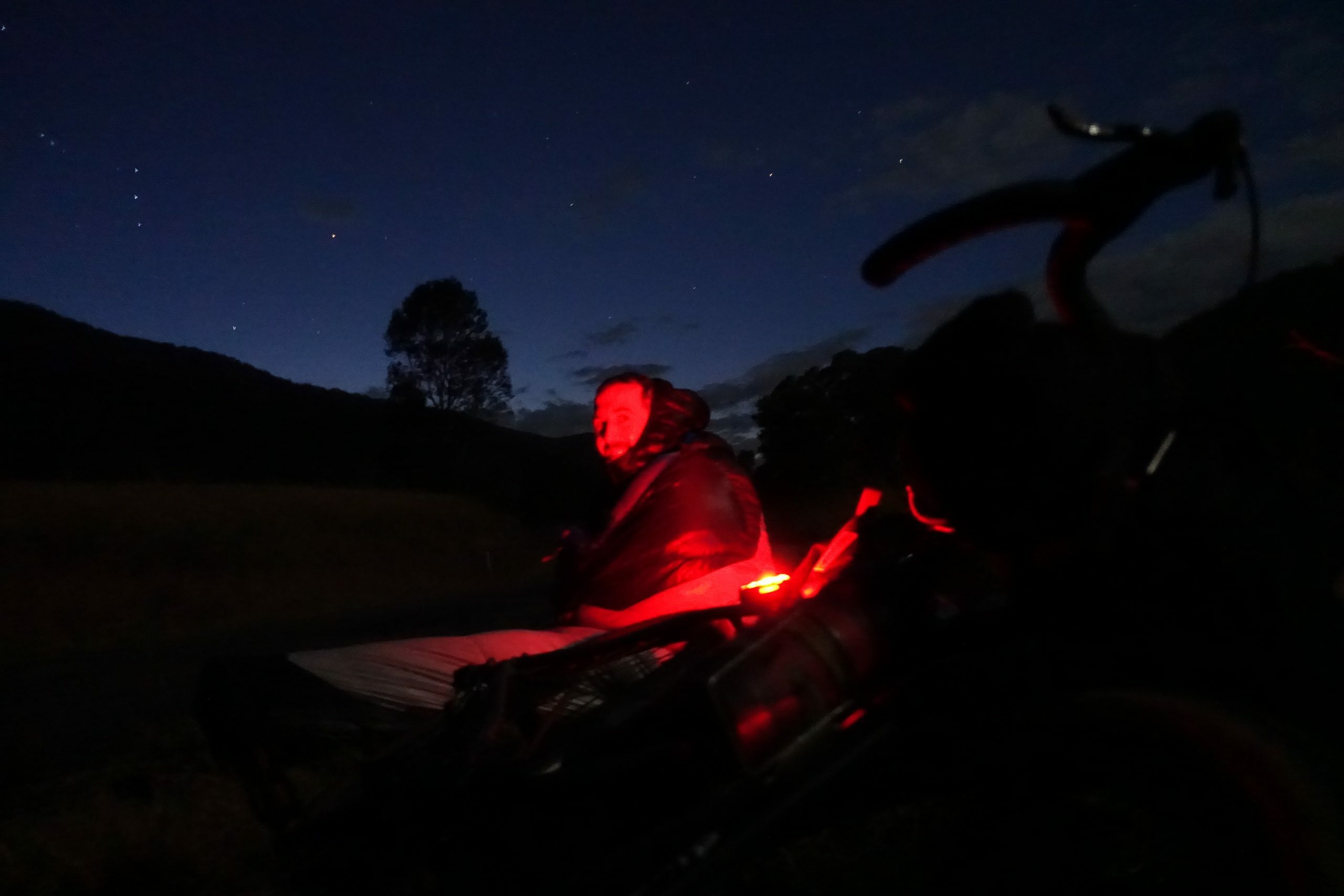 Any way the wind blows…
I've spent years chasing challenges, bigger distances, tougher rides, longer climbs, trickier terrain. My resounding memories from all my adventures is the journey and what I encountered along the way. The numbers, the difficulty? It doesn't really matter… to me.