The Otway Rip – A Reflection 8 Months Later
At the end of November 2020, I started bikepacking by myself around regional Victoria. I had absolutely no experience cycling. Zero.
I wasn't friends with anyone who would bikepack with me. I had to learn everything by myself. Bikepacking was something I always wanted to do but for so long, I felt like it was something out of my reach.
After living through the Victorian Stage 4 hard lockdown, the pandemic was a huge motivator for me to live in the present moment and start doing all the things I wanted to do in my life. I finally bought a proper bike (Cannondale Topstone 2021 1). I was immediately addicted to cycling. I had only owned a bike for a few weeks and I started doing some overnighter bikepacking trips by myself around regional Victoria (Gippy Gold, Great Victorian Rail Trail and Warby Rail Trail, as well as Lake Hume with my friend Matt from Sydney). I didn't really know what I was doing but I knew I was in love with the self-sufficiency and independence of bikepacking. Bikepacking makes me feel alive.
A week before riding The Otway Rip, by chance I met my Flemington neighbour Nick Skarajew on my street in Flemington. Unbeknownst to me at that moment, my friendly neighbour was an inspirational ultra endurance cyclist. He pulled me over that day and said 'hey, aren't you the girl with the Revelate frame bag'. We got talking and became friends immediately. I mentioned that I really wanted to ride The Otway Rip. He introduced me to his friend and creator of the route Ben at Coffee Outside at the Native Grassland Circle. Ben generously gave me insight into camping spots and the route in general. Nick kindly let me borrow his eTrex20 for navigation, with the route uploaded. I was ready to go.
The route passes through the unceded lands of the Djargurd Wurrung, Girai Wurrung, Gadubanud, and Gulidjan people. We respectfully acknowledge them as the Traditional Owners of the land pay respect to their elders, past, present and future.
Starting the Otway Rip with a Train Ride
That Friday afternoon in January 2021, I caught the Warrnambool V-Line to Camperdown so I could stay there the night and start the route early. I rode about 10km to Lakes and Craters campground and realised I forgot my tent poles. (Kia, who do you think you are? You think you can just start bikepacking by yourself and you can't even remember to bring bloody tent poles!). Now I always put my tent poles on my tent when I pack down now so this horrible mishap never occurs again. I tied the tent lines to trees and my bike to create some structure. I considered that a win. I got decent sleep in my poleless tent, woke up at 5.00am and I was ready for a big day of riding by myself.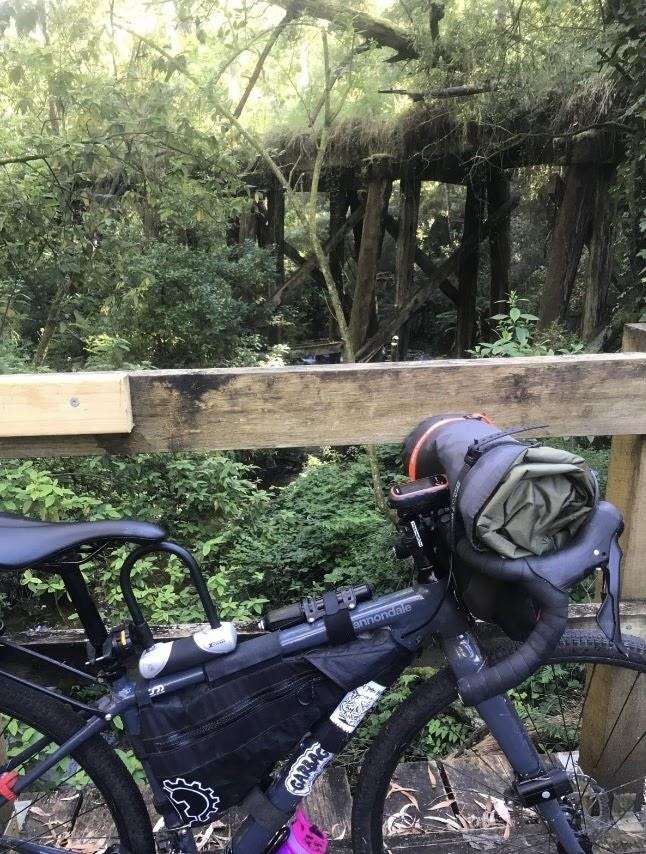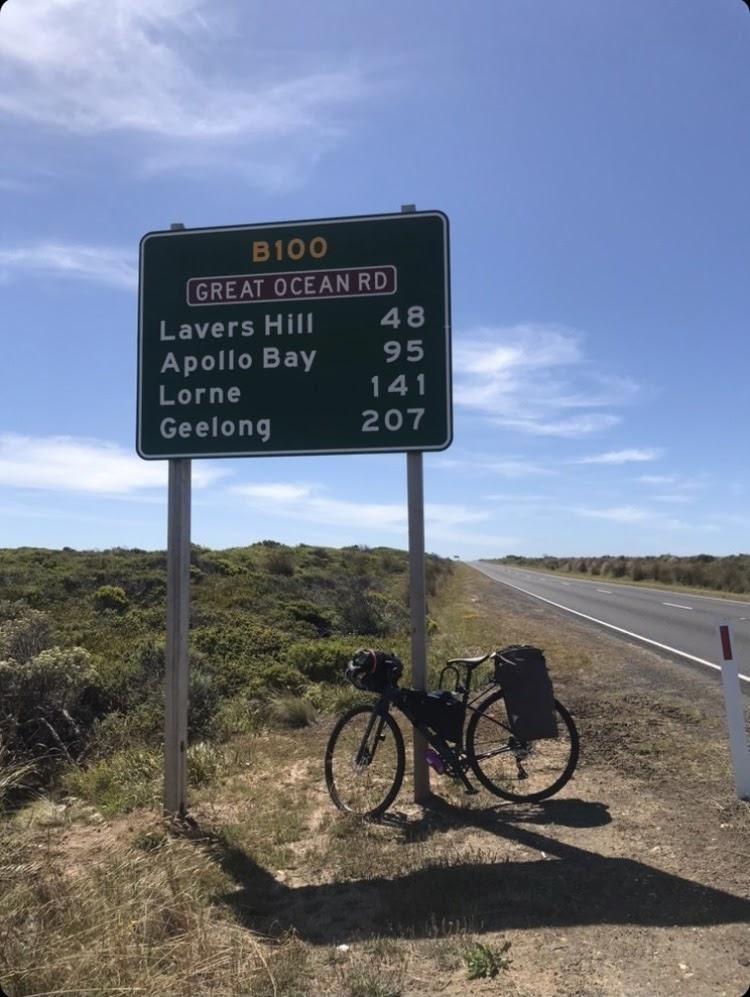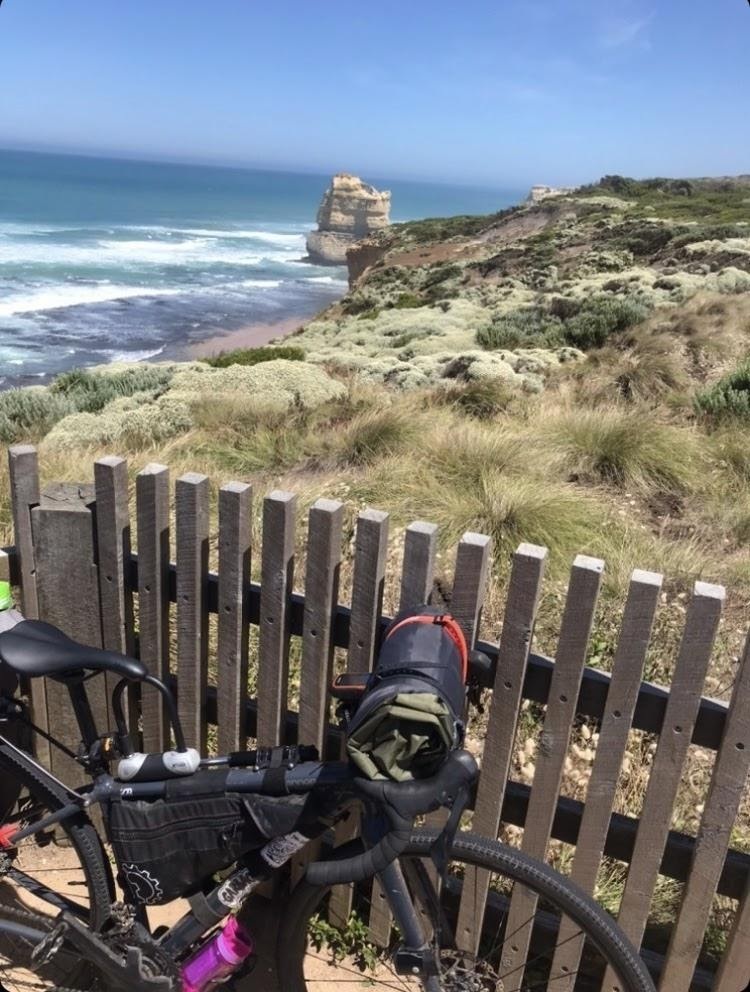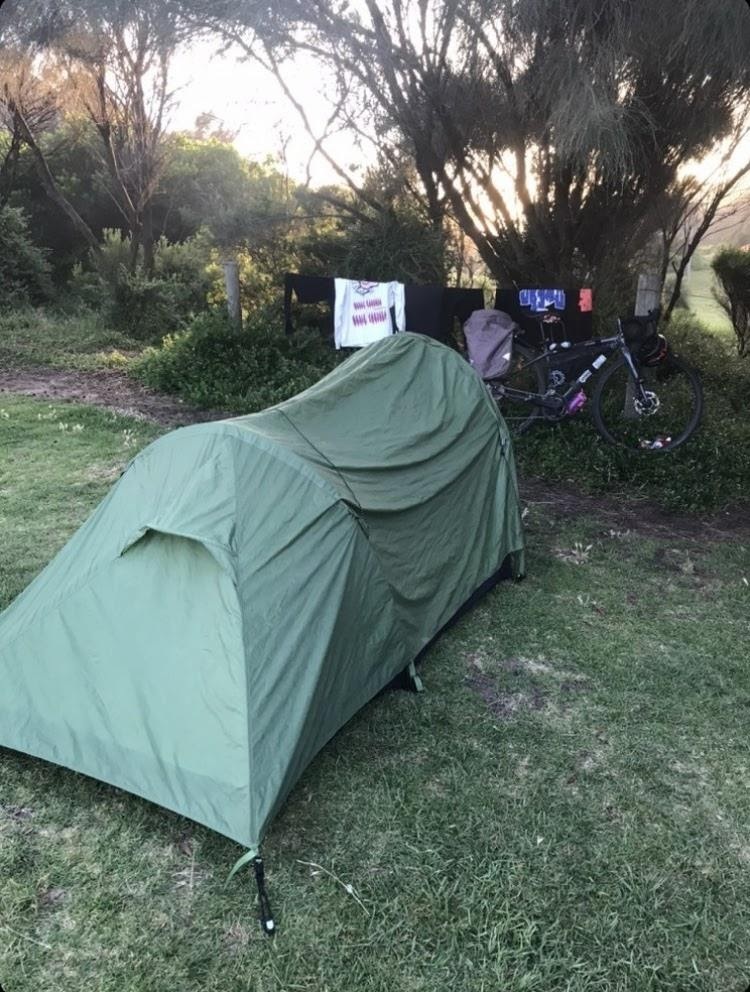 Day 1 Camperdown – Johanna Beach
149.39km / Elevation Gain 1,519m
I woke up at about 5.00am and started riding the Timboon Rail Trail (aka Crater to Coast) for around 40km. It was a gravel trail and very flat. There were beautiful old bridges and forest areas. It was pretty well signposted although I did get sort of lost going through the Cobden Golf Course. It was easy riding with great scenery.
Eventually, I reached Port Campbell (Note: stock up here because there aren't many food or water options until Lavers Hill). I followed the Great Ocean Road for a few hours and there was beautiful scenery, including the 12 Apostles, yay. The tail wind I received on the Great Ocean Road masked the hot 30-degree day.
Eventually, I was riding through The Otways and it was so amazing. Incredible gravel roads and luscious forest. Water was scarce. There were no water taps as everyone relied on tanks. I stocked up on food and water at Lavers Hill. I pushed through to Johanna Beach which included a hectic downhill section. Finally, 149.39km later I made it to Johanna Beach.
Johanna Beach is one of the most stunning locations I have ever been in Victoria. I started talking to another beach camper there and told her my poleless tent situation. I was so embarrassed. Miraculously, her husband had a spare tent in his car. I couldn't believe my luck; I befriended someone carrying a spare tent! I truly believe everything in life ends up working out in the end. I slept happily that night (in a tent with poles), having made it to Johanna Beach as I didn't think I was capable of riding that far in a day on a loaded bike.
Day 2 Johanna Beach – Birregurra
92.27km / Elevation Gain 1,613m
I rose early to start riding to get to Birregurra. Bikepacking can be so stressful when there is so much pressure on making a departing V Line train. I had no water and it was soooooo hot.
On the second day there were more gravel roads and lush forest. I stopped off at Beech Forrest and had morning tea at a beautiful art shop. I was concerned about time and making the Birregurra train to Southern Cross so I cut out a bit of the gravel route and stuck on the main road to Birregurra (I skipped Lake Elizabeth). The safest option is the safest option.
Unfortunately, by cutting a section of the route I gave myself too much time to spare at Birregurra. I laid on the ground of the Birregurra train station for two hours waiting for the train.
I was so stoked. I rode this by myself and had only been cycling seriously for a month or so. I felt completely liberated. I really wanted a beer to celebrate and there was no Birregurra bottle shop (tears).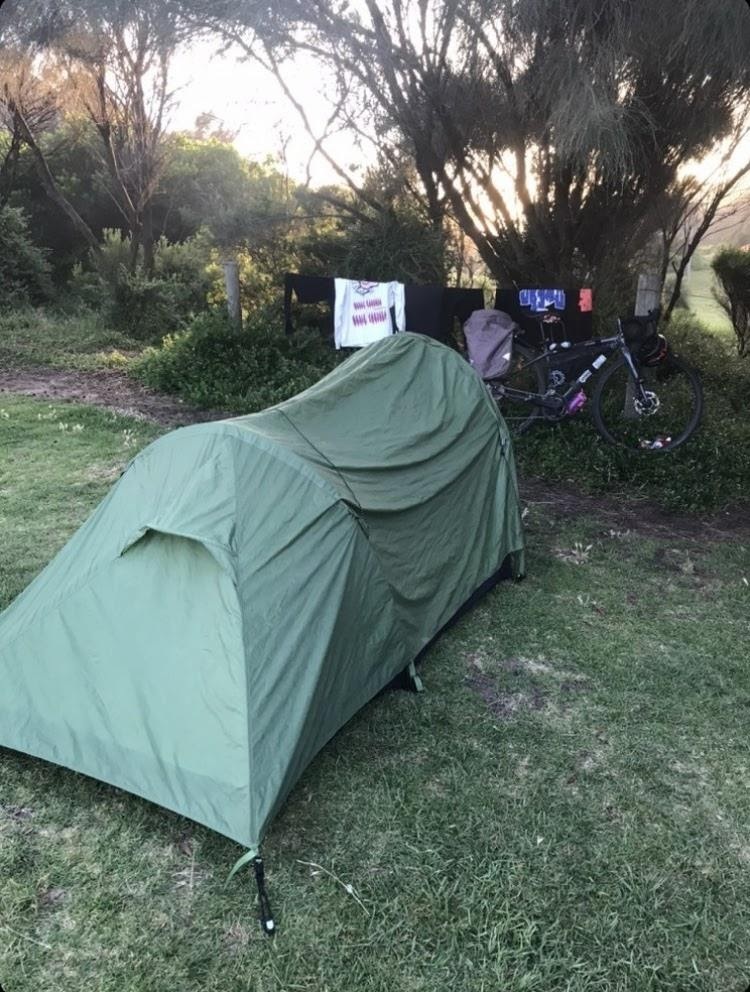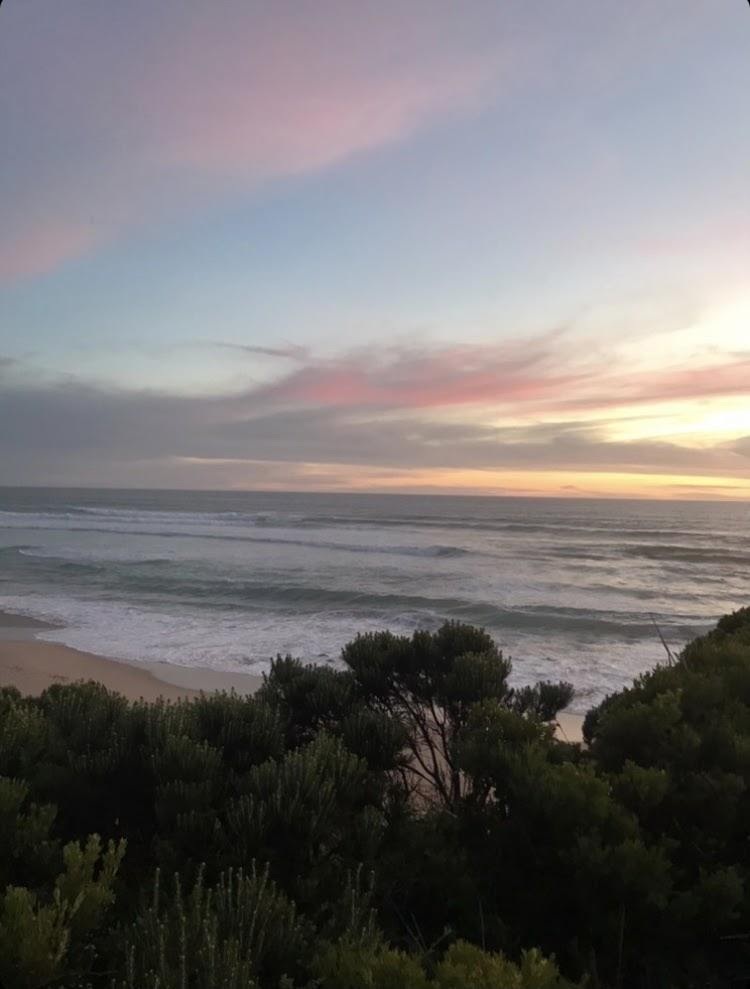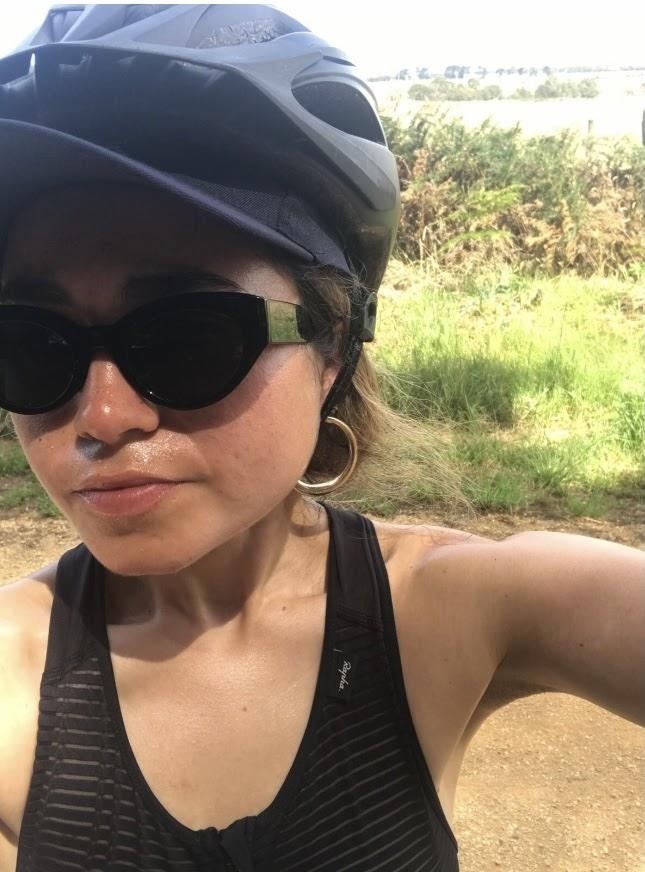 Personal Reflections on Riding the Otway Rip
Being able to experience The Otway region by bike was an incredible experience. I learnt a lot about myself.
Bikepacking helps my wellbeing through being connected to nature, and is a reminder how big and beautiful this world is.
Bikepacking solo is liberating.
Anyone can do it (including newcomers like me). It makes you a stronger person, boosts your self-confidence, makes you independent and self-resilient in life.