Super Jambo Grom Pre de Walcha – A Rider's Recap
The first edition of Super Jambo Grom Pre in November last year was an absolute chaotic, exhilarating sufferfest, and the 200km route in Yaouk was gruelling enough that I'd trimmed the course to 160km to get back before dark. Super Jambo 2.0 was further north in Walcha, NSW, and this time I was determined to see the whole thing through.
With some recent big days in the legs I was feeling fit and confident about my chances of finishing the 200km+ event without hurting too badly. In an unfortunate turn of events, a week and a half before the date I had a pretty rough fall off my mountain bike due to a dodgy thru axle and my body was pretty battered including a likely fractured rib. In spite of this I was pretty determined not to miss out, so the day before the event I headed up to Walcha stocked up on painkillers.
What a Bunch of Legends
Super Jambo Grom Pre de Walcha had a slightly chaotic energy to it from the very beginning. The event start point was located in cow paddock on top of a hill, with a bunch of fairy lights strung up between vehicles and a couple of fire pits to add some homey ambience. There were dogs, a chicken, and a pig called Pam running around, hoovering up food scraps and collecting pats. The event organiser, Jorja, (better known as @jambi_jambi of instagram fame) was an incredible host who greeted everyone on the way in and the campsite was set up to encourage everyone to sit and chat around the fires.
Supporting Jorja in the catering for the event was Wendz' Bistro (aka Jorja's mum with backup from Jorja's dad), who dished out a delicious vegan meal to fuel all the riders the night before the ride. After a big feed and some chats, I set my alarm for 4:45am and called it a night early.
The next morning at 5:50am, I was ready to hit the road with my two mates Jono and Steve. We rode out of camp, cheered along by Jorja's Mum and Dad (who I think should probably attend all future cycling events to lend their encouragement to outgoing riders).
The grass was still blanketed in frost, and the downhill gave little opportunity to warm up frozen legs. We hadn't gotten far when disaster struck; as I went to shift into some friendlier gears for the first climb of the day less than 10kms in, my rear derailleur made some pained noises and refused to shift.
After a few minutes of futile tinkering I realised I lacked the expertise to resolve this problem and the only hope was to head back to camp and get some more experienced hands onto the job, but I knew that turning around meant that our chances of completing the full 200km+ ride would be much slimmer.
There was no guarantee someone at camp could fix my bike, and even if they could, the delay would set us back a few hours from everyone else and we wouldn't finish the ride until late into the night. I knew I couldn't bring myself to ask my mates to ruin their ride, so instead I wished them both luck and turned back around to head back to camp.
I was pretty gutted that despite persevering in the face of injury my day might be cut short by a mechanical, so the ride back to camp had me feeling pretty defeated. Not five minutes in however, I turned around and saw my mates giving chase.
Apparently after a very brief exchange they had decided that they were willing to throw away their chances of a reasonable finish time if it meant the three of us could ride together. I don't think I've ever felt as touched by a gesture of friendship as I did in that moment!
Bike Wizards and More Kindness
When we arrived back at camp, Jorja was around and quickly summoned a bike wizard who I know only as Dan and he worked his bike magic.
After a while tinkering on the bike stand my derailleur was working again, but at this point it was well passed 8.00am, and with the prospect of 12+ hours of riding ahead of us, we were well behind where we needed to be.
That's when Jorja and Jack (another legend in the organising entourage) went above and beyond and offered to drop us further down the course so we weren't quite so far behind. I gave a million thanks to Jorja who just blew it off, saying she'd do anything to get people back on track. Just before 9.00am we were back on the road with 195kms to go, still behind where we should have been but eager to give it a crack anyway!
We made our way up Hell Hole Forest Road, which thankfully did not live up to its alarming name and was really quite a beautiful road through some lush national park. There were big gums, big green ferns, and the sounds of black cockatoos screeching in the distance.
I'd been in a pretty awful mood after my bike troubles in the morning and was anxious about not having the legs or the willpower to finish when my mates had already scarified a lot of time to stick with me. I was also concerned about whether my fractured ribs would cause me too much pain to finish, but aside from really rough gravel, or having to lift my bike, they didn't cause me much trouble. Steve was even kind enough to carry my bike across a big river crossing which made me thankful once again that I wasn't doing it alone.
When the sun had finally warmed the air and the legs had settled into a steady tempo, the doubts I had about the day faded away and I was able to just enjoy the company of riding with friends through beautiful landscapes. Dense forest eventually gave way to fast rolling gravel through rolling countryside, big props to Jorja for picking such a lovely and varied slice of the country to explore.
Snacks & Sunsets
Everything was going pretty swimmingly until around 100kms when another hurdle appeared; my thigh, still badly bruised from my stack two weeks prior, had begun to bleed under the skin and I watched the mottled purple and yellow turn back to red and blue.
I felt pretty freaked out, not knowing if riding an additional 100kms would make things worse, and feeling generally queasy watching my thigh swell. At that point I seriously contemplated throwing in the towel, but I'd been having such a nice day with my mates and was envisioning how nice it would be to cross the finish line together that I wanted to persevere no matter what. Steve had a compression bandage handy so I wrapped up my leg; out of sight, out of mind.
We continued, and Jono and Steve's good humour and general calmness helped a lot with taking my mind off things. At this point I also realised how important riding nutrition is for the mind as well as the legs, since every time I let myself go too long without eating my anxiety about my leg returned and eating a cliff bar or a handful of snakes made the bad feelings fade away. I've filed this away as important intel about my body and know that next time I'm feeling crappy about things on a ride I should just eat more snacks!
From that point onwards the day went smoothly, and we were in good spirits when we hit the 60km-to-go mark despite knowing the rest of the way was pretty much uphill. The highlight of the day came just as the sun was coming down. There was just the right amount of cloud in the sky for there to be a spectacular colour show, the air was dead still, the moon was out, and we were rolling across the top of some of the prettiest hills of the entire ride. Riding at sunset is always special and after so many hours in the saddle it felt like such a treat to be spectators to such a picture perfect view, it made all the earlier dramas feel worth it.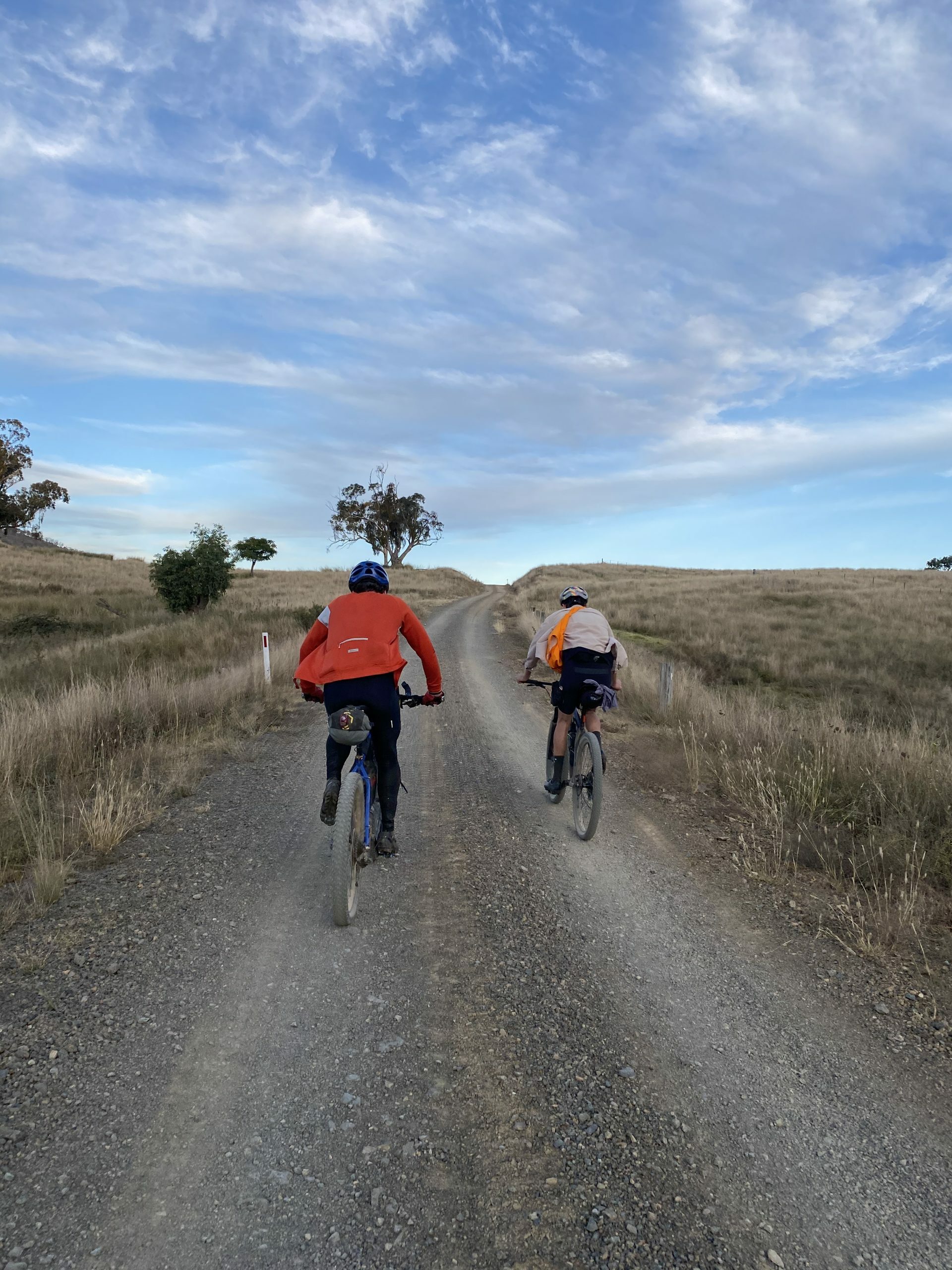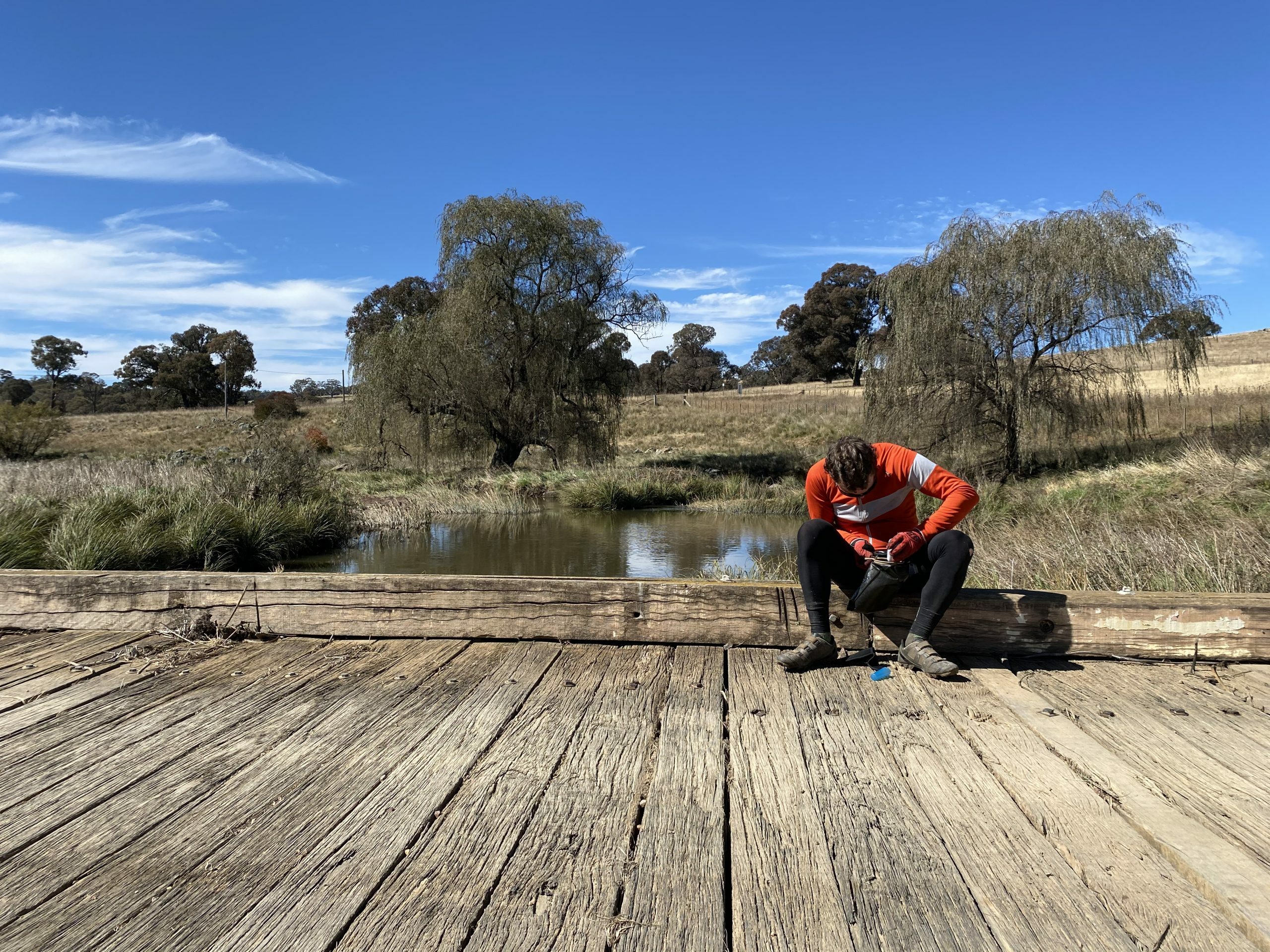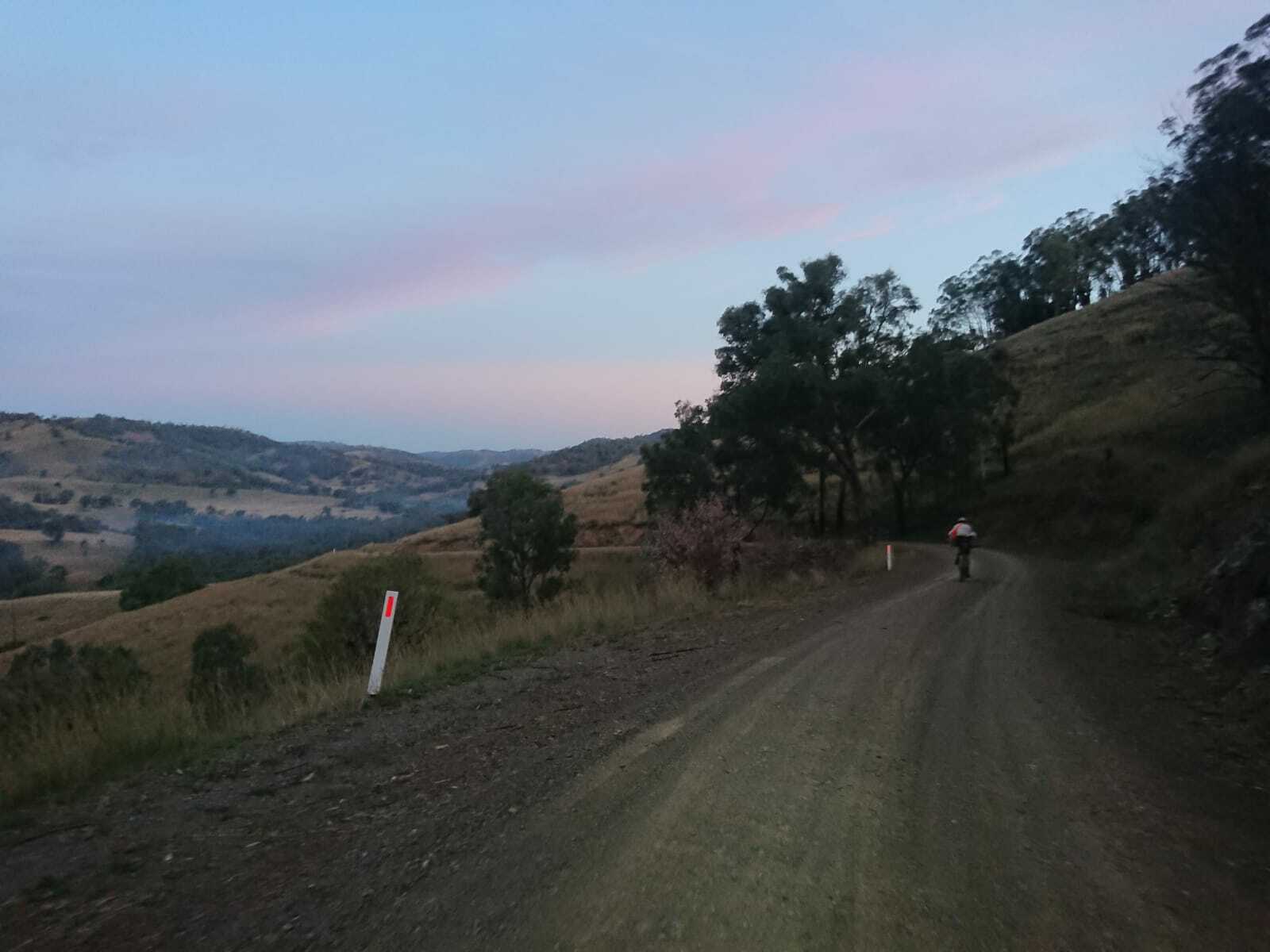 Things Got Weird
With the sun fully down, the last few hours were accompanied by a much stronger desire to reach the end. At this point my legs had run out of punch on the uphill, and my brain was definitely no longer working at full capacity, so my recollection of those hours is vague aside from a few random snippets.
A big yellow road sign that appropriately said "DO NOT STOP".
A massive mystery bonfire in the middle of nowhere around 180kms in with no one to be seen.
An owl that flashed by silently and startlingly overhead with some unlucky critter clutched in its talons.
A yellow-lit Telstra phone booth that stuck out like a sore thumb after so long without seeing any real signs of life.
There was definitely an extra layer of weirdness to everything when riding in the dark.
We came up the final hill into camp around 9.00pm. This wasn't a race, we were literally the last ones to finish, but we were still cheered into camp regardless. Jorja's parents gave us their congratulations and big delicious victory burritos, which was just about the best prize I could have asked for at that point in time.
We went and sat by the fires with everyone and exchanged stories from the day.
Looking back, I am proud of myself for pushing through even though there were a lot of obstacles along the way.
More than anything though, I am intensely thankful for being around such great people all day. Being already injured, the day was never going to be perfect, but having such supportive friends who put up with my bike troubles, carried my bike for me when it hurt too bad, and never stopped being kind and patient meant that I had an awesome, genuinely enjoyable day!
It might be disgustingly cheesy but it's more proof to me that it's not so much about the destination as it is about the people you do it with and the fun you have along the way. Having an event organiser who puts so much heart and soul into making sure everyone has a good time certainly helps as well. Super Jambo didn't disappoint and I'm looking forward to doing it all again at the next edition of the Super Jambo Grom Pre!
Check out Jack Durr's instagram account, @hikingrat , for more photos from the Super Jambo Grom Pre and other beautiful shots from Australia and beyond.