Mountain Bikepacking with E-bikes & Splitboards
Electric bikes and splitboards may not be the first things that come to mind when planning a bikepacking trip, but maybe they should! Sarah and her crew head high into the mountains for a weekend of spider dogs, backflips and hucking good times in Whistler, BC.
I'd love to know if anyone's done something similar in the Australian Alps! I know I'd like to. [Mattie. Desire Lines CC Editor]
The Start of Something Rad
The smell of sweet adventure was in the air and we sprung out of bed ready to take on the day.
The bikes were packed outside our bedroom door and homemade banana bread was waiting on the counter for us to eat on our way North.
We arrived in the Whistler Blackcomb parking lot to two best pals ready to go, but there was something different about one of them. Somehow our buddy Scott wrangled us three e-mountain bikes for this wild ride, but the funny thing was that there were four of us. One small, one medium and one large – perfect for myself, Colin (the birthday boy) and Scott (the best friend who wrangled them). So, as other best friends do, Cory showed up with his no motor mountain bike and a huge smile on his face.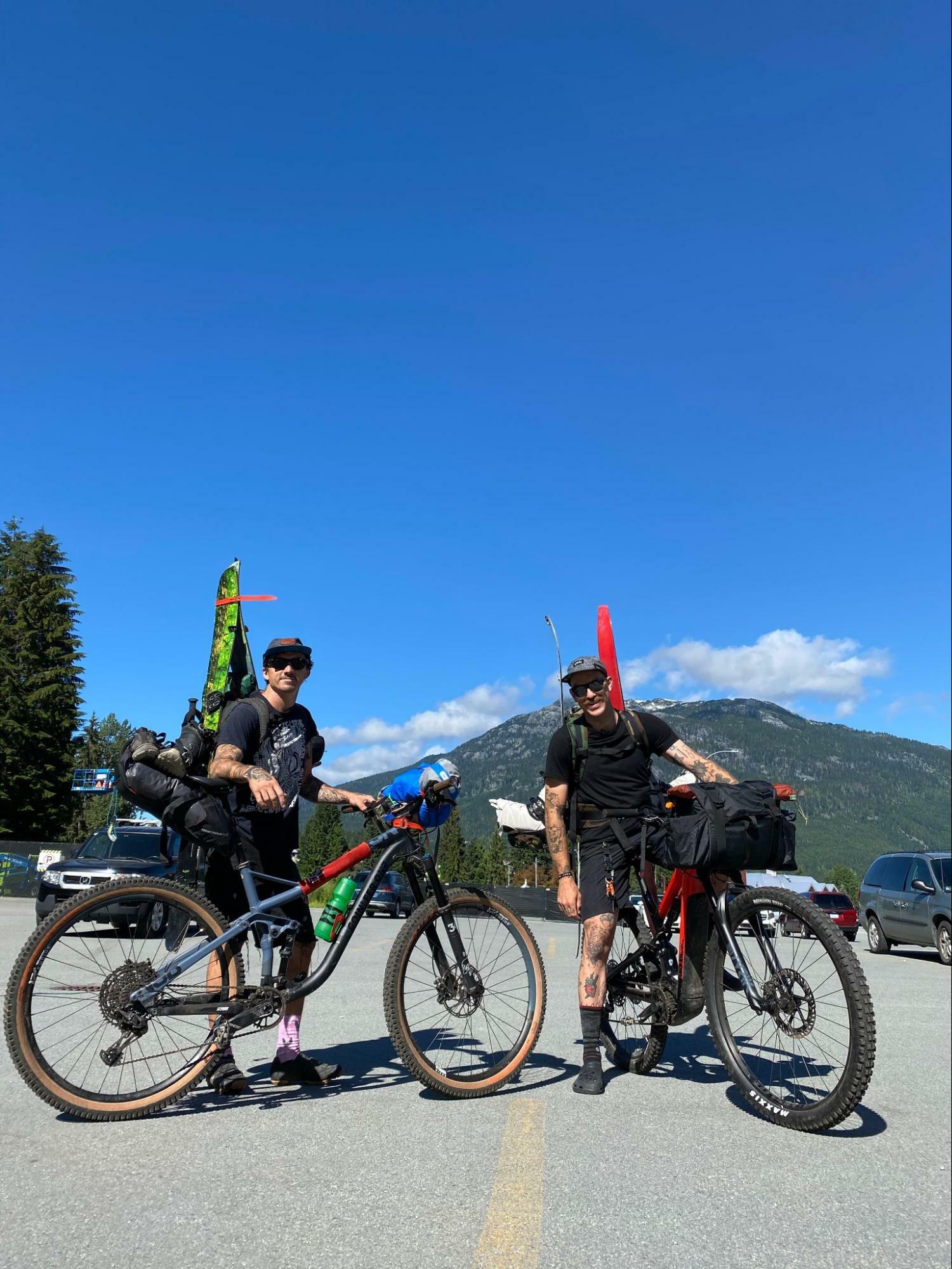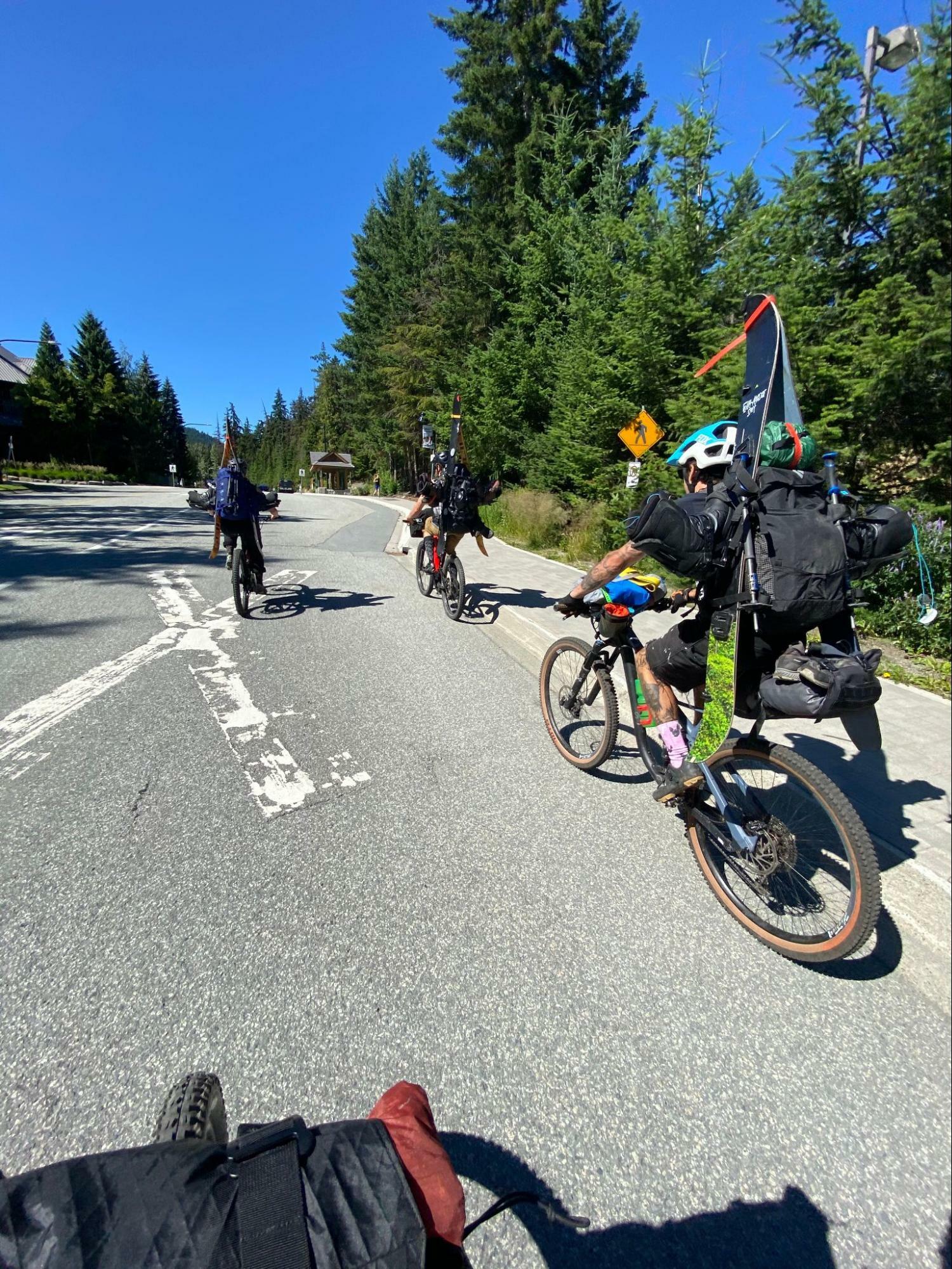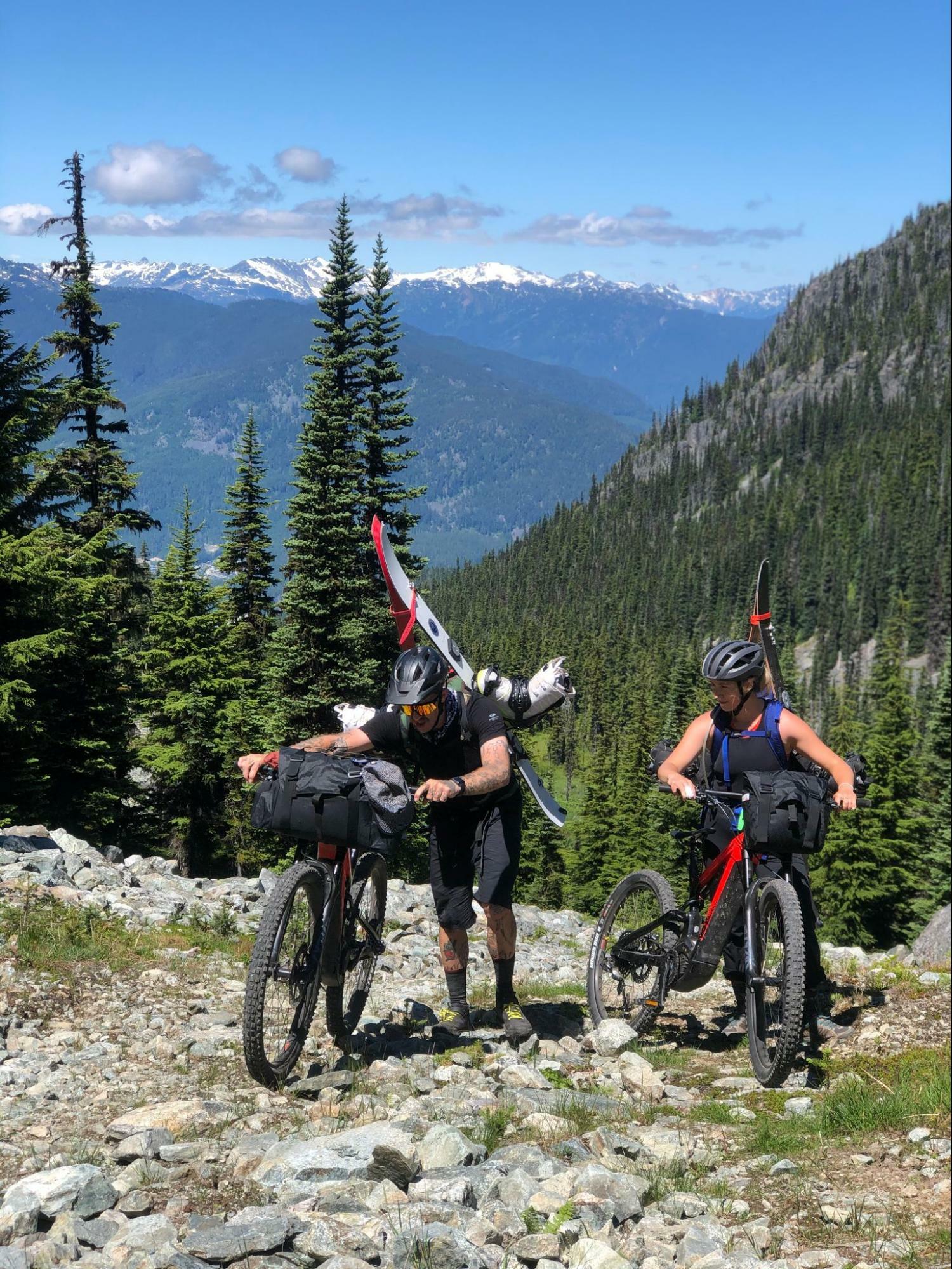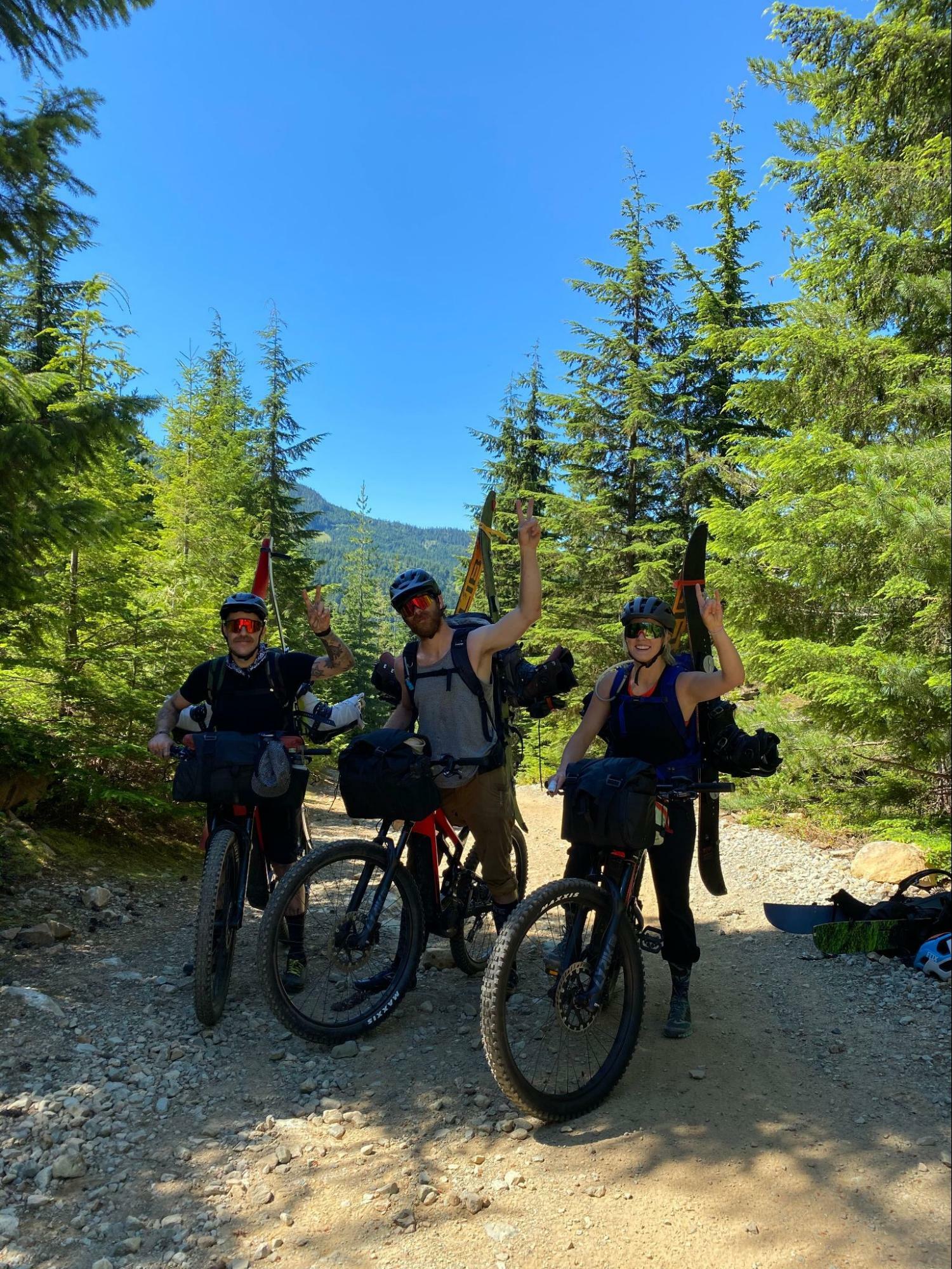 Sometimes Pedal Power Isn't Enough
After loitering in the parking lot and getting each other pumped up for what's to come, we were off. Up and up and up we go. It was about 3km in when we looked back and Colin was trying to tow Cory on his regular bike. The struggle was real.
In the back of his mind, Cory knew it may not work. With the bikes full of camping gear and our backs heavy with splitboards it was going to be a mission for all of us, so he decided to turn around. Honestly, I give him props for just showing up. That was a feat in itself.
After having a beer with Cory on the mountain before he headed down, we carried on. I remember it not being easy, but at the same time I think I blacked out all of the super hard parts.
RIP Walking
Higher up the mountain the trail hardly existed, the rocks under our wheels got bigger and the incline got steeper. It was time to walk these 60lb bikes up as far as we could get.
Things flattened out a bit near a classic British Columbia mountain meadow, so we jumped back on and ripped through some creeks. One of the highlights of the trip for sure.
Alright, it was time to lock up the bikes and rally the last section before the snow by foot. We locked the bikes together and prayed no one else would be up there and steal them.
Scott has a tattoo on his leg saying "RIP walking". Let's just say he really likes bikes.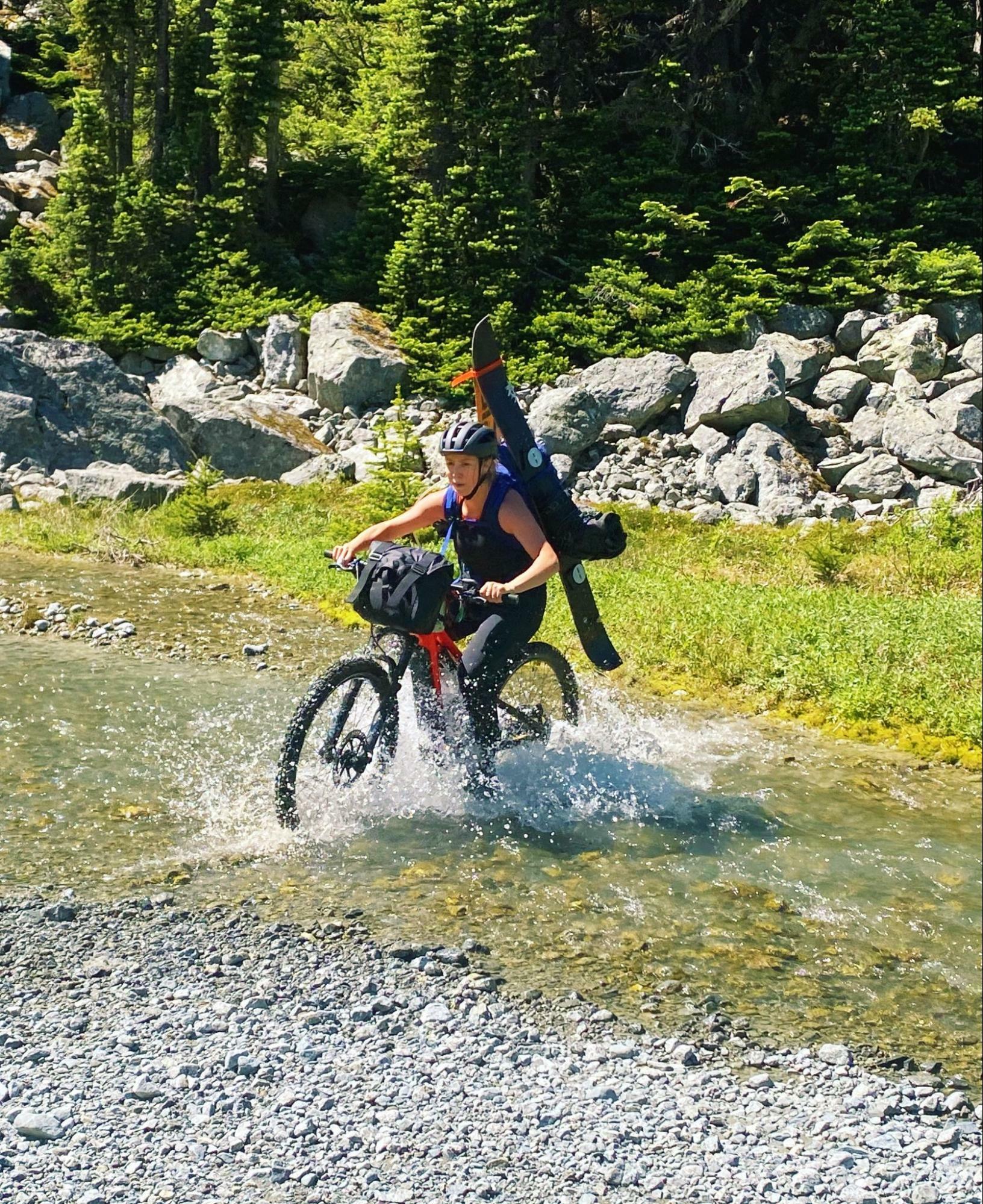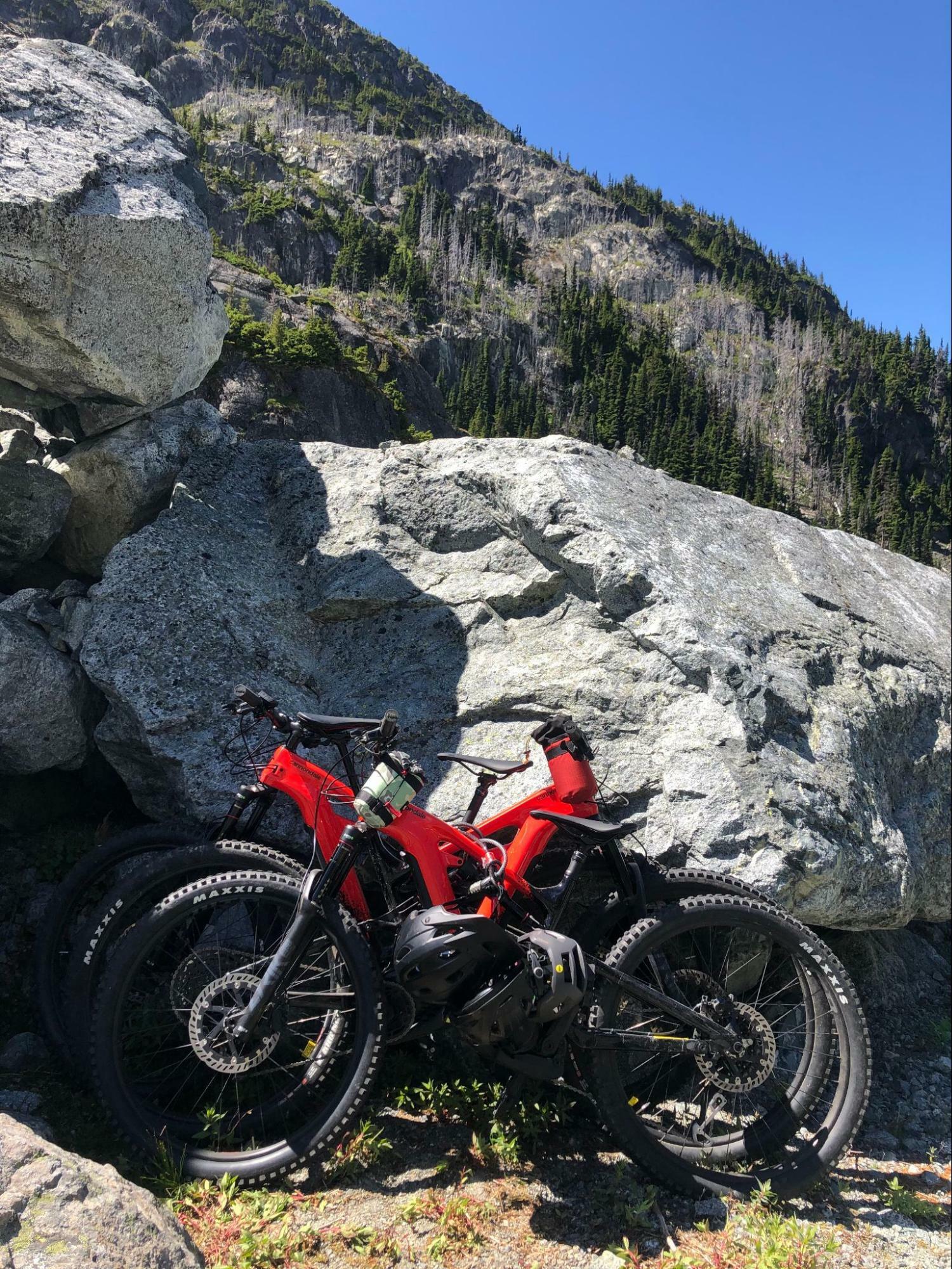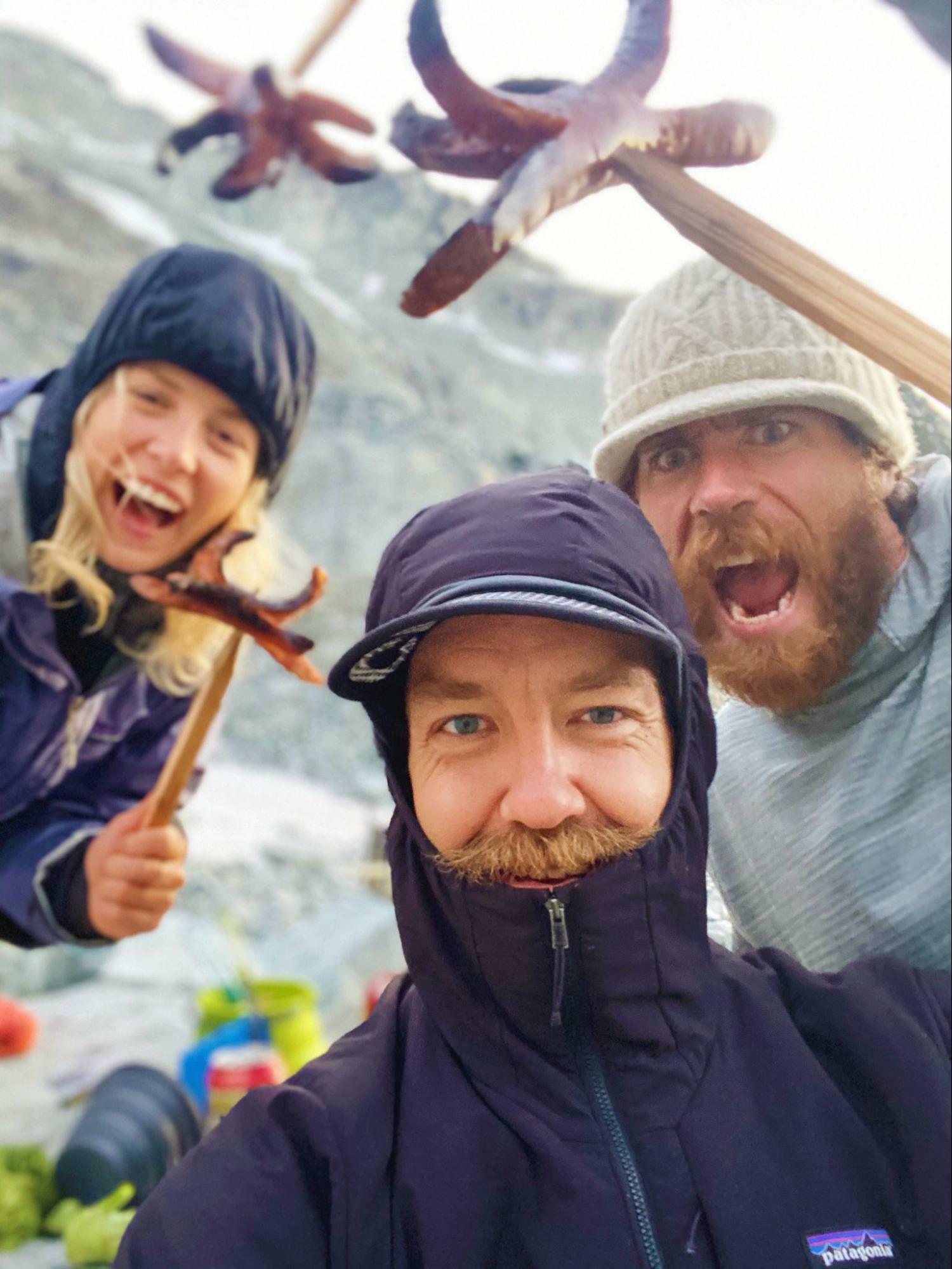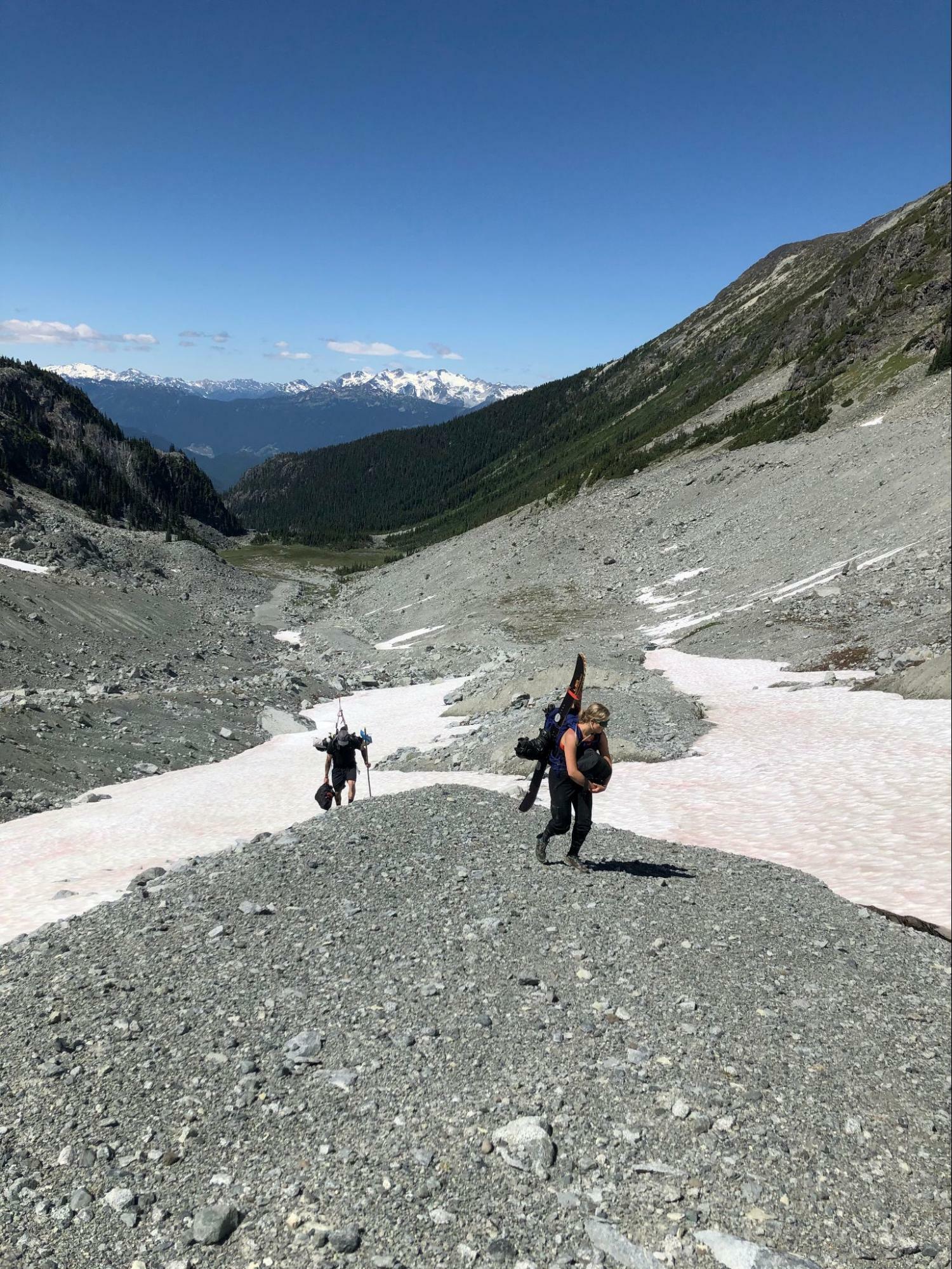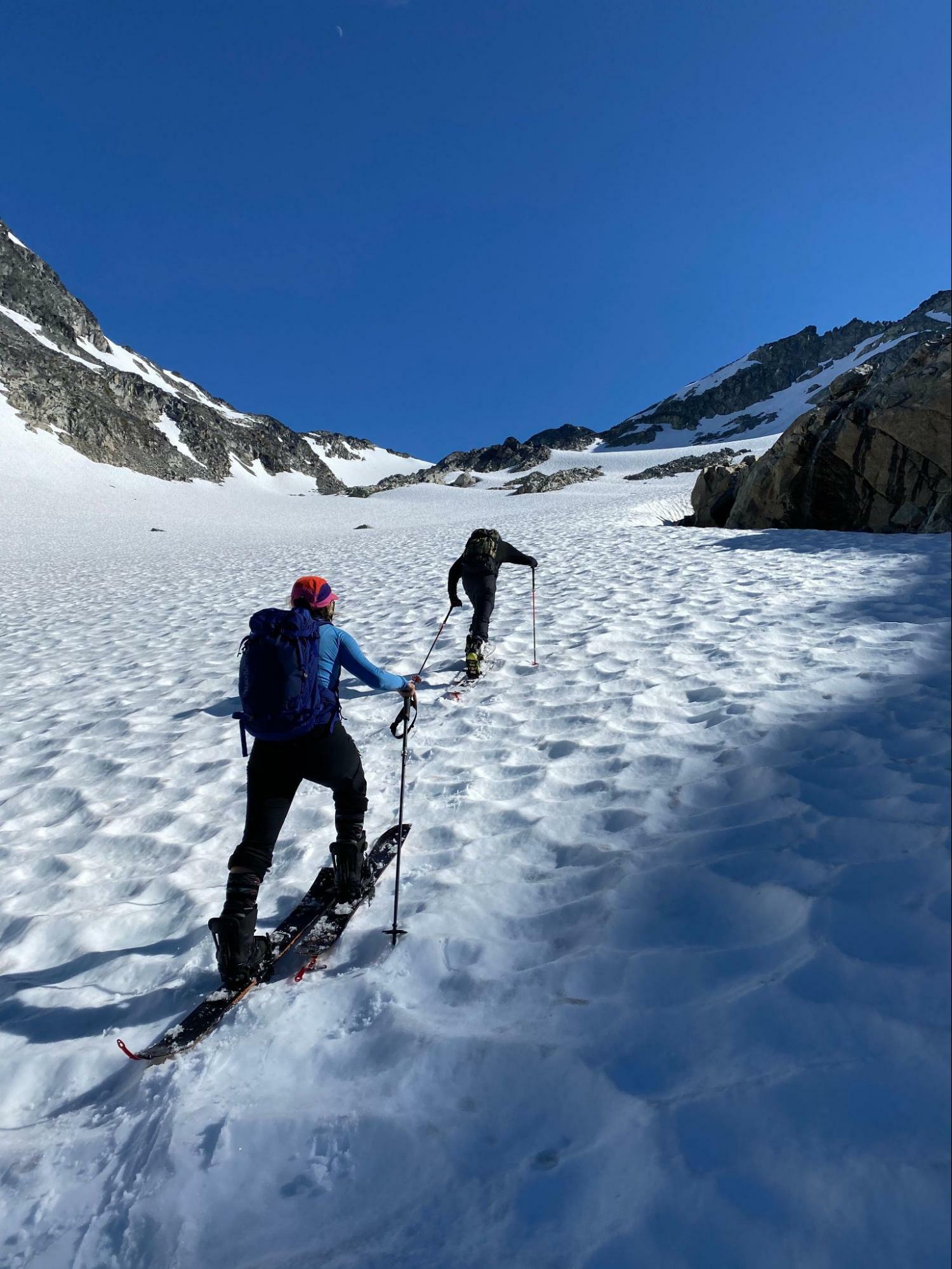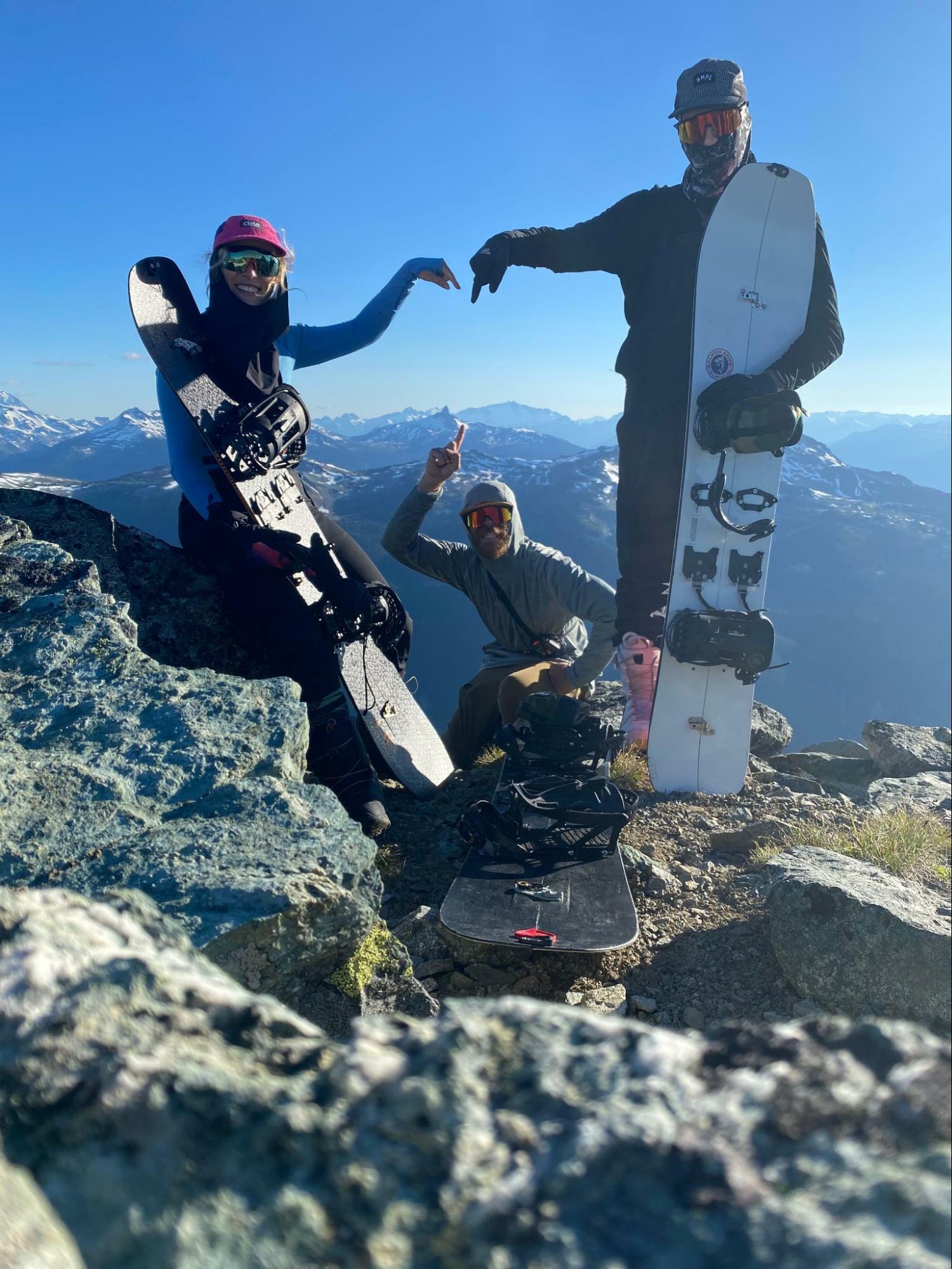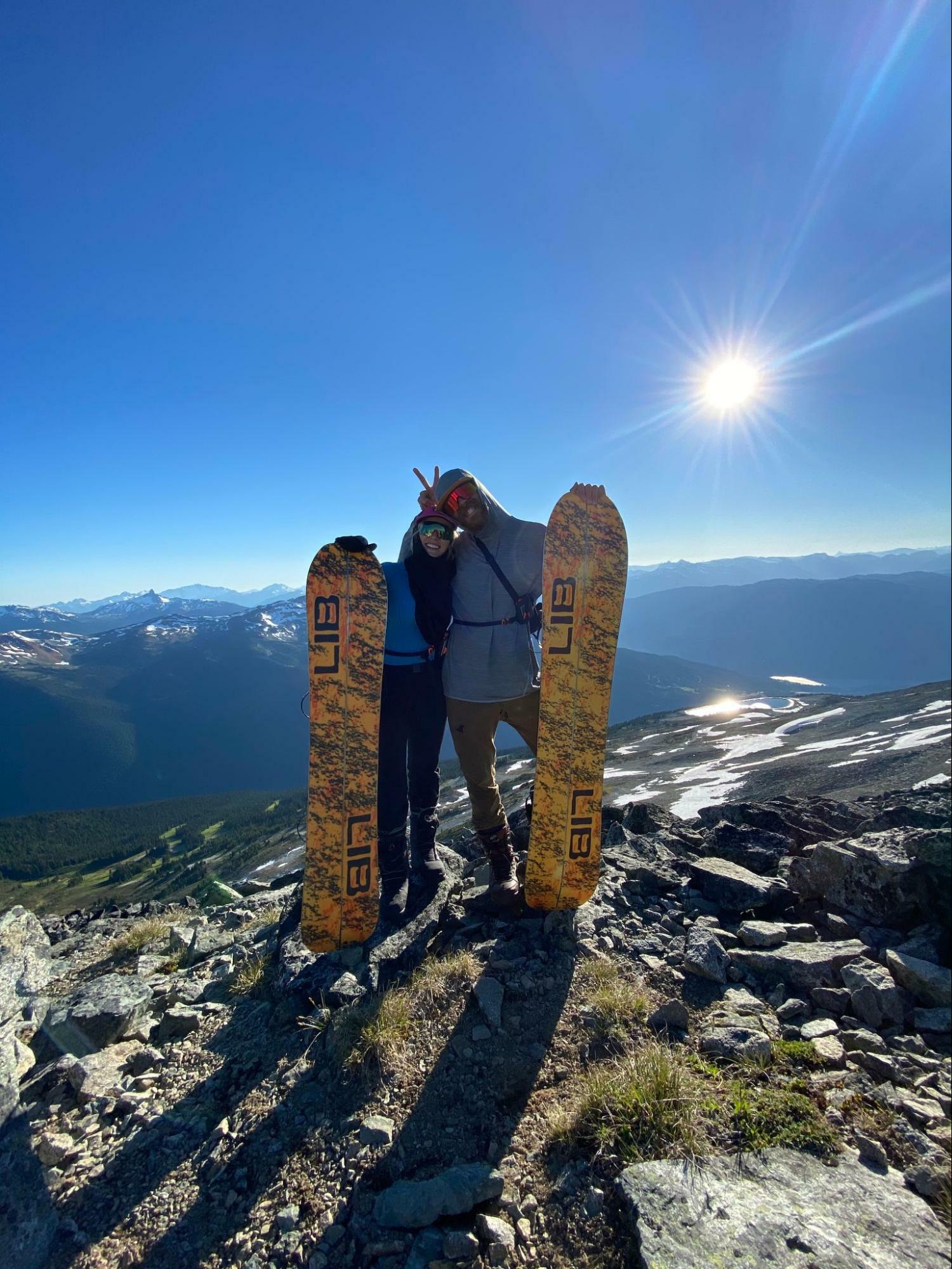 Backflips and Spider Dogs
We hit basecamp, set up our tents and strapped on the skis.
Upon arrival at the top, we made mandatory FaceTime calls to our parents to reassure them that we were still alive and reached our destination. Mother Nature provided, once again.
The sun was soon to set, so we put our skis together to make this thing called a splitboard and ride what felt like golf balls on the way down. But first, the boys wanted to build a booter and huck a backflip for Colin's birthday. Some call him the King of Backflips.
Arriving at basecamp, we made a small fire to cook some spider dogs – another of the birthday boy's favourites – to add to our Annie's mac'n'cheese before snuggling up in our tent for a dreamy sleep of tomorrow's descent.
That's It!
Waking up in the mountains is my favourite. The stillness and quiet make me feel at home – relaxed and peaceful. No traffic, no crowds, no honking… unless you count the birds.
With 360 degree views and fueled up by a couple bars, we made our way down.
A quick dip in the lake, a couple wheelies in the skate park and we were southbound.
A HUGE thank you to Scott for setting up our bikes and Colin for being born.
Until next year!