River Crossings with a Bicycle
Words & photos individually credited to each member of the Desire Lines CC community
9 minutes
River crossings are a bit like hike-a-bikes, they aren't always fun at the time, but they often make for a great story. Or a great photo.
Some river crossings are cold enough to keep your feet feeling frosty all evening, while others are a welcome relief from the heat of summer. In the past year I've experienced both types of crossing and a cooling summer dip is definitely the more pleasant of the two!
This journal entry is a collection of river crossing stories and photos from the Desire Lines Cycling Club community. While most stories are focussed here in Australia, there's a few international pieces from the wider community. Thank you to everyone that shared a memory and please reach out if you'd like your river crossing story to be added to the journal.
Plenty Gorge Gravel Ride
This pic is from a day out in Plenty Gorge. Our friend organised a group ride so that we could explore some of the trails, and since a couple of us are pretty used to underbiking, we thought we'd be fine on the gravel bikes. When we got on the train and saw him with a full sus mtb, we should have known what was ahead of us. The day was constant tests of our brakes and bike handling skills, pushing the limits of what gravel bikes are really built to do. The rider with a 'cross background was the only one in our group able to keep pace with our leader on the mountain bike, and he put on a bike handling clinic while the rest of us spent the day playing catch up.
After a few hours of sketchy trails and way too much hike-a-bike, we decided to try and find an easier bail out route from the trail system and ride some of the gravel access roads home. We'd recently had a ton of rain, and while we were expecting muddy trails, we weren't expecting this. Google maps had led us down this gravel road which had been swallowed by a new river. We figured the only way out was through, and shouldered the bikes, not looking forward to the soggy shoes for the rest of the day.
Fortunately we were rewarded with some much needed sunshine, and nothing but clear trails home.

Photo by Evan @evanamezcua, of Tom @voraciously.curious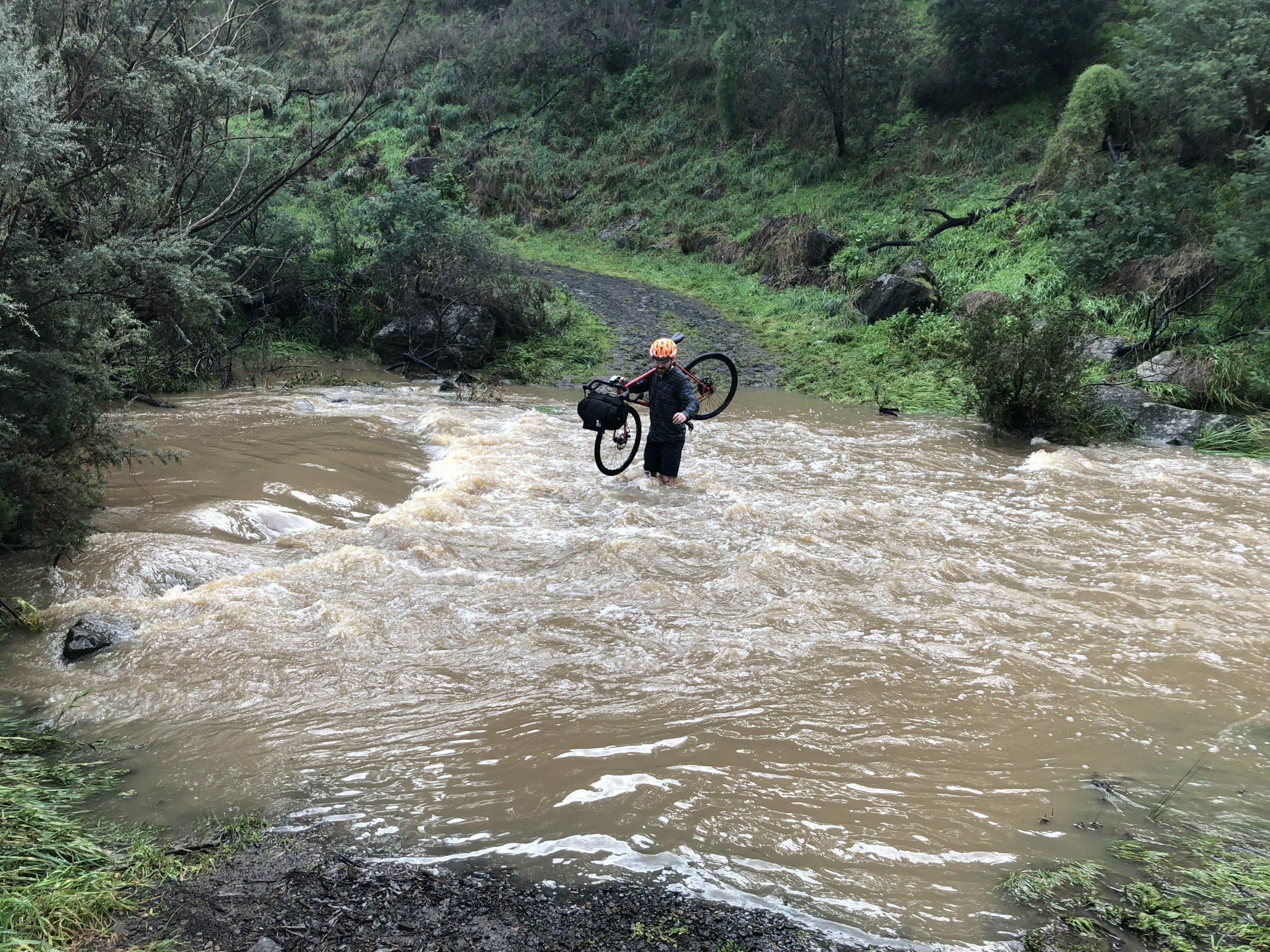 Jagungal Wilderness, Hunt 1000 2018
Day 2 Hunt 1000. A winter storm hit the high country the day before the scheduled grand depart leading to a delay in the start and fast flowing rivers. A number of riders camped out at the river hoping that the torrent would die down by morning whilst we crossed in two person teams so we could spend the night at O'Keefes Hut. Slippery and uneven underfoot with a powerful current; the first (and worst) of many river crossings on the Hunt 1000.
By Andrew Cooke
Namadgi National Park, Ngunnawal Country
For the perfect shot… Sometimes you cross water because the route dictates it, sometimes you took a wrong turn, sometimes you just have go back and forth through ice cold water a few times while your buddy gets that perfect shot for your insta-feed. The icy feet and numb toes I suffered overnight and the ride back the next day suggest it wasn't worth it … but the memories this photo triggers when looking back over my gallery suggest it totally was.
By Stuart
Devils Cardigan, Tasmania
This picture is from a days reconnaissance ride with the @bluemetaltasmania boys somewhere near the Devils Cardigan. Not such a dramatic crossing but was fun watching the boys trying to tie up their shoe laces with numb fingers and zero temperatures.
By @boxhead.3
Ngarigo Country, Hunt 1000 2019
This river crossing picture shows two mates I met on the Hunt 1000, Karl and Paul. We had ridden for about three days and came to the river crossing on Ngarigo country (from NSW to VIC). Having gotten to that point by bike and physically walking through the river that deliniated the border, and has so much more meaning for first nations people, was an unreal memory in the making. It came with an uplifting emotion of power and pride and is something I'm very proud to have experienced. Not because I 'conquered the environment', but because I was realising I was fulfilling a two year long dream and was in the moment. It was definitely one of the many times on that trip I thought to myself that doing the hunt 1000 was a way better choice for schoolies than going to Queensland.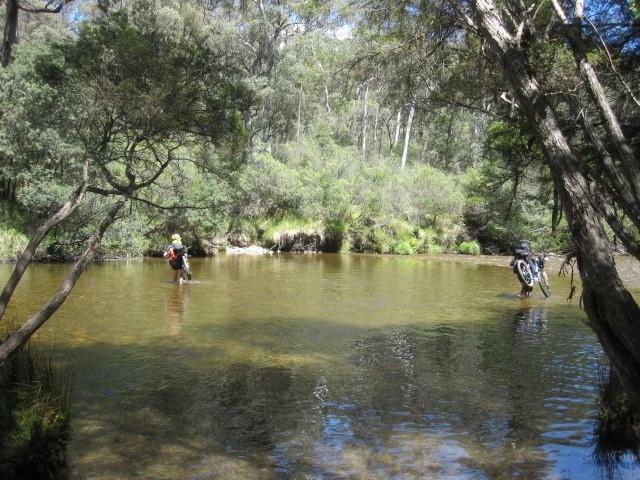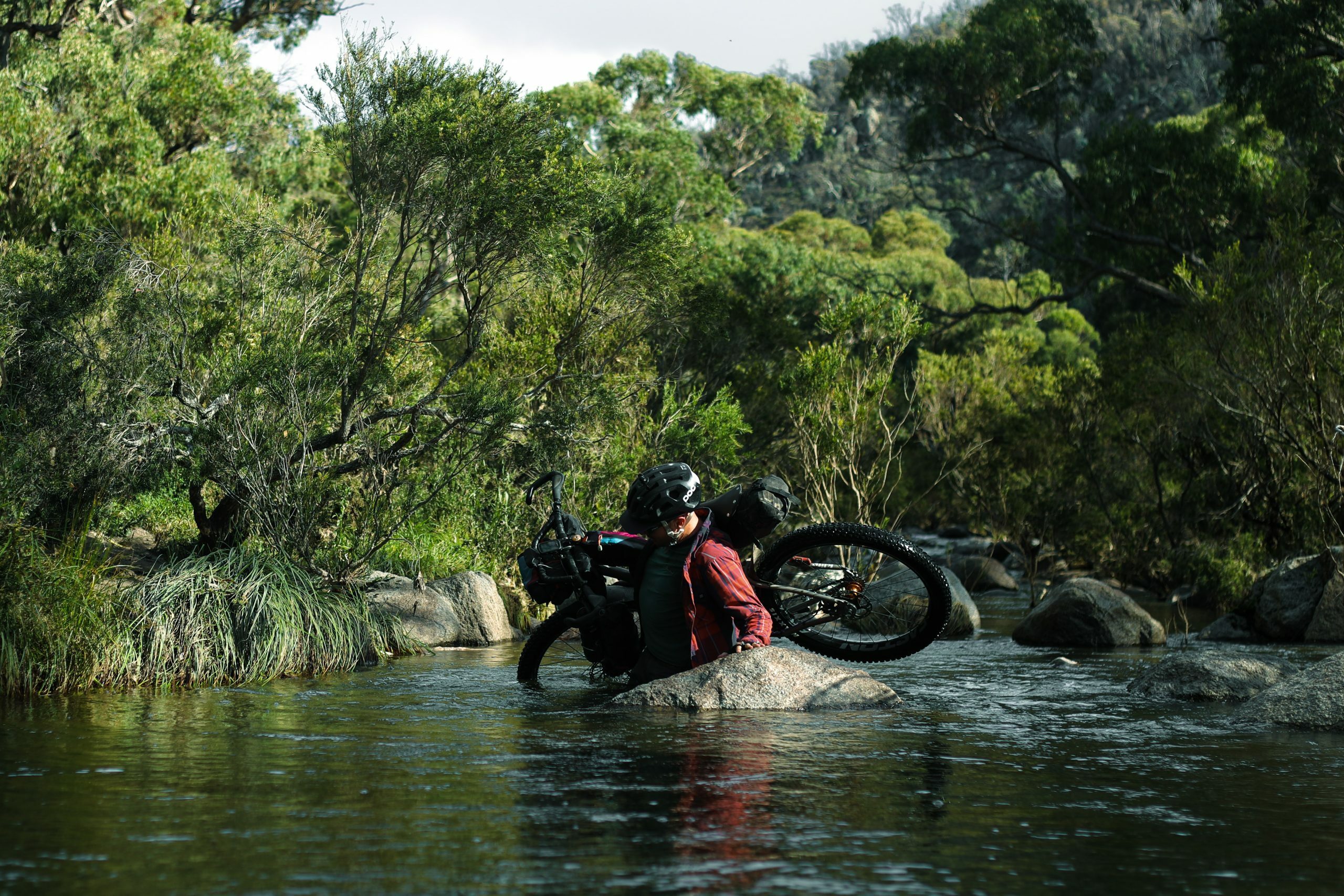 Horse Gully Hut Ride, Ngunnawal Country
This photo's from a recent overnighter to Horse Gully Hut, south of Canberra. We knew there'd be a few river crossings, but we didn't expect them to be so deep, so sandy and so frequent. After more than ten crossings in ten kilometres we were glad to warm our feet by the fire that night.
By Mattie Gould
Tian Shan mountains, Kyrgyzstan
This is not a place to hurt oneself falling into a glacial river with a loaded bike. As we'd learned a few days prior, Kyrgyzstan no longer had any functional helicopters, so pushing the big red button on a PLB could yield questionable results. Attempt one at the crossing almost ended very badly. Chunky, shin-striking rocks were swept swiftly along under the water and took out a leg, knocking Andy well off balance. That attempt was aborted in favour of some more carefully considered river assessment. Attempt two, pictured, makes the sparkling blue waters on this remote high plateau look remarkably innocent.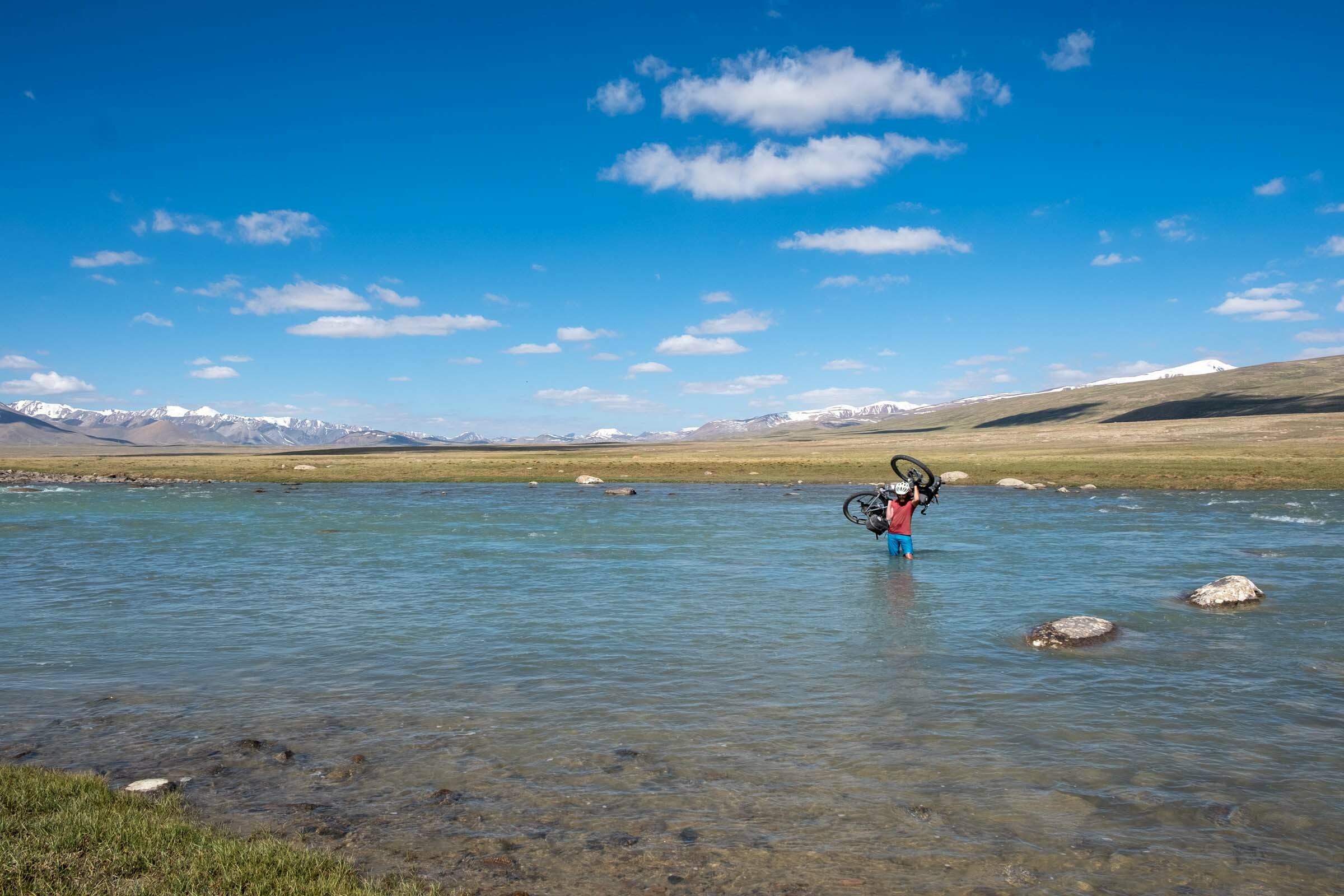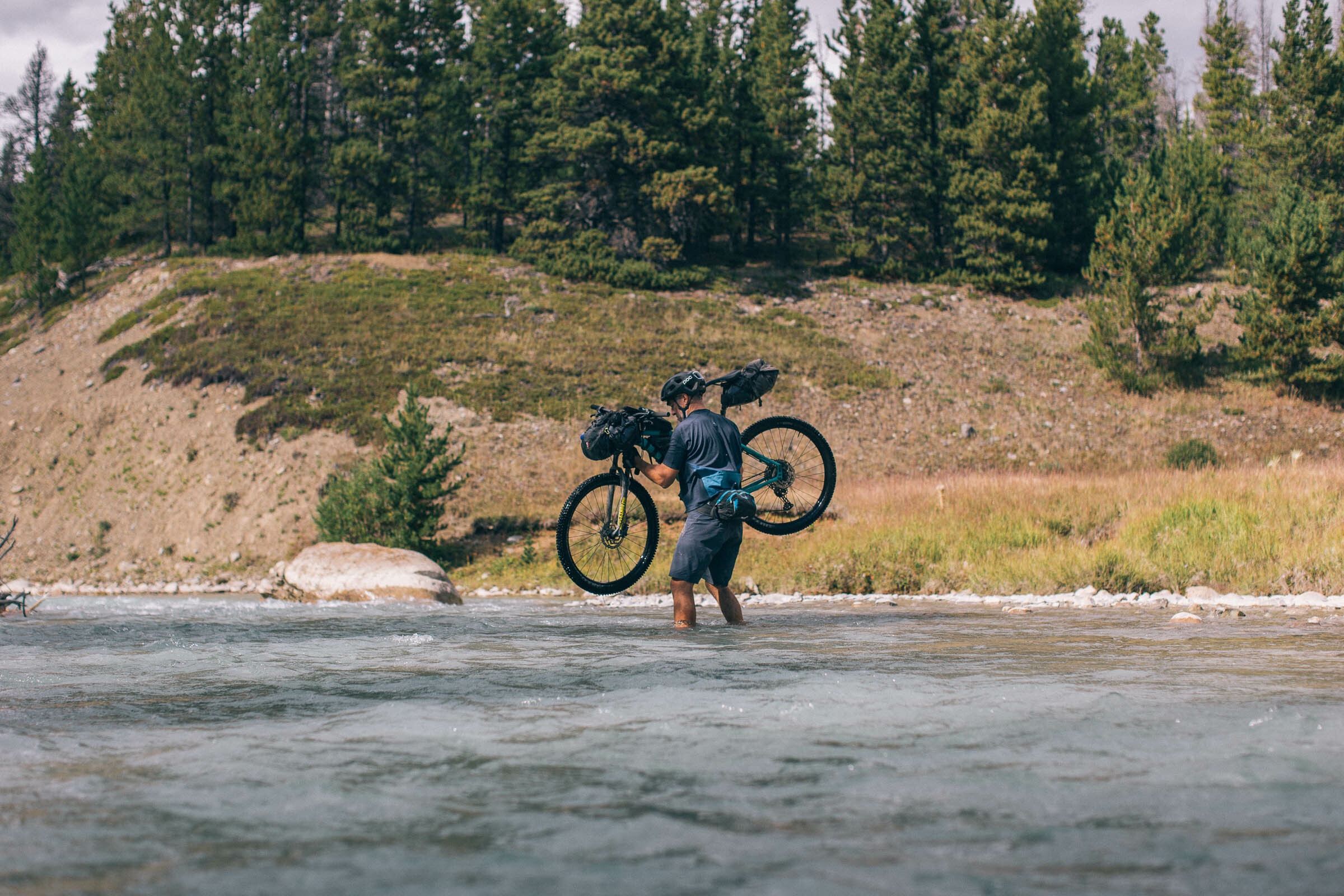 South Chilcotin Mountains Provincial Park, British Columbia – Canada
While this particular river crossing doesn't stand out amongst the dozen or so others RJ and I navigated on this day, I do faintly remember it being one of the wider ones. With massive granite peaks surrounding these valleys, the water ran cold and fast, and we settled into a natural rhythm of tossing our shoes across the crossings, tip-toeing our way through the ice cold glacier fed water, and taking turns acting as trip photographer on either side. Doesn't get much better than that.
By Miles Arbour
Barrington Tops, NSW
This river crossing is the headwater of the Barrington River in the Barrington Tops in Edwards Swamp area.

This river crossing occurred as part of the route scouting for the BC500 2020 edition, it was early winter, and as you know, The Tops can get pretty cold. The water was freezing and this was after already doing two crossings so my feet were already numb. I thought I'd see if rideable instead of carrying a bike through. No guts no glory as the saying goes.
By Tim Clark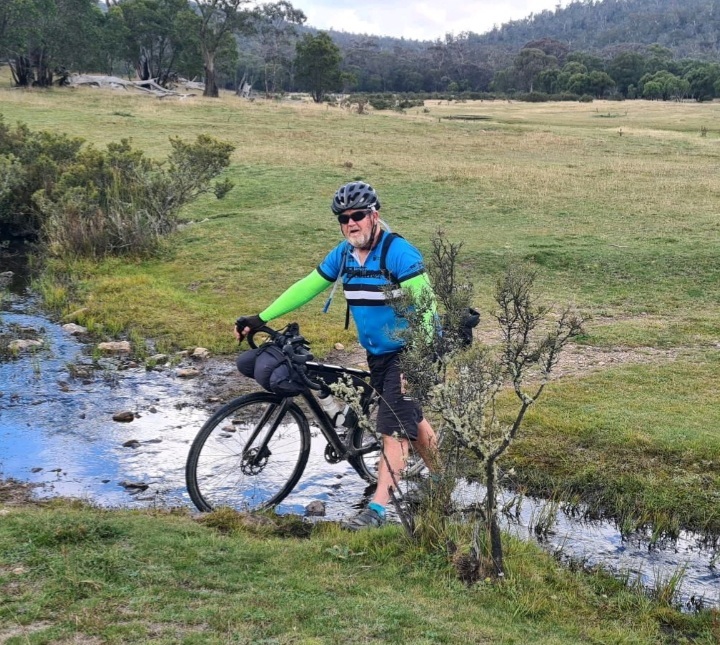 Murray River & Yowaka River
Photo 1: Crossing the Murray River on the NSW / Vic border on the Alpine walking trail. April 2021.
Photo 2: Crossing the Yowaka River, Griegs Flat, NSW
Eucumbene River, Entry to the Jagungal Wilderness
When as part of my first solo bikepacking trip in October 2020, I realised on Day 2 that Snowy Hydro engineers had closed the northern entrance to Jagungal in my 400kms trip from CBR-Kosciusko-Namadgi was in jeopardy. I found myself pivoting my plans and needing to unexpectedly ford the Eucumbene River to access Jagungal Wilderness via Tolbar/Happy Jacks roads. That day the shallowest section was armpit height, and moving at formidable speed. Leveraging every bit of concentration I had left I survived a sketchy crossing barefoot- almost loosing hold of my loaded bike twice as I struggled to keep it above my head.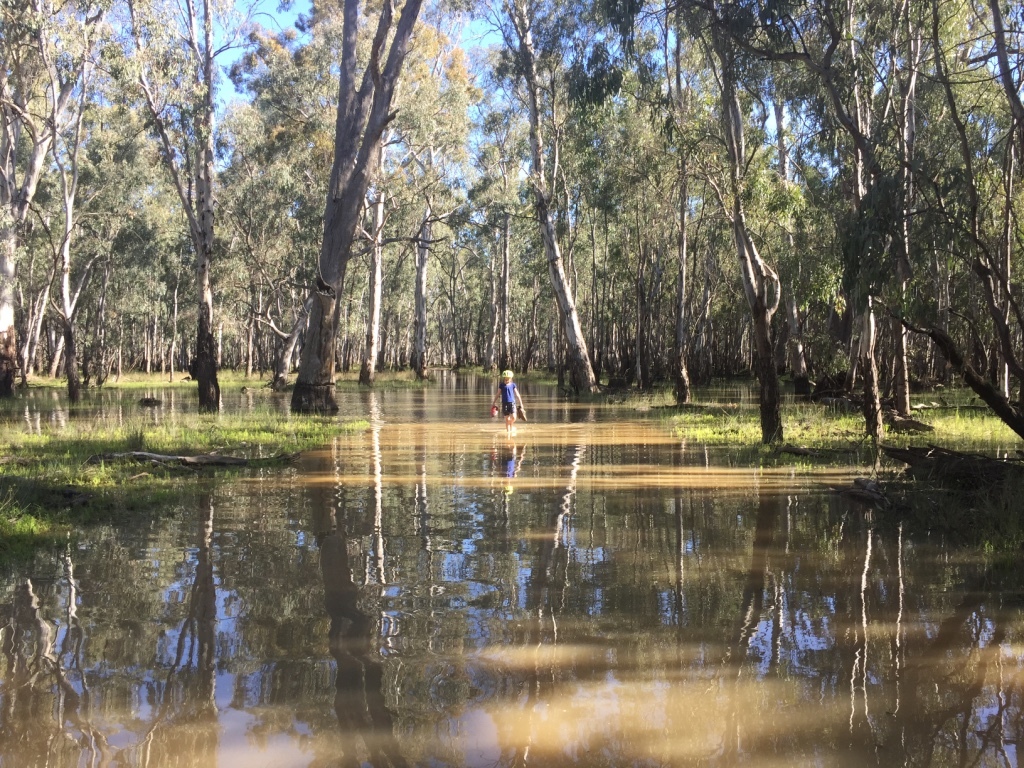 Barmah National Park, VIC
A quick overnighter with my then 9 year old in Barmah National Park. We got about 5km in before our first creek crossing. I carried her across so she didn't have to take her shoes off and did a couple of trips for the bikes. After another 10km or so we then hit our second body of water…
A little bit bigger this time but didn't look too deep so we headed across. She carried the shoes and I did a couple of trips with the bikes. Only got a few more kms before we got to another section of the swollen Murray that we couldn't see across. So did it all in reverse to setup camp.
By Chris Dallimore
Namadgi National Park, ACT
Everyone loves an adventure, to test the bounds of your comfort zone. Perhaps nothing does that more than riding through a creek crossing. Especially when you're 6, or 8, and on a 24 inch bike.
A great place to test little legs is on the 16km ride to Horse Gully hut in Namadgi National Park. There is a little bit of everything smooth gravel, rough gravel, climbs, descents and not 1 not 2 but 3 creek crossings… each way!
On the way out there is nothing but scepticism and both kids decide that wading through is the only option… but on the return curiosity starts to win over – what does it feel like? Will the bike keep going? Is the creek bed smooth or rough? How wet will my feet get? Plus it looks like Mum and Dad are having a lot of fun, and you know FOMO.
So one by one they step up. Squeals of delight and panic as all they knew about the way to ride bikes now no longer seems to quite hold true. But through they go again, and again and again.
Next time we'll go when the days are longer and the water is warmer.
By Rebecca Gee