Family Ride on the Otago Central Rail Trail
The family Messenger had given a particularly loud 'DING' one night in early 2019 with a message from my Aunty. 'Let's have Christmas in NZ this year and, beforehand, cycle the Otago Central Rail Trail. I've always wanted to do it. All invited, no matter where you are in the world. I'll organise bikes, just let me know if you're keen.' I don't know how many of us were in this chat, but 15 replied with a thumbs up and we were off. The youngest member of our party was 8, the oldest 81.
When you're a kid, it's easy to take family holidays for granted. Granted that there will be one at least every couple of years, granted that most of the family will be there, granted that you'll have a good time. It's only once you start getting older that you realise that family holidays take a fair bit of organising and buy in, and not everyone always has a good time.
I guess that's why I'm so grateful for this particular holiday. When I was old enough to not take it for granted, and young enough to have a bloody good time.
Clyde to Ophir
With most of us coming from overseas, we'd organised for a company to supply us with bikes and get us to the start (or end, depending on which way you want to ride) of the Central Otago Rail Trail at Clyde. I'm going to suggest that if you have the option of bringing your own bike, you most definitely should take it. When you're uncomfortable or unfamiliar with a bike, it only adds to the difficulty of a journey.
The bikes we were given weren't the worst, but they weren't built for each individual riding them. Imagine a cruiser bike and MTB had a child, and that's what we were given. But less cute. Alas, beggars can't be choosers and only a poor workwoman blames her tools, right?
We departed Clyde just before lunch, knowing that cheese rolls were available just down the trail. For much of the first day, the path is flat and straight. There's plenty of room to ride two or three across, and barely any other traffic coming the other way, so it's easy to chat with your fellow riders as you oil out your rusty legs and iron out any problems you might have with your bike.
After about 24km of flat and cruisy gravel, you'll come to a noticeable incline. Known as Tiger Hill, this uphill stretch lasts from Chatto Creek to Omakau. The highest point of the trail doesn't come until day 3, but Tiger Hill is the most obvious incline you'll face, so take comfort in knowing that the gentle burn in your quads is justified and Ophir is less than 15km away.
It's super easy to freedom camp anywhere along this Rail Trail, as long as you're in the know about how to toilet appropriately in the bush, you're prepared for the weather and know where your next food resupply will be. If you fancy the comforts of a warm shower though, Black's Hotel or Ophir Lodge will do you just nicely.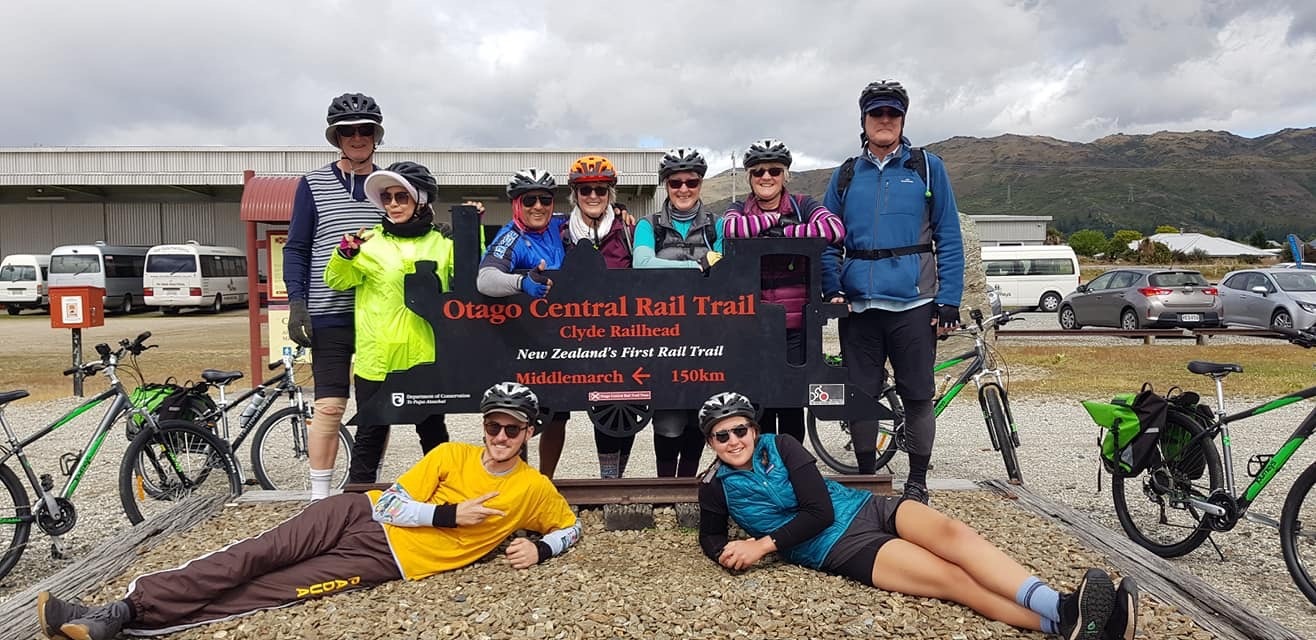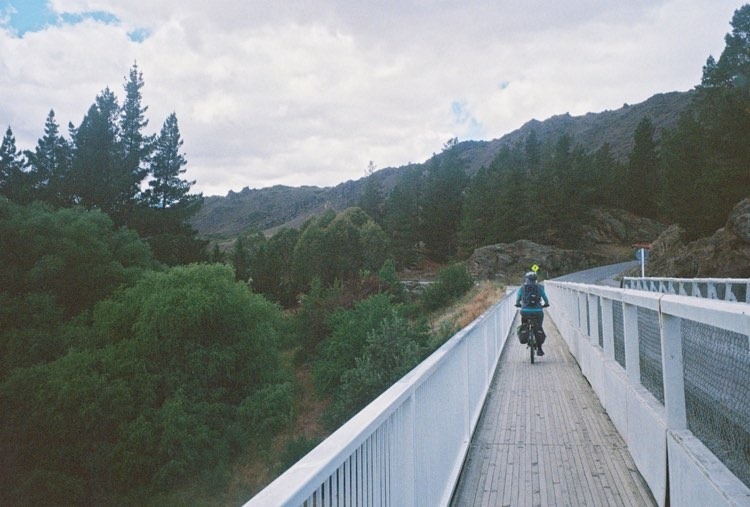 Ophir to Oturehua
The sun was shining and energy amongst the family was infectious for day 2 of our journey. After passing through the first tunnel of the day, the trail winds itself across and along the gushing Manuherikia River. You'll pass through Lauder about 10km into the day, an excellent alternative campsite for night 1 if you enjoy stargazing and have more gas in the tank after reaching Ophir.
After crossing back over the Manuherikia River (no need to prepare for an actual river crossing, there's bridges everywhere), you'll ride 17km through Ida Valley to Oturehua. The Hawkdun Mountains make an epic backdrop for this section, particularly if they've had a sprinkling of snow.
When you reach Oturehua, 33km later, don't forget to check out Gilchrists General Store for a range of old school lollies, classic Kiwi foods and throwback memorabilia. The Crow's Nest Backpackers, a quaint spot within walking distance of the Oturehua Railway Hotel, is a great choice of accommodation here if you're not freedom camping.
Oturehua to Hyde
Day 3 brought rain and wind, something this section of trail is notorious for. If you're lucky, the side wind that hits you will turn into a tail wind, but best not to count on it. After 12km you'll reach Wedderburn, the highest point on the trail at 618m above sea level. From there it's downhill for 13.5km, making it easy to reach Ranfurly for a late lunch. If you fancy an afternoon off the saddle, Ranfurly Holiday Park & Motels provides cabins and camping facilities.
If you're pushing on to Hyde for the night, you'll notice a welcomed drop in elevation as you ride out of Ranfurly. Undulating sections of trail will periodically come and go as you pass through the towns of Waipiata, Kokonga and Daisybank. Eventually you'll come to Tiroiti, which I believe is one of the most scenic sections of the entire trail. It's marked by a red gangers' shed, which has some historic information on the Rail Trail inside and is great to seek shelter in.
A short but steep walking track leading down to the river lies just before Prices Creek Tunnel. Years ago, Chinese gold miners cut a tunnel into the rock on the mountainside and consequently diverted the water to create a pretty badass section of white water in the process. Worth jumping off the bike to see before pushing on past white clay cliffs to Hyde. If you're lucky enough to stay at the Otago Central Hotel in Hyde, say hi to Jan and Dean from us (the motley crew wearing matching shirts), and enjoy a home cooked meal and glass of L & P to celebrate your last night on the trail.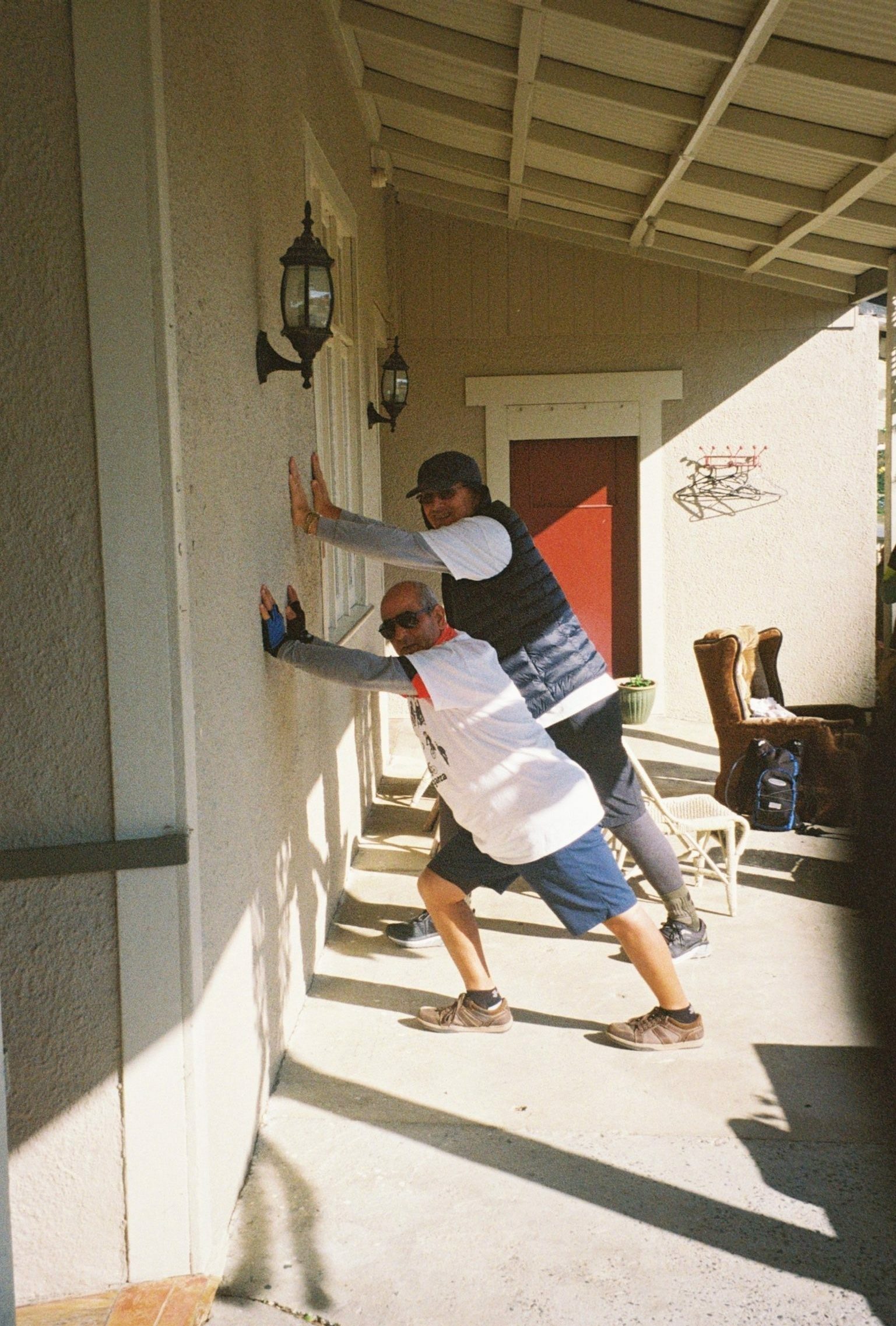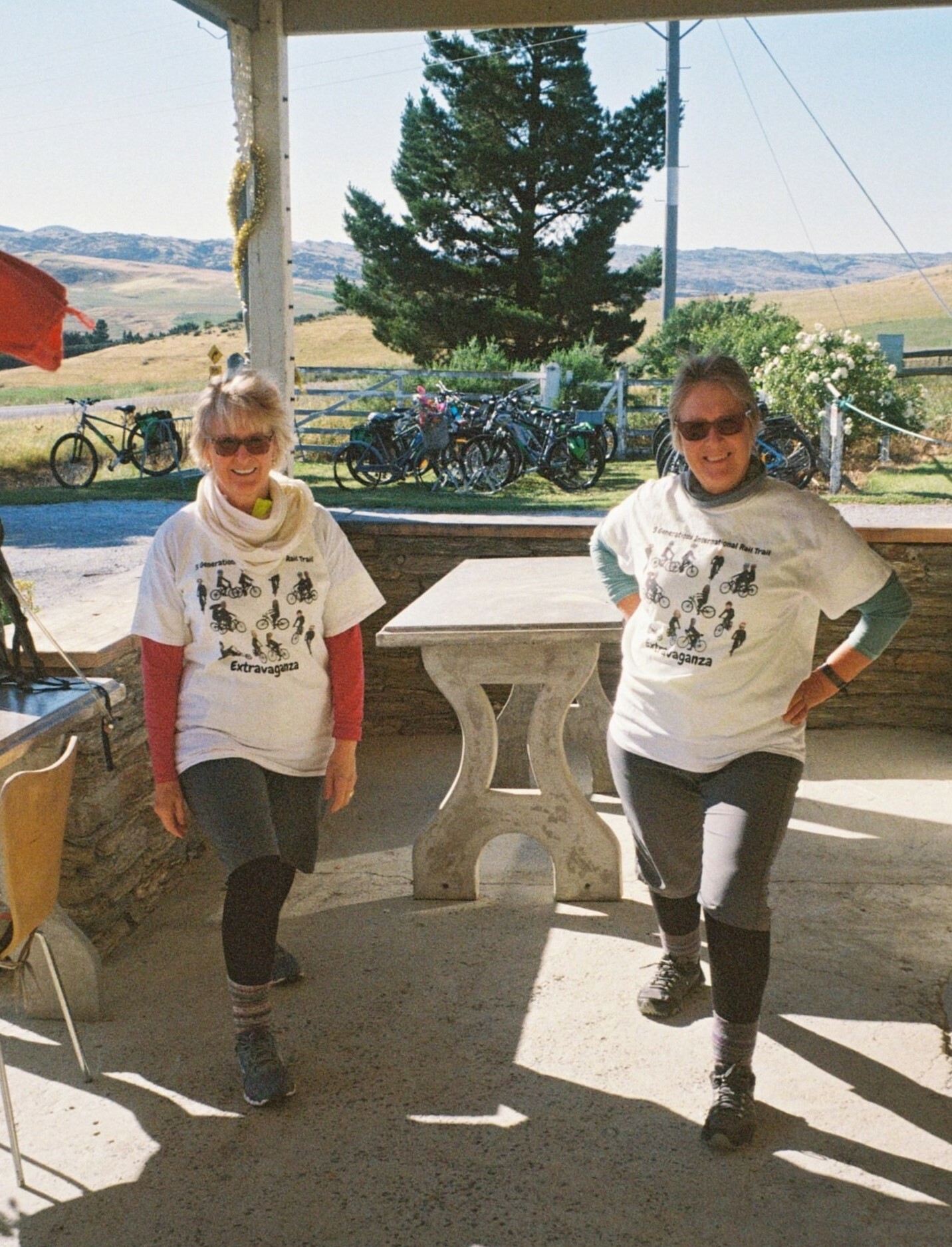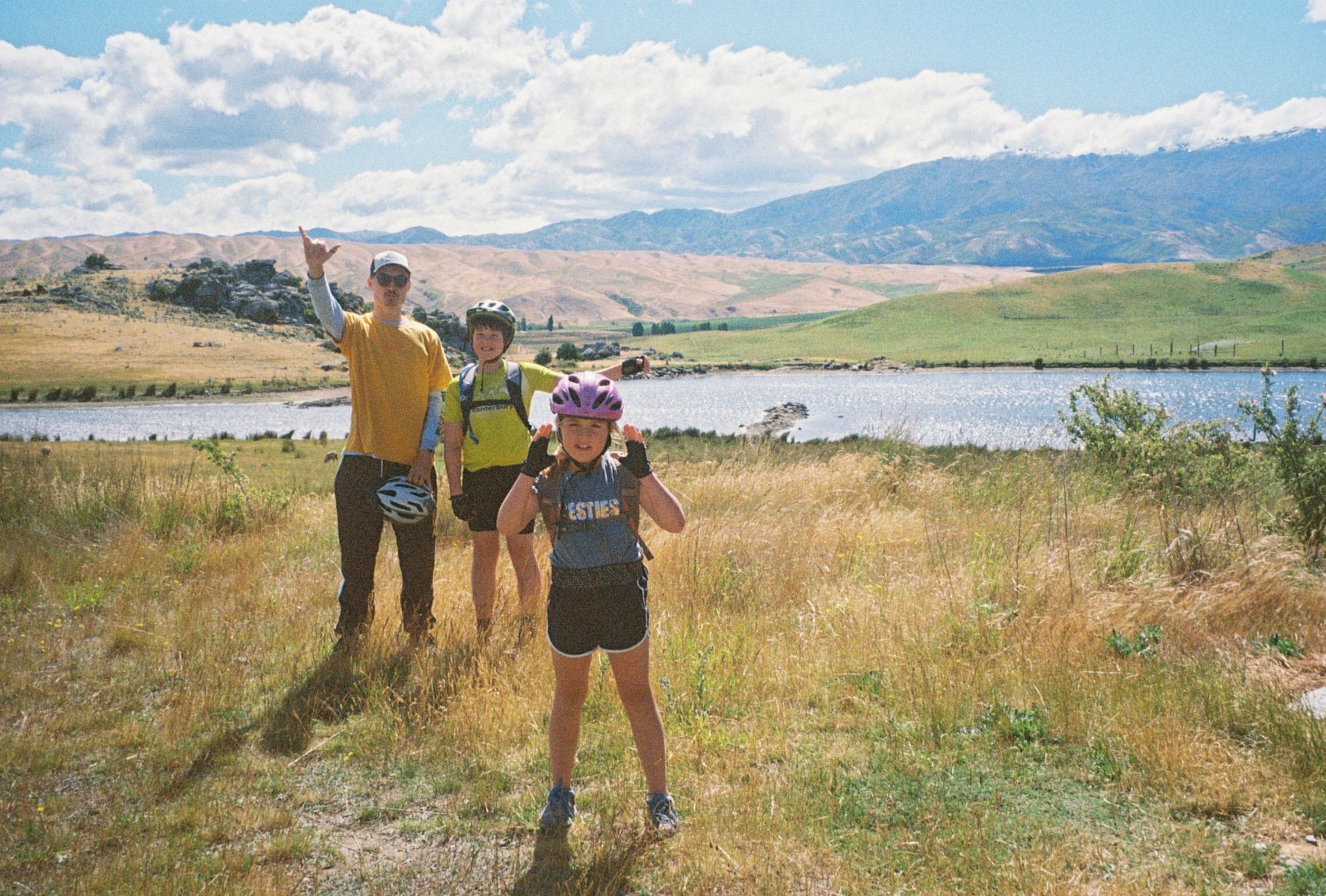 Hyde to Middlemarch
On trips where I don't have access to a shower or warm meals, the last day is always a mixture of sadness and excitement. Bikepacking in the luxurious manner my family chose, I only felt sadness.
Hyde Station appears 2km outside of Hyde and then it's onto endless fields of rolling green hills. There's plenty of sheep in Aotearoa, and I think 1/3 of them must reside along this section of the Rail Trail.
Being all downhill, it took our group less than two hours to reach Middlemarch. If I'm being honest, the end of the trail is a little disappointing. It's a roadside sign 400 metres out of Middlemarch, but once you see it, it's hard not to feel a sense of gratitude and achievement for the past 152km of Kiwi countryside cycling.
The Central Otago Rail Trail is great, but what really makes it worth doing are the people you meet along the way, the towns you visit and the food on offer. We met a 91 year old cycling on an E-bike, a crew of 4 training for Tour Aotearoa by cycling the entire Rail Trail in one day, and a heap of day trippers. It was a unique family holiday that provided so many laughs and memorable moments. The trail and our trip wouldn't have been the same if we had driven through Central Otago – you can't appreciate this rugged land and its people the same way in doing so – and that's why cycling through it is so worth doing if you want to experience the heart of Aotearoa.
When Jessie isn't outside riding, you'll find her online at toitū.co; a little sustainable outdoor gear biz that that's got a curated selection of bike bags, amongst other sustainable goods.