Tyla's currently living in her tent, in her temporary home in the forest, complete with a mossy balcony, ferny outlook, loads of natural filtered light and a statement stick staircase!
She's feeling full to the brim with all the good stuff to be spending a few weeks at the @bobbrownfoundation takayna forest defenders camp. Finding it humbling, inspiring and empowering to be surrounded by such strong people in such strong country.
Time in Takayna has also given Tyla the chance to reflect on what she loves about bike touring and bikepacking. Turns out a loaf of bread is pretty high on that list.
An Ode to a Loaf
There are many things that will bring joy to a cyclist travelling on her bike all day long.
Small things, like a friendly toot from a car flying past. The passengers cheer her on, yet simultaneously grimace at the hill she is pedalling, imagining themselves in her place. Little do they know the simple state of happiness that she finds, slowly turning the pedals, working her way up the hill.
Big things too, bring joy. The wedge tailed eagle that launched out of its tree and into flight just metres above where she pedalled below. An awesome, humbling spectacle, so easily missed by those travelling with a little more speed.
But nothing brought such joy to this particular cyclist, on this particular trip – such consistent, evolving joy – as the humble loaf of sourdough that she had strapped to her bike on departure.
In its paper bag it perched, unassuming, on her rack, as she gleefully pedalled towards her next meal.
Lunch! Out comes the vegemite, the tomato, the avo, the cheese, the tiny tub of cracked black pepper. Lay it on thick, stack it up high.
She grins to herself, smugly sitting in a ditch on the edge of the road. An open sandwich worthy of the finest of inner city cafes!
Later that day, she finds a home for the night. A cute river campsite, shaded by myrtles. A wee snack must be had, before the real cook begins. A hunk of bread, ripped from its loaf and slathered with peanut butter.
The tent is up, and warm clothes are on. As the stove fires up, ingredients emerge from the panniers. Dinner options are endless, but out of the mess, pure bliss emerges.
A steel trangia pot, full to the brim. With veggies and rice, and a steaming hot broth.
Out comes the loaf and great hunks are torn off, dipped in the broth. The bread soaks it up, a flavour explosion from such humble beginnings.
She sits back, wrapped in content.
The day winds to an end, a full and happy day, fuelled by a simple, hand-kneaded ball of dough, baked in an oven way back in town. And very best of all? There's still half a loaf left for tomorrow.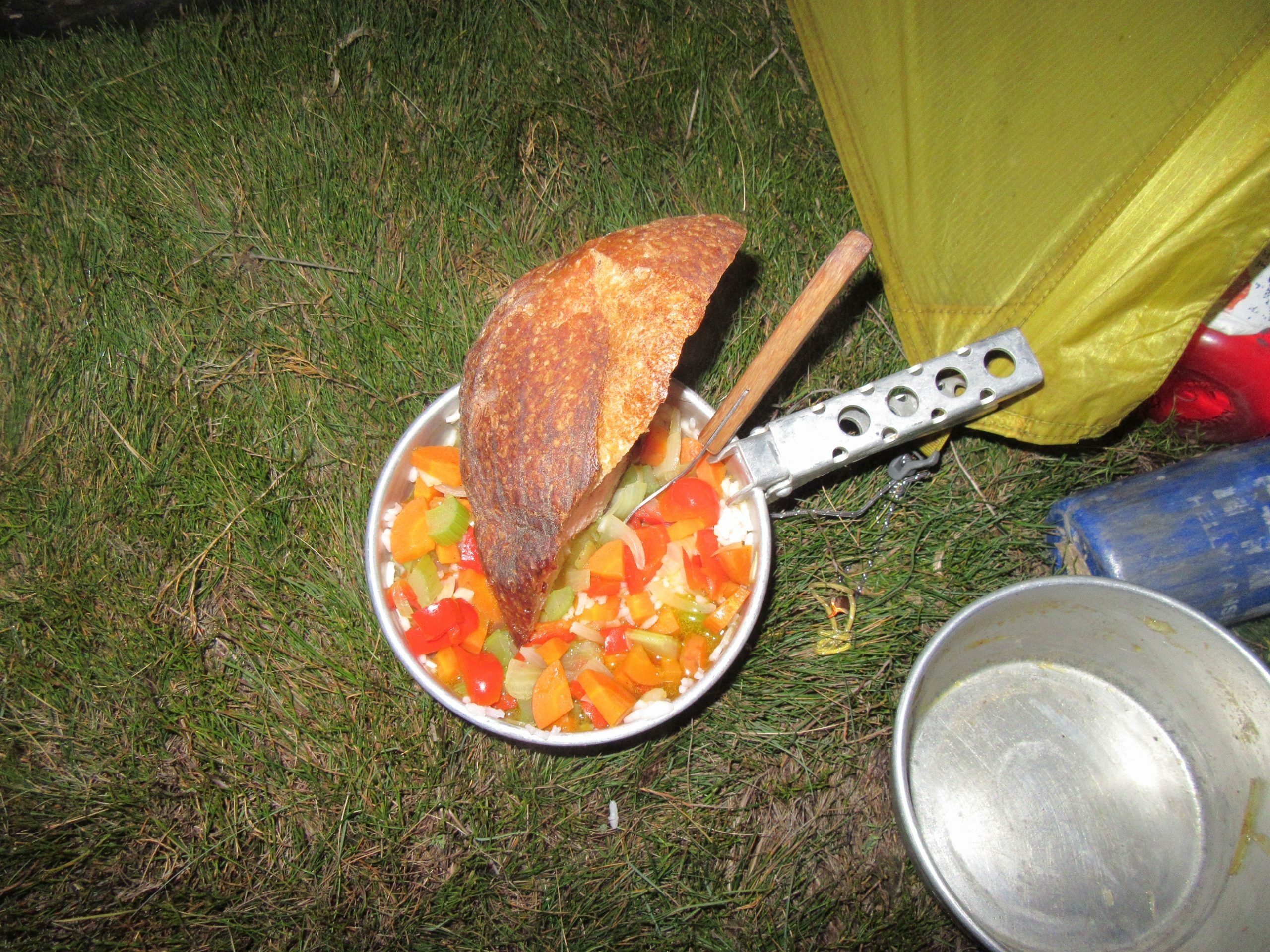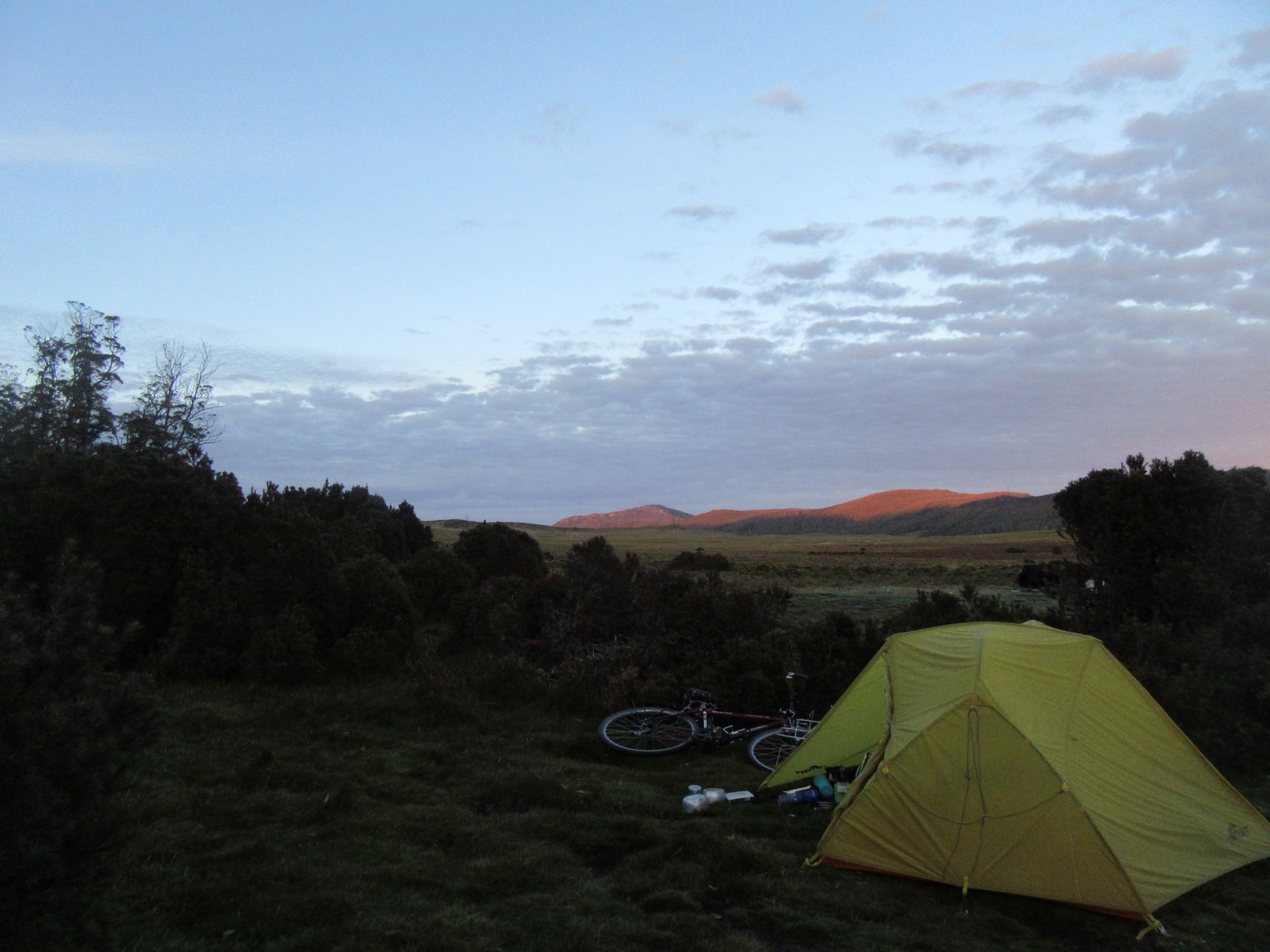 Follow along with Tyla for more laid back bicycle adventures and check out the Bob Brown Foundation to see how you can help protect native forests like the Tarkine / Takayna.