The name Munda Biddi means "path through the forest" in the Noongar Aboriginal language. Riding it has been on my radar for many years but for whatever reason I just never made the time to do it. When I saw that there would be an unsupported ultra-endurance race on the Munda Biddi, I figured the time had come.
The race would be the entire length of the Munda Biddi, from Albany to Mundaring (1,050km give or take) including the side trips into Donnybrook and Collie. The elevation gain for this is something like 13km. Originally it was scheduled to be run on April 18th but COVID19 changed that. The extra time helped me build a more suitable bike assembled from a parts list that was researched to suit my defined requirements. I had to build it myself to ensure I knew how to fix it. In the end BikeDr in Subiaco helped me with a few bits and pieces (bless their cotton socks).
Unfortunately, my physical preparedness was very poor with a few issues in the leadup including a nerve issue in my lower back which meant 5 weeks off the bike. Fitness, preparation (and everything really) is never perfect, so we make do with what we have.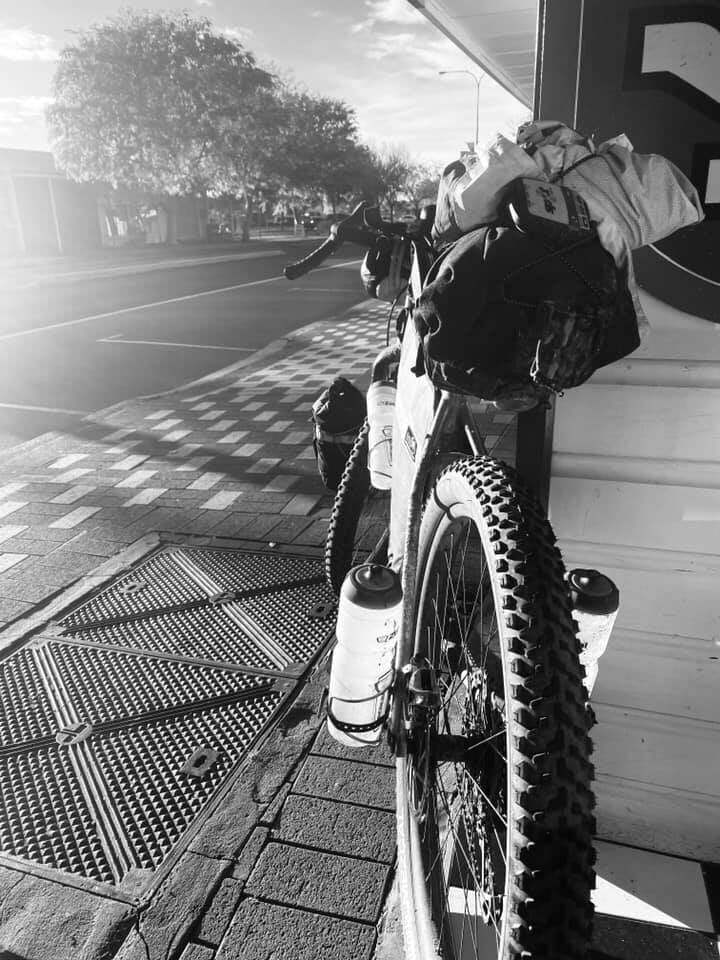 Day 1 (and Day 2): Albany to Manjimup
457km and 6620m elevation
31h moving time / 39h 10m elapsed time
14.7km/h average moving speed.
Assembling at the trailhead before the departure saw around 26 crazy individuals packed and somewhat ready to roll. As 4.00 am ticked over, the race began. The pace was hot for me early, first day jitters for some see them take off a little too quick. I remember seeing this early on during the Great Southern Ultra and despite my best intentions to slow down, I get sucked in a bit.
Chatting with a few riders here and there takes my mind off the big kms (with slow speed) to come. Denmark arrives and I bump into friends, Ruth and Karl, who have almost finished their Munda Biddi journey South. I stuff some delicious bakery food into my frame bag, a fair bit into my mouth and keep riding. This food stuffing becomes the norm wherever the opportunity presents.
The rolling farmland past Denmark is beautiful but it soon changes as the Valley of the Giants and the tingle trees grow ever closer. No time for the tree top walk itself but there was plenty of walking happening, some of those climbs are 20% gradient and were impossible for my legs to overpower. I didn't mind the walk, it was nice to get off the bike. Already that's a bad sign.
The last part of the Karri Forrest into Walpole was ridden with Tony, I had a proper energy flat in there and couldn't see too well so he stopped with me and we ate. We ate together again in Walpole at Flaming Hot Takeway's. The owner was right when she said I couldn't eat all my food. I stuffed my burger into my bag once again and we rode off into the night at 8.00 pm.
I can't remember where Tony and I got split but I do remember riding into the Kwokralup Beela hut thinking there was too many crazy racers there already sleeping so I should push on another 50km to the Yirra Karta hut. It was only 10:20pm or something, so plenty of time to crack out another 50km. Wrong.
Turns out the next 50km was atrocious. It rained the entire time. The track was swamp. There was nowhere to shelter form the rain and relax or bivvy (and sleep). It got cold. I had to keep moving to keep warm. This was not good.
It was after 3.00 am when I got to the Yirra Karta hut. I was quite sleepy at this point but I did notice there were 3 bikes here, one of which belonged to Sacha. I kinda knew Sacha was going to have a crack at the Female end to end record time and I didn't want to stuff around and wake the 3 of them up so I made the decision to keep riding until I found alternative shelter from the nonstop drizzle like a bus shelter or an open sided hay shed. The last 80km were 100% forest so I do not know why I had that stupid idea of being able to find shelter.
As fatigue really set in, the forest came alive. All sorts of animals came out to play, all the cool big ones that you don't really get to see too often, like lions and elephants. It took me quite some time to realise I was properly hallucinating, and they weren't real. Every wave of hallucinations was real for a few minutes until I figured it out again.
My bike handling skills also got lazy. I kept stopping to walk over small logs and trees across the track until I mentally gave myself a talking to, "you're better than this, don't waste your energy". The very next log ended up being two with a 20cm gap and I did not make it over on the bike. I felt like superman going through the air with the bike landing on top of me. As I lay on the ground for the next minute going through the checklist of broken bones I decided I should go back to my previous method of safety first for the rest of the ride.
After the adrenalin of the crash wore off and with fortunately no injures, I began to get really tired again. Riding in the dark with the rain meant that there was no way to enjoy the scenery and really get a feel for the environment you are in. It was just track, dodging trees and obstacles and staying warm. I began to doze off while riding. The first time was a surprise, it didn't seem possible. It kept happening until I very nearly came off again. It was a bad, bad time. Unable to ride, nowhere to shelter, cold.
A slight break in the drizzle meant for a quick rest stop. I sat on the ground, knees up and rested my head in my hands, on my knees and fell asleep for 2 minutes until the rain came back. 2 minutes! It sounds like the shortest sleep ever and what's even the point? You learn something new every day and today I learnt that I tricked my brain. That 2 minute sleep felt like 2 hours and I was much more alert and able to function. 20 mins down the track, feeling quite good, I remembered my caffeine pills. At 4:30am I took my first caffeine tablet of the Munda Biddi Ultra. I had given up caffeine for 3 weeks prior to this race to increase the effects of caffeine and wow did it work.
The sun eventually came up and I made it into Northcliffe a bit after 8am. The small General Store sold me some fruit and a packet of chips. I was bitterly disappointed to not have a toasted sandwich or something else warm but that's life. I dragged myself and my bike into the disabled toilet for some wind and rain protection and sat on the floor to eat my delicious breakfast, thinking "What am I doing with my life?"
I reached the big switchback climb into Pemberton around noon, that climb goes on and on, like torture. I was feeling quite bad at this point, the hallucinations had begun to slowly return and I was super hungry. Damon had come to say hello on the way into town but I didn't recognise him nor realise he was greeting the racers. I was so focused on achieving lunch, but it didn't matter anyway because I couldn't really eat the food I ordered at the bakery. Onwards and upwards, I kept riding. It's now been 31 hours since the start of the race and 32 since I was last asleep in bed.
I stopped to change my brake pads somewhere near Quinninup. I kept the old ones because littering is a horrible character trait (please don't do it). Upon inspection the next day, it turns out they were fine and that was a wasted 30 minutes. The things you do when you don't really know what you are doing any more.
Sacha, Mack and Pete passed me at this point. I caught up to them in Quinninup when they were resting and eating lunch, I did the same and was finally able to eat my Pemberton bakery food. The difference between us here is they had slept for 3 hours, I was delirious. I kept seeing photographers, taking photos of me. I kept thinking "I'm not in the lead, never was, maybe they don't realise?" There were no photographers out there in the bush. There was no one, nothing, just my imagination.
Manjimup arrived after 7.00 pm and I finally got to sleep around 8.00 pm in a motel room. It was possibly the best 5 hours sleep ever.
Day 3: Manjimup to St David's Church (Worsley)
222km and 2886m elevation
15h 04m moving time / 20h 33m elapsed time
14.7km/h average moving speed.
It took a few hours of riding before I felt anywhere near comfortable. Panadol was taken very early but I couldn't eat until the first stop at Karta Burnu hut, 43km (3 hours riding) our of Manjimup. I missed a few turns on the way and generally was having a horrible time so it was nice to sit down at the hut and enjoy the view of the sun coming up.
The day got better and better. I have a little saying that I keep telling myself, for every trough there is a peak. When you are deep in the pit of despair, just get through it because it will eventually improve, and the good times will return. And they did. The scenery today was beautiful from Karta Burnu to Donnelly River and all the way to Nannup. I remembered today to have 1 snickers and 1 bounty bar every 90 mins and it helped to avoid the hunger flats. I enjoyed the morning, it helped that the sun was shining and even better was lunch at Melo Velo in Nannup.
The section out of Nannup is rail trail, flat and fast. After refuelling, this was good fun apart from narrowly avoiding cycling over a tiger snake. Poor guy, he got a fright!
I got into Donnybrook in time to get supplies form the IGA and then headed to the 24 bakery for dinner. At this stage of the day it's time to plan where the next sleep stop might be and I thought I would get to Nglang Boodja hut where I have slept on a training ride, maybe around 10.00 pm and get a few hours rest in. I had other options closer and further afield just in case. I did get to the hut around that time despite some of the decent climbs in the area but again there were a heap of bikes there and I was feeling ok. So why not carry on for a few more hours, Collie was only 26km away according to my notes so at slow night time pace that would be roughly 2 hours.
About 40 mins later I realised I had made a poor decision. I was lost and couldn't find the track. I got off my bike and walked around for ages, up and over a big granite slopes. The maps said it was over said slope but there were no trail markers nor was it rideable. I couldn't see any other tyre tracks. Life was getting difficult at this point but I decided I had to follow the little blue line on my Garmin so I pulled and pushed my bike into the unknown.
That section was an omen for what was to come. Deep in a river valley the track went up and down the sides. I couldn't ride any of it. I was supposed to be very close to Collie but upon checking Google Maps, I was far, far away. My notes had their first mistake and it was after midnight now. The one good thing to come out of this was I got to share the despair with someone else. I had caught up to Pete (Pedalhead Pete) while he was trying to figure out what was going on around us. We got to push our bikes and curse concurrently.
Pete was heading to Collie where he had a room booked but we did the sums and realised it would be 5 or 6am before we could get to Collie. I had a plan B, a friend had told me about an old Church in Worsley that is disused but is welcoming travellers in need of shelter. Sounds like us, so we made that our target, eventually getting there around 12.45 am.
It took 3 hours to cover 20kms. Alarm was set for 3 hours sleep…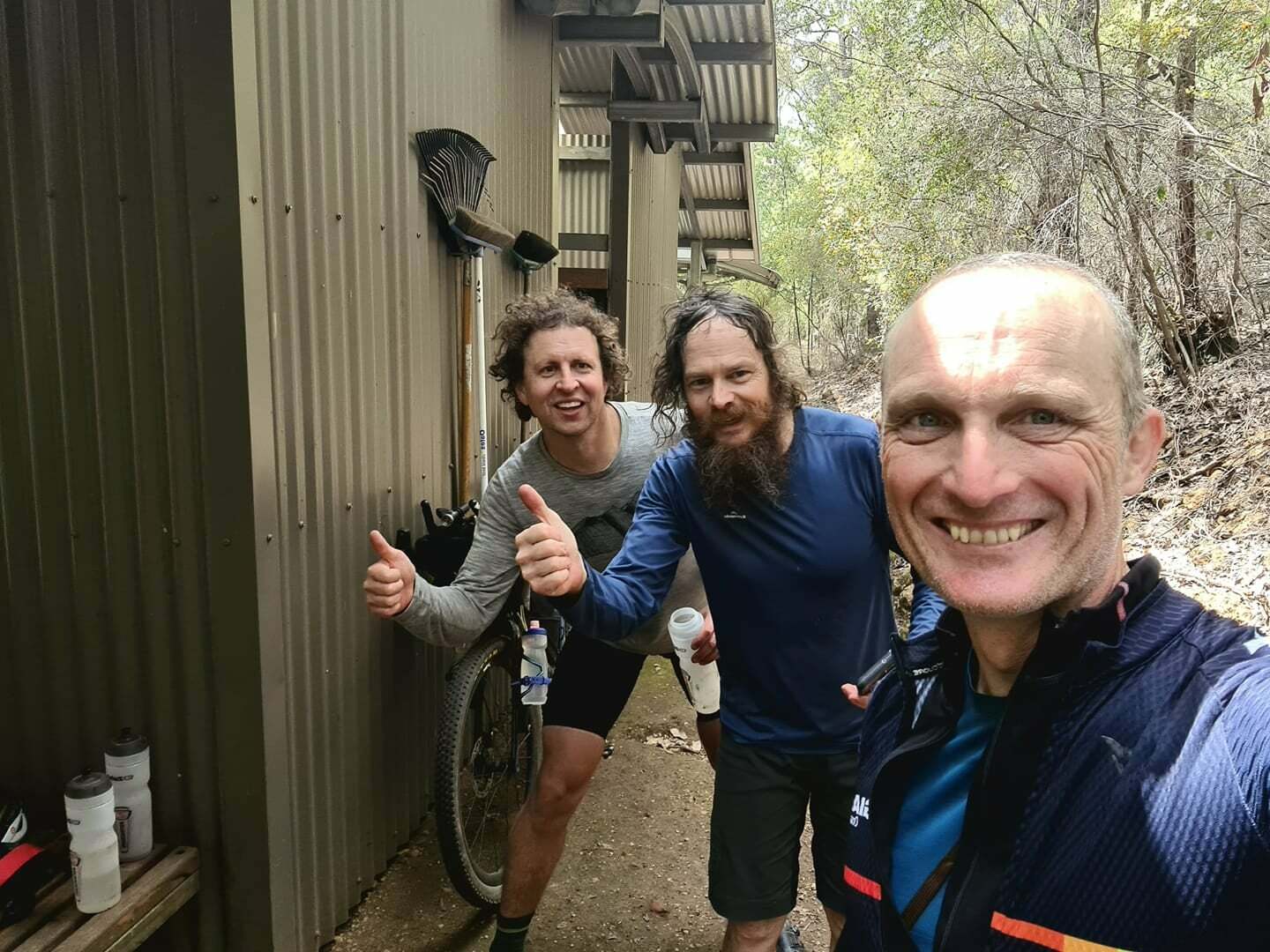 Day 4: St David's Church (Worsley) to Dwellingup
177km and 2282m elevation
12h 53m moving time / 18h 30m elapsed time
13.7km/h average moving speed.
It was really cold in that church. 8c but we were very thankful because outside it was 1c. I think I huddled inside my sleeping bag for 45mins after the alarm went off, everything hurt. I had slept in my bike clothes that I had now ridden in for 3 days straight but I didn't even care. When you need sleep, you need sleep and changing clothes was a waste of good sleeping time.
Eventually we got going for the 20km side trek into Collie. This section was nice enough but the real motivation was a massive feed + coffee. McDonald's was on the menu and ate 3 brekkie meals and then felt quite unwell from overeating! It helped me out later though, the calories were needed. We also managed to see the start of the short course event, 320km from Collie to Mundaring. All these fresh, clean faces!
The rest of the daytime turnEd into a blur. I was riding on my own at times, and other times with 2 other Pete's. I had a little fall as the track joined the bitumen at Lake Brockman, so I went into the camping area and had a pizza at the café. It literally took forever and was a waste of time in the end; alas, the rest was nice.
A couple of hours down the track, as it got dark, my shifter batteries needed replacing. No worries, I had done this a couple of months ago as practise. The complicating factor now was fatigue and I couldn't remember how to do it and I started panicking. Pedalhead Pete re-appeared and with his help I got the very simple task done, it literally takes 1 minute per side but I had spent 30 mins now on the side of the track. Onwards and upwards.
The last 20km into Dwellingup just dragged on and on. The Murray Valley single track is amazing but in the dark, on a rigid, fully loaded bike, sore and tired, it's far from fun. Then the climbs came and Dwellingup just never got closer, until bam we were there. It was now after midnight but thankfully we had booked a tiny Bibbulman track walker's rooms at the caravan park.
Compared to last night, the walker's room at the Dwellingup caravan park was full luxury. A mattress, pillow, towel and a bar heater. No bedding but that's no worries. A brush of the teeth and then straight into my sleeping bag with the heater on to warm up for a 3 hour nap.
Day 5: Dwellingup to Mundaring
175km and 2681m elevation
13h 17m moving time / 17h 39m elapsed time
13.1km/h average moving speed.
The alarm sound at 4.00 am wasn't the worst thing to happen. I was so hot from the heater stying on, I had to open the door and window. The next bad thing was trying to eat tuna and beans for breakfast. I can't eat straight after I wake and this cat-food smelling stuff made it worse.
The next problem was everything else. My legs were basically done, all my tendons hurt and the undercarriage was in poor shape. No suspension on my bike. A few panadols and ibuprofen and a bit of a wait for them to kick in again and I should be ok. It was at this point Pedalhead Pete stuck his head in my room and said he had to abandon, his achilles problem had deteriorated to the point where he would be risking long term damage. I understood as I realised I only had 1 more day left in my legs.
Starting riding, I really felt bad for Pete. He had made it within 175km of the finish. My legs took 2 hours to warm up. I couldn't sit down on the seat for about that long too. Numerous breaks were taken as well as more Panadol, I was really starting to suffer. I decided to read some messages I had been sent and also post a couple of pictures on the socials, it really helped. People were awake and replying and it gave me quite a boost.
I knew from my training that today contained two very difficult sections of track, the section coming into Jarrahdale and the last 30km or so to the finish. Jarrahdale is the only place to get any food, with North Dandalup, Wungong and Carinyah huts available for water. It was a big struggle getting into Jarrahdale but the promise of a hot lunch is really motivating.
Tony arrived when I was eating at the Post Office. He had missed out on accommodation in Dwellingup and had some resupply issues too. He did not look in good shape but it was nice for us to have a chat. I left before Tony but I figured he would catch me later.
Only 90mins down the track and I was starting to fall asleep on the bike again. The section out of Jarrahdale is some of the easiest so perhaps that helped me to stay on the bike. I ended up pulling over at a small walking trail parking area to find my caffeine tablets. I also ate my takeaway sandwich from Jarrahdale, it was meant to be for later in the day but I was still hungry now. Tony pulled in at this point to check on me which was nice. I told him how I had some real trouble unclipping now that my achilles were bad, he was the same so we both loosened off our cleats and then got going.
A water re-supply at Wungong hut and then it was onto the home stretch, under 80km to go now. Morale was high and we were hitting the descents like we were on dual suspension bikes. Life was good! My raincoat came loose and fell off and if it wasn't for Tony being behind me at that particular moment I would not have noticed for another 30km. Eventually Tony rode away, he was too strong. I needed that raincoat; about 20km from the finish, in the really difficult sections out the back of Kalamunda, the heavens opened. It was quite the storm, really heavy rain.
The track got so slippery and turned into little streams, it got increasingly difficult to see where the track was and where I was supposed to be going. I got very disorientated and my speed slowed from the average 15kph to something like 10kph. I just wanted to finish! There is nothing else you can do except push on, and if you keep going for long enough you get to the finish and that's exactly what I did some time after 10.30 pm.
It was amazing to finish! 4.75 days, only half a day outside of the old South to North record. I never intended to do it that quick, it kind of just happened. I didn't see big sections of the trail because of the night riding but I was still very happy to achieve a goal that had so far eluded me.
Waiting at the finish was Tony, Emma and my Dad as well as Steve who had driven out to see us finish. It was great to be able to share some stories with everyone while it was still fresh. My thoughts then turned to those who might still be out in the storm and not long after, sleeping in a comfortable bed.
Final Thoughts
I'm writing this story a few months after the event to try and filter out the absolute difficulty involved in it and focus on the enjoyment and achievement because it was such an awesome journey. I learnt a lot about myself and my limits and I know that everyone is far more capable than they may realise.
I couldn't ride a bike or run for about 5 weeks after the event, my body wanted rest. I then did a solid 9 week gym program to build back some strength in the legs. My FTP dropped from a peak of 299w before my pre-race injury to around 255w 2 months after the event. It's to be expected.
I loved all the chat, pictures and stories on the "Munda Biddi Ultra Dot Watchers" Facebook page. Such a good crew, I am happy to have met and chatted with many of you.
Big thanks to Emma for driving me down to Albany and being supportive of this. Also thanks to go Callum for organising and to everyone who came out to wave and say hi, everyone who messaged me support, especially those who did so during the very late hours when they saw my tracker was still moving. Those who gave suggestions of places to stay. Thanks to BikeDr for helping me get my bike ready and rebuilding my cracked rim.
I encourage anyone who has some interest to give this or the short course a go.
It's not a bike race, it's an adventure that just happens to be on a bike.