Golden hours on the Goldfields Track
A tale of mud, mountain-biking, mechanicals and mates
I grunted, pushed, pulled, gripped – but try as I might, this rear tyre wasn't budging. Stubbornly staying on, it appeared to be the embodiment of my doubts and uncertainties come to life.
Only two days ago, I'd made the rash decision to bikepack the Goldfields Track from Ballarat to Bendigo by myself, in the middle of a Victorian winter. Whilst I'd set out on overnight cycling trips with mates in the past and while I'd ridden an MTB before (albeit just once), this would be my first solo adventure.
Yes, the tyre seemed to confirm, this was a stupid idea.
However, when I set my mind to something, I like to see it through, so with a little bit of reassurance from others who had ridden the Goldfields Track before and the lend of a beautiful, purple Kona machine from a dear friend, here I found myself – packing my bags to head out and lose myself in the natural beauty of Wadawurrung and Dja Dja Wurrung Country for a couple of days.
It was a shock then, when I went to check the Kona late at night before the trip, that I found the rear tyre flat as a tack. Whilst the front tyre was tubeless, I knew the rear had a tube in it, but there was no way my tyre levers were budging the rubber. It was only with the assistance of my partner that I was able to remove and replace the inner tube, leaving me with a deep sense of dread. What if this happened again, out in the middle of nowhere? The Goldfields is a mix of road, track and trail, with extended sections away from civilisation. I also knew that the Goldfields cocktail of sharp rocks and needle thorns would be a death sentence for an inner tube – I'd bought 3 extra, expecting to use them all. But here I found myself, the night before I left, unable to remove and replace the rear tyre on my borrowed MTB by myself. It's a humbling experience, realising that even if you have the right knowledge, you still have to accept the limits of your own physical strength.
After consulting a number of friends about my dilemma, I was assured that a good tubeless installation would set me right, so I started my Goldfields journey early in the morning at a bike store in Ballarat. Whilst I would still be chancing a difficult situation if my tubeless tyre was to experience a gash, there was much less risk of finding myself stuck, having to change a tube but unable to. Tubeless tyres – the saviours of weak-fingered cyclists everywhere. That knowledge gave me enough reassurance to venture out into the bush, so after fitting my rear with a brand spanking new tubeless set up (and also adjusting some pesky gears), I was on my way. I'd been delayed and side-tracked, but I was ready to get riding, and began pedalling into the soft shower that had settled in for the morning above the country around Ballarat. My first solo, mid-winter MTB adventure!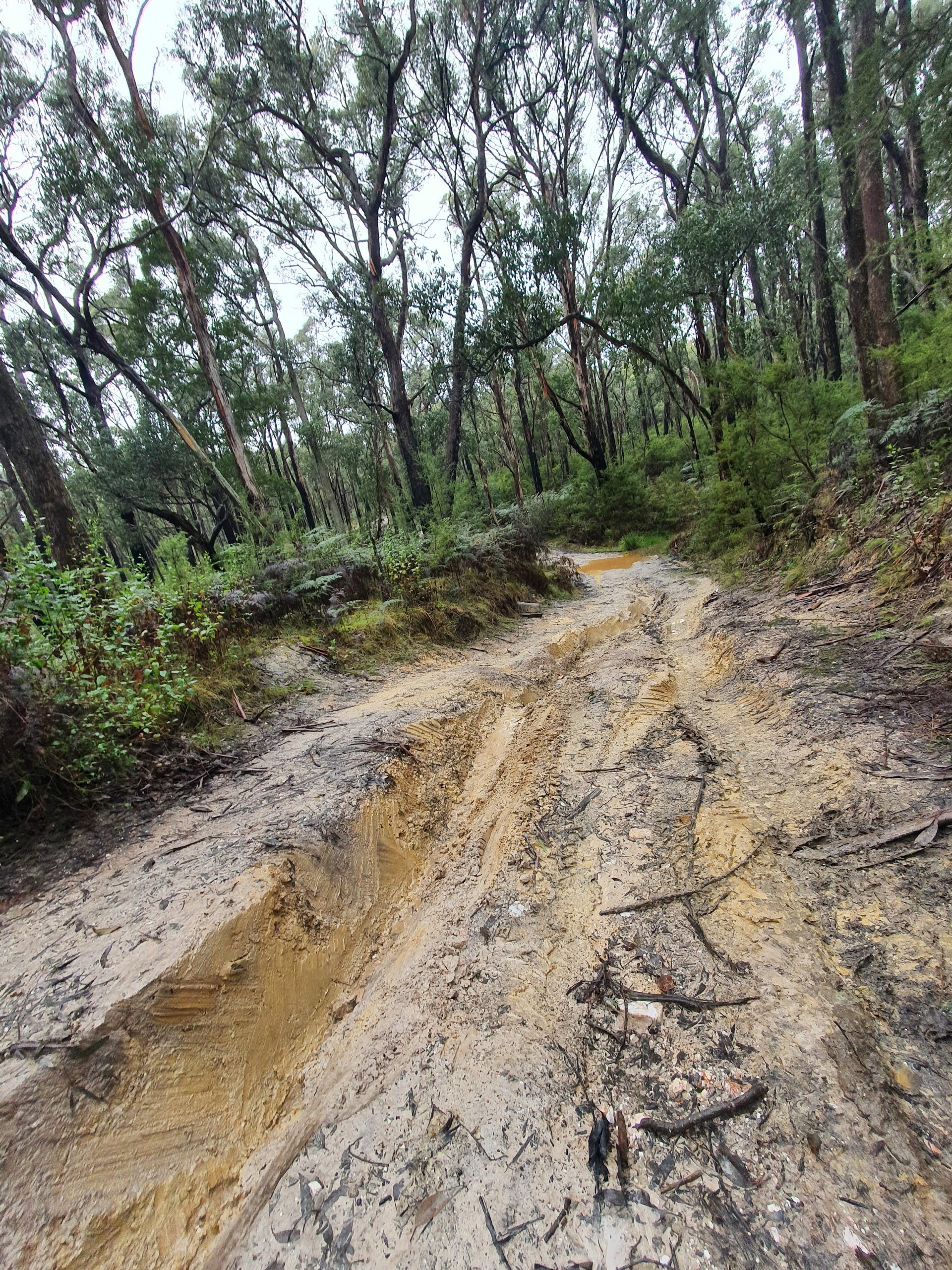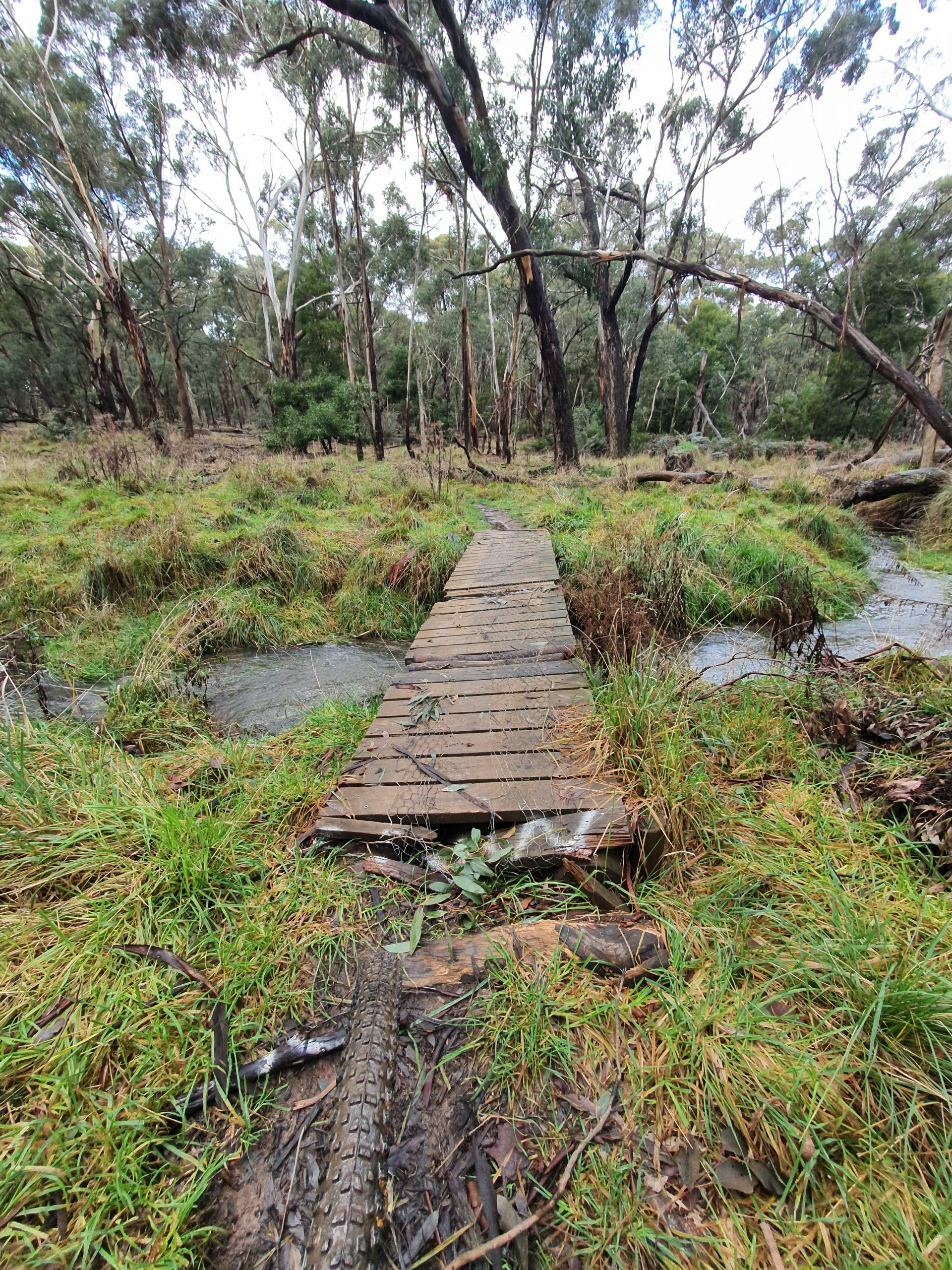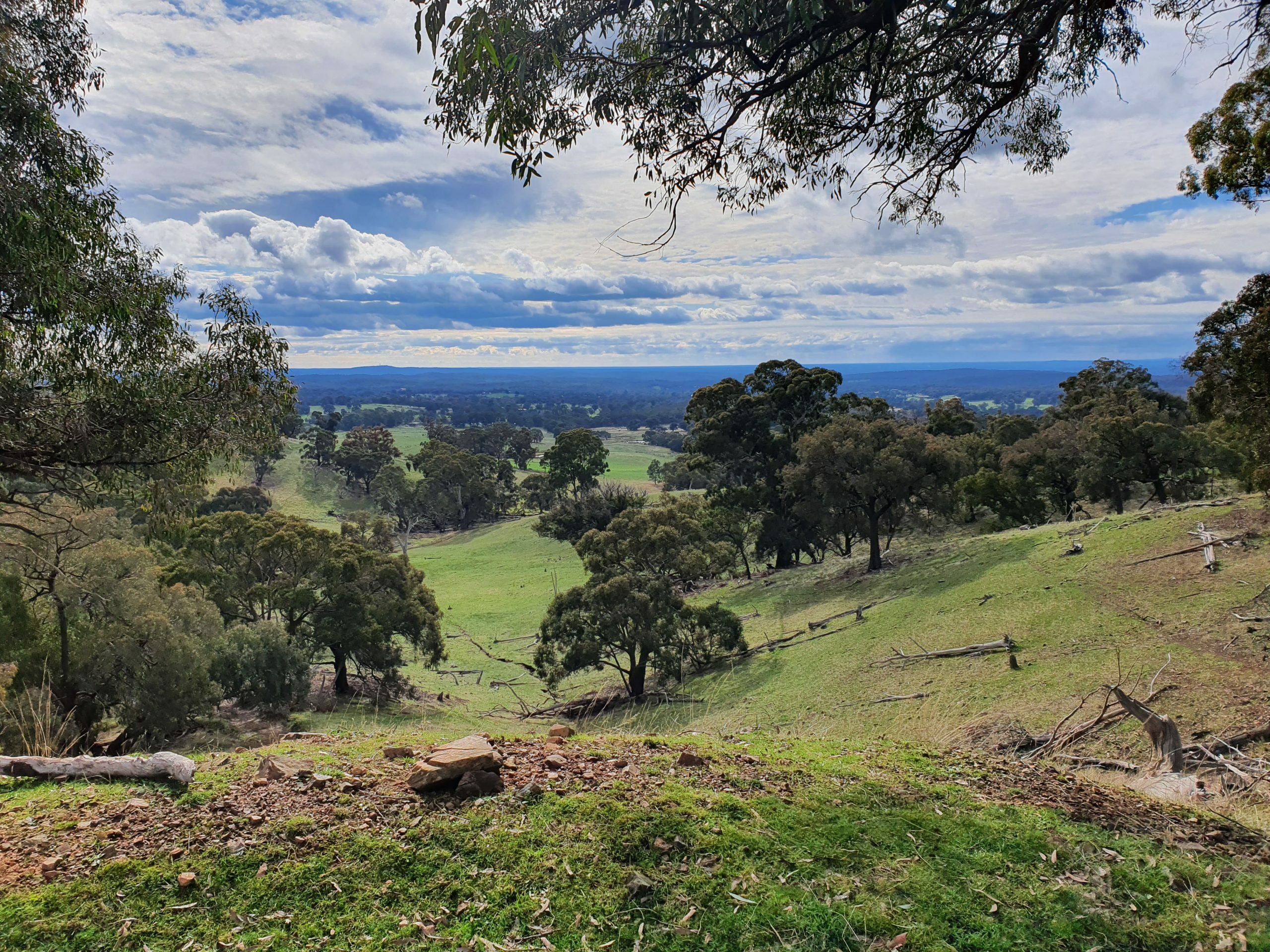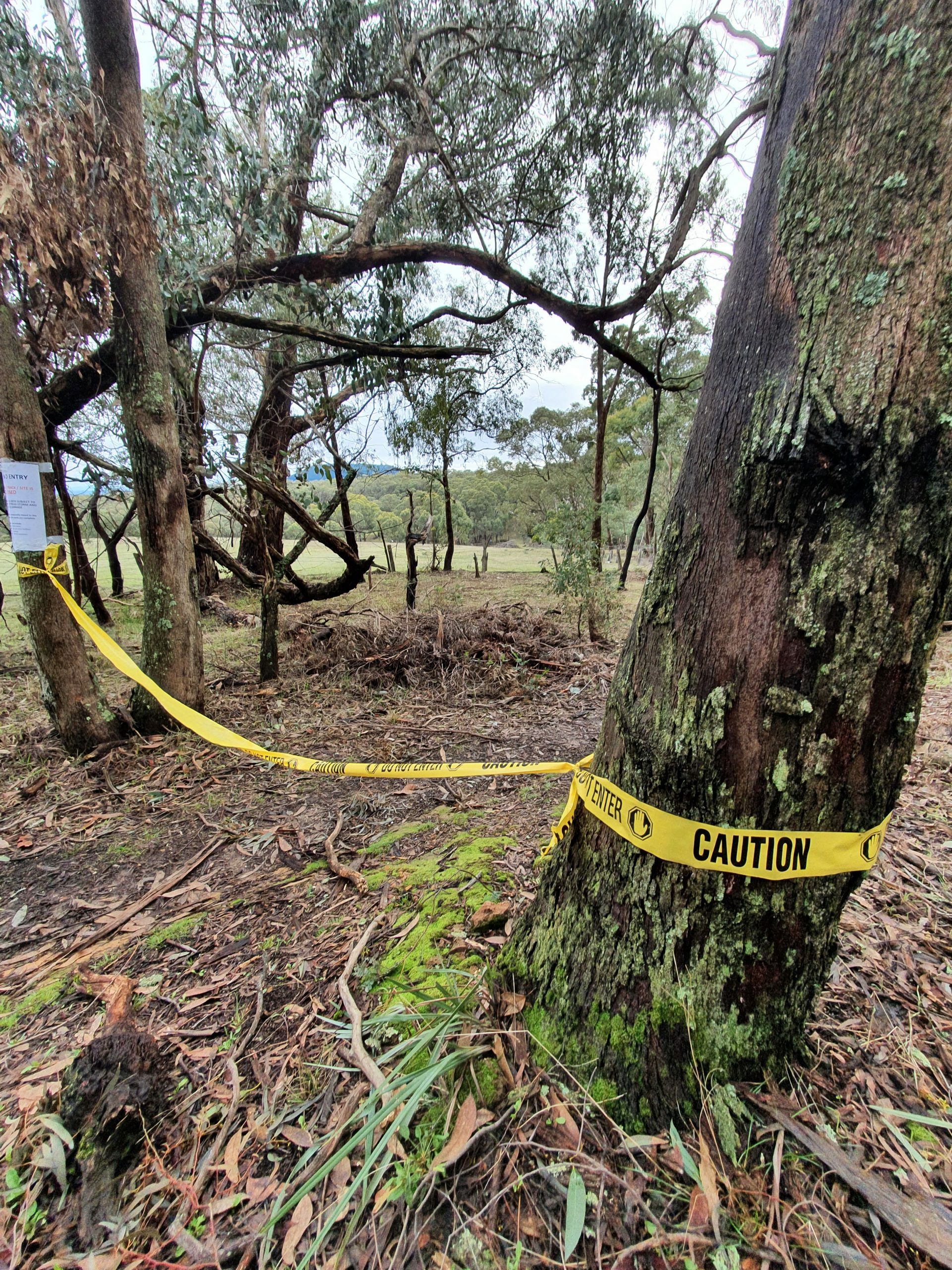 Day 1 – Wallaby Track:
62.72 km / 1,347 m elevation
Day 1 on the Goldfields Track took me from Ballarat to Daylesford, via Creswick, and challenged me more than I expected. Still getting used to the MTB, I was treating it as a CX bike, my confidence thrown by even the twiggy-est of log rolls. Not only that, I knew I didn't want to find myself seriously injured in the bush between Ballarat and Creswick. Whilst I had my First Aid kit and training, I didn't really want to see how I'd deal with a broken bone.
This ginger approach, along with the ever present rain and mud, meant a lot of hiking my bike. The first 10km climb felt like a slog, but once I found myself on the descent into Creswick along Slaty Creek Road, I was jubilant. Surrounded by bush, all shades of green and grey, I sped past splatters of wildflowers. Rolling into Creswick for a nutritious meat pie, I then headed out on some raised singletrack through Koala Park. Fairly exhausted with the unexpected levels of technical riding on my first day, I took some shortcuts along Jackass Road (what a name) before finding myself descending into farmland. The easier riding, along with stunning views across the countryside in the golden hour, allowed for some time to pause and reflect on the bike.
I'd decided on this trip on a bit of a whim, driven by a need to find solitude and inner strength. The many months of lockdowns, cancelled plans, and subconscious stress driven by the ever present COVID cloud had worn me down, and I needed space to find out where I stood after everything else was taken away. For me, riding outside, in nature, gives me a meditative stillness that allows that space. Whilst I was ready for the riding, I wasn't ready for the cold, so to accompany my days on the muddy trails I'd booked lux accommodation at my overnight stops. The hardcore bikepacking crowd might laugh at this, but having a bath at Hotel Frangos in Daylesford after 60+ km of riding and hiking my bike, before then getting into the flannellette pyjamas I packed *just because I could*, was one of the sweetest of experiences. You don't get that when freezing your butt off in a tent.
After a fast stretch along some rolling backroads, I found myself at a crossroads (literally and figuratively) as the sun danced along the horizon. Darkness was just around the corner, and at the turnoff from Dingley Dell Road, I was still over 20km from my accommodation in Daylesford, even if I left the Goldfields and took the fastest route. With a sense of urgency, I decided to leg it. Abandoning the Goldfields Track, I headed down Dredge Track, entering the Hepburn Regional Park. After quickly finding myself tackling deep puddles and felled trees with trunks that came up to my chest, I felt some regret for my decision. The bush had been hit hard by the recent storms, and it was only as I exited that I noticed a 'Do Not Enter' sign placed across the road.
It was a slower pace than I expected on a road, leaving me hightailing it into Daylesford in the dark, along the highway. I rolled into my accommodation with mud in my hair, and after washing all my clothes and gear in the luxury bath tub I'd booked, I allowed myself the space to pause. It had been a physically tough day, but my body and bike had made it through, and I was ready to refuel and relax, preparing myself for the rest of the adventure.
Day 2 – Dry Diggings Track:
50.46 km / 1,152 m elevation
As I woke on Day 2, I was unsure of my plans. Day 1 had gone slightly awry, so I was contemplating whether to continue on the Goldfields Track, or take a shortcut. At the bike store the day before I'd also been given an ominous warning – the Dry Diggings Track was tough going, apparently with some stretches that involved pushing the bike up steep drop-offs. It's interesting the advice you can sometimes elicit as a solo female rider, and I was left wondering if a male would've been told the same thing. Regardless, when someone tells me I can't do something, I'm usually driven to prove them wrong, so with some encouragement from some friends, I decided to give it a go.
Oh, how glad I am that I did. This section of the Goldfields Track starts with some steep ups and downs before a hot chocolate break at the Chocolate Mill, about 10km north of Daylesford. Whilst there were a few more track closures due to the storms, there was always an obvious alternative route, and I was treated to some beautiful views of Mount Franklin, a forested extinct volcano that rises from the farmland. After a few more climbs up and down the ridgeline, I entered the Castlemaine Diggings National Heritage Park and experienced some of the best natural, flowy singletrack I've ever ridden. I grinned from ear to ear as I savoured this stretch – beautiful green valleys and mostly smooth trail, punctuated by the odd ruin, steep pinch or rocky section. THIS is what I had come to the Goldfields Track for, and I was so glad I had found the courage and determination to experience it.
After riding into Fryerstown, the Goldfields took me across some brightly coloured rocky trails. An otherworldly mix of reds, oranges and stark whites, I could see the mineral richness that drew miners to this area, and I was reminded of their histories as I pedalled through the Spring Gully Historic Mine sites and the well preserved ruins. As I descended into Castlemaine along the picturesque Poverty Gully water race, I started to feel comfortable and in control. I was getting the hang of riding with suspension, and was gleefully speeding over rocks, roots and around corners.
I found my way to the Northern Arts Hotel before nightfall – an improvement from the night before. If you find yourself in Castlemaine on a Tuesday night, make sure you check out the Northern Arts – Maggie and Frank hold their weekly potluck dinner, and they welcome newcomers with open arms! I met local knifemakers, sculpters, and painters, and we were treated to an impromptu jazz concert by local musicians. I find the best part of being a solo traveller is the people you meet, listen and learn from along the way. Without the safety net of a riding partner, I was forced to dive right into the Castlemaine community, and I was truly embraced by the Castlemaine spirit.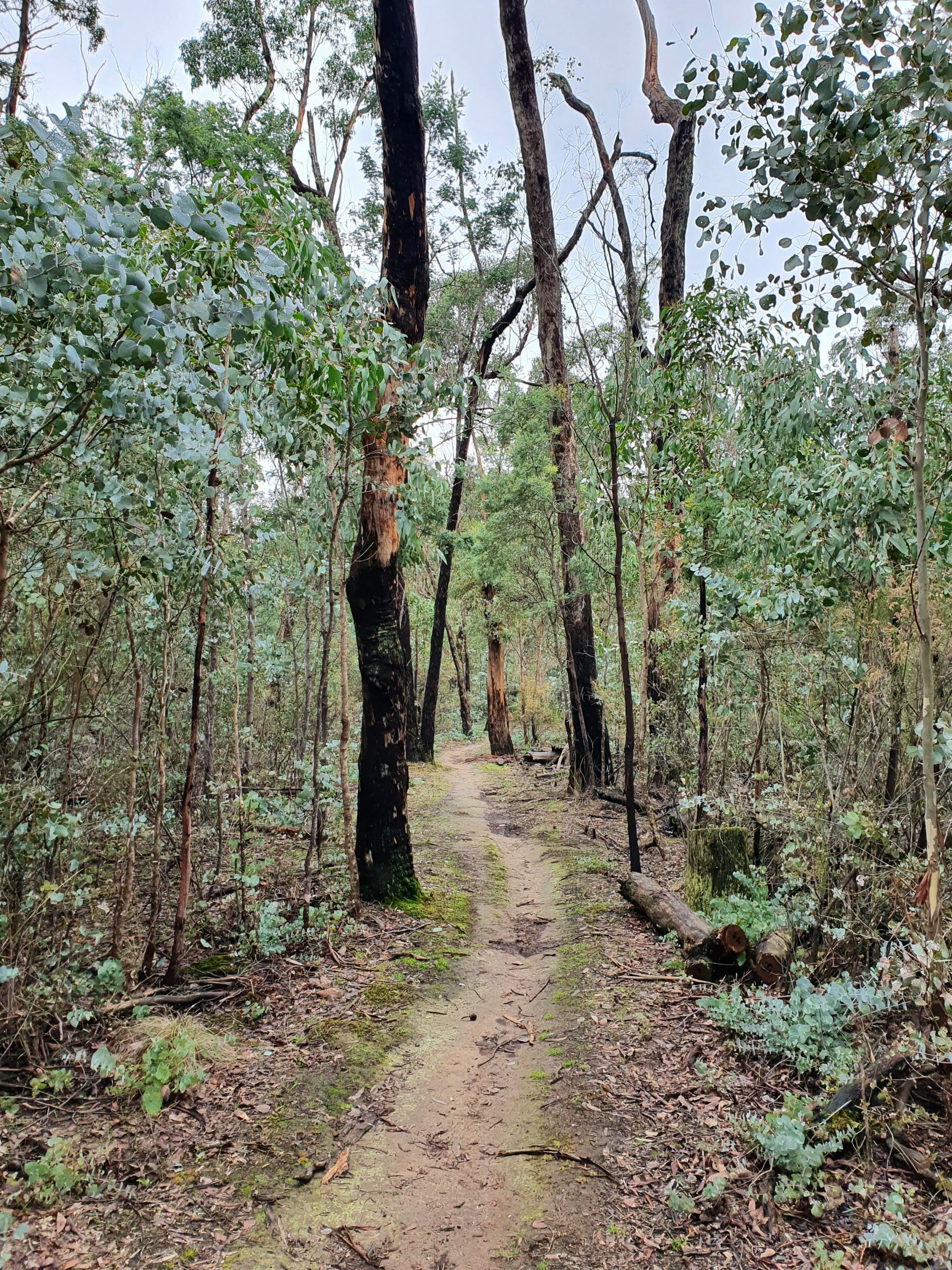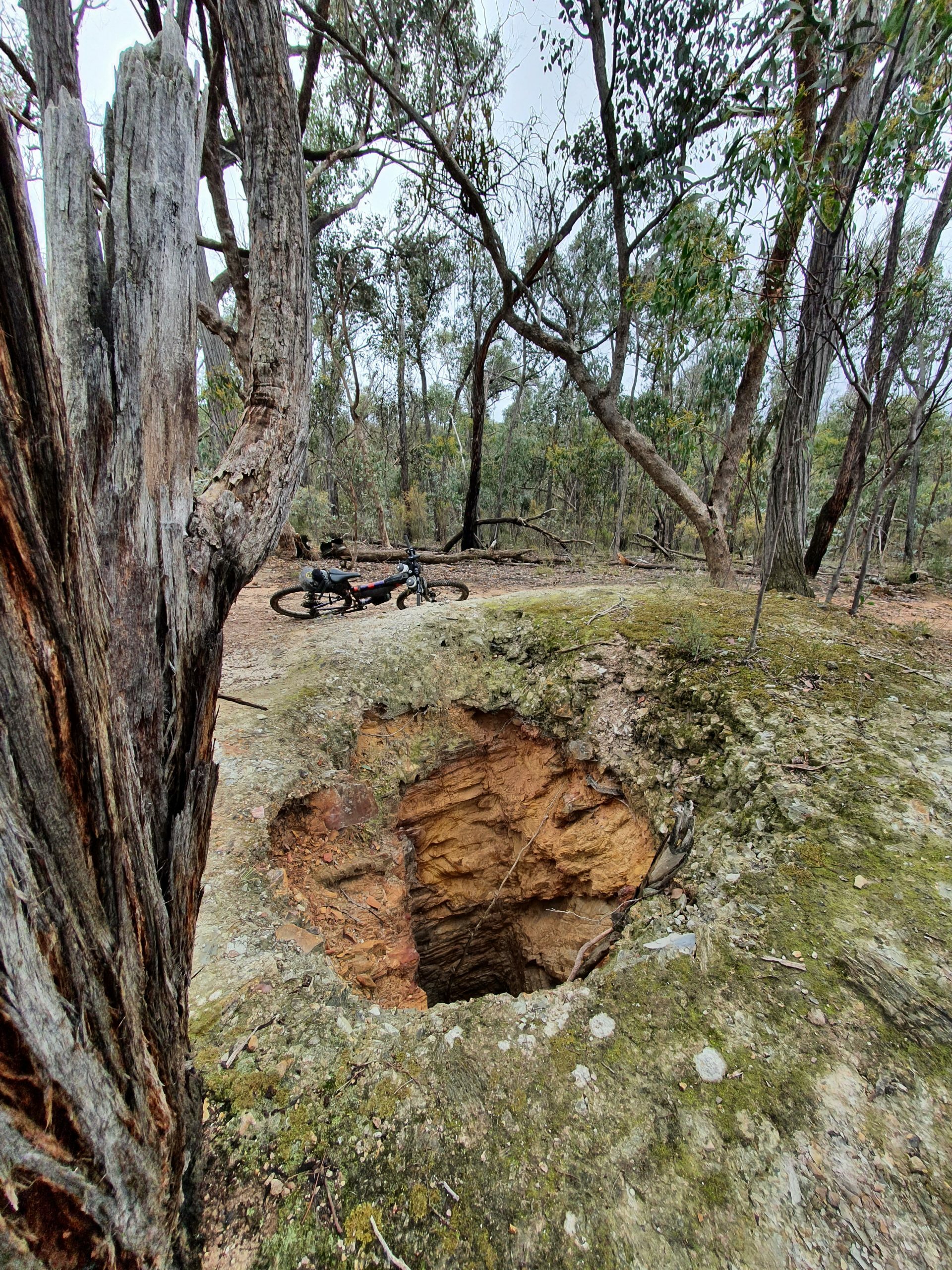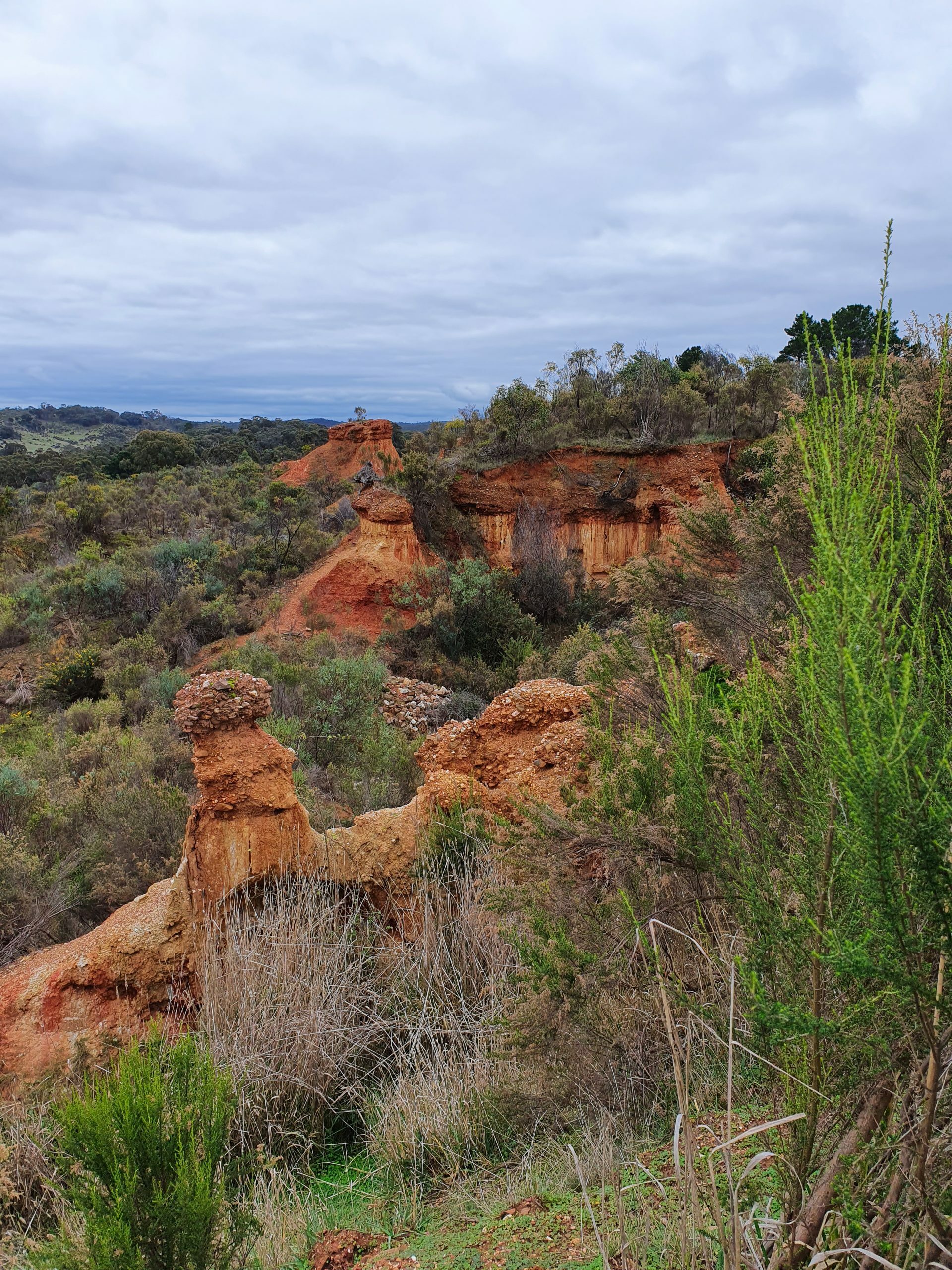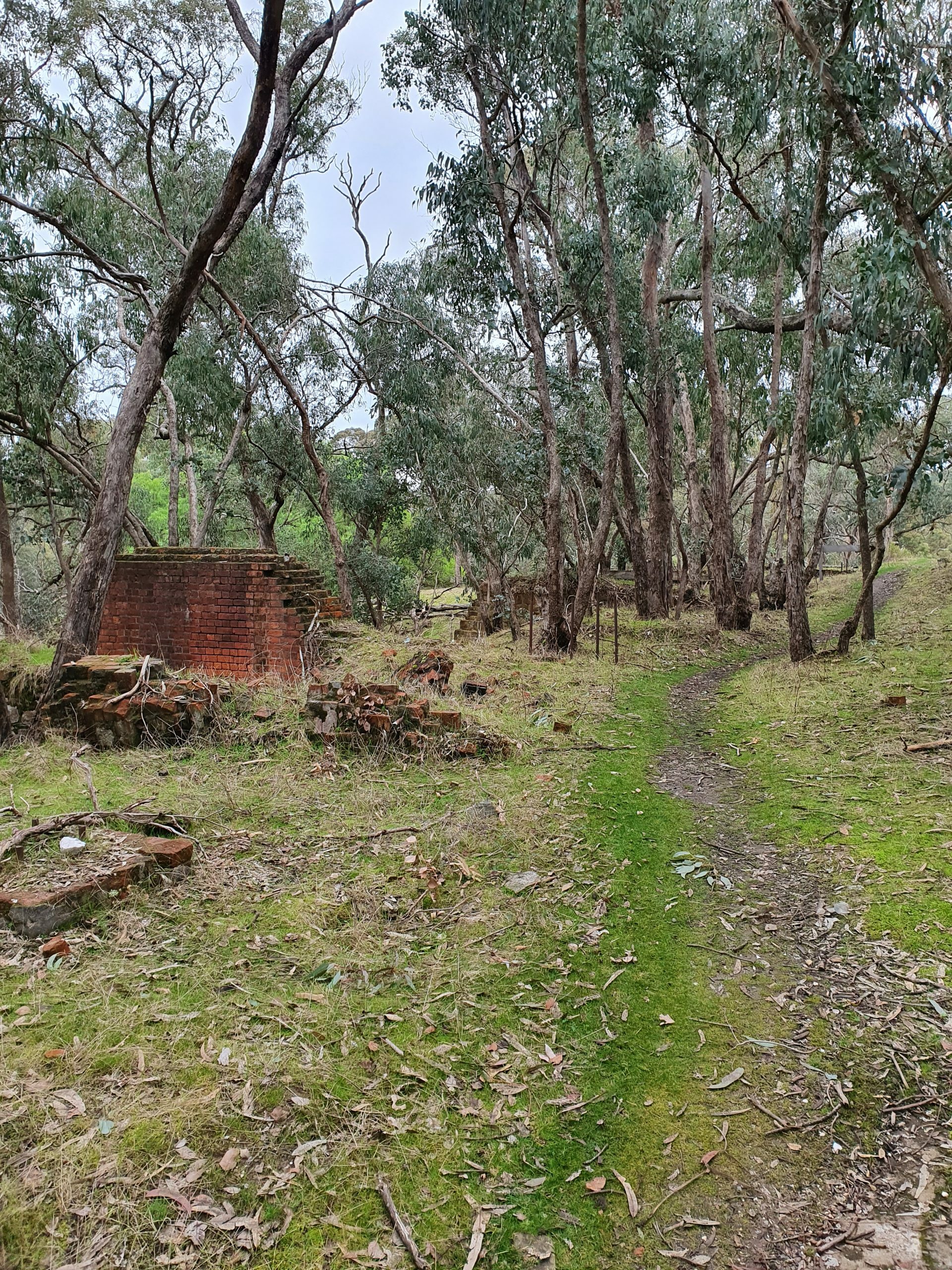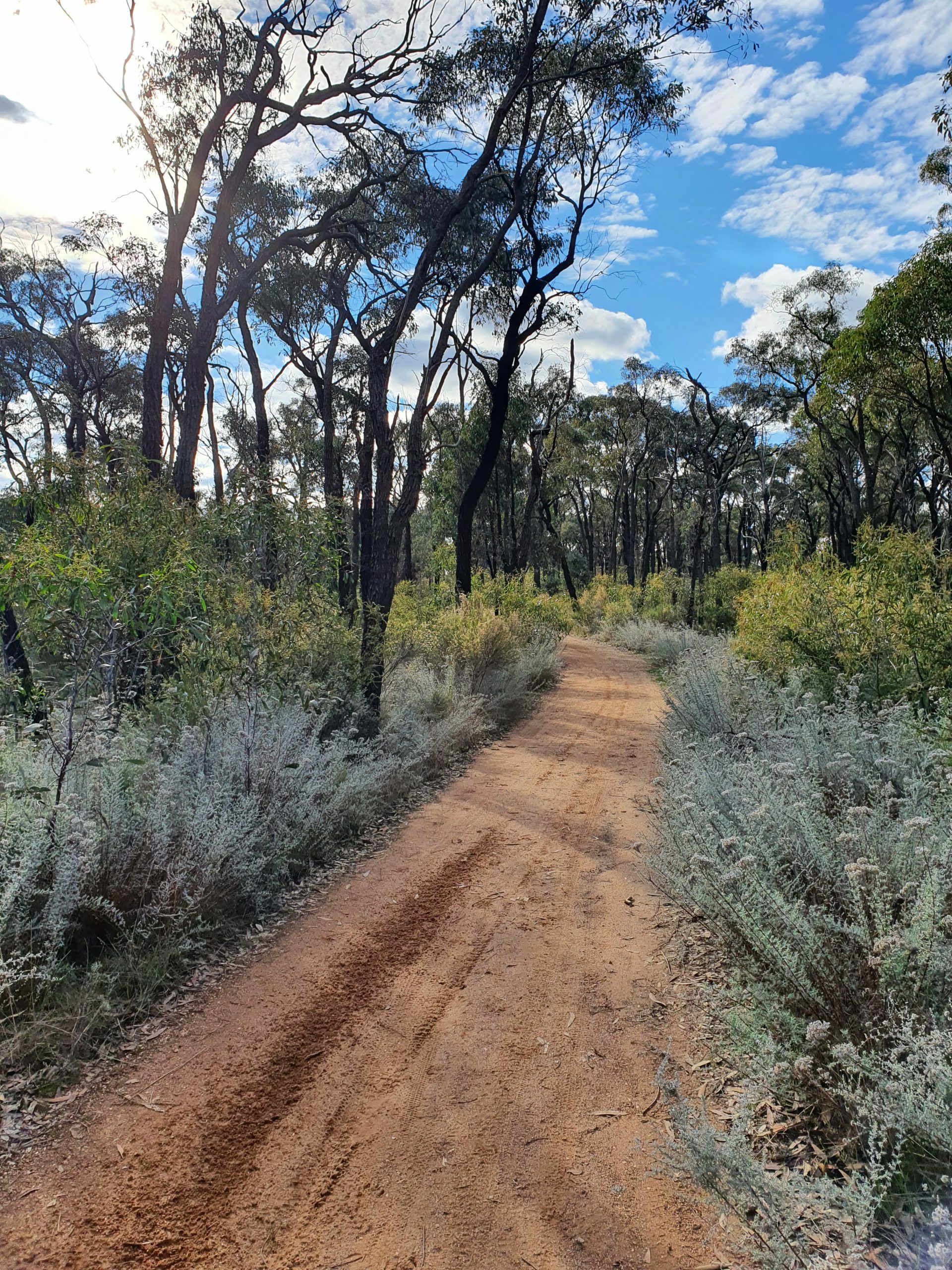 Day 3 – Leanganook Track:
49.03 km / 860 m Elevation
After a few wines the night before, I rose a bit sluggishly, and took my time to wake up over a delicious breakfast with Maggie. I had a dinner date in Melbourne, so to ensure I got to Bendigo in time I decided to skip a loop around the Campbells Creek Plantation, and instead headed straight for the Mount Alexander climb.
While the hiking version of the Goldfields Track goes straight up and over the mountain, cyclists skirt the base of the mountain through vistas of apple orchards and wineries. I've ridden Mount Alexander before, and can recommend both the climb and Leanganook Campground – a simple but tranquil space. After a quick descent down the other side of Mount Alexander, I found myself following the Coliban Main Channel on the Leanganook Track. Leaving the bush for rolling green farmland, I made my way all the way to Bendigo, with only a couple of steep loose pinches to test my newfound skills. It was a relaxing way to finish the Goldfields Track, a far cry from the steep, technical muddy riding I'd experienced on Day 1.
Reflections from the Goldfields Track
I found myself in a meditative state as I turned my legs along the Coliban Main Channel, flowing along the country alongside the current of the water. My Goldfields experience brought home the value of community, and what I believe to be the true purpose of bikepacking – connection. Connection with myself, with nature, with the bike, and with communities. I was able to reflect on my accomplishments throughout my first solo bikepacking trip, a trip that almost didn't happen.
Mechanical issues, weather, and storm damage had all conspired against my Goldfields attempt, and I had been underestimated and doubted, both by myself and others. However, with the support of my partner, friends and community, I had made it solo from Ballarat to Bendigo, 160+ km of MTB trails, on a borrowed bike in the depth of winter. Finishing my trip through Bendigo Regional Park, I descended towards the train station.
Dusty but proud, I found myself climbing onto a Melbourne-bound coach, my trusty Kona stowed safely underneath. My solo adventure through Wadawurrung and Dja Dja Wurrung Country was complete.