Frostbite Gravel XL – Kel's Story
So I'm Kel, the bike wife not mentioned anywhere near enough in Vince's Frostbite Gravel article. The one that had to listen to Vince bang on and on grilling Christophe about Omeo's bike scene and who has way more Instagram followers than the aforementioned.
"Bike wife" makes me sound like I'm the retiring shy type who has to wait around for their husband to finish his ride while rolling my eyes to friends about how crazy a 180km ride with a hell of a lot more than 4K vertical is. THAT IS NOT ME.
Nope I'm the bike wife because I'm riding. There is nothing that excites me more than the challenge of surviving an ultra bike ride in conditions that can quickly turn dangerous if you haven't the skill set, education and experience. Frostbite Gravel XL made my heart race……that was until I didn't train anywhere near enough during the month prior.
A 'Fast' Start
So there we were all nervously loitering around and in Velo Grammont at 6.00am Saturday morning.. a local guy announced he knew the tracks we were using and he was heading off early in an attempt to finish before dark…..it was dark. He also had a mountain bike. There were quizzical looks and feelings of what have we gotten ourselves into as we watched his lights fade into the distance. We snapped into action-it was go time.
First up was a climb out of town. I always find it funny in a race/event situation when you are trying to pedal fast but the hill dictates a slow-mo style of riding. It's quite comical. 500m in and Vince is off the bike and filming me ride by….yelling encouragement and making me giggle. He then jumps back on and says "You right? I'm going to smash this thing out!" and off he rides.
I look ahead and see lights WAY above my head. The climb is real!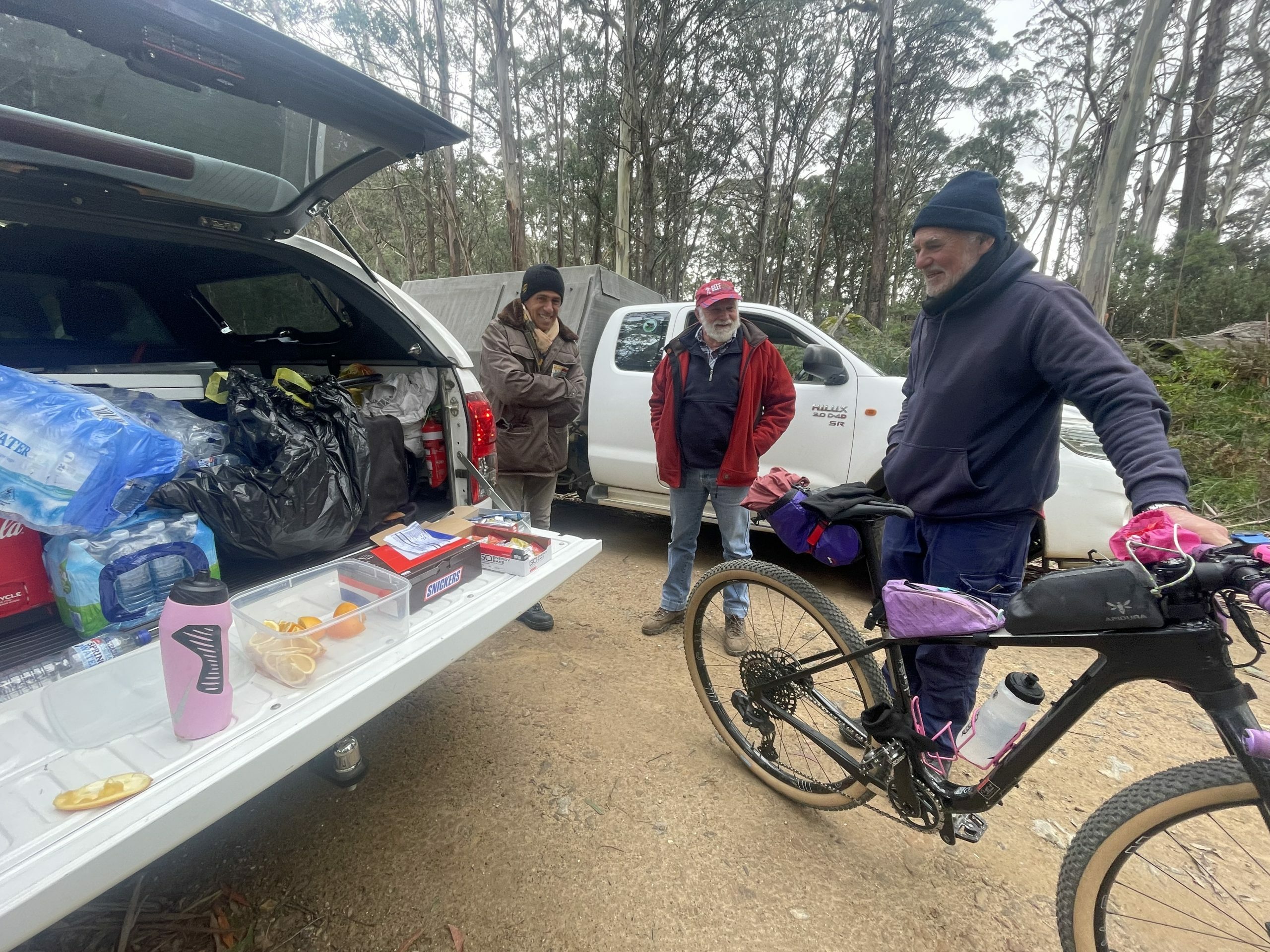 A Grade Volunteers
I settle into last place quite quickly and get to work. My bike feels awesome, I've never been so cold. I look at the temp and it's "feels like" -4.
It's not too long before a white ute rolls by and it's volunteer Colin who had an hour previously told me he was sweeping the course. I'd jokingly said, "I'll see you soon then Colin," not realising just how much I'd come to rely on and get to know Colin over the next 12 hours.
At first whenever I stopped Colin would roar up beside me probably thinking I was in trouble. I had to assure him I was fine and then we would have a chat. I got to know Colin pretty well during the second climb of the day. It was a slog and I was stopping to eat each 2km!
Suddenly I saw a different car driving toward me, it stopped and two men jumped out…..it was checkpoint/feed station 1 driving the snacks TO ME ON ROUTE. Now this was where I realised just how special this event was. The volunteers-you have no idea. One person held my bike while I filled my water bottles and was offered chocolate bars, electrolytes, oranges, coke, Cliff Bloks and then Colin was handed A WHOLE BOX of energy bars to take in the car just in case I needed one.
It was unlike anything I've experienced in previous events.
Colin, Car Rides, and Finish Lines
It was soon apparent to everyone I wasn't going to make the 180km. I hadn't actually planned on completing the full ride rather I had planned to ride until Vince finished and he could come collect me on course or take the shortcut offered in the riders info pack at the 130km mark. However the organising committee decided to pull me off course and transplant me further along nearer the finish line. At first this was a bit of a disappointment but Colin and I made the decision I would enjoy the descent toward Ensay (I mean I had done all the climb and was about to start the fun) then load me and Stellar Barbara Cutthroat into his ute and drive to the 130km mark where I would rejoin the race for the finish.
The descent pops you out of the state park and into pristine farmland, it was open flowing and exhilarating. Serious fun and seriously perfect gravel.
Bundled into the car I spent a delightful hour or so learning about the incredible life of Colin. We stopped at the Swifts Creek bakery where I proceeded to order way too much food for someone in the middle of a race. I was drenched in sweat and starting to get cold.
Upon arrival to my drop off point I ran into Vince who thought it hilarious I was getting a lazy lift to miss the whole Angora Range. I informed him I may have been achingly slow but according to Strava I'd just scored two Queen of the Mountains!!
There was a pizza truck at this stop and the vibe was social and honestly I should have stayed there. I set off this time with company. By company I mean riders wizzing past me while I battled each pedal stroke up yet another climb. It was a shocker. I contemplated rolling back down what turned out to be Mount Delusion but I only had a few km to get to the top where the final feed zone awaited. I struggled on with way too much food in my tummy, I had no phone reception, I was thinking of pulling out my plb and messaging the organisers but I didn't have their number.
It was at this moment I saw what looked like heaven – Colin's ute following the last rider up the mountain! He rolls his window down and I demand to get back in! He obliged! Once at the top of the mountain a mere 3km drive away I decide I'm way too comfy and happy in the car and I'll just stay chatting.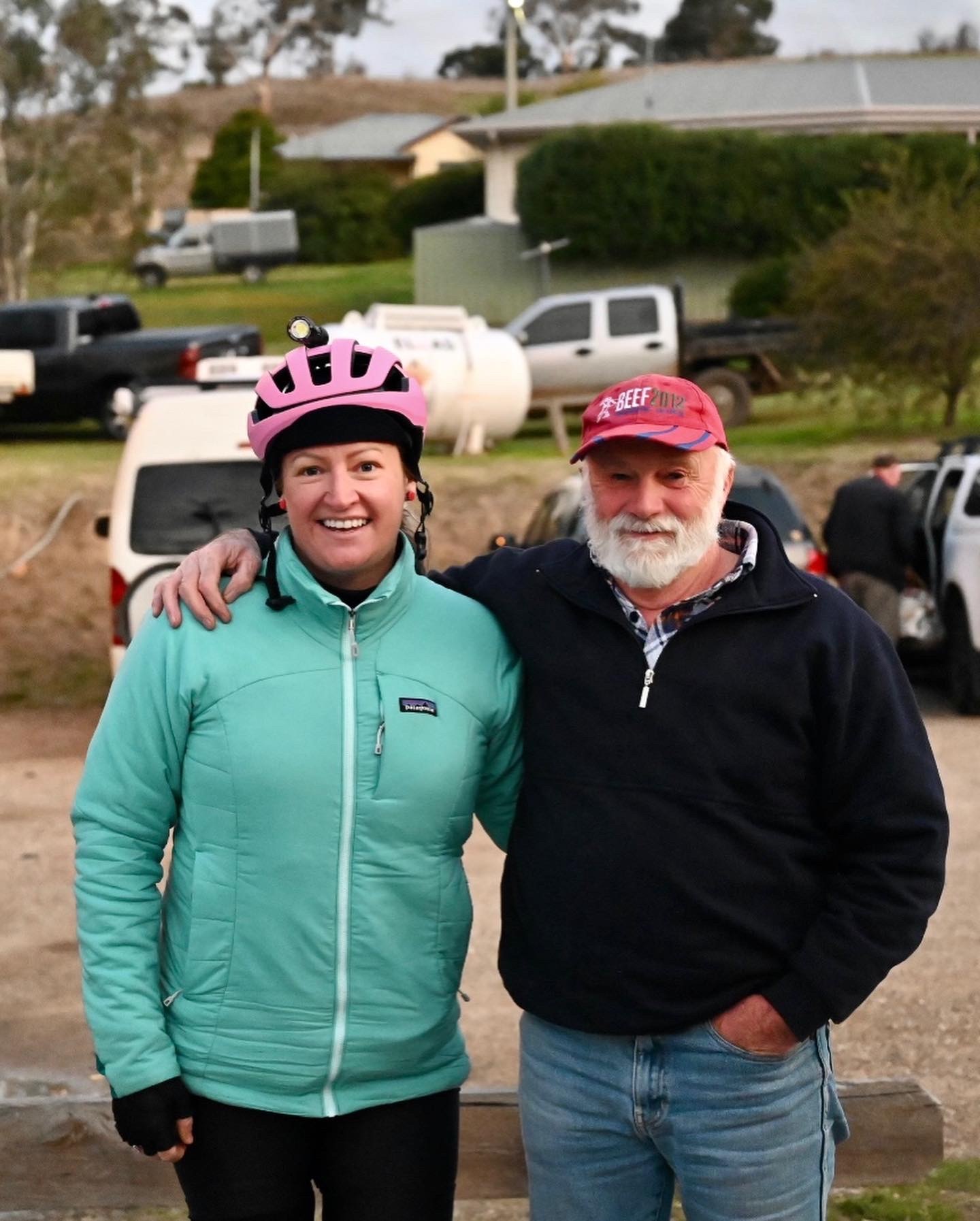 My ride is over. I'm not upset at all, I've honestly had the time of my life.
It's dark by the time we roll into town. The last of the riders making their way in. A feeling of exhilaration, accomplishment, new friends and a shared experience that will bind us forever.
Hats off to Velo Grammont and the town of Omeo. Undiscovered (by anyone that doesn't live there) gravel in an ever changing spectacular landscape. Does life get better?
So the moral of this story is to not be a "bike wife". If you get the opportunity to ride here, get involved (but maybe take Colin with you).
The reward is indescribable.