It's around 6.00am on a crisp March morning in North Eastern Tassie. Pre-dawn light is seeping through the trees as we ascend Mt Barrow for the third time. Eve has been riding since 2.30am, in the darkness, intermittently lit by a full moon.
As I join on her 3rd lap, we are surrounded by wombats, quolls and pademelons ambling and darting across our path as the gravel ribbon climbs its way up the side of this mountain in the middle of nowhere.
The road is narrow, loose gravel, it winds and winds until the summit. The dawn light sends a glow over the horizon and finally lights up the magnificent widespread block fields and sharp summit ridge. It's jaw-dropping!
This is eastern Tasmania's 2nd highest peak at 1406m above sea level. We climb, distracted in complete wonderment of the magical surroundings and the energy in the new dawn light, a promise of what is to come for the day.
The day that Eve has chosen to tackle an Everesting cycling challenge, climbing this beast of a mountain 10 times in one day!
Everesting
What is "Everesting" you may ask? Well as the website of the same name contests, it's a "fiendishly simple yet brutally hard" concept requiring a single activity of climbing 8848m or the equivalent height of Mt Everest.
This exercise can be performed on any inclined road or trail. Such a simple description does not quite do this challenge justice. Just find a hill and climb, how hard can it be? Yet if you don't have a feeling of foreboding by now as to how hard this is, it's best you do not attempt it! It's a challenge for an exclusive few, if you know you just know. Isn't that the mystique of Everesting? It doesn't need a lengthy explanation of what's involved.
Depending on the chosen incline, 8000 -9000M is an achievement worth attention. Pair that against the backdrop of a genuine mountain environment accessed via a rough gravel road surface that grinds and switchbacks its way from lower farmland into temperate forest and finally open escarpment of scree fields against a backdrop of sheer dolerite cliffs, one begins to wonder at what would motivate a person to attempt this feat?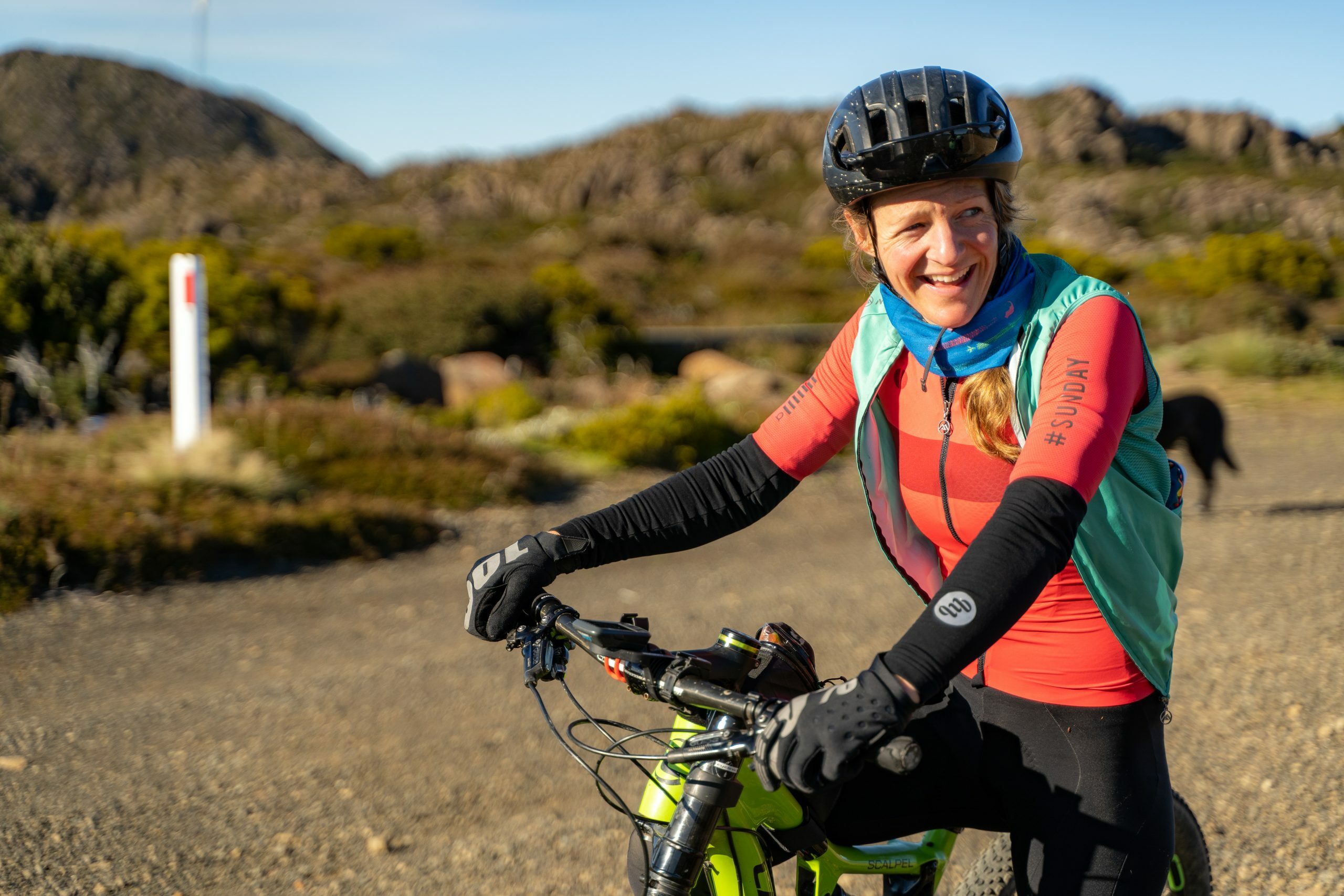 Eve's Everesting
A good helping of both physical and mental fortitude is mandatory for a climb like this, a deeply driven desire to complete the task is critical. Meet Eve, a person who I have only just met at the bottom of the mountain in the dark, less than two laps ago. She has this physical and mental fortitude and as I roll up the hill conversing, I note a deeply driven desire to complete this task. It is a drive that comes out of a personal need for action to make positive change. She is attempting this challenge to bring about change, raising funds and awareness to help two non-profit charities and foundations associated with the protection of the environment. The Bob Brown Foundation & The Wilderness Society. This is a barrow that she is here to push and push it she will with focus and determination.
In her words:
"I had to do something. I knew one climbing attempt would not be enough to make change, so I'm in it for the long haul and all the pain that will bring with it!"
This Everest is Eve's 2nd attempt of 12 to be completed over the next year. Each of the 12 Everests completed is a significant load to carry but perhaps the greater load she has shouldered is the personal responsibility to do something. Again, In Eve's words:
"Most environmental protection groups and charities rely on our donations and are doing things purely out of the passion in their hearts as volunteers. For example, The Bob Brown Foundation has people from around the country, putting their own future at risk to protect the Tarkine Rainforest in the north/west of Tasmania. The Tarkine is the 2nd largest temperate rainforest in the world, home to more than 60 species of rare, threatened and endangered species, there are wet eucalypt forest areas where trees grow taller than 41 metres high! Fossils between 100-700 million years old have been found here! This is more than just a special place, the Tarkine rainforest is perhaps one of the richest natural carbon sinks in Australia, holding over a staggering 100 million tonnes of carbon – a highly valuable asset in today's world of climate change… Our native forest should be protected."
So here we are, on this mountain in North Eastern Tassie providing a lending hand to push-on, up Mt Barrow, it's a daunting task, "A Barrow to Push".
Up and Down
As we ride on into the dawn, the darkness finally takes over and the first rays of light begin to bathe the Dolerite cliffs. We have again made it to the last of the switchbacks in the road through the trees. Where the trees now disappear in one spectacular gateway into the open escarpment of scree and boulder-strewn slopes. Time slows the moment. A minute or two is taken at the top to bask in the warm glow of light which makes its way through our bodies softening the chill.
You don't always get a morning like this. The top of the Mountain was invisible for most of the week prior to this day and it seems only yesterday that we were chased off this very same Mountain by storms so severe it washed away roads and flooded the flat land below. Tassie weather is a wild and sometimes fickle beast but when it decides to show its soft side it is worth your while.
We begin the descent and are joined by a local to the Mountain, so local in fact that we will ride past his driveway 20 times during the day! The sun is now putting on a show over the mountains of the North East, it's simply a magical day to be on a bike. The switchbacks, which were painstakingly climbed at a very slow pace are now launched at like a roller coaster as we dive back down! Reefing on the brakes at the last possible moment before disaster over the boulder fields. The long straights between these corners are taken at breakneck speed, swerving and hopping the front wheel over a precarious mixed gravel surface! Although regularly maintained, this is a rough gravel back road weaving up the side of the mountain. The descent keeps your pulse high with adrenaline! This enjoyment is why we seek roads like these to ride!
Back into the trees, the temperature drops again as we fly down the mountain, the landscape constantly changing over the 11km descent. And just like that, the forest gives way to open fields of farmland, which are engulfed by the cold mist. With chilly fingers and chilly toes, we hit the bottom turnaround point and we begin again!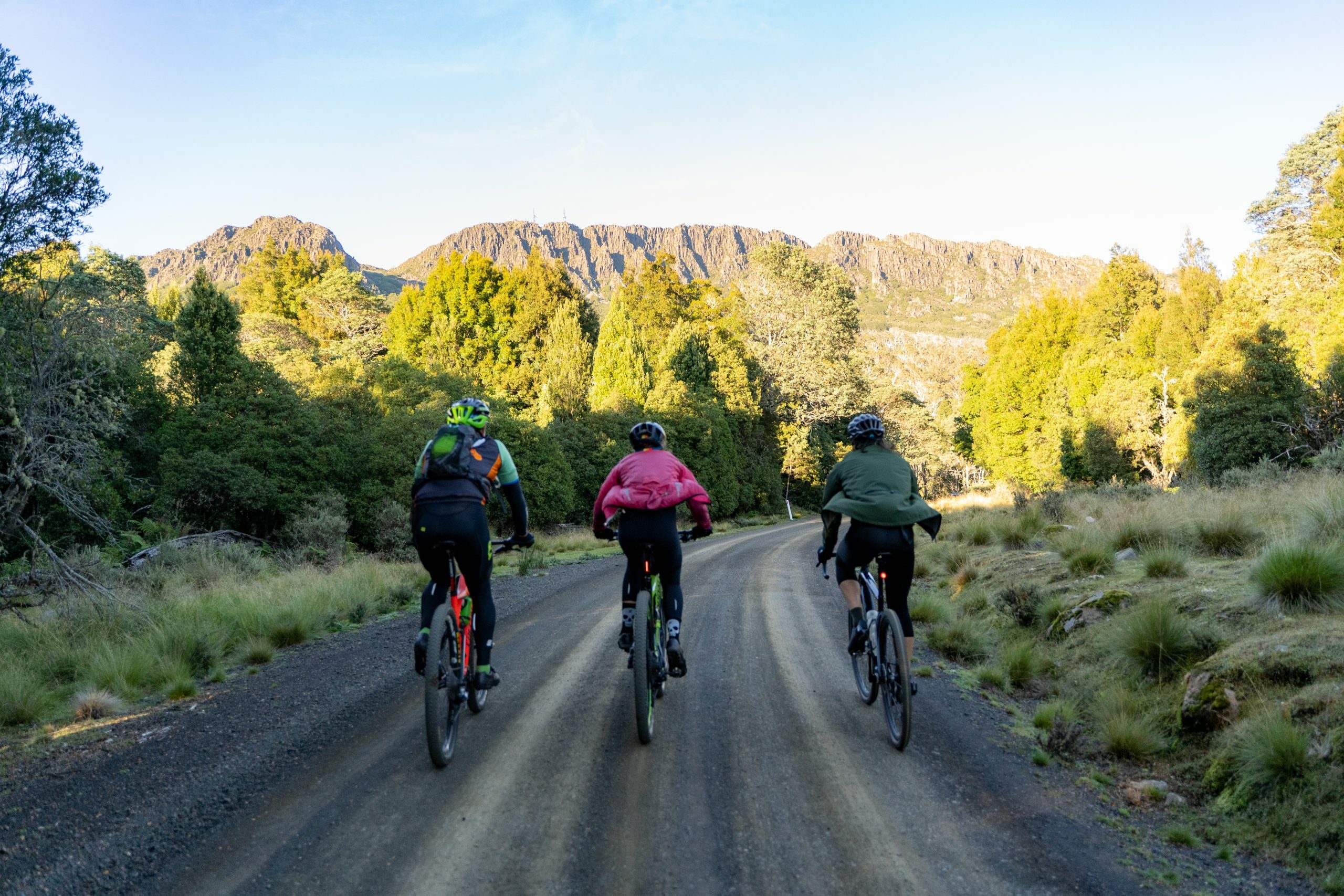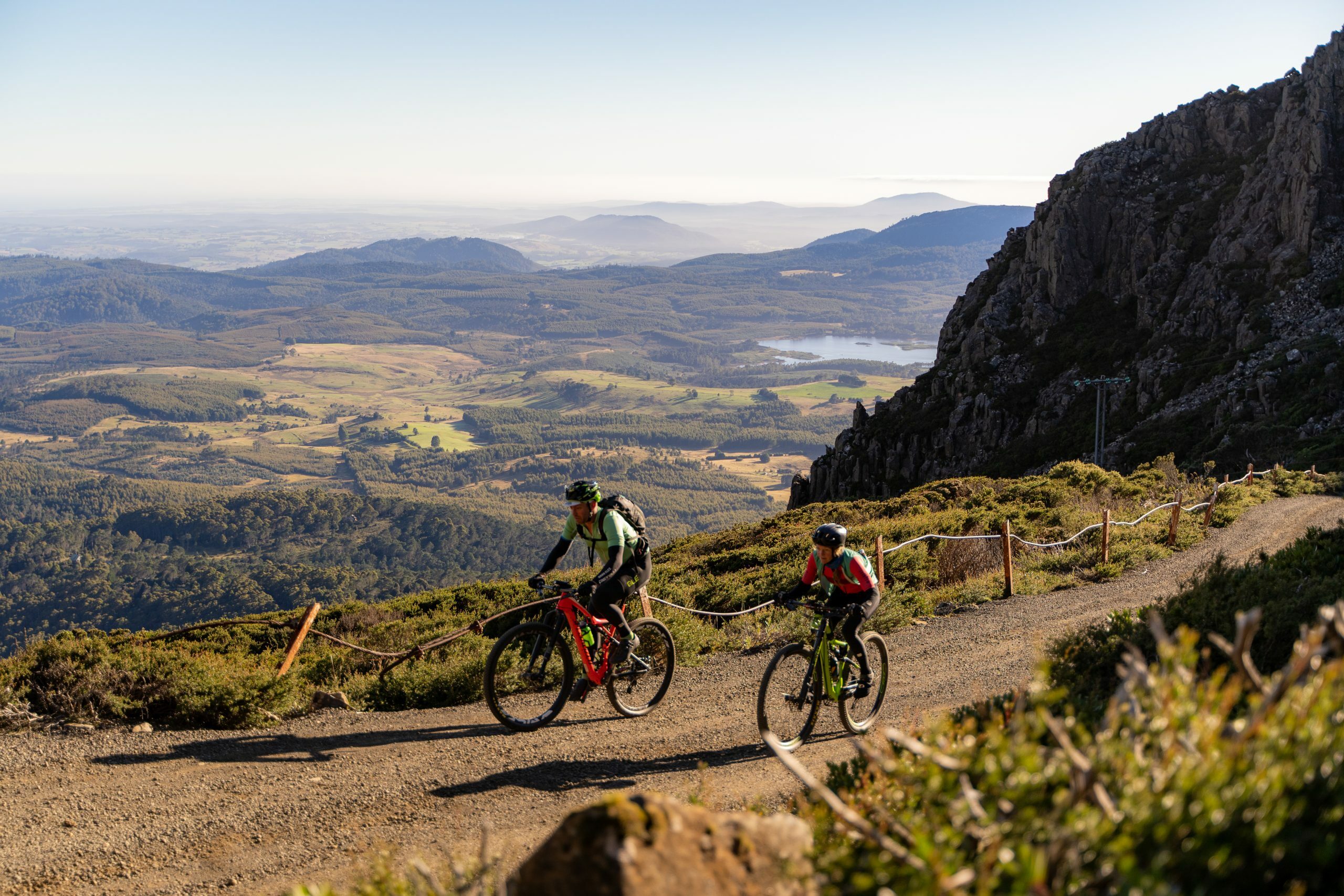 Eve Everesting for Earth
Each lap is so different and now the sun is finally touching us at the beginning of the climb; thawing our chilled digits! Full sunlight greets us as we hit the escarpment now for the fourth time. There's not a cloud in sight with a clear blue sky. The view that was totally hidden in the dark and then only partially seen in the predawn is now in full view. You can see the coast in the distance over the rolling hills and distant mountains each switchback revealing a different view. We summit again and begin to descend now in the full light of the day.
It seems an appropriate time for a morning coffee and something warm to eat. Given or remote location this may not seem a likely luxury to find, but sometimes it pays to be a local. The coffee machine is heated up. It is black, strong, short, and served in my little pony cup, exactly the way I take my coffee. Toasted buns are on the side, an adventure does not always have to involve a near-death experience after all.
These 10 x laps of Mt Barrow took Eve over 18hrs of elapsed time to complete. Finishing after dark and completely shattered, driven by the cause to protect our precious environment. Eve has 10 more of these brutal challenges to complete over the next 12 months. Hopefully, each will be as special as this one. She is driven by a cause to make a change by climbing a mountain one Everest at a time. This is a load and what better way to carry it than with a barrow.
If you like to know more, please visit her go fund me page to find out what her project is all about. If you would like to also ride, experience and potentially Everest this Mountain you may just need your own Barrow to push.
How to Follow and Support Eve: