The Devils Cardigan | Grit – Rider Recap
Grit is a loose particle on a surface, be that pebbles, stones, sand, dirt or dust. It differs from a smooth solid surface in that it is this loose-unpredictable medium to negotiate, when travelling across it to get from one place to another. Grit is also is a positive trait based on an individual's perseverance of effort combined with the passion for a particular long-term goal or end state.
Pulling these ideas together, grit is 95km long with a 2300M Elevation, 3 major climbs on route, coming out of Derby, Ralph Falls and the final one leading us onto Mt Albert. Surfaces consist of 13% bitumen over 4 short sections, 67% Grade 1, 2 to 3 Gravel with a slight bias towards more Grade 3, 18% Grade 4 Gravel, 2% Grade 5 Gravel.
Cold like you have never felt, tired like you could sleep and never wake up, screaming pain of legs, aching joints, wet and dirt infiltrating every weak point of clothing.
You may ask what grit is? To you I say welcome to The Devils Cardigan
The Dust
At a latitude 42 degree south, Tasmanian winter days are dark, wet and cold. Training rides in winter start in the dark and end in the dark with temperatures hovering around zero. Rain, sleet or snow are not unheard-of during rides at this time of year. It takes a certain type of person to enjoy winter riding here. There is no other way to say it, winter riding in Tassie is hard and requires hard people.
Yet within the cold hard exterior a warm heart of gold resides. Riding in a Tasmanian winter is a magical experience. Leaves drop from the trees, settled snow on the ground and soft winter light can guide you through your day. There are opportunities for solitude with only the people who you want to ride with present on the road.
What better way to embrace this Tassie winter riding lifestyle that we enjoy than host a celebration of the dark, the cold and the solitude. Make it hilly, make it dirty, make it with heart breaking climbs and bone chilling descents, embrace it like the devil has just loaned you his cardigan for a day. Wrap yourself in it and ride.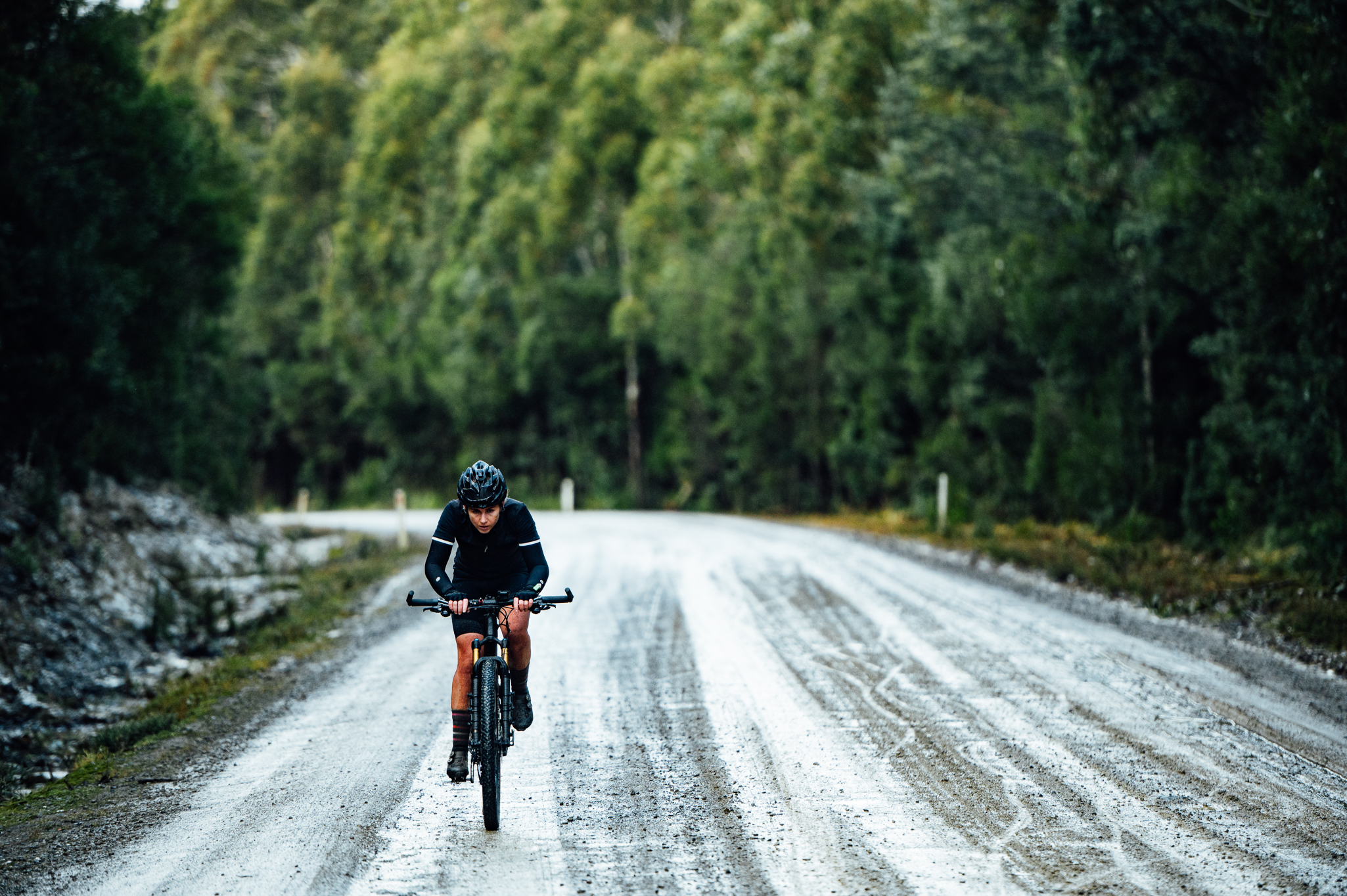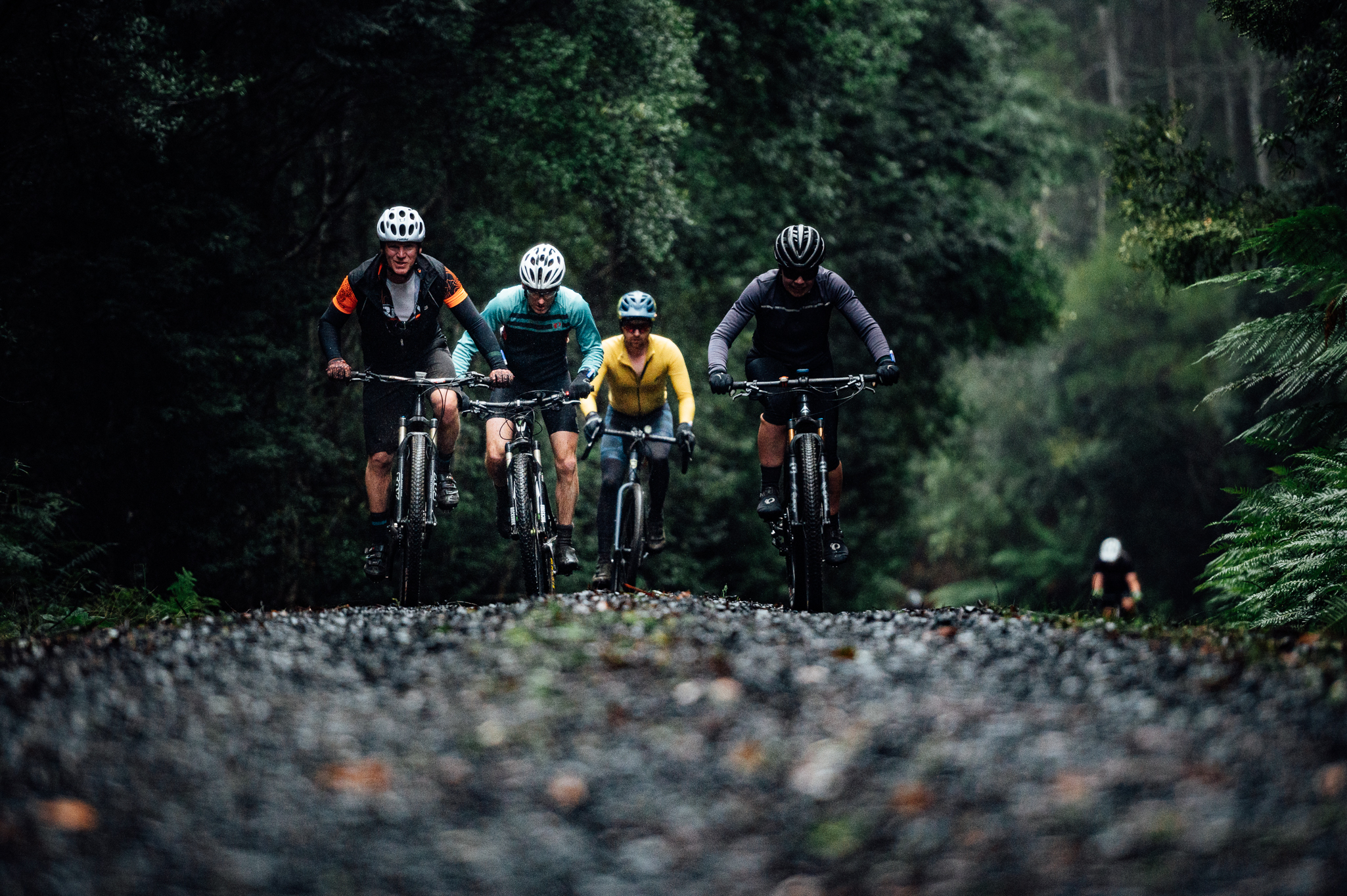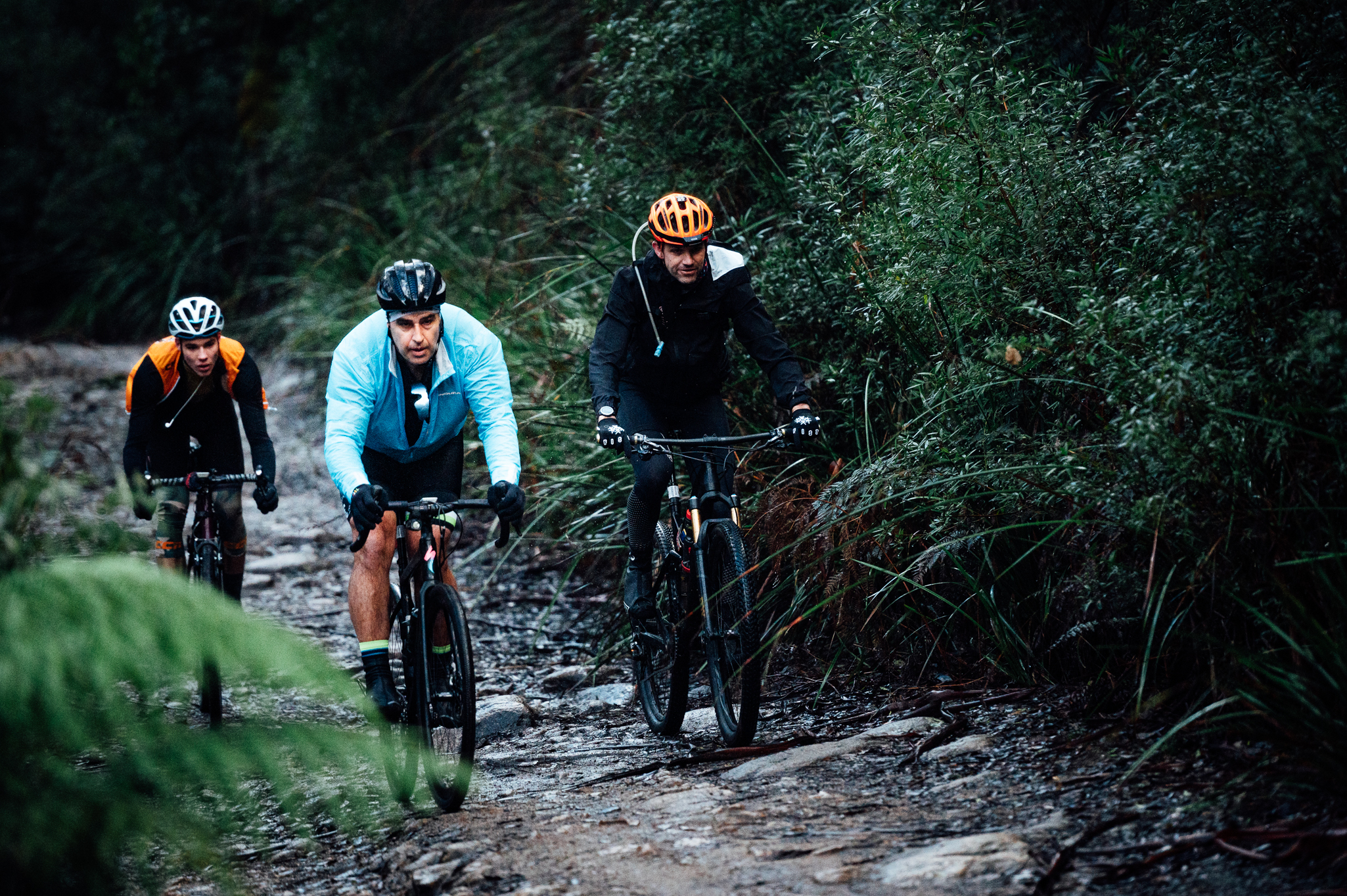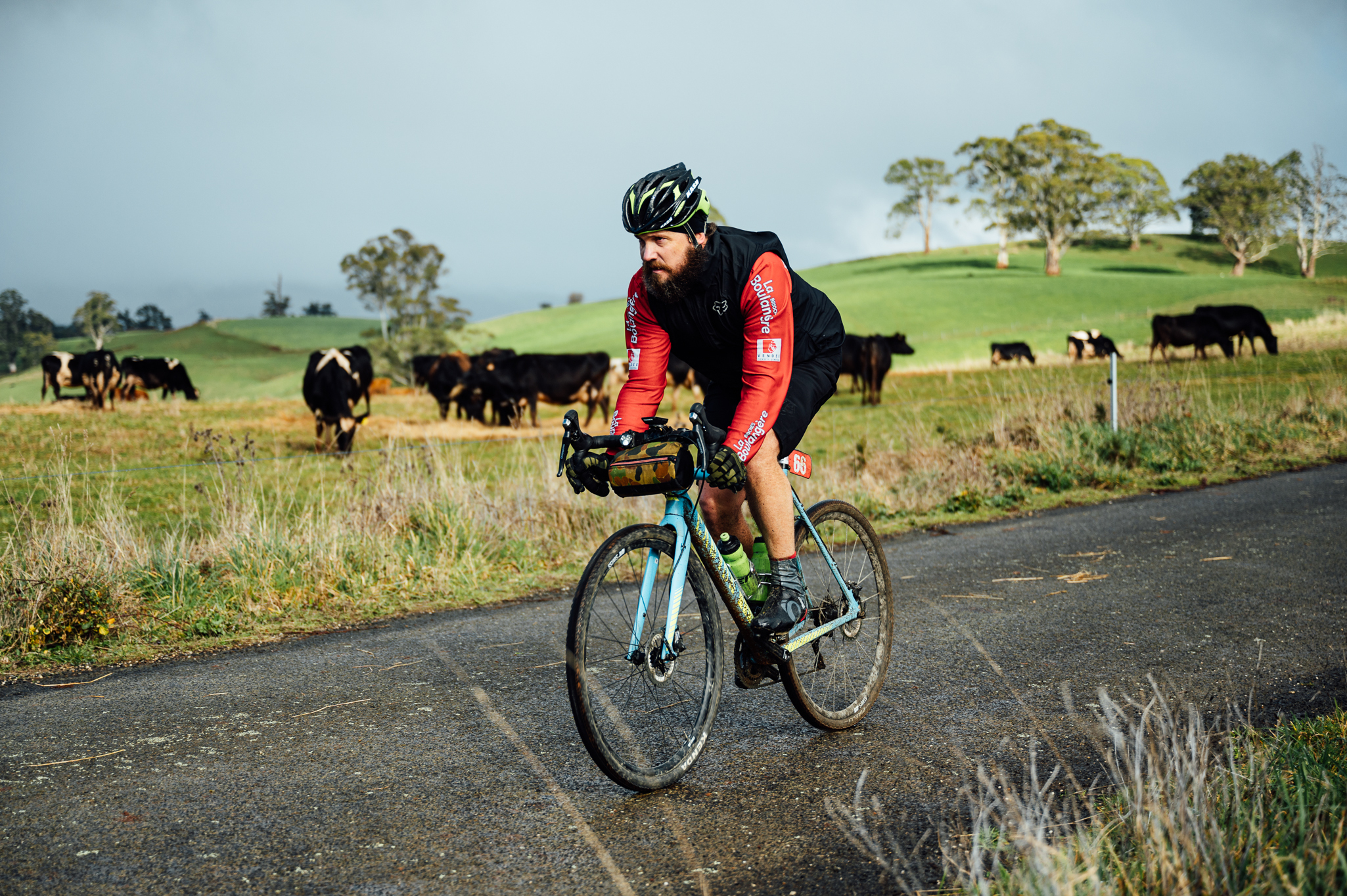 The Dirt
Every good painting starts with a canvas on which it is to be etched. Centered in the Derby region of north east Tasmania, a town that is a world class cycling destination, talked about in rowdy conversation for its formed mountain bike trails.
Yet spoken in whispers for those in the know are this region's rich resource of gravel, logging and fire roads. It is a back-road riding dream location in terms of the options to explore and get lost. A canvas is just that until an artist creates and here is where the magic happens.
The Devils Cardigan course has been painstakingly created. Maps help, but local knowledge is key. They say it takes a village to raise a child, well it takes the collective knowledge of the dedicated local gravel bike community to set this course and hold this event.
The Pebbles
A common passion is a way to build community. Such a tightknit community is something that is a rare treat to be involved with. There is an undoubted community of gravel riding which I think in part creates the attraction to this style of riding. A race cannot happen without the passion and dedication of the organizers, supporting businesses and volunteers. The Devils Cardigan would not exist with this type of support. So for that, thankyou, it could not exist without it.
It takes a community to create this type of event but it requires comradeship of the riders to shirk the cold and the wet, pin on a number and pit themselves against course and the elements. There is a rare bond formed in shared experiences and make no mistake this ride is an experience.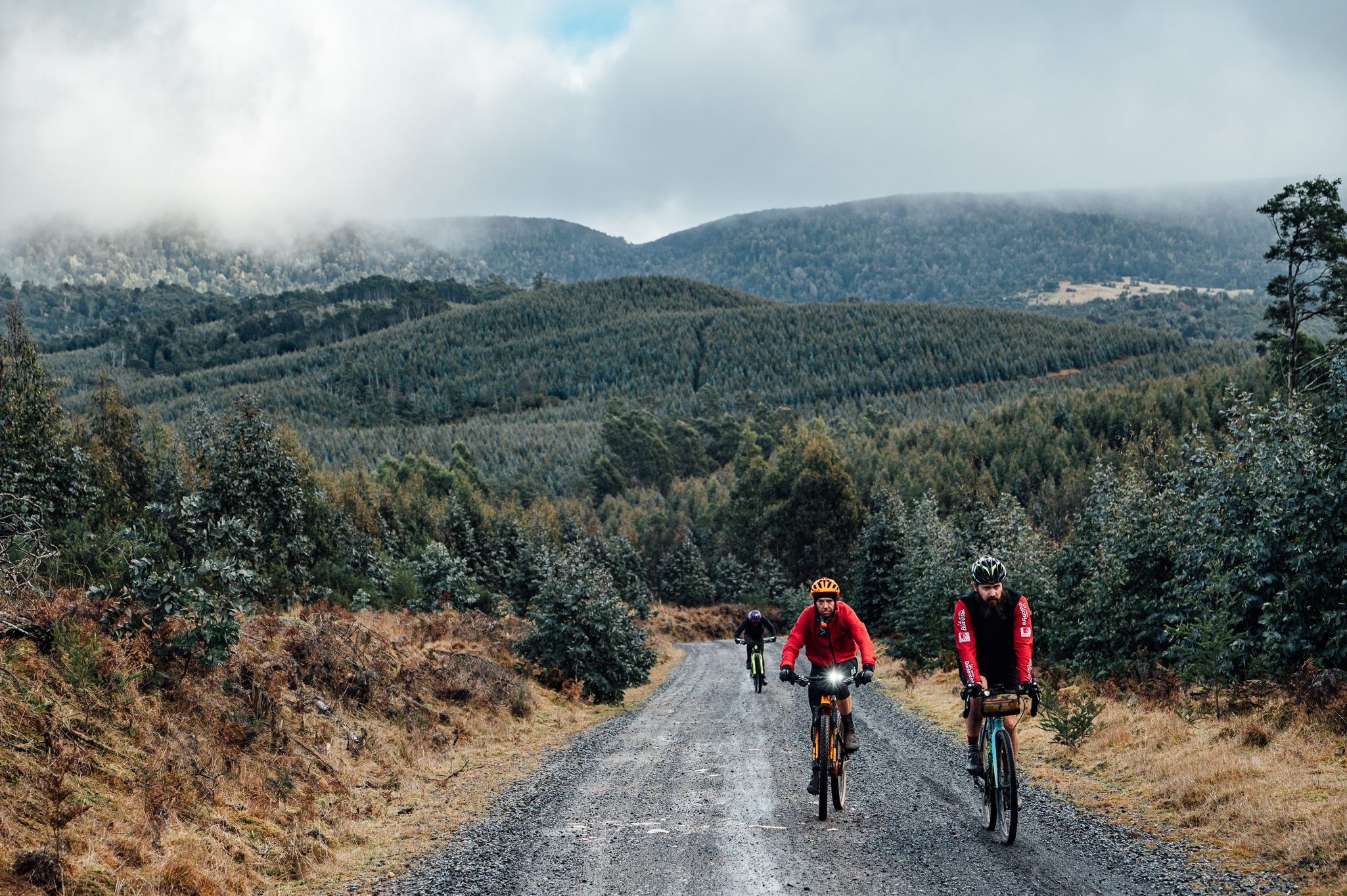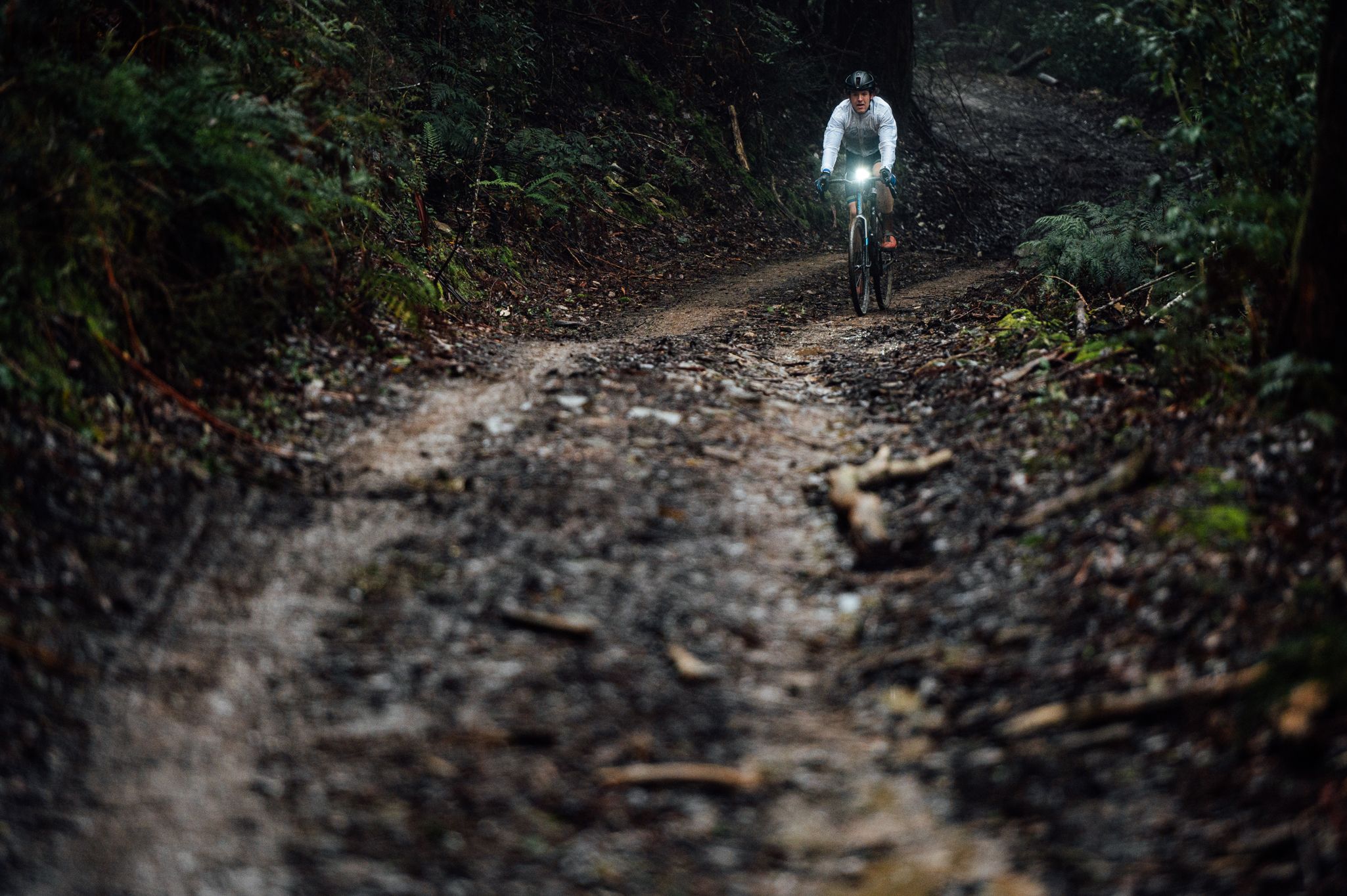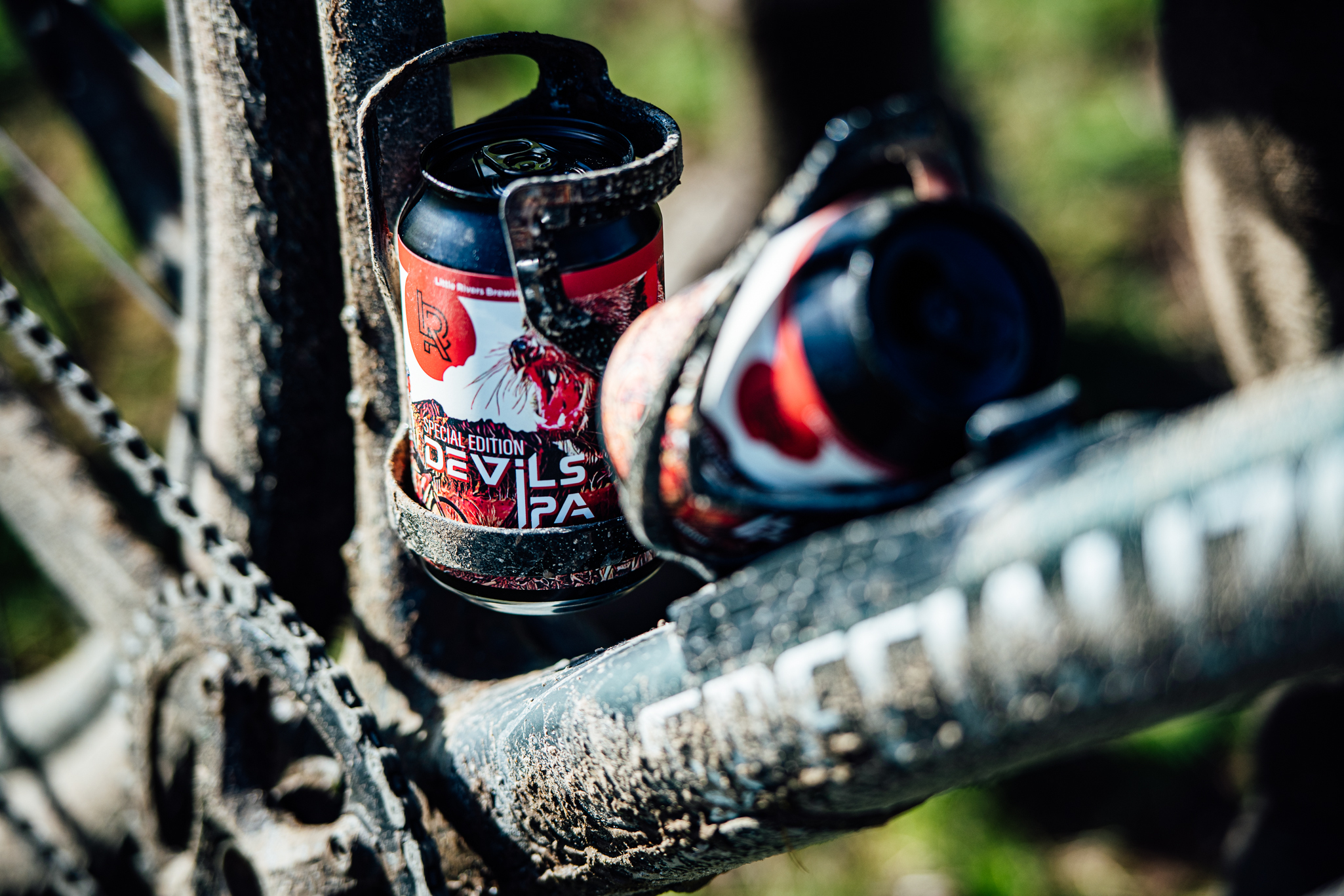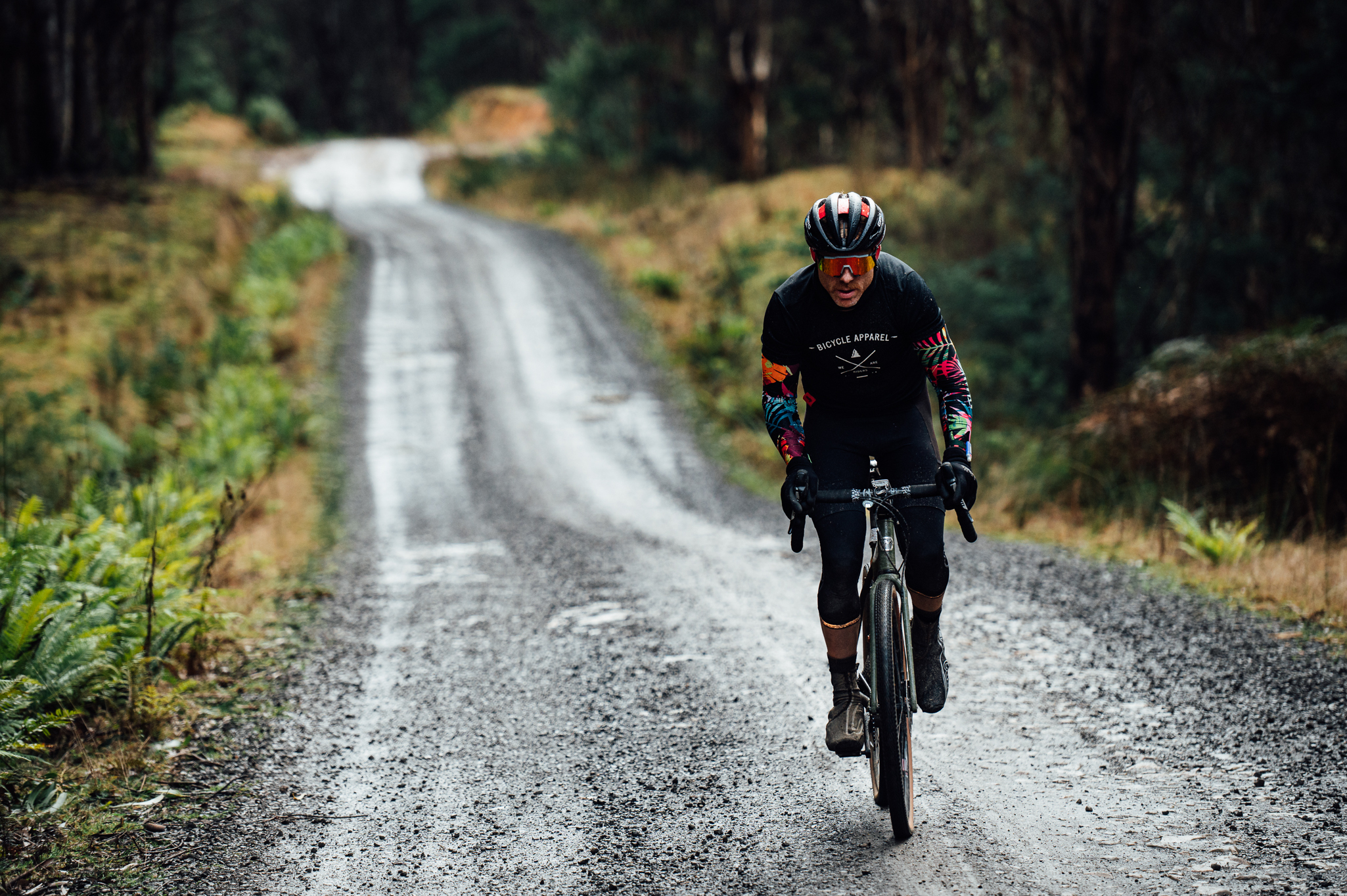 The Stones
A night of thunder and rain precedes the race, as we gather in the chilly predawn to sign in. Nervous conversation about what the course and weather may bring us is whispered amongst the registering riders. "Did you hear there is a forecast of snow above 800m," and "That first descent looks chunky."
Bikes, nutrition and clothing choices have been made, training is a distant memory. Short or long course this is going to a nice little ride in the best of what a Tassie July can offer. After all it's called the Devils Cardigan not the Angels Sun Hat.
The ride starts in the rudest of ways with a cold dawn kick straight up the hill out of Derby soon stretching the field out. Lungs burning from the cold and exertion, we throw bikes into the first and, in the end, most technical descent of the day. The girthier of the bike choices cannon down, this girth will end up hurting some of these riders later, grinding their way through the balance of the 2300m of climbing. For lighter skinnier set-ups, this first descent has them rattled, quite literally rattled.
Then come the hills; by hills I mean mountains. We settle in the two KOM's, Mt Victoria and Mt Albert climbs that go on forever, with descents that chill your fingers to the bone between. Rain showers only reprieve to be followed by the next shower. The weather being enough to make it interesting but not quite bad enough to kill you. Remember this is what you signed up for.
Yet for every dark moment there is light. Sliding out of the mountain mist we are greeted with break in weather and a blue bell sky to warm tired bodies. In a typical Tasmanian way, "This is not bad weather really, could have been worse." Green rolling hills and grazing cows, our only race spectators. One last trick in the hand of cards to play. The final road, bordering on a country path, greets us to get our tired bones and grinding gears over, providing our last spray paint of mud over bikes and bodies into the finish.
Over the line, a cold craft beer, hot hamburger and a moment to sit in winter sun. A shower, bike clean, a hot local pub dinner and the final results await.
The Results
Long Course:
First Male Nathen Earl 3:26:40.
First Female Nicole Frain 3:58:14.
Short Course:
First Male: Nicholas Kerkham 1:48:53
First Female: Penelope Banks 2:35:15
What is the Devils Cardigan? It is loose particles, perseverance, pebbles, stones, sand, dirt, dust, a particular long-term goal or end state. It is Grit.