On March 6th Chelsea rolled up to the start of the Cloudride Prologue, a 500km bikepacking event starting in the centre of Canberra. Here's her reflections from the 40 hours that followed.
It's an Early Start to a Big Ride
4:41am I've barely slept, and now I am trying to force scrambled eggs and toast down my throat without throwing it right back up knowing that I need all the energy I can get.
5:20am I'm pedalling my bicycle full of enough food and gear to let me survive the next 2 days down a completely deserted Northbourne avenue. The bike feels impossibly heavy and I am wondering how the hell I am going to be able to lift it by myself over the inevitable padlocked gates that are in my future. My brain is screaming at me to just turn around, roll back home and crawl back into bed.
After all, no one is forcing me to do this.
5:55am There's a massive crowd of excited riders gathered outside the Bentspoke brewery. Everyone seems so confident, their bikes look so light and nimble and they seem to be having fun. I am using all of my mental capacity to not just break down and cry. This will be my first major ride without my incredible partner and constant bicycle adventure companion Ty. A couple of friends try to engage me in conversation, but all I can muster are the most basic of replies.
6:00am A horn blows and all of a sudden I am swept up in a massive wave of riders pouring down the darkened streets of Canberra and heading onto the local gravel fire trails that I love riding. My legs take over and now there is 500km separating me and my return to this same point. I try to tell myself I would be happy finishing in 2.5 days, but deep down I know I want to use this as an opportunity to push myself even further. My real goal is a 48 hour finish.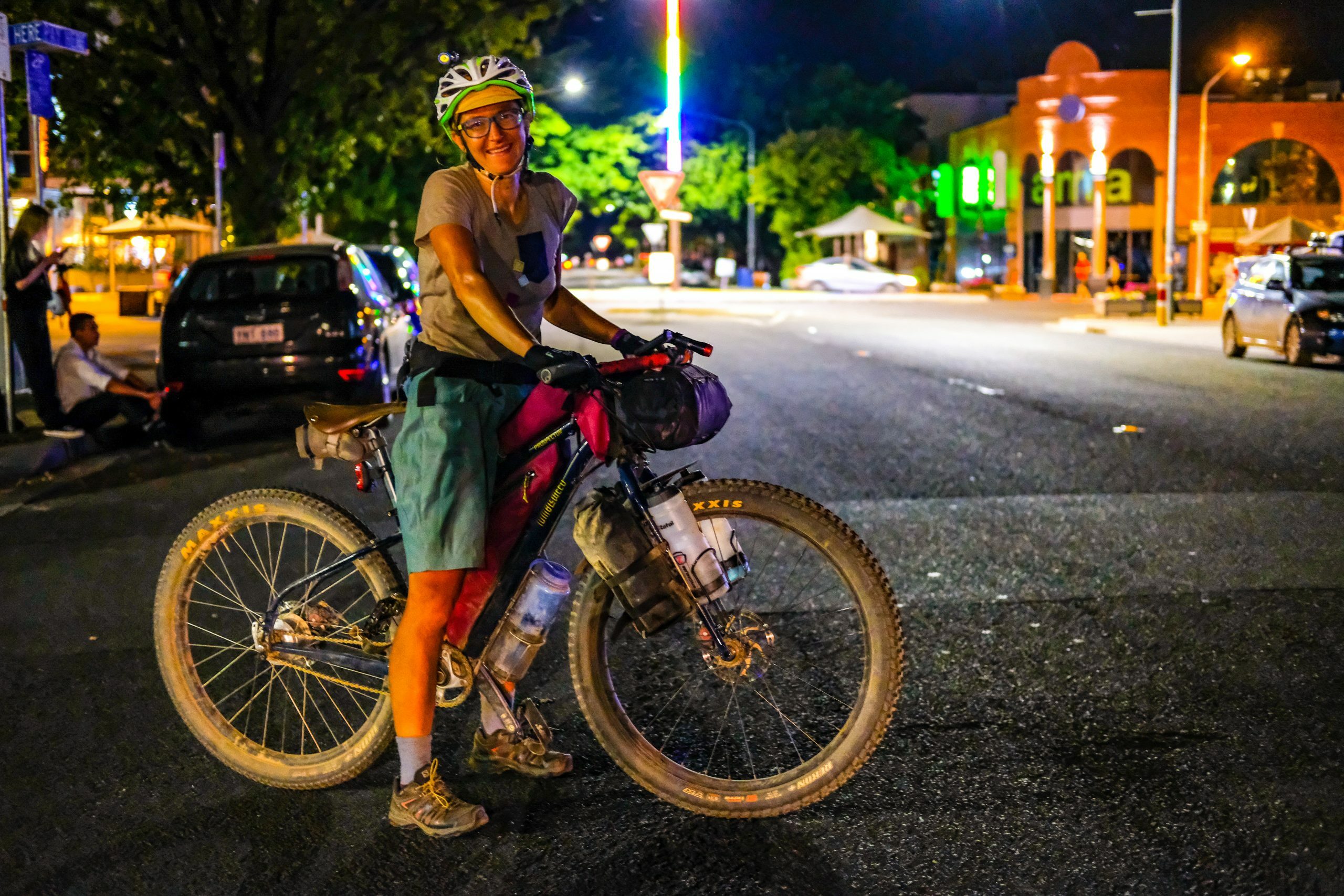 Riding Into Unchartered Territory
10:43am I send off a quick text to Ty to tell him I am just leaving the small church at Jerrawa after trying to shovel some snacks as quickly as possible into my mouth and top up my water bottles. The last 90km have been a gravel riding dream, super smooth dirt, minimal climbing and I feel like I am finally starting to relax somewhat. I have been leapfrogging back and forth with a couple of friends, it is nice to see some familiar smiles and share a few words.
3:18pm I roll into the first actual town on the route. There are quite a few bikes already here. The terrain has continued to be smooth and I felt good on the one section of sustained climbing. I mentally prepare myself to try and force more food into my body. This will be my last opportunity to eat something substantial for quite a while. I wish I could make myself eat, how can it be so hard to consume food after expending so much energy? My legs are starting to feel tired, but I am in good spirits.
6:09pm After a super fast section I have made it to Taralga, 210km and officially the longest distance I have ever ridden in one go on a bike.
Every kilometre after this is uncharted territory. This is the first real decision point in the ride. Push on, and I will inevitably be tackling the most difficult and remote stretch of the ride in the dark.
Of course I am pushing on, my goal has always been to try and get half the ride done on the first day. Not far out of Taralga I see a rider out in the distance in a distinctive green t-shirt. I am so stoked to see my friend Lucy is also pushing on into the coming darkness. This is probably my fifth or sixth time seeing her throughout the day.
I eventually catch up with her just as the sun is starting to set and we are about to turn off of the main road. We discuss our lack of experience and desire to see how far we can push ourselves and without anything really needing to be said it is now the two of us.
Celebrating Milestones and Dodging Spiders
11:59pm 274km. Lucy and I along with Mike, who caught up to us after a slight detour on the wrong trail, are splayed out beside a decently flowing river. Our world has shrunk to what can be illuminated by our small bike lights. Our pace slowed to a crawl as we navigated a steep rocky descent that forced us off our bikes. It was just as well as our lights highlighted large (huge by Canadian standards) spiders hanging out in enormous webs stretched across the rough track waiting for the next snack.
We join the spiders with our own midnight picnic before resigning ourselves to the gruelling hike-a-bike that is waiting for us on the other side of the water. Despite the difficulty of the last few hours I have been having an absolute ball riding/taking my bike for a walk with Lucy and laughing at the ridiculousness of our current situation.
Lucy and I have started a tradition that will continue for the rest of the ride of calling out each small accomplishment. Reaching the halfway mark, highest point on the course and reaching the apex have all now occurred. The hike-a-bike turns out to be one of the worst I can remember. Massive rocks and a steep gradient put a huge strain on my already exhausted muscles.
Everything hurts, my arms, my legs, my neck, even my fingers are aching. I am struggling to catch my breath with each push. I wonder what the hell I am doing trying to force my bike up an impossibly steep hill in the middle of the night, but I keep on pushing realising that the only way for it to end is to get it over and done with.
3:16am We arrive at an old church in the middle of nowhere. There are a few bikes scattered around, but no sign of any of the attached humans. The night has become a jumbled mess of memories and a fuzzy dream like state. There was the ute with blinding spotlights and a man with a shotgun riding in the back that passed us, not once, but twice. The strange lights of remote properties off in the distance and the huge looming dark void of a mountain across the valley from us hinting at what would be a spectacular view during the day.
It has been taking me longer and longer to look up from my GPS each time I check the course. At this stage my eyelids will take any excuse to close. How long have I been riding while practically falling asleep? After 300km we decide that there is no other option, but to grab a couple of hours of sleep. I am too tired to bother blowing up my air mat so I shove my sleeping bag inside my bivy shell and I fall asleep on the hard packed ground.
7:00am We have already been on the bikes for about 40 minutes and have perfectly timed our arrival at the top of the pass with the sun poking up over the horizon. I am tired, but it is less than 200km back to Canberra. We are all in high spirits marvelling at the incredible scenery in front of us and anticipating an arrival back at Bentspoke in time for a beer.
8:56am We have hit another milestone, reaching the servo at Marulan at the 340km marker. I grab a sub from Subway which I have been envisioning since the ride started. The moment is completely anticlimactic as I still have no appetite and I might as well be eating a piece of cardboard. It's time to dig deep as even the easiest of terrain is a struggle now. Ty sends a very timely text simply stating "Have fun and keep the pedals turning." That is literally all I can do at the moment.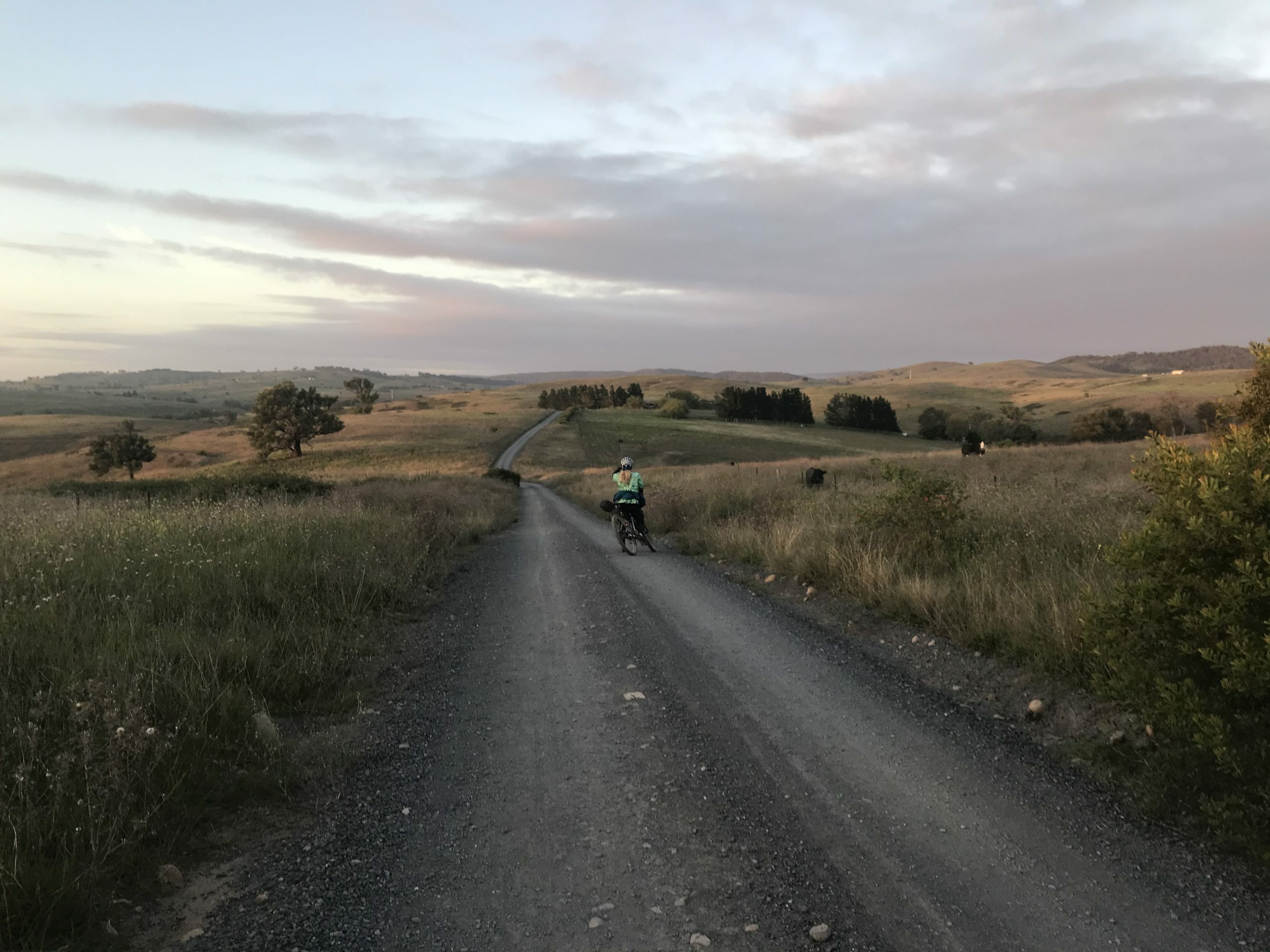 Fighting All the Way to the Finish
2:44pm It feels like we have had to fight for each kilometre today. The sun is beating down on us, we are all plodding along silently through a grassy field, each fighting our own internal battle.
The three of us take turns getting a surge of energy and passing the other two only to slow down and be passed again further up. Even if we weren't riding together we are all basically travelling at the same speed. I am just hoping that this will be the last "tough" section of the ride (it definitely wasn't).
We only have about 80km left to get home, but it feels like 500km. Every bump is pure agony, my butt is on fire and every joint takes turns radiating its dissatisfaction with the current situation. We keep getting passed by people who look like they are out on a leisurely day ride which only adds to my current despair. My mood lifts slightly as we happen on some friends that have come out to cheer us on at random points.
4:43pm There is one last soul crushing climb to get through. It is somewhat ironic that a climb up a paved road is the one that feels the closest to truly breaking us. Lucy and I manage to stay on the bikes, but at one point come terrifyingly close to a complete standstill in between each pedal stroke.
6:39pm We are through Gundaroo and after 457km are now truly on the home stretch, we are absolutely flying as the sun sets in the distance. We hit the edge of Canberra and then on Old Wells Station road there is Ty and a few friends who have come out to ride the final section back into the centre of town with us. I am truly exhausted, but I can't feel anything except sheer elation at being so close to the finish.
8:35pm I can't process the perfectly normal night at the pub that is unfolding as we round the corner back to Bentspoke. More friends are there congratulating us and
I can't believe that I have actually finished the Cloudride Prologue. I could never have dreamed that I could ride 500km in 38.5 hours. A beer gets put into my hand, my legs feel like jelly and I am about to collapse.