Easter Bikepacking Adventure to Cesjacks Hut and Mt Jagungal
I'd not been to the Jagungal Wilderness before, so I'd passed responsibility for our Easter adventure plans to my partner who knew the area relatively well. I had no idea what to expect of the terrain or the quality of the gravel, and we mapped out a few different options.
In the week leading up to Easter, I couldn't believe how good the weather was looking at both the Cabramurra and Perisher Valley weather stations. It was promising to be spectacular autumn weather at its very finest – overnight minimums of 6 and clear, sunny days around 20 degrees, minimal wind. Pretty idyllic!
We decided to base-camp two nights at Cesjacks Hut. While you can drive to within 3km of the hut on Nimmo Road, we decided to park the car at Nimmo Camp and ride in 23km. And by 'in', I probably mean 'up'!
Starting the Route at Nimmo Camp
It was a 23km ride to Cesjacks Hut, but with just over 1,000m of elevation, including a hill right from the get-go, the route made for some pretty slow-going. The quality of the gravel was between grades 1-2 the whole ride. The gradients in sections meant I spent some time pushing my loaded bike uphill, but I was expecting it, so that was ok.
Around 1/3 of the first day was along beautiful rolling pasturelands and Nimmo Nature Reserve. We met a few 4wd's and trail bikes all out enjoying the Easter weekend. Everyone was pretty friendly. There were pedestrian bridges across all three fords making for pretty easy going cycling.
We'd parked at Nimmo Camp partly to add a bit more riding and a bit less driving to get into Cesjacks; but also to leave the option open to ride out on Day 3 via a circuit loop which would have taken us north via Grey Mare Trail, past Mackeys Hut, and along Happy Jacks Road – 57km and 900m climbing.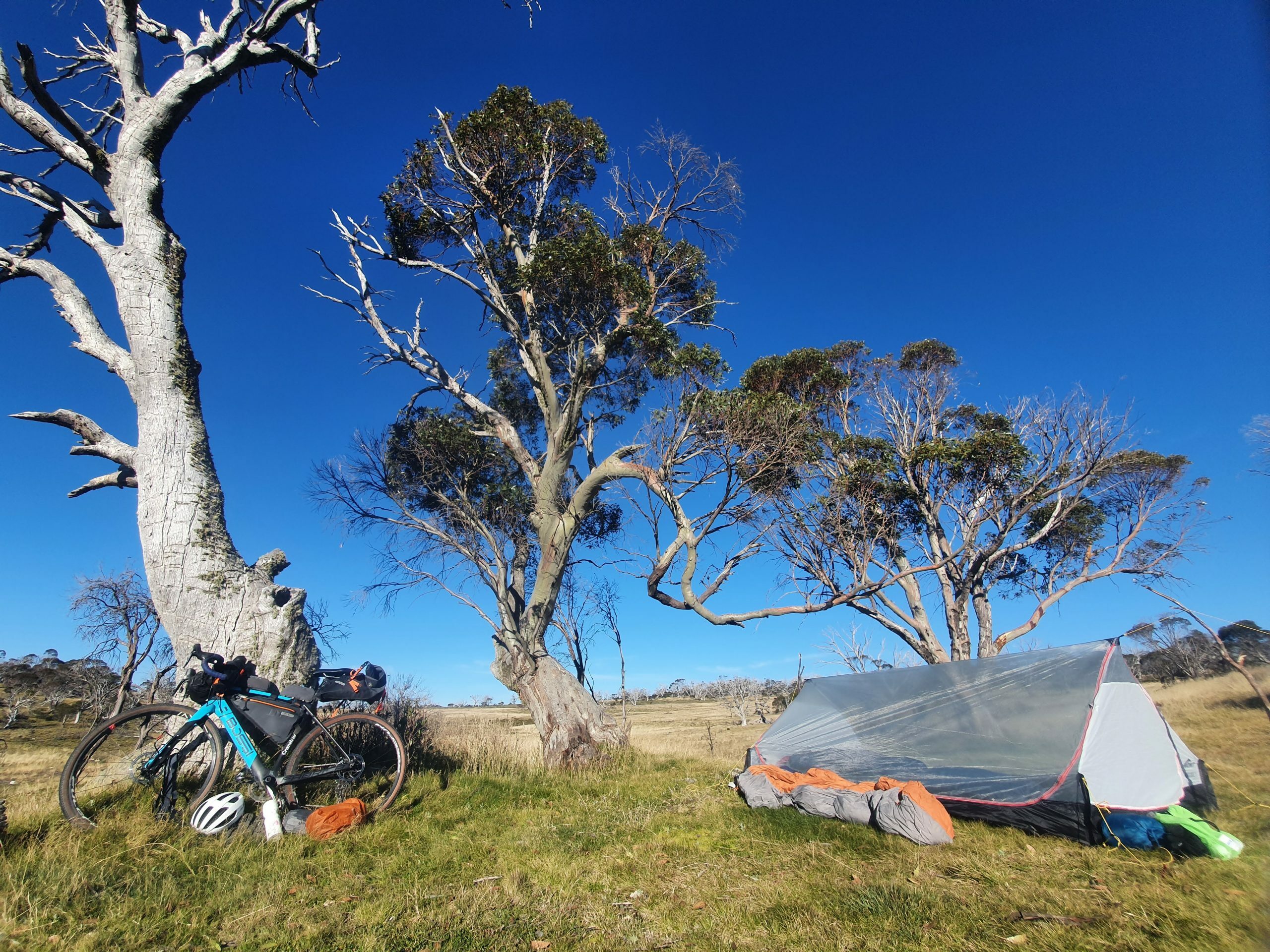 Making Camp at Cesjacks Hut
We arrived at Cesjacks Hut with plenty of time to set up camp, enjoy a warm, sunny afternoon, a cup of tea or two, and a bit of exploring nearby. We had views across a small plain to the hut from within about 500m, giving a picturesque sense of arrival. The nearby creek provided a perfect and fresh water supply. We drank straight from it without boiling or sterilising (but you may want to treat the water if you visit).
By 5.00pm on Good Friday, we were so confident we had the place to ourselves, we left our toilet paper in the dunny room. (Yep, there was a long-drop. I hadn't even considered such civilisation!). Of course, we jinxed ourselves, and two other hiking couples came on in by 6.00pm.
Hiking Up Mt Jagungal
On Saturday we woke to a spectacular sunrise, mild temps and clear skies. We set off by foot before 9.00am to climb Mt Jagungal. It's untracked from Cesjacks, but the southern route seems to be the more popular for some wilderness walking. We decided to make a circuit of it – heading north from the Hut and across Doubtful Creek, and then a lot of climbing through heath which was pretty tough going. We saw one wild horse – which always feels like a special moment, despite knowing what a feral pest they are!
We 'slowly' tramped our way across to Mt Jagungal; reaching the top just after midday. The alpine meadows with swathes of alpine daisies were spectacular! Well worth the bush-bashing through the heath to enjoy the easier-going meadow walking.
The southern route back involved some unavoidable swamp, some more heath wading and alpine meadows.
I like to think I'm relatively fit; but I was reminded of muscles I haven't used in a very long time and got back to camp mid/late afternoon pretty weary and sore (and a little sun kissed; forgetting the harshness of the Aussie sun at elevation). I guess cycling-fit is different to bushwalking fit.
Coming into camp was a bit of a rude shock with tent city having been constructed during our time away. A bushwalking group from Victoria had made their way in, and another three people separately. Later that evening, another few folk traipsed in but set up camp well away from the main hut (which we would have done too, had we anticipated the numbers!). But it was a good crew of friendly folk; some of whom were very interested in our bike set-ups, kit and rig.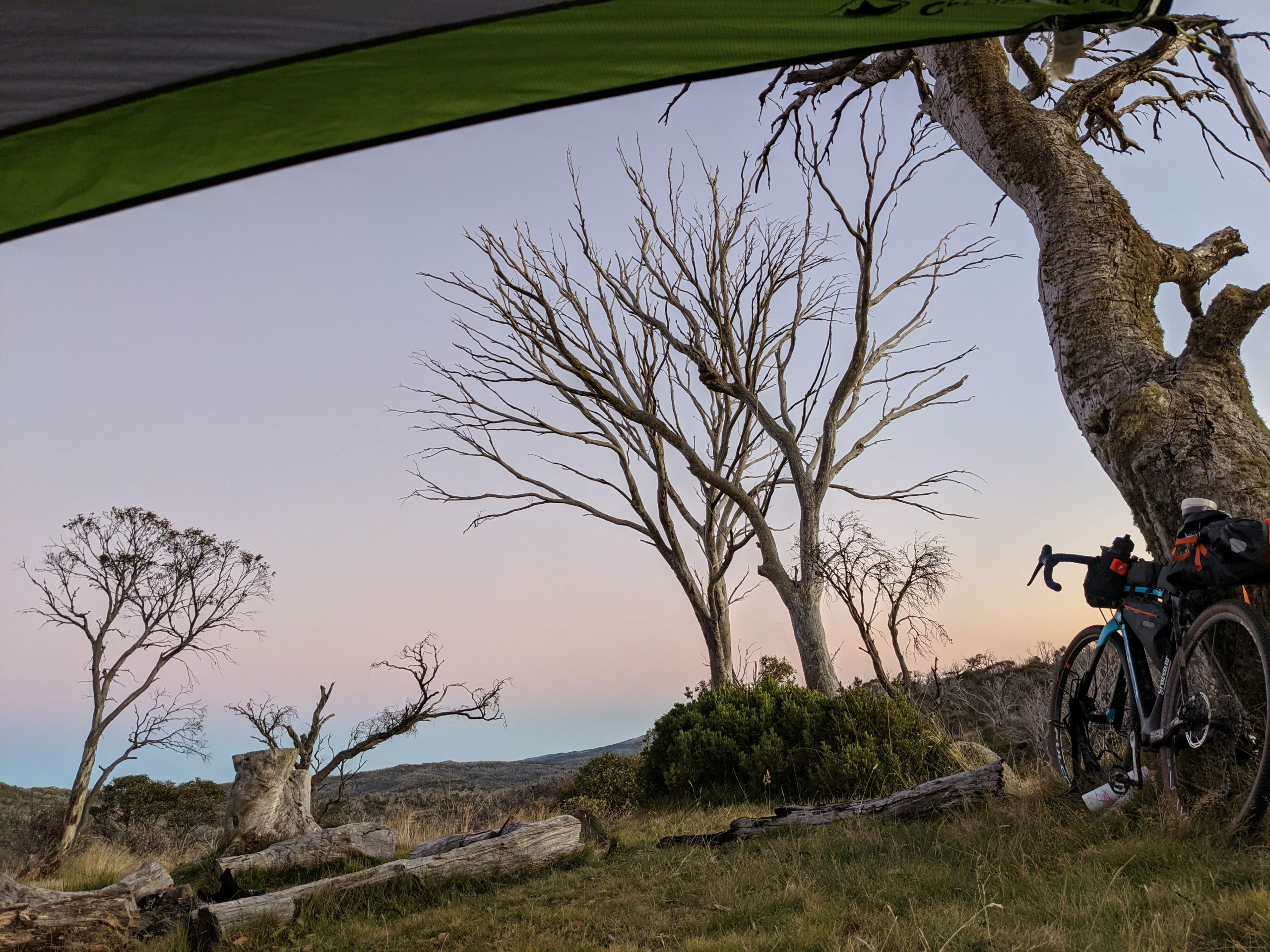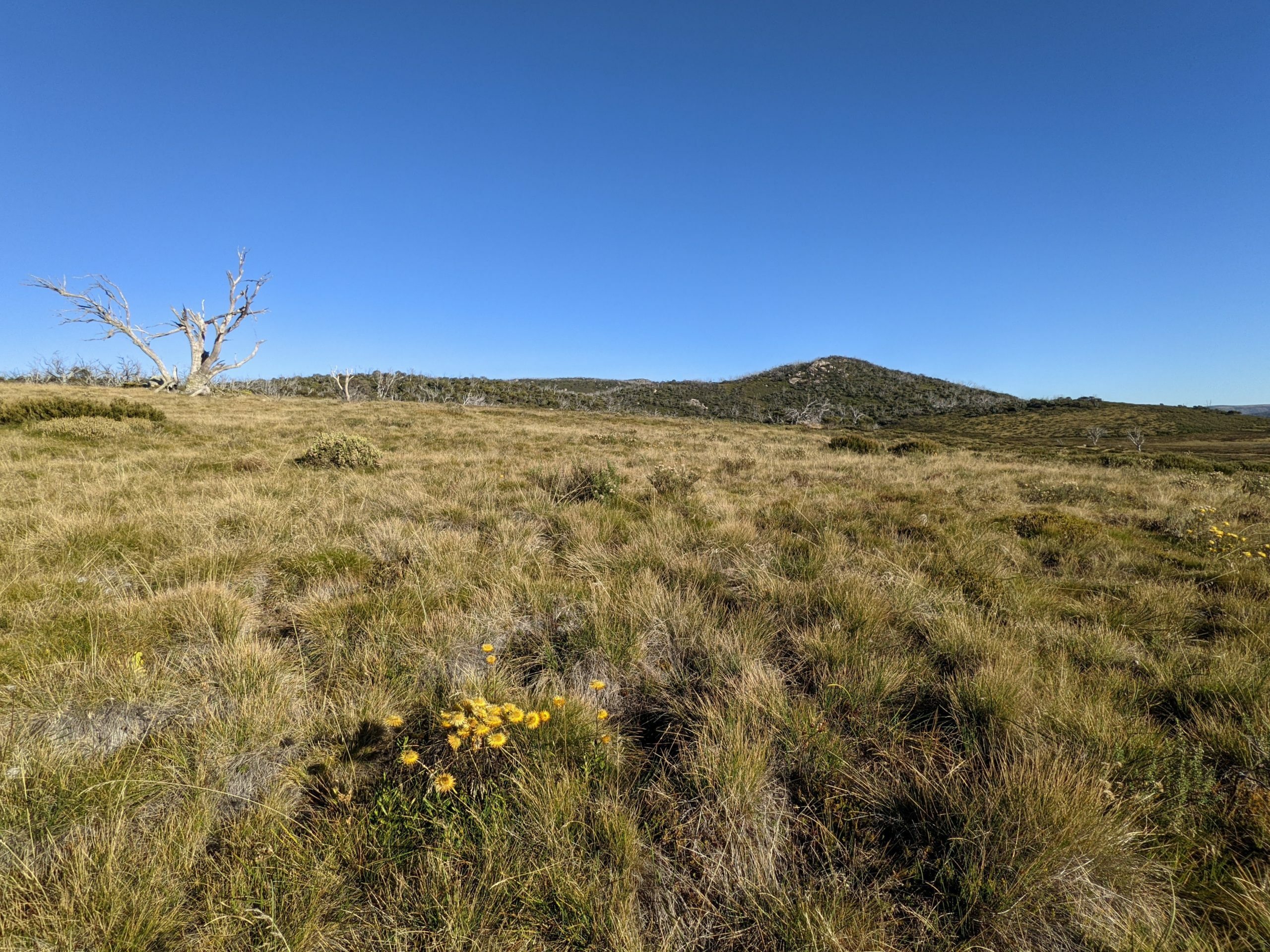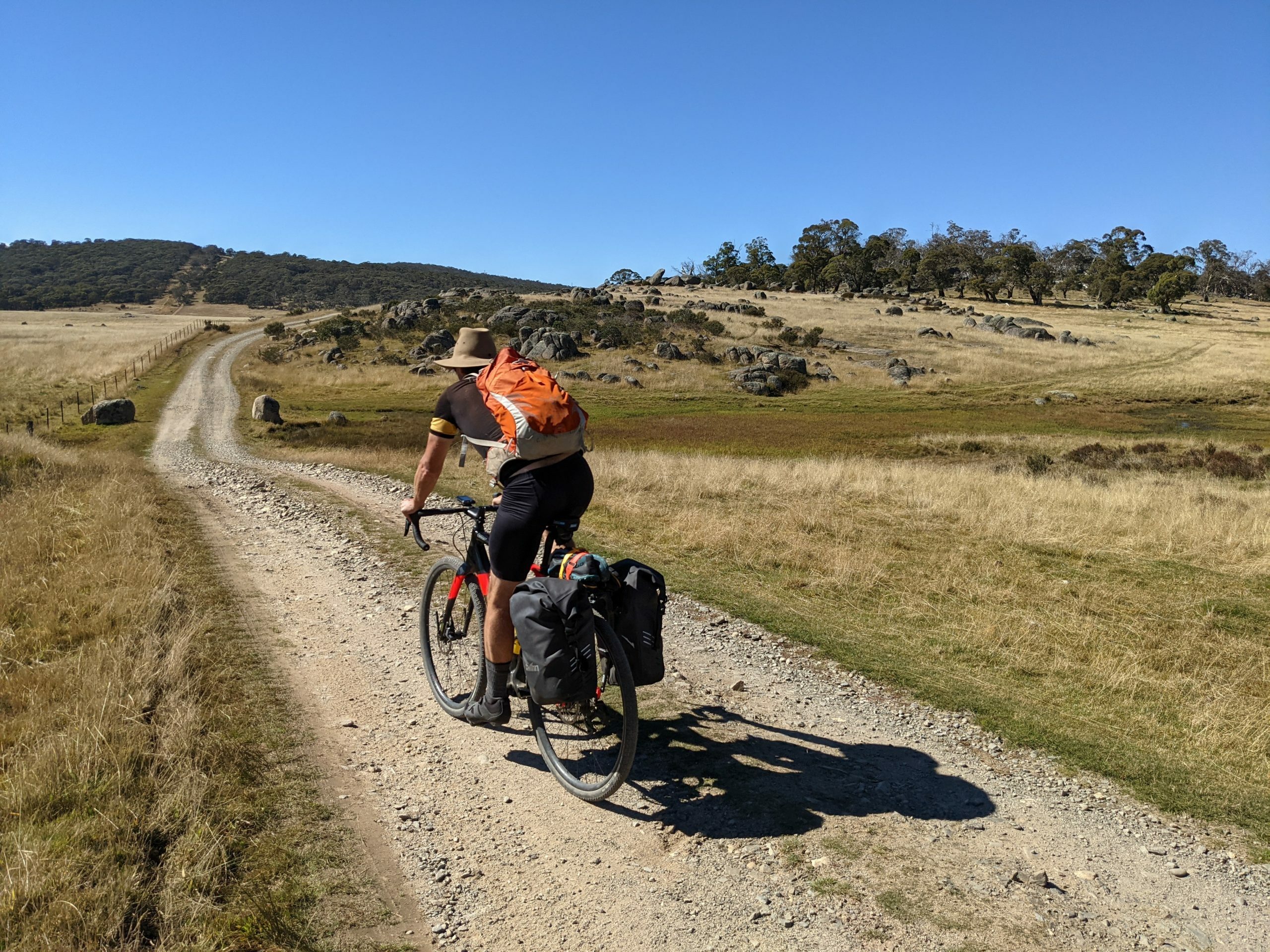 No Circuit Ride This Time, But a Perfect Out and Back
Day 3 greeted us with a similarly mild, sunny, clear sky morning. We decided to ride back the way we'd come in; and opted for the 23km route rather than 57km. While I generally prefer circuit rides and would have loved to check out more of the area, it was so beautiful and such a great ride in, it didn't matter repeating the same scenery back out.
We arrived back at the car late morning; took a dip in the creek and made it back to Cooma before coffee curfew!
What a weekend; what an escape; and what an incredibly beautiful land we live in!
And how easily this could be replicated for a weekender, or even an overnighter from Canberra – even just to drive 2hrs to within 3km of the hut and be camping in the Jagungal Wilderness.
And there is so much more exploration to be done – so many more huts to check out; more trails to be ridden; more landscapes to be enjoyed; more camping under starry skies to be had!
I can't wait to get back out again, and have started mapping the next routes; including from Tooma Rd via Wheelers Hut, Dershkos, O'Keefes…