Easter Bikepacking Misadventure from Caboolture to Highfields
Over Easter, Keegan and his mate rode 210km from Caboolture to Highfields. Their route involved some hike-a-bikes, unwitting trespassing and a fair amount of mis-adventure.
It also involved some cracking gravel roads and beautiful scenery.
Kind kids and Accidental Trespassing
Our journey began on Friday morning at the start of the Caboolture to Wamuran rail trail. The route then ducked into State Forest trails and into the back of Woodford for a quick stop and then onto D'Aguilar National Park where we found a decent spot to kick back and spend the night.
Saturday morning started to the sounds of the birds in the trees and a coffee, then we rode down a rather unmaintained steep section (-27/-29%) for 2km. After that it was onwards to Kev's Korner for a beer, food and to refill water.
From there it was out to link onto the Brisbane Valley Rail Trail and ride to Tagoolawah. We then unwittingly continued into what we would find out was private property/restricted land. This is where it really started to become an adventure. We got to a gate rolled through it and then came across another, this time padlocked.
We shrug, we've kinda come too far to turn back now so over the fence go the bikes. After about 1-2km we run into a bunch of kids, two on a quad bike and one on a dirt bike, we explain our circumstance and apologise for trespassing. We asked if they mind if we keep pushing on.
With an okay from the oldest and a warning that they couldn't get the quad bike through some sections, onwards we went with the kids letting us know they would ride ahead and let their grandparents know we where coming past.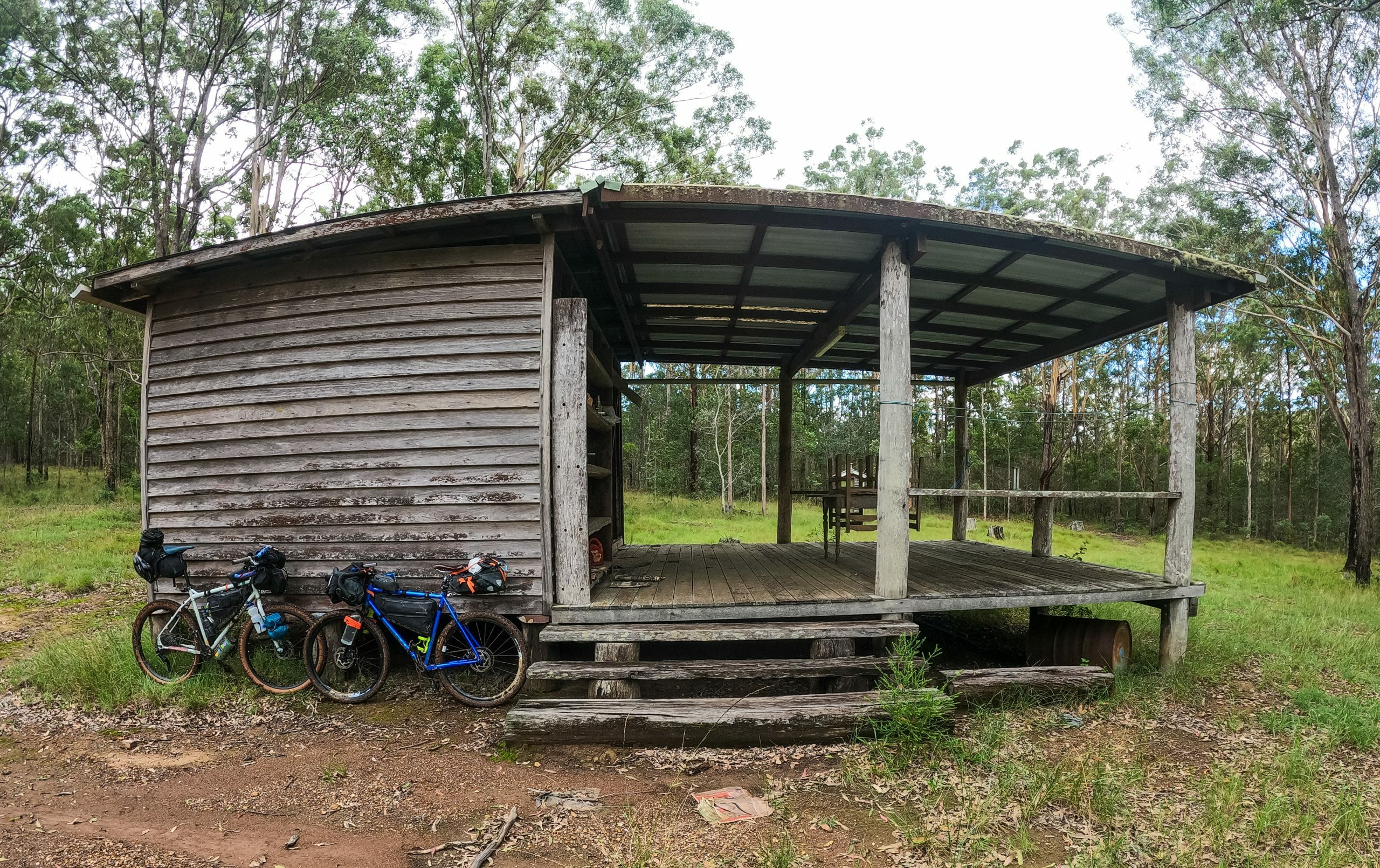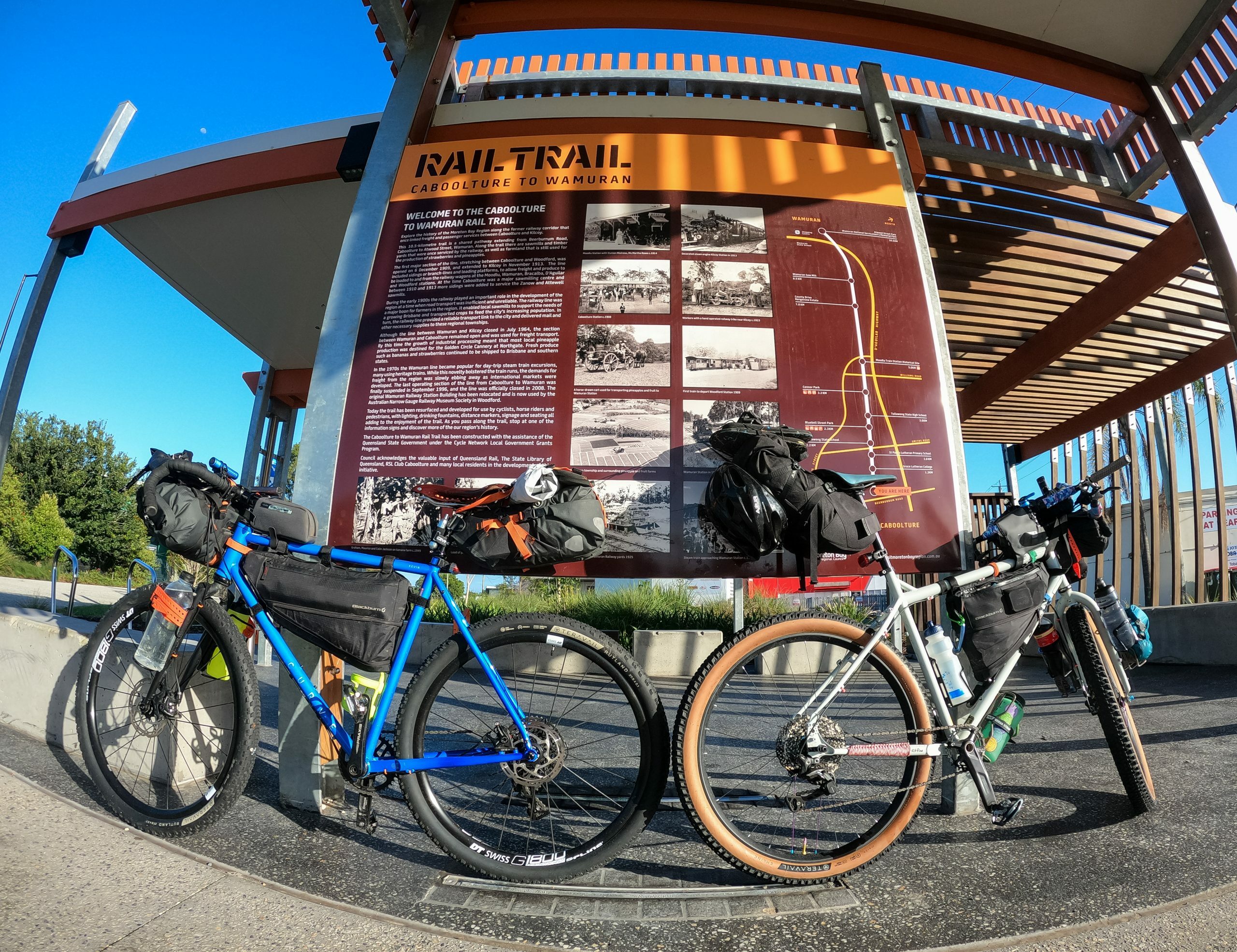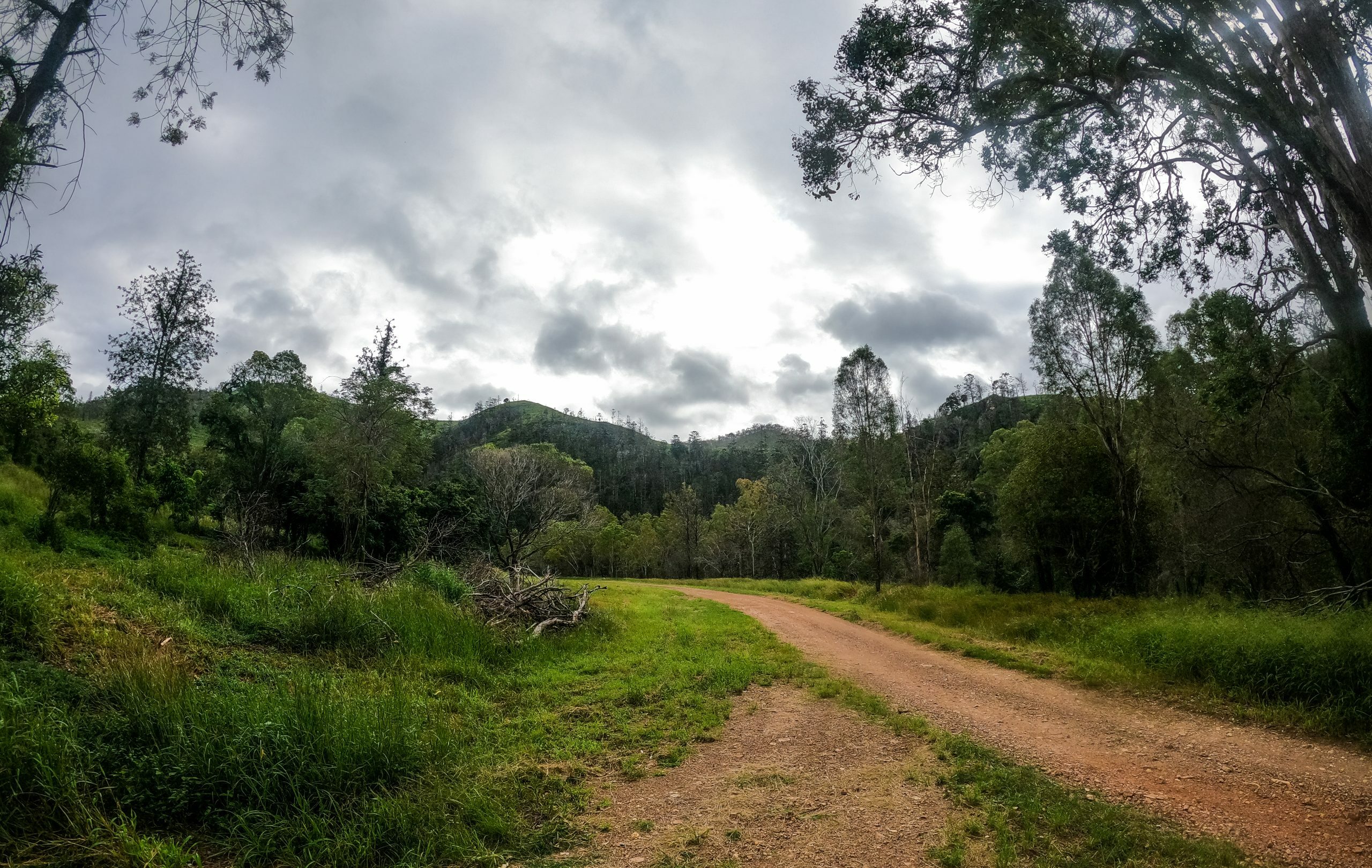 The Most Beautiful Valley
At every hill they would stop at the top and watch us bomb down and back up the other side, cheering us on and we soon rolled past their house. We started crossing several muddy creeks with fallen trees, almost fully submerging our bikes in one of the creeks then another restricted gate and we had made our way through one of the most beautiful valleys I'd ever seen.
My mate and I agree that those kids are so lucky to grow up in such a place, then we turn a corner look to see the spot we had planned to camp, one last push of hike a bike.
We made it just in time to set up the Alton Goods tarp and bunker in for a night of strong winds and light rain.

Trail Characters and Returning Home
Sunday morning we skipped the coffee packed up and it was straight back into hike a bike, after reaching some nice rolling gravel hills on the way to Crows Nest we stopped for a road side coffee where we also met a bloke walking his dog. He was carrying what I presume was an axe in his jacket, just the long timber handle sticking out the top. He asked for a phone to call a Mr D Smoothy as he wanted a lift into town with him. 'Sorry mate, no reception.'
'All good, I'll just keep trekking to his place,' he says.
We shake hands and keep heading to Crows Nest, stop for a pie and a can of coke, then head on to Highfeilds via the gravel rd's of Pechy.

Overall we rode 210km, 3000vm and had a ton of laughs.