In Perpetual Motion – The BrisDivide Mini
If you'd told me a year ago, six months even, that I'd be at the starting line of a 240 Kilometre 4000 vertical metre 'adventure event' I'd have laughed.
However, this is where I found myself at 8.00am on a mid-autumn Saturday morning with 20 or so like-minded people ready for the BrisDivide Mini.
The Event – The BrisDivide
BrisDivide events are the creation of Paul Elby, a person whose passion and enthusiasm for these events is both tangible and infectious. Without people like Paul, these events wouldn't be happening in Australia.
There are three routes under the BrisDivide banner, with the Mini being an entry-level unsupported bike-packing event. With that in mind, I figured the Mini would be a good introductory event to ease myself into. After watching too many Lachlan Morton films on YouTube and getting close to the event distance & elevation on training rides, I figured I could try the route Kanza style.
That is – do the route in one hit, no camping.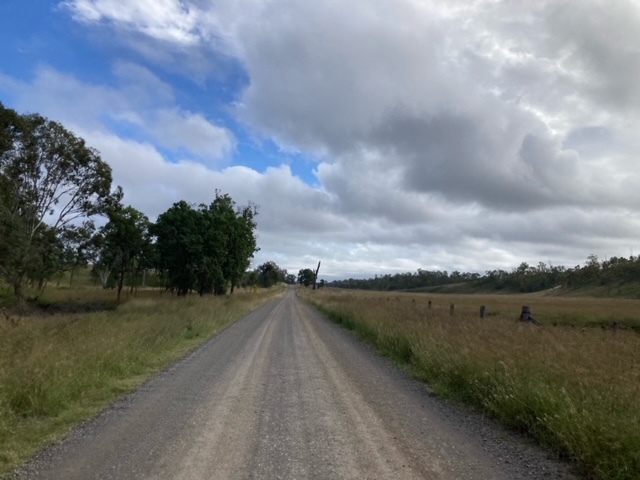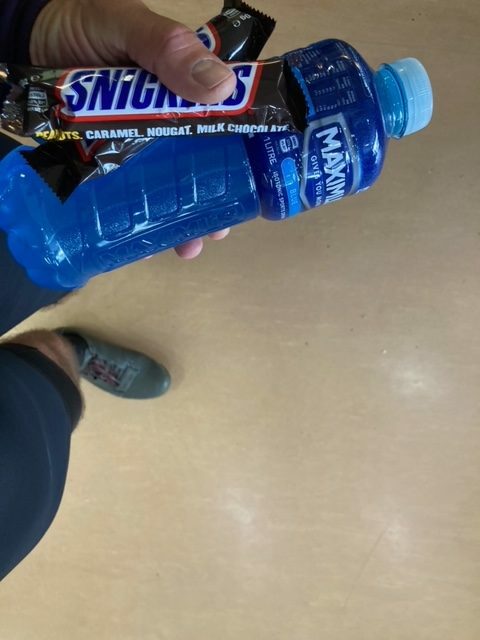 In The Beginning
Following a mildly nervous build-up we (the participants) met at McConnell Park, Toogoolawah. Pre-commencement introductions followed by Paul reminding us of the rules – follow the route, no short cuts, no support & stay safe; followed by some sound advice – "Worry about the things you can control…"
With that in mind we were off… well kind of. I got lost initially, leaving (or trying to leave) town.
I quickly regathered and figured out the way, catching the bunch a few kilometres out of town heading towards Maria Creek Road. It wasn't long before the bunch broke up (naturally) with riders setting a pace within their comforts. Aside from Cliff (local guy, just out for a Saturday spin) this was the only riding I'd have company on for the day.
Tarmac quickly gave way to gravel. The section between Maria Creek Road & Emu Creek is the stuff any gravel rider dreams of – undulating smooth gravel road traversing open cattle country. This ends abruptly with the descent to Emu Creek. This would challenge most gravel riders with no prior mountain bike experience.
Blackbutt was the first town on the route where supplies may be purchased. Arriving here, after only completing 75km so far, I felt quite spent and the first pangs of doubt surfaced. After sinking a litre bottle of Powerade and snickers outside the Blackbutt SPAR. Putting another snickers in my jersey pocket and switching some music on, I got moving.
The Middle Bit
The route headed north towards Nanango, initially through old State Forest tracks then on to Old Esk Road. Old it may be, whether or not it's a road is questionable! More mountain bike trail than road with large stones and steep grades made for tricky descending on a rigid gravel bike.
Reaching Nanango just after 2.00pm, I hit the fried chicken shop for (who'd have guessed) fried chicken, hot chips and a fizzy drink. Twenty minutes later, after filling up my water bottles, I was off again. I'd recovered and was feeling good leaving town hoping that the worst of it may be behind me.
Undulating forest tracks followed by a steep descent on tarmac lead the route to the Western Branch of the Brisbane River. From the valley floor the route climbed Mount Stanley – a long though moderately challenging climb being the only real 'hill' between the finish and me (still 100km away). The dark times came and went with every undulation until reaching the descent.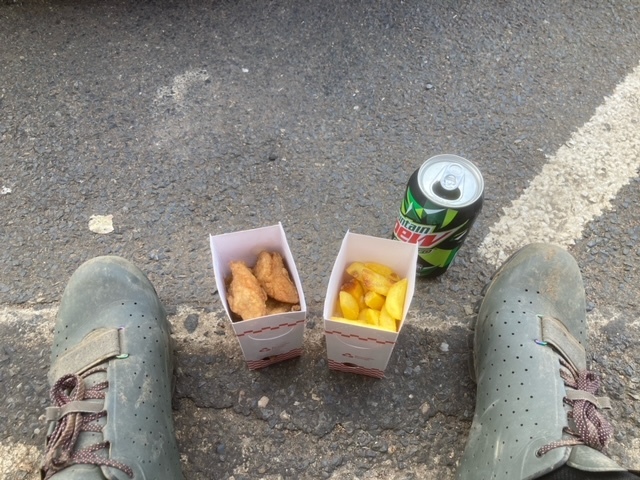 Into The Darkness
With Mount Stanley behind, the route followed the Eastern Branch of the Brisbane River. As the sun was setting the kilometres passed with relative ease. This, coupled with some euphoric progressive trance, put me a positive state of mind despite being tired and aching. Alone. Having fun… for the moment.
Causeway after causeway – no. 17, no. 16… these quickly became a symbol of how far I had yet to travel. Then upon reaching the Brisbane River properly, they started again no. 19, no. 18…
Running short on water and needing a pick-me-up, Linville took too long coming. Fully night time now, the town sign was a very welcome sign. The green and red flashing 'open' sign of the pub like a winking Sirius in the night sky – a beacon of hope in an ocean of darkness.
Quickly sculling a can of coke and tending my chafing, I got moving again. Throughout the day I'd been checking the other participants on Maprogress. No spots were near. Though this wasn't about them anymore. This was about me, a challenge against myself.
The last 40 kilometres or so passed quickly. The dark times and self-doubt had vanished. Small towns came and went – Moore, Harin… Toogoolawah. Arriving just after 9.00pm in empty streets I took a photo of my time outside the café and sent it to Paul as directed.
That was it…
Fini
I wasn't sure what to expect when I finished the BrisDivide Mini – elation, satisfaction, achievement, and fatigue. These were all present. I quickly came to the conclusion that I'd accomplished something only significant to myself. A conqueror of the useless.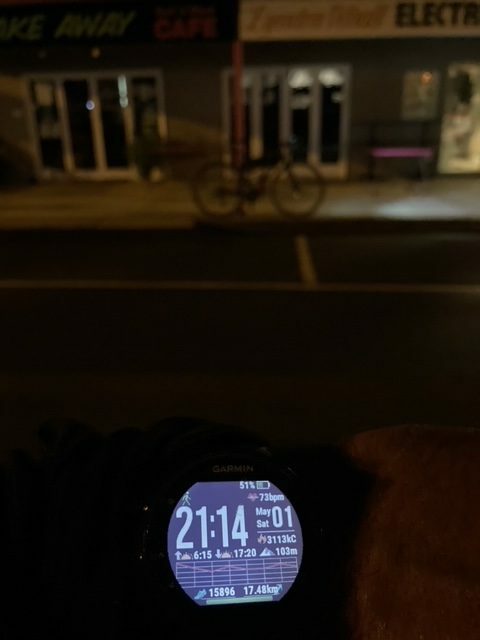 "Conquerors of the useless, that's what we were. You learned that what's important is the how you got there, not the what you've accomplished."
– Yvon Chouinard