Breaking Up With My Lifestyle
'Breakups are difficult' & 'Good, is the enemy of great'. It was no easier breaking up with my partner last year, as it was breaking up with my lifestyle all together. The courage to pursue the potential of a better and different life, in the face of fear, knowing it's a potential, we may very well be leaving behind the best and most interesting life we ever get.
Luckily, my dad didn't raise no fair-weather rider… on and off of two wheels.
My neighbour Hazel cries as she hands me and my travelling mates, Riz & Saul, chocolate bars. We spin our cranks off my street for the last time under kind, blue & crisp weather and into the unknown future.
Leaving In The Morning
We eventually make it to Forster. We celebrate with drinking a slab and a BBQ cookup. We meet a family and hang out with them for a while. They were welcoming. The kids showed us a sick spot to camp and helped us build a camp fire. Riz is more experienced at riding, and after days of staying in Forster, he gets restless and goes on alone. I was feeling similar restlessness. Sometimes when you're living out of one another's pockets travelling, tensions rise.
My second hurdle. Disuasion.
Me and the other rider Saul are inexperienced at distance riding. I pull him aside and tell him 'I'm leaving in the morning, rain, hail or shine.' He sort of shrugs and dodges giving me a real answer as to whether he's coming.
Morning's here, and I swiftly pack a wet hammock away in constant rain. I tell him I'm leaving in the downpour as we're making coffee, and invite him to ride with me from Forster to Port Macquarie.
He tells me I'm a fool. He tells me it's a bad idea to ride in the rain. He tells me I'm going to get sick from the cold. He tells me we can't do it. I knew what he meant, that 'He can't do it'. I told my friend at the time "I think you're projecting onto me your own doubts".
Feeling a bit disrespected, I packed up the last of my kit, and left my friend behind to figure himself out some. I rode about 100km from Forster to Tom Cat Rest Stop that day. Riz was waiting at the other end, with a fire lit. I dried out by the fire, as he made us TVP + Pasta dinner, then we made bunk beds; he slept on the table as I strung myself up in a hammock above in the shelter.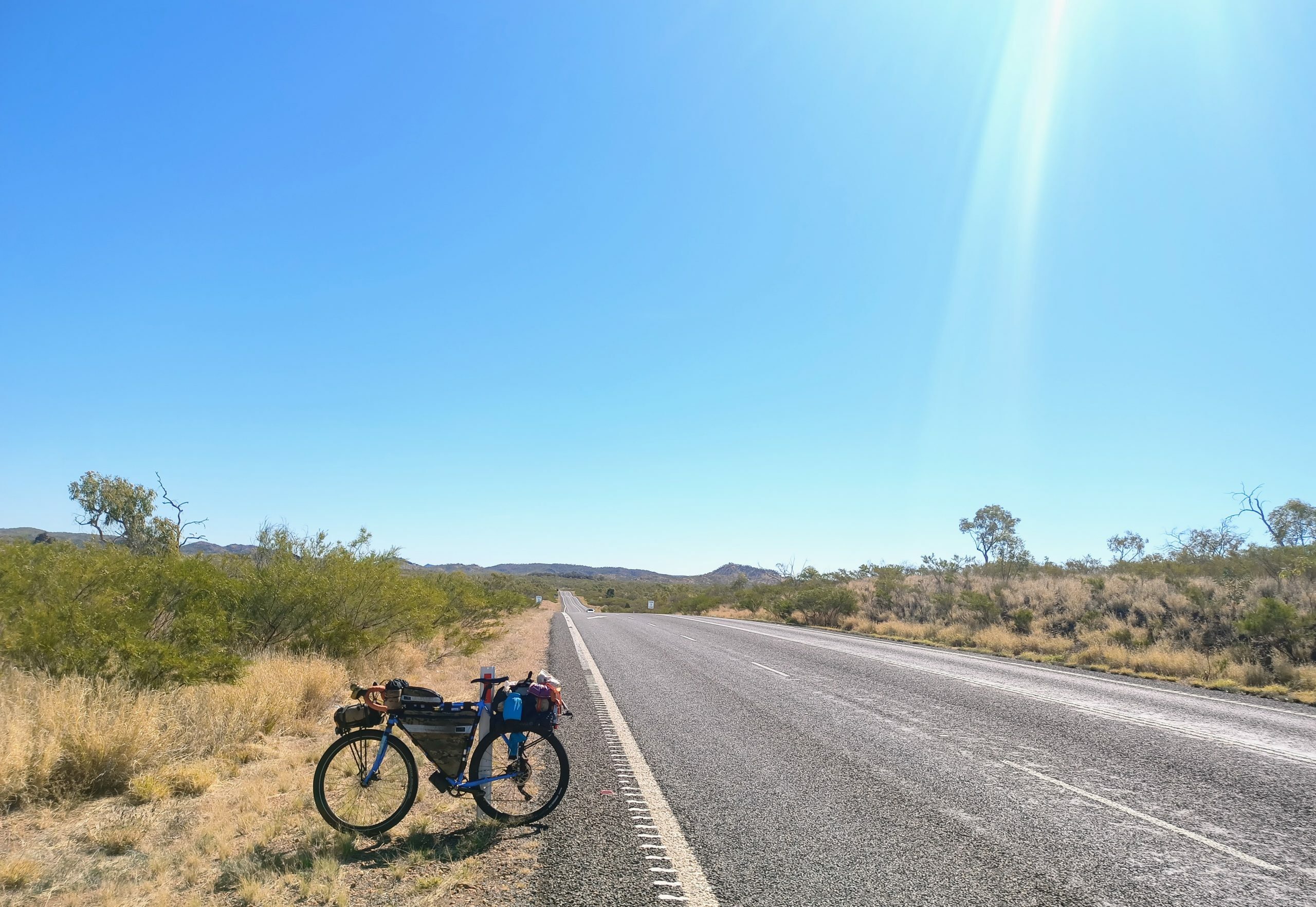 The Moments In Between
I'm beginning to stabilise and build some momentum. I hurt everyday for weeks. I sleep heavy at the end of rides. Sometimes we ride through the night. Sometimes we don't go far. My hands feel like they've been smashed due to the thin thin bar tape. Coffee courses through my system most waking hours. Protein bars and peanut butter wraps are the shoveled coal to the fire. Salt. Sweat. Blisters. Near misses. Suzuki swifts and cops are equally disirable to avoid a run in with. Trucks are my best friend. Caravans have no idea they're 2.5 foot wider than they think they are.
The moments in between events and happenings are sometimes most significant to me. The minutes before the sun appears after being on the move all night. The heaving breaths at a red light as we grip the bars in anticipation to move forwards. The slowed up seconds roadside in the gravel after a near death experience. The days and weeks in unknown territory still ryfe with mystique and unfamiliar timbre. The thinking on the possibilities and the 'what ifs?' if we choose different forks in the roads we ride…
I'm glad, I'm on this beautiful machine on the expedition of a life time. Moving through our beautiful country that is Australia. Meeting and seeing so many new sights and people. Feeling new things, refining thoughts and working on improving my physical, mental & overall well-being. Writing & taking photographs. Transforming my life into something greater than it was before.
Rootbound, Tillman & Raych
I'm on my way to RootBound festival. I stopped at the shops and bought 15 packets of TVP & a whole bunch of pasta and peanut butter. I wanted to hear a bangin' sound system before I left for the desert, and Raych was generous enough to buy me a ticket to this party, so I've gotten my wish.
Some weeks ago, Riz & I befriended a legendary character over beers & coffee who has ridden 550'000km in their lifetime, Tilman.
I now lay here, on the back patio floor. The woman of my dreams has let me splay a huge mess of parts and equipment and ultra light hiking gear all over the joint. I'm drinking coffee and trying to find solutions to nuances of my packing style.
She sits by the pool that she's transformed into a fish pond, as I sit by my bike chasing ghosts. How to best afix all the equipment. How much food to carry. Wondering if I'd made the right product choices to carry me 11'500km around this arid land.
It's a little overwhelming at moments. Trying to concise literally everything I need to stay alive by myself on this bike. To be primarily self sufficient. I've got the best equipment I can get my hands on to make the journey a whole lot more infused with confidence. The feeling I've forgotten something hasn't left me just yet. I take a nap to reboot after thinking about my payload for a bit.
Up again from the nap, reflecting on hanging out with Tilman and the stories he shared with me. Thinking about the fast approaching inevitable of leaving Raych behind; heart breaking really. Fortunately, she's hitting the road too, and I'll get to see her out there. That makes it less difficult I guess. Waking up, I'm sitting in a scattered mess of things. Time to work it out.Indigestion hit me like a truck whilst trying to organise myself. Making it a bit difficult to focus. That's passed, and I don't feel groggy now. My medical kit is nearly packed. Just needs alcohol wipes.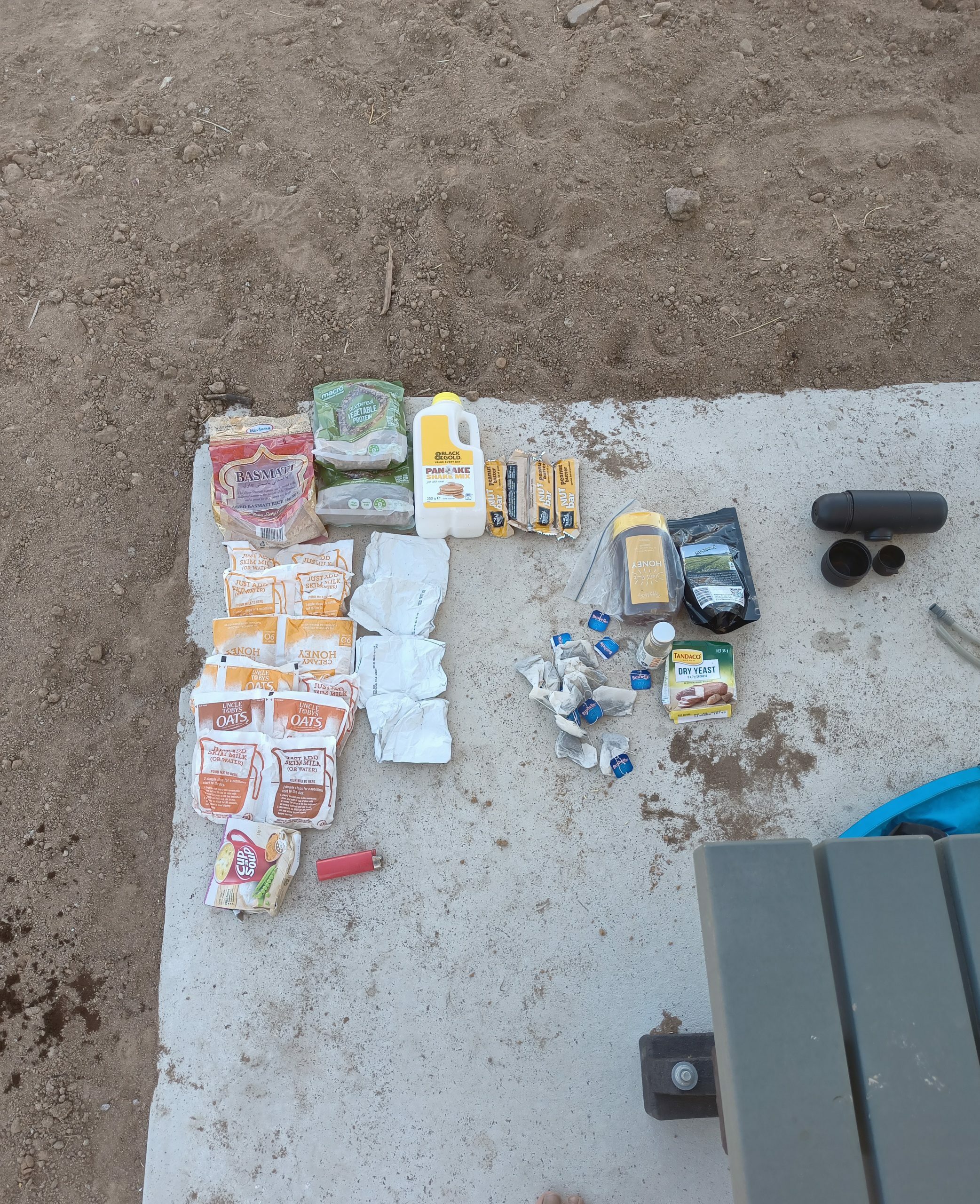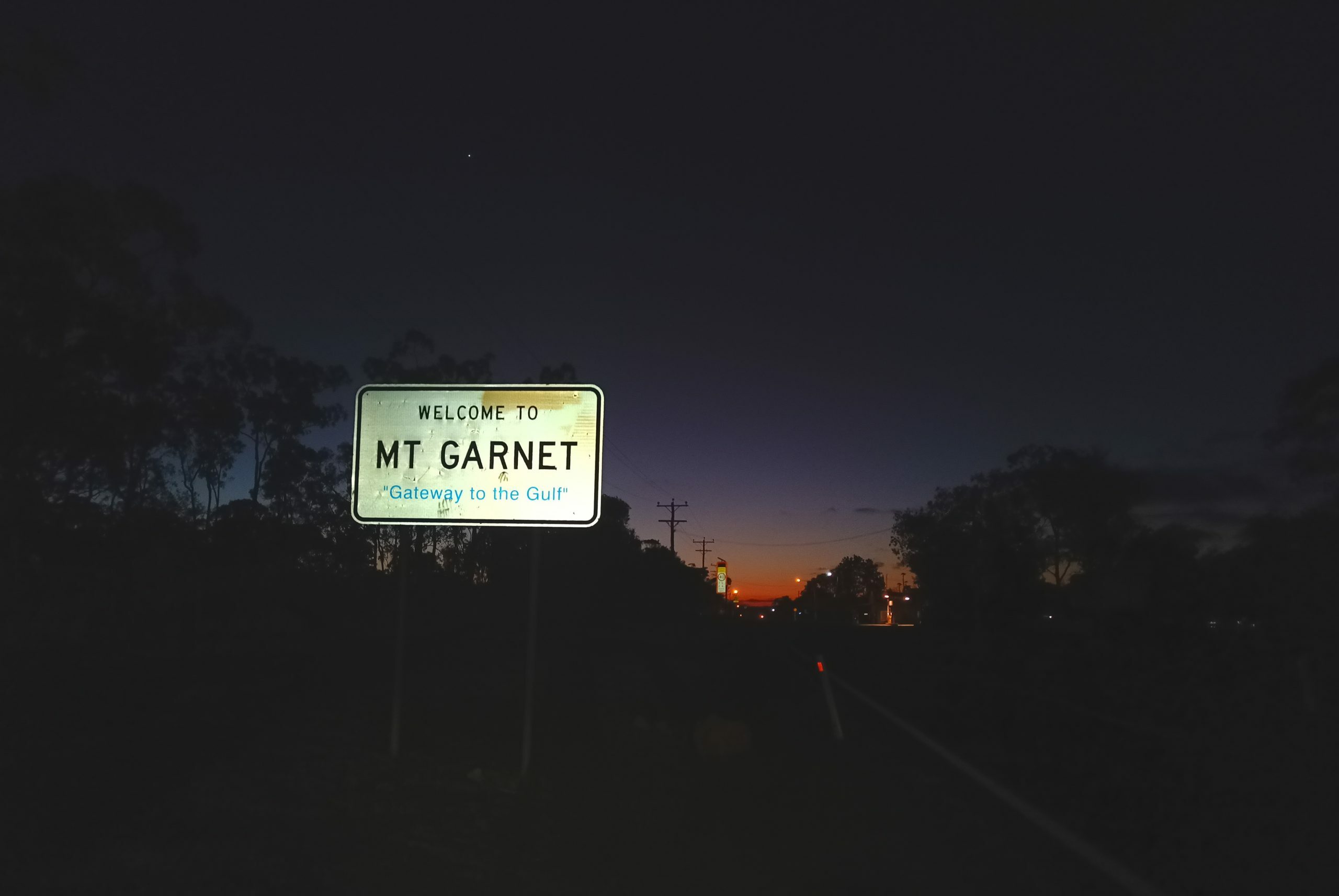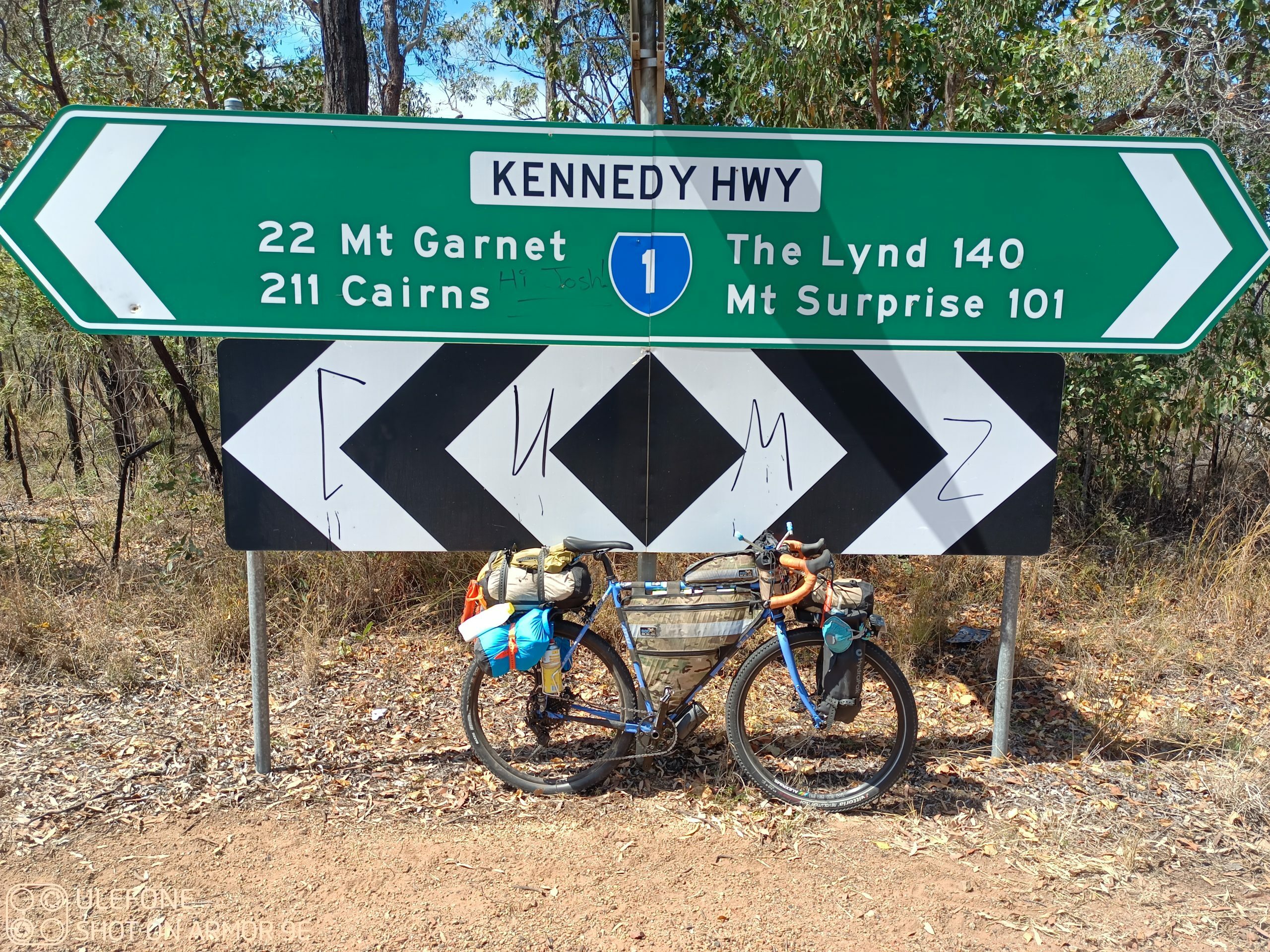 There is a covid case here in Cairns. Its concerning me that, I possibly may get locked in. I go to the places I need to go to get the last of my supplies.
The day is here, I'm in bed with my partner, and we sit in the soft morning light. Neither of us wanting to admit that this is the last time we'll lay in bed together for a year or so. We reluctantly get dressed, make coffee and sit in the driveway wrapped in a red blanket and share sentiments. Eventually, she has to go to work. I watch her Volkswagen shoot down the street. I clean her house and lock the front door for the last time as I leave and don't look back…
This article has been submitted from Mount Isa as I wait for bike parts.
Thanks to Riz @bikezandhoez for being my bike mentor. These photos are from the Inland leg of my trip. Thanks for reading. C. McGrath