Oh What Fun it is to Ride – A Very Covid Christmas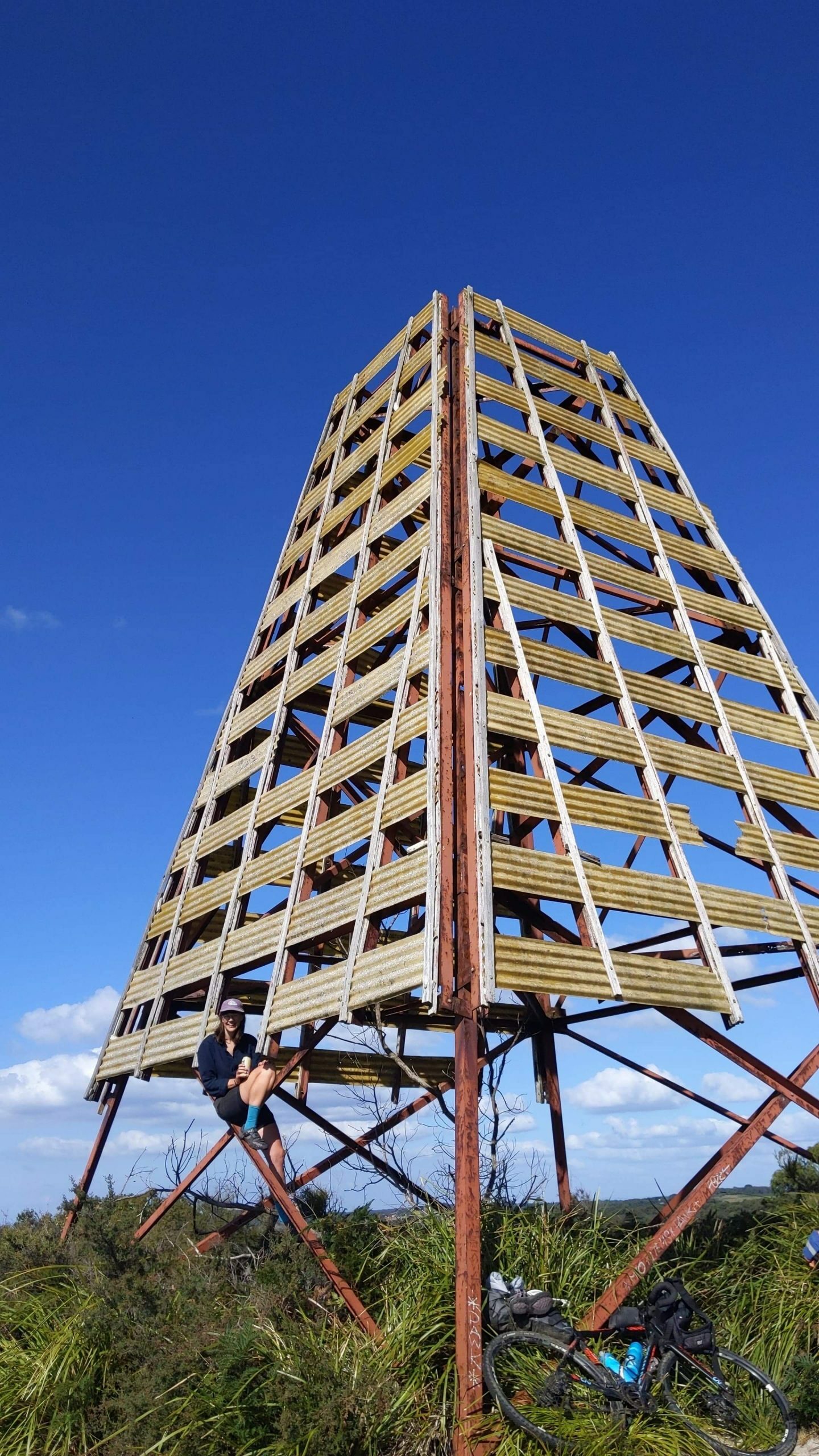 Kia's 'Big W' route from Wangaratta to Melbourne. A 15-day trip across Waveroo, Jaitmatang, Ngarigo, Gunai-Kurnai, Boonwurrung and Wurundjeri country.
"Gee, I hope it goes," says Womble as he cracks open a tinny and ambles over to his car. "Last week I had to drive into a tree because the brakes didn't work."
Womble's car is like many of the other 'island cars': unregistered, windowless, and with the keys permanently stored in the ignition. As a parting gift, he gives us advice on precisely how to avoid the ranger if we want to stealth camp at the beachfront campsite he'd just finished building. "You'd practically have the place to yourself."
We had arrived on French Island, and the reception of the locals was as warm as the sunset beers we had at the lookout that night. Less warm was the reception offered by the millions of resident mosquitos, clearly out for blood. So bad were these beasties, that being outside after dark was impossible. My friends and I retired just after sunset and feebly tried to carry on our conversation by shouting at each other from our respective shelters. But we gave up pretty quickly, giving me time to reflect on the previous two weeks of my trip.
As I shimmied down into the bottom of my bivvy, away from the fly wire that the mosquitos could bite my face through, all I could think was, 'I'm just so happy to be here.'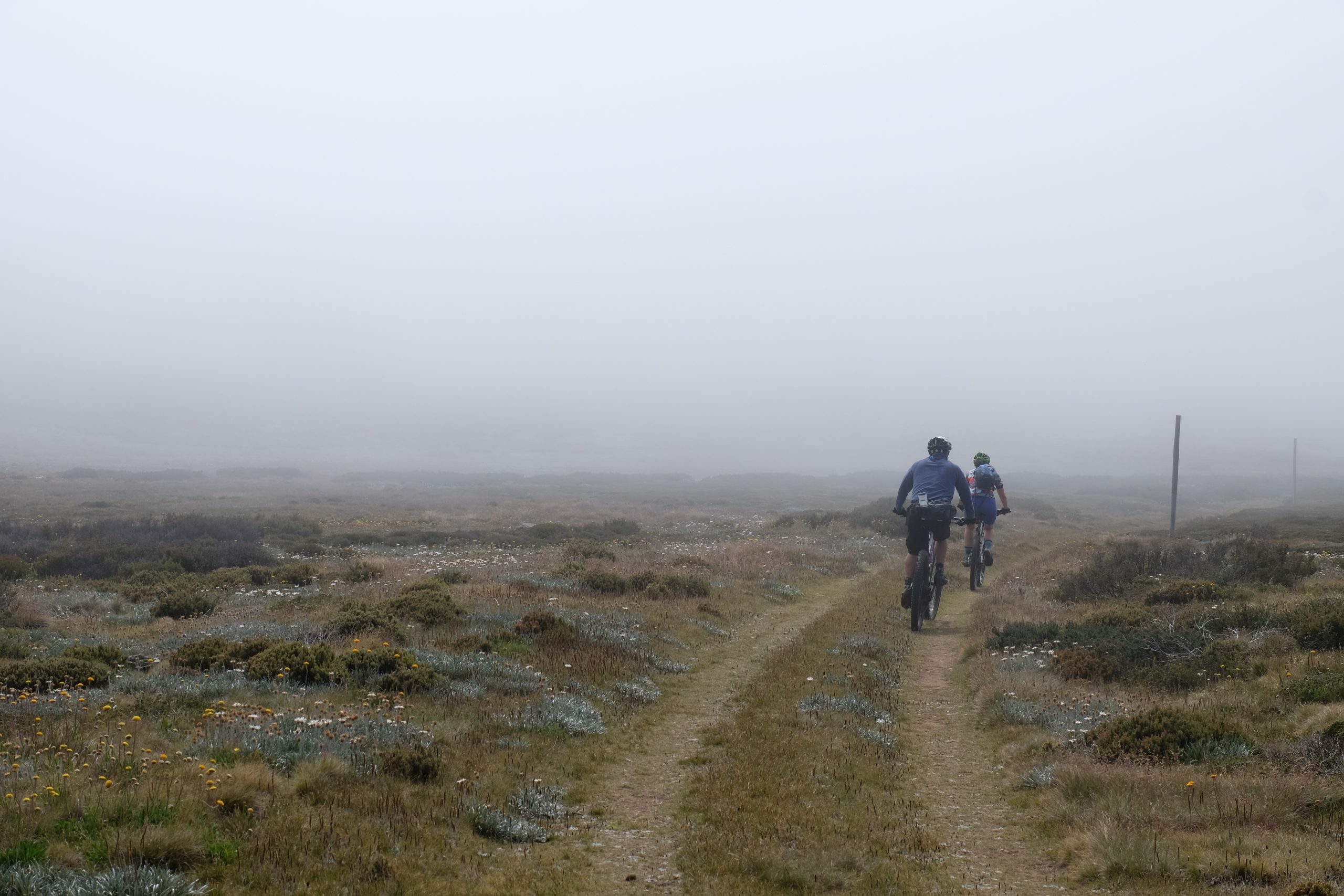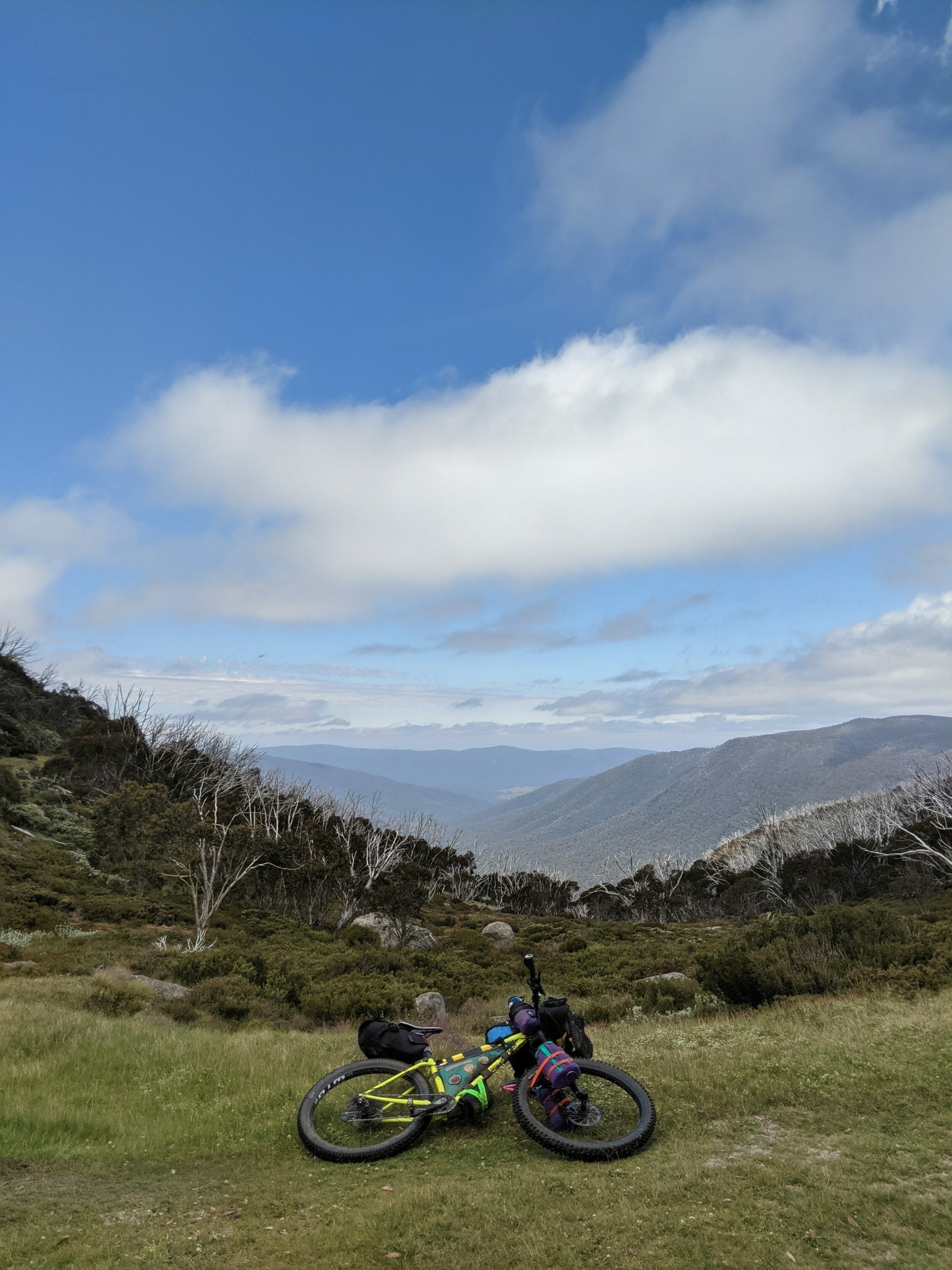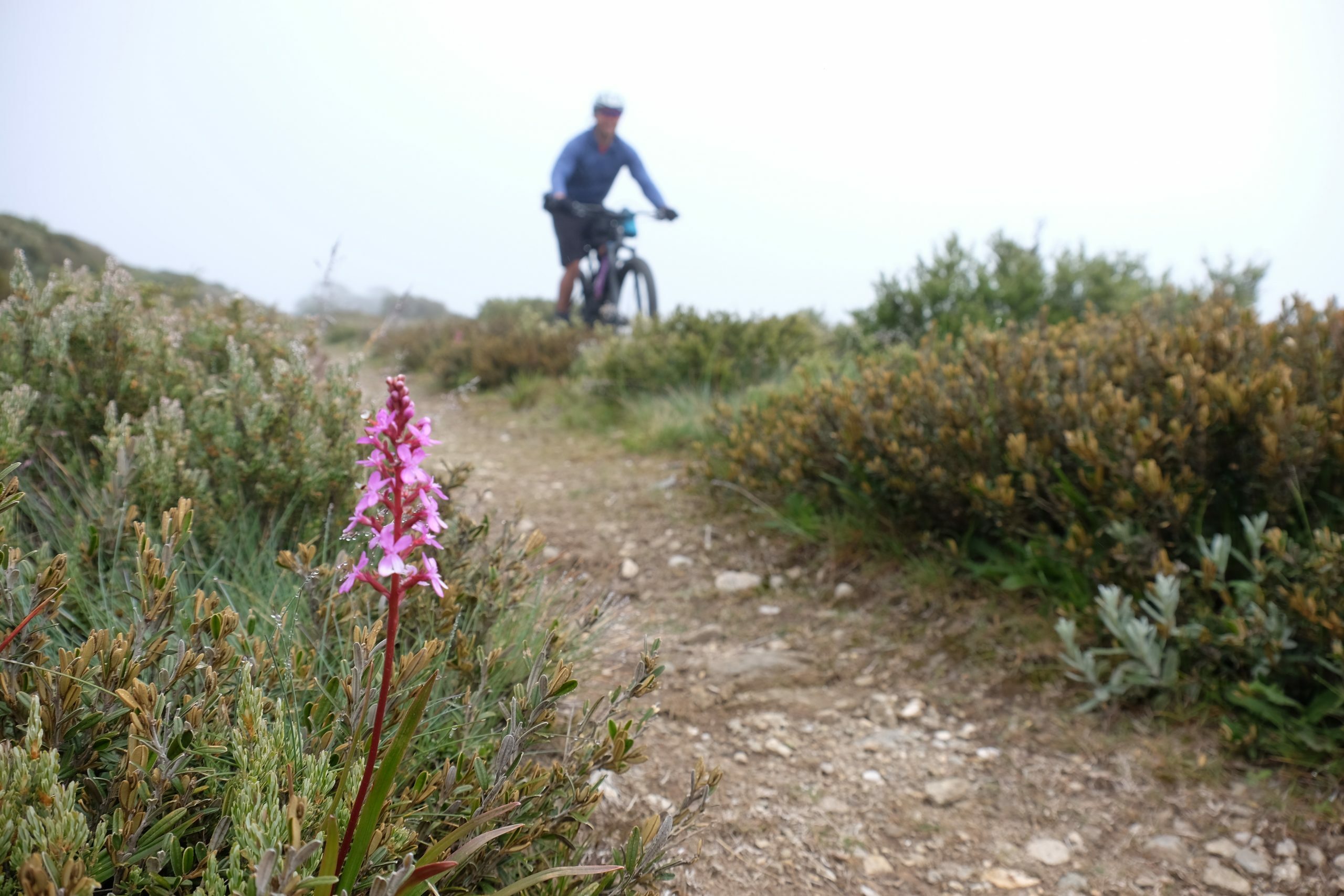 Merry Christmas, ya filthy animal
Late August 2020, Melbourne was in the depths of lockdown, and my mental health was the worst it had ever been. Realising that it was unlikely I'd be able to go home to Queensland for Christmas, I decided to plan a trip. I spent many hours poring over huge paper maps, dragging the little streetview person over roads, routing and rerouting. Planning this route was a lifeline in lockdown. But as Victorians gained more freedom, I no longer needed it. I left the maps at home and went out riding. The route found its way to the back corner of my mind, happily unfinished. But when it became clear in the week before Christmas that going home was not on the cards, I knew I was going to have to dust off the route and fire up the ol' leggies.
To be honest, this route will probably always be unfinished. It is charmingly scrappy. It's a rough draft, and I feel no need to perfect it. Some roads on the map did not exist in the field and I had to reroute on the fly. Roads that I had overlooked in planning looked really nice once I was out there, so I rode them instead. Sometimes I took shortcuts because I had 'wasted' half the day swimming. Other times I simply got lost. I caught the train past a boring part. And I caught a lift past a really nice part, because after a day of crying into the rain, I knew I just needed a friend.
Some moments were hard, but I am getting better at treating myself kindly, reminding myself that I'm on holiday, and that holidays should be fun. I swam a lot, I stayed up late to look at the stars, I had long, slow breakfasts listening to birdsong. I went kayaking, surfing, swimming, spelunking. On many occasions, I would catch a flash of colour out of the corner of my eye, and skid to a stop to take a closer look at the wildflowers by the roadside. By all means use this route, but I encourage you to make it your own. It's your holiday.
Dashing through the snow gums
I buried some nice little treasures while planning my route. Flagstaff rd, just outside of Stanley, was the first of those gems. This was one of my favourite roads when I rode the Vic Divide, and if I found it heart-expanding on the climb, I knew that it was going to be something truly special on the descent. To the North, you can see the folds of the Earth like cake batter falling into a tin, and to the South, the majestic Mt Buffalo.
In Mt Beauty I stayed with friends of my housemates, Nick and Jen, and they showed me some great local trails and what has to be the best swimming hole around. I joined their family dinner at the pub, during which Uncle Patty had me real spooked about the Big River Fire Trail I had planned to climb the next day. Back at home, he dragged out the maps and we went over alternative routes in great detail. But in the back of my mind, I really wanted to know if my route was rideable, and sometimes men underestimate me, so I decided to give it a red hot go.
In the morning, Nick and Jen escorted me a little way up the East Kiewa Fire trail. We started the day with a creek crossing and immediately we were climbing. After they left me, the trail just got prettier and prettier. The gravel track had given way to a grassy path flanked by wildflowers, and after a few river crossings, the climbing started to get very steep. A couple of drink-stops later, I looked at my Garmin and realised I was off-course. I had indeed gotten onto the Big River Fire trail, but I was going the wrong way. I hadn't even noticed any trails going off in the other direction – a potential indicator of the state of the track – and based on how knackered I was already feeling, I committed to the bailout route.
Once the descent got going, it was a lot of fun. At the bottom, the trail runs steep and straight, and one would not expect to be deposited onto a sandy beach. A strange oasis in the alps. All in all, I highly recommend the East Kiewa – Big River – Bogong High Plains Road loop as a day ride from Mt Beauty. But as a touring route, I now know that it was foolish. I hadn't known that the bailout route was going to deliver me almost to the bottom of the road climb. With more than half the day gone, I was exhausted, and I had the whole road climb ahead.
I'll be honest, I have never struggled more, and when I arrived at my friend Ari's holiday apartment in Falls Creek at the end of the day, I crumbled (I suspect with a case of heatstroke). Ari offered me a shower and made me my favourite dinner, and I was so overwhelmed I welled up with tears.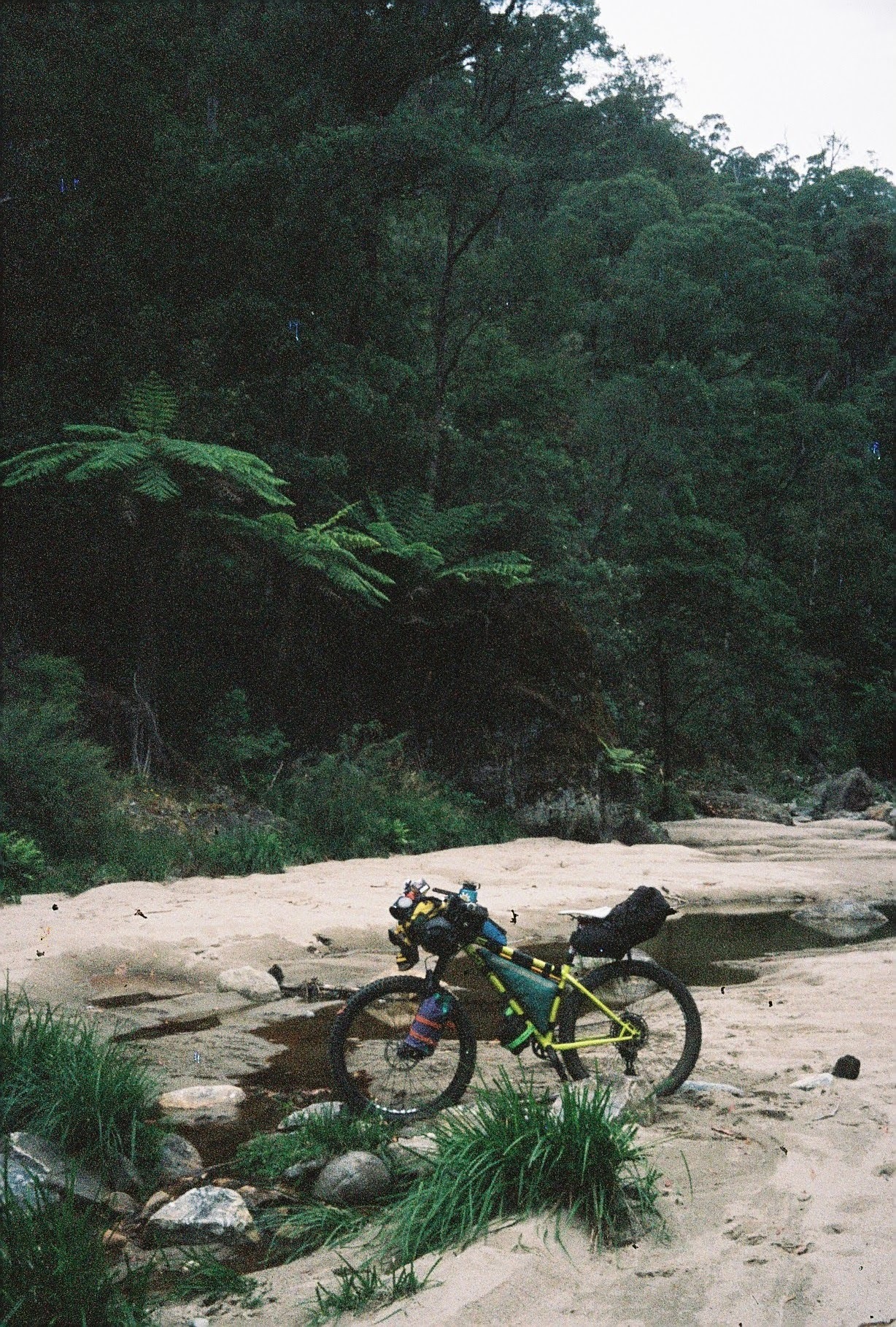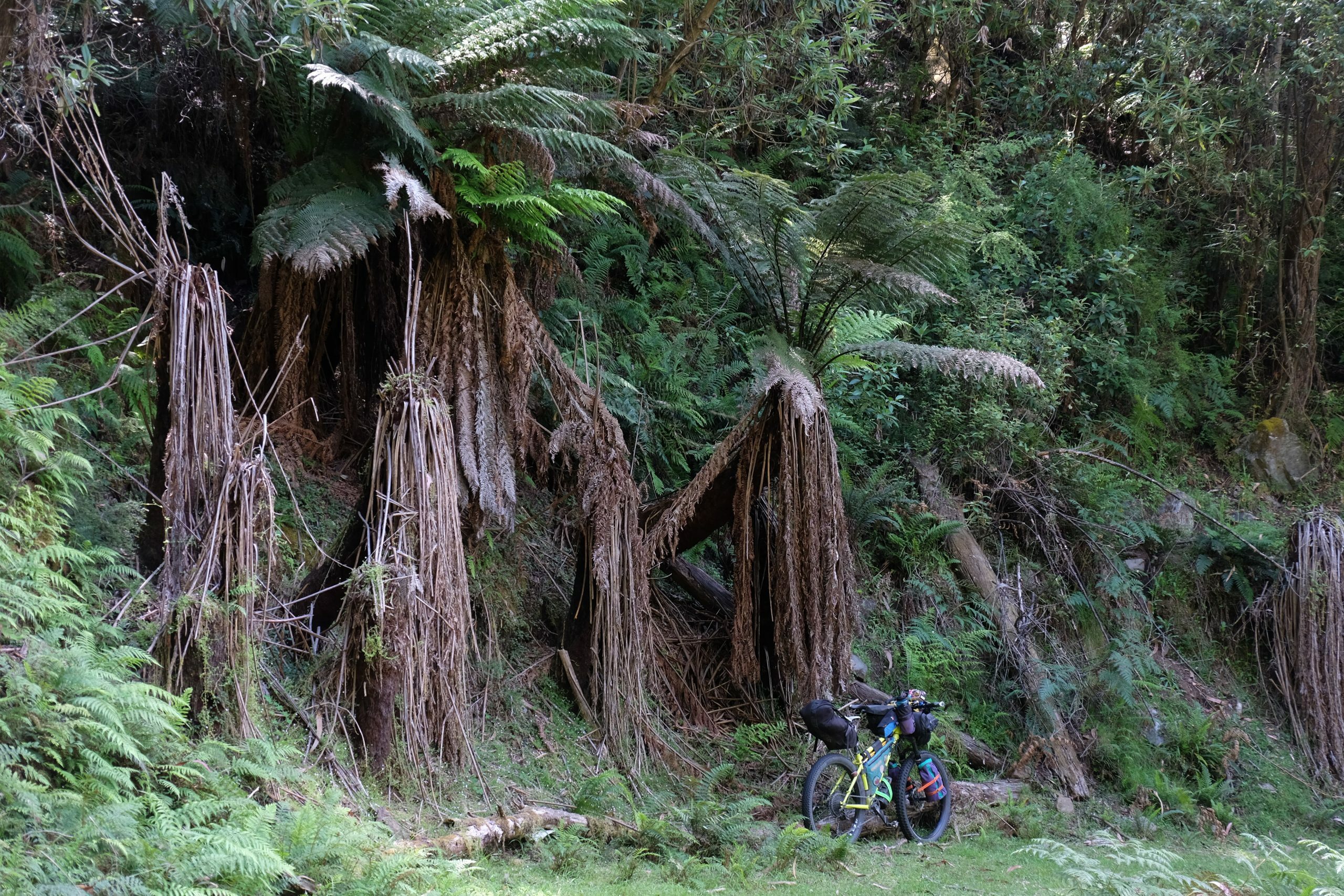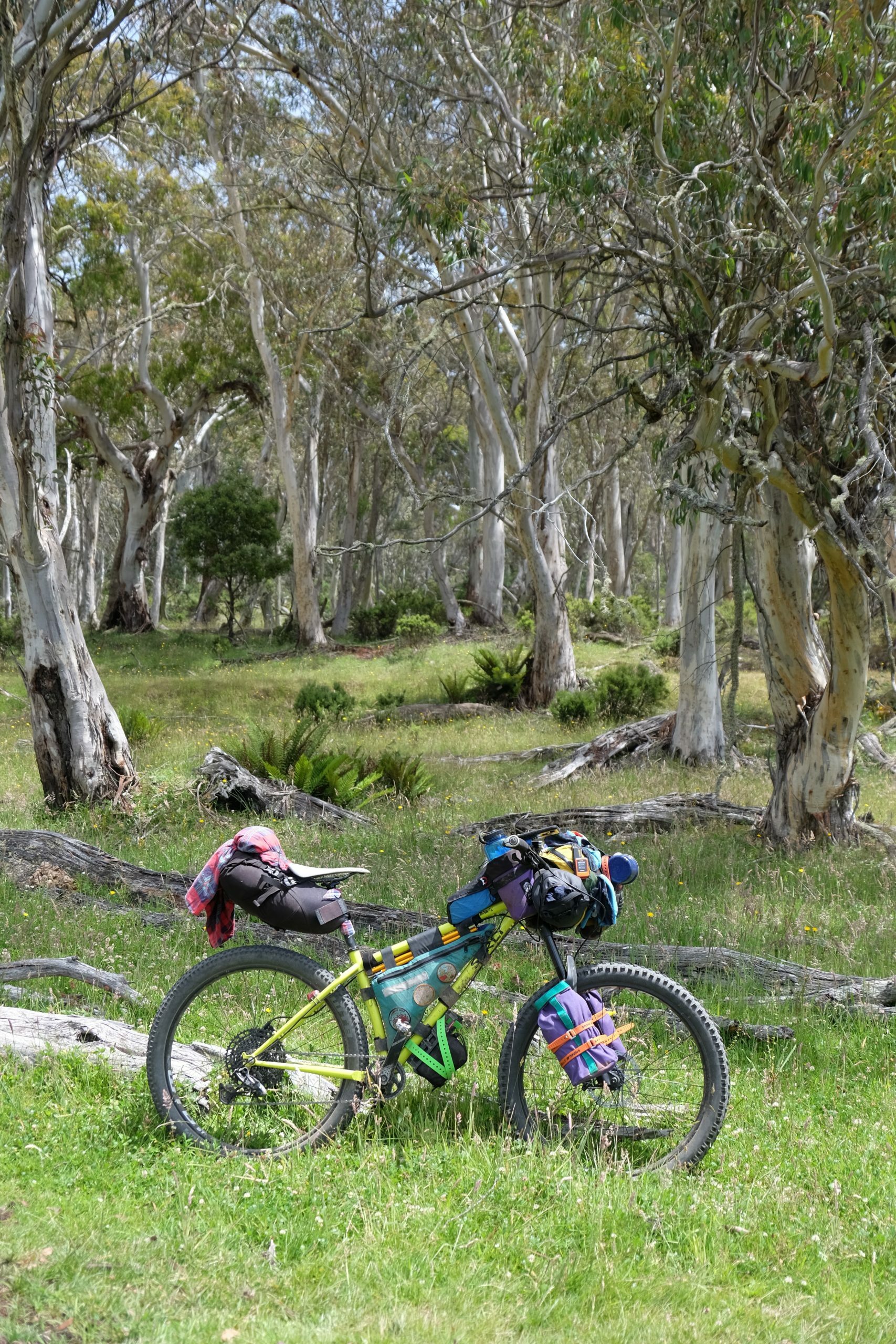 Riding the trails with Ari and friends the next day was a delight. From heatstroke one day to cool, gloomy mist the next. Falls Creek is a botanical and biking wonderland, and ironically, it was the Big River Fire trail that was my favourite track of the day (Yes, the one I was supposed to have ridden up the day before). My new plan is to go back and ride it down from the top, and make a decision about whether it was a terrible idea to include the climb in this route. For now, I've simply included the silly route I took. You could shorten it by skipping the East Kiewa Fire Trail (which would be a real shame to miss) or for the intrepid, you could attempt the Big River Fire trail up Timms Spur. Please get in touch with me if you do!
After lunch I descended the back of Falls. I would have been sad to leave, were I not totally blown away by the beauty of the Omeo Highway. It winds along a road cut into the hills above the Big River, starting high up above and gradually meeting the river at Anglers Rest. The vegetation threw me. It was scrubbier than I thought, and I was delighted by the gnarled trunks of Banksias by the roadside.
The route up the Nunniong Road climb was stunning. This beautiful subalpine paradise was entirely new to me but appears to be well known in the 4WDing community. After having a car flick up a rock that took a chunk out of my glasses, I got into the habit of turning my head away and down to protect myself from rocks to the face. At camp later that night, one of the 4WDers came over for a chat. He told me that he had passed me on the road and noticed me turn my head, and had immediately radioed his mates to tell them to slow down and watch for the cyclist. A small win! They offered me some beers and a spot by their warm campfire, but the promise of beers could not compete with the marshmallows offered by my immediate neighbours, a sweet French family with three very curious and clever children. We talked excitedly about science until well past their bed-time, then I snuggled in under the stars.
Waking up in the high country, I felt that my soul was at ease. My tummy, however, was not. It's wild how much of your time on tour is spent thinking about food. Not so much dreaming of a burger and chips, but panicking about getting enough fuel, often when you don't want to eat anything at all. By day 6 it was clear to me that I had messed up, and I rearranged my packs to make sure my food was as accessible to me as possible.
Gifts underneath the tree
Further down Nunnett Road, the horrifying extent of last summer's bushfires became apparent. After fires, many Eucalypts (though not all, some, like Alpine Ash are killed by fire) are able to sprout emergency epicormic growth directly from their trunks. It's a very striking sight. A forest of Eucalypts with their leaves in the wrong places seems so unnatural, it's destabilising. But there's also something beautiful in this scene. It's at once heartbreaking and hopeful.
In the morning, I took a tour of the Buchan Caves (which in my opinion is the jewel in the crown of this route). Having done research on fossil pollen from cave formations, I am fascinated by the science of this underground world. In the visitors centre afterwards, when I followed up on some of the research that the guide had mentioned on our tour, and the ranger brought out a single red binder of journal articles. She told me that among the countless losses in last summer's fires was their ranger station, including an extensive library, so they were having to start over.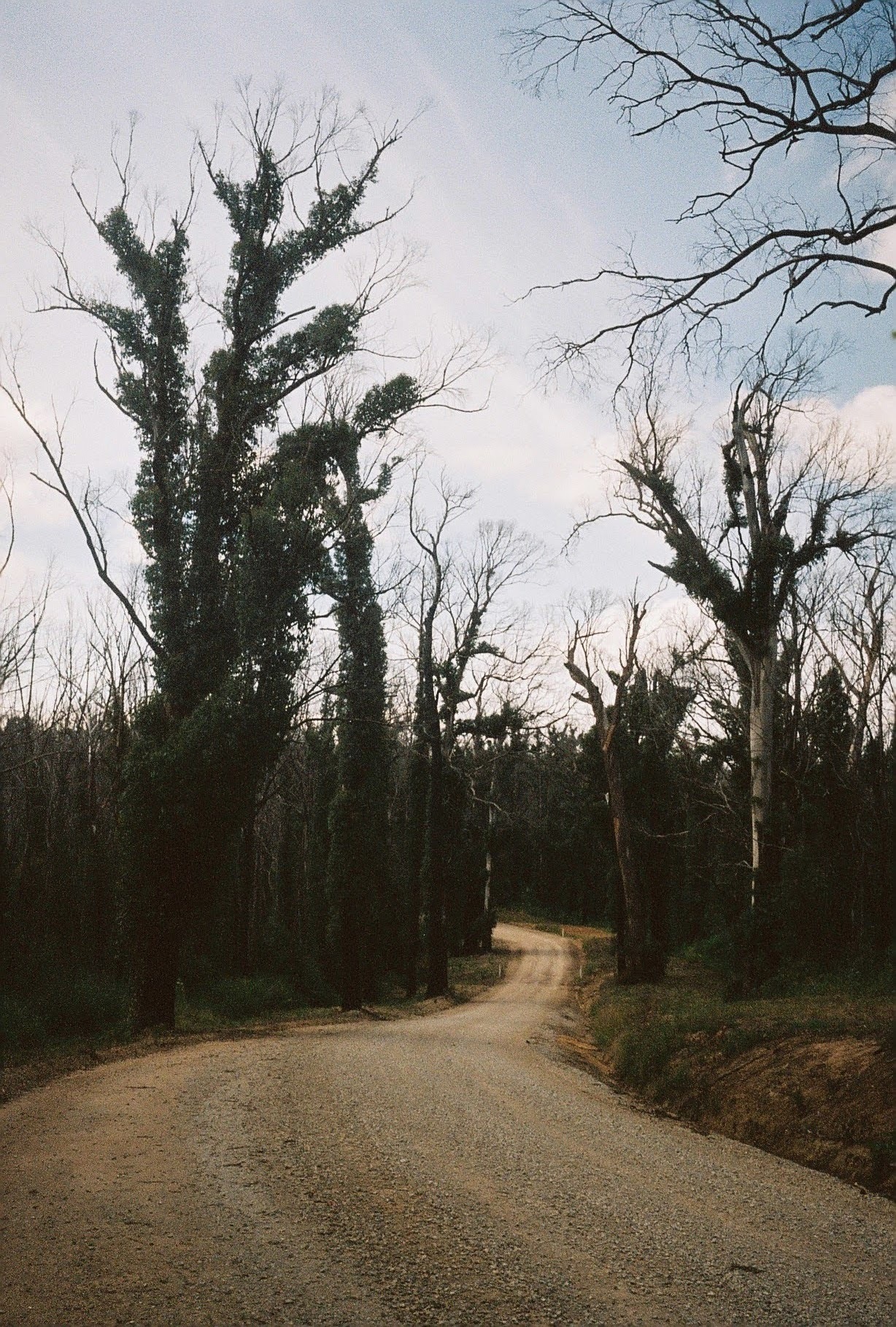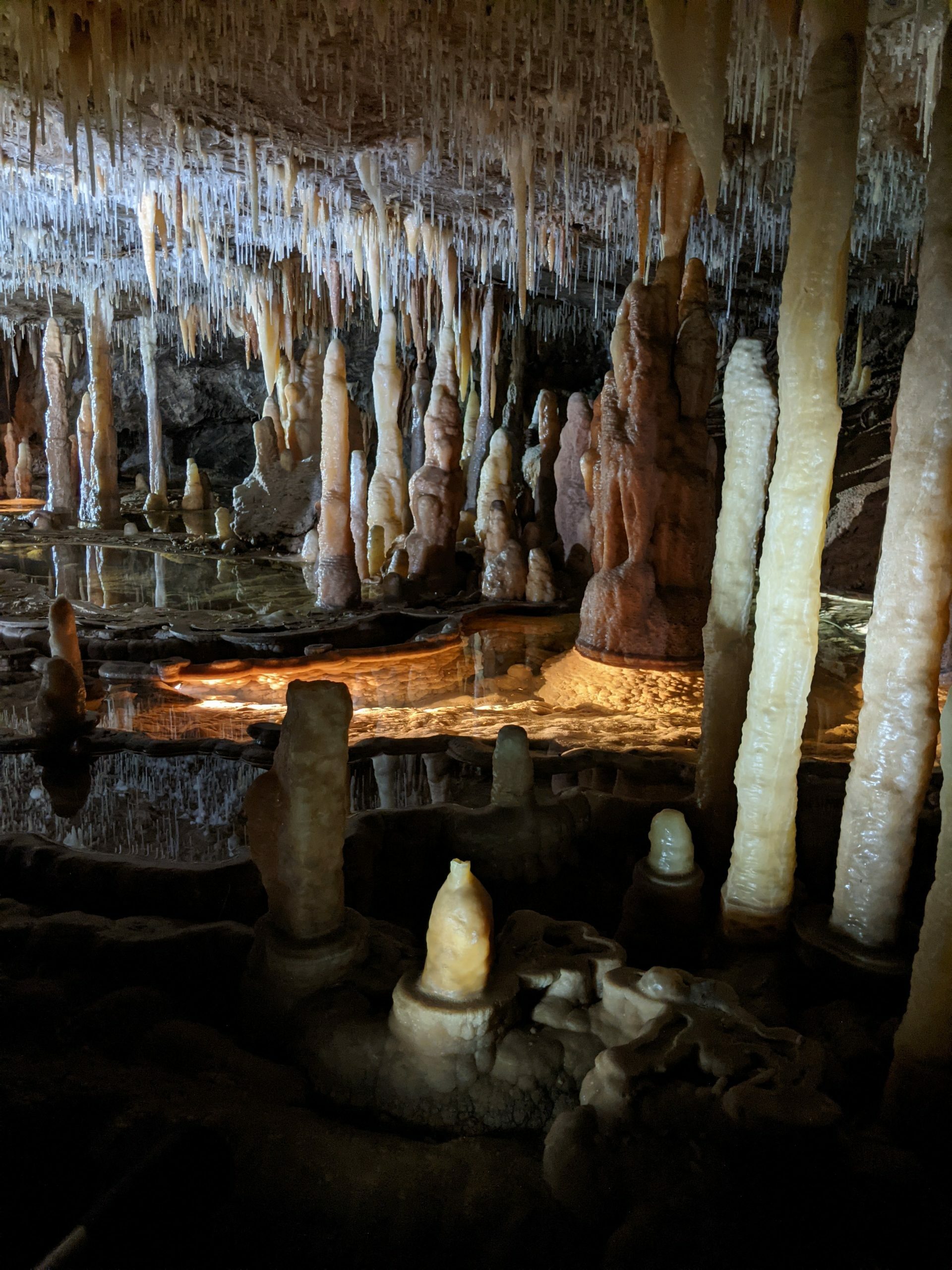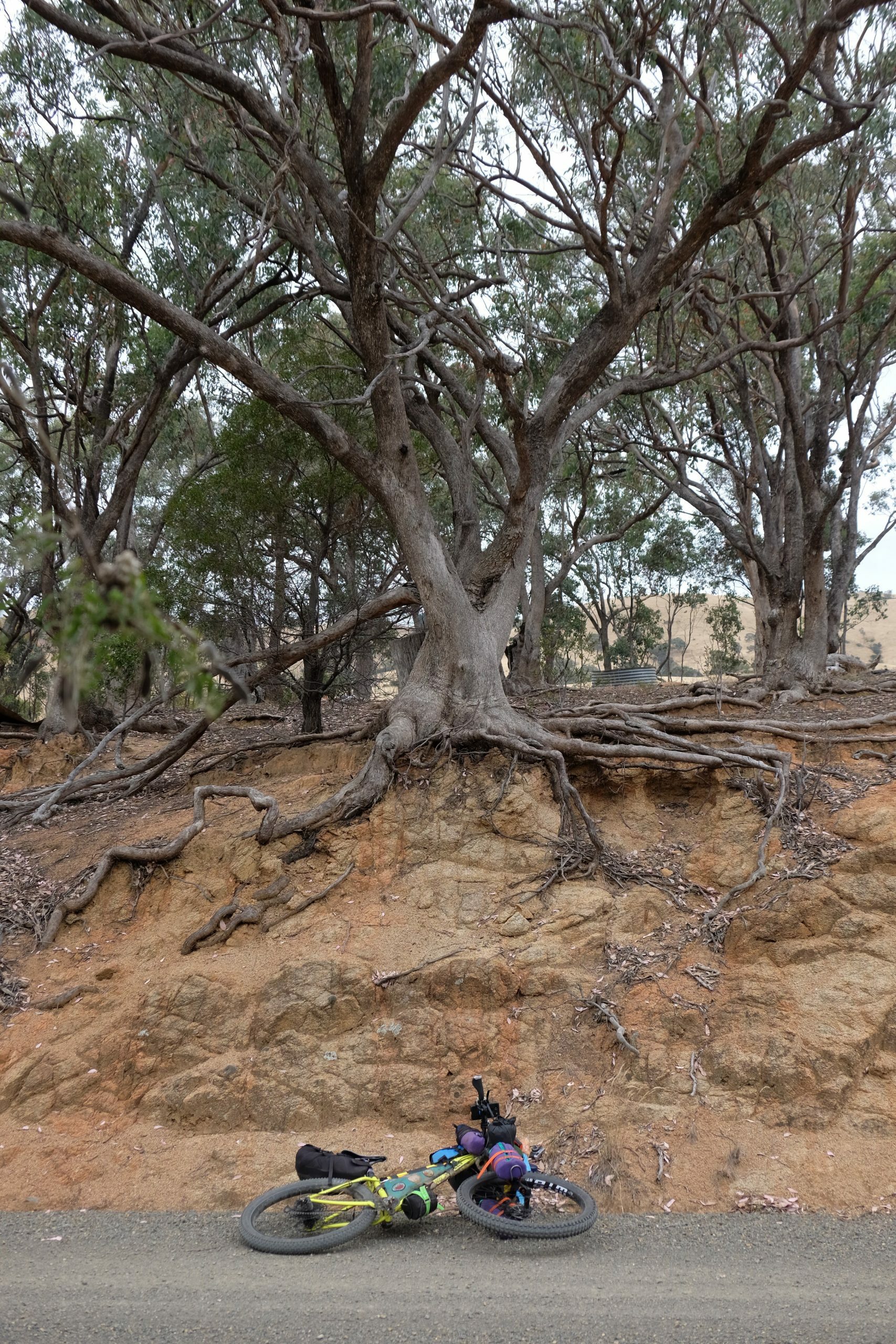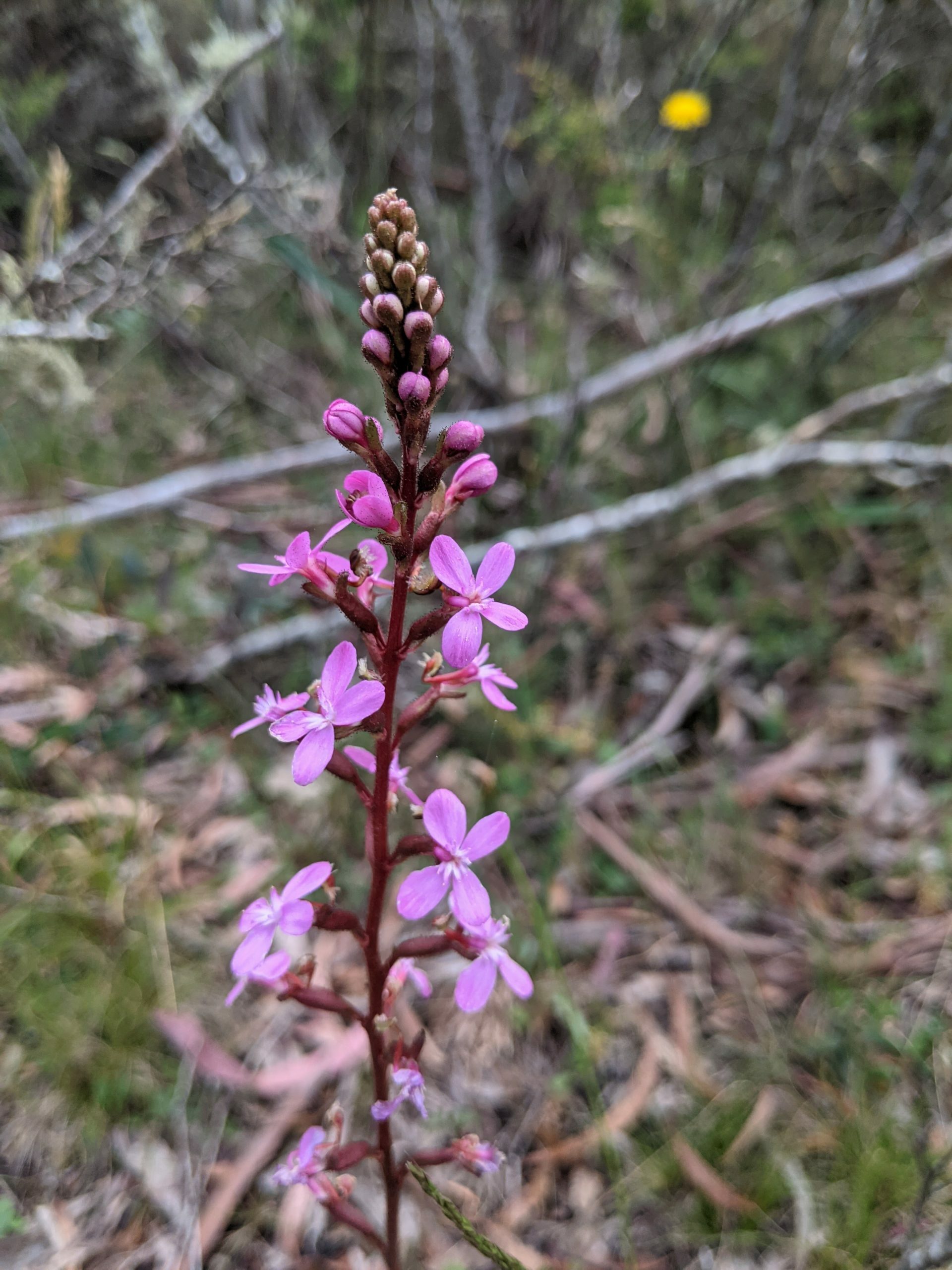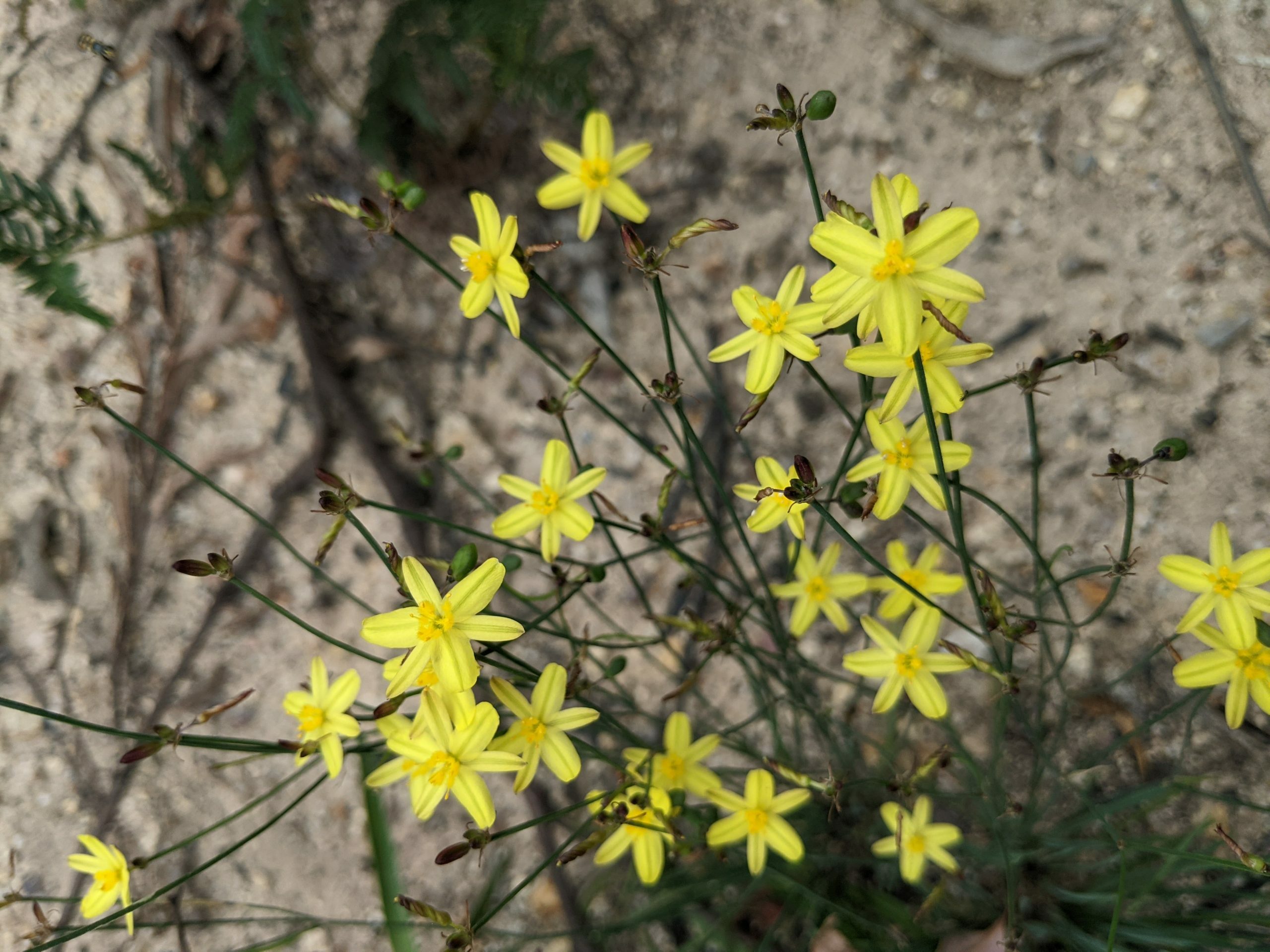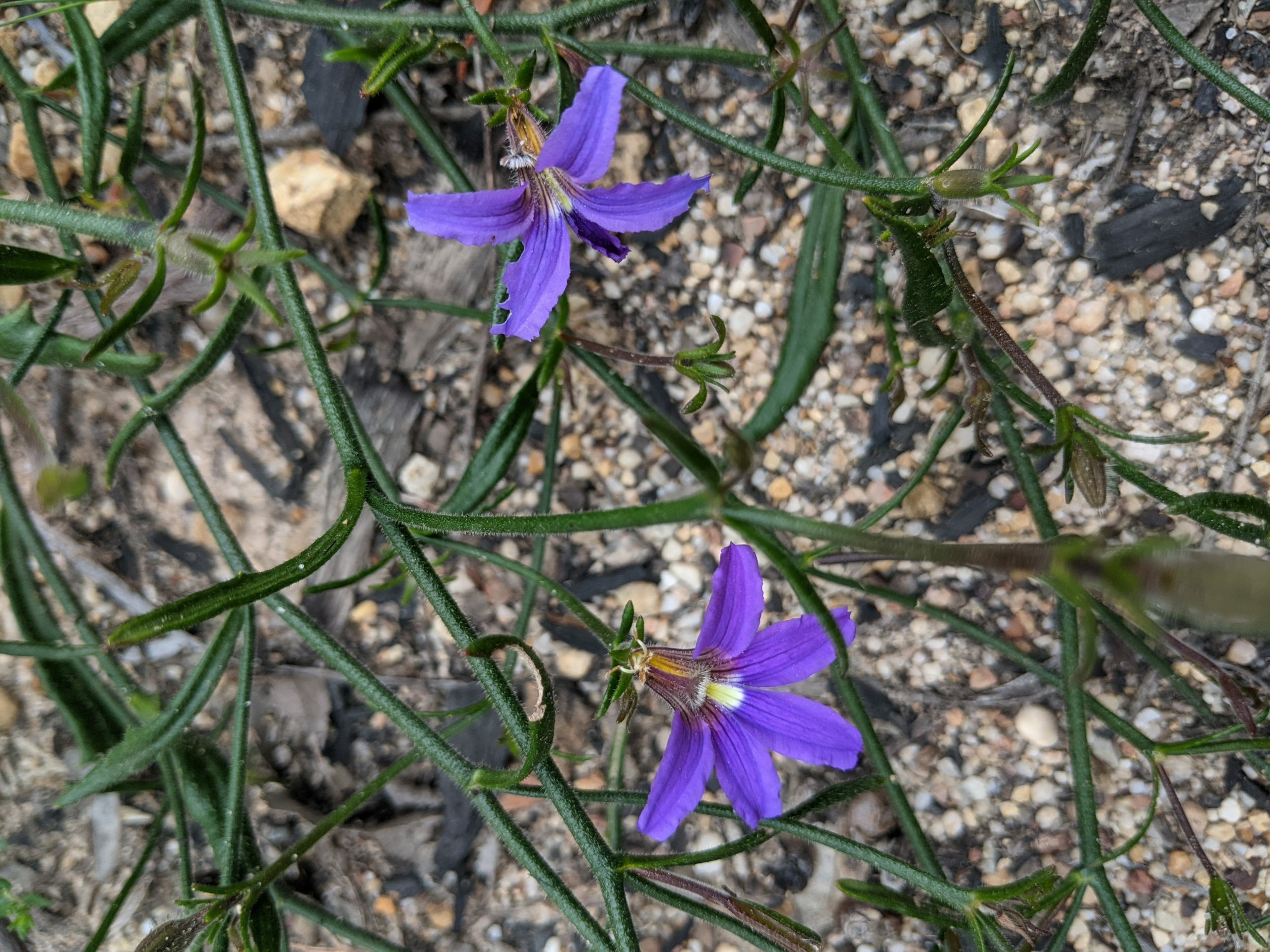 Riding from Buchan to Nowa Nowa, we stopped to have a drink and a tenacious white everlasting daisy caught my eye. As I walked over to inspect it, more and more flowers became visible. A whole dazzling array of wildflowers that I had been whizzing right by. Purples stark against the blackened trunks (Lobelias, Dampieras and Fan flowers), blues (Blue pincushions), yellows (Hop Goodenia, Hibbertia and the striking lily, Tricoryne elatior), pinks (Hyacinth orchids and our State floral emblem, Epacris impressa), and whites (the aptly named Christmas bushes and native Holly) all lighting up the understorey.
Since I was a child, I've had a recurring dream about stopping to pick up a gold coin in the dirt. Once I stoop to collect it, I see that there are more and more gold coins, and suddenly I'm scrambling to collect them all. Amongst all of my found coins, I come to the realisation that I am now fabulously wealthy. Standing in this burnt-out forest, surrounded by an incredible diversity of wildflowers, was the first time I can remember having this feeling in my waking life. In this landscape, we are fabulously wealthy. We must protect these forests at all costs.
We'll take a cup o' kindness yet
On New Years Day, I woke up to the sunrise over the water in Nowa Nowa and went for a lovely walk. Back at camp, I dragged my sleeping bag under a tree and snoozed until the sun was fully up. Once it was too hot to lie in, I began the year with a jump off the jetty into the river, and lazed around listening to podcasts. It was an utterly delightful rest day.
All this relaxing had set me behind my (admittedly very vague) timeline, and so at Bairnsdale, I took a lift on the train to the next station, Stratford. Another 40km on the Gippsland Plains rail trail brought the day to 100km on rail trail before the sting in the tail – a 25km climb up to Brunton's Bridge. The road, which I had chosen on the fly, was unrelenting, but I was determined to get to camp before the brooding clouds to the North brought a storm with them.
Turning onto Brunton's Bridge road at the top brought with it the soaring feeling of delight. A steep, winding descent down into the valley. Brunton's Bridge is a beautiful campsite. Lots of people agree, it seems. It was difficult to carve out a little space for myself, and then almost impossible to set up my tarp with bent pegs in stony ground. After about half an hour of trying out different configurations in different spots, I noticed a family on the terrace above had gathered to watch me with some amusement. They yelled down to ask if I needed help, and I nodded yes. With my shelter finally sorted, I took my cooking kit down to the river, and while my miso soup came to the boil, I got in the river to wash off the day's dust and care for my tired legs.
Waking up in the storm the next morning was pretty grim, but once I got going it was really pleasant, and it made rolling into Walhalla for hot chips feel like a real treat. With a belly full, I set off into the rain, which by this time had intensified. It was pouring. Hard, heavy drops. Drenching, cleansing rain. In Moe at 5pm, I realised it was only another 45km to the Boolarra pub, so I called to check what time their bistro closed. They said it would depend on how busy it was, and I promised them I would pump my little legs as hard as I could. Setting off on Coalville road, I wasn't expecting much. I quickly discovered that this unfortunate name disguises what is actually a very pleasant place. Having promptly forgotten all about dinner, I stopped for some time to admire a pair of Gang Gangs feasting on the roadside plums that are ubiquitous in South Gippsland.
Arriving in Boolarra at golden hour was really nice, and when I came bowling into the pub at 7:50 pm, the nice barman informed me that they had just closed the bistro, but they would make me a bowl of chips anyway. I was so grateful. As Shania played over the speakers, the cook yelled out to me, 'hey, I heard you got a speeding ticket on your way here!'. It took me a minute to realise that everyone in the pub had been awaiting my arrival, sceptical about whether I'd make it on time. They welcomed me like family, and I got the pleasant feeling that I had travelled through some portal to my hometown in Qld. That night, in anticipation of more rain, they let me sleep undercover on the outdoor stage (home of Truck'n with Tim!). In the morning, I did a little boot-scoot on stage, and set off for what I knew was going to be an excellent day.
It was not an excellent day.
Morwell River road had my heart soaring. It's hard to describe how beautiful it is up there. The greens are so green. The forest smells amazing. I didn't notice I was climbing. I didn't notice it was raining. It was wonderful.
Until.
I heard the logging operation well before I saw it, and when I got there, it was worse than I imagined. The whole mountainside had been clear-felled. A loaded-up logging truck blocked the road. Barely concealing the contempt on my face, I set off around the truck. What I saw on the other side of it broke me wide open. In front of me was a lone echidna crossing the road in a newly-denuded landscape. I watched, distraught, as it poked its snout around a muddy puddle, and climbed up onto the roadside, safe. The sight of this small charming animal amid the growling of machinery left me overcome with grief. My heart was knotted in my chest, and by the time the fourth logging truck passed me that day, I was openly crying into the rain.
When I reached Foster (my intended lunch stop) at 5.00 pm, I was exhausted, cold, wet and thoroughly miserable. I checked into a motel. That shower was one of the best showers in memory. Carefully I unpacked everything from my bike, and one by one I cleaned my possessions and set them out to dry. I fell into bed and cried for the forest.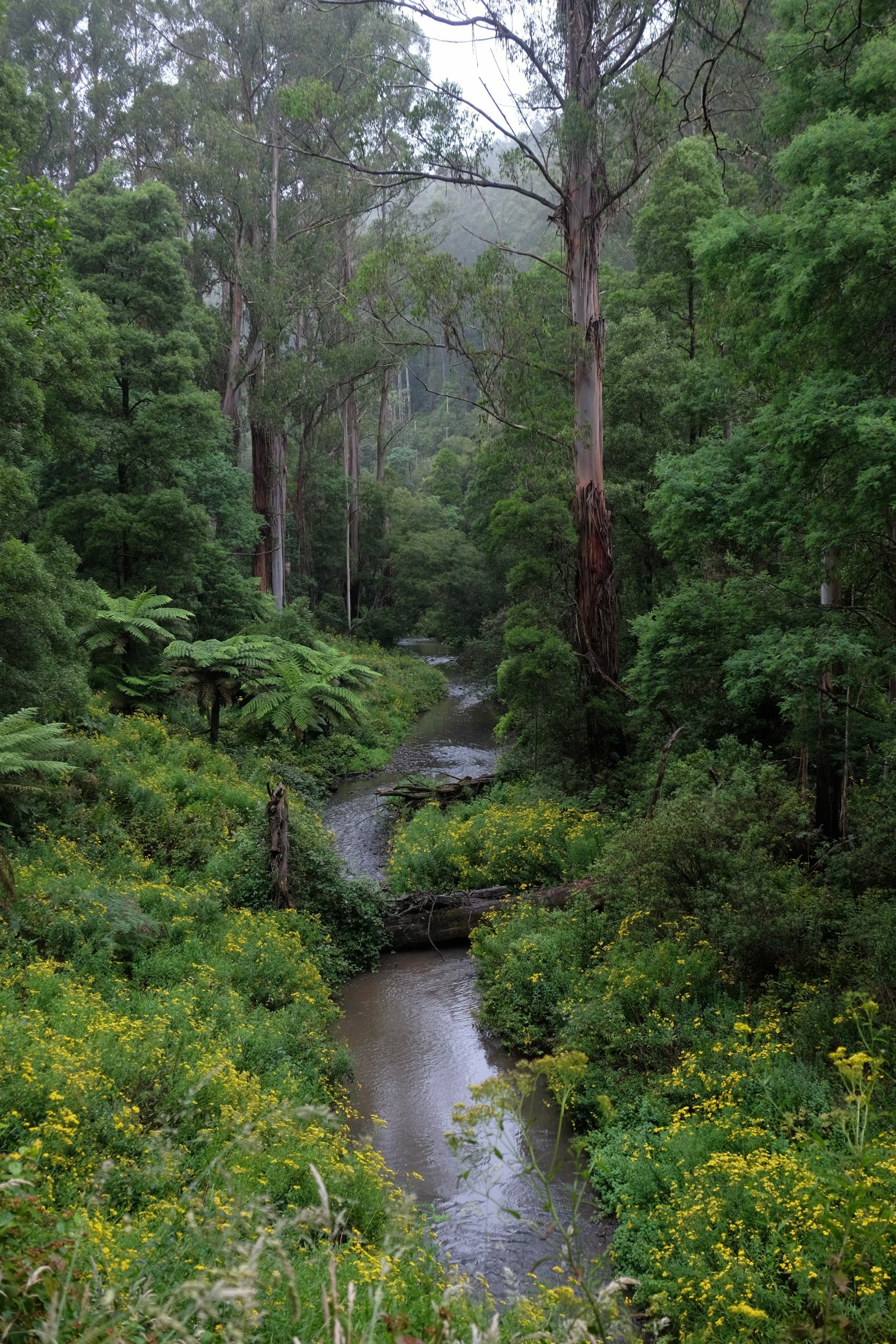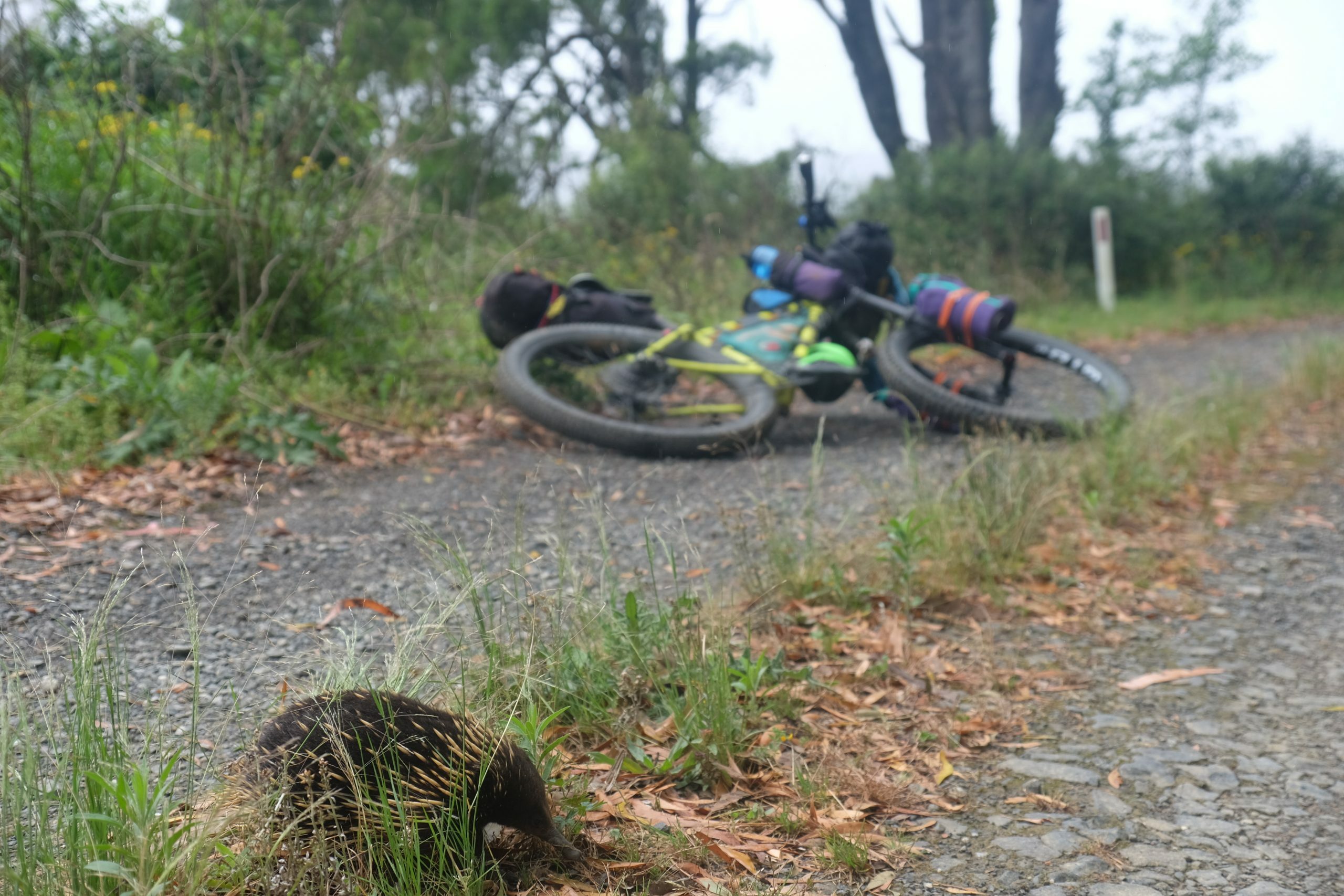 The next morning I was woken up at 6.00 am by the deafening sound of rain. Before my motel-bailout which put me behind schedule once again, I had planned this day as a rest day with my friend Sarah in Inverloch. Sarah knew I was having a shit one, and had offered repeatedly to come and pick me up. With the rain pouring outside, and my heart heavy, I accepted.
In the car, I admitted feeling like a failure. I had, in my head, really built up what it would mean to me to arrive at the coast by bike. To bail out, just a few kilometers short, felt like a loss. As a consolation, Sarah suggested we spend the day kayaking. Poking around the beach is one of life's greatest pleasures, and this day off from pedalling (in favour of paddling) came exactly when I needed it.
We started the next day with a little surf, and hit the road around lunch time. The day's route was to Phillip Island. From there, it was just a hop, skip and a jump, via French Island, home to Melbourne. The road out of Inverloch is wonderful. I like to think of it as the Great Ocean Road of the East. Before Wonthaggi, the little purple line on my etrex led us to what looked like a dead-end road, but at the last minute, a small, sandy, single-track trail appeared. We had arrived at a hidden treasure that I had not included in my route on purpose, but that I was so grateful for: the Wonthaggi Heathland. Melaleucas reached over the top of the trail to meet each other, forming a fairyland tunnel for us to ride through. Parts of the trail had been reclaimed by swamp, and we tip-toed around the edges to the sound of calling frogs.
Having ridden almost 1000 kilometers on 3-inch tyres, I felt I had finally arrived on the terrain my bike was built for. My karate monkey glided gracefully over the sandy trails, and as we cruised up the rail trail to the roaring surf beach at Kilcunda, I was greeted by that feeling I had mourned the loss of the day before.
I had, finally, arrived at the coast by bike.